What's the first thing you think of when you hear "Switzerland"? For me it would probably be chocolate, watches, money, neutrality, mountains, money, the Sound of Music, aaaaand money! The number one warning people give you when you tell them you're going to Switzerland is it's expensive. And nowhere is that truer than in Zurich!
But besides being expensive, Switzerland is absolutely gorgeous.
It's got pristine lakes, snow-capped mountains, sprawling farmland, and historic and well-preserved city centers.
It makes a LOT of sense to see a little bit more of Switzerland, even if you're going to be based in Zurich for most of your stay. Here are my top picks for day trips from Zurich, things to do in each of these locations, and a few quick tips for planning your Switzerland trip!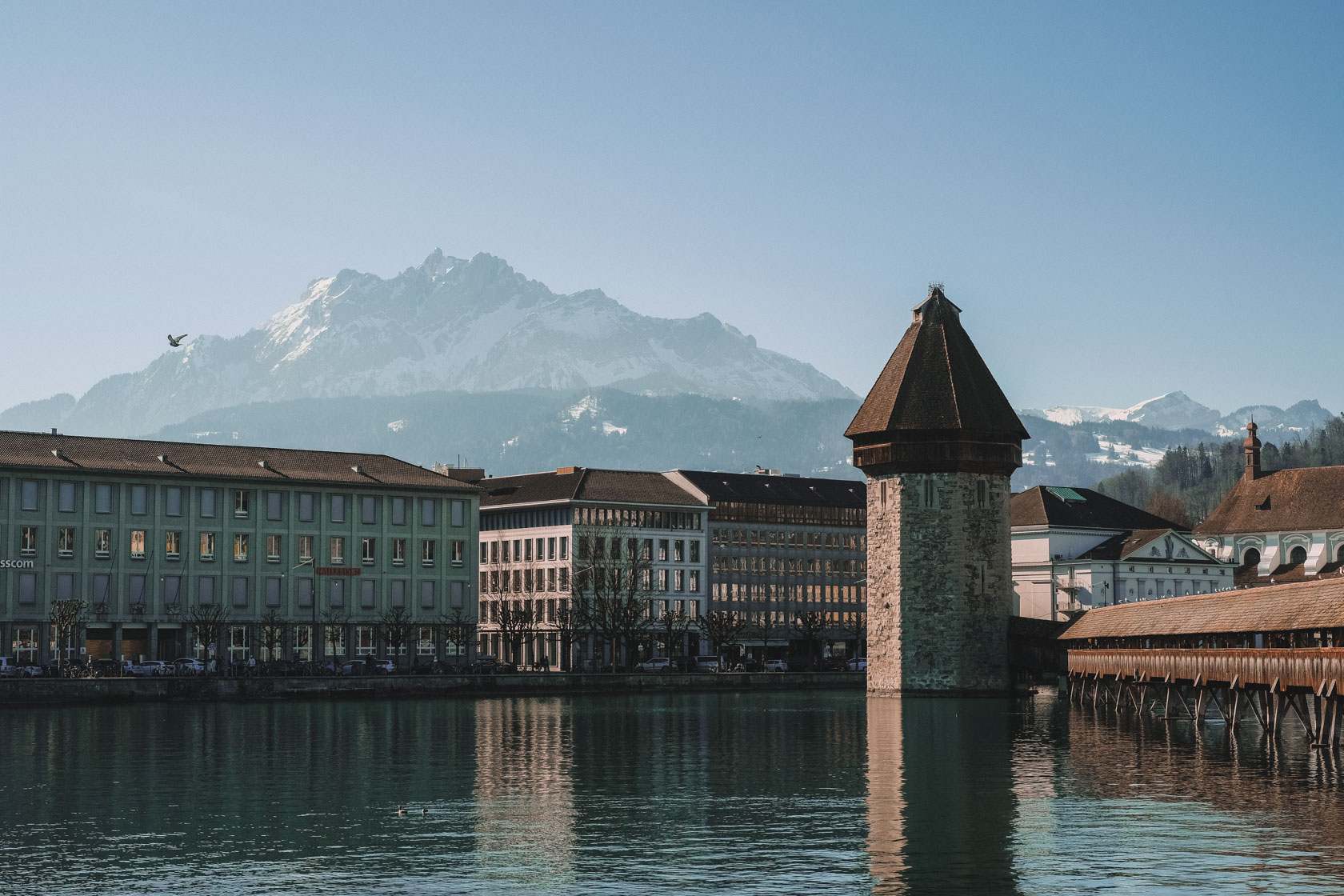 Some links in this post are to affiliate sites. If you purchase something through them, I may earn a small comission — which costs you nothing! I am very grateful when you use my links to make a purchase.
Guided Day Tours from Zurich
If you don't want to rent a car in Zurich, you can reach all of the day trips mentioned here through guided tours. Here are a couple of tours that I hand-picked that will handle everything from Zurich to each location. Be sure to check what each tour covers, such as admission to Rhine Falls and food!
The Best of Zurich: Stein am Rhein and Rhine Falls tour is almost exactly what we did on our self-drive!
The best day trips from Zurich
These Zurich day trips highlight some of the best things about Switzerland. Enjoy these historic towns and fabulous nature in Northern Switzerland!
Will you be based in Zurich? – I highly recommend Hotel St. Josef , excellently located within a ~5 minute walk of Zurich's gorgeous old town. They've got free parking, great prices especially for Zurich, plus breakfast included (which will save you a boatload of money in Switzerland, trust me) and they upgraded our room for free! Maybe they sensed I'm a blogger 🤔
Table of Contents – Feel free to jump down to the section you're interested in. At the end of the post I'll also talk about the process of renting a car in Switzerland and a couple of tours you can take from Zurich city center if you want to avoid dealing with a car!
Lucerne
Lucerne is just…so Swiss. You know how when you think of Switzerland and you just think everything there must be really nice? It's kind of like that. You've got a beautiful lake, surrounded by mountains, happy people walking around, and a take-away cafe breakfast that'll set you back 15 €. If this isn't bliss, I don't know what is!
Lucerne is Switzerland's sixth biggest city, with a population of 82,000 people. Although the population is so small, the city has a rich history. We happened to visit Lucerene in the middle of carnival and happened upon a huge crew of people wearing owl costumers, playing instrumental versions of Robbie William's "Angels". (For the Americans who don't know who Robbie William's is, it's basically like Europe's Justin Timberlake).
Ok, even of a digression – back to Lucerne! Honestly I think this town is worth visiting just because it's so pretty. You have a lake, you have mountains, you have perfect instagram spots err'where.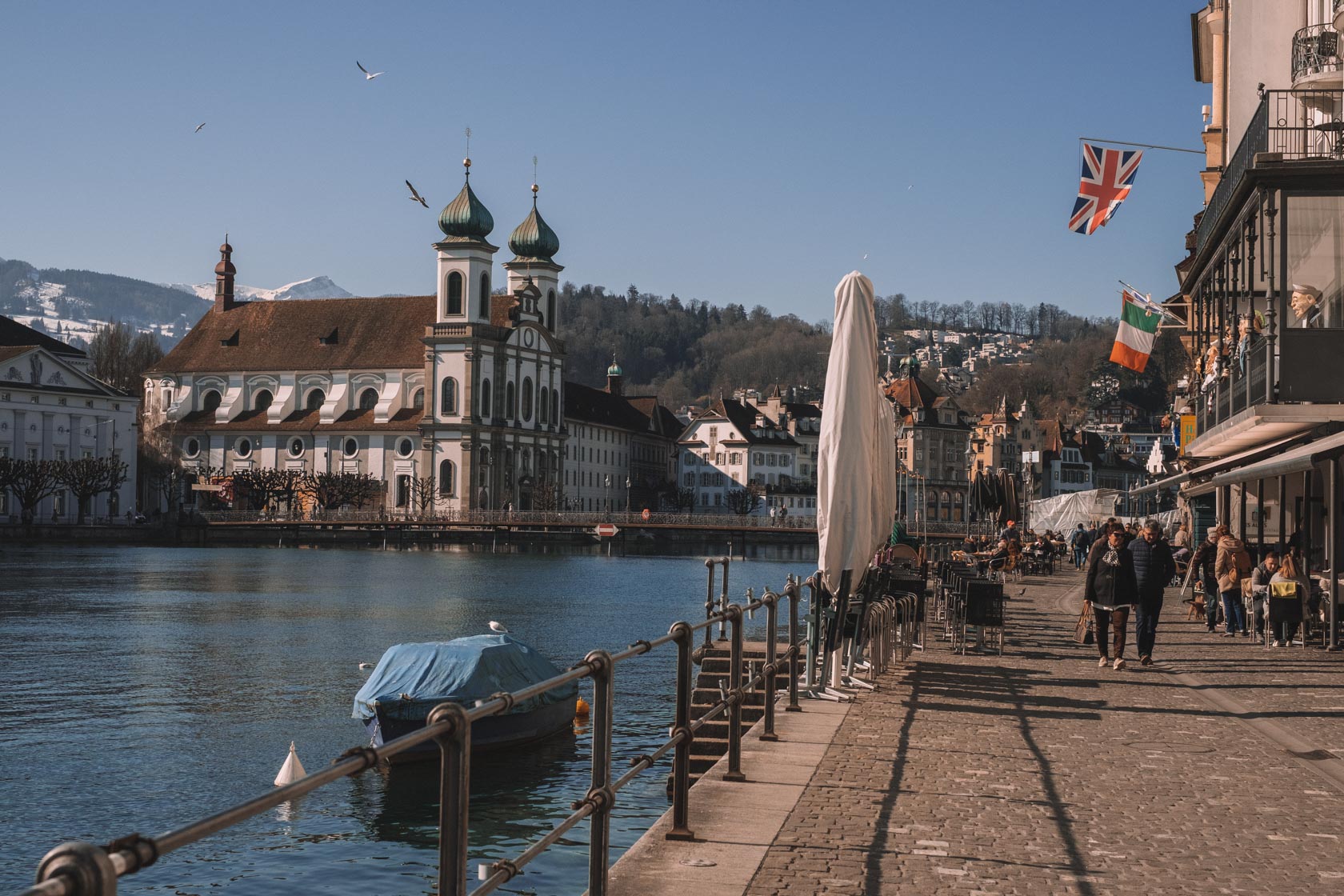 Things to do in Lucerne
Here are a couple of easy things to do during your trip to Lucerne. If you only visit for a day you won't have a ton of time, but you can still fit a lot in to a single day!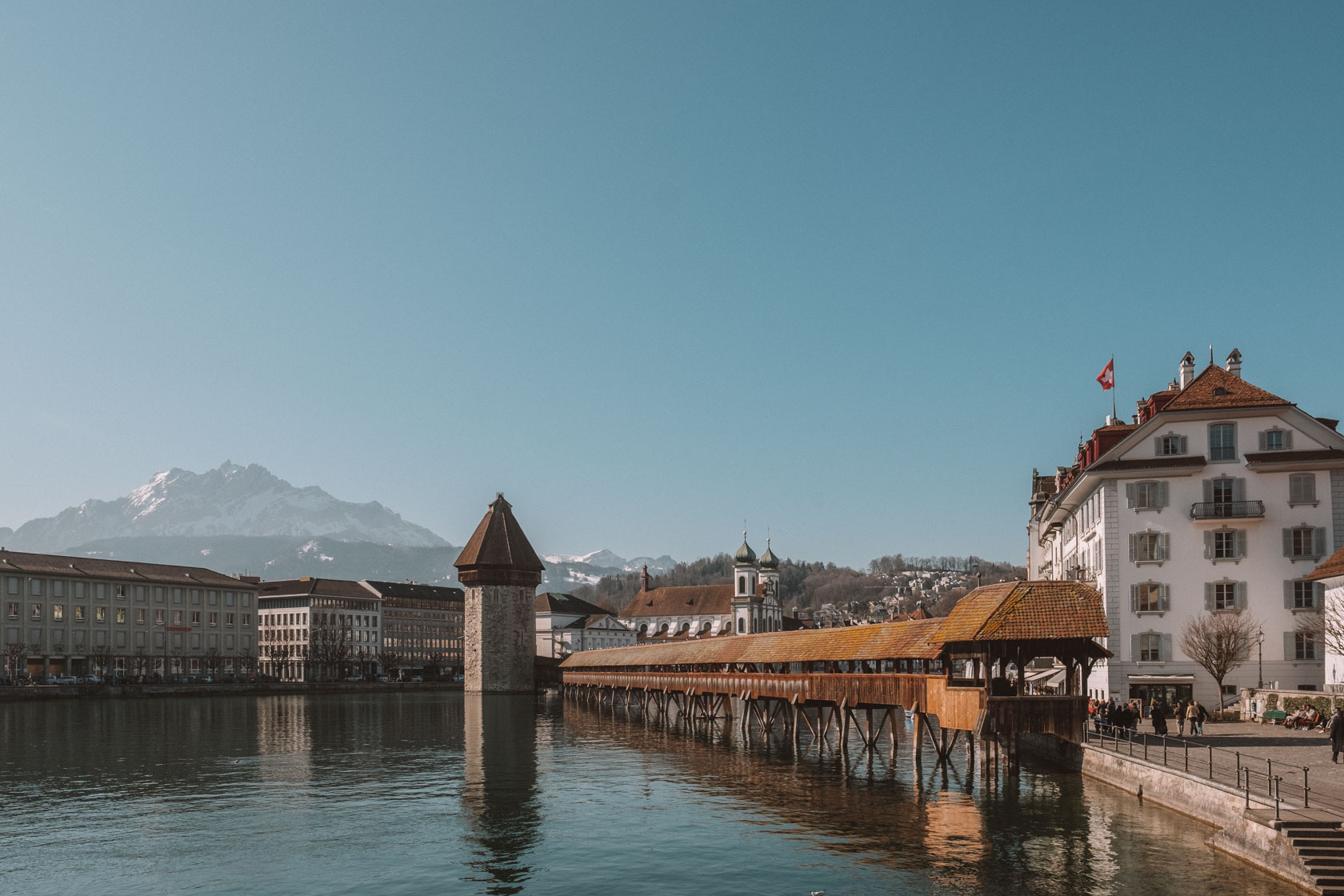 Walk across the Kapellbrücke – This wooden bridge was first built in the 14th century. Amazingly, they managed to preserve it for centuries until it caught fire IN 1993. Can you believe that?! They had to restore it for 3.4 million Swiss francs, which is almost exactly the same in US dollars. 😱 The Chapel Bridge, as it's called in English, is easily Lucerne's most popular photo location if not one of the most popular photographs in all of Switzerland.
Go for fondue. But first, what actually is fondue? One of my favorite things is reading reviews of fondue restaurants where people complain about having to cook their own food! In short, traditional fondue comes in two forms: cheese or meat. In cheese fondue you get bread and dip it in hot fondue sauce, whereas with meat fondue you cook it in broth. Both are delicious, and in Switzerland both will set you back AT LEAST 30 CHF ($30) per person. Welcome to Switzerland. You get bread and cheese for 30 bucks. Excuse me – fancy bread and cheese for 30 bucks.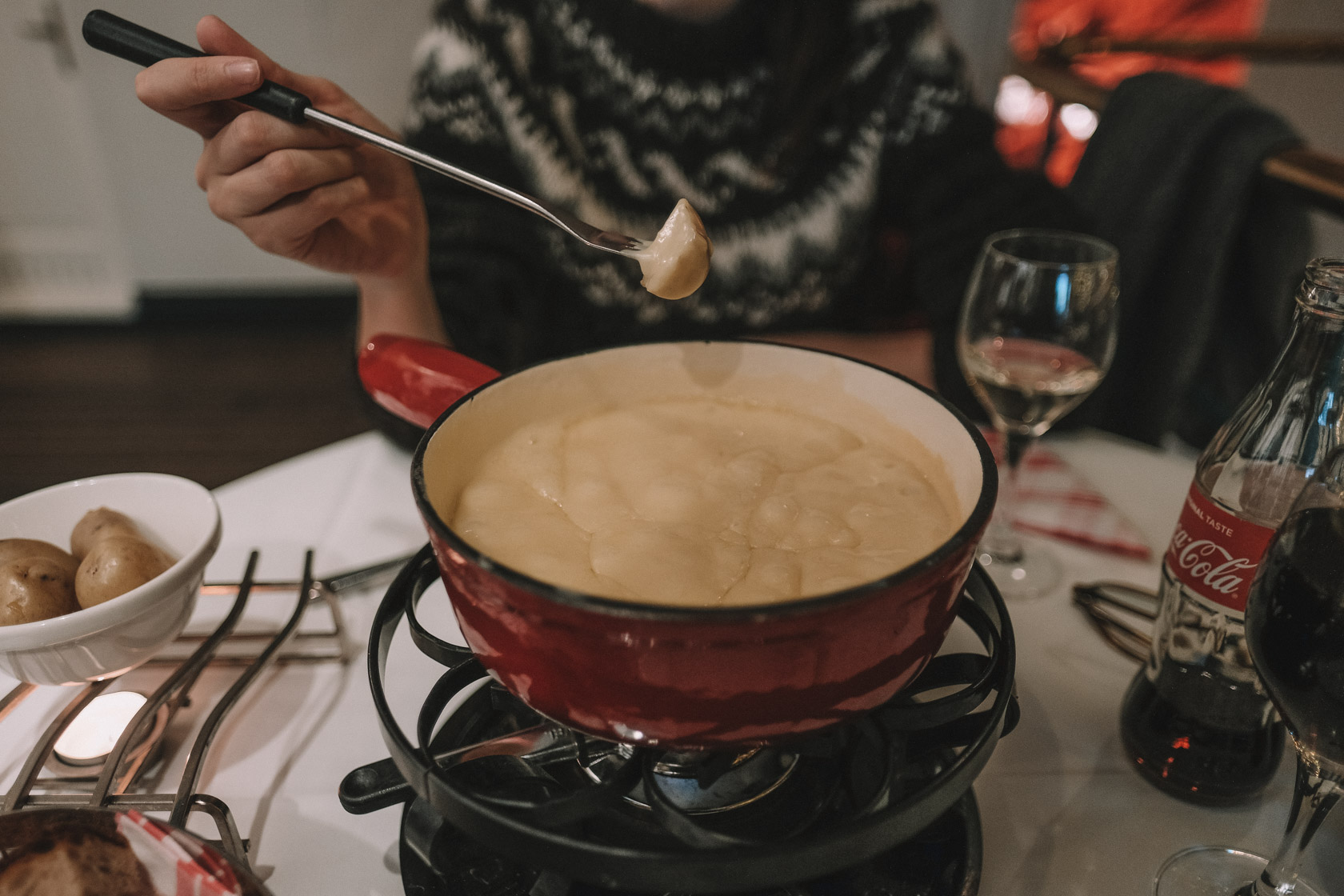 Visit the Lion Monument. The Lion Monument is a monument to Swiss Guards who were massacred during the French Revolution. More than 600 were killed or died fighting, or were killed after they had surrendered. You'll see a dying lion carved into a marble statue overlooking a pond. Nearby you also have the Gletschergarten , or Glacier Garden, which looks lovely but we didn't have time to visit.
Take a cruise along Lake Lucerne. The lake is a prime spot for a boat ride. If I had more time in Lucerne I would've loved to take a boat ride and get to explore the city from that perspective. If you're interested, there are a ton of really cool-looking boat tours around Lucerne .
Visit Mt. Rigi or Mt. Pilatus. Get yourself to the Alps! Near Lucerne you have two famous mountain tops. You might choose one or the other based on how much time you really have. Here are a couple of tours that'll take you to each of these gorgeous peaks from Lucerne.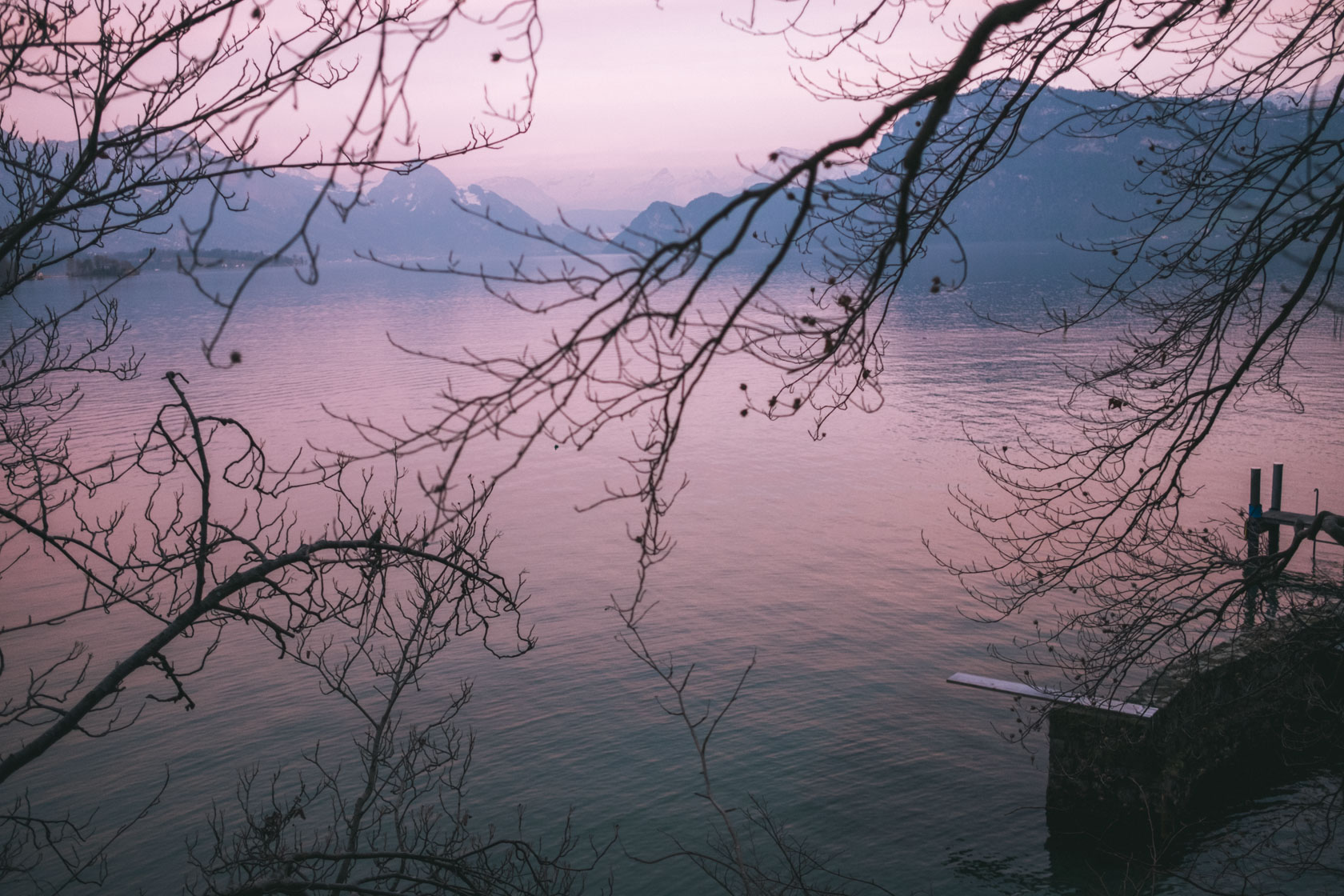 Staying in Lucerne? If you decide to make it more than a day trip, we loved Lake Villa Lotus for its location right on the lake and beautiful grounds (pictures above and below!).
If you happen to be bringing your kids to Lucerne, you can also read this useful list of things to do in Lucerne with kids . The youngins will love Switzerland since they are blissfully unaware of the prices 😉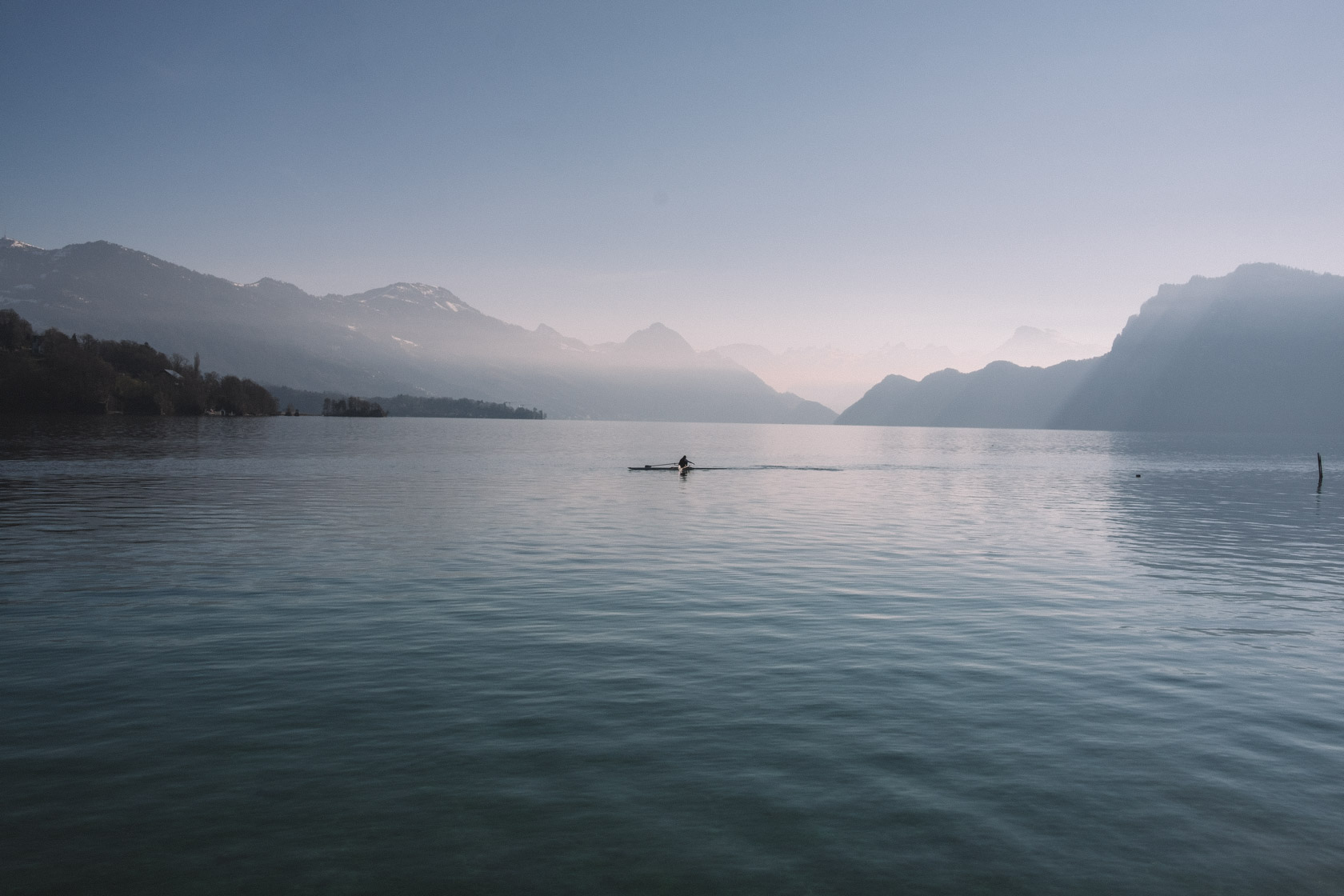 Stein am Rhein
There's a good chance you've seen photos of Stein am Rhein and didn't even realize you were looking at this historic village in Northern Switzerland. It started out as a fishing village, and then grew when an abbey was formed there in the 11th century. Today you can see beautiful painted buildings adorned with frescoes along the car-free town center.
Stein am Rhein is popular with families and as a weekend break from Zurich. Come during the week to avoid the crowds, as it can get pretty busy when the weather is nice out.
Tips for visiting Stein am Rhein
Arrive in the morning for the best lighting. I came here in the late afternoon and my photos are all a bit dark! Since the streets are so narrow, you want to be here in the morning and mid-day for a well-illuminated town. If you decide to stay overnight, there are a grand total of 11 hotels in Stein am Rhein .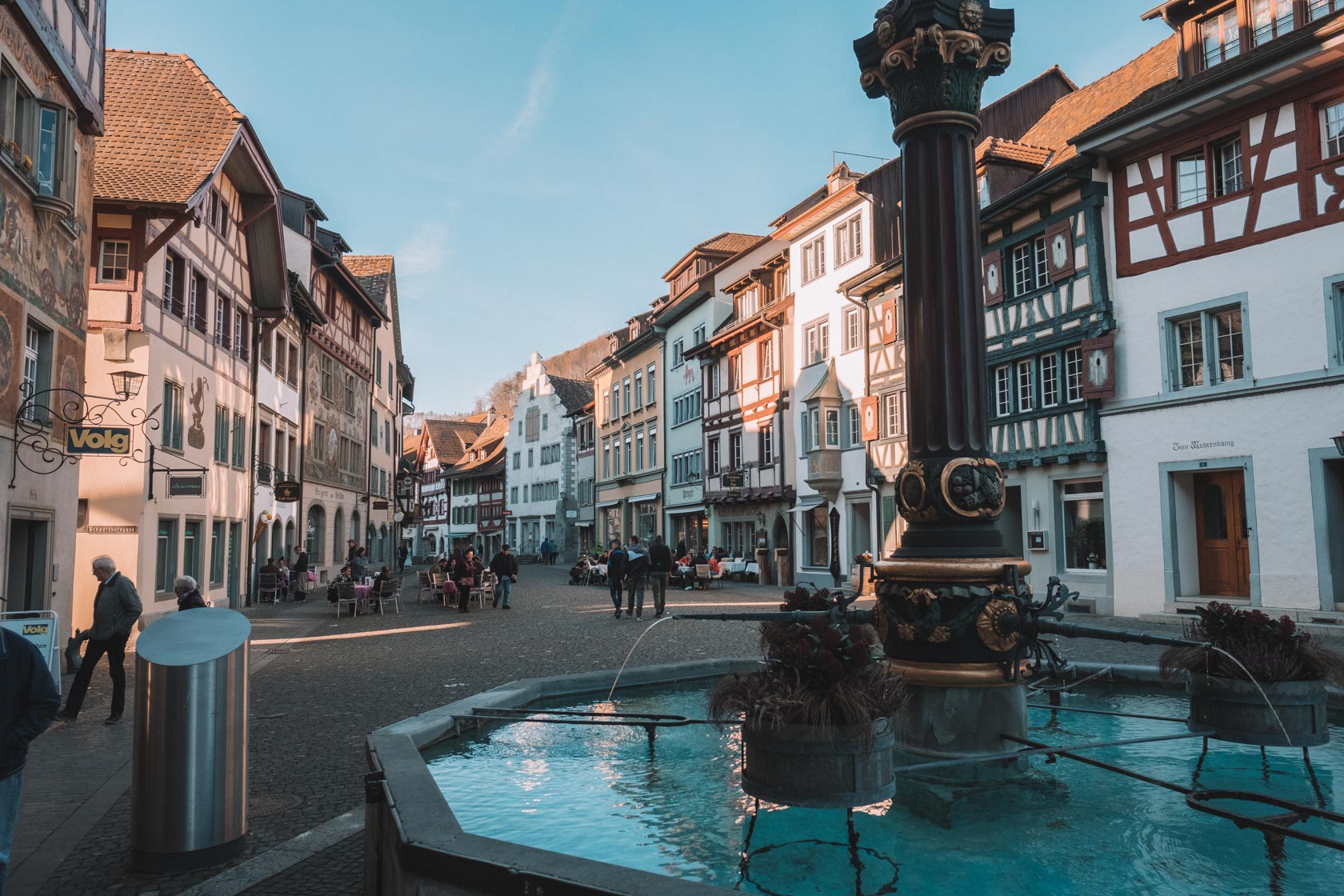 Bring your wide-angle camera lens. This village has a ton of tight spaces, so if you want to capture it on camera be sure to bring your wide angle camera lens. As you can see below, I can barely fit myself and this super tall tower in the same frame!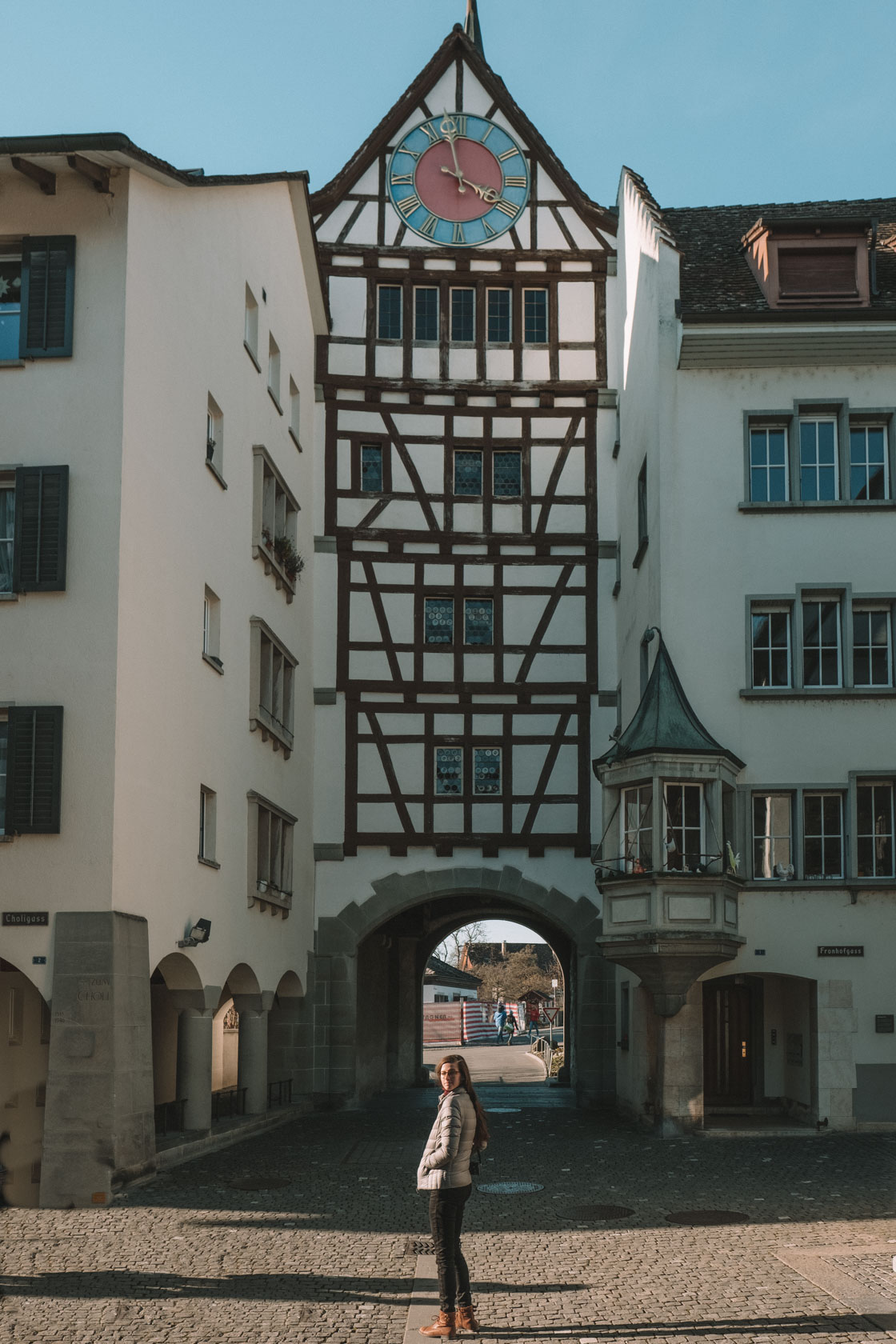 Go up the neighboring hill for a view over the town. There is a fortress at the top of a nearby hill called Hohenklingen Castle that overlooks the town. When we went, the fortress was closed (probably because it was winter) but the view was still gorgeous. You see vineyards dotting the slopes, basking in the late afternoon sunshine. I'm dying to come back in Summer!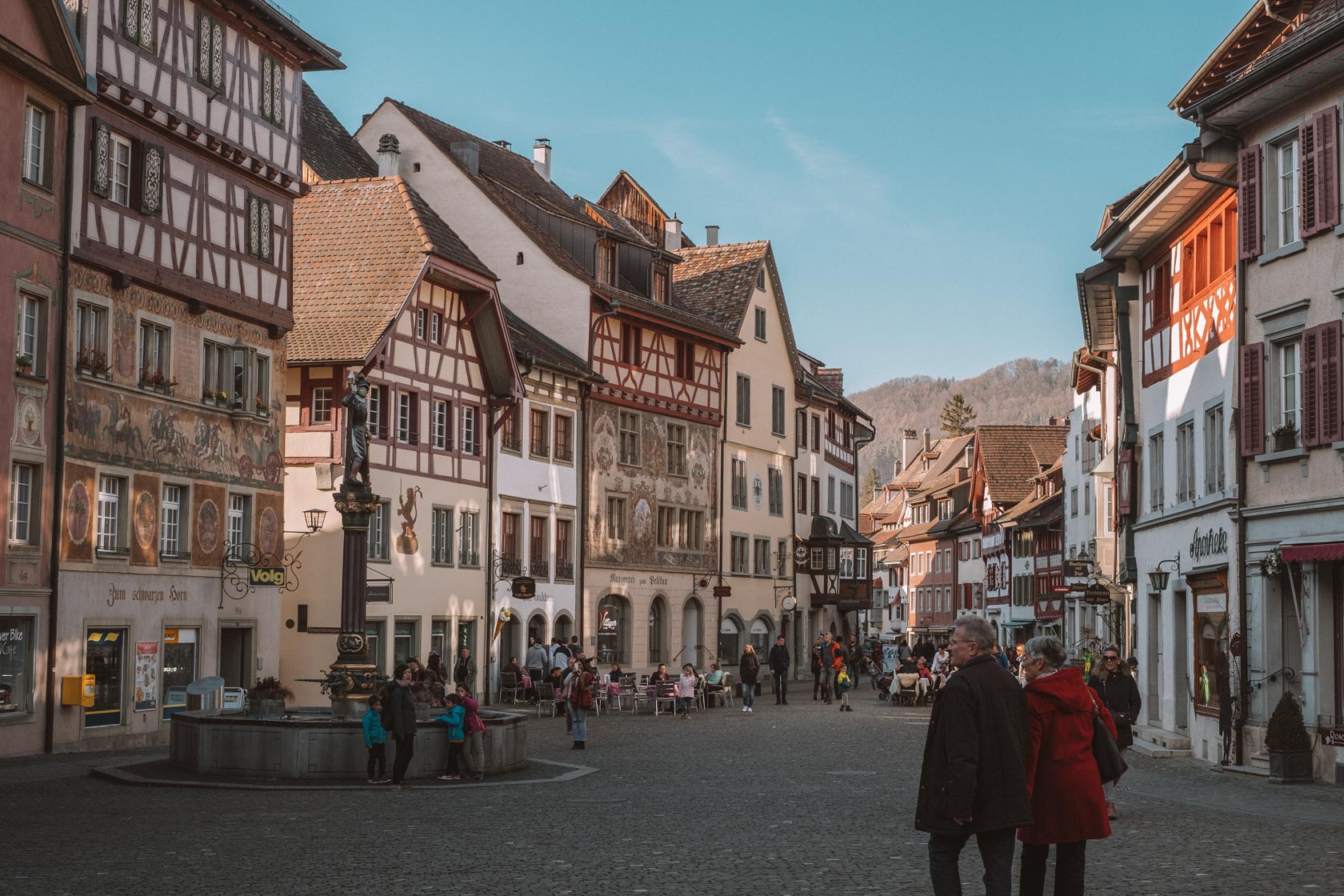 Stein am Rhein is a very family-friendly destination. When you come here you'll see a ton of families, doing all kinds of activities like riding their bikes along the river, taking boat rides along the Rhine, or just enjoying and ice cream code and that sweet Swiss sunshine. There are even play areas for children in a nearby park.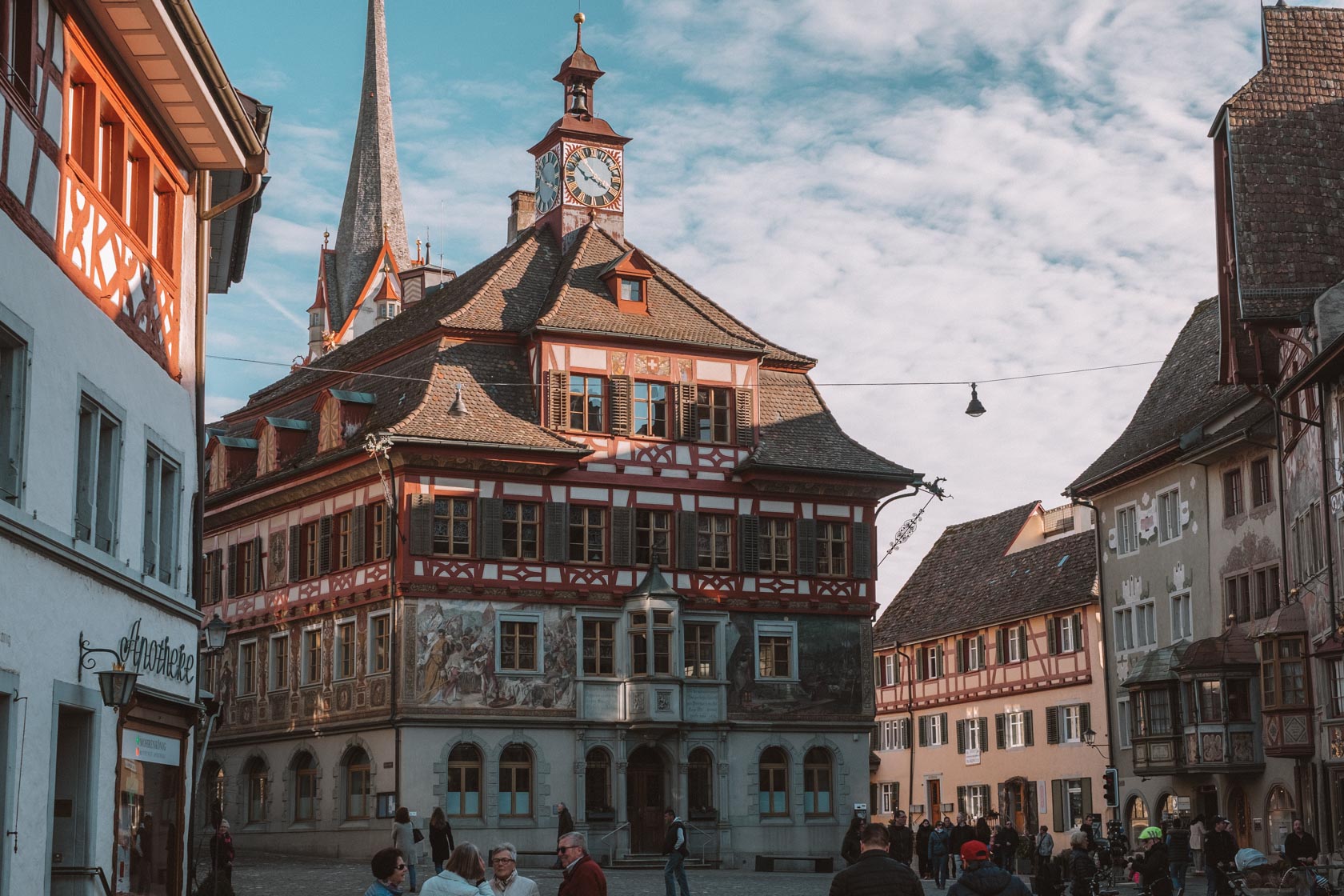 Getting to Stein am Rhein is easy with a car. It takes just 45 minutes by car from Zurich. You can also opt for going by train, which takes about 1 hour 20 minutes, including a few changes. For information about when the train is running, you can use the Swiss Rail Service timetable tool . There are also tours that'll take you from Zurich to Stein am Rhine, which I've listed at the end of this post.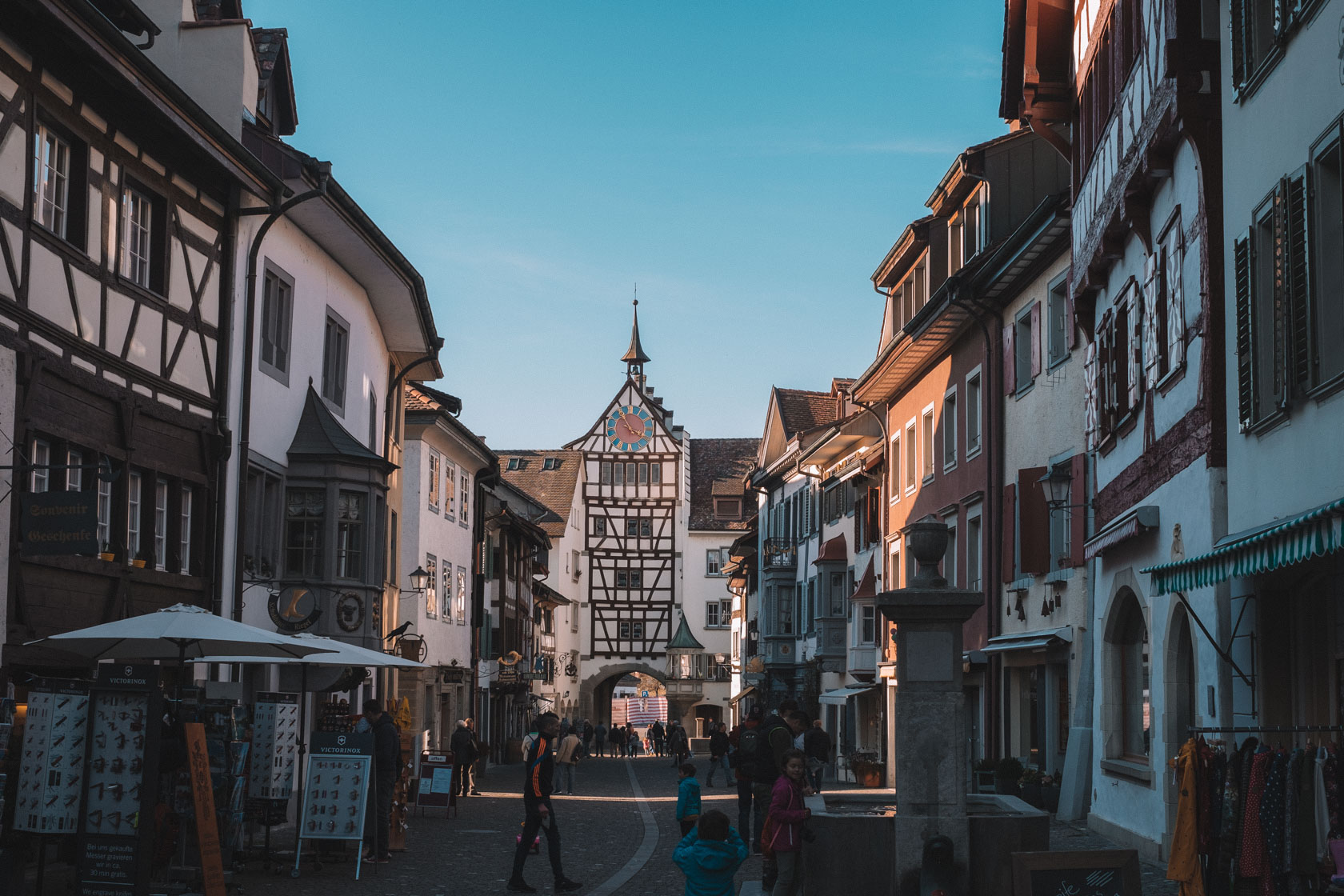 Side note! Not too far from Zurich is another option for a day trip, Lech, Austria, one of the most exclusive places to ski in Austria. This super charming town was a ton of fun to visit, check it out if you're here in the winter and love skiing! Bonus: You can get gas in Austria which is way cheaper than Switzerland 👼
Rhine Falls
Last but not least, Rhine Falls at Schaffhausen is perhaps the most popular day trip from Zurich altogether. Which is clear to see when you try to park here on a Sunday afternoon! Quite a challenge, but with some determination, anyone can do it 😄
So what's so neat about Rhine falls? Well, it's the largest waterfall in Europe! It's 150m wide by 23m high, or in "freedom units" 490 feet wide by 75 feet high. No matter what measurement system you use, this waterfall is MASSIVE. So massive that I just learned on Wikipedia that fish can't even climb the waterfall, only eels can. So once you're down the river, you're just…down the river.
So what's there to do at Rhine Falls?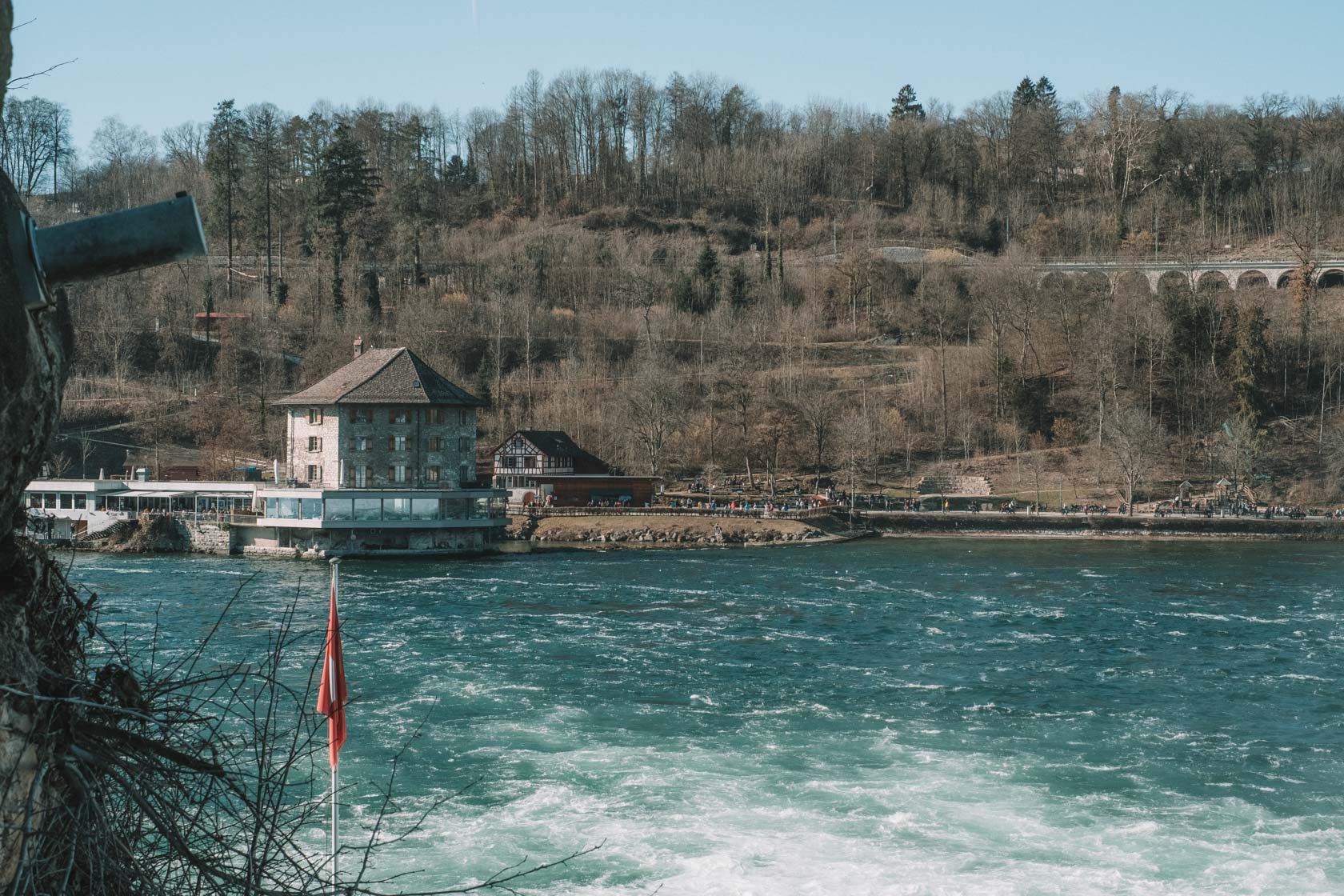 Things to do at Rhine Falls
Get entry to Rhine Falls. This costs only 5 CHF or $5. There's an ATM right near the ticket booth, but they also accept card payments. With this ticket you can go into some exhibits inside about the history of how the falls were discovered and famous painters who lived at the waterfall just to paint it!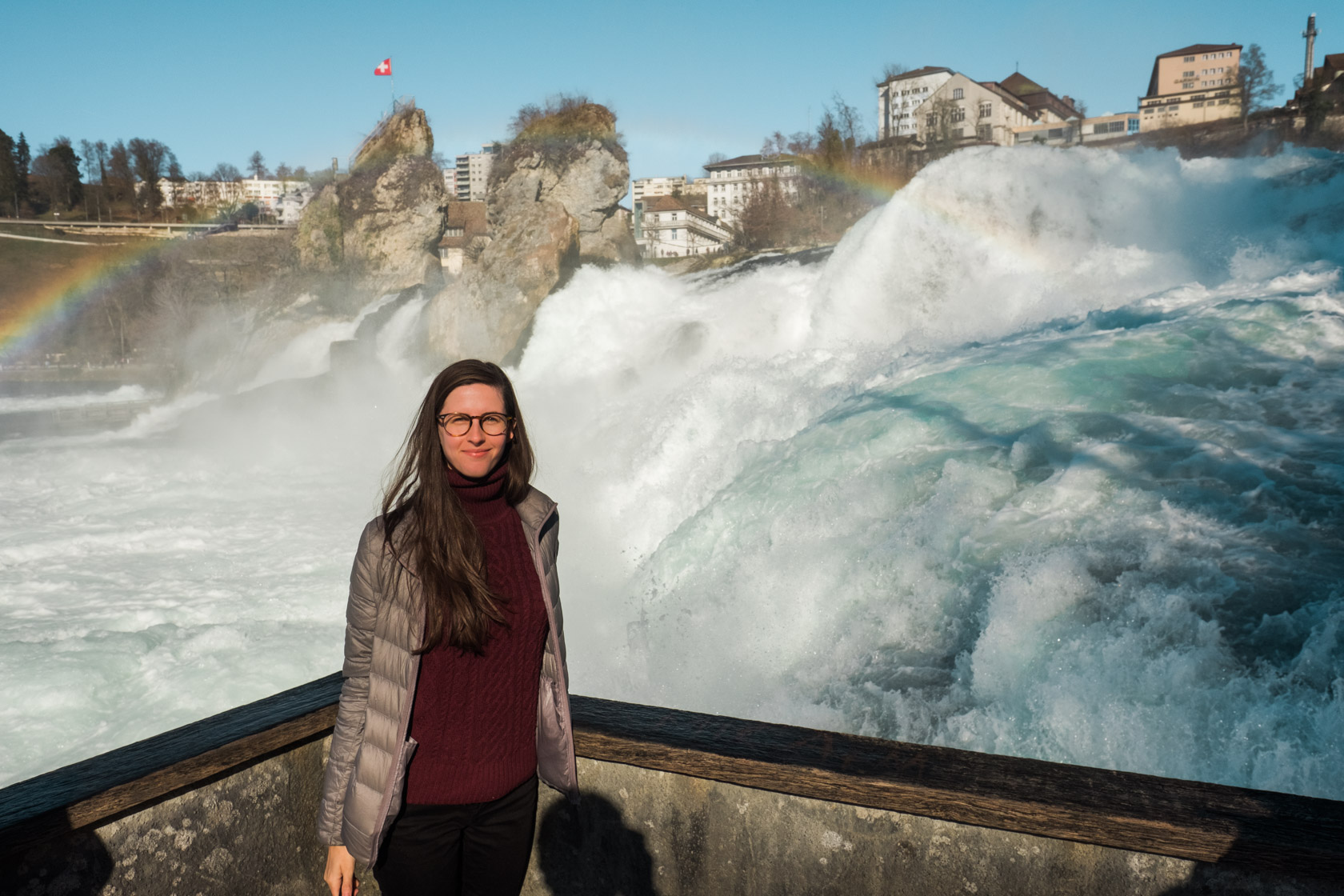 Do some adventure activities! If you're feeling brave at the largest waterfall in Europe, you can do activites like a boat tour, rafting, go to a nearby adventure park for zip-lining. There is really a ton to do in the area if you want to spend an entire day in the area.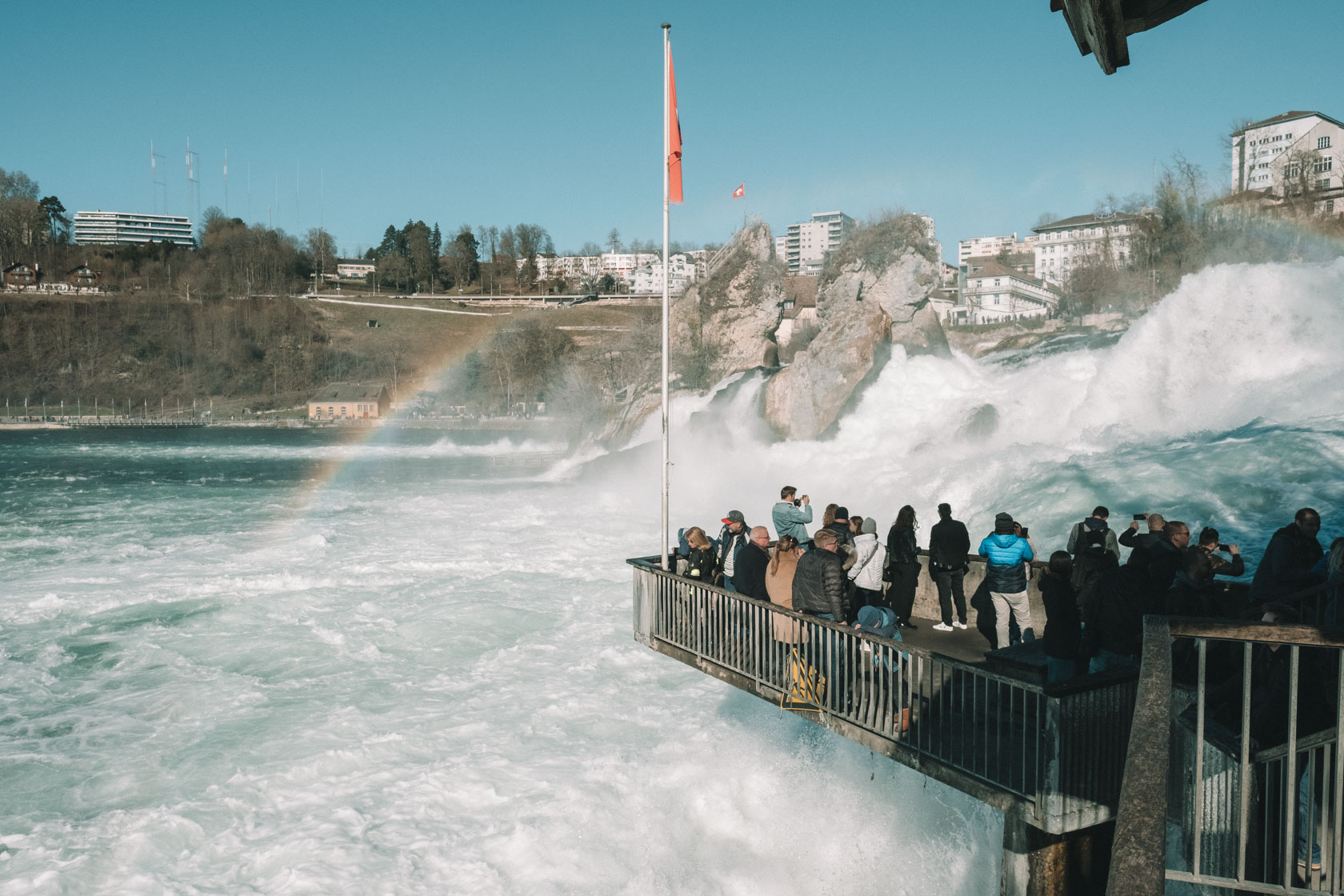 For more information you can check out the official website of Rhine Falls .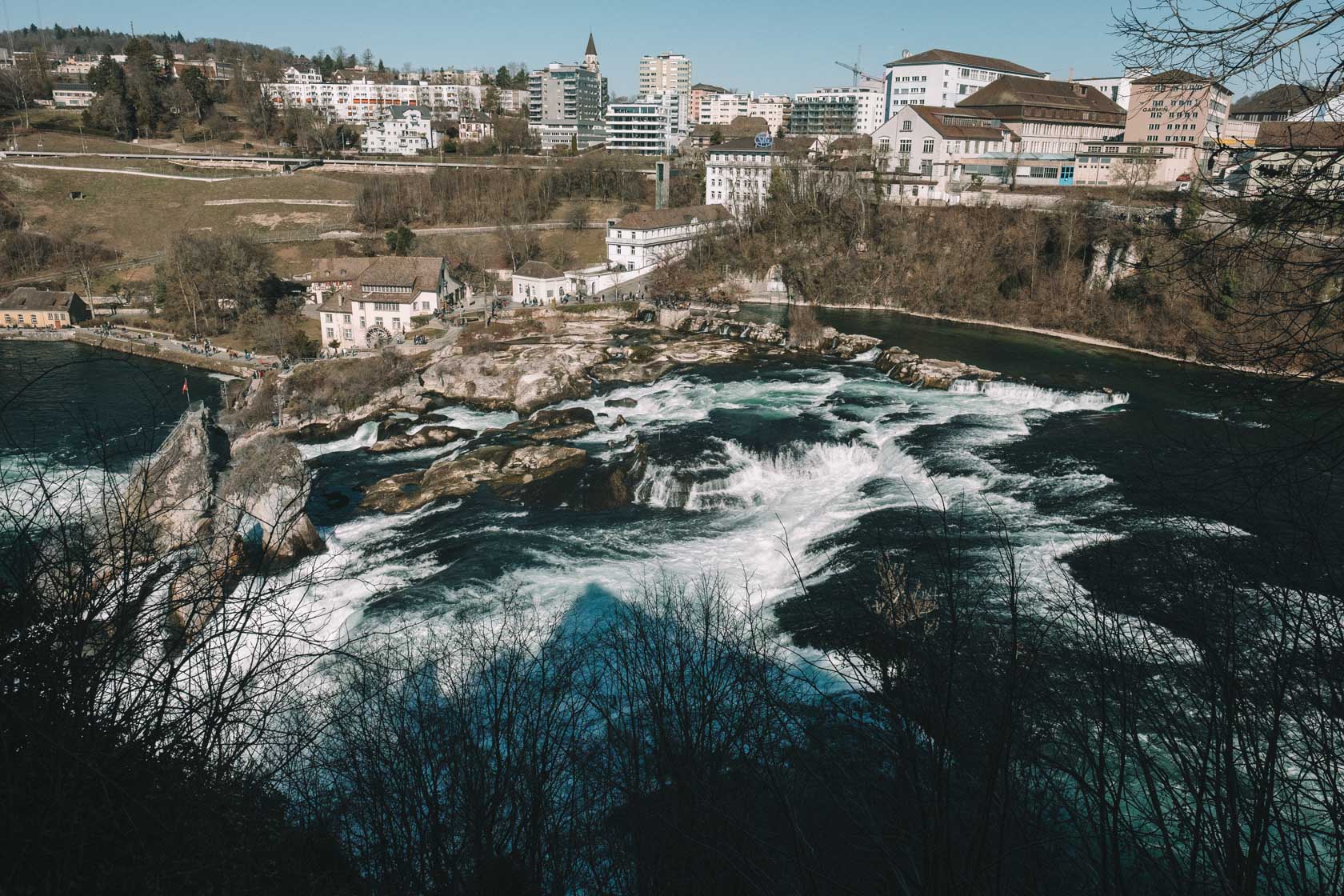 Renting a car in Switzerland
So, now that you have some day trip ideas, how are you going to reach these things? One of the easiest options is renting a car in Switzerland. Provided you're not as lame as me and are actually able to drive a manual-drive car, you can rent a car in Europe easily when coming from abroad. Yes, they also have automatic cars but they will be more expensive.
That said – it's not cheap to rent a car in Switzerland. Be prepared to pay for it! Alternatively, you can use the Swiss Rail Service or simply go for a guided tour that will take care of all the logistics for you.
If you're staying for longer in Zurich, check out this useful list of free things to do in Zurich for inspiration!
That's a wrap! Are you headed to Switzerland soon? Let me know what you would most love to see in Switzerland, even if it's still a dream right now 😉 I still need to go back and see a whole lot more myself!