Riga, Latvia is often overlooked in favor of its Baltic neighbors, Tallinn and Helsinki, yet Riga has its own gorgeous Old Town and tons of beautiful sights worth photographing – from historic churches to breath-taking panorama points, you can find tons of great photography locations in Riga if you are willing to explore a bit.
I came to Riga for a tech conference, having basically zero expectations for what the city would be like. The cool part about that is I got a ton of local recommendations of things to do and see and eat in Riga, which I might not have had if I had traveled there 100% independently.
Here are the prettiest spots I found in Riga for taking photos, as well as a quick city guide on how to get around, recommended places to eat, and other tips for visiting Riga, Latvia.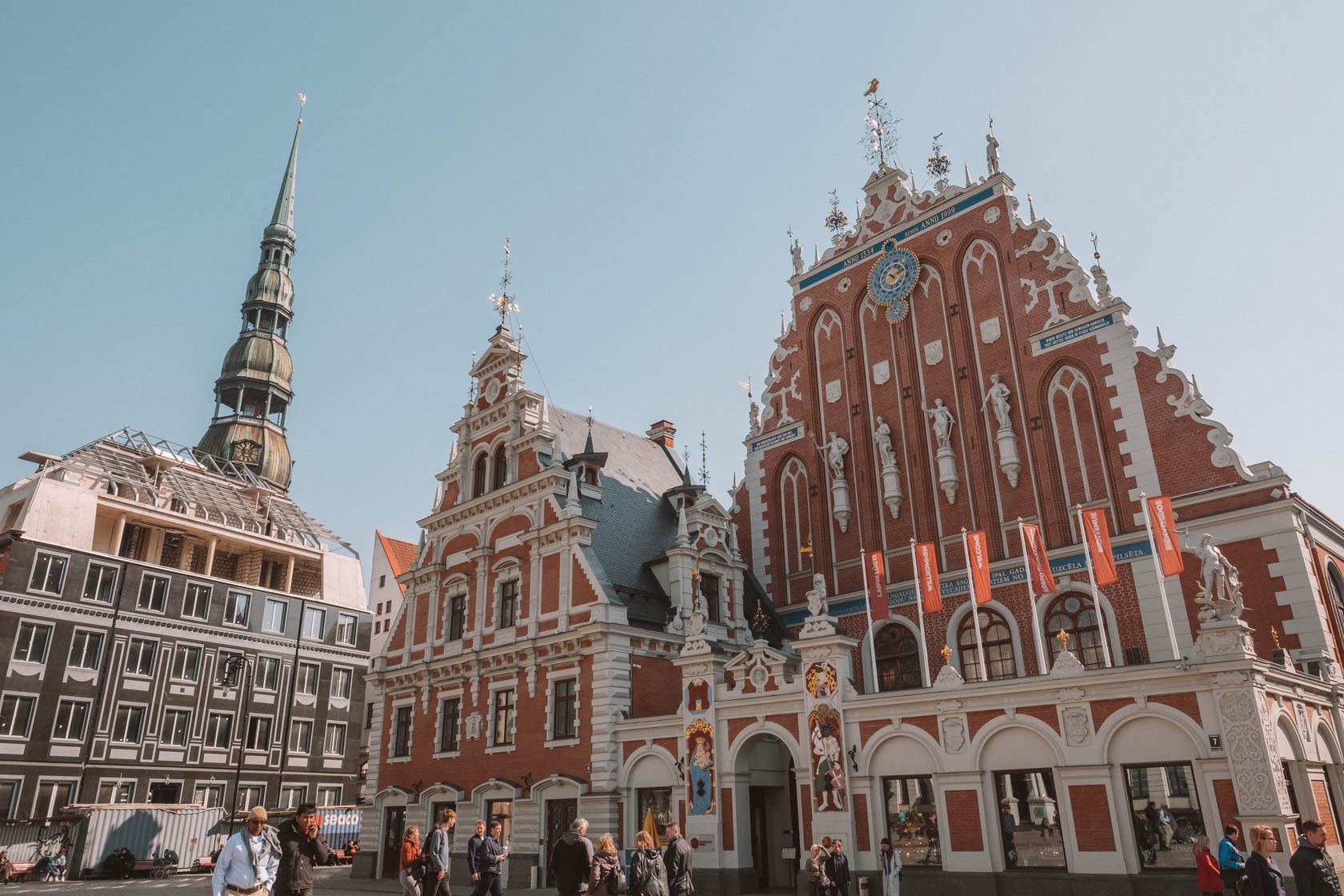 Some links in this post are to affiliate sites. If you purchase something through them, I may earn a small comission — which costs you nothing! I am very grateful when you use my links to make a purchase.
Quick facts about Riga
Before we dive into the photography locations, I wanted to share a couple of quick facts to help you plan your trip to Riga, Latvia. Scroll down for the photography spots and a map of where to find them!
Currency Latvia has been on the Euro since 2014.
Booking flights Within Europe the easiest way to get to Riga is by plane. RyanAir flies to Riga for as little as 16,81 € one-way. I flew with AirBaltic and the mid-week flight was practically empty, meaning I could stretch out for a nap!
Accommodation Stay close to the Old Town if possible. I stayed in Tallink Hotel Riga for five nights and found it super comfortable, clean, and modern. It's just a two minute walk from Riga's most popular parks and about 5-7 minutes from the Old Town.
Recommended restaurants Riga is a place where you can do quite a bit of fine dining if you like, or enjoy the budget-friendly nature of the city. Here are two spots I recommend trying:
Folkklubs Ala Pagrabs – Traditional food and craft beer at good prices in an underground tavern.
Carlstons – Fancier format for barbeque and traditional Latvian food.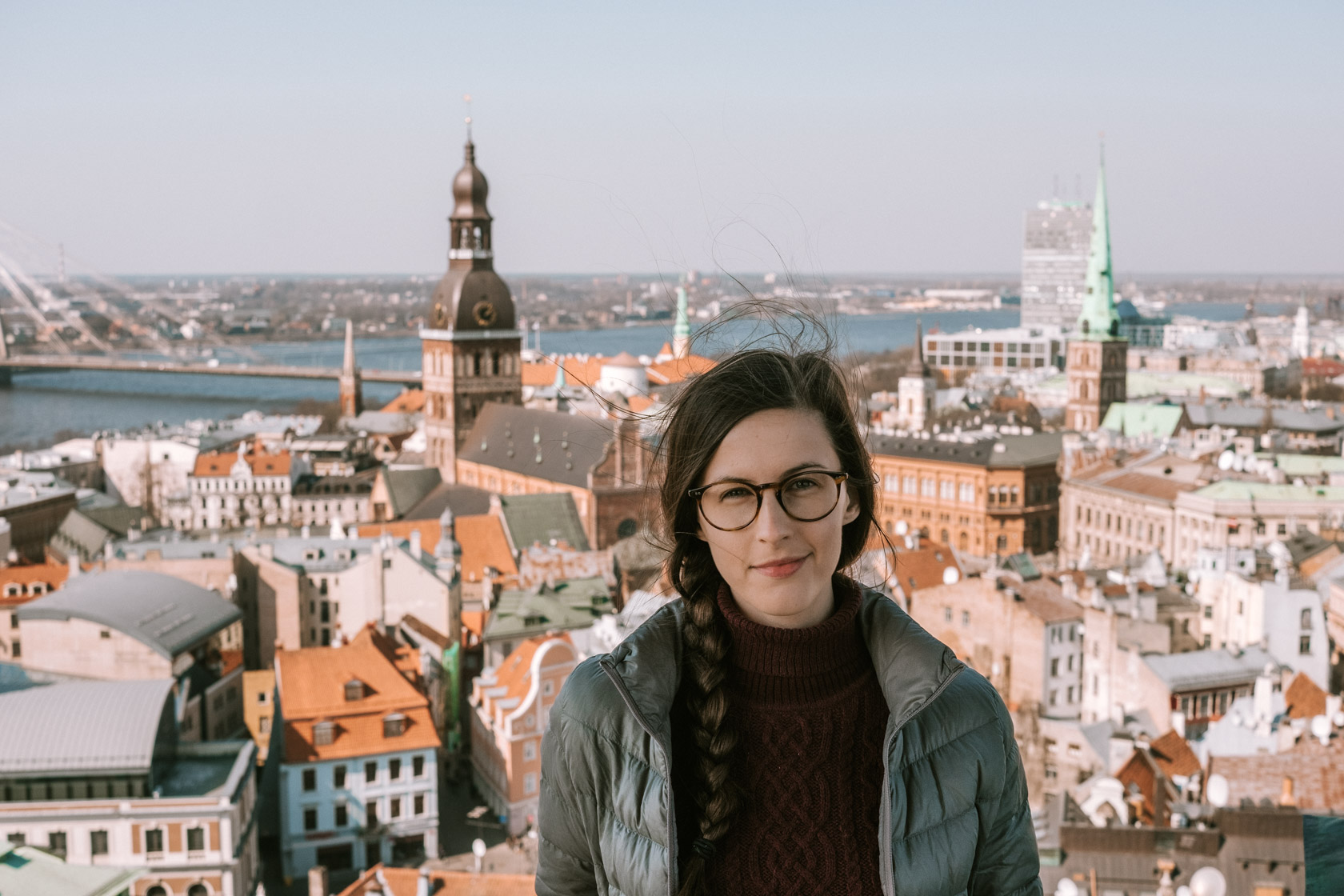 Note: The top of St. Peter's Church is hella windy. This is the least vertical my hair was the whole time I was up there!
Best photography locations in Riga
Here are 15 of the best places to take a photo during your trip to Riga, Latvia! They're listed in no particular order, so just scroll down until you find the photo that inspires you to visit this charming city.
Latvian Academy of Sciences
If you talk to anyone from Latvia about this building, the first thing they're likely to do is reiterate to you how very ugly it is. The Latvian Academy of Sciences was a "gift" from the Soviets during the Soviet Occupation of Riga. Apparently there is a very similar building to this one in Russia, but much larger.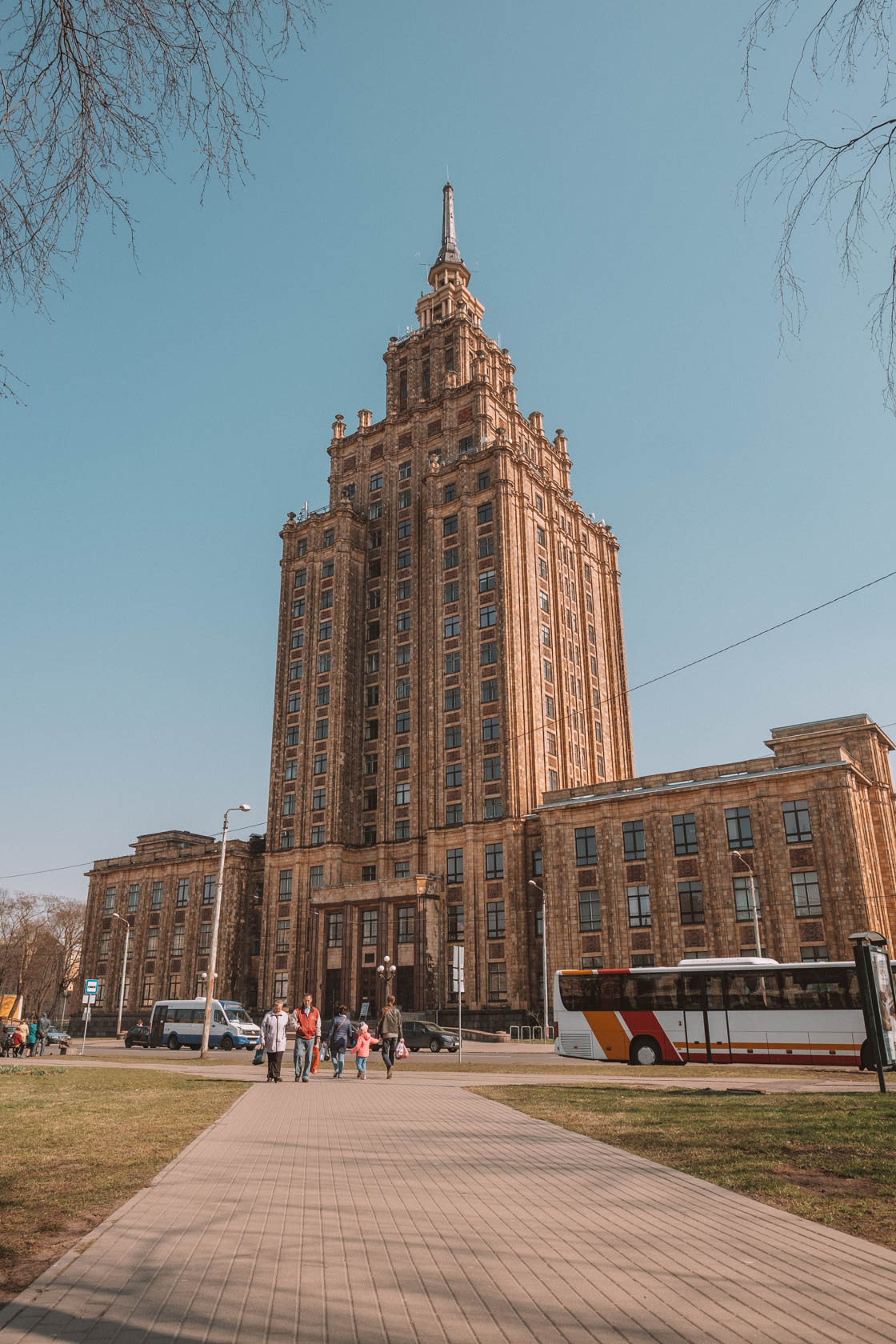 Now, the important thing to note isn't that we are coming here to take a picture of the building itself, but rather to reach the tippy top for sweeping views all over Riga. From the panorama point on the 21st floor of this building, you can see some of Riga's most famous sights: the central market and St. Peter's Church being two of the most prominent.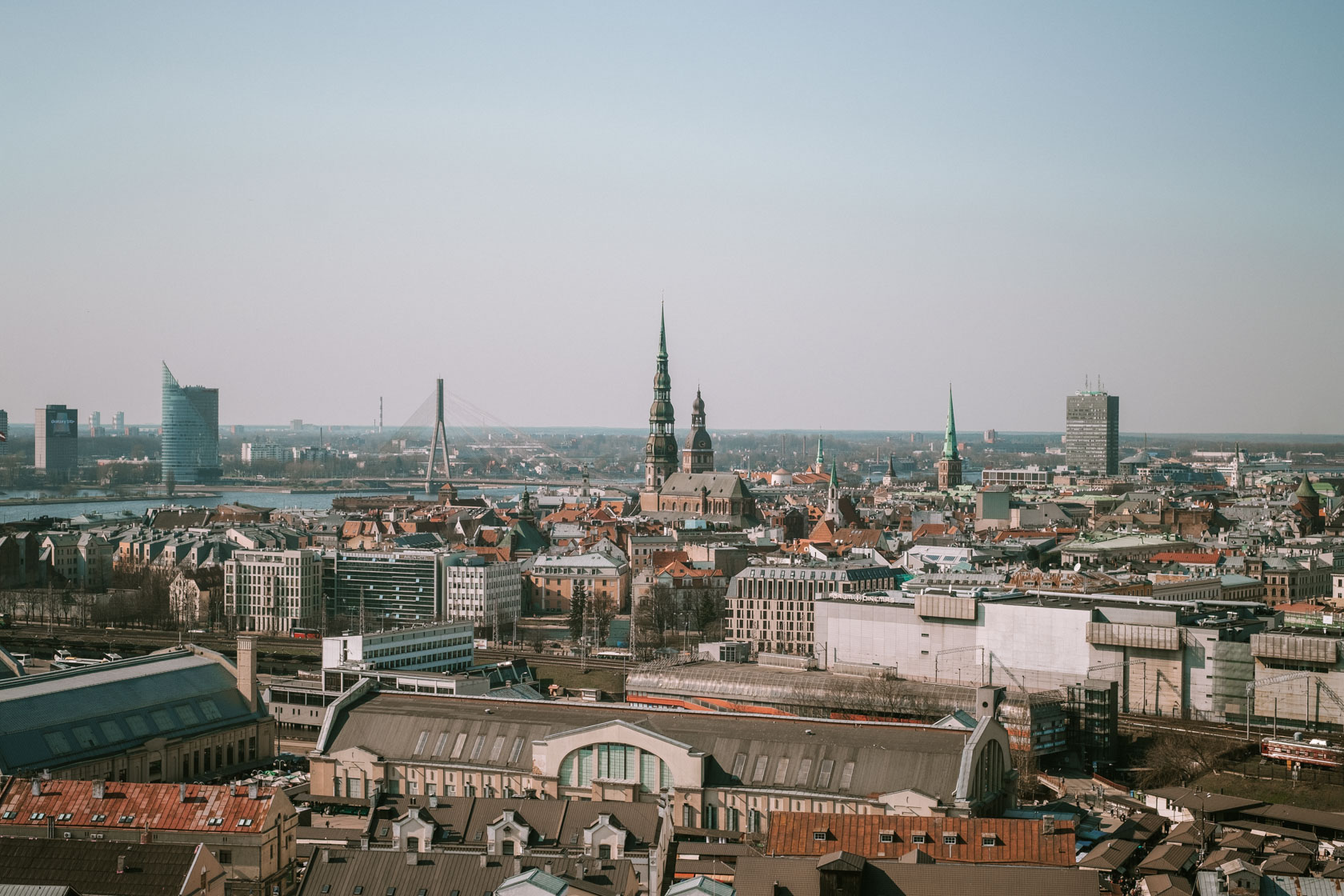 In my opinion, the view from St. Peter's Church is prettier but it's still nice to do both. Especially because this is the best place to get a view of St. Peter's church itself from above.
The easiest way to reach the Latvian Academy of Sciences is by foot after you've spent some time at the next spot on this list, the Riga Central Market.
Opening times: Sun - Sat 9:00 AM - 10:00 PM
Cost: 5 €
Central Market
Get ready for some intense smells before you enter Riga Central Market , known locally as Rīgas Centrāltirgus. This enormous indoor market is the largest market in Europe, with more than 72,000 square meters of space and over 3,000 stands. Each of the former Zeppelin hangers, which have been converted into market halls, follows a theme: meat, dairy, fish, and other goods.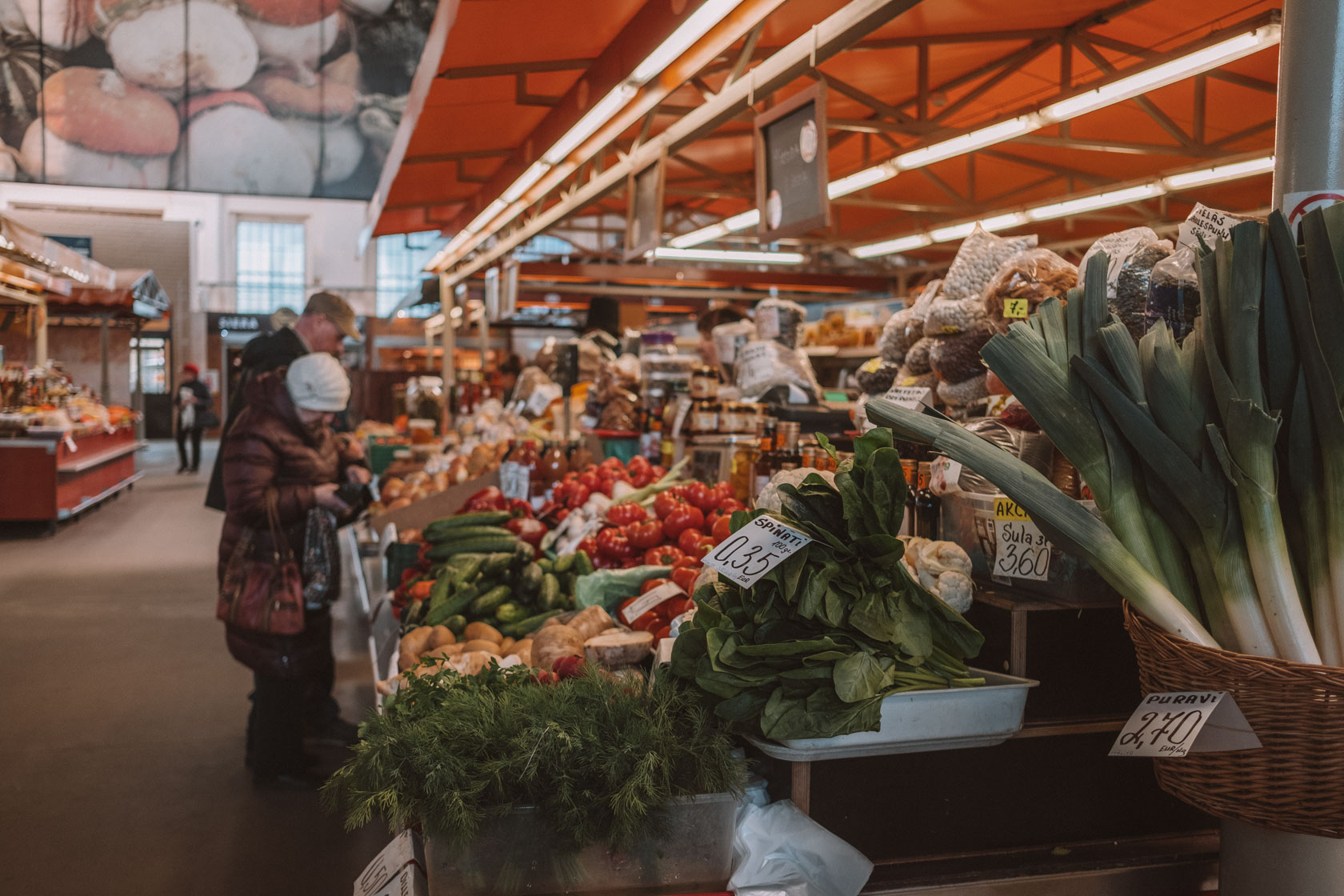 You can come to the central market for either breakfast or lunch. At breakfast you can stop in a bakery and grab a local pastry, or for lunch you can come to one of the many food stands. Do as the locals do and down a regional craft beer or an Aperol Spritz.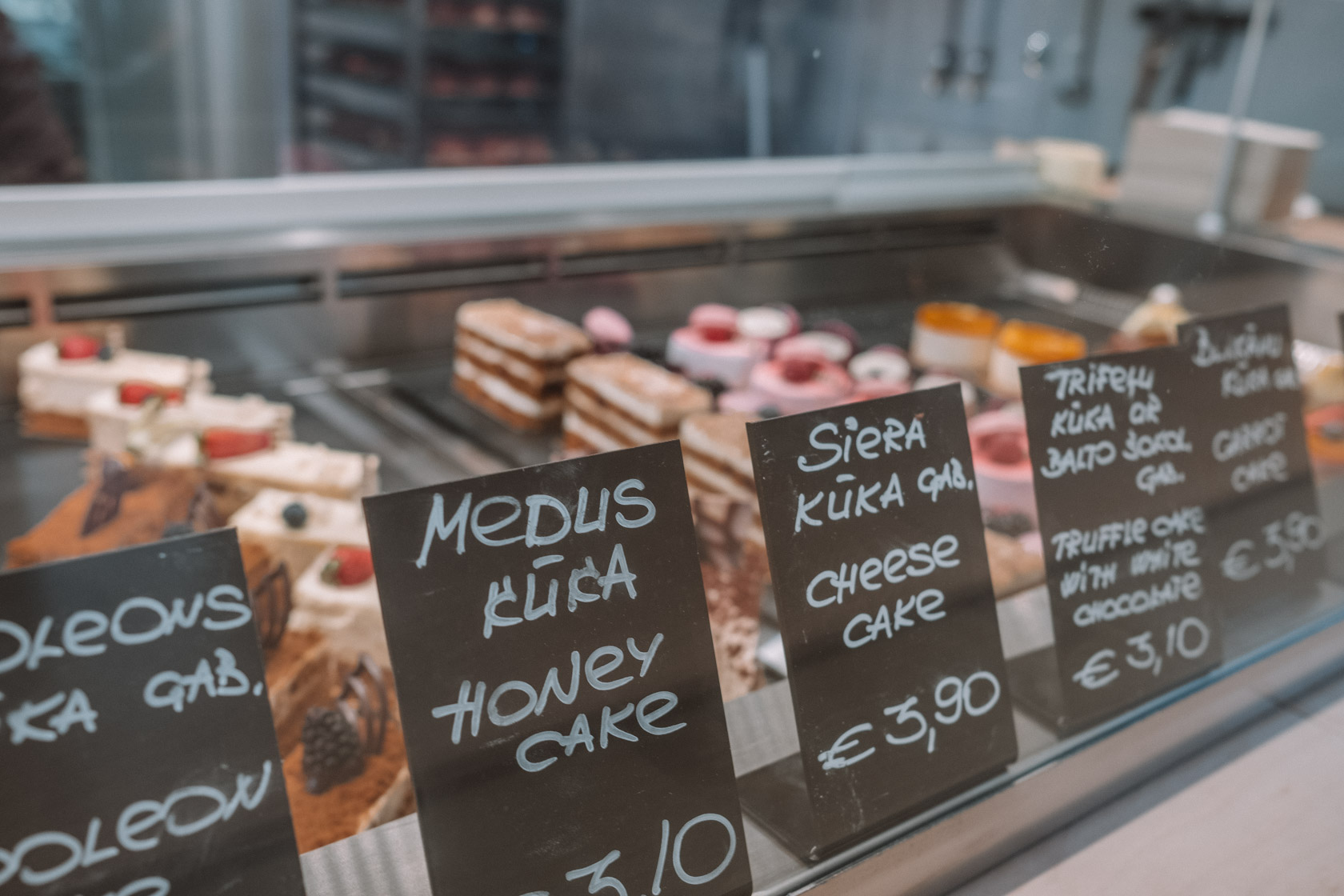 Opening times: Sun - Mon 7:00 AM - 5:00 PM • Tue - Sat 7:00 AM - 6:00 PM
Cost: Free to enter
National Library of Latvia
From the Central Market or the National Academy of Science, you can take a short bus ride to the National Library of Latvia . This modern library has stunning interior architecture, and is a popular place for students to spend their days (being here reminds me of how many hours I spent slaving away in my own university library but…I digresss).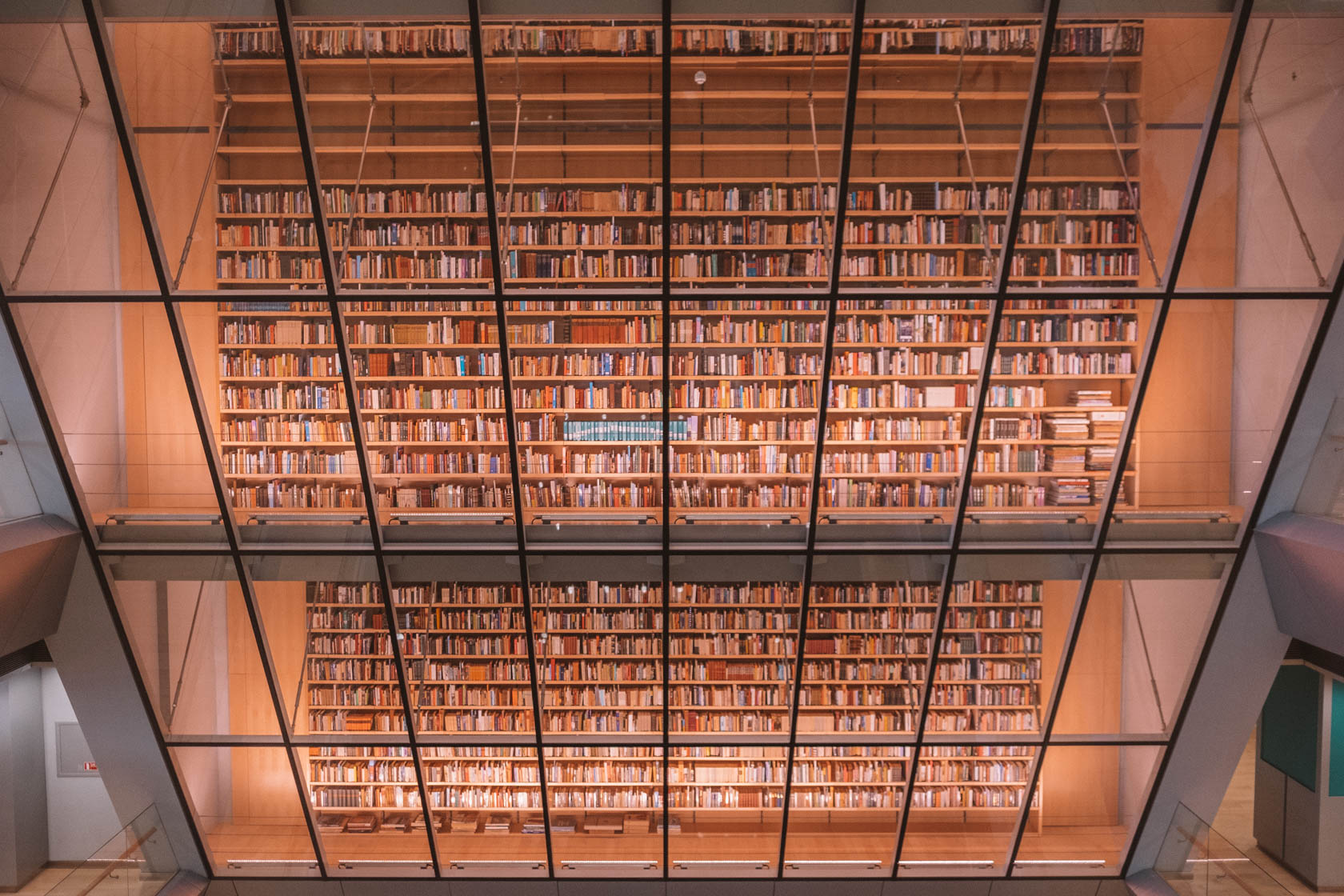 The neat thing is that the large glass windows on the side of the library face the Old Town, so you get some beautiful views of the city from the library itself. There is also an observation deck you can access, but only on some days of the week and with prior arrangement.
TIP – There is an observation point where you can get a view over Riga's old town, but it's only available by prior appointment on a business day. So be sure to plan ahead if you want to see it!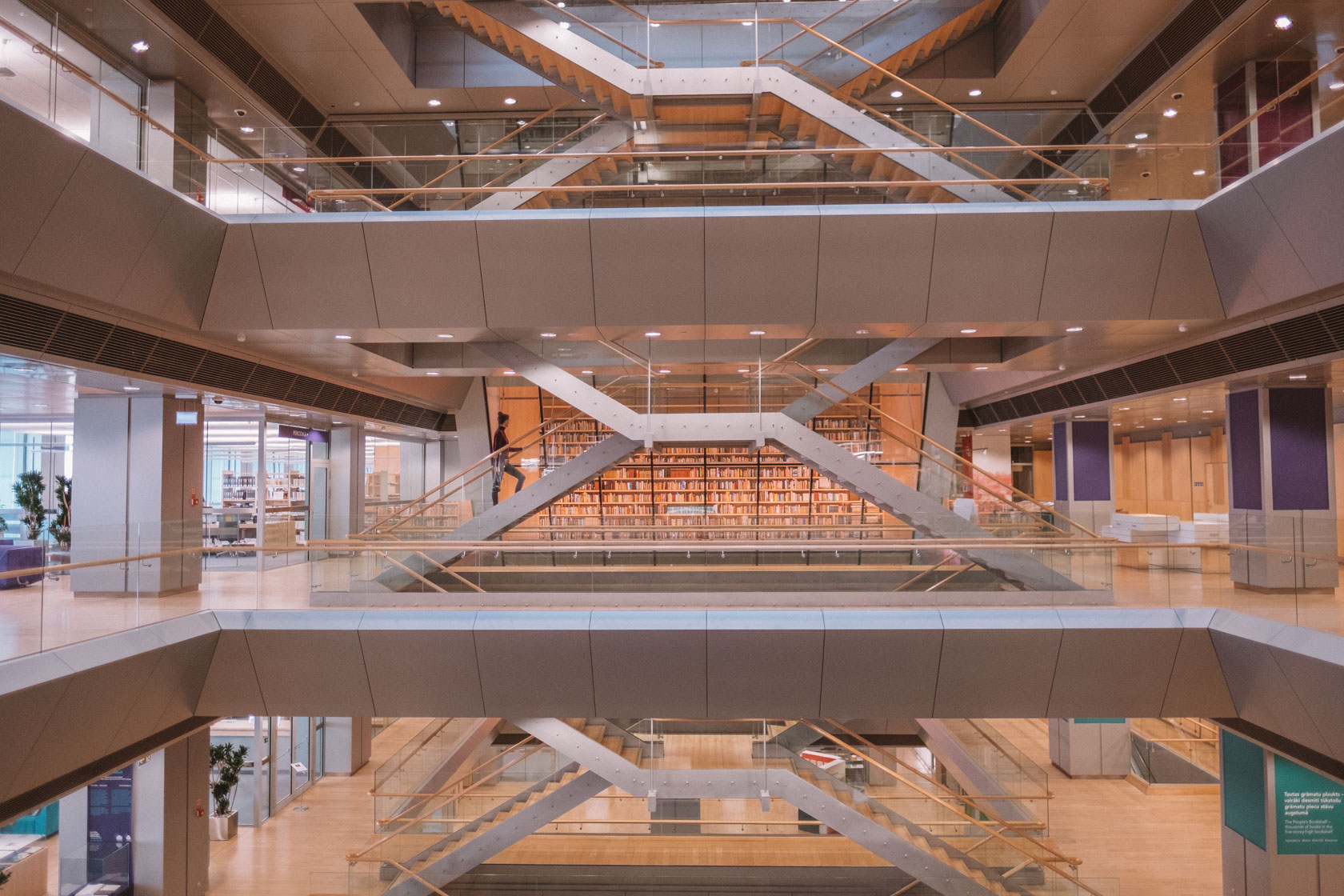 The library can be seen prominently from across the river. If you don't decide to take a bus, you can walk over a bridge that also offers really lovely views of Riga's Old Town.
Opening times: Sun 10:00 AM - 5:00 PM • Mon - Fri 9:00 AM - 8:00 PM
Cost: Free to enter
Our Lady of Sorrows Church
This modest church in the middle of the Old Town is getting a little bit dirty, but is still pretty with its turquoise spires. Our Lady of Sorrows Church is open to the public so you can come inside and see the church's interior. As with all churches, you need to remember to be silent, modestly dressed, and respectful. In Riga, many churches are still places where people practice their religion.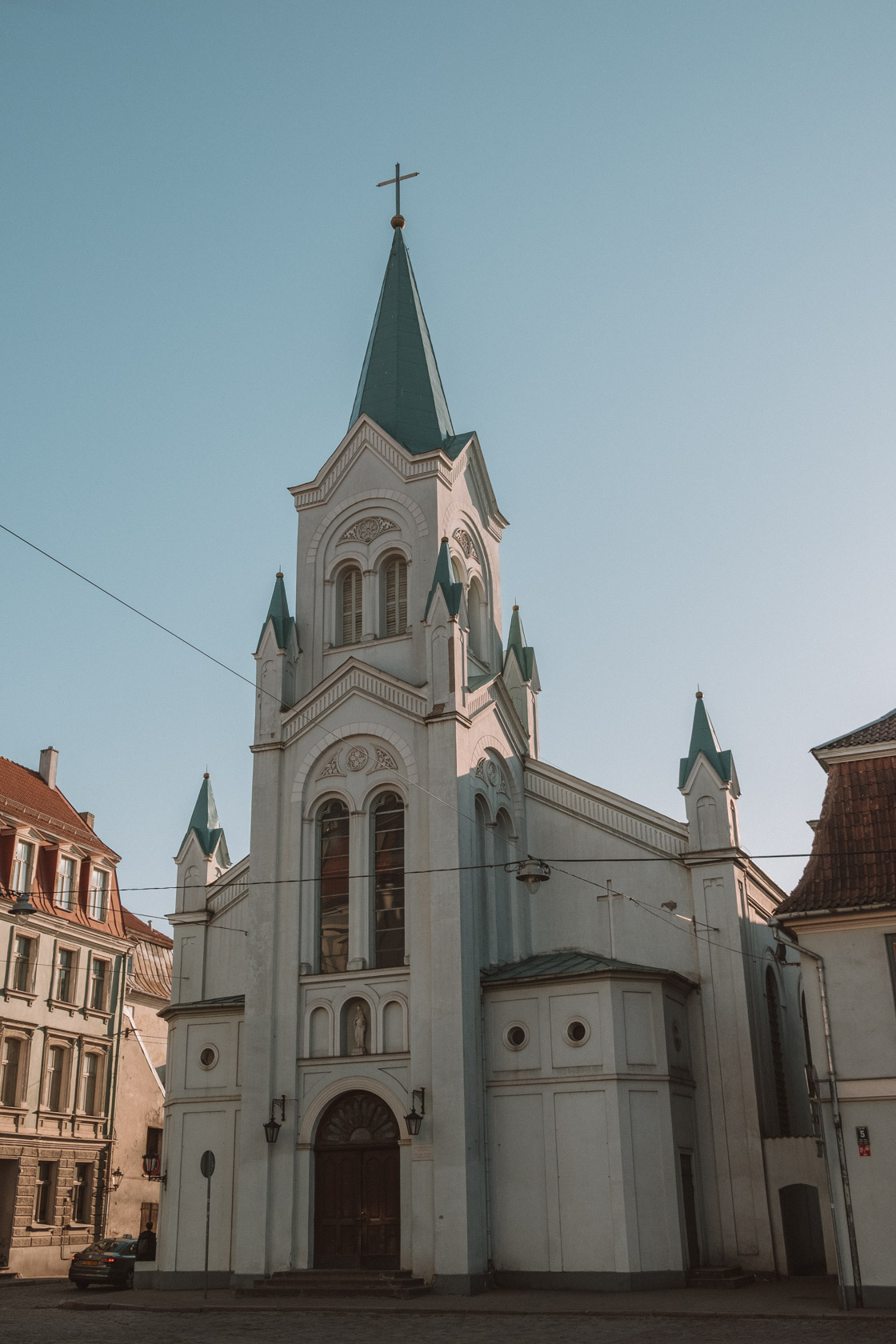 The space around the church is rather narrow, so it will be best if you are prepared with a wide angle camera lens in order to capture this church in a single photo.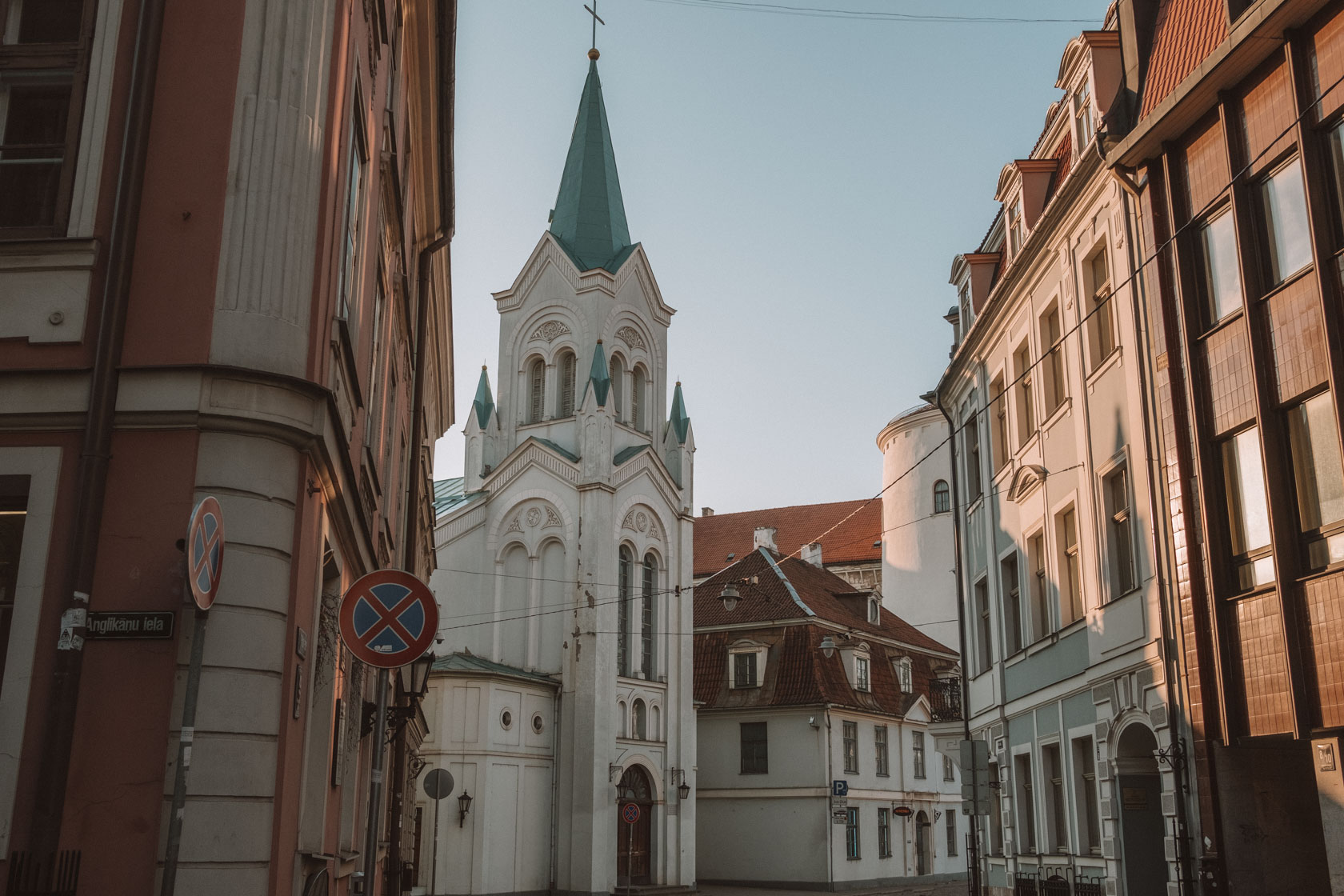 Freedom Monument
You'll be greeted by the Freedom Monument on your way into the Old Town. When we first approached this monument, we saw Latvian soldiers standing guard while the base of the structure was decorated with flowers. This monument was erected to honor the soldiers killed during the Latvian War of Independence in 1918-1920.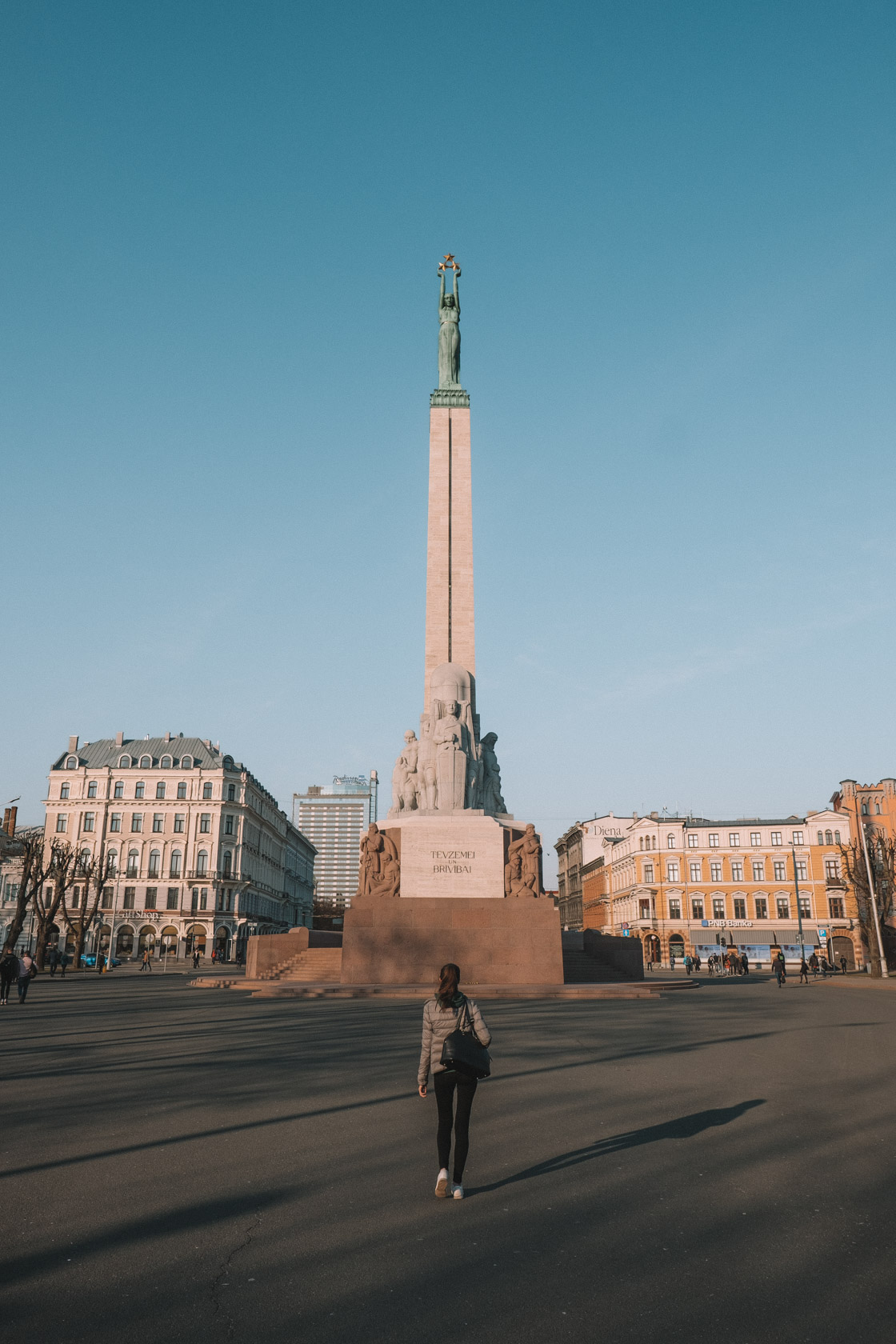 The monument was also slated for destruction during the Soviet occupation of Latvia, but luckily was saved although it apparently clashed with Communist ideology. I guess being independent and communist didn't quite fit together 😉
Skyline Bar
Another panoramic viewpoint in Riga, the Skyline Bar which is part of the Radisson Blu hotel has large glass windows that give you a unique perspective over Riga's parks and Old Town. Unfortunately, when we tried to go, the bar was hosting a private event so we did not find the time to try again.
It's recommended to call ahead and make a reservation if you want to get a seat near the window!
Opening times: Sun 11:30 AM - 2:00 AM • Mon - Thu 12:00 PM - 2:00 AM • Fri - Sat 12:00 PM - 3:00 AM
Cost: 5 € entrance fee if you are not staying at the hotel
House of the Blackheads
I'm pretty sure that House of the Blackheads is hands-down the most famous sight in Riga. Historically, the House of Blackheads is where unmarried merchants, shipowners, and foreigners lived. Especially the Germans who were doing business in the city.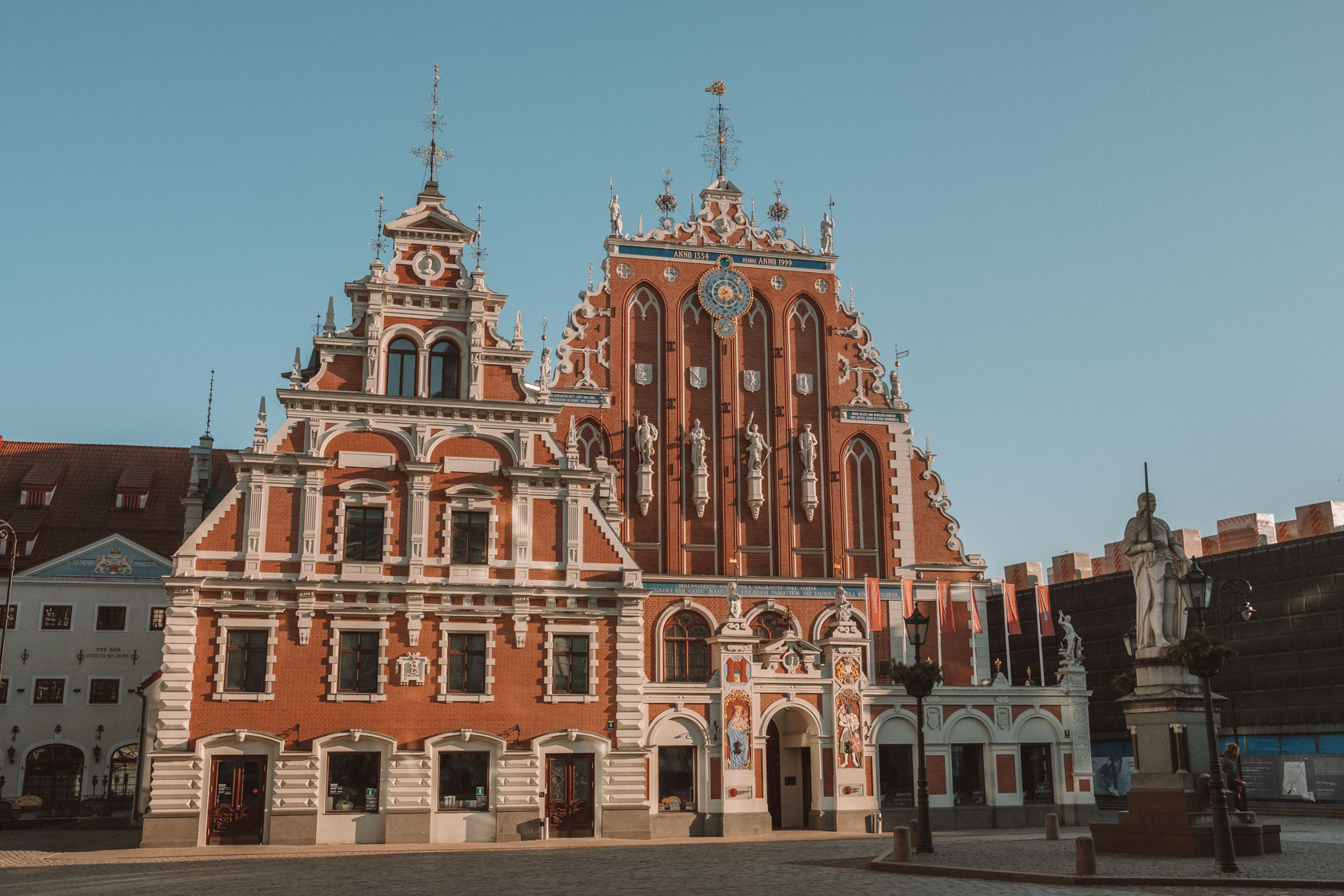 TIP – Come by the House of Blackheads at night to see it illuminated!
It was completely bombed to the ground by the Germans during World War II, and then fully demolished by the Soviets thereafter. Luckily, the government had the building reconstructed in the second part of the 90s. You can come inside for a museum to learn more about the history of Riga and the building itself.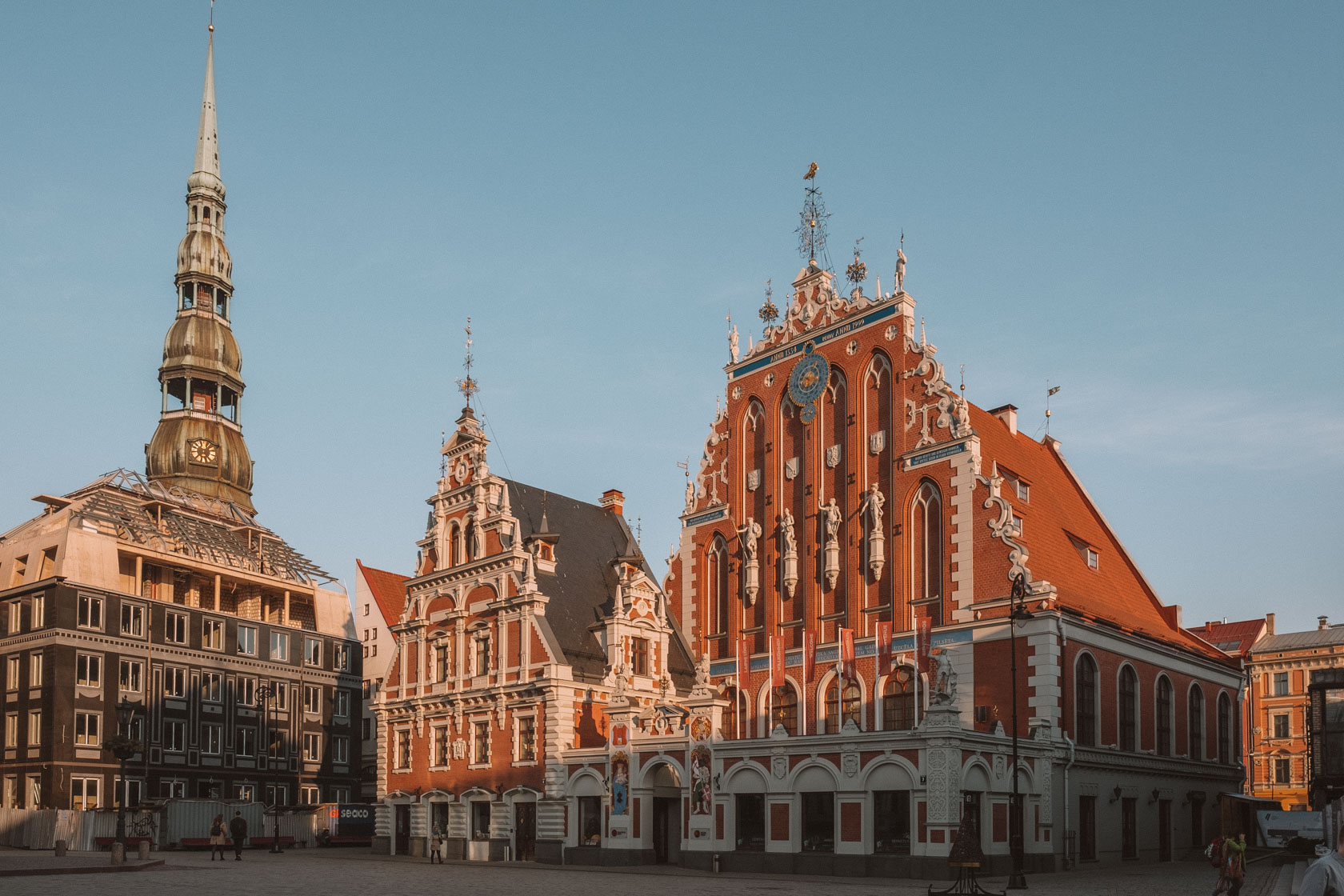 Opening times: Tue - Sun 11:00 AM - 6:00 PM
Cost: 3 € for seniors, 6 € for adults, 15 € for guided tours
Laima Clock
On your way into the Old Town from the East, you're likely to spot this clock. It functions as a meeting point for people all over Riga. What you might not know is that Laima is a chocolate company, and you can buy chocolates produced in Latvia made by them.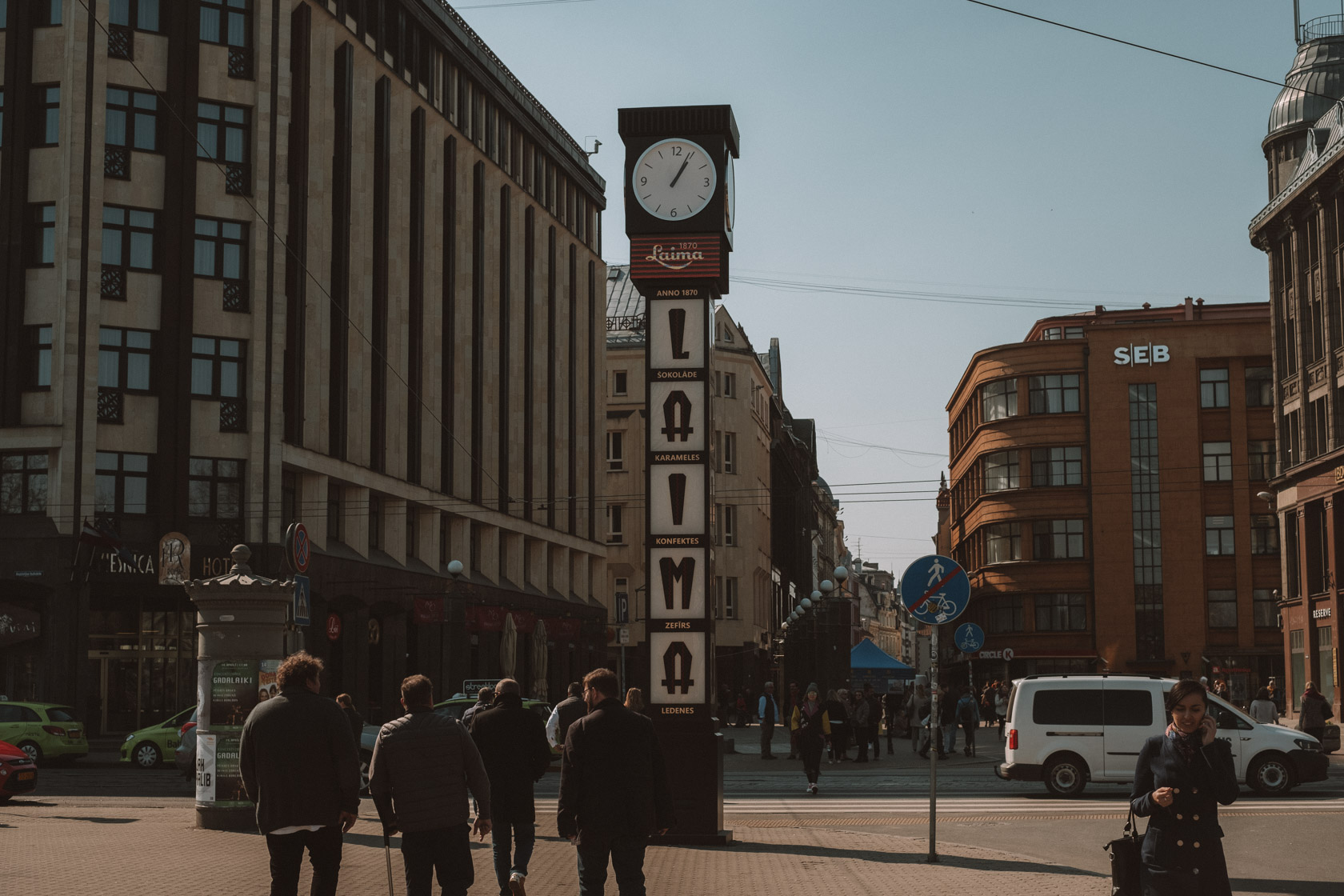 Apparently, they even have a Laima Chocolate Museum but unfortunately I didn't get a chance to visit while I was there. If you love chocolate then don't miss it! You can learn more about Laima on the official Laima website . Chocolate is a great gift to bring back for your friends and colleagues 😉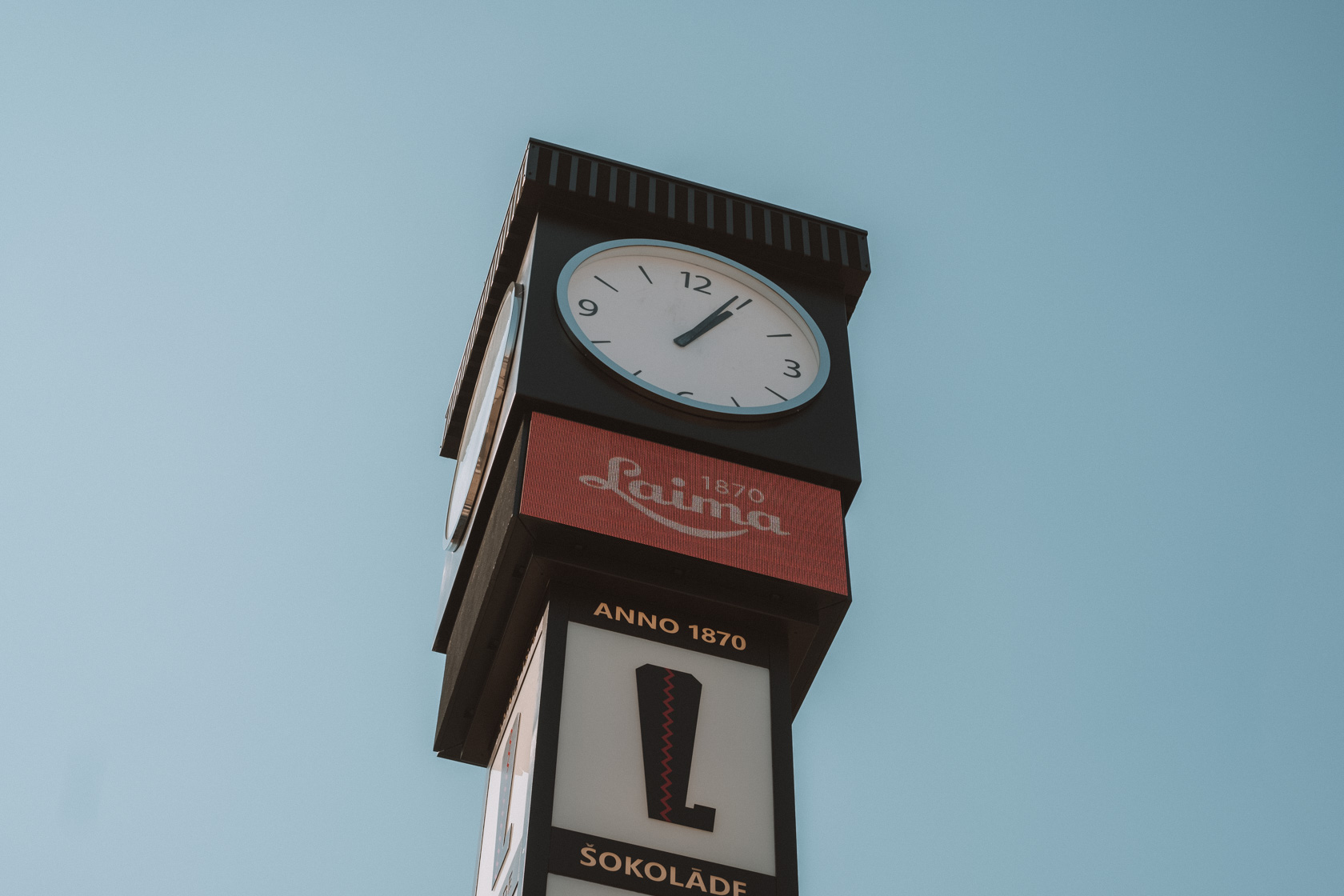 Chiesa Ortodox Colorata
This bright pink church is still an active place for orthodox Christians in Riga, primarily speaking Russian. I wouldn't say it's necessarily worth the trip to this side of the river if you have just one day in Riga, but its otherwise quite impressive and quite pink compared to its surroundings!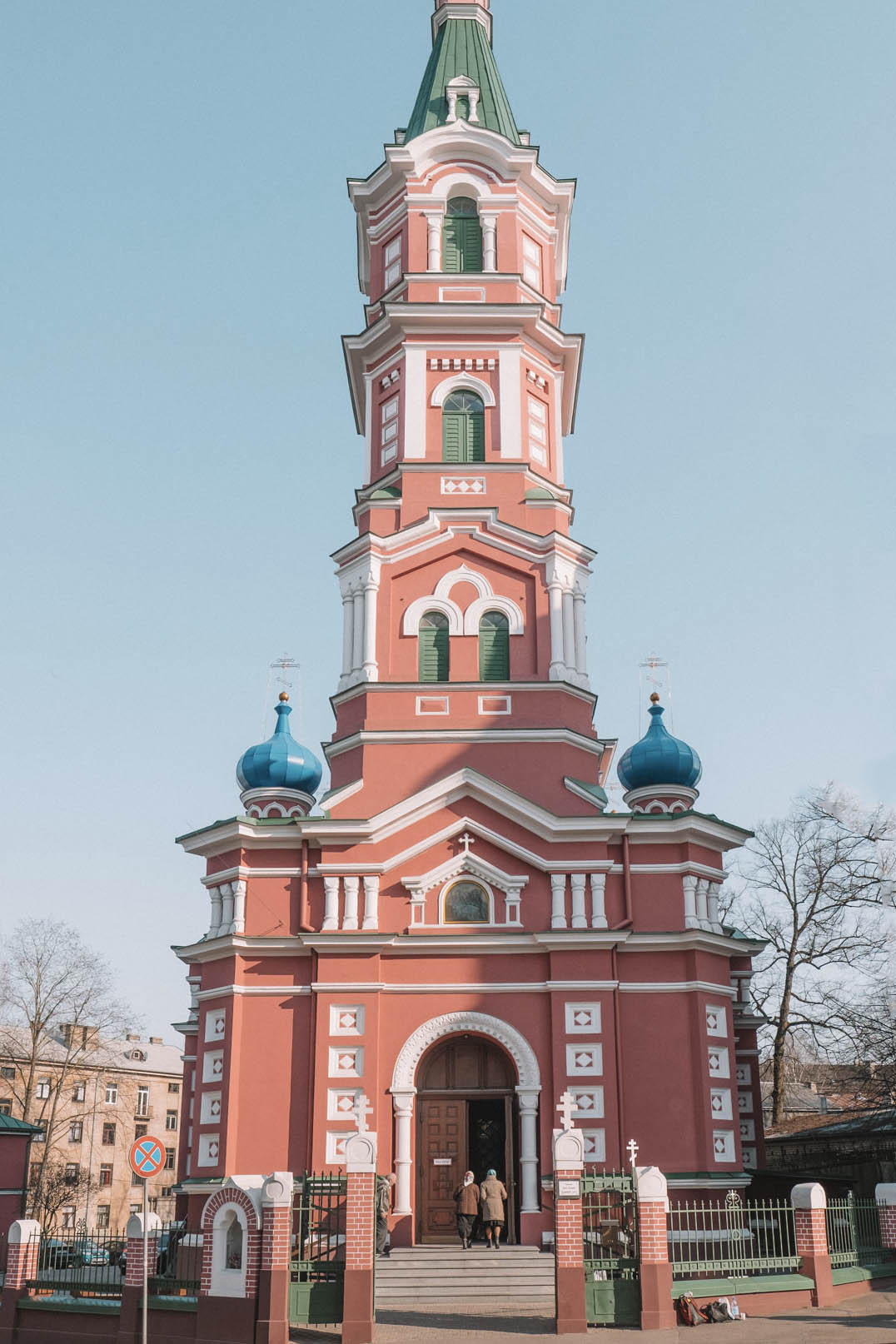 Riga Cathedral
Speaking of churches, lets continue on to the churches in the Old Town. The most popular pair of churches are the Riga Cathedral (pictured below) and St. Peter's Church. The best place to get a view of the Riga Cathedral is either from the square below or from the top of the St. Peter's Church.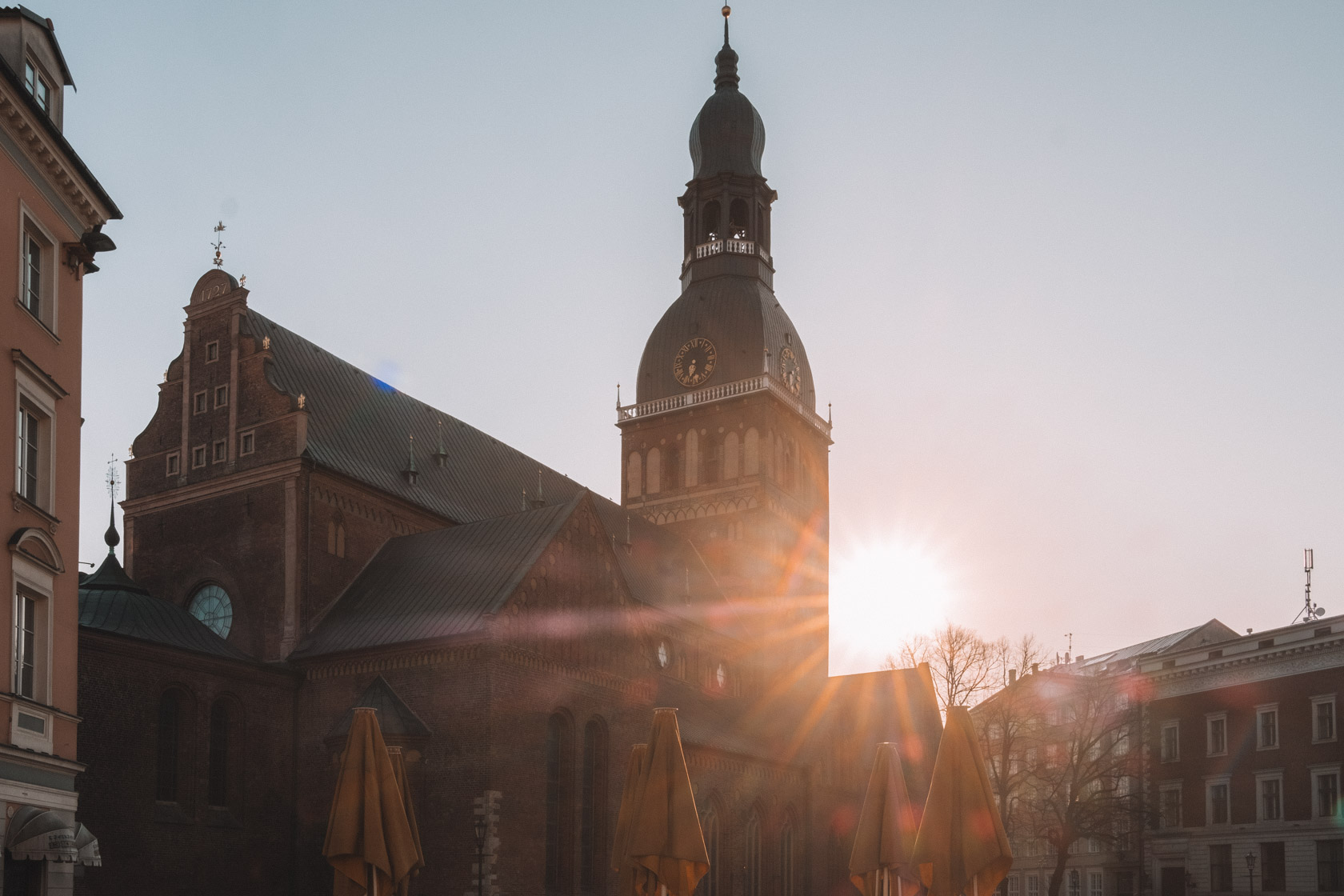 St. Peter's Church
Right up there with the House of the Blackheads, St. Peter's Church is probably one of the most popular sights in Riga and a guaranteed stop on literally every tour through Riga . One solid reason for that is that it's a) taller than everything else b) home to perhaps the best panoramic viewpoint in the whole city. This church was destroyed by artillery fire in 1941, and its reconstruction began about fifteen years later. Thankfully today the church has been beautifully restored, and is even home to an art exhibit for Latvian artists.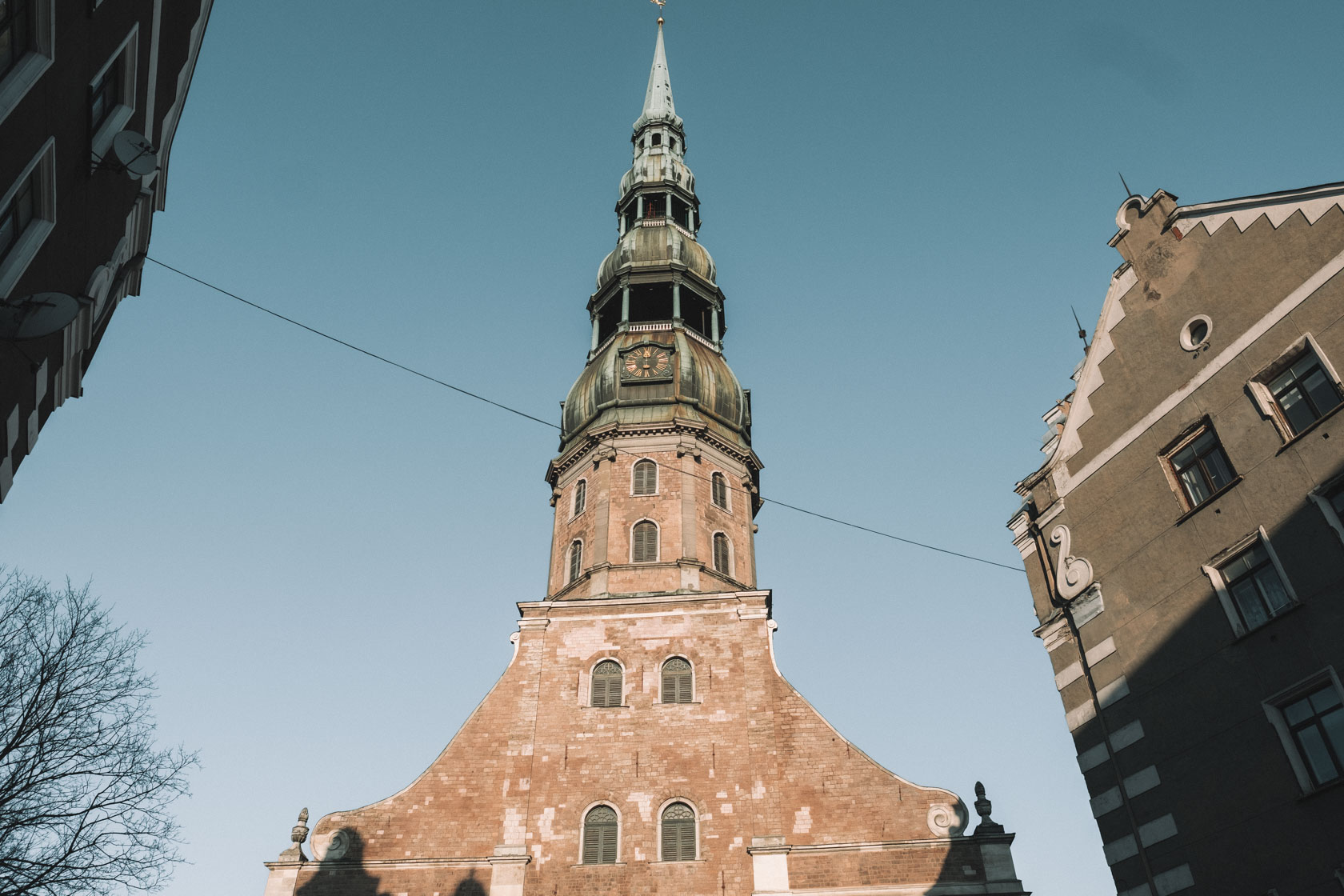 St. Peter's Church Panoramic View
Two short flights of stairs and an elevator take you to the top of this massive church. Since this viewpoint is smack in the middle of the Old Town, you can peer over the railing and see some of the colorful houses on the nearby square. From here you can also see the aforementioned National Academy of Sciences, the Central Market, the National Library, as well as the city's two famous bridges.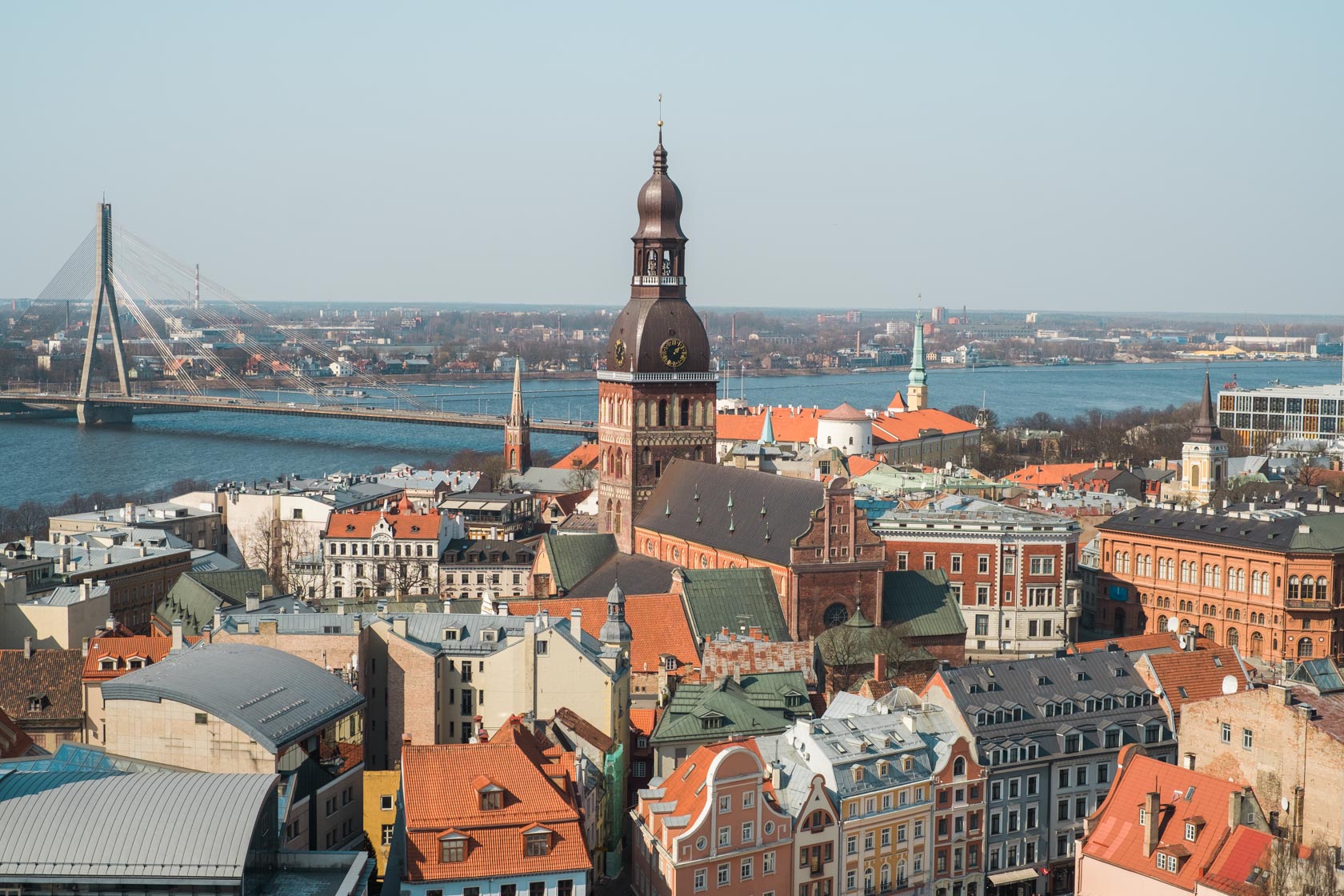 While it wasn't particularly crowded when we came, the best time to be up for taking photos is as early as possible or close to sunset for that warm golden glow in your photos. The elevator only goes up and down every ten minutes, and be sure to bring a sweater or a jacket – it's windy up top!
Opening times: Tue - Sun 11:00 AM - 6:00 PM
Cost: 9 €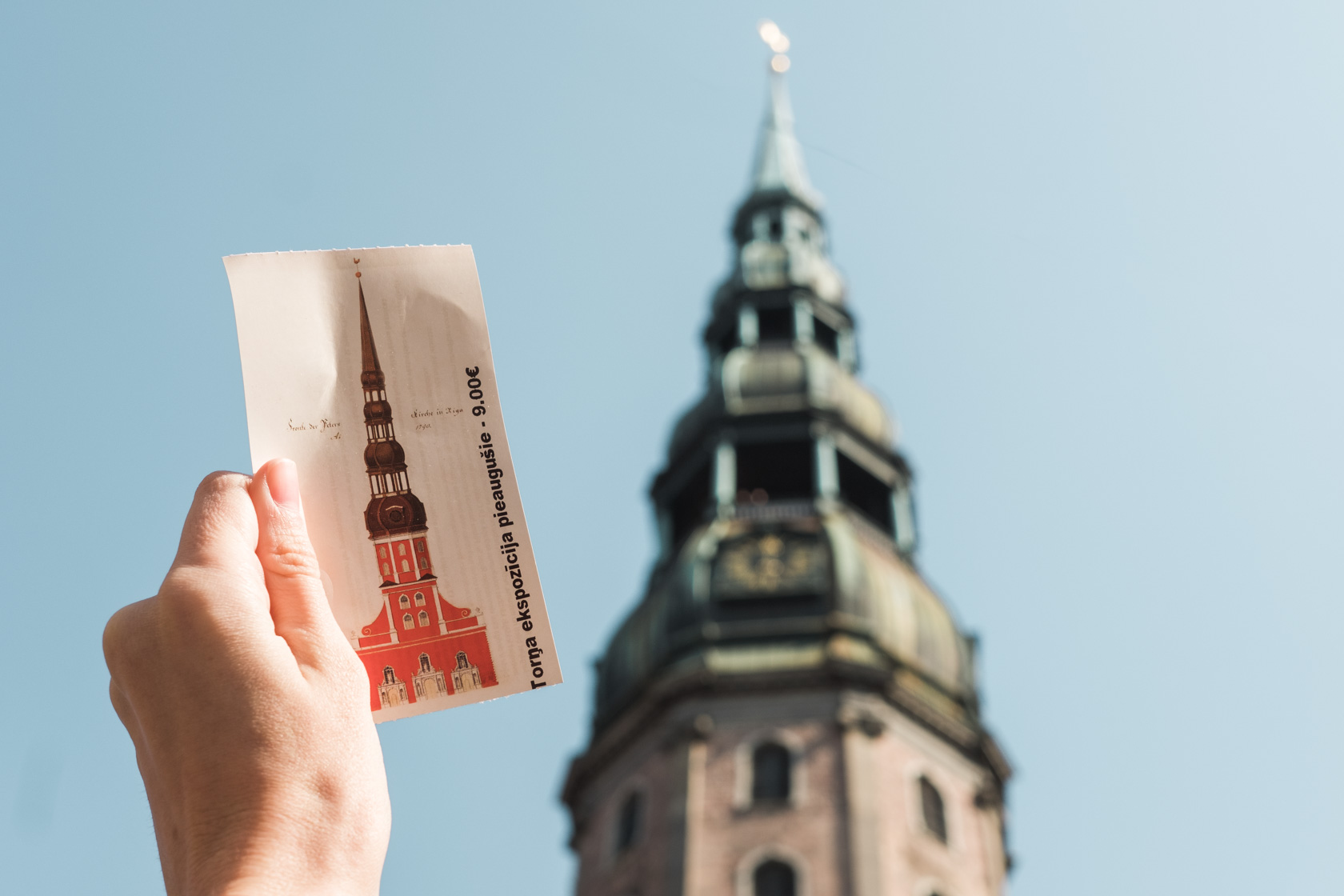 Three Brothers
These three houses together form the oldest houses for dwelling in all of Riga. The oldest of the Three Brothers dates back to the 15th century, while the new newer ones are from the the 17th and 18th centuries. The reason why there aren't more, older houses in Riga is that historically there wasn't much space, so people tended to tear down old buildings rather than rennovating them. That's why there aren't more, older buildings from this time period in the city center.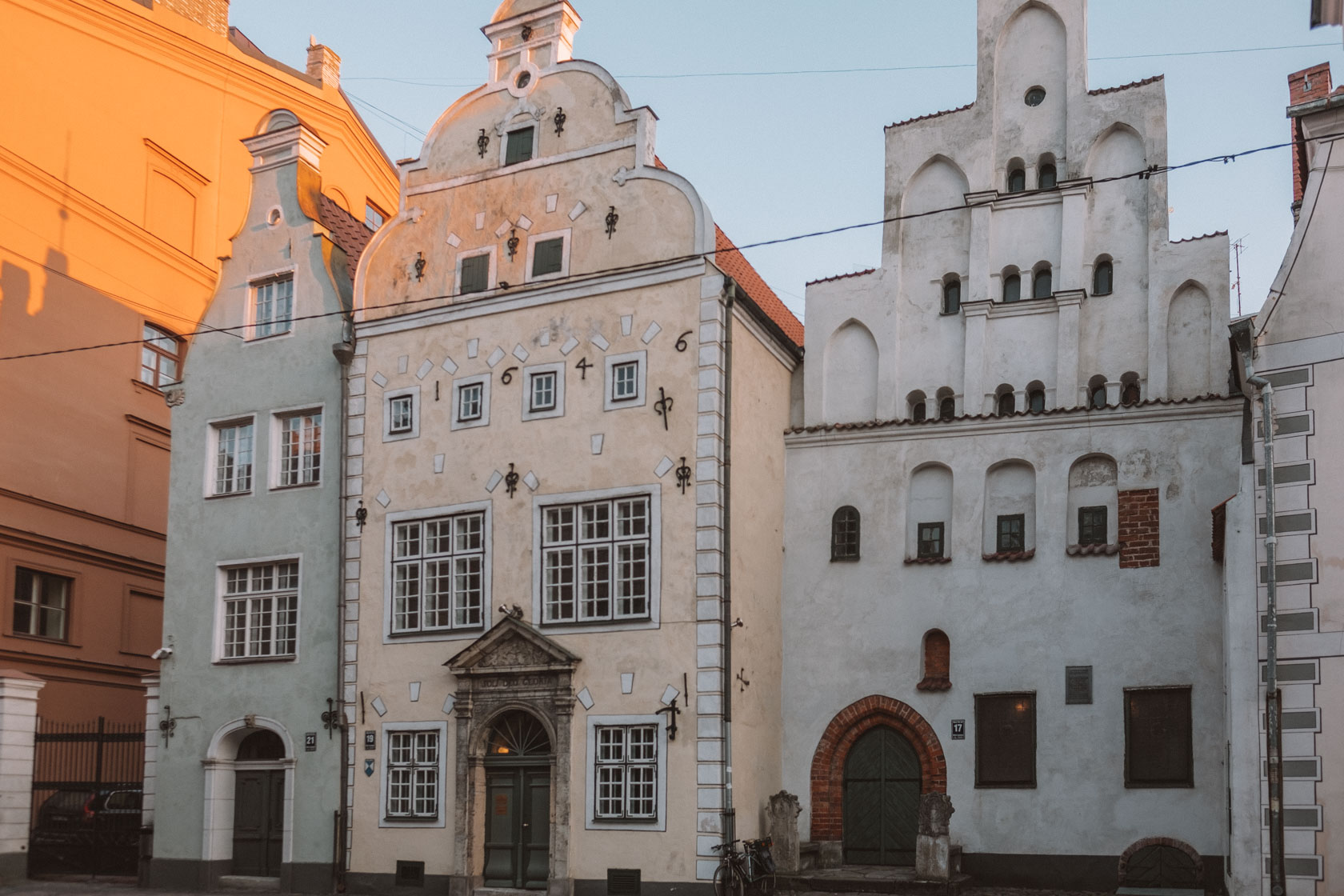 TIP – You really need a wide angle camera lens to capture these three buildings together. You can also take multiple photos and stitch them together later in Adobe Lightroom if you know how to use photography editing software!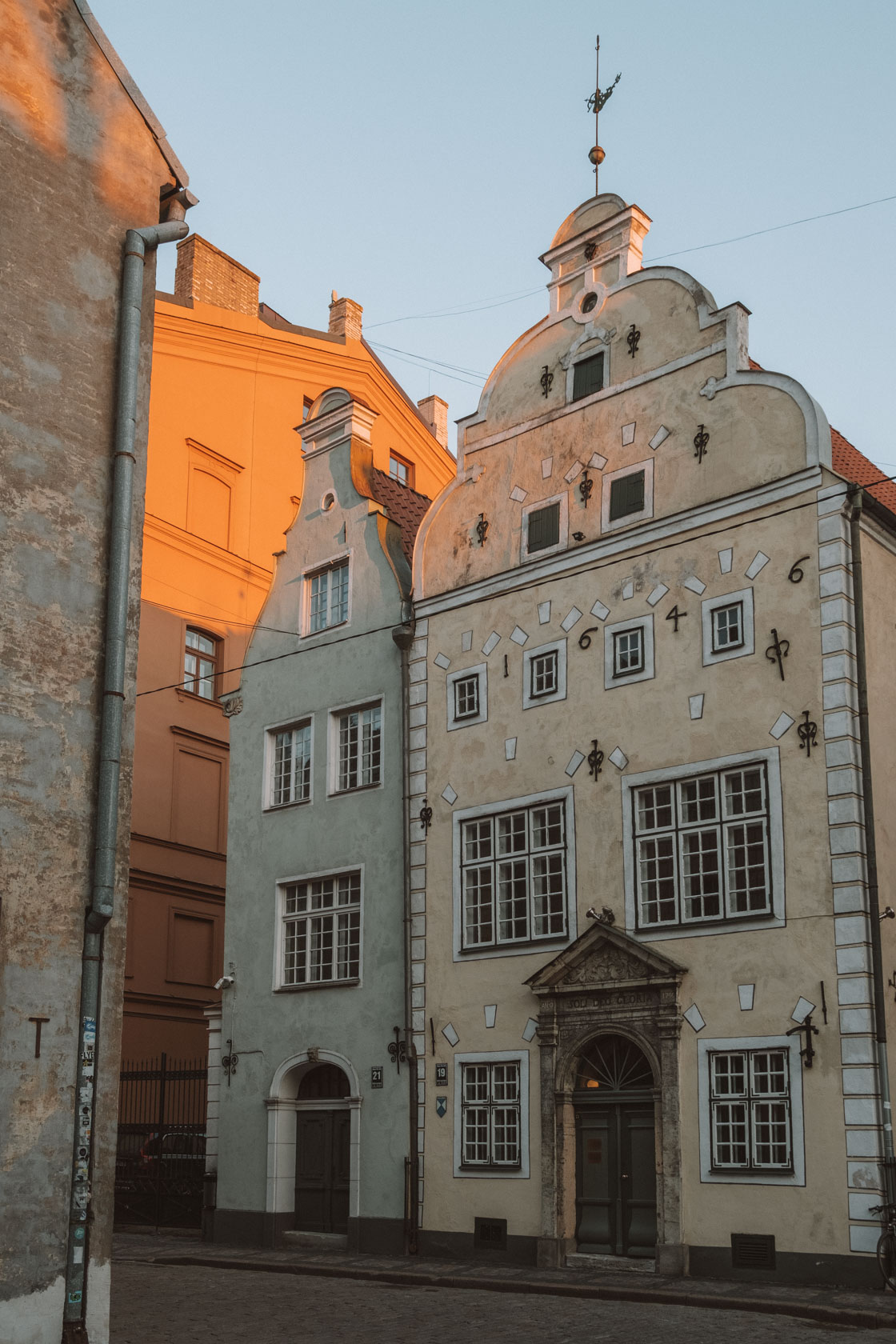 The Three Brother's are Riga's oldest buildings for the purpose of dwelling.
Livu Laukums (Main Square)
If you ever wanted to listen to drunken British tourists singing YMCA at the top of their lungs, this is the place to do it. No? That wasn't on your to-do list for Riga? Despite the fact that Riga is a popular spot for party-goers looking for inexpensive beer, the Old Town and main square are still beautiful places to sit in the sunshine and enjoy a drink and people watch.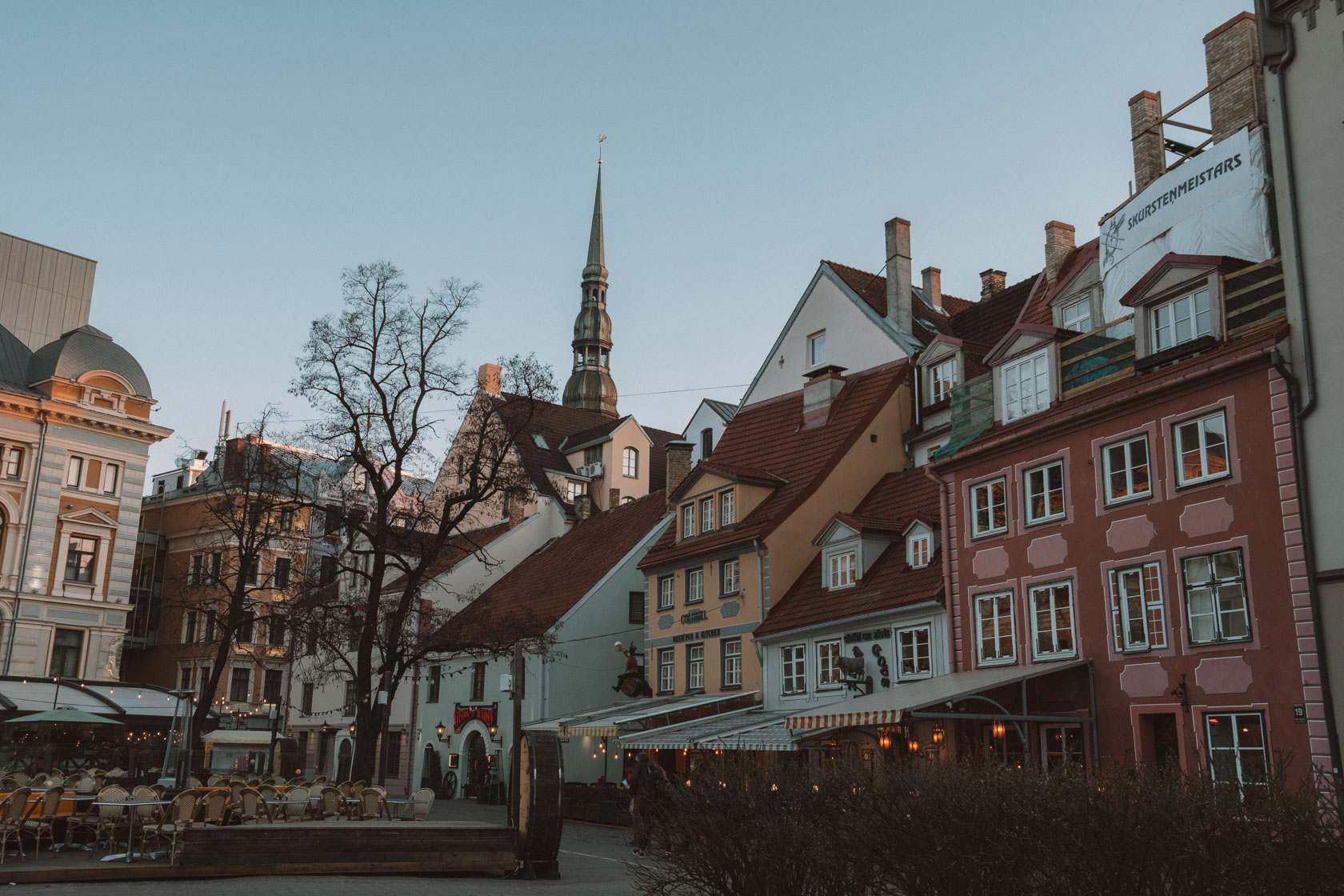 Cat house
Right next to the main square, you can find a house that's famous for having an unusual creature perched on its turret. The so-called Cat House is not the only building with interesting architecture, waiting to be discovered in the Old Town. You'll also noticed that the churches in Riga have roosters on top, rather than crosses. This is because the rooster symbolizes the crowing of the rooster after the third time that St. John denied Christ.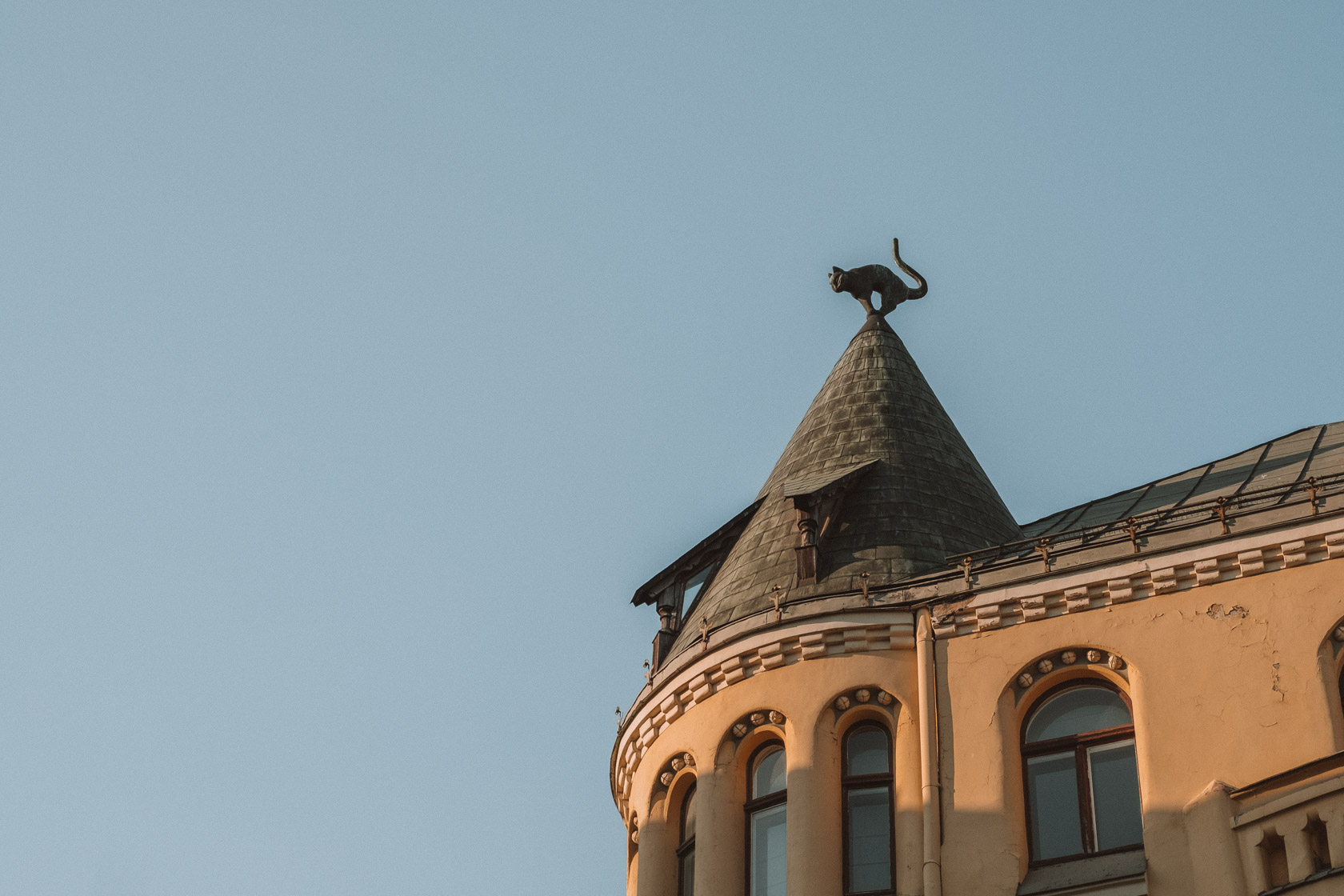 Bastejkalna Park
Riga has a number of beautiful parks, and Bastejkalna Park is among the most lively parks in the city. You'll find children riding their bikes and couples going for walks or walking their dogs.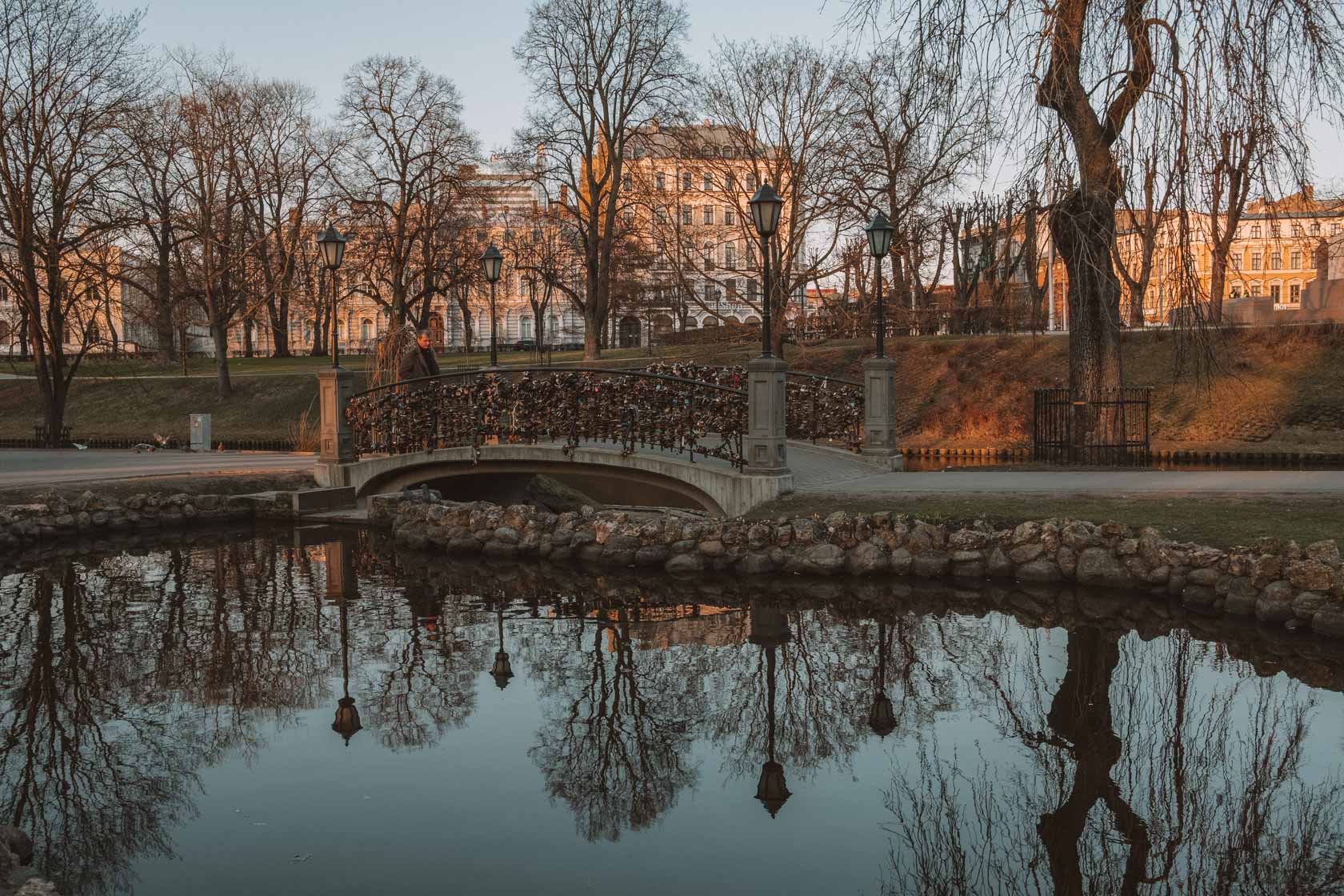 Riga nightlife
I can't tell you much about going out for drinks in Riga, but I can tell you that some of Riga's most beautiful sights are gorgeously illuminated at night. Here's an example of the House of the Blackheads in the later hours of the evening. If you want to take long exposure photos, be sure to bring a tripod with you!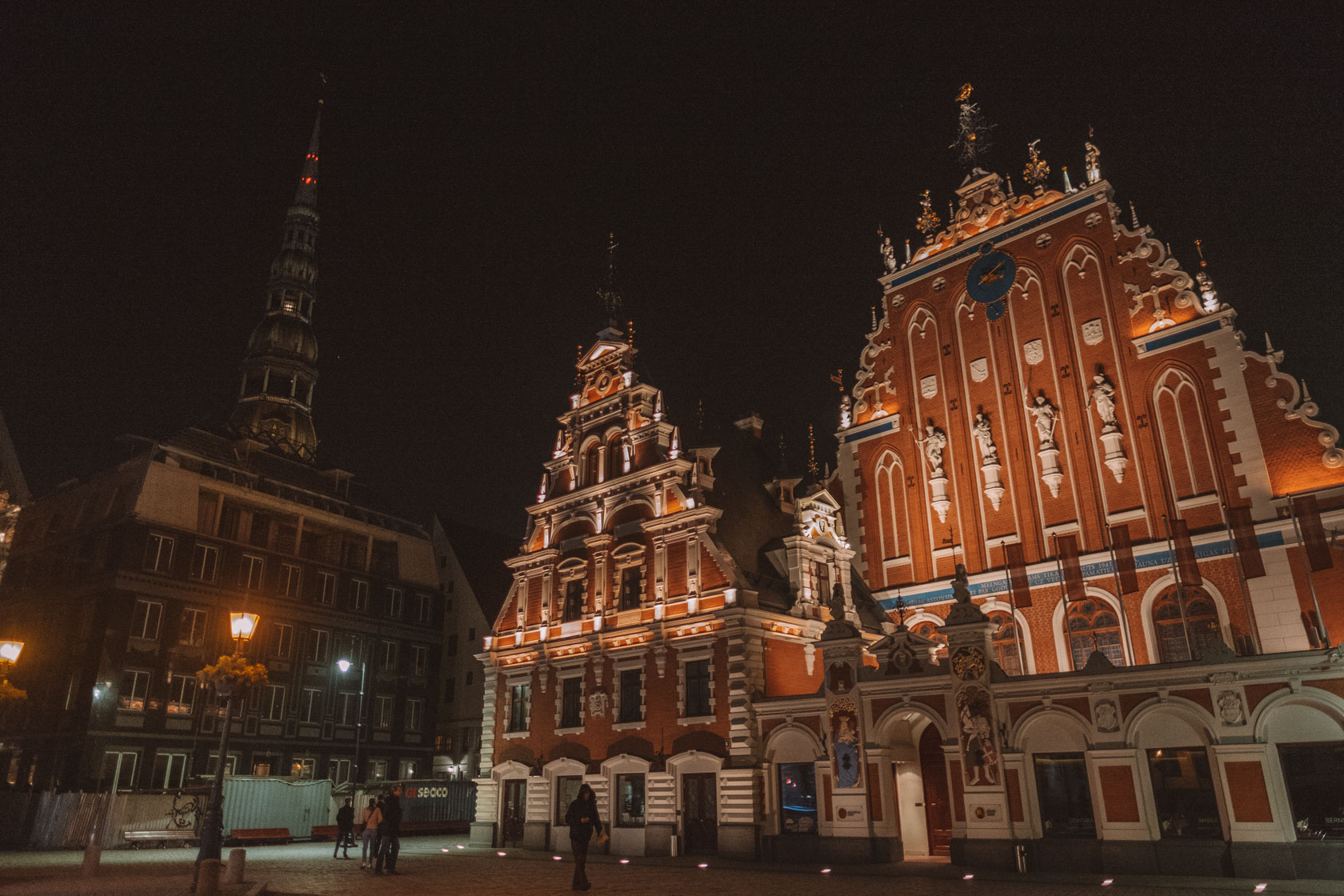 Restaurants in Riga
I was honestly expecting Riga to be much less expensive than it was, but I'm guessing a big part of the price in comes comes along with the fact that they moved to the Euro just a few years ago. For that reason, eating out in Riga wasn't as cheap as I expected it to be.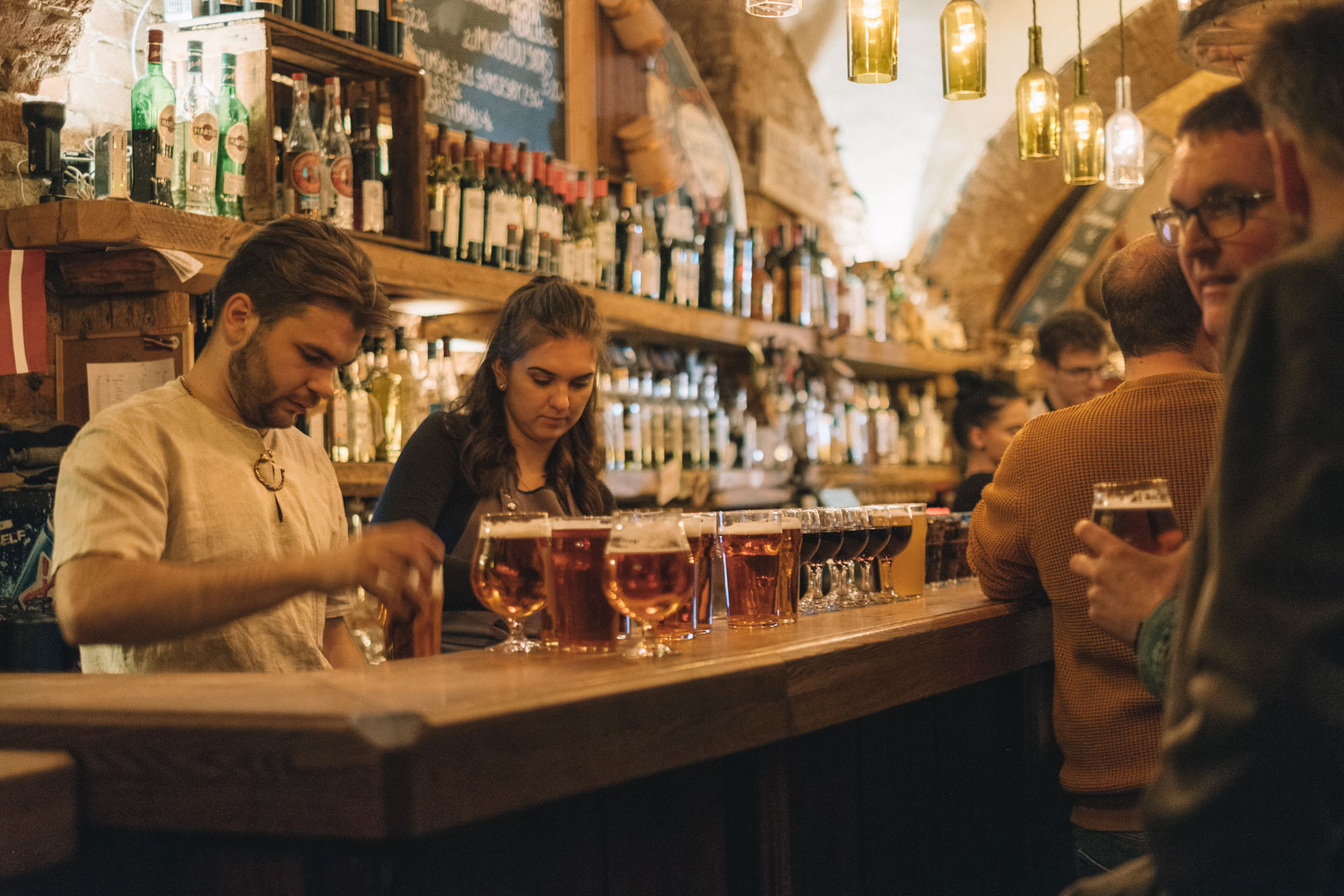 One thing to be aware of: Riga is ultra popular with British "holiday-makers" celebrating their bachelor's parties, so be prepared to share your space with some drunken brits on occassion.
That said, one interesting place to experience a country is over course at its restaurants. Folkklubs Ala Pagrabs was one place we went which offered food at good prices, as well as a traditional Latvian show of singing and dancing.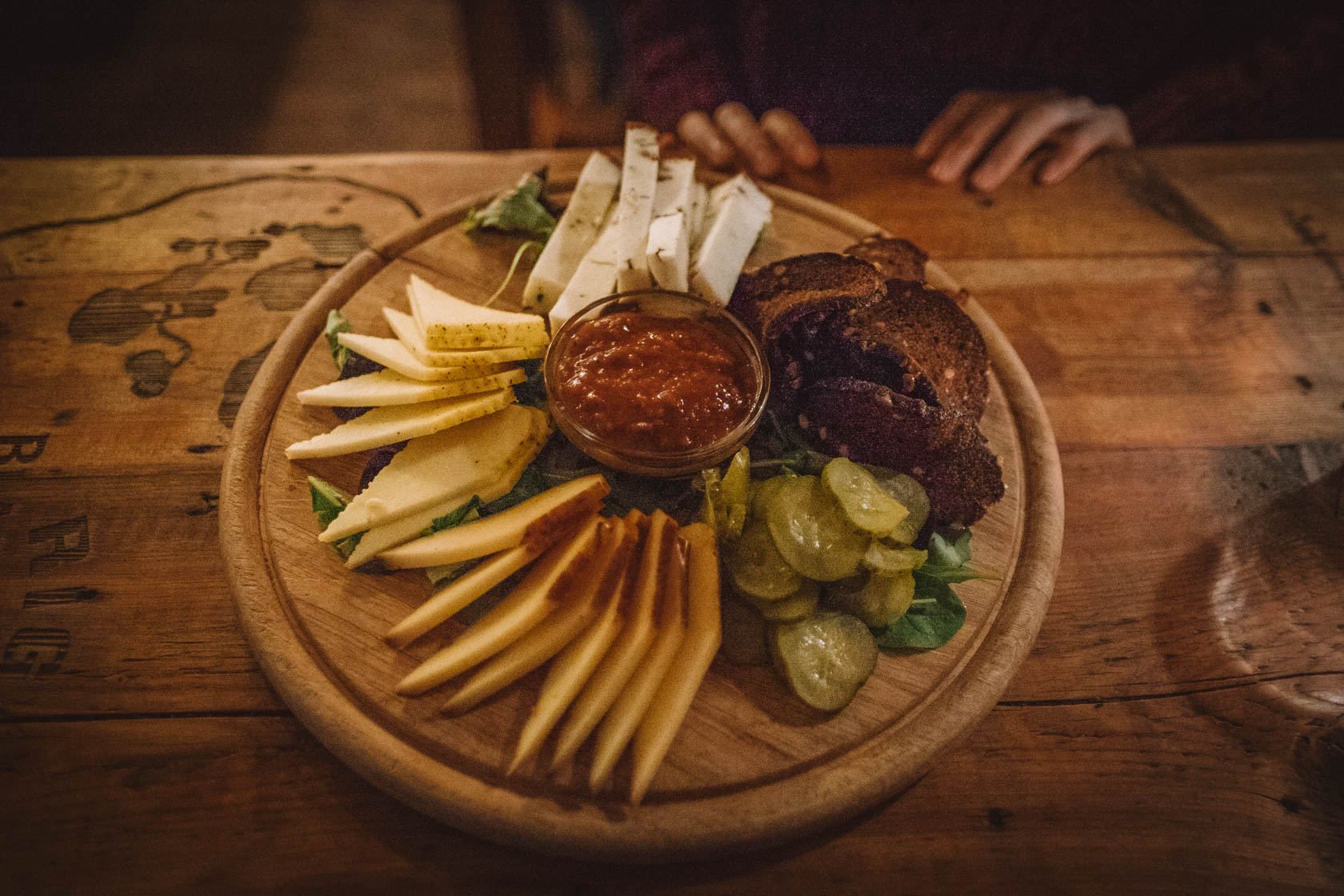 Riga's traditional drink is called "Riga Black Balsam", a 90-proof herbal liquor. You can try it at Folkklubs Ala Pagrabs, buy a bottle in the duty-free on the way home, or just forego it altogether and opt for some of the locally brewed craft beer.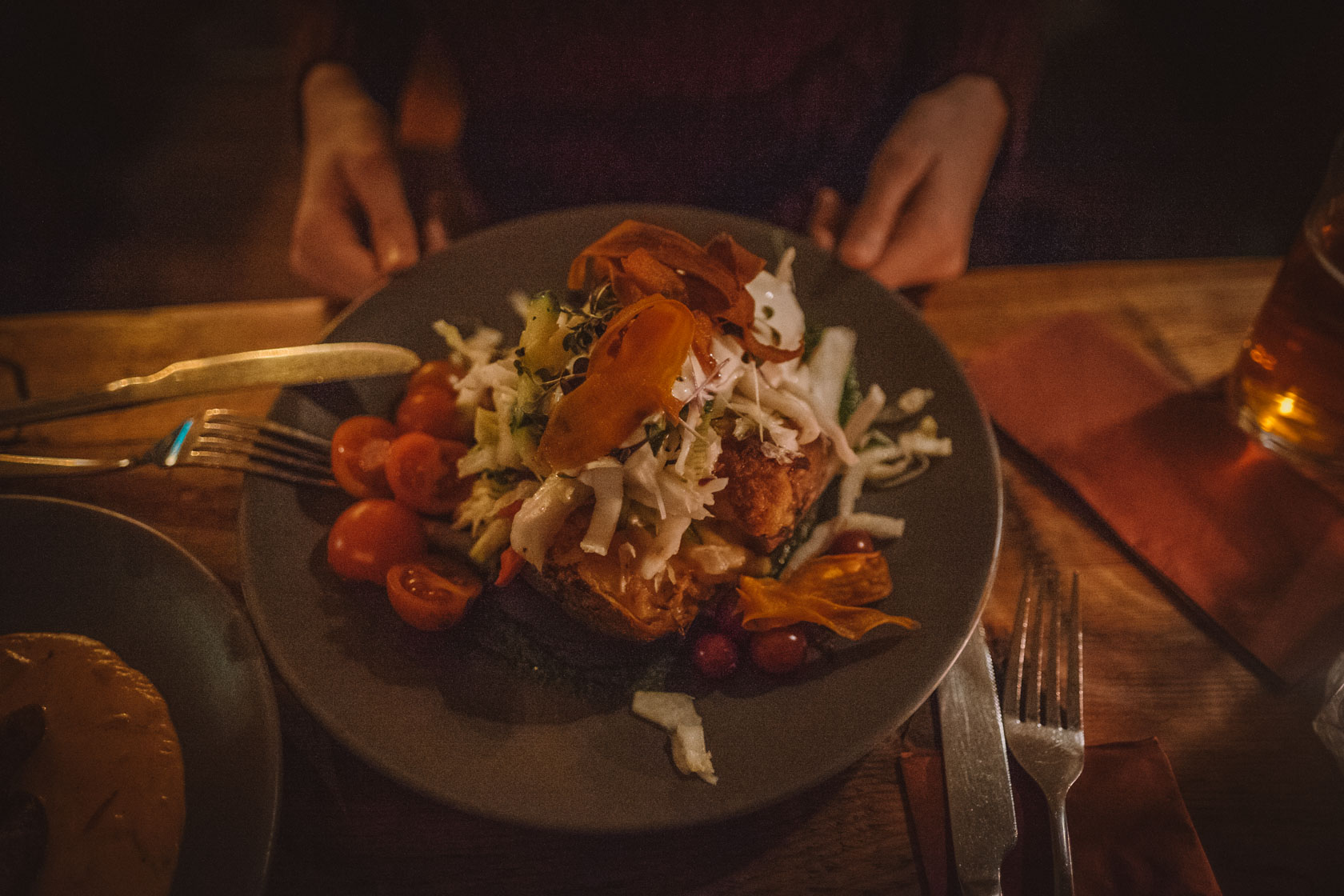 Have you ever thought about going to Riga?
Share your thoughts in the comments and let me know whether you're already planning a trip to Riga or whether you're inspired to check out this city for yourself!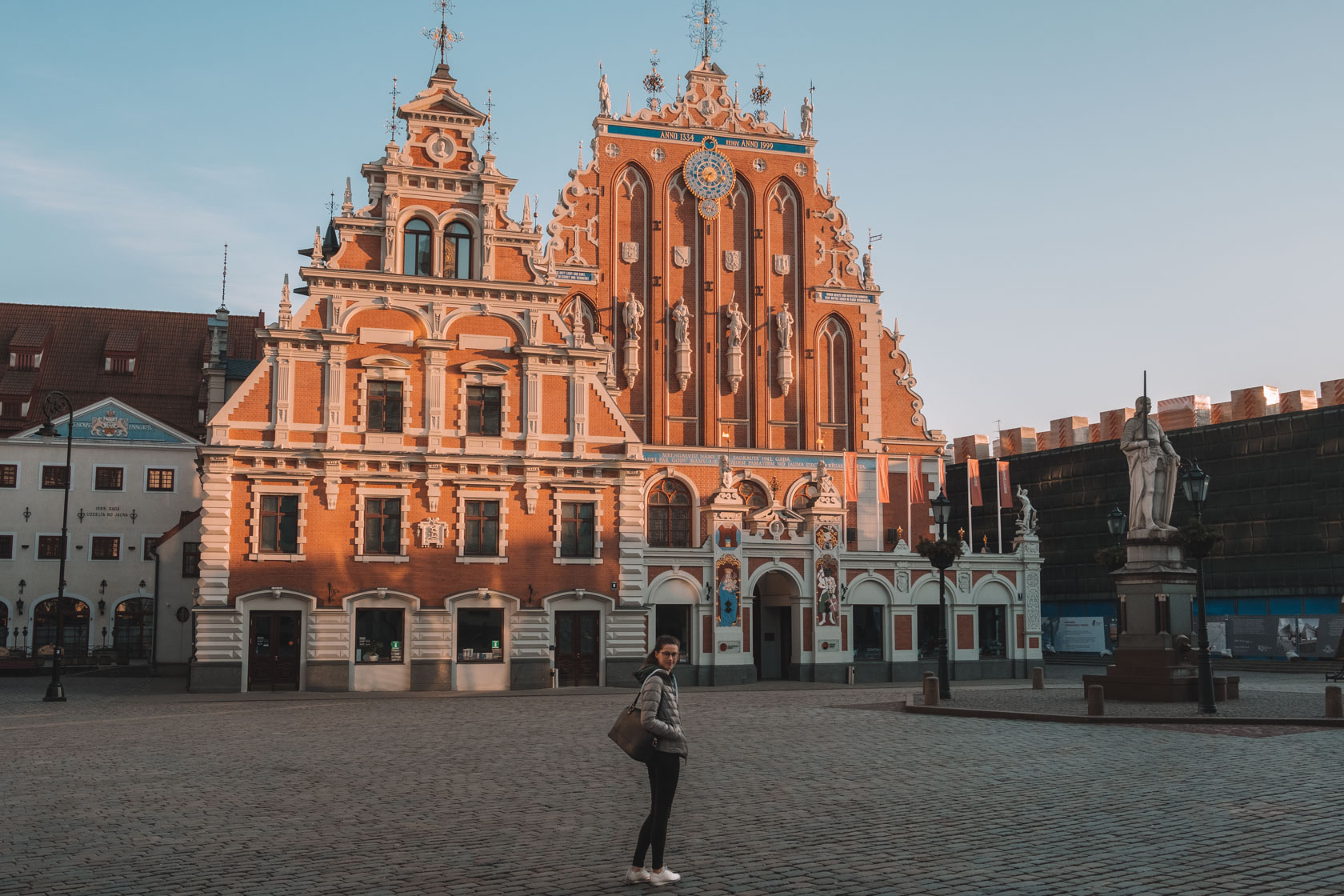 Like this post? Pin it for later!