This seven-day Tenerife itinerary can help you experience the best of the island in only one week. Tenerife is one of the most popular of the Canary Islands to visit, and for a good reason. What you might not know is that Tenerife is more than a party destination (or one where your family dragged you when you were 10) and offers a surprising mix of beaches, mountains, and forested lands.
Top that off with some delicious and affordable Spanish tapas and you are in for a trip that truly has a little bit of everything for everyone.
To follow this itinerary, it's best to rent a car – this can be very affordable on Tenerife, with weekly packages as low as 50 EUR. However, Tenerife has a good public transportation system, so much of the trip can also be done by bus.
Enjoy!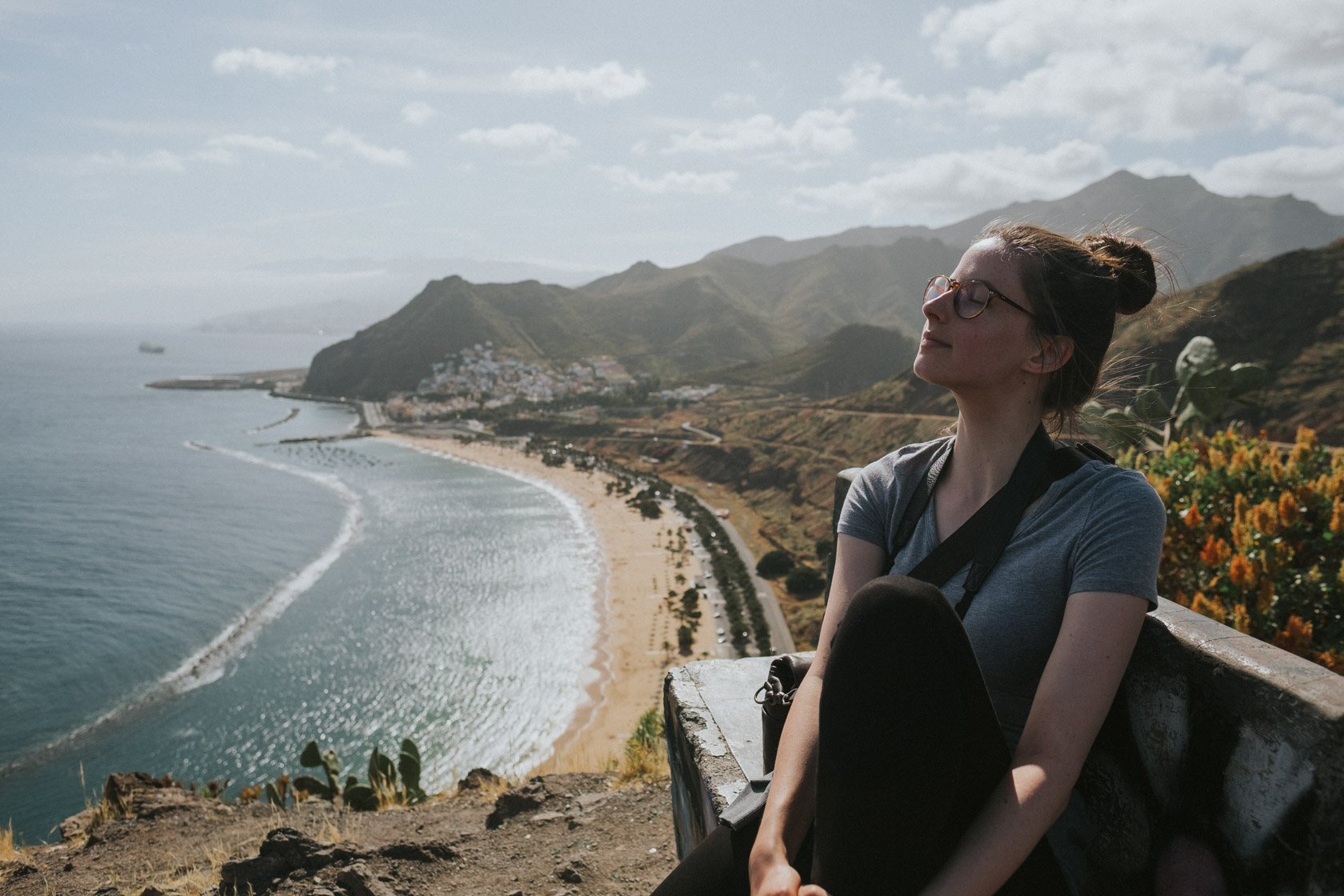 Some links in this post are to affiliate sites. If you purchase something through them, I may earn a small comission — which costs you nothing! I am very grateful when you use my links to make a purchase.
General tips for visiting Tenerife, Canary Islands
Pack clothing for both warm and cool weather. In the Northeast, temperatures frequently dipped to around 5ºC while the Southwest was receiving 25ºC weather.
Bring hiking boots! Tenerife is a hiker's paradise, you can get information of trails that take anywhere from 45 minutes to 8 hours.
Check RyanAir for cheap flights. Our flights were roughly 175 EUR each, round trip, from Berlin to Tenerife. Although the flight is roughly five hours long, we found it very afforable. But you have to shop in advance and avoid national holidays to keep the prices low.
Renting a car is very, very affordable. Weekly car rentals can go for as little as 50 EUR, perhaps even lower in the off season. Just be mindful that trying to extend your car by just one day can easily double the total cost of the car, so be sure to rent it as long as you'll use it up front. We always book with Discover Cars for our trips and have had zero issues.
Mondays are often when things are closed. Be extra sure to check that the place you want to visit is open on Mondays!
Is Tenerife Open to Tourists? (Summer 2023)
You can visit Tenerife and Spain in general as long as you have an EU digital covid certificate or EU equivalent, the validity of which you can check on the official website for the Spanish health ministry. Unvaccinated travelers most provide proof of recovery or negative test.
Top things to do in Tenerife
Before going into the Tenerife itinerary, you'll probably want to check out a couple of activites that can (or should) be booked in advance. Especially as on Tenerife, chances are you'll be deciding where to stay based on the activites you choose.
Here are some of my favorite things to do on Tenerife during a week-long trip: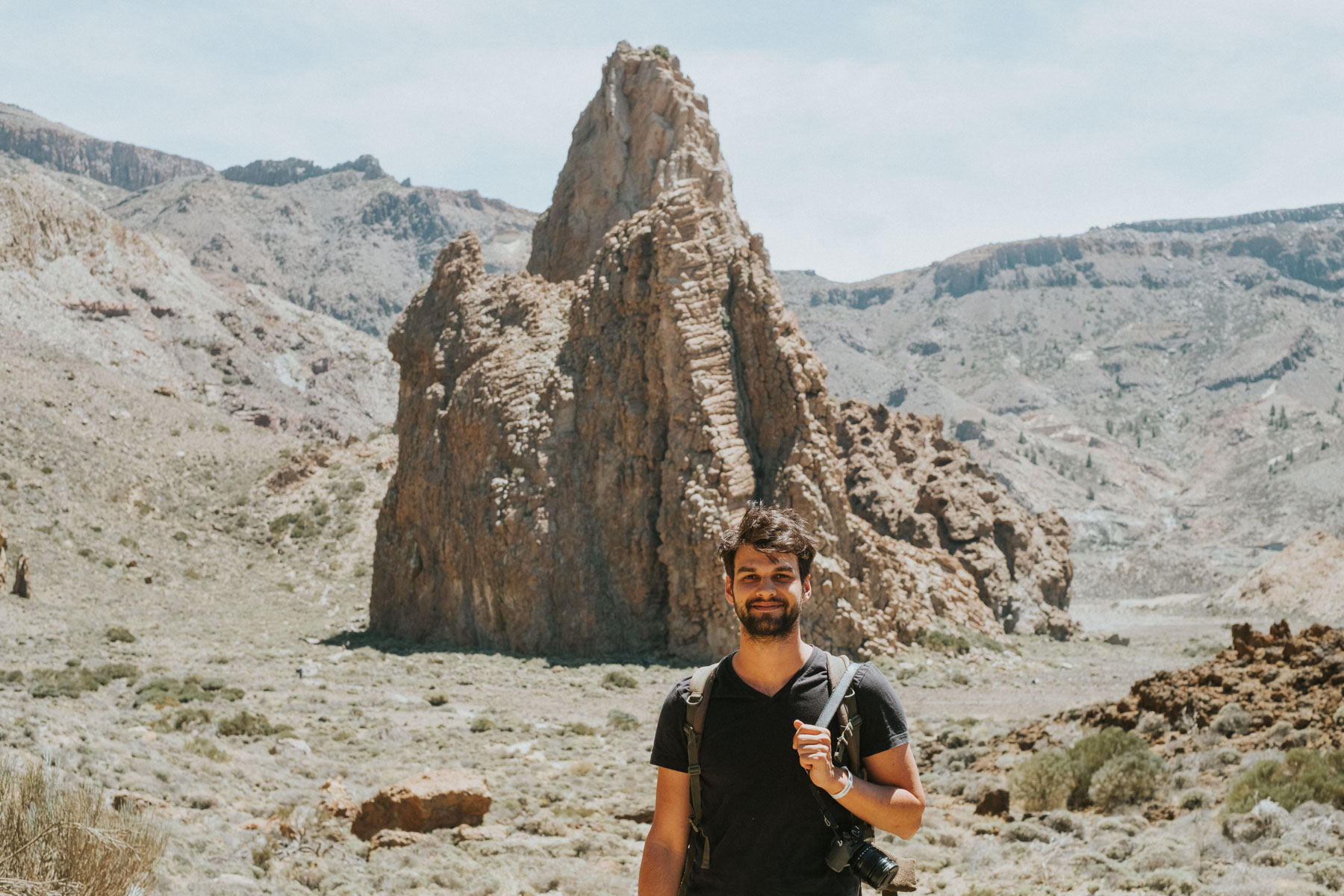 1. Mount Teide Hiking + Cable Car
Tenerife's volcanic mountain, famous for hiking. You can take a cable car mid-way up, which you need to book in advance but can cancel within 24h.
★★★★ 4.8
on GetYourGuide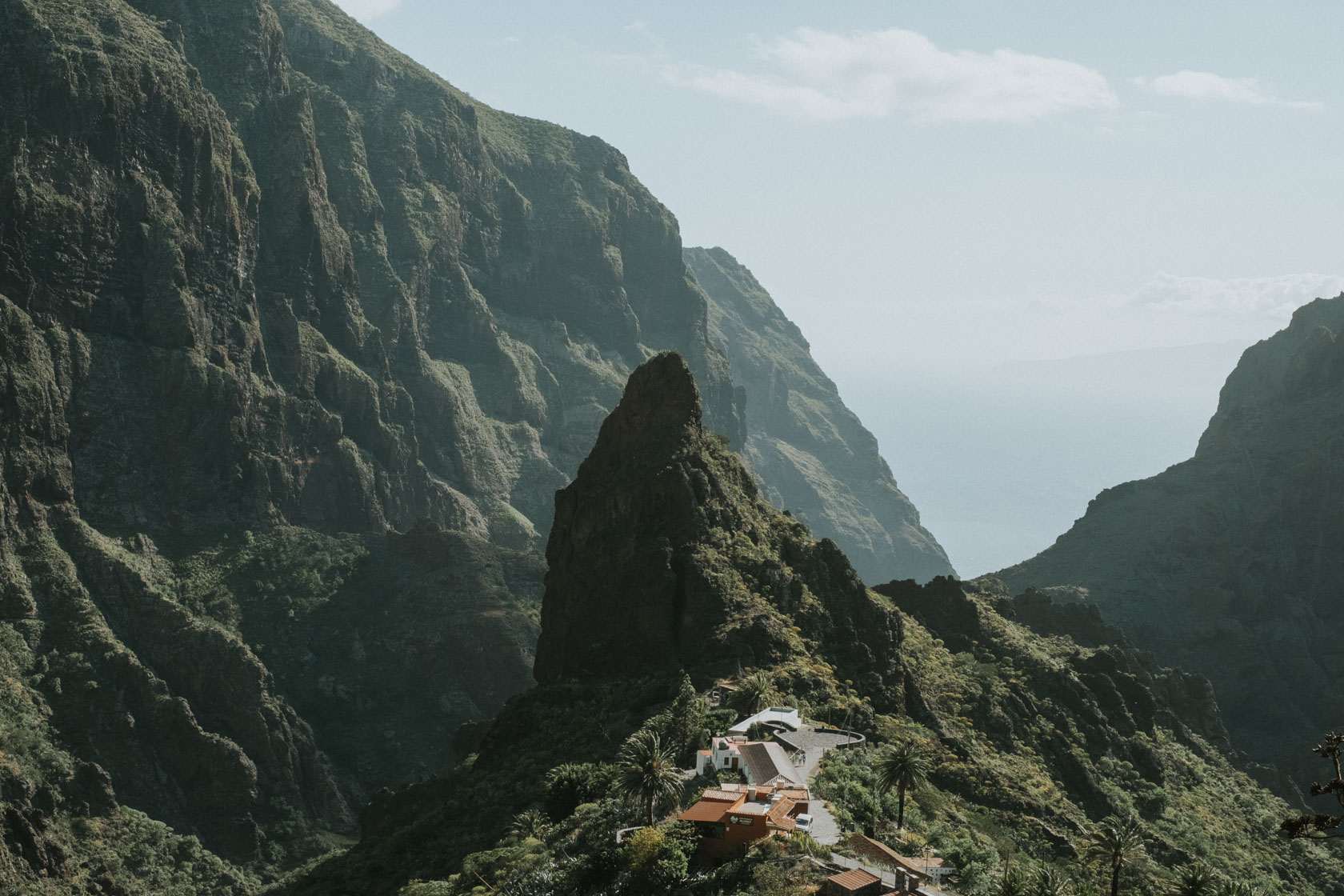 2. Masca Valley + Village
Famous for its trecherous roads, reaching Masca Valley isn't too difficult by car if you're a confident driver. Otherwise, join a tour of Northern Tenerife and combine with Santa Cruz and Mount Teide.
★★★★★ 4.8
on GetYourGuide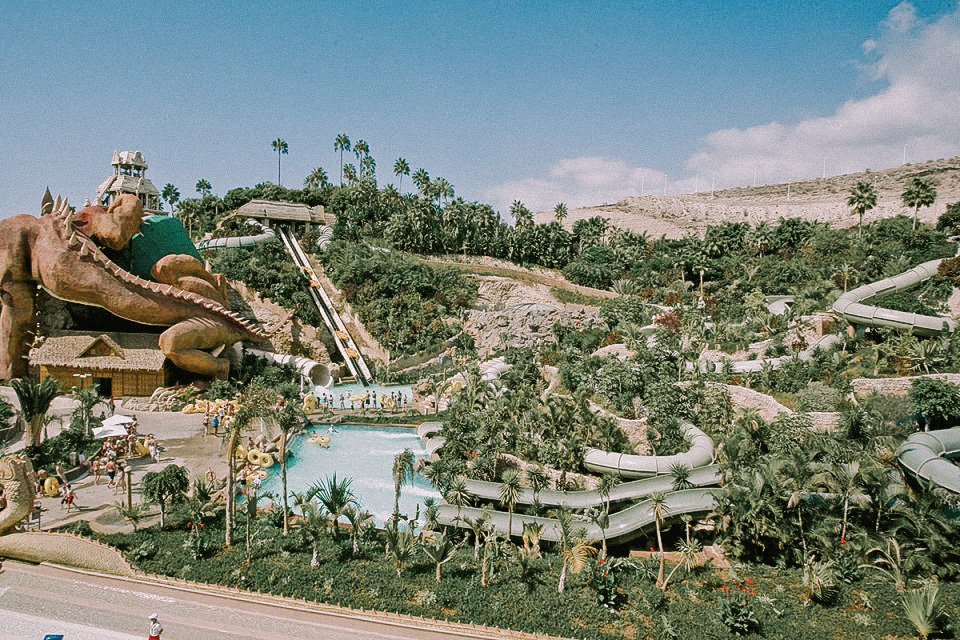 3. Siam Park
Great for kids, Siam Park is the world's number one water park. Easy addition to your itinerary if you stay in Los Cristianos like we did.
★★★★★ 4.6
on GetYourGuide
A 7-day itinerary for Tenerife
Duration 7 days
Dates visited April 3-10
Where to stay in Tenerife We booked all our Tenerife accommodation on Booking.com and found it had really great prices. The most expensive place we stayed was Los Cristianos. We also stayed at one Airbnb, which was great but it didn't have heating and it turns out that's important in the Tenerife mountains! 😂 Click here to check current availability of Tenerife accommodation on Booking.com.
Legend   ♦♦♦ Must visit   ♦♦ Recommended   ♦ If time permits
Day 1: The city and beaches of Northeast Tenerife
Today we're going to start exporing the Northeast of Tenerife, except for the Anaga region (that comes tomorrow!). We'll see it all: from the urban heart of the island, to one of its most scenic beaches, and finally ending up in our homebase in the north.
Where to stay – I recommend staying in La Laguna while you are in this area. The town is very pretty, with enough to do and enough places to eat that you won't get bored by staying here for 2 nights. It's also central enough that you won't spent too much time in the car (although that's the case for almost anywhere on the island so long as the road is paved 😉)
Santa Cruz ♦
Would you believe it if I told you that Tenerife is home to more than one million people? It's hard to imagine when you're driving around the island that so many people inhabit Tenerife, and perhaps that only place that makes this seem remotely possible is Santa Cruz de Tenerife .
In fact, nearly half of the residents of Tenerife live in this city. For that reason, it shouldn't be surprising that the city itself is much less charming than the spots coming up on our itinerary.
My honest review is that you can certainly skip Santa Cruz if you are tight on time, or want to spend more time in other places. However, for the sake of being thorough and getting one glimpse into urban life on the island, it's also hard to go totally wrong 😄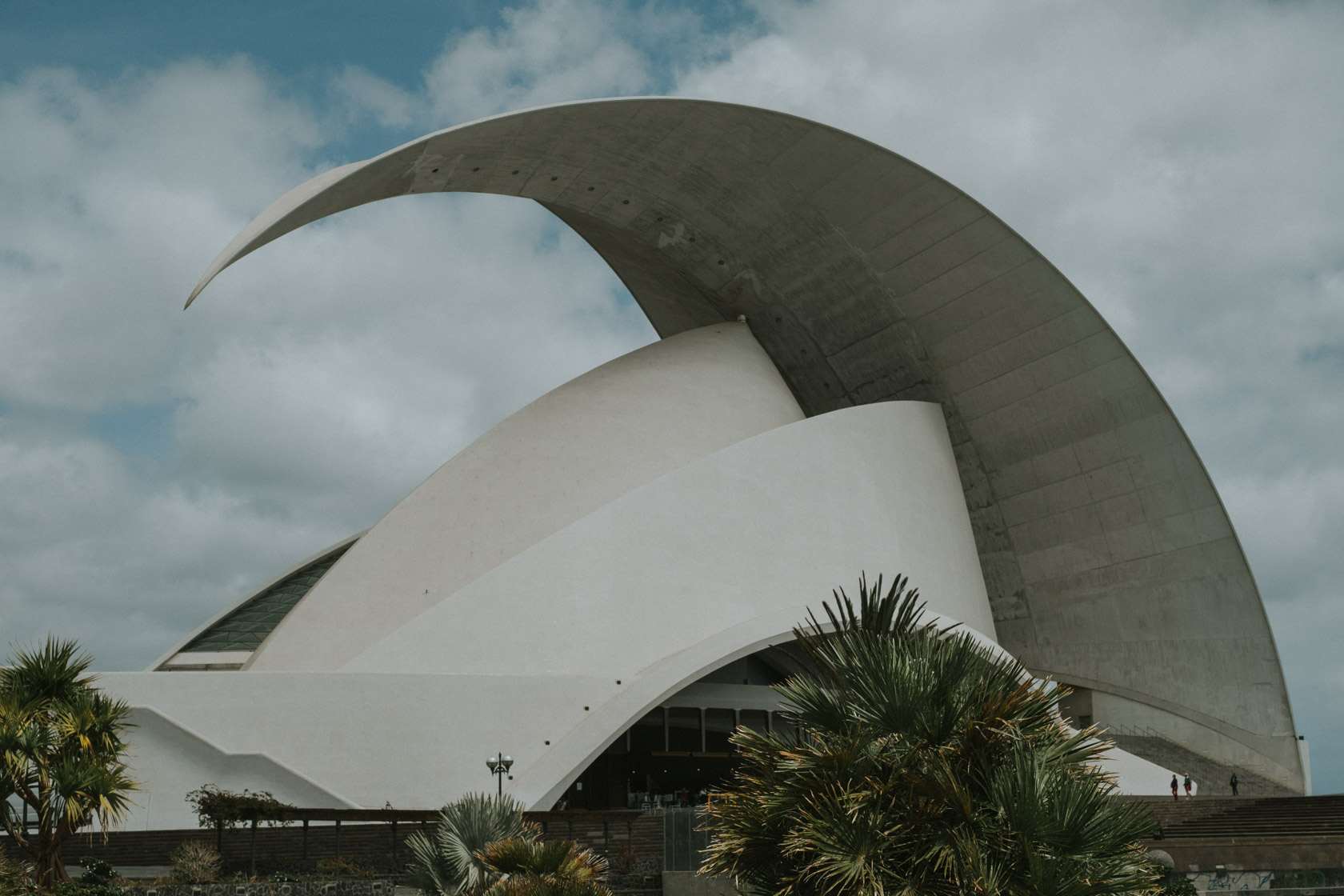 The Auditorio de Tenerife is probably the city's most recognized landmark. From here you can climb up the stairs for a view over the Atlantic ocean. Nearby, locals sunbathe and swim in an alcove protected from the buffet of the waves. If you're in the mood for a water park, you can find one a stone's throw from the Auditorio as well.
Things to do in Santa Cruz de Tenerife
Walk around the Parque García Sanabria , the largest public park in the Canary Islands. It has most of what you might find in a botanical garden, but for free 😄
Enjoy the pedestrian street of Calle del Castillo , which you can easily take from the tourism office on your way to the public park.
Visit the Mercado Municipal Nuestra Senora de Africa (municipal market) for a look at how the locals get their fresh fish and produce. Be sure to arrive before it closes daily at 2:00PM. Closed Mondays
Learn all about palm trees at the Santa Cruz botanical garden, known as Palmetum . We didn't have time to visit here (and were kind of burned out after the Parque Garca Sanabria), but this spot comes highly recommended.
Las Teresitas ♦♦♦
A short drive up the coast from Santa Cruz, and you're on your way to Las Teresitas , perhaps the most recognizable beach on the island. Here you can take off your shoes, grab a mojito, and soak up the sun.
For a beach chair you'll have to pay 2-3 EUR, but if you brought a beach towel you can occupy any part of the beach you want to. After you've had enough of that, you can drive up to this scenic point for a view over the beach. Here you'll find some abandoned buildings riddled with graffiti and a rock with a dinosaur skull painted on it. Perfect for photos!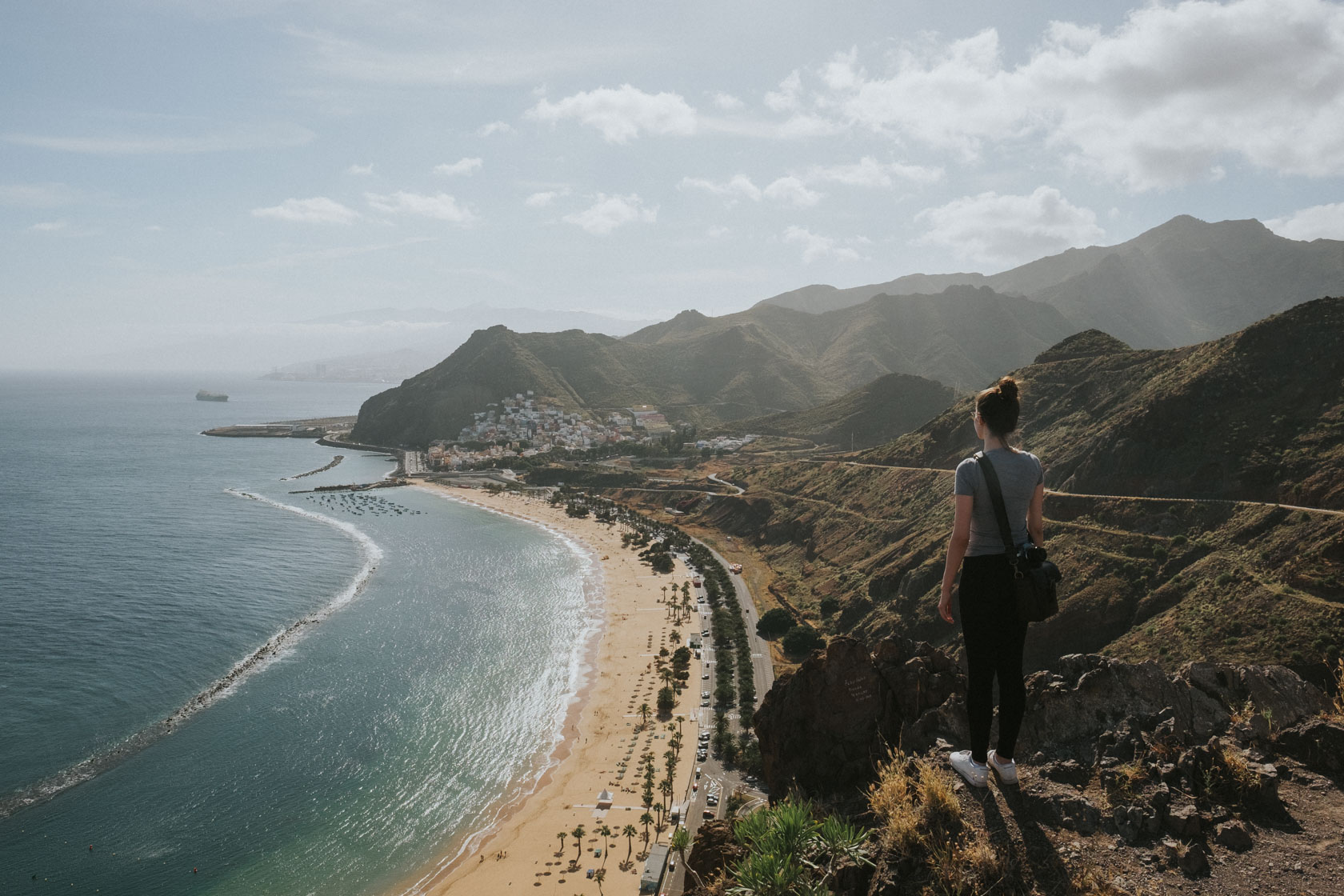 PARKING TIP – There is a ton of parking along the full length of the beach. Don't pull into the first parking lot you find on the far north of the beach – I'm pretty sure the guys running that parking lot are just scammers 😄 You can park for free, closer to the beach by simply following the coast.
La Laguna ♦♦♦
End the day in San Cristobal de la Laguna , a university town that you could mistake for being in Cuba for its traditionally styled balconies and colorful houses.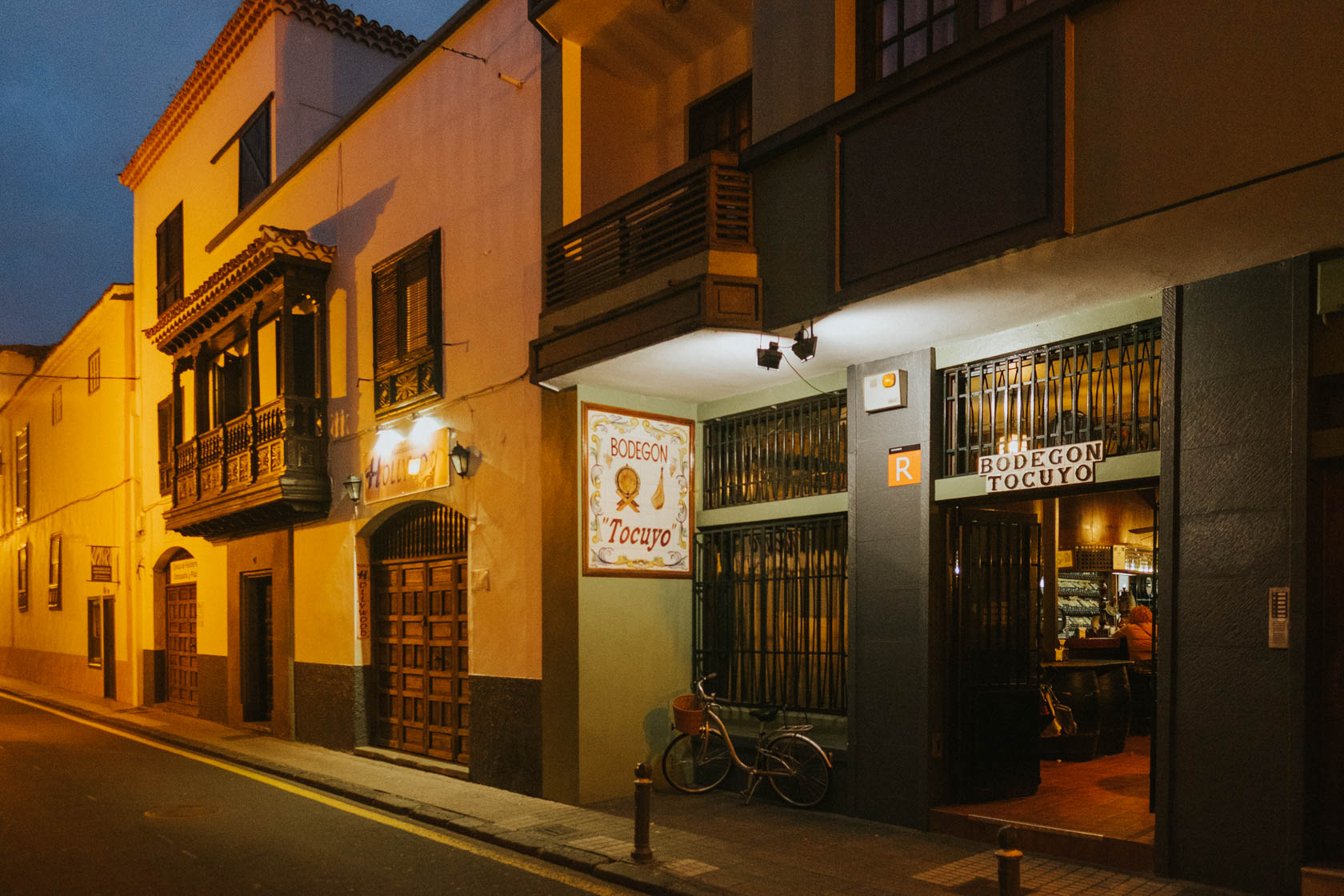 I mean, just look at this traditional bodega with wine barrels for tables, a bicycle outside, and an original wooden balcony overhead. If you love Spanish colonial architecture, you will find yourself charmed by this city! This is one place where I could've spent even longer on an extended trip to Tenerife.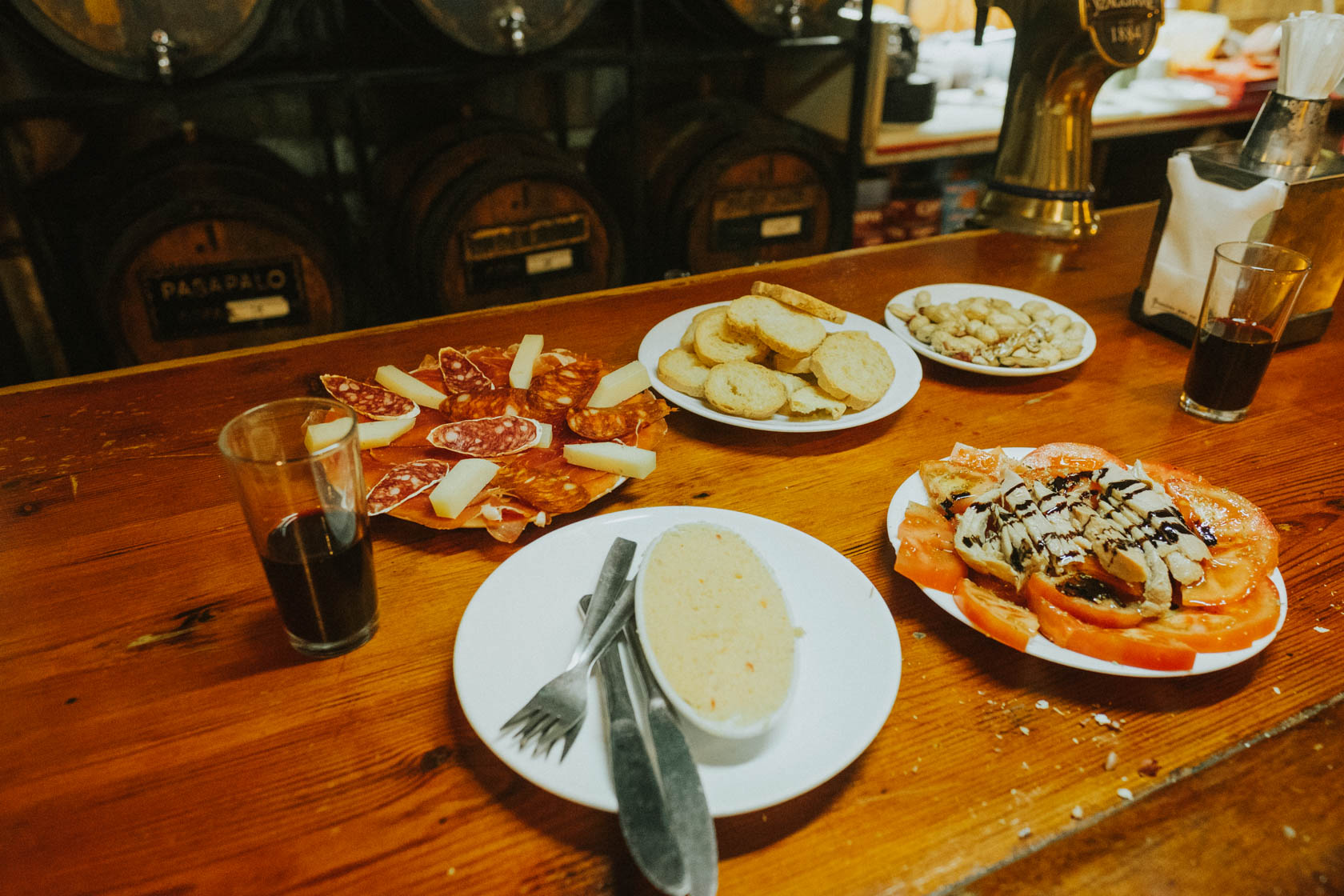 Where to eat in La Laguna
Bodegón Tocuyo de la Laguna – Don't miss out on this traditional tapas bar, where you get what's jokingly referred to as "Canarian cola" (an old coke bottle filled with house wine) for just a few euros to share with you and someone special. The house tapas are simple, affordable, and fresh and the service is beyond friendly.
Restaurante Guaydil – For a taste of traditional Canarian food with good portions and decent prices. The prices look a bit steep, but with the bread you can easily split one full-sized main course between two people. They also offer half-portions. Just get there before 8PM when the locals start to flock!
Enjoying the photos?
Follow along on Instagram!
Follow @notanomadblog for beautiful travel photography and stories of our journeys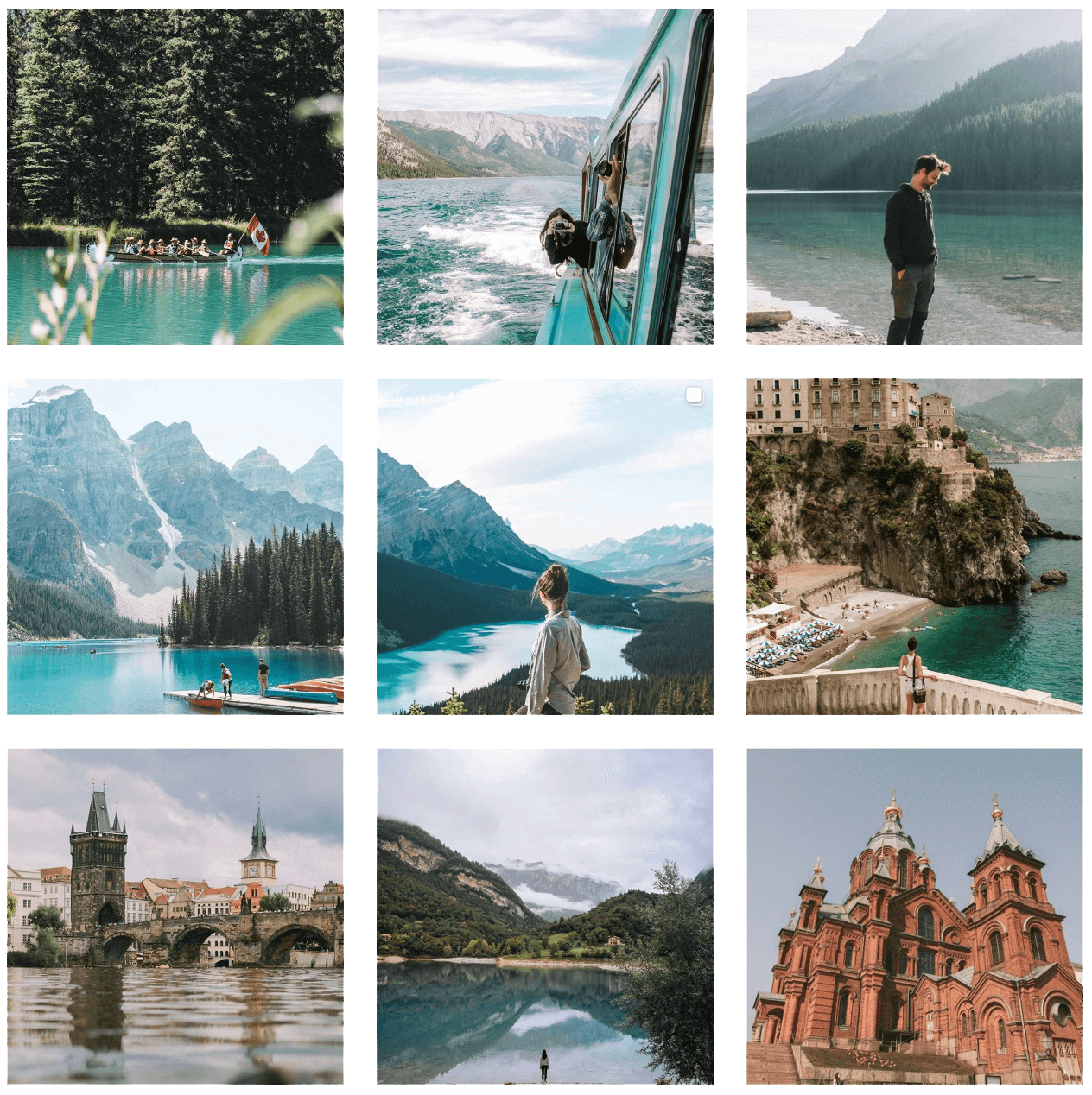 Day 2: Meet Tenerife's rainforest in Anaga
Few people actually think about rainforests when they think of Tenerife. The typical image that comes to mind is a mojito on the beach, but for those who dare to go off the beaten path there is a special place to discover in the most northeast part of Tenerife.
Before Spanish explorers "discovered" Tenerife, the rainforest spanned much more of the island – which had been inhabited by the Gaunches, the indigenous people of Tenerife. Unfortunately, excessive logging and felling of trees led to where we are today where only a precious small area is still in tact.
However, you can still enjoy this beautiful slice of nature through hiking trails and by visiting the mountain villages accessible only by narrow roads with steep drop-offs. Come with a camera and your hiking boots!
Parque Natural de Anaga ♦♦♦
Start your experience in Anaga by stopping at the Centro de Visitantes, Parque Rural Anaga (Visitors Center at Barrio Cruz Carmen). If you have any questions about which hikes will work for you, the people here can give you a map and help you find a suitable trail.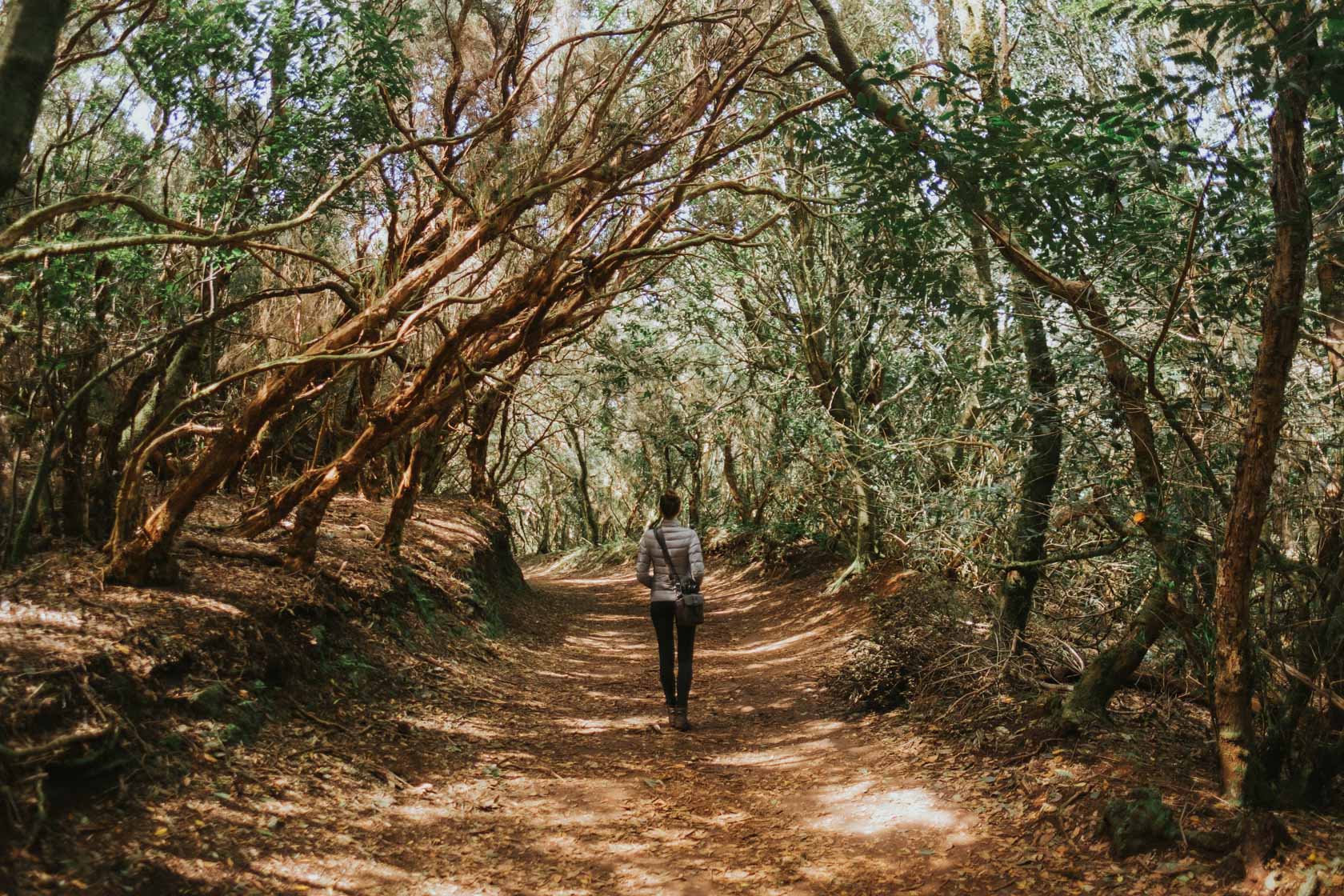 Just a moment's walk away from the visitor's center, you'll find the most accessible trail. It takes just 45 minutes round trip and will land you in the middle of the laurel forest.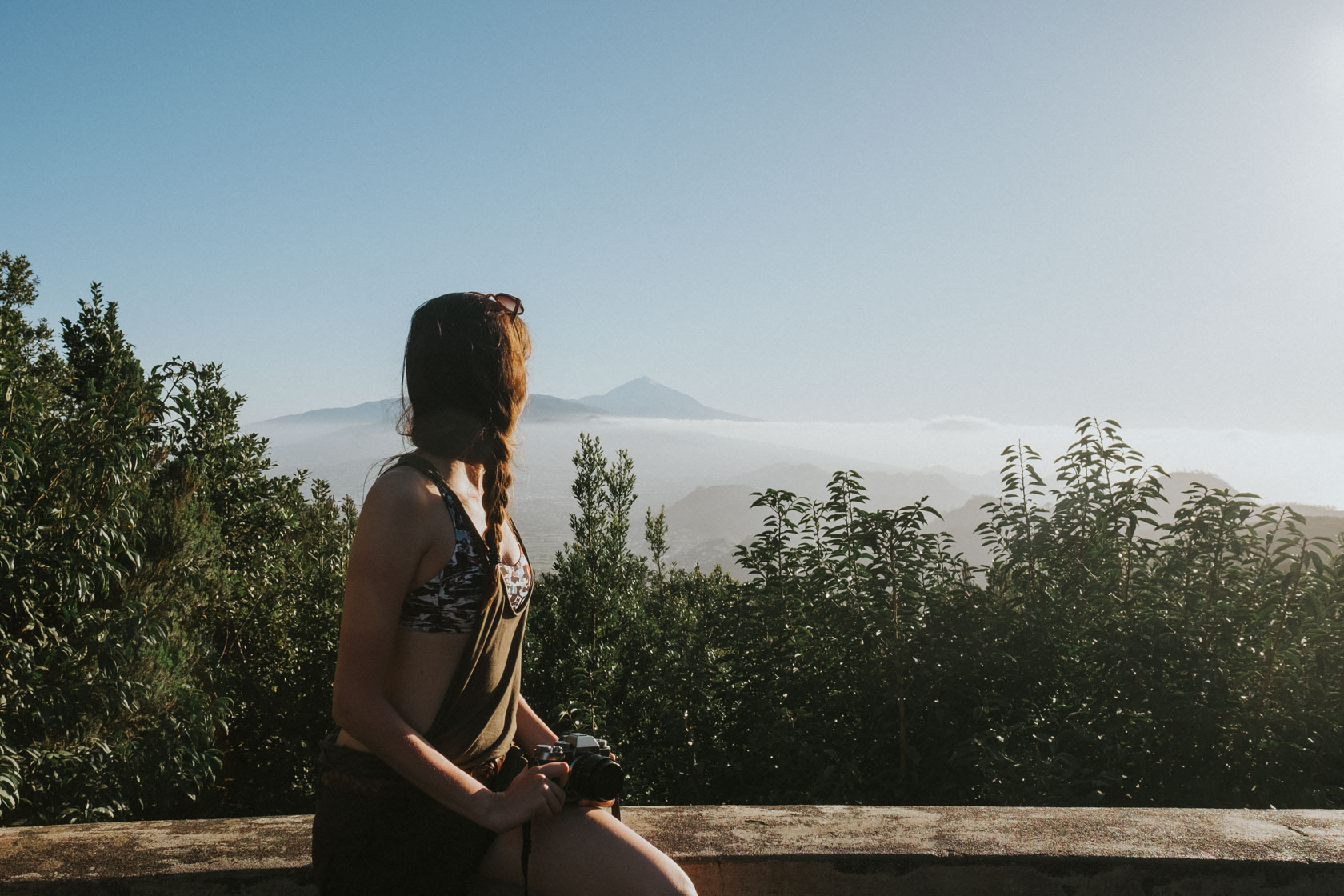 Also near the visitors center is this lookout point, where you can see El Teide, Spain's highest mountain and volcano. We'll visit later, but for now just be impressed by how huge it is!
Taganana and Benijo ♦♦
In the distance you can see Taganana, as seen from Benijo, a miniscule village on the northern coast of Tenerife.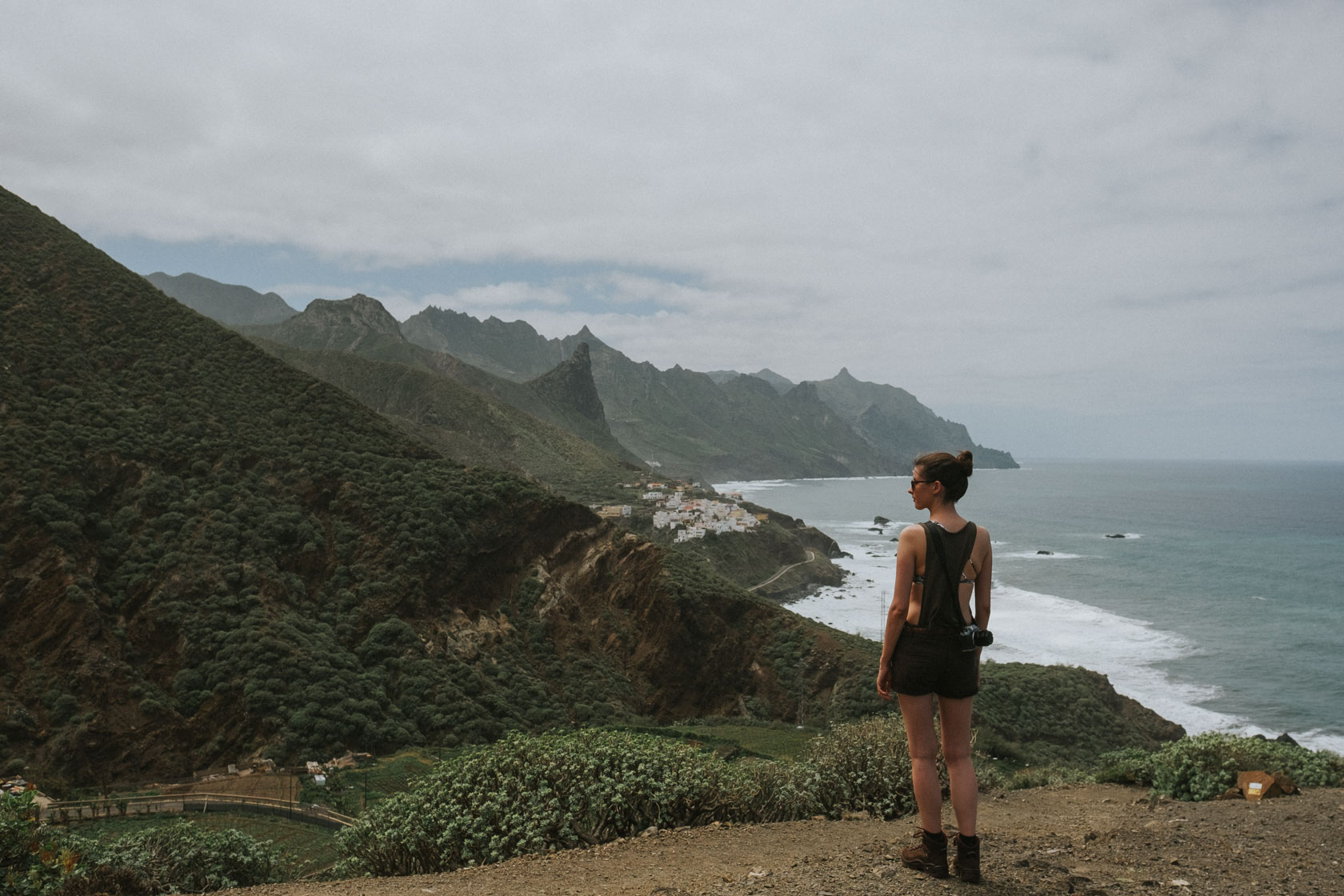 From here you can hike to other nearby villages over the mountains or – if you're like me – stop by Restaurante El Mirador for some excellent papas arrugadas (Canarian potatoes) and sangria.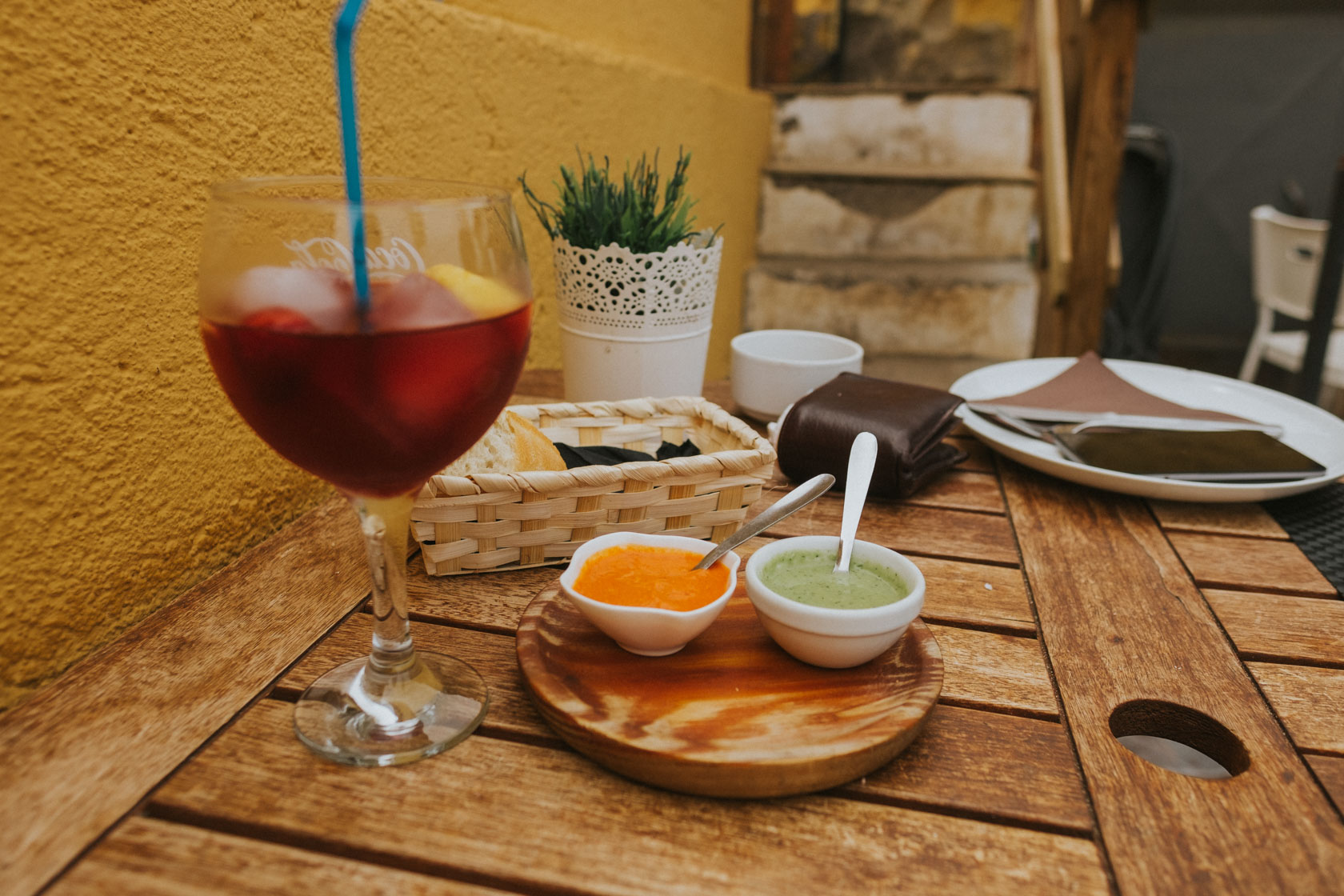 Las Carboneras ♦
There are a lot of other small villages in this area, so in some way it's up to you to visit the ones you think are interesting and explore! One spot where I would say was rather remote but provided some lovely views is Las Carboneras . I think the picture speaks for itself.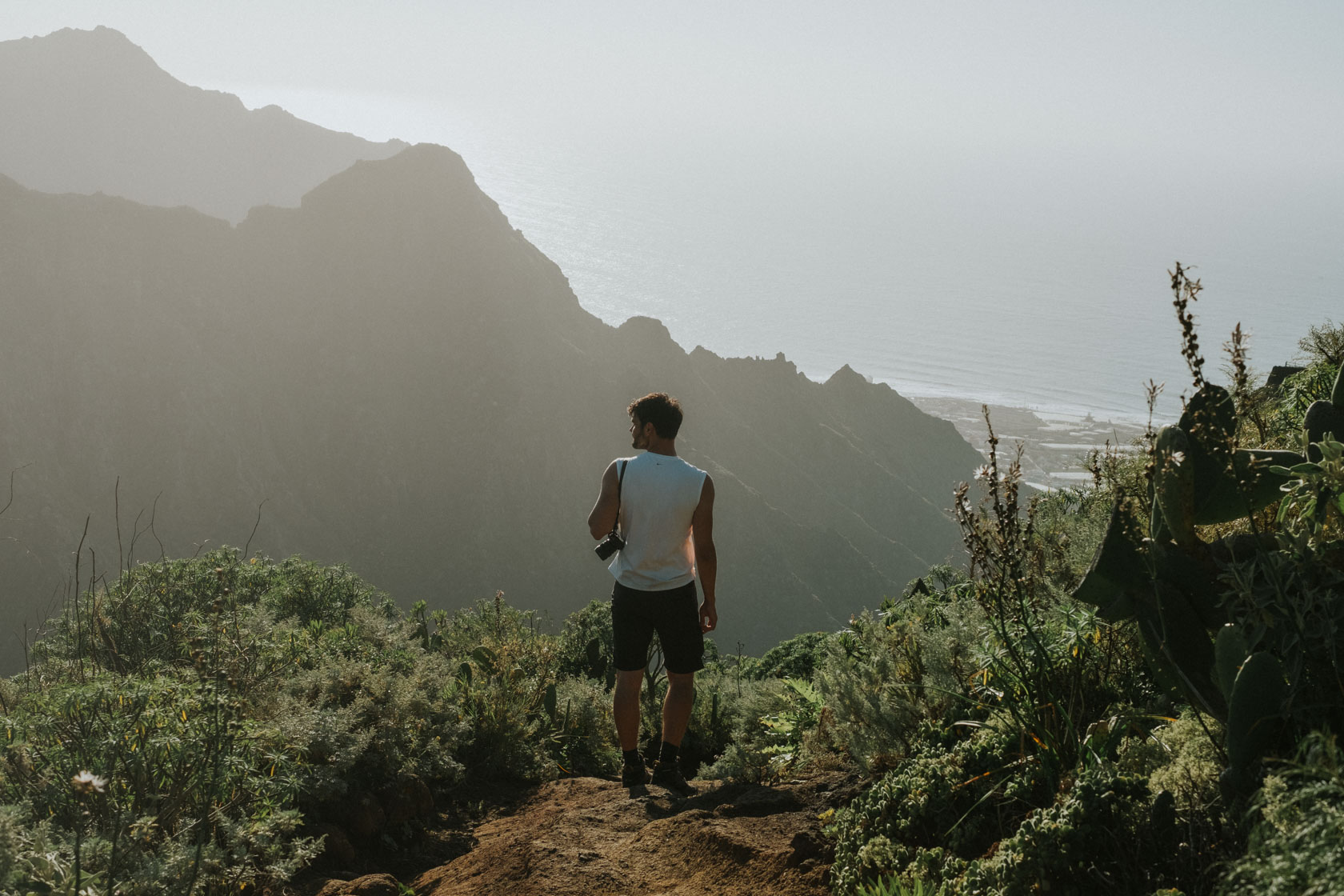 Day 3: Sun, sea, and sangria in Puerto de la Cruz
Puerto de la Cruz is a cute, beachfront city with plenty of space to watch the waves with a sangria in one hand and an ice cream cone in the other. But before going to the beach, don't miss one of the most famous botanical gardens on the island.
La Orotava Botanical Gardens ♦♦
One thing that is quite confusing about La Orotava Botanical Gardens is that they're not actually in La Orotava (which is where we're going tomorrow). But once you'ved understood that, you're well on your way to visiting a little slice of nature inside one of the larger cities in Tenerife (well, as much as any 'city' is 'large' in this place!).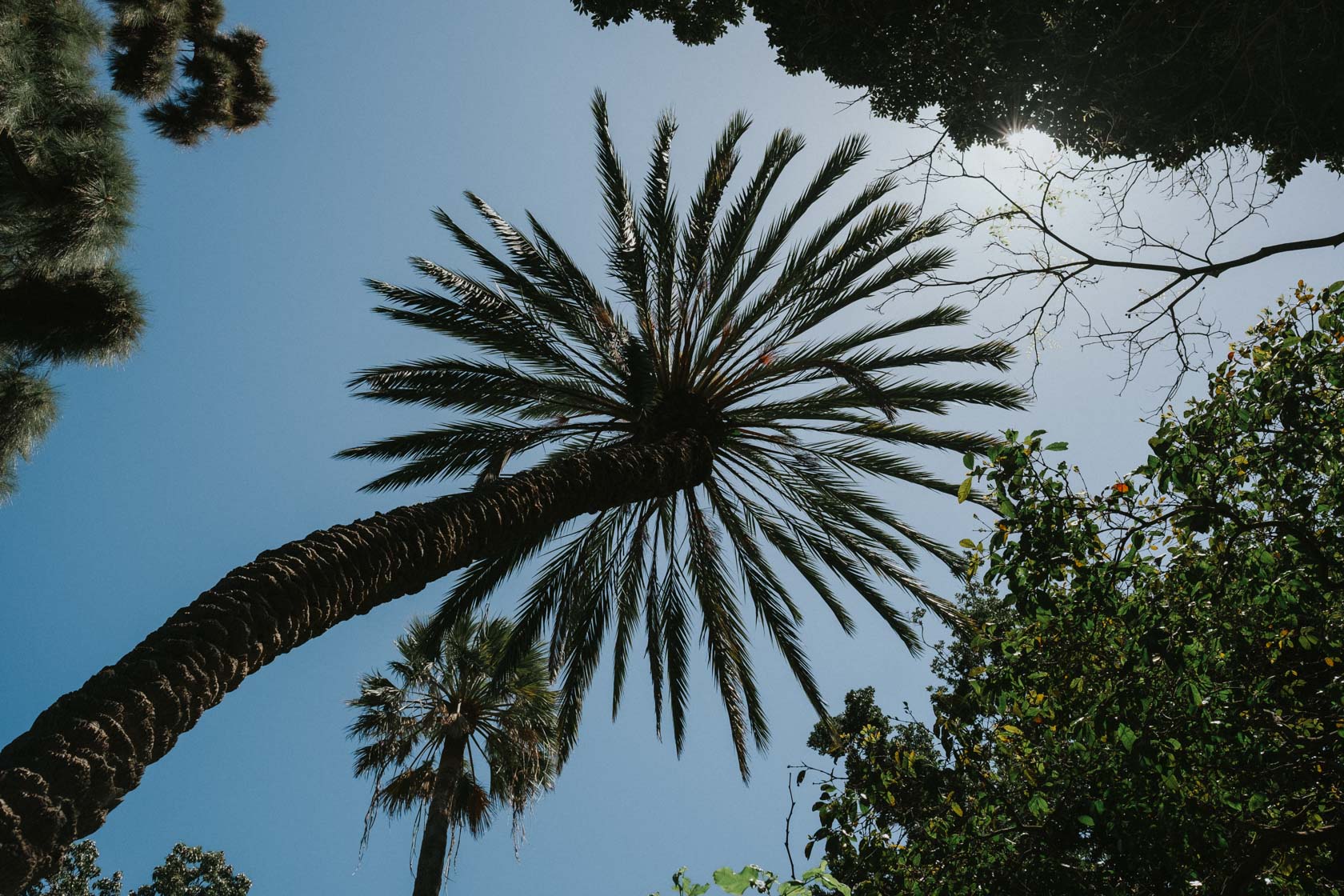 Entrance cost is 3 EUR. While the gardens aren't big, the highlight is worth the cost: massive trees whose roots stem from their branches and anchor themselves in the ground for additional support. This is called "aerial roots" and is rather similar to how orchids survive without proper soil.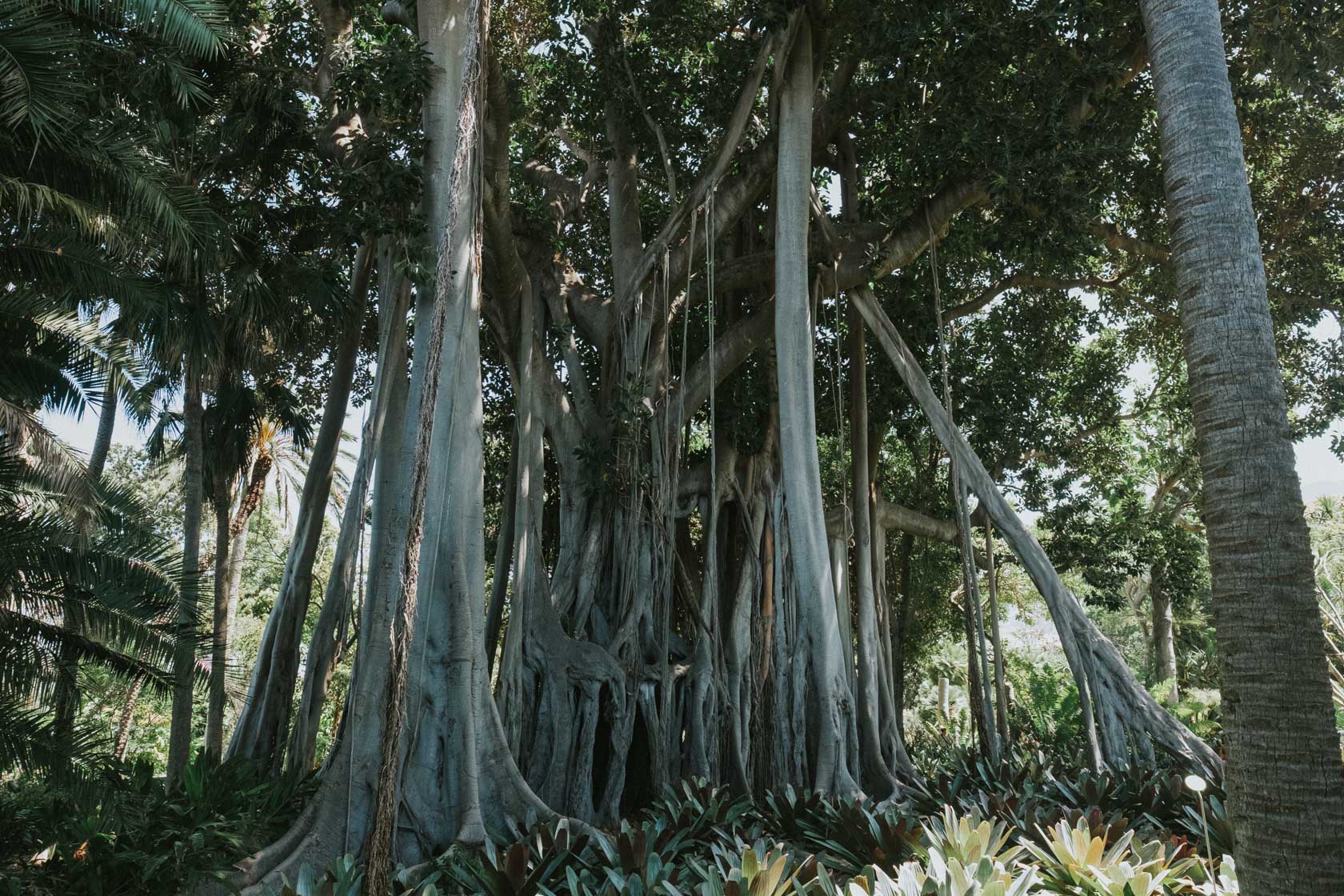 Puerto de la Cruz is also where you'll find Loro Parque , which is essentially a zoo. Before going to you should be aware that they keep whales and dolphins in captivity, so you can decide whether you wish to support this venue.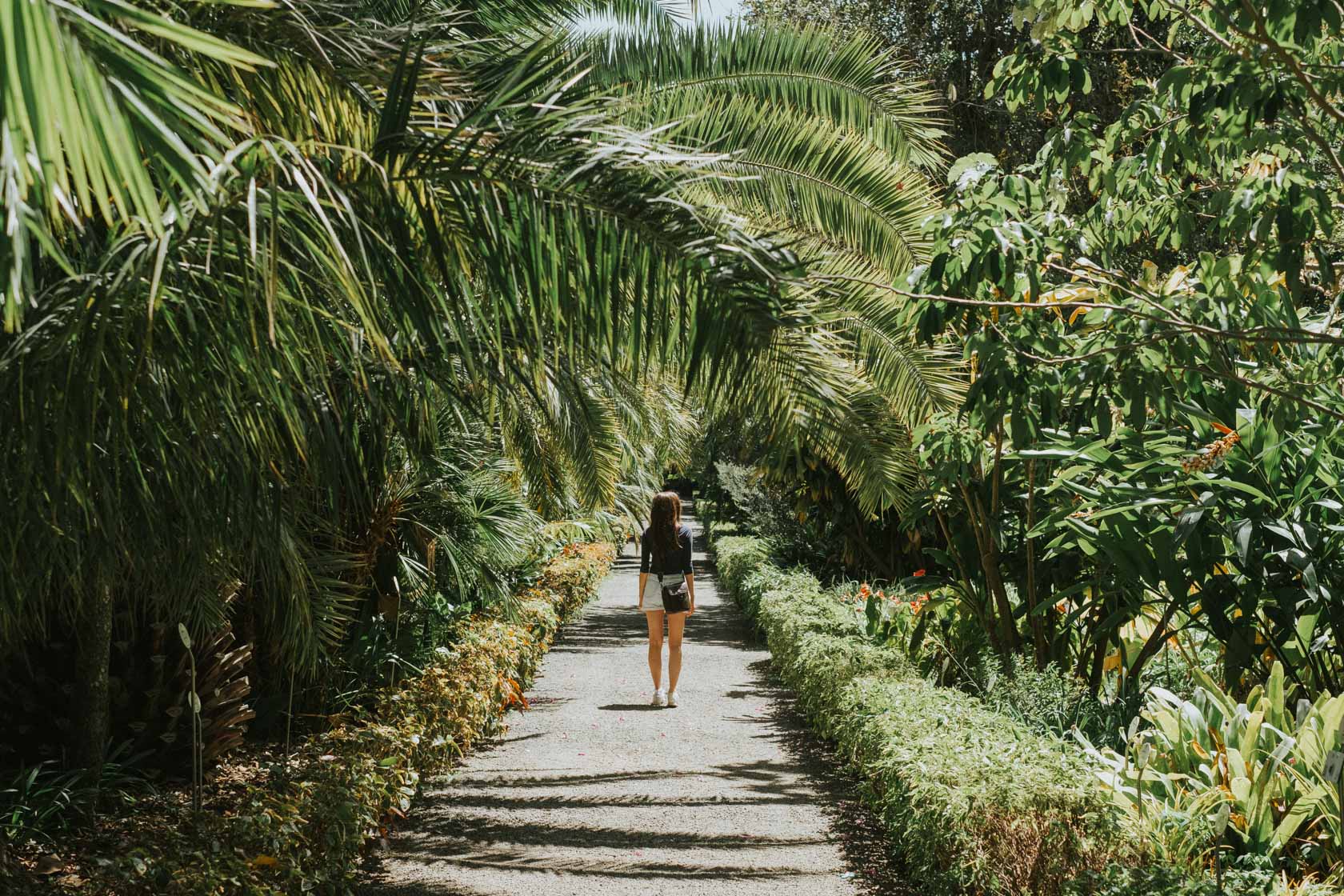 Puerto de la Cruz
The city itself of Porto de la Cruz also has a lovely stretch along the sea where you can order a sangria and people watch. As with many towns in Tenerife, you'll also find a Spanish-style church, wisteria framing entrances to private homes, and plenty of places to dine al fresco.
Casa del Vino de Tenerife ♦
Did you know that the wines of Tenerife were once some of the most sought after in Europe? Even Shakespeare sings the praises of Malmsey Wine in his Richard III, and Alexander von Humboldt remarked that this wine was celebrated for its excellence in his book Personal Narrative of Travels to the Equinoctial Regions of America.
This museum of wine (which also includes a restaurant and tasting room) explains how the volcanic soil and varying locations on the island lend themselves to excellent conditions for growing wine. You can see some of the traditional wine-making equipment and read up on more than thirty varieties of grapes that are grown on the island. Besides the wine-making process, you'll also learn about the history of wine production on the island and how it's carried out today with modern tools.
Naturally, you can buy some of the wines you learn about at the accompanying giftshop 😉
Day 4: Historic cities, ancient trees, and waterfront towns
La Orotava
The historic city center of La Orotava is very well preserved, with countless colorful buildings, streets lined with palm trees, and as always – intricate wooden balconies dating back to colonial times. One of the main "attractions" of La Orotava is Casa de los Balcones, House of Balconies.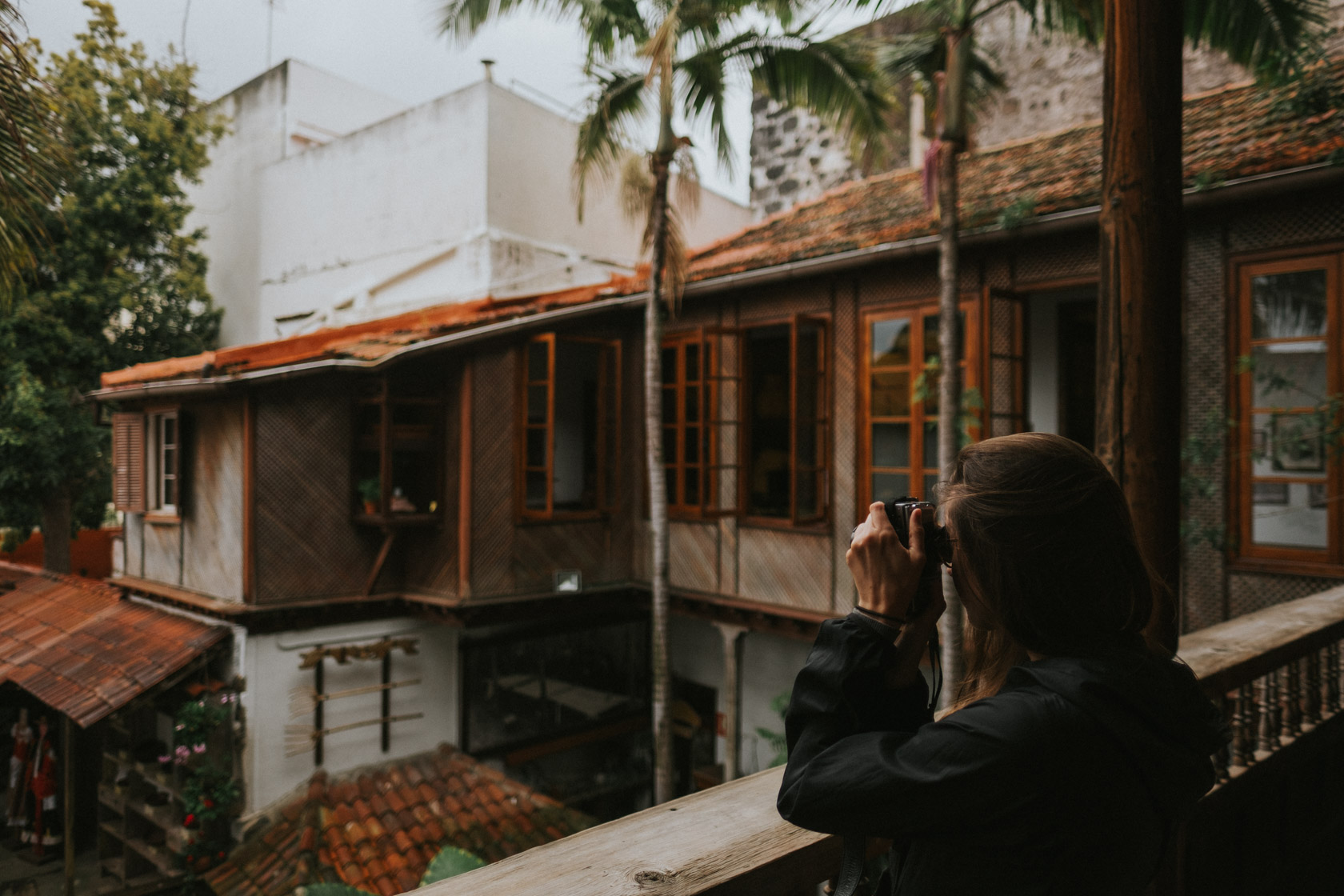 Casa de los Balcones ♦
To be honest, I'm not sure if this place is a tourist trap or not. It costs 4 EUR to enter, and more if you want an audio guide. Upon entering, you're almost bombarded with the same souveniers you can get all over the island, leading me to believe it's probably just mass produced abroad.
That said, the house is lovely and certainly has a beautiful courtyard. You won't learn much about the traditional culture or history of Tenerife while you're here, there are still a few nice spots to take photos and enjoy the sounds of the birds.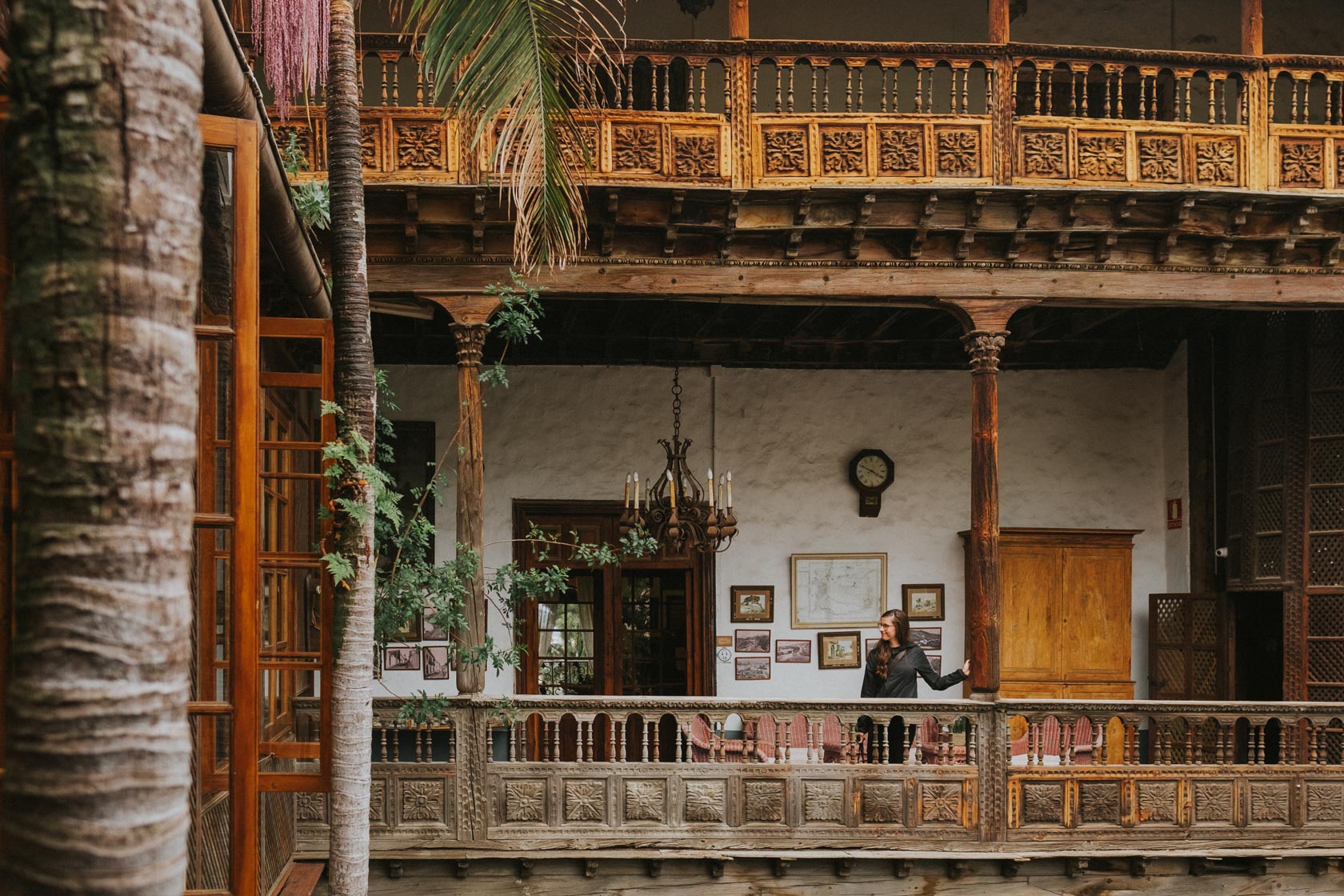 At least the next spot on our list can be visited for free if you know how to get there!
Parque del Drago ♦
Even though its claim to fame as the oldest tree on Tenerife has been debunked, this beast is still some 500-600 years old and that's impressive on its own! Drive to the entrance to the park and continue up the street by foot to the town square where you can get a great view of the tree without paying the fee to enter the park.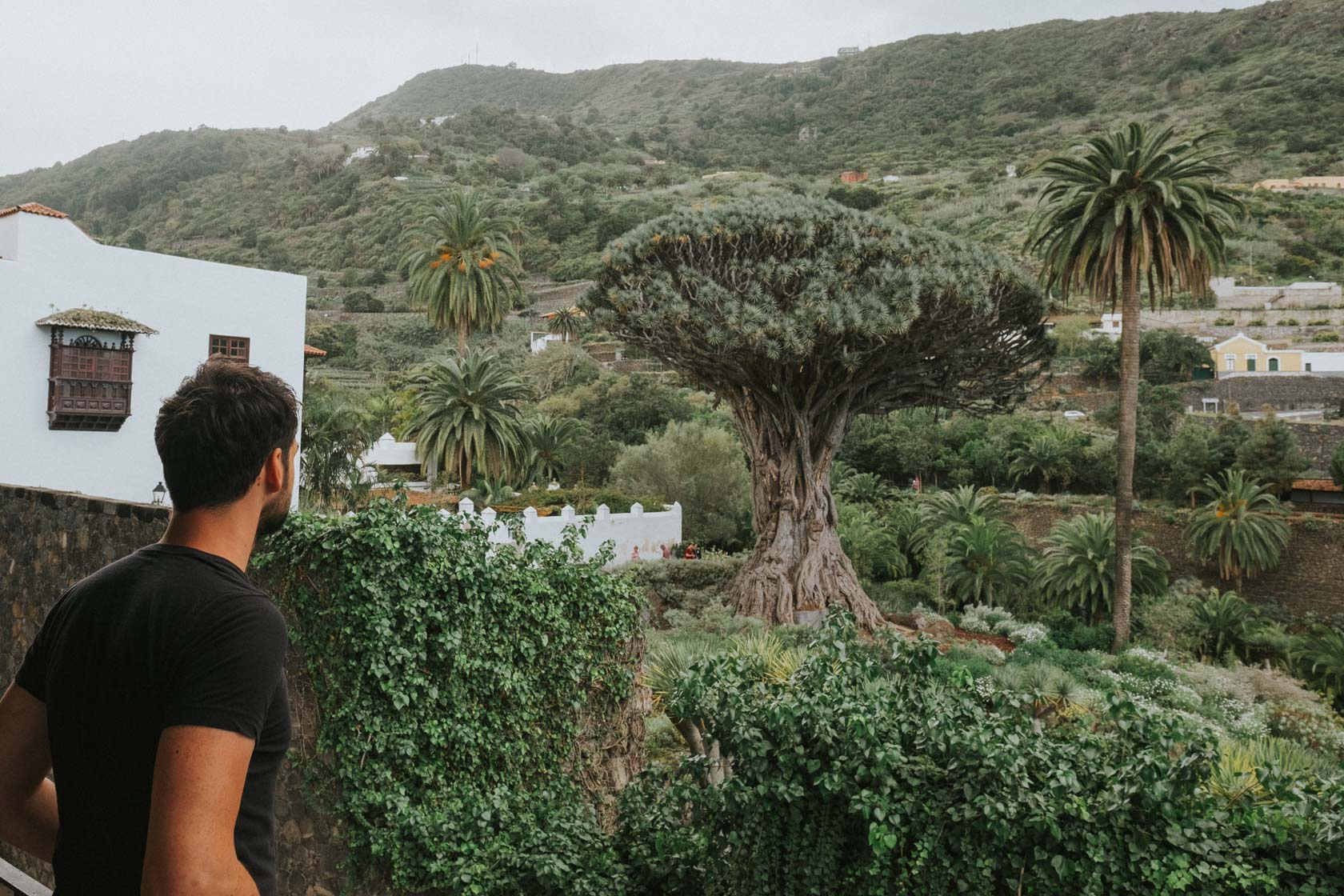 There's not a whole lot else in the area, except a few spots to eat, the staple Spanish-style church, and (in our case) a pair of teenagers smoking some reefer. Continue on to Garachico, one of our last stops on the northern coast of Tenerife!
Garachico ♦♦
A few hundred years ago, a volcanic eruption smothered the historically important port town of Garachico . It never quite recovered to its former glory, though a good part of the town you see today is built on land that was extended by lava. Garachico is a nice spot to grab a bite to eat, and if you have a few extra minutes you can give yourself a tour through the Monastery of San Francisco in the town center.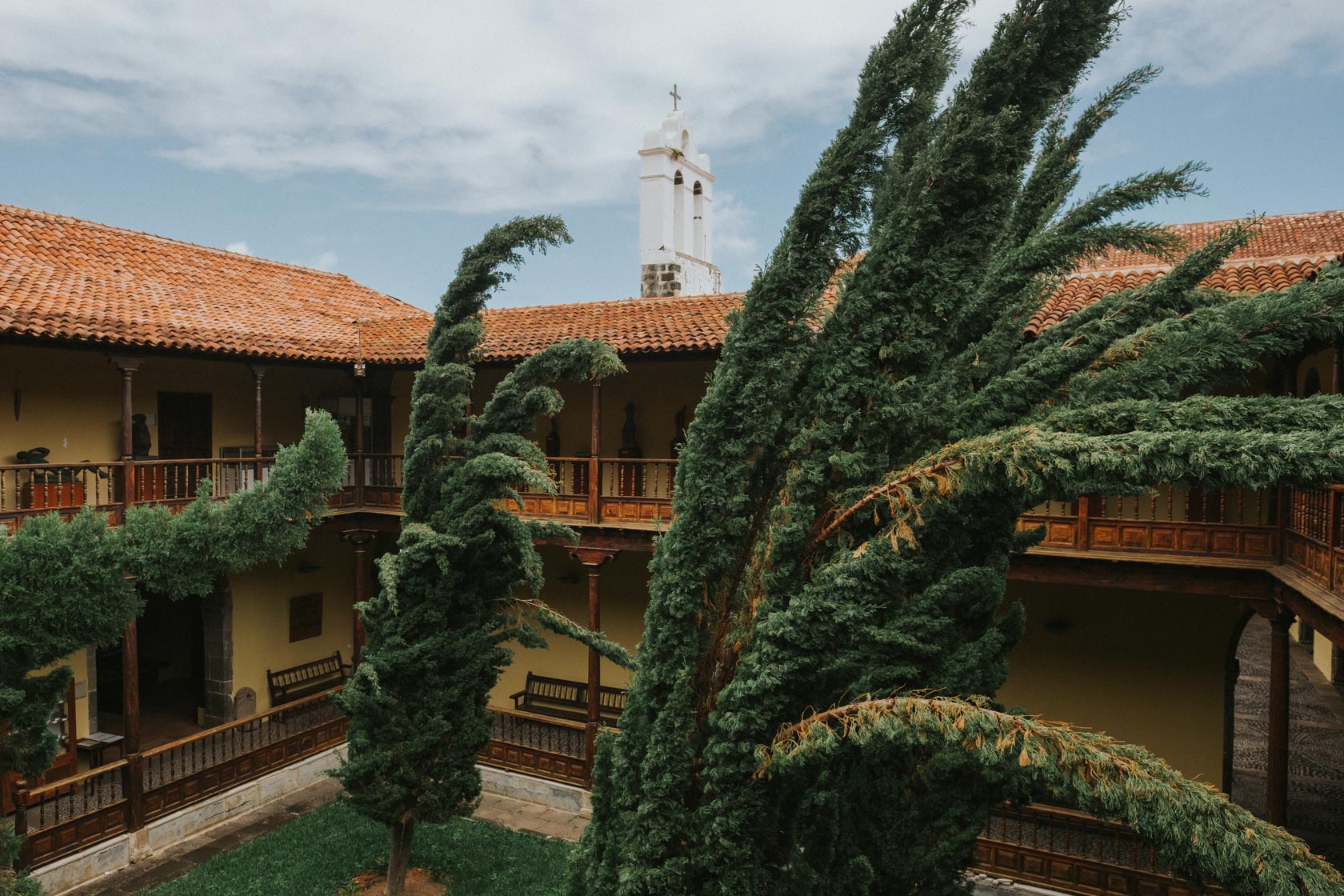 Day 5: Harrowing drives through the coast and mountains
Today we'll visit the most western point in Tenerife, accessible only by a super curvy road with rather little between you and a sheer cliff that plunges into the sea. This is a great spot for a picnic, if you end up taking the bus and simply spending an hour out here. After that, we'll see one of Tenerife's most recommended scenic spots and see if it's really worth the hype!
Punta de Teno ♦♦
The area of Punta de Teno is particularly volcanic, with a veritable sea of black rocks stretching out into the sea. The beach itself also has black sand, and what we can see in the distance is the northern face of Los Gigantes (literally, "the giants"), a massive rock formation usually observed from the south.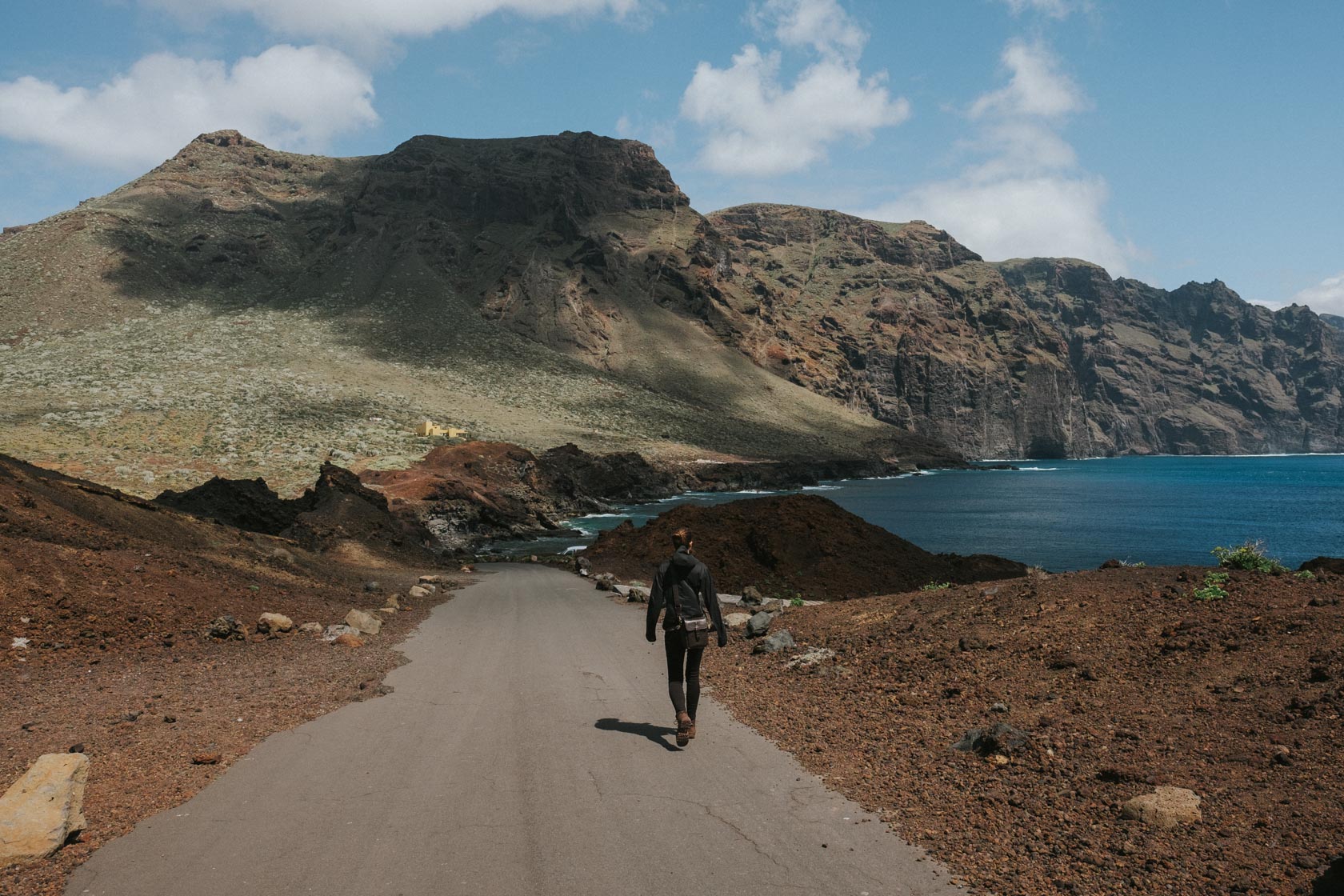 TIP – It's not always possible to drive yourself to Punta de Teno, as during peak hours (such as weekends) vehicle access is restricted to buses and other authorized vehicles. You can instead take an hourly bus for 1 EUR each way and let a professional do the driving!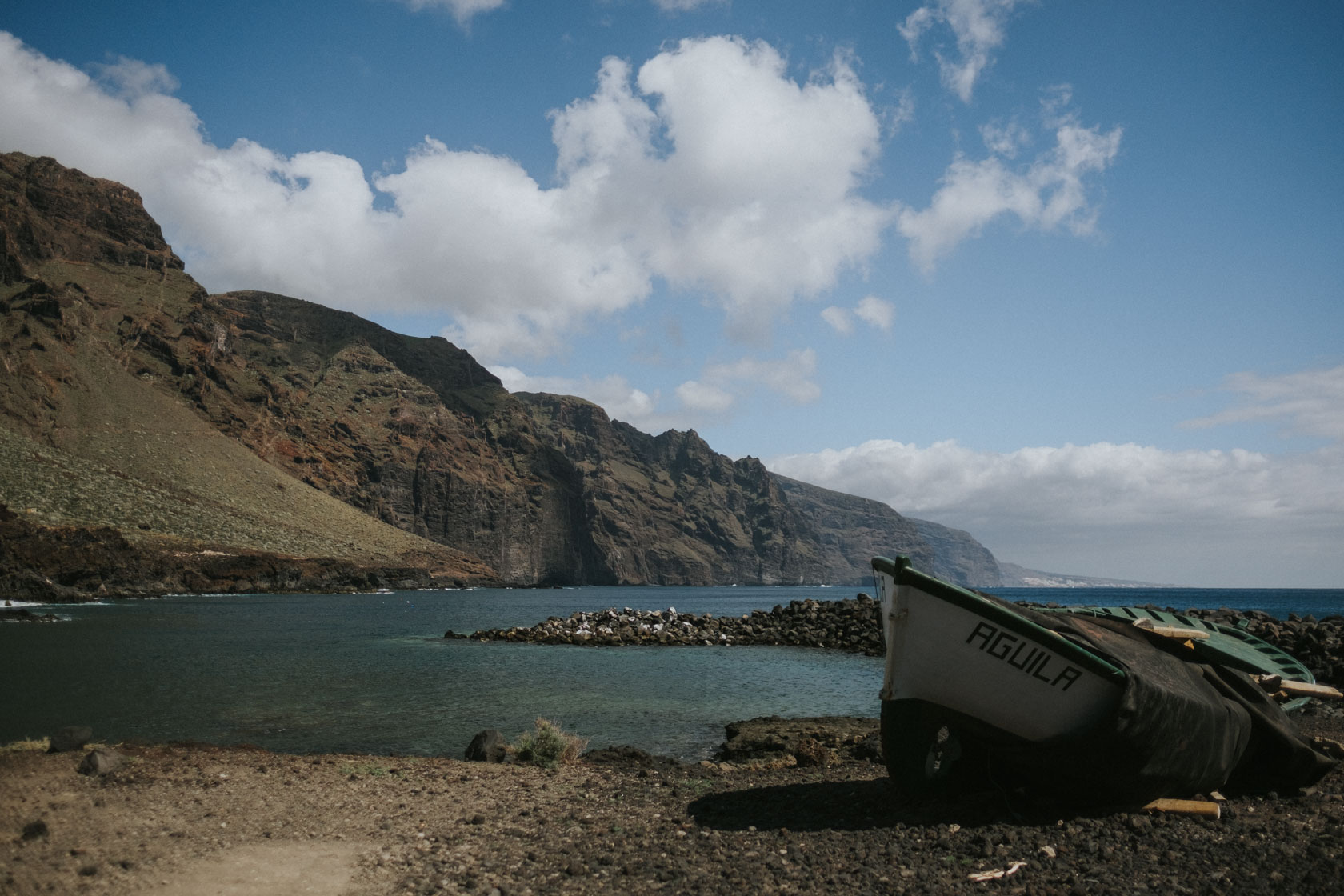 Masca ♦♦
Just about any itinerary you go on will suggest that Masca is one of Tenerife's must-see villages. Masca Valley itself is very impressive, and the drive there is noted for being a bit nerve-wracking but I found it much less harrowing that those we had in Anaga.
Is it worth it? Have a look for yourself and tell me what you think 😉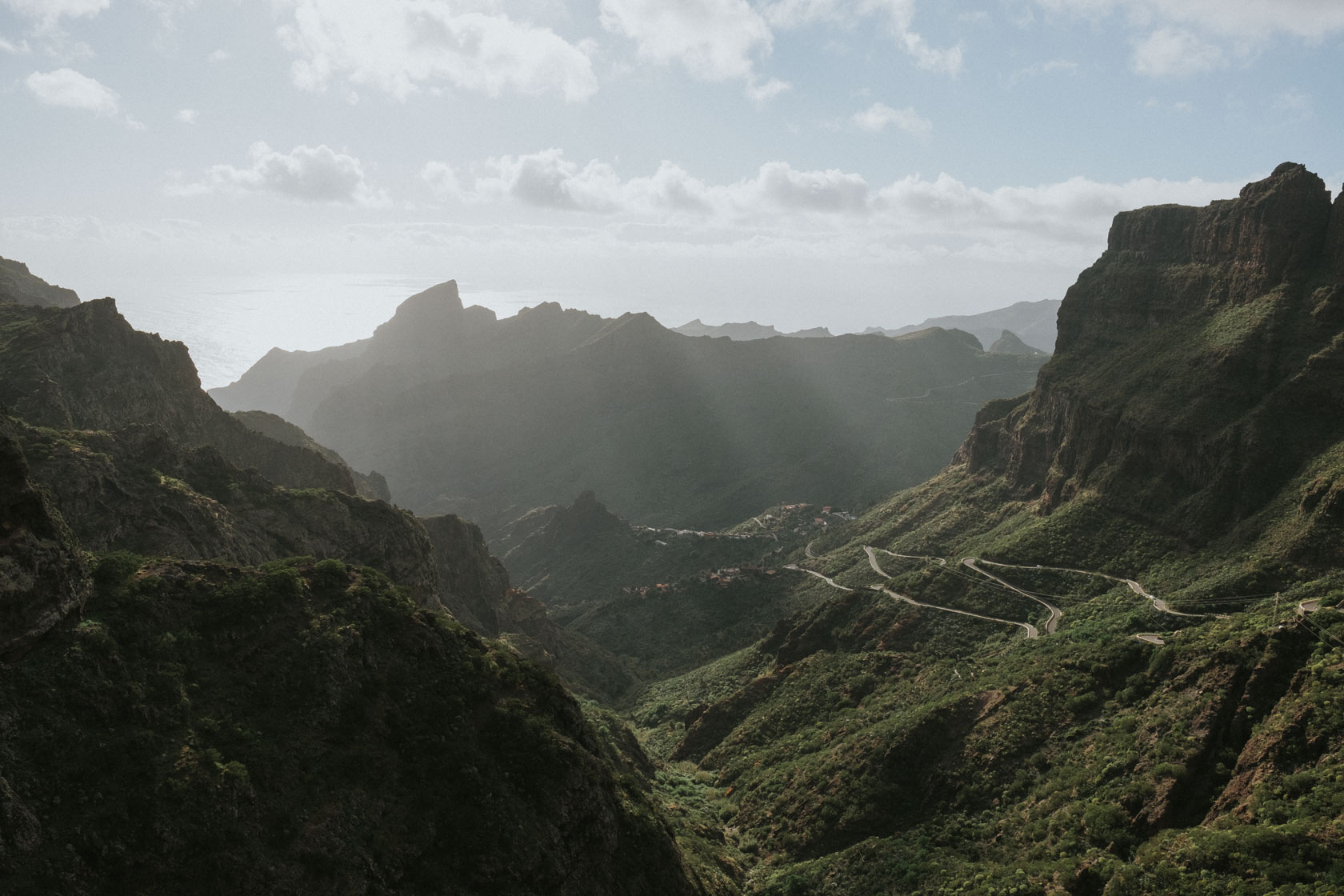 TIP Until further notice, the three hour hike from Masca to Los Gigantes through the Gorge is completely closed. The trail head is closed off an inaccessible, however there are other hikes in the area should you be on a mission to enjoy the valley more intimately.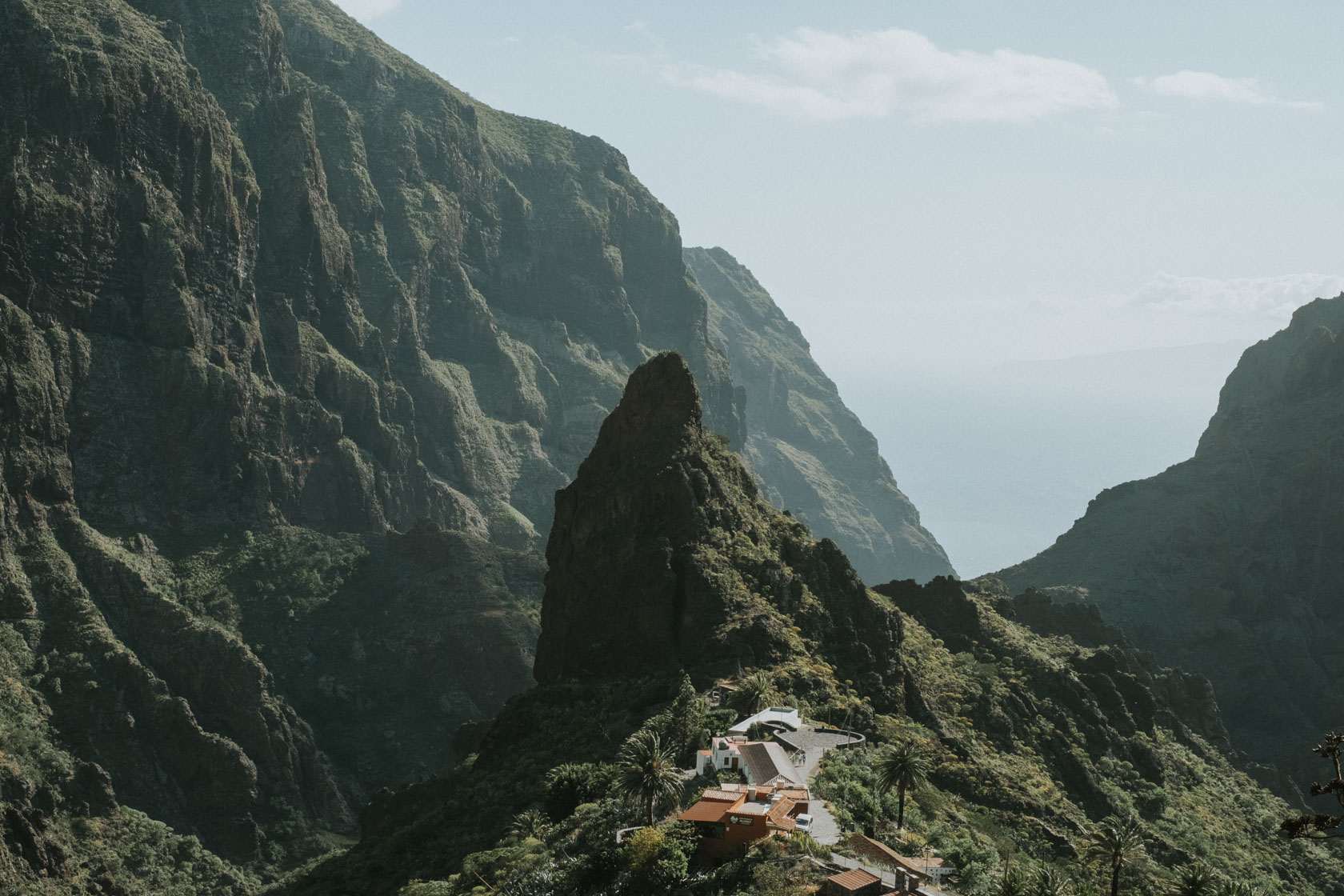 The town of Masca itself is, let's say, underwhelming. A few restaurants, and a few grumpy locals who are tired of their tiny, tiny town being flooded with tourists day in and day out. To fully enjoy Masca, I'm sure it's best to stay over night but I can't say from experience (yet!).
Day 6: Beach life in Los Cristianos
Hopefully until this point I've been able to show you that Tenerife has a lot more to explore for visitors than beach bars 500 meters away from their all-inclusive resort. Tenerife has gorgeous terrain ranging from laurel forests in Anaga to volcanic cliffs at Punto de Teno and stunning canyons surrounding Masca.
Bearing all of that in mind – there's no reason to skip the beaches in Tenerife just to make a point. One of reasons people come to Tenerife is because it's overall very affordable without being too touristy in any one place. After nearly a week of being on the go, a day on the beach in Los Cristianos was the perfect way to regain some energy before a very active final day.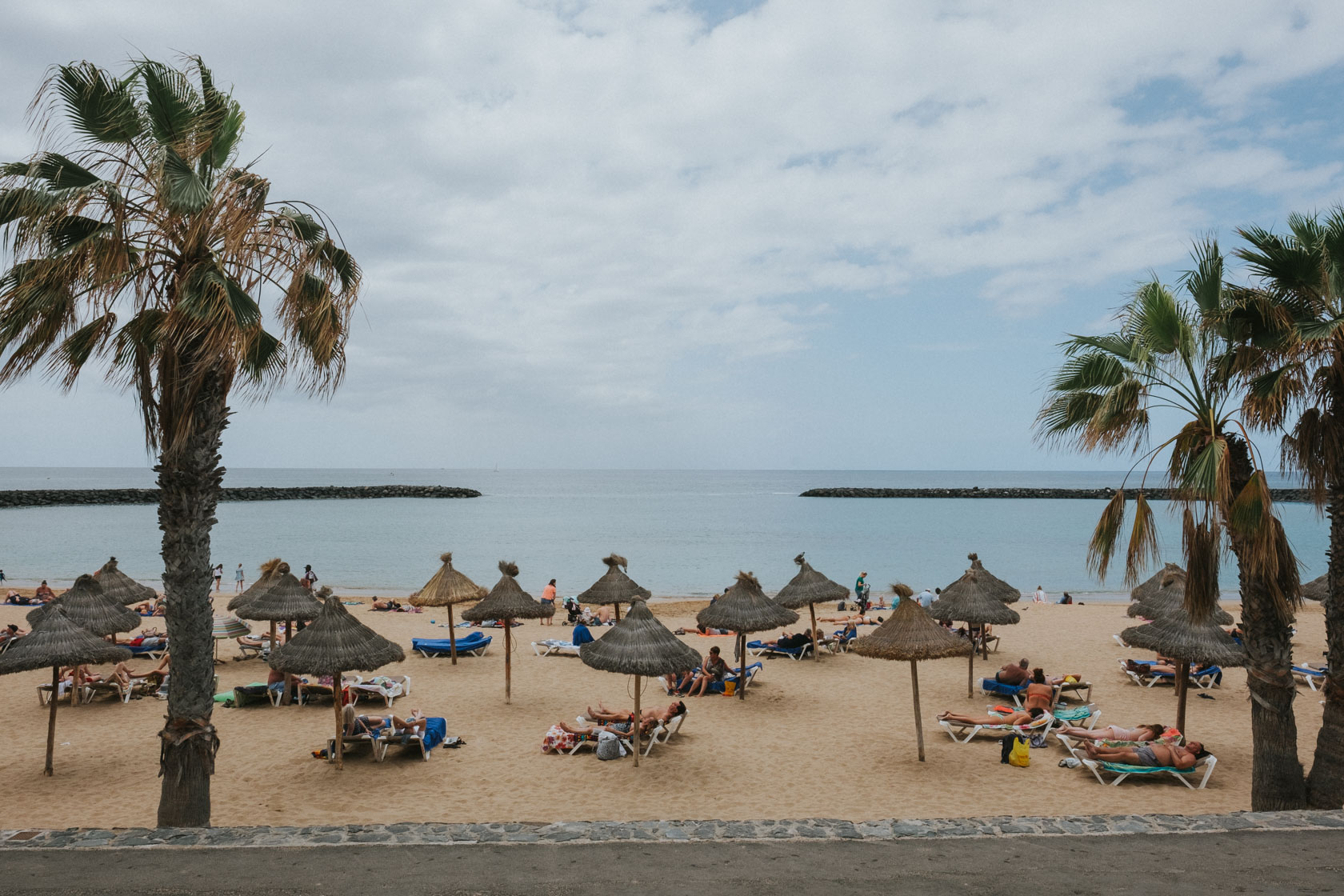 Los Cristianos ♦♦♦
There are a few main "party cities" in the Southwest of Tenerife, and Los Cristianos is without a doubt one of them. You'll find plenty of English party-goers watching a football match at one of the "familiar" pubs, and honestly there's no shame in joining them if you just want to relax – you are on vacation after all!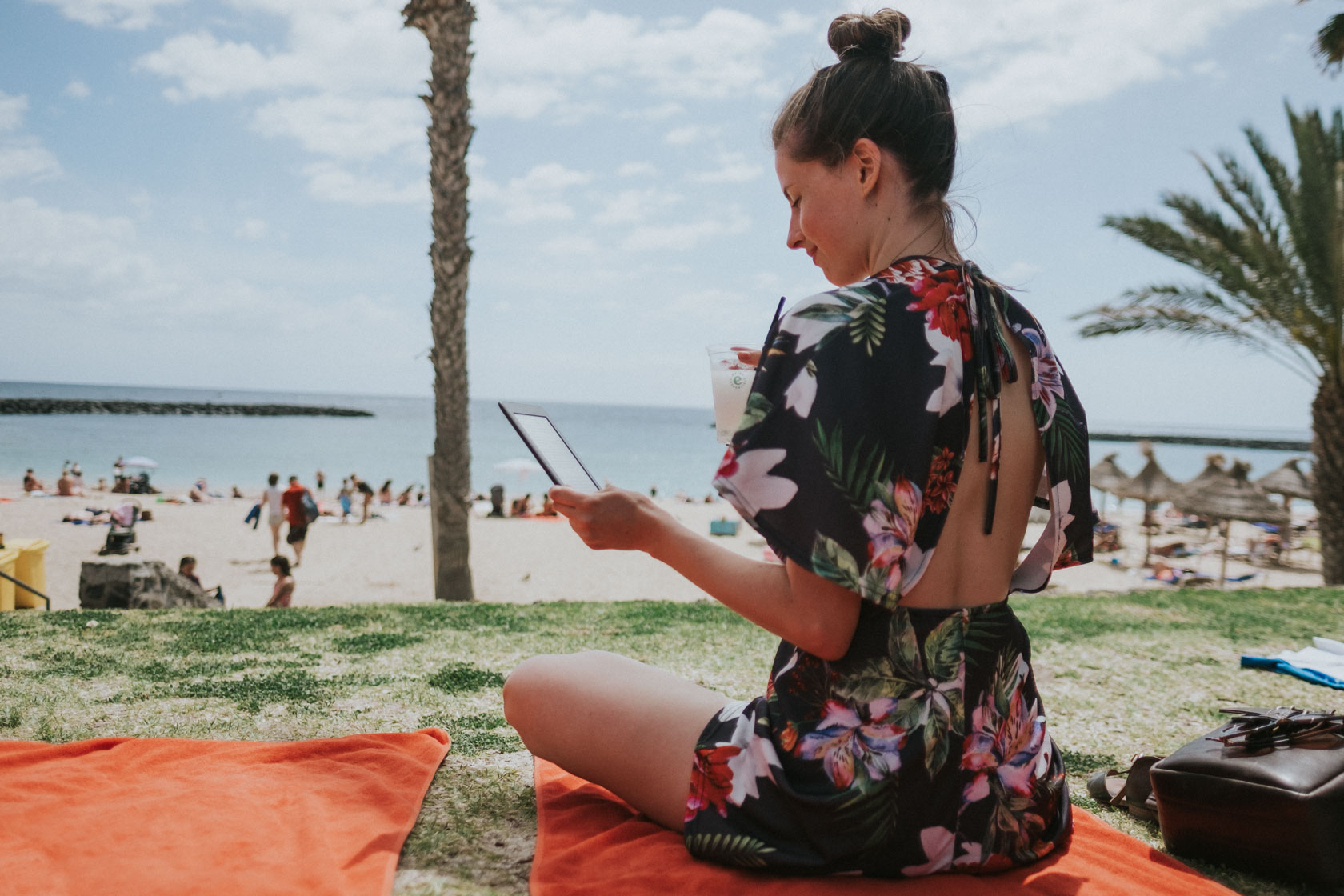 Things to do in Los Cristianos
Walk the boardwalk to Playa de las Americas – Get the lay of the land and do some shopping at the same time. From one end to the other this can take 20-30 minutes.
Grab a mojito at Las Salinas – These generously-sized mojitos also come with the option of fresh fruit mixed in, and there are also options besides mojitos in case you've had too many the previous night 😉
Go out for tapas – We really enjoyed Tapas Revolution which also happens to have a view of the sea.
Lay on the beach and read a book – Although you'll need to pony up 3 EUR for a beach chair, you can relax on the beach under a palm tree for free with your own towel.
Los Gigantes
As seen from the other side of Punto de Teno, Los Gigantes is a striking rock face that can be seen from many angles. You can go on a boat ride or go scuba diving in this area, and many places that will hook you are located in Los Cristianos. Otherwise, the beach with access to Los Gigantes, Playa de los Gigantes, is located a bit up the coast is located at Puerto de Santiago .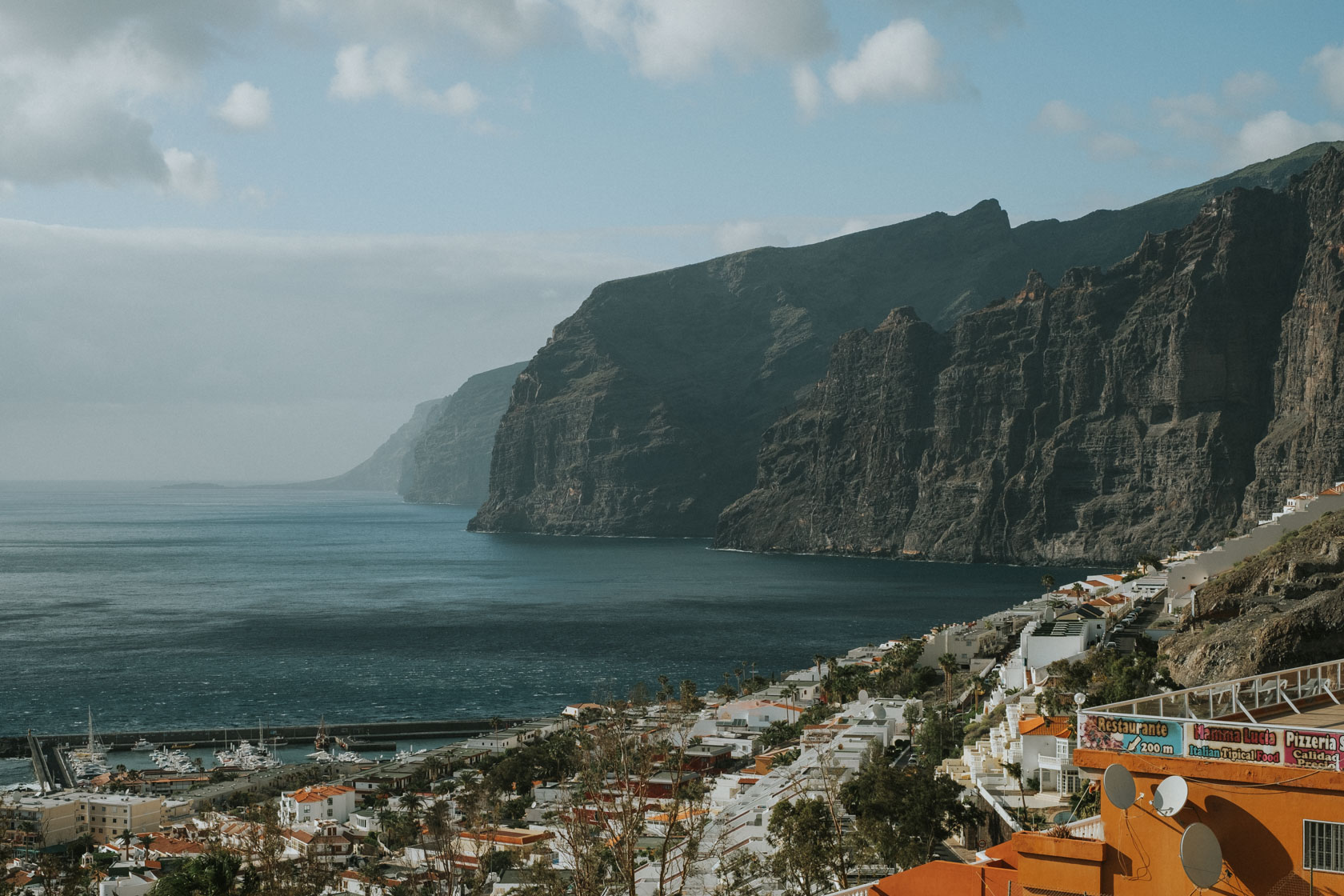 Unfortunately when we went, this beach was closed until a future date. So the best view we got from this side was from a view point on the way out of the city. Still impressive!
Day 7: El Teide National Park
You've probably seen El Teide, Spain's highest mountain, from a few different vantage points by now. It's so high, at over 3,700 meters, El Teide can be seen from just about any corner of the island. The area surrounding this mountain is a National Park, offering a number of hiking trails and places where you can get up close and personal with this volcanic giant.
TIP - One of the most recommended things to do in this park is taking the cable car to (nearly) the summit. For us this was closed because of wind – you can always check this in advance on the Volcano Teide website.
El Teide is super popular and in the high months, make sure you grab a cable car fast-track ticket to avoid waiting in line. You can cancel the ticket 24h in advance for a full refund if the weather conditions look like the cable car could be canceled due to wind.
El Teide National Park ♦♦♦
If possible, take the cable car up the mountain for a view over the island. If you get unlucky like me and it's too windy, you can still go for a hike in the area – simply stop by the visitor's center for a map and recommendations for a hike that is suitable for your time and physical state.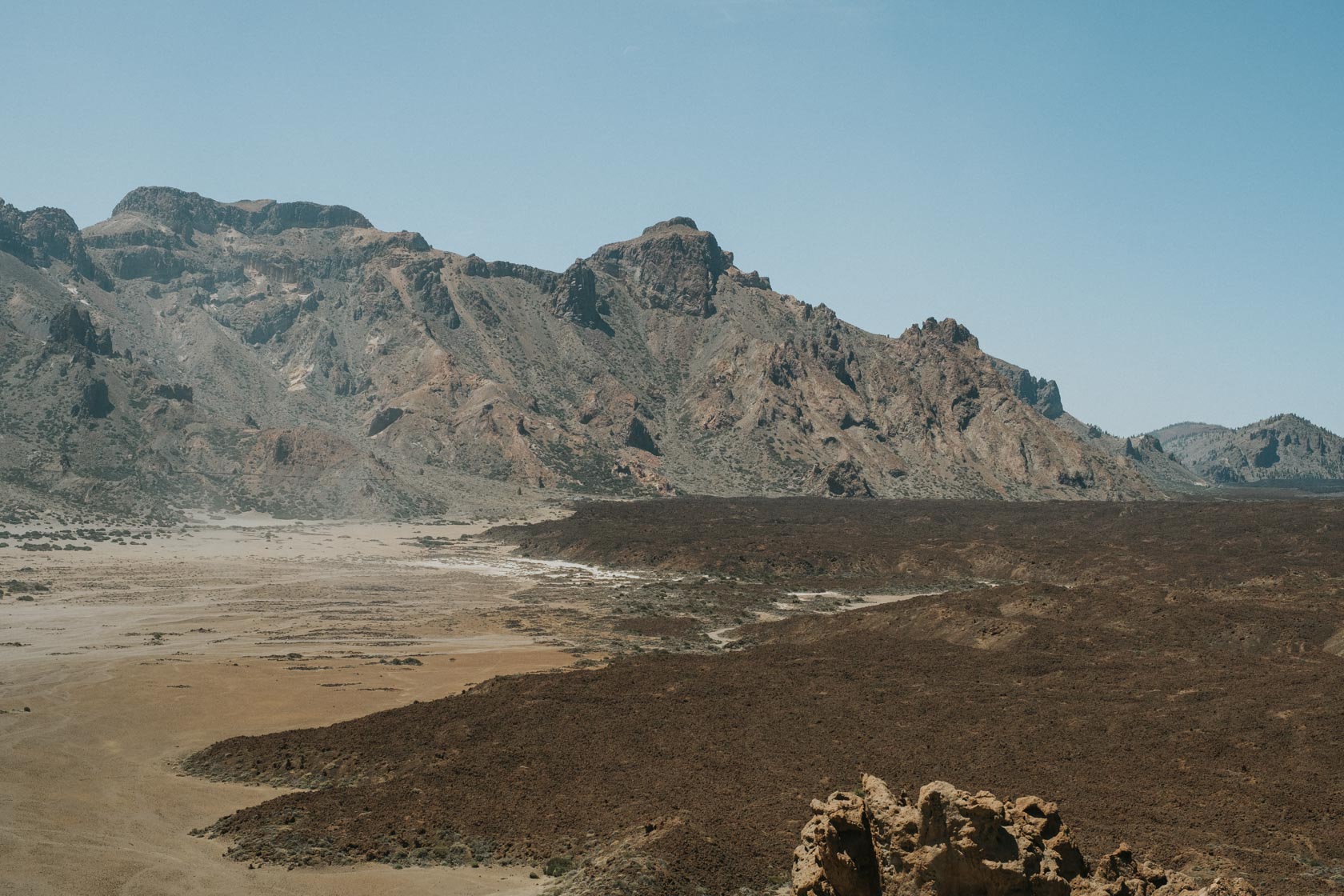 Perhaps my number one tip here is not to underestimate how intense the sun can be! Even if it's cooler up here, you can still get a mega sunburn. Like me. And spend the next week looking like a veritable lobster. Enjoy Teide responsibly!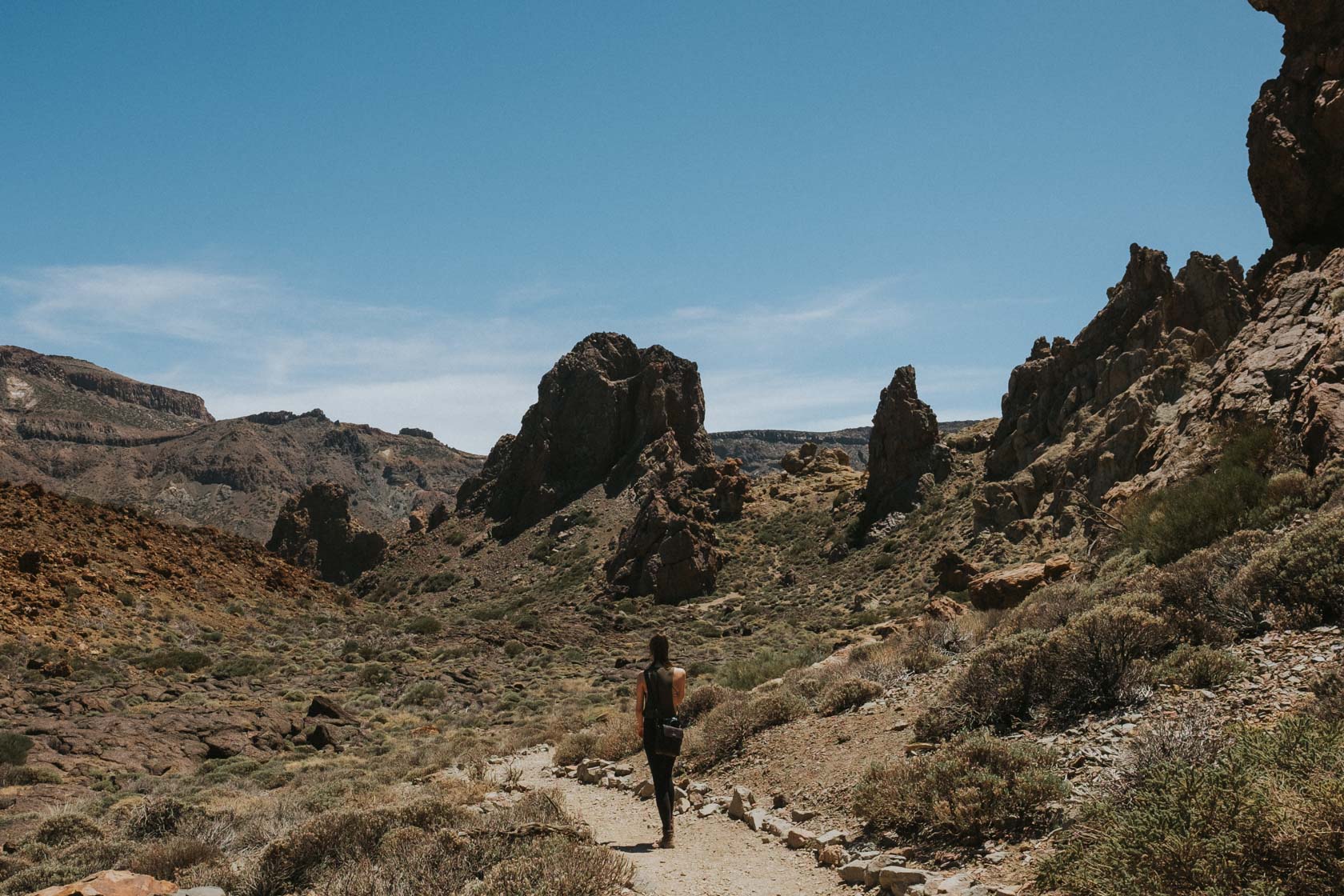 Have you ever been somewhere like Tenerife?
It's hard to think that there are many other places in the world with all the features of this place, but I'm sure they are out there. Share in the comments where you've been and if you would recommend going!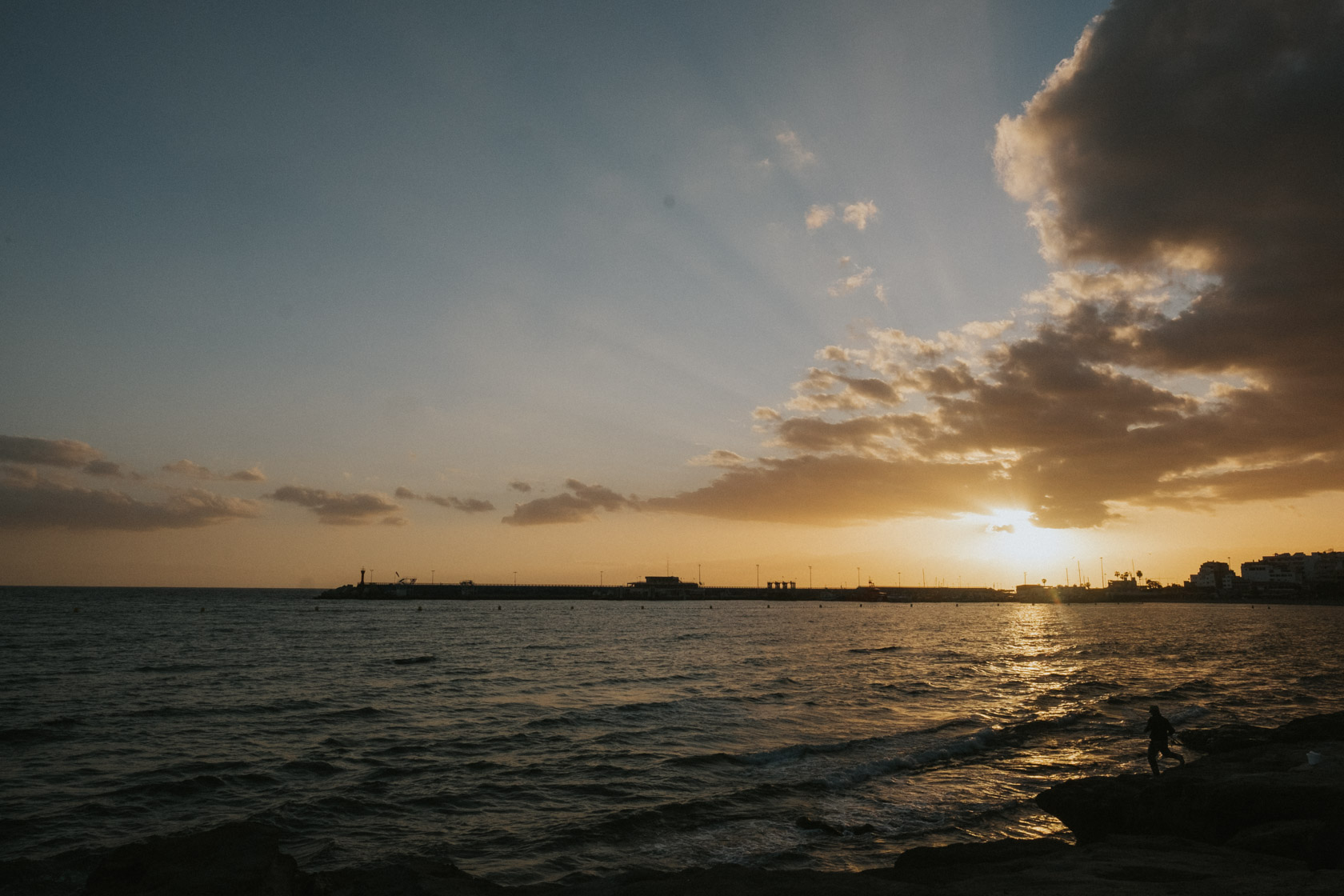 Pin this post for later!