Who else is guilty of making the same New Years Resolutions every year? My resolutions come down to just a few things in essence: try to like running, consume less cheese, and finally become a grown-up. The fact that none of these things seem to ever happen is somehow reassuring (#foreveryoung).
This year I did try another resolution though: travel more within Germany.
For the past three years I've been feasting on this European buffet of fantastic countries, going to every place I had ever imagined. I've hit the big ones: France, Spain, Italy, England. I've hit some smaller ones too: Croatia, Denmark, Czech Republic. But the number of cities I've been to in Germany? I could count those on one lonely hand.
Luckily for anyone coming to Berlin and perusing this list, I didn't get too ambitious with my Germany travel and instead have a bunch of amazing day trips from Berlin – most of which are within 2-3 hours of the city where you can go to unwind and take a break from the pervasive smell of Döner kebap.
You'll find both Berlin excursions that get you into nature, as well as cities close to Berlin you can just enjoy for a different pace. I absolutely recommend adding a few day trips to your Berlin itinerary.
Are you sold? Let's get started.
Some links in this post are to affiliate sites. If you purchase something through them, I may earn a small comission — which costs you nothing! I am very grateful when you use my links to make a purchase.
Can you visit Germany right now? (Summer 2023)
You can enter Germany using an EU Covid pass without any additional tests. If you are coming from a high-risk area, you may be required to fill out a Passenger Locator Form (here) to re-enter. This can be done online prior to entering the country, and you may be asked for it to board your flight into the country.
If you're traveling from outside the EU and don't have an EU Covid pass, you'll either need a negative PCR test (taken within 72 hours prior to entry) or antigen test (taken within 48 hours prior to entry), proof of being fully vaccinated (or having an initial dose combined with a negative test) which includes your personal data like birthday, first and last name, dates and names of the vaccines, etc. or proof of recovery. All requirements are described in detail here.
Best Berlin day trips
The easiest way to reach all of these places is by renting a car. Driving in Germany is much more straightforward than a lot of other European countries.
If you're able to drive in Germany, I highly recommend DiscoverCars as someone who takes a lot of road trips in Europe.
Without further ado, here are the absolute best Berlin day trips I personally recommend, based on my experience living in the city for nearly 7 years.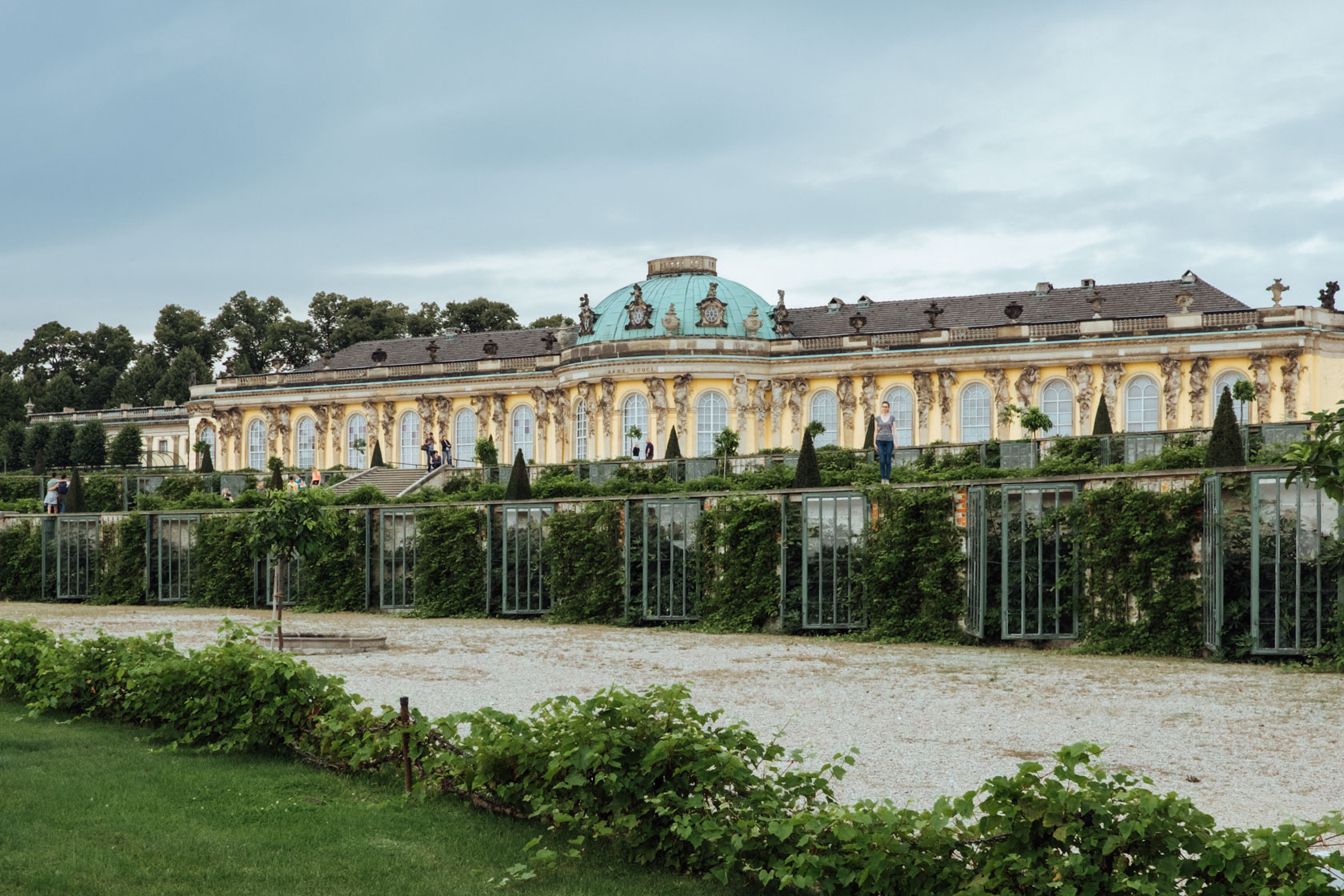 1. Sanssouci Palace
Known as the "Versailles of Germany", Sanssouci has a beautiful palace and stunning gardens which look beautiful year round. Get tickets in advance to avoid massive queues.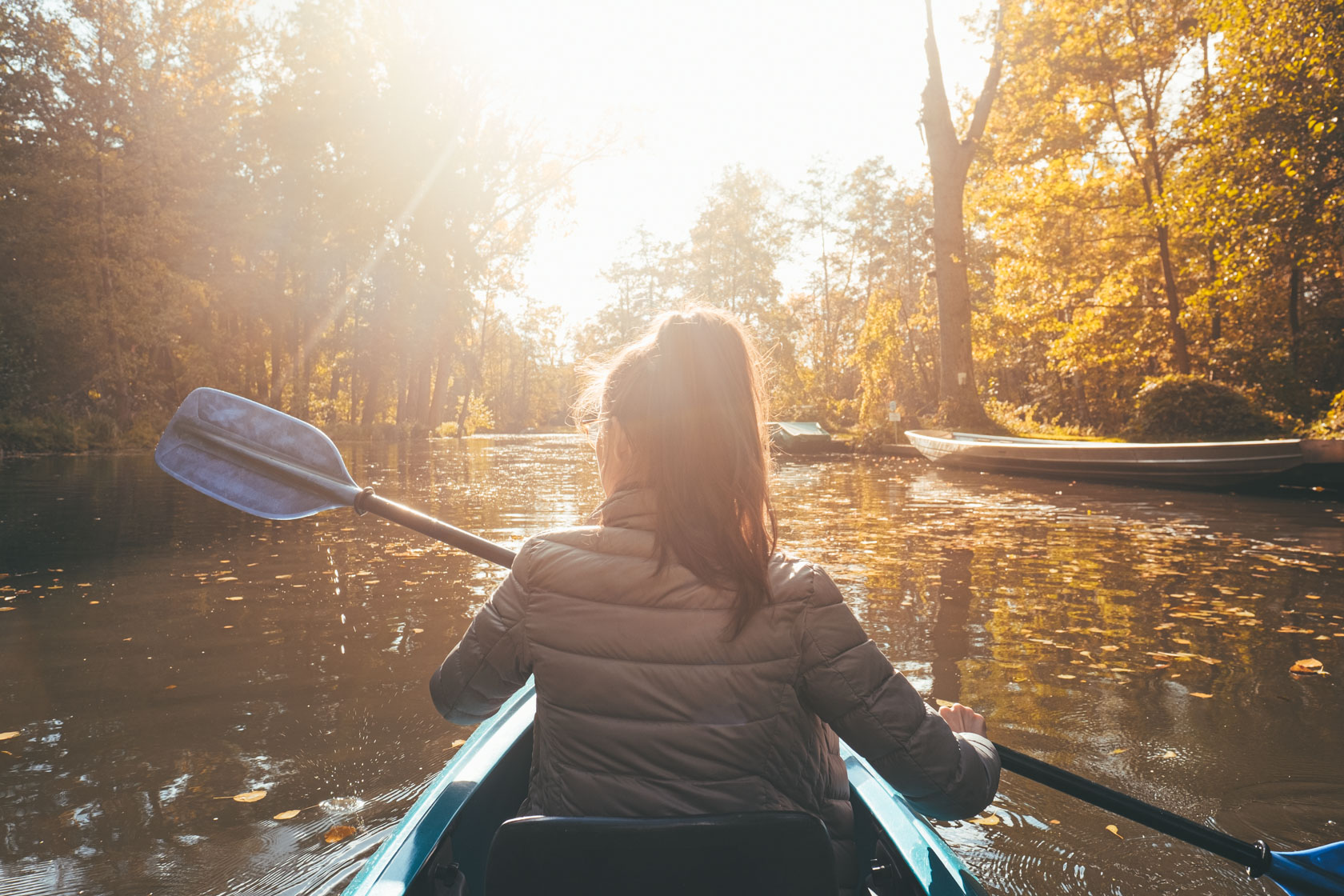 2. Spreewald
Stunning forest near Berlin, with canals you can traverse by canoe or kayak! Gorgeous in every season and easily accessible by tour, train, or rental car.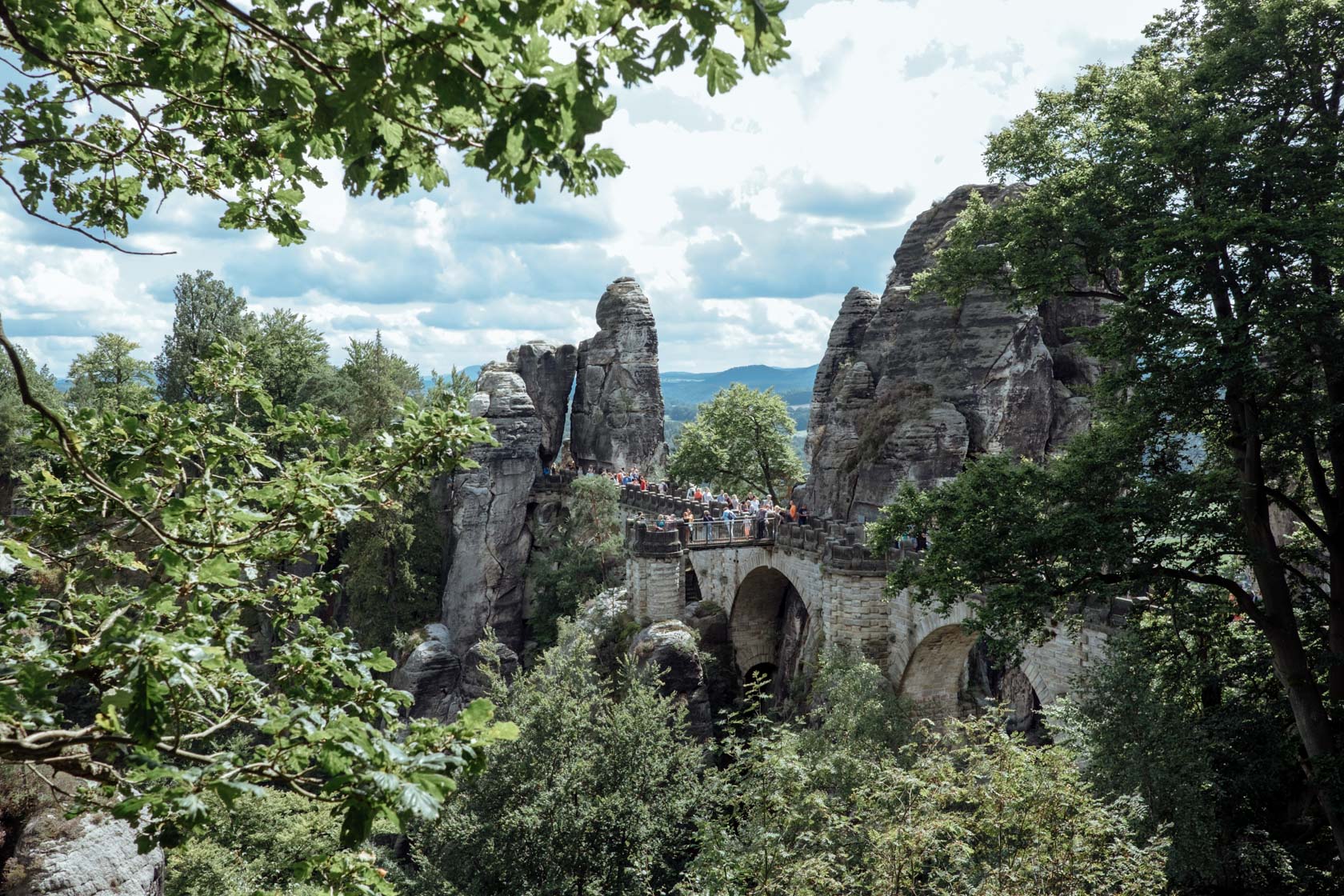 3. Saxon Switzerland
Best national park near Berlin, perfect for a day or weekend. Must-visit for lovers of the outdoors and hiking. Only really accessible by car from Berlin.
1. Potsdam and Sanssouci Palace (The Versailles of Germany)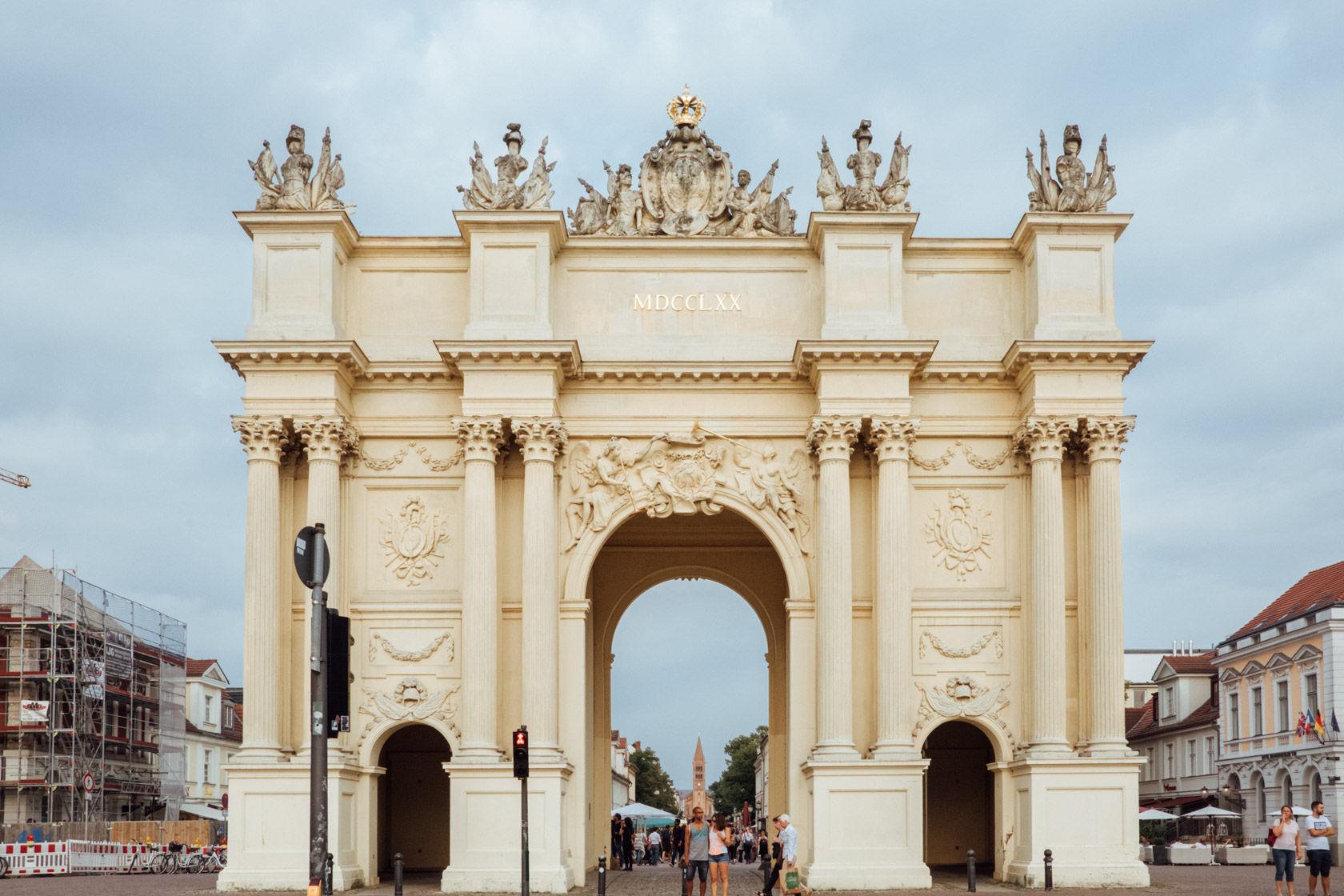 Distance: 36 kilometers (22 miles)
Travel time: 1 hour each way
Reach by: Tour or public transit
Potsdam is a posh town right outside of Berlin, charming and worth strolling through, however the main draw is undoubtedly the Schloss Sanssouci (Sanssouci Palace).
If you've been to Versailles during a trip to Paris, you might notice some similarities right away. Sanssouci has large, dedicated gardens, as well as smaller buildings along the grounds that you can go up into. The interior isn't as vast, but the design of the palace rooms is just as elaborate and showy.
A stop in Potsdam and Sanssouci is easily the most popular Berlin day trip for first-time visitors to the city, and for a good reason. It's beautiful, affordable, and easy to reach.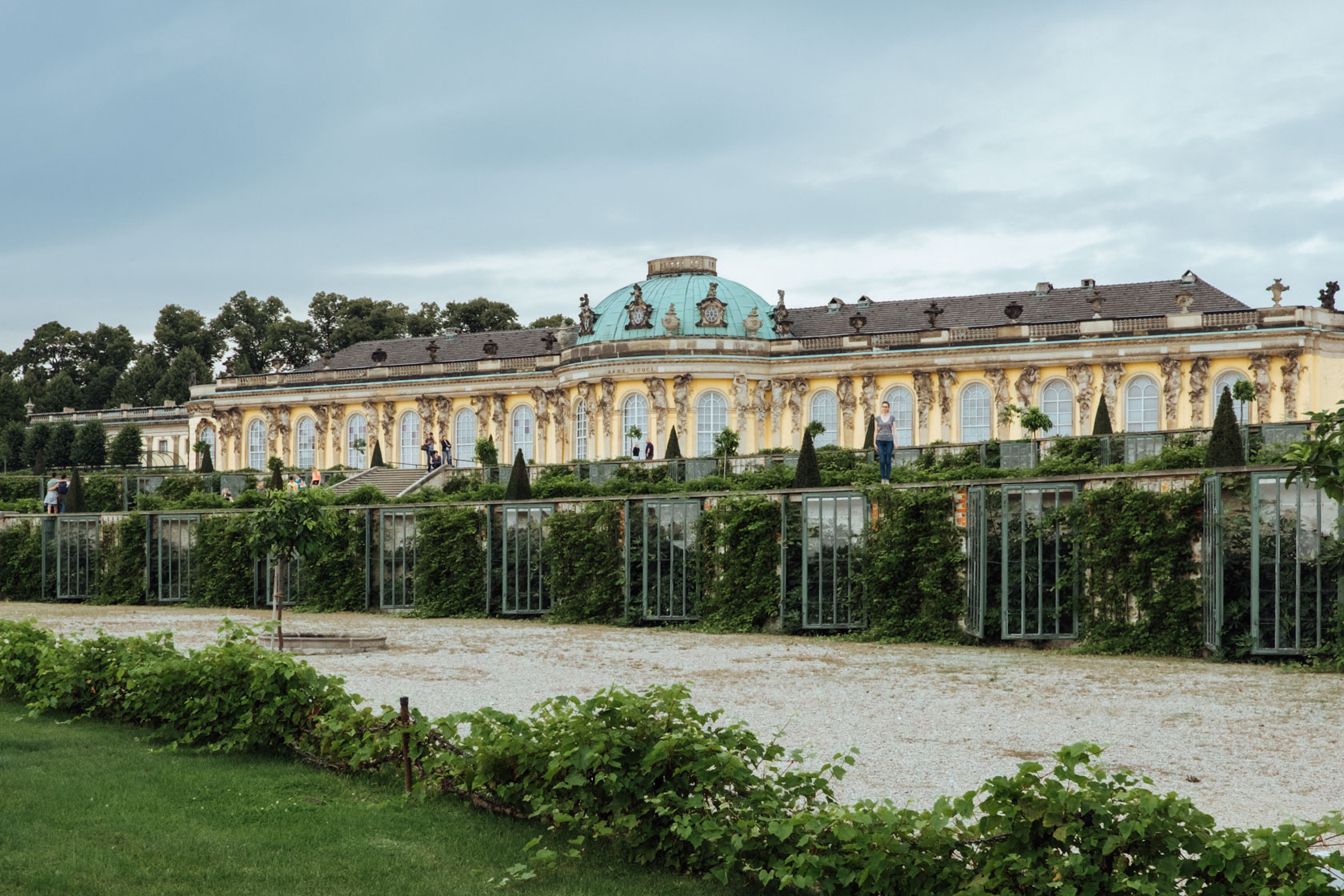 Especially if you've been to Versailles you'll appreciate when I say this: comparatively few tourists visit Sanssouci. You don't have to push your way through to see everything or fight people for a photo. Instead, it's possible to just walk through, do some reading, and learn some history!
That said, buying tickets in advance is highly recommend during the high Summer tourism season to avoid waiting in a long line. Tips on that below.
How to reach Potsdam from Berlin
To reach Potsdam, take the S-Bahn (S7) to the Potsdam Hauptbahnhof (Postdam Main Station). Directly in front of the stations are busses that will connect you to the palace.
But as with most historical areas, it can be 10x more interesting when you have someone to explain the history to you. Personally, I'm so much more likely to actually remember things from a tour as opposed to passively reading signs inside the palace. This particular Potsdam + Sanssouci tour includes an English-speaking guide, tickets to the palace, and 1,000+ positive reviews.
2. Harz Mountains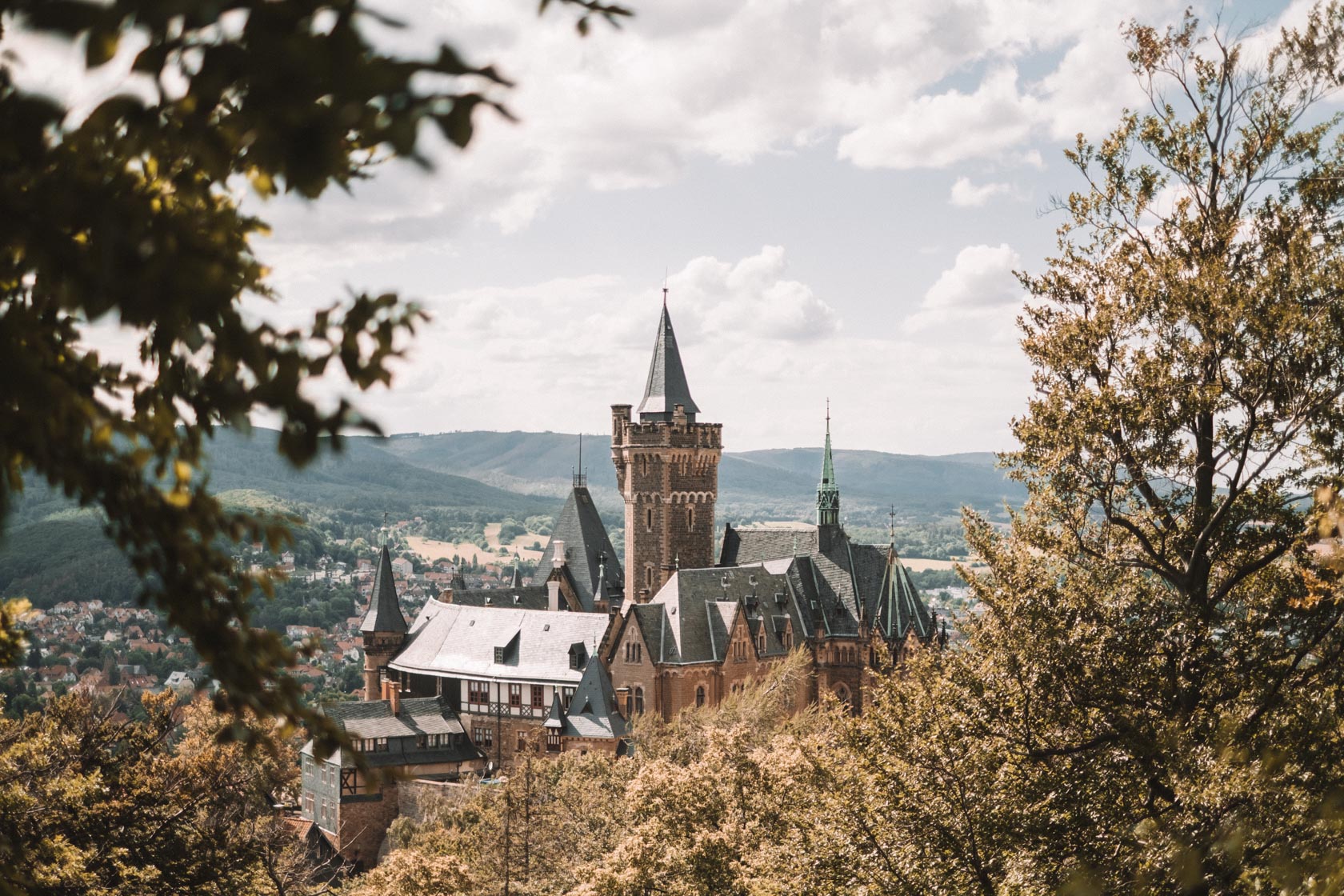 Distance: 239 kilometers to Wernigerode (142 miles)
Travel time: 2.5 hours each way
Reach by: Car
Germany's Harz Mountains is a stunning forest region located 2.5-3 hours west of Berlin. Here you'll find some of the best-preserved medieval towns in the entire country. But if you love nature, then waterfalls, forest hikes, traditional German food, and blissfully poor cell phone reception all await you in Harz .
But there's something even more incredible about Harz you might not expect…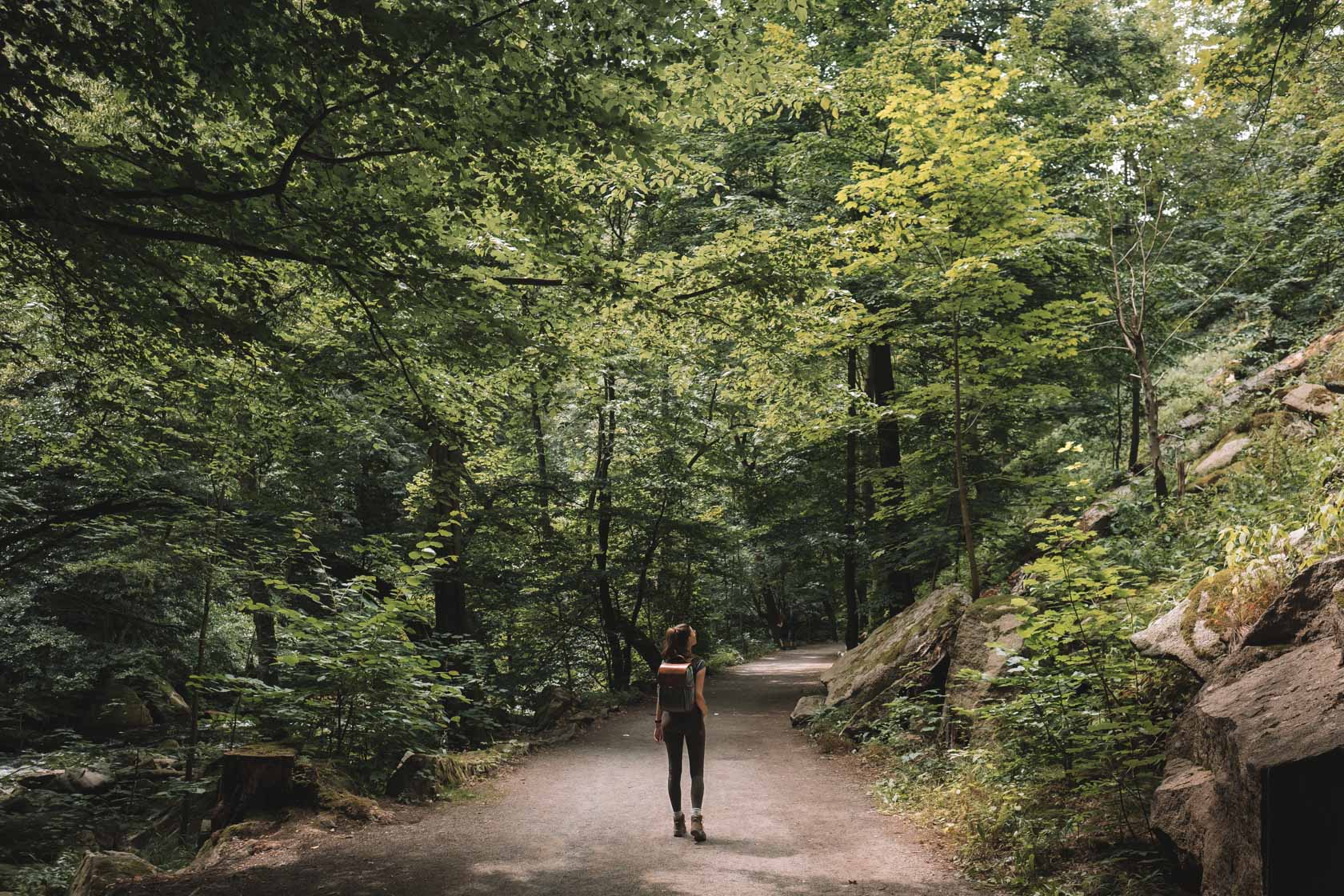 The absolute lack of foreign tourists. German travelers flock to Harz to get a taste of traditional Germany, see famous locations from Goethe's Faust, and to fulfill the stereotype of being obsessed with hiking.
But apart from a healthy dose of Danes, Harz has completely flown under the international tourism radar. Which is a little surprising given how Instagram-worthy its towns full of Fachwerkhäuser (half-timbered houses) are.
Take, for example, a look at this sinister-looking Rathaus (town hall) in Wernigerode .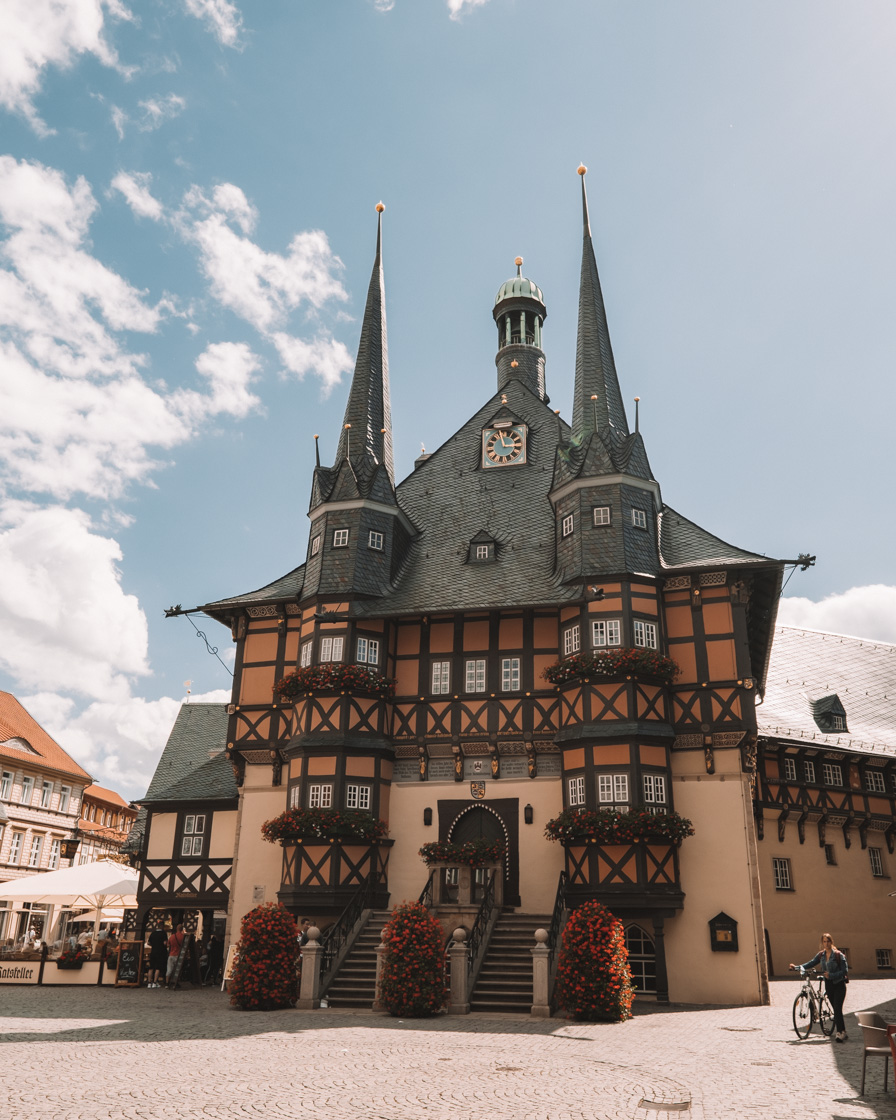 We spent an entire week in Harz and still ran out of time to do everything. In a leisurely day trip, you could definitely make it to Wernigerode to see the town hall (above), hike to the castle (first photo), and visit a traditional brewery. If you wake up early with a car, you could probably also add Goslar and Quedlinburg to your trip and visit all three major in a super packed day.
Read my dedicated Harz Mountains guide for details on the Harz National Park, the best towns to visit, where to stay in Harz, and how to extend your trip for a week or weekend.
How to get to Harz from Berlin
It's best and fastest to get to Harz by car, which will shave 45 minutes off your arrival and departure trips. Plus, trains and busses in this region leave infrequently so this gives you much more flexibility.
It is possible to reach some of the main towns in Harz like Wernigerode , Goslar , and Quedlinburg by train in roughly 3 hours.
3. Saxon Switzerland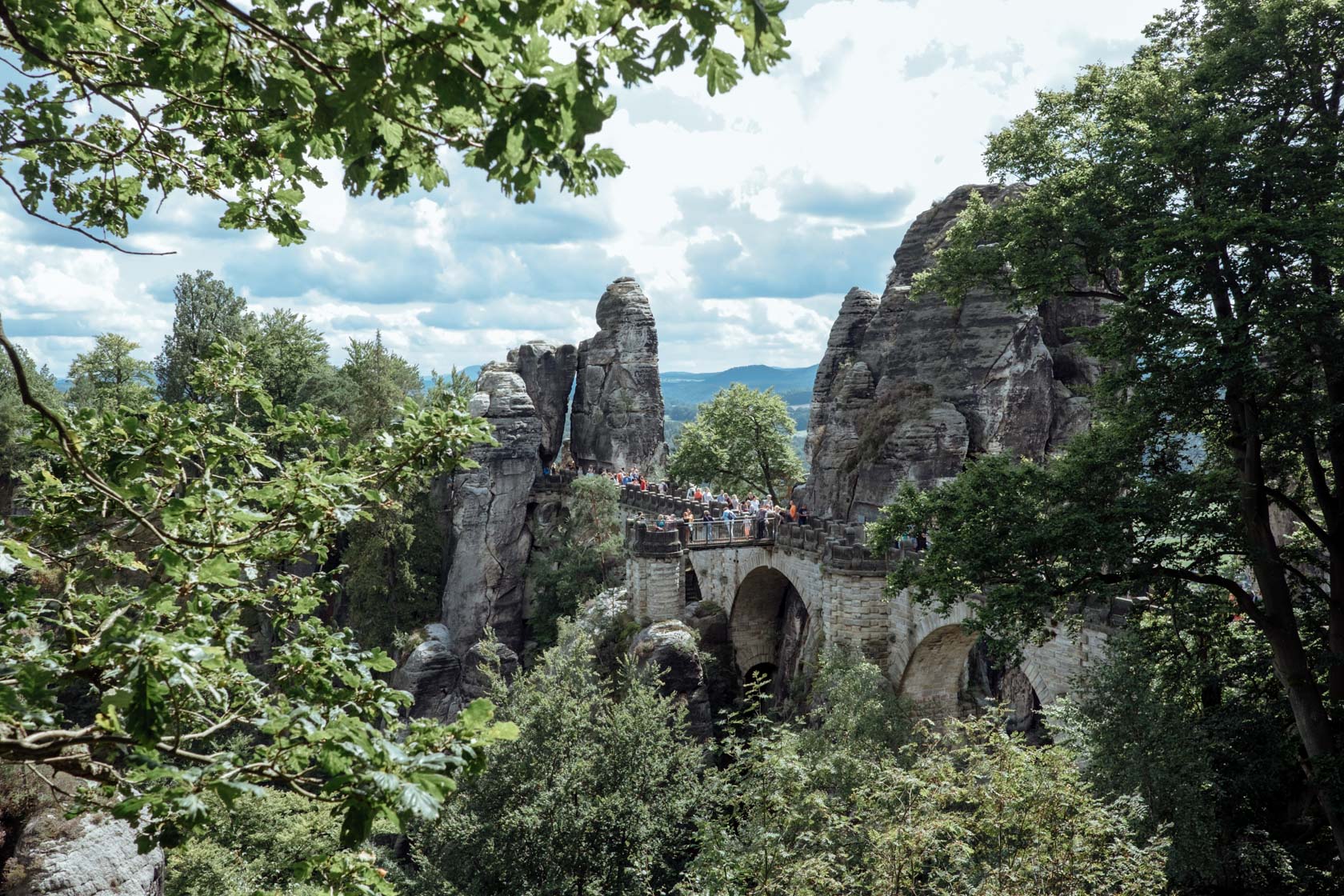 Distance: 230 kilometers (142 miles)
Travel time: 3 hours each way
Reach by: Car
Saxon Switzerland is a stunning national park and hilly region near the Elbe Valley, located about 230 kilometers southeast of Berlin. It's one of the most beautiful places in East Germany, especially overlooking the Bastion Bridge (Basteibrücke, shown above).
From Saxon Switzerland, you can also get sweeping views of the River Elbe . The most popular things to do in Saxon Switzerland include hiking, climbing, cycling, and visiting rock formations and vantage points beloved by landscape photographers. Perfect for either a single day or a weekend escape.
If you want to experience nature in Germany and take a break from the city, this is the best day trip from Berlin I can recommend to you. Here's how to get there from Berlin.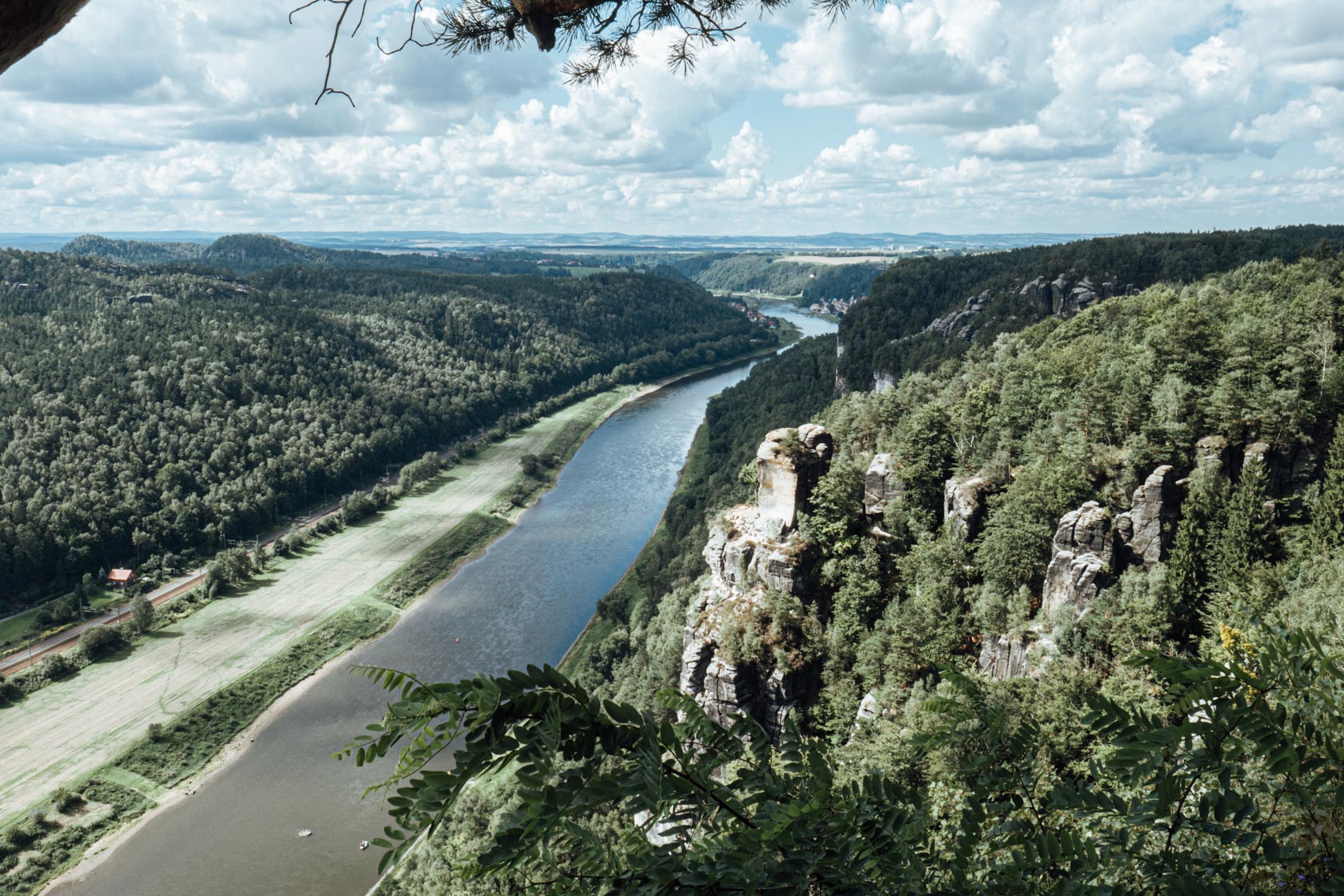 How to reach Saxon Switzerland from Berlin
Reaching Saxon Switzerland from Berlin takes about 3 hours of travel each way, and is best done by car. Again, my recommended car rental company for Europe roadtrips is DiscoverCars .
Since Saxon Switzerland is a popular day trip for Berlin locals (especially during school holidays and weekends) visit during the week when possible.
4. Spreewald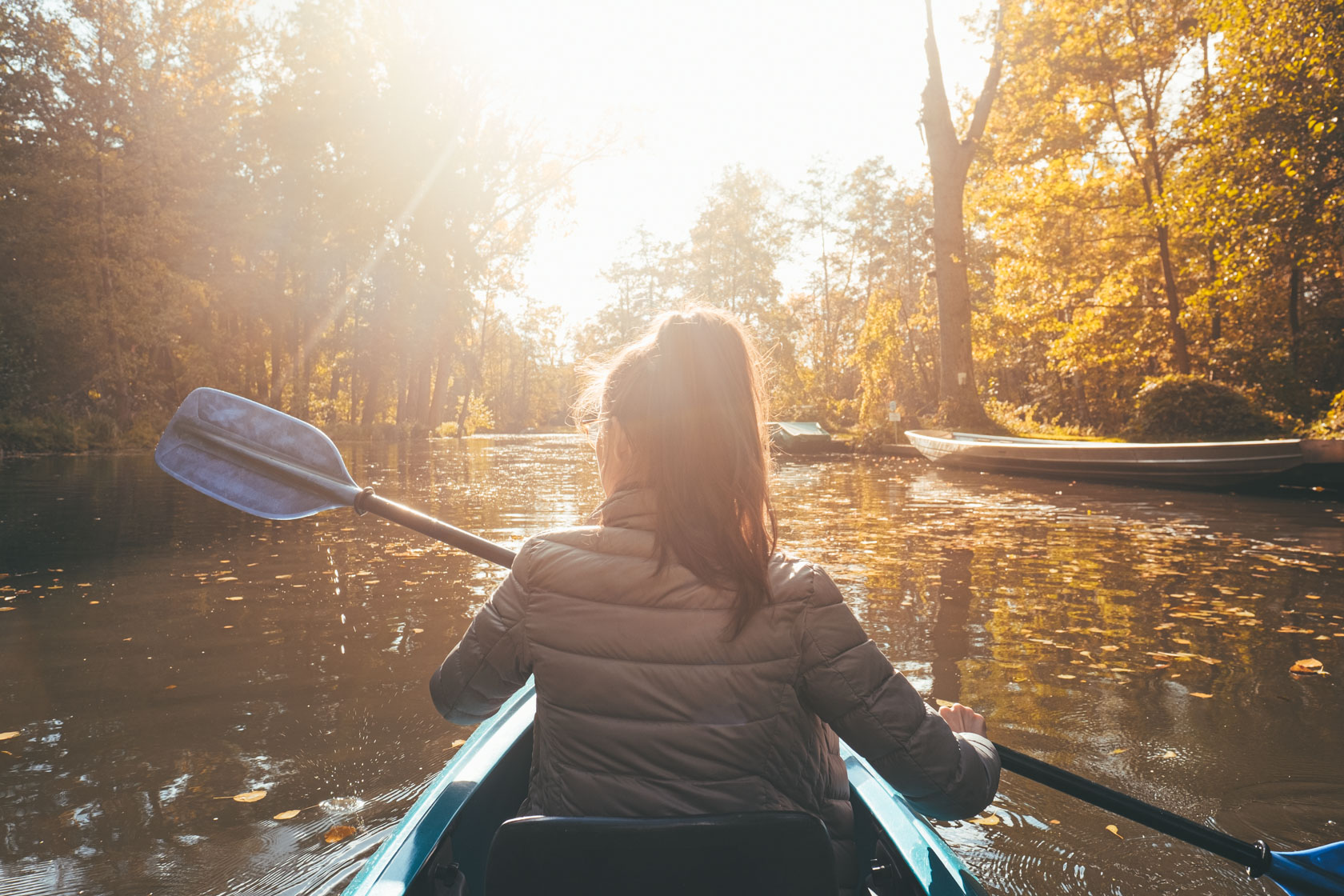 Distance: 100 kilometers (62 miles)
Travel time: 1 hour 20 minutes
Reach by: Car or train
Spreewald is a UNESCO-designated biosphere reserve located just 100 kilometers outside of Berlin in the state of Brandenburg. It features over 200 canals you can navigate by kayak, canoe, or a traditional punting boat (called Spreewaldkahn) for a total of 276 kilometers.
Besides being able to paddle around, you'll also get a glimpse into the traditional Sorbian village of Lehde . This region was originally settled by the Sorbs and Wends, who came here over 1,400 years ago from the Carpathian mountains. In fact, the word "Berlin" originally comes from the Slavic word for "swamp"!
Spreewald is a gorgeous day trip from Berlin in any season, but Summer and Autumn are especially beautiful. It's also a great example of local tourism, as you'll find very few other foreigners here.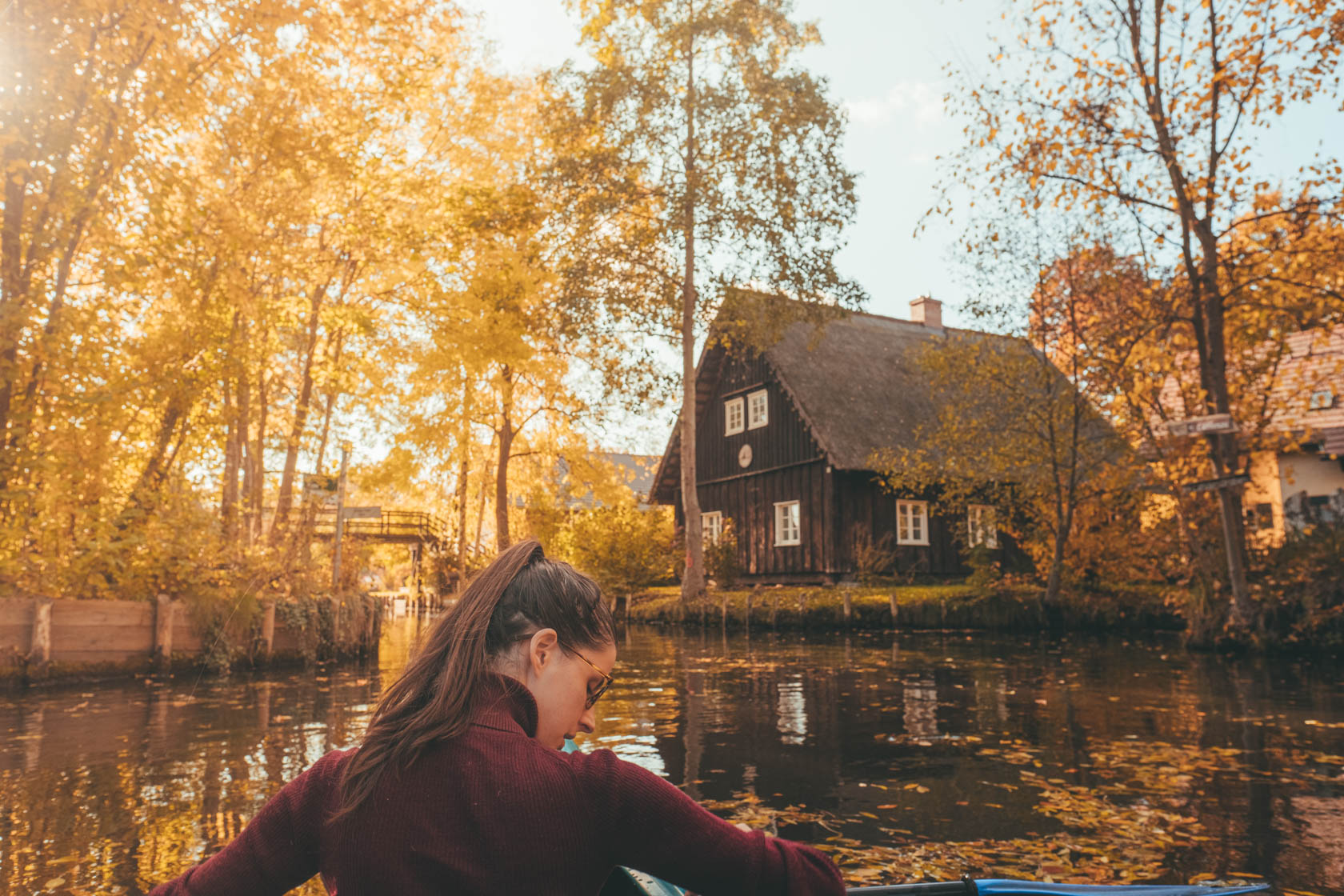 How to reach Spreewald from Berlin
The most efficient way to reach Spreewald from Berlin is by renting a car. Again, DiscoverCars is my go-to. Otherwise, it is possible to reach Spreewald by train from Berlin by disembarking at the Lübbenau/Spreewald stop.
Read my dedicated guide to Spreewald, Germany for more details on visiting this gorgeous forest in Brandenburg, and things to do in the area.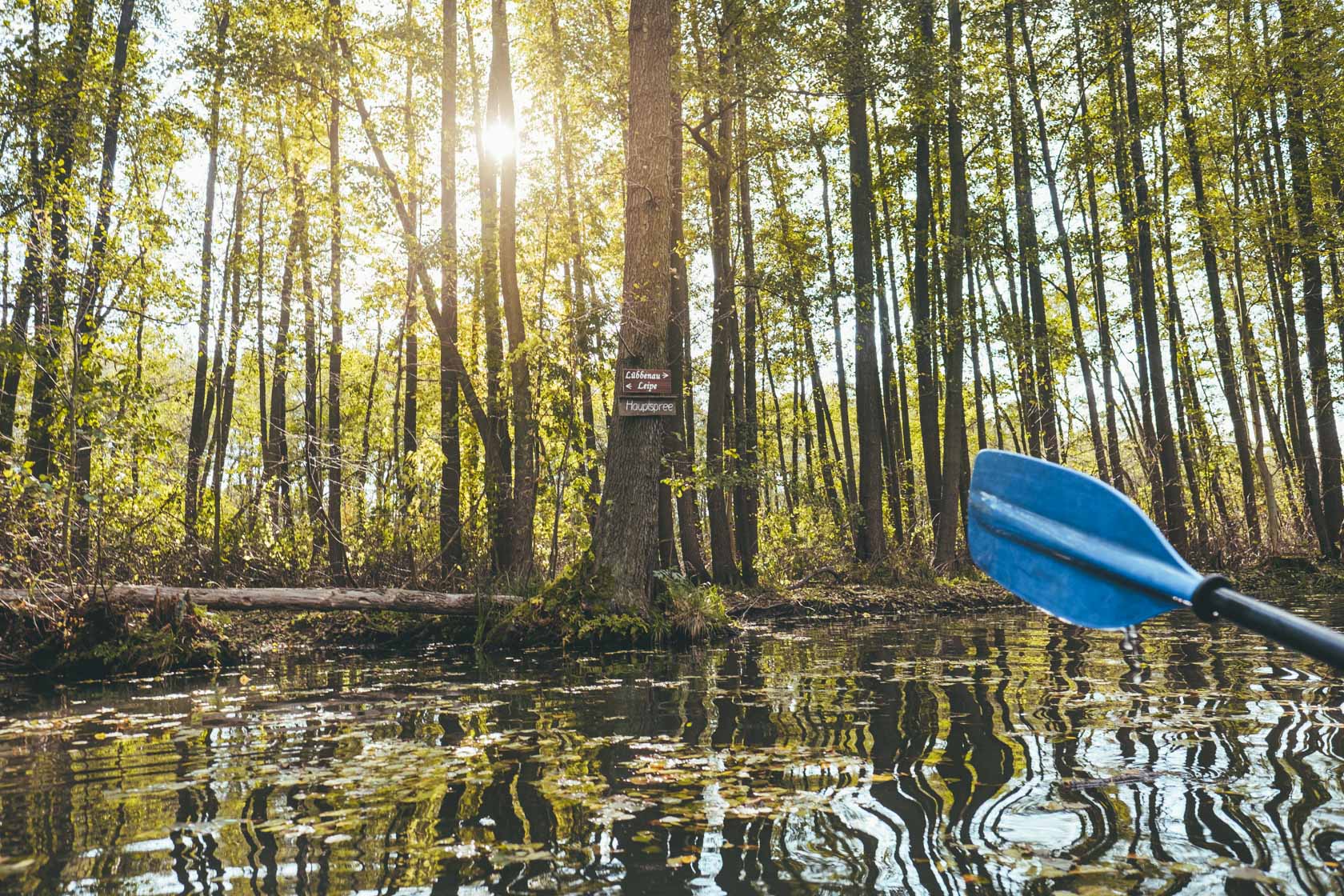 5. Beelitz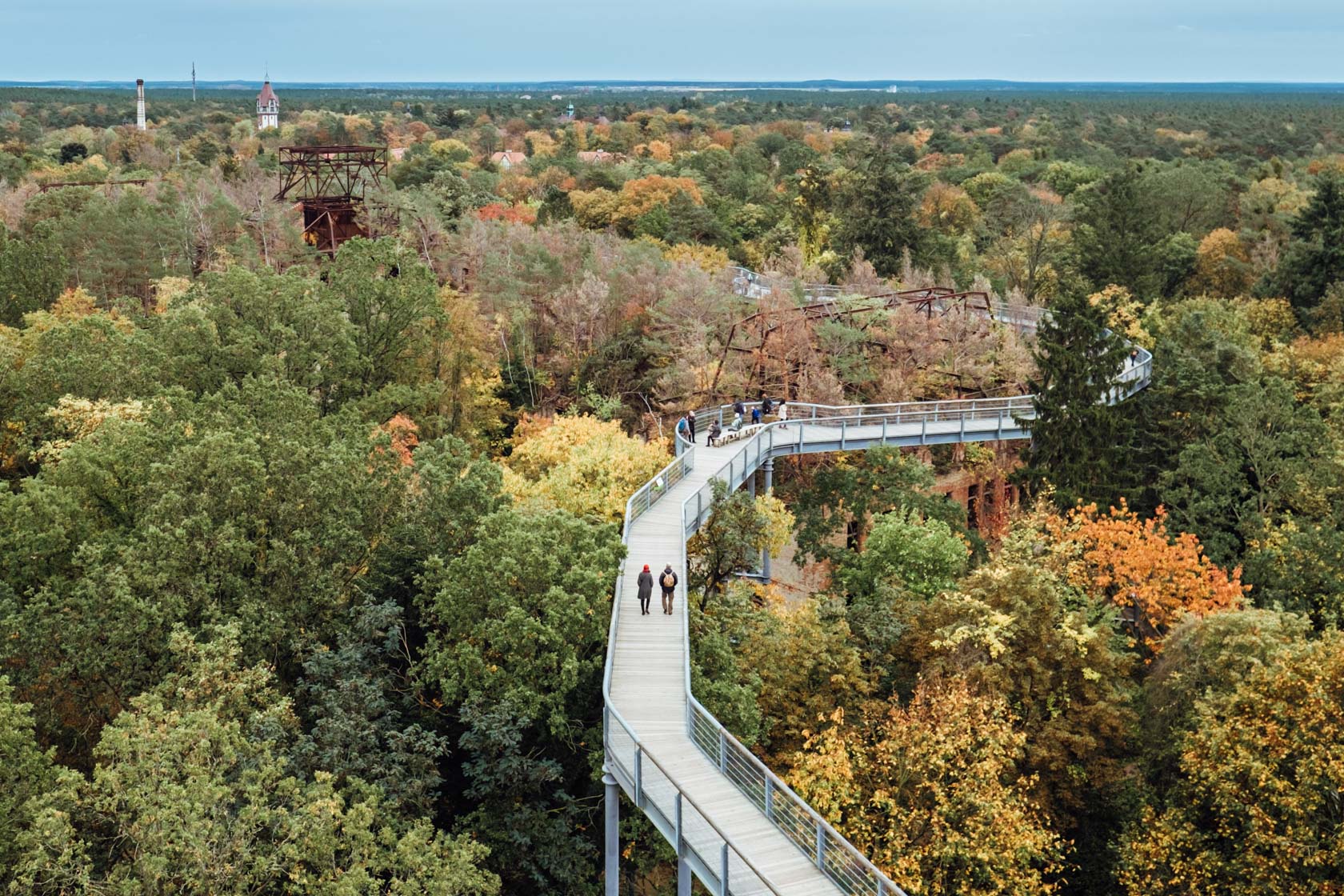 Distance: 55 kilometers (34 miles)
Travel time: 1 hour by car or train
Reach by: Car or train
Are you into so-called "Dark Tourism"? Beelitz is a former Sanatorium, now completely dilapidated and overgrown with trees. Today, you can walk through the canopy on a treetop walk, called the Beelitz Baumkronenpfad ("Beelitz Canopy Path").
Some say the hospital ruins are haunted, and when you take a tour through the parts of it that are still accessible, you might get an idea why. It was originally built to treat tuberculosis patients en mass, before being repurposed as a military hospital to treat Nazis during World War II and Soviet soldiers until the 1990s. You can go inside some parts of the former hospital today on a guided tour: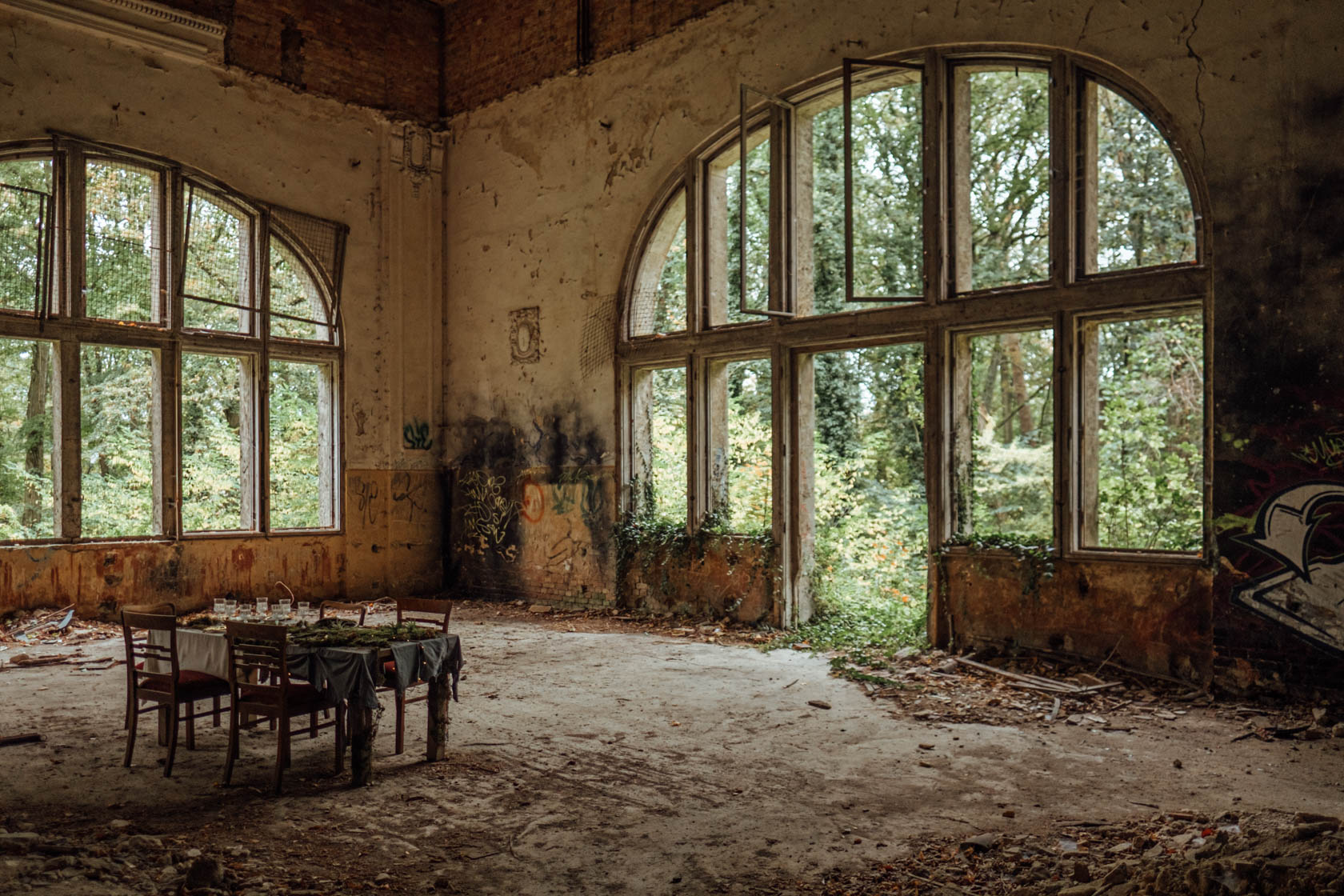 Most famously, some World War II-era scenes from The Pianist were shot at Beelitz. It was also featured in a Rammstein music video. If you like visiting abandoned places and learning about their history — or just think the treetop walk looks awesome — make your way to Beelitz.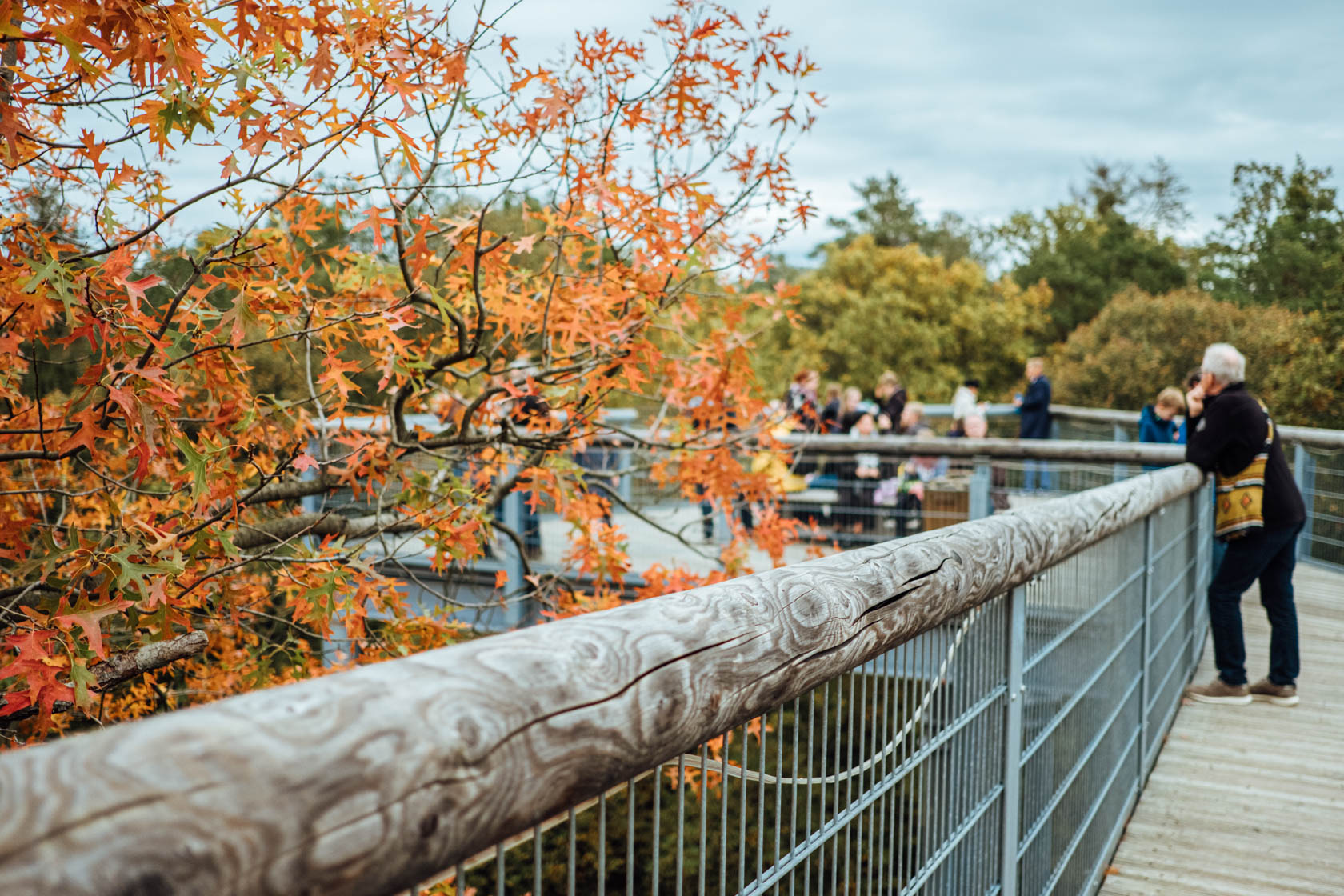 How to reach Beelitz Sanatorium
The easiest way to reach Beelitz is by car, and takes just one hour of driving. There's a lot of parking at Beelitz, as the Sanatorium and Treetop Walk has been converted into a proper attraction with tours (including in English) and food stalls. Car is how we reached Beelitz ourselves.
It's also possible to reach Beelitz by train, as there is a train station right at Beelitz-Heilstätten. From Alexanderplatz, it takes about 1 hour to get there.
6. Leipzig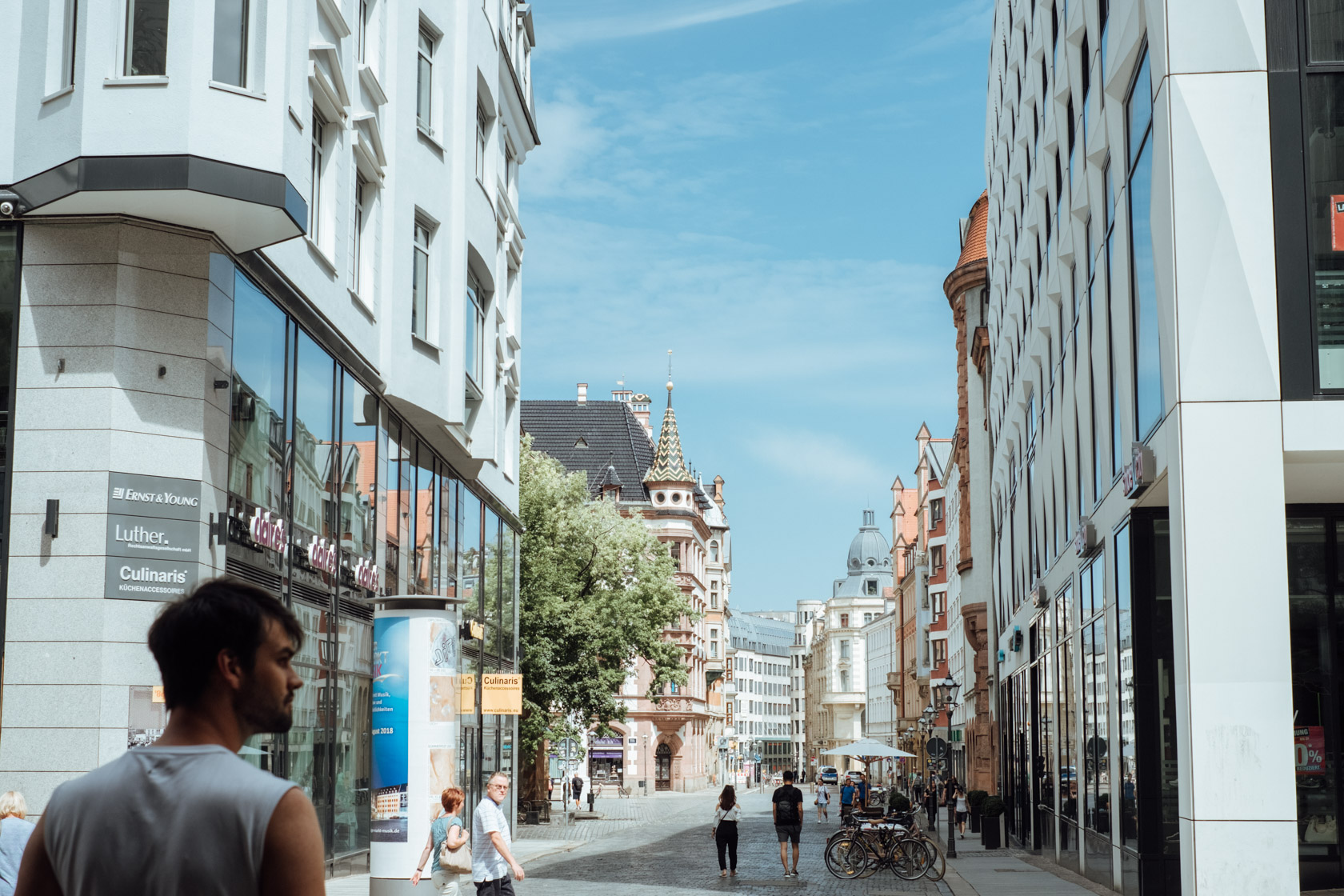 Distance: 190 kilometers (118 miles)
Travel time: 90 minutes by express train, 2.5 hours by car
Best reached by: Car or train, but bus is also possible
Looking for an off-beat city trip? Leipzig is your answer. Just a 90-minute train ride from Berlin, and you're in a place that the New York Times won't stop calling "The New Berlin".
As someone who used to live in Leipzig, I disagree. But that doesn't mean it's not a great city.
Leipzig is hip, it's cheap, and it's a little bit like what Berlin must've been like 15-20 years ago. Leipzig used to be one of the biggest cities in East Germany before the wall came down, but saw a mass exodus of people when the country was reunited. That's why real estate prices are low, there are a lot of abandoned buildings, and the city has struggled to recover to its former glory.
That said, Leipzig has a lot to offer in a small, concentrated package, so it makes for a wonderful Berlin day trip.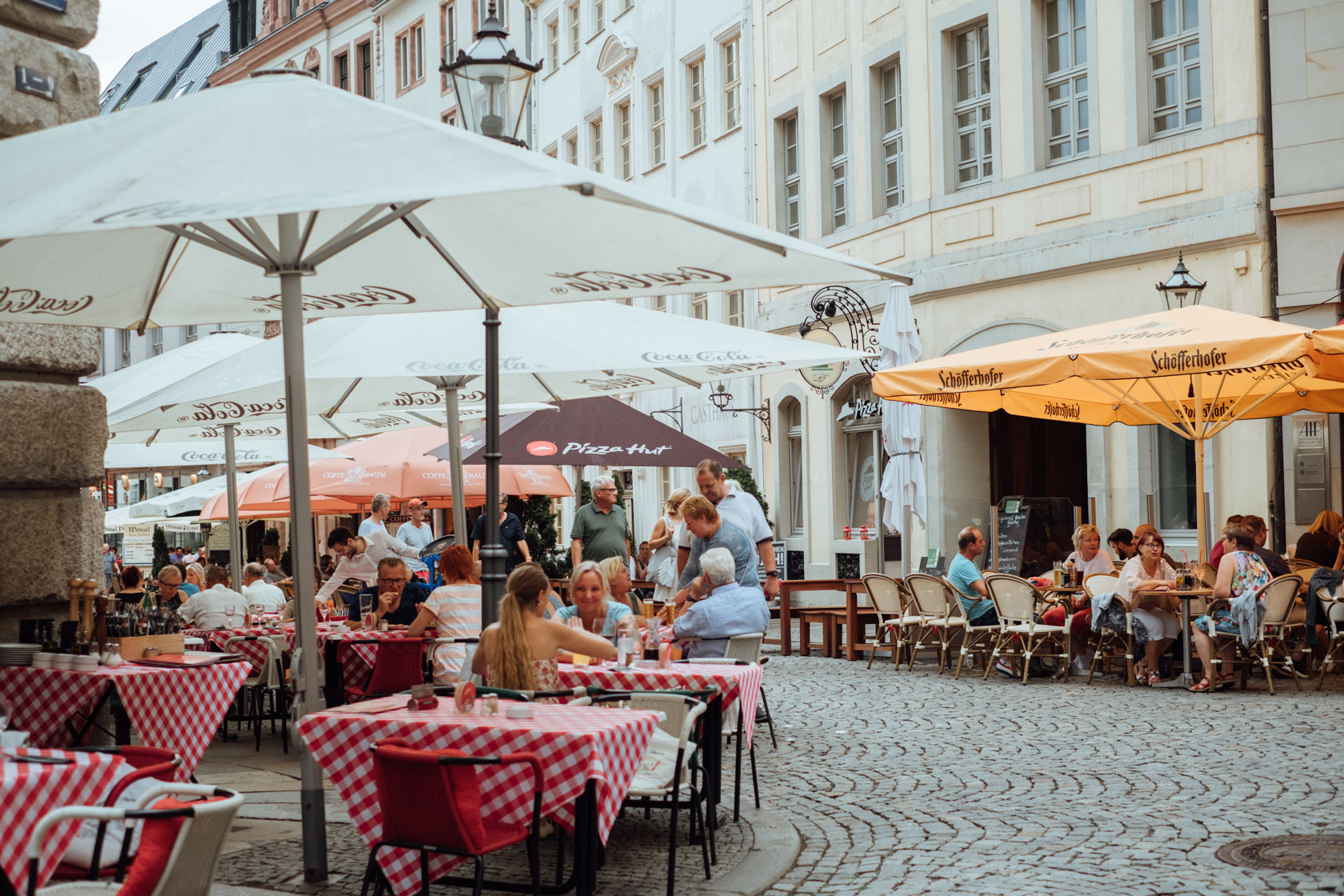 What makes Leipzig unique? Leipzig, in some ways, is like a time capsule. Although the city is modernizing, demolishing, and rebuilding, the city's architecture is distinctly East German. Combine that with the youth and university culture, Leipzig is a place where you can have a good time on little money without having to go far.
Best things to do in Leipzig
Of course I have to turn this into a blog post at some point, but here's a quick rundown of the things I would say are essential for having a city trip in Leipzig.
Visit the Christmas market – Leipzig has one of the most charming Christmas markets I've ever visited, and it happens right in the middle of the car-free city center.
Go for a walk through Clara-Zetkin Park – If you look on a map, you might be shocked to see exactly what the relative size of this park is to the rest of the city. In the summer, people gather on the Sachsenbrücke to drink beer al fresco and create live music.
Check if you're in town for the Bier Börse, an annual beer festival. You'll get to try a variety of German beers (and beers from the Czech Republic, Belgium, pretty much anywhere in Europe that's known for beer).
Take a walk through the city center and absorb the main sights: Augustusplatz, Leipzig Opera, Thomaskirche (where Bach is NOT buried, but they say he is). There's a local brewery near the Thomaskirche which always has a different seasonal beer on tap.
Spend an afternoon in trendy Plagwitz, a neighborhood west of the center. Here you'll find the Baumwollespinnerei, a former textile factory turned into art exhibits. There's a lovely beer garden, as well as an fabulous art store (where only university students and "unknowing tourists" can shop), great for gifts.
Visit the Völkerschlachtdenkmal (Monument to the Battle of Nations), which is pictured above. It celebrates the fact that Napoleon was defeated at Leipzig in a big way. Fun fact: This is where the Backstreet Boys performed when they visited Leipzig.
Go for a beer my favorite beer garden in all of Germany: Substanz in Reudnitz, the district best known for student life. The best time to go is when the beer garden is open from late Spring through early Autumn. If you can't make it, there's still the piano bar. The burgers are divine.
Restaurant recommendation in the city center: Imperii
How to reach Leipzig from Berlin
There's a train between the two cities that runs every hour between main stations – you can decide between a fast train and a slow train. 1 hour 45 minutes). These trains are possible to book directly in the station, although you will save some money by booking in advance. Booking the same day means the trip costs about 50 EUR, and in advance can bring it down to half that.
Besides trains, you can take a bus between Berlin and Leipzig, which will run you between 10-20 EUR. The most comfortable option of all would be booking the express train (ICE) far enough in advance.
7. Bad Muskau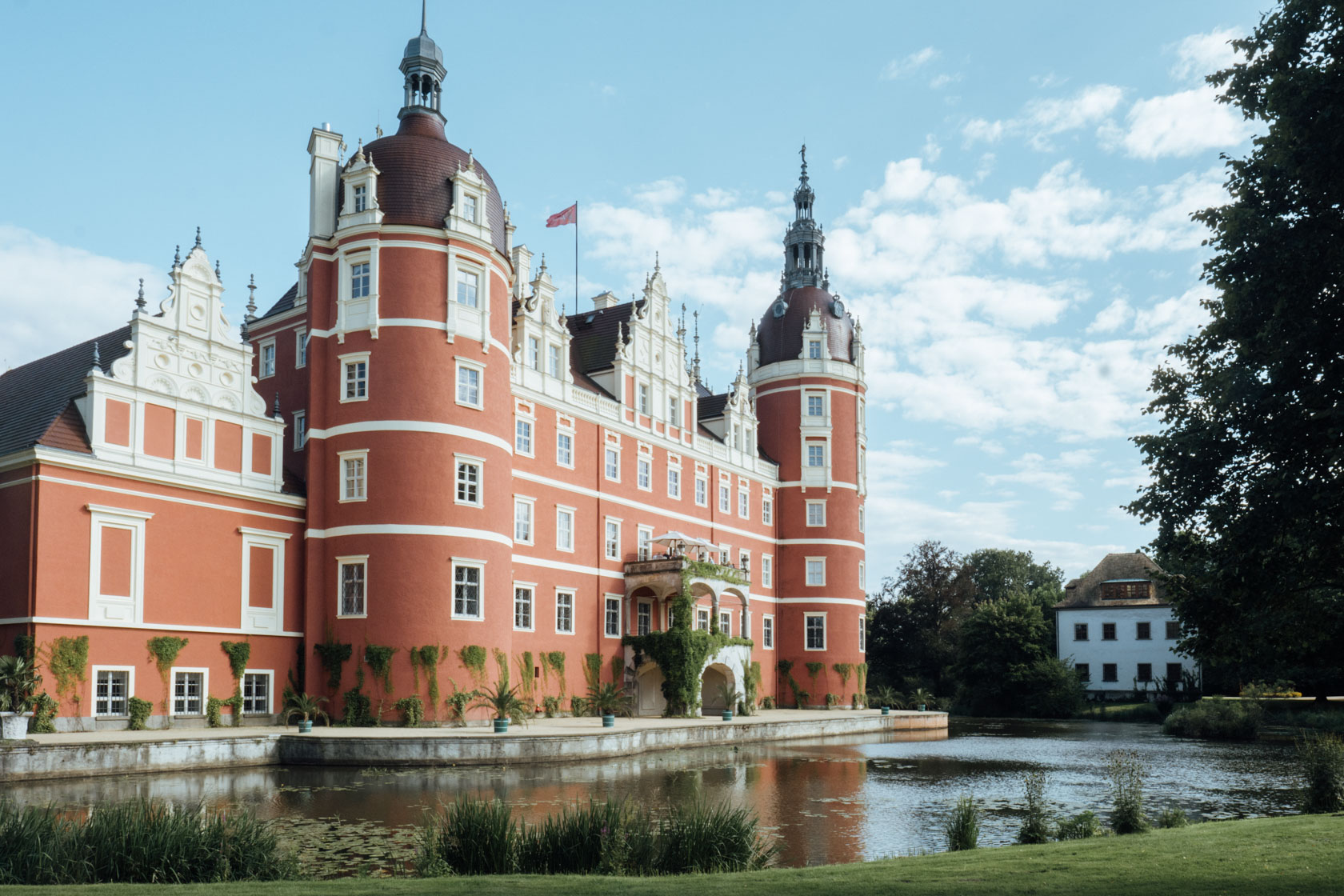 Distance: 163 kilometers (101 miles)
Travel time: 2 hours by car
Reach by: Car
Bad Muskau is home to the Muskau Park, officially called the Fürst-Pückler-Park Bad Muskau. It's one Central Europe's largest and most famous gardens. This town is right on the border to Poland if you want to easily add another country to your own personal count. The Muskau Park was added to the list of UNESCO World Heritage Sites in 2004.
Today you can go to the Museum, walk around the gardens, go to the cafe, and have a picnic. Bad Muskau is just down the street from Kromlau Park (listed below) so if you're going to one, it makes sense to combine them for a day trip.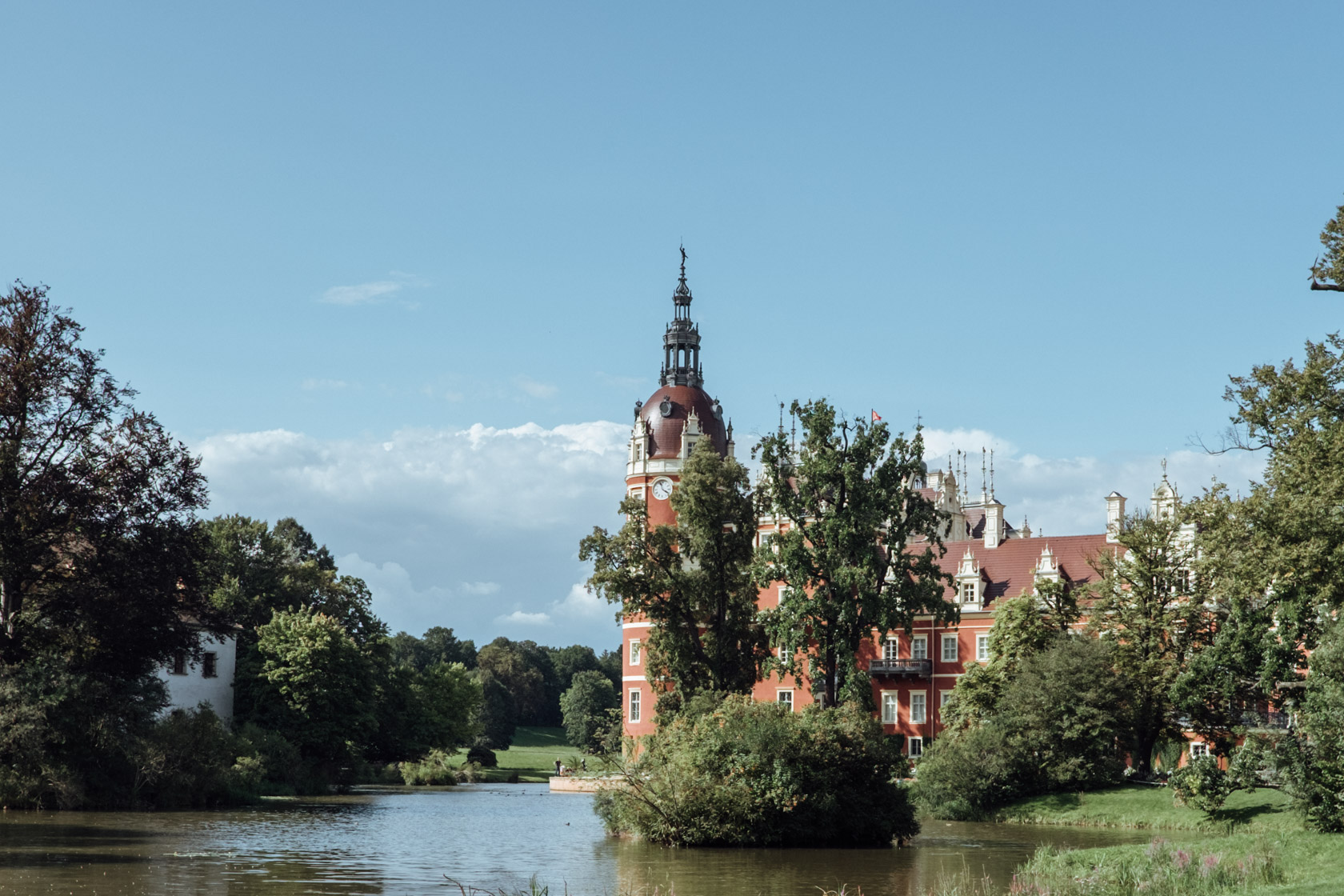 How to reach Bad Muskau
Drive southeast from Berlin for about 2 hours along the A13 and then the A15. You'll basically follow the signs to Cottbus for most of the way, and will drive right through Spreewald as you do. Trying to do this trip by train would take 12+ hours, so if you want to see this area, coming by car is virtually your only option.
8. Germany's Devil's Bridge in Kromlau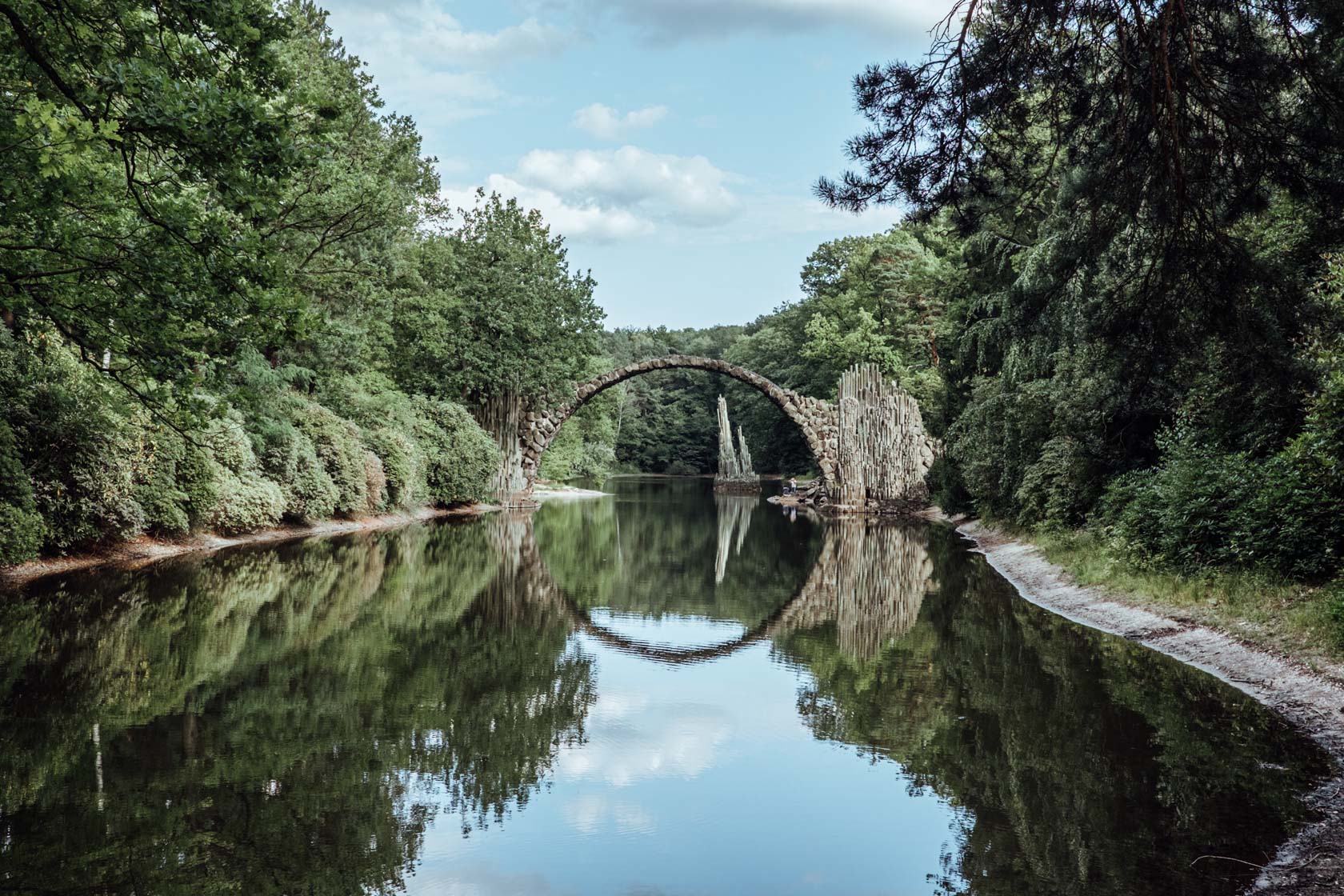 Kromlau is a small town on the border between Germany and Poland, and Kromlauer Park is a hidden gem, visited by a very small number of foreign tourists.
This 200-acre park is home to the Rakotzbrücke, also called Germany's Devil's Bridge for the legend behind it that the devil helped build it in exchange for the first living soul to cross it once completed. In Autumn, this park is absolutely breathtaking, although lacking a lot of the flowers and ponds that would otherwise be there in Spring.
What makes Kromlau unique? It's not a city, it's not on any major tourism website – it's a local sanctuary that few find out about. If you want to see something in Germany that few others have, Kromlau is waiting for you!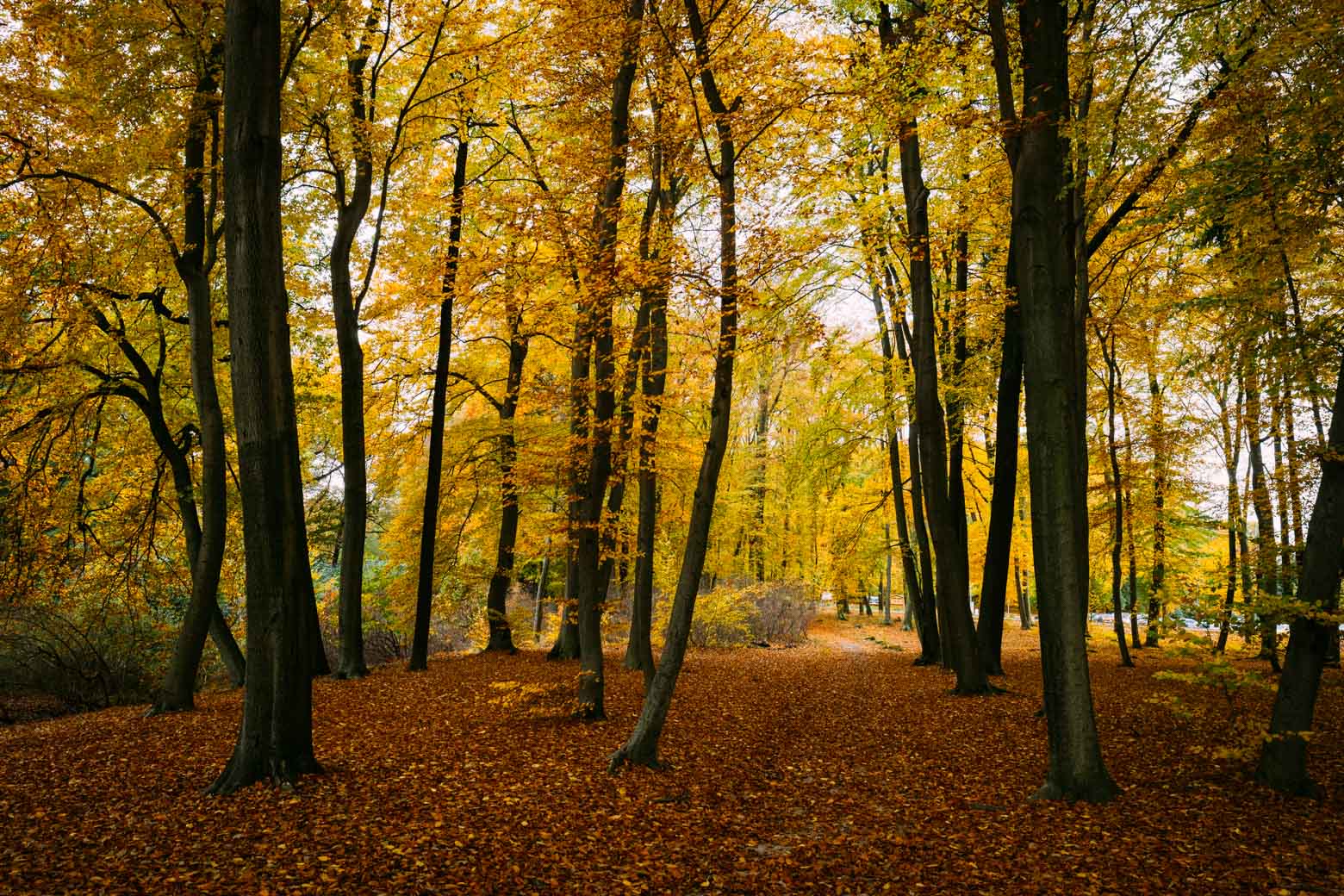 How to reach Germany's Devil's Bridge from Berlin
The trip can be a half-day trip if you're going by car, but will most likely require a full day if you're going to take public transit. By car, you'll start driving towards Dresden, and then towards Cottbus as soon as you see signs for it. By public transit, you'll take the train to Cottbus and then transfer to an old steam train to make it into Kromlau.
9. Wannsee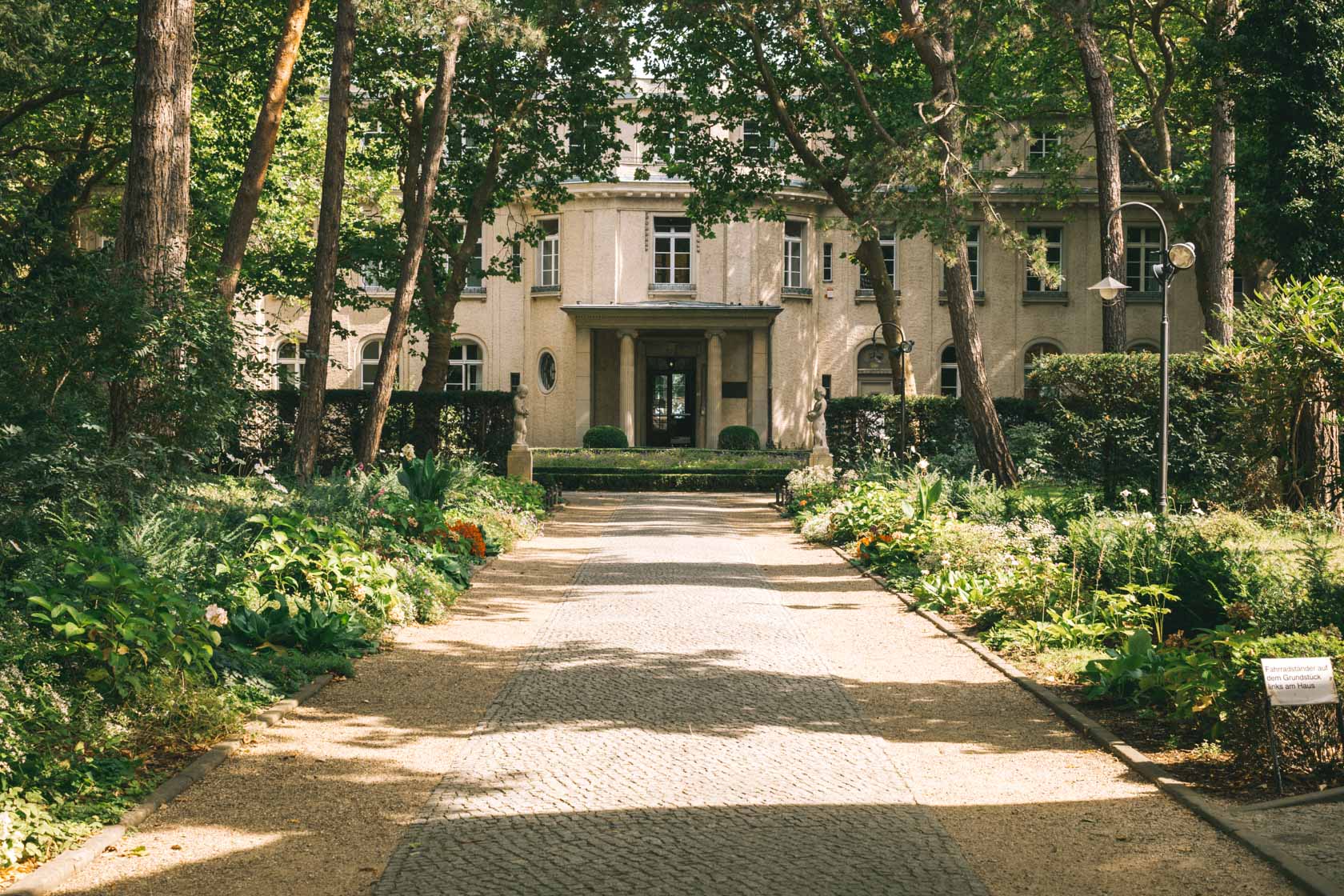 Distance: 26 kilometers (16 miles)
Travel time: 50 minutes
Reach by: Car or S-Bahn
Wannsee has a dark history behind it, but nonetheless is a beautiful area to visit from Berlin. Nowadays, people mostly come to Wannsee to visit the lake, which is one of the most popular sandy beaches surrounding the city. On a hot day it can get crowded, but there's plenty of beer and beach food to keep you comfortable.
Wannsee is most famous for being the site of the Wannsee Conference, where senior Nazi officials met to plan the Final Solution to the "Jewish Question". The location of this meeting, the Wannsee Villa, has been converted into a free exhibition where you can read real clipping from the newspapers and internal documents alike, demonstrating how the Jews were targeted and blamed for Germany's problems. Honestly it's unsettling to be in the same building where this happened, but seeing the original words of the people involved is eye-opening nonetheless.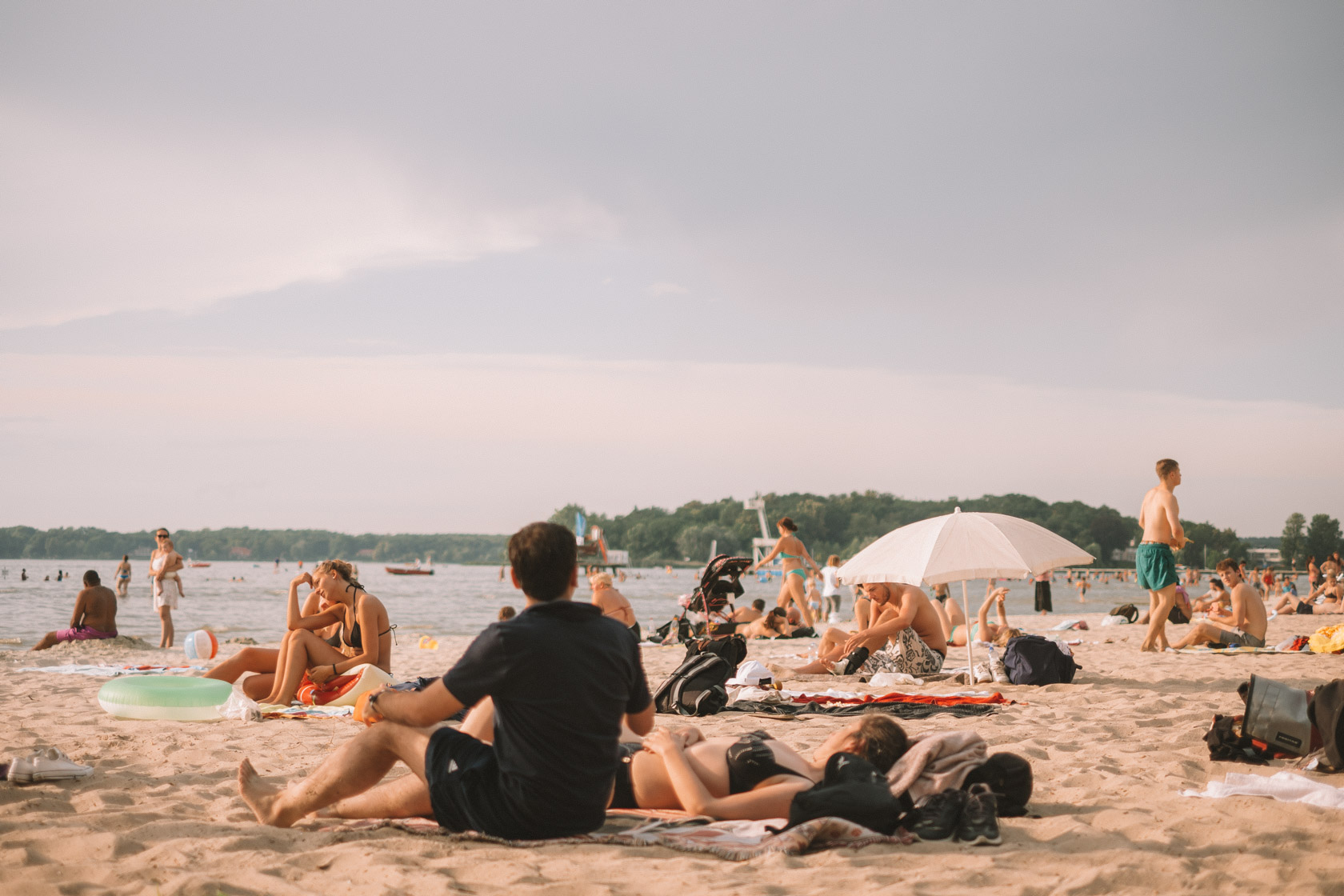 What makes Wannsee unique? I'd say the fact that you can have a really balance day of learning about history, and then relaxing on the lake. Neither has to be a full-day activity, so there's some real variety to this day trip.
Quick tips for visiting Wannsee:
The Haus der Wannsee-Konferenz (House of the Wannsee Conference) is a free exhibit, where you'll pass through several rooms, all overlooking the beautiful Wannsee.
Another villa, the Liebermann Villa , hosts artist Max Libermann's paintings of his home and garden. Unlike the Wannsee villa, it is not free to enter.
Pfaueninsel is a nearby nature reserve, which tops numerous other lists of best day trips from Berlin. I went last Summer and it was a really nice trip to enjoy some of the nature around Berlin.
How to reach Wannsee
You'll take the S-Bahn S1 line, which passes through major stations throughout Berlin such as Potsdamer Platz, Brandenburger Tor, and Friedrichstraße. The S7 line is also an option, which passes through Alexanderplatz, Hackescher Markt, and Hauptbahnhof (Berlin main station).
10. Britzer Garten (in Spring)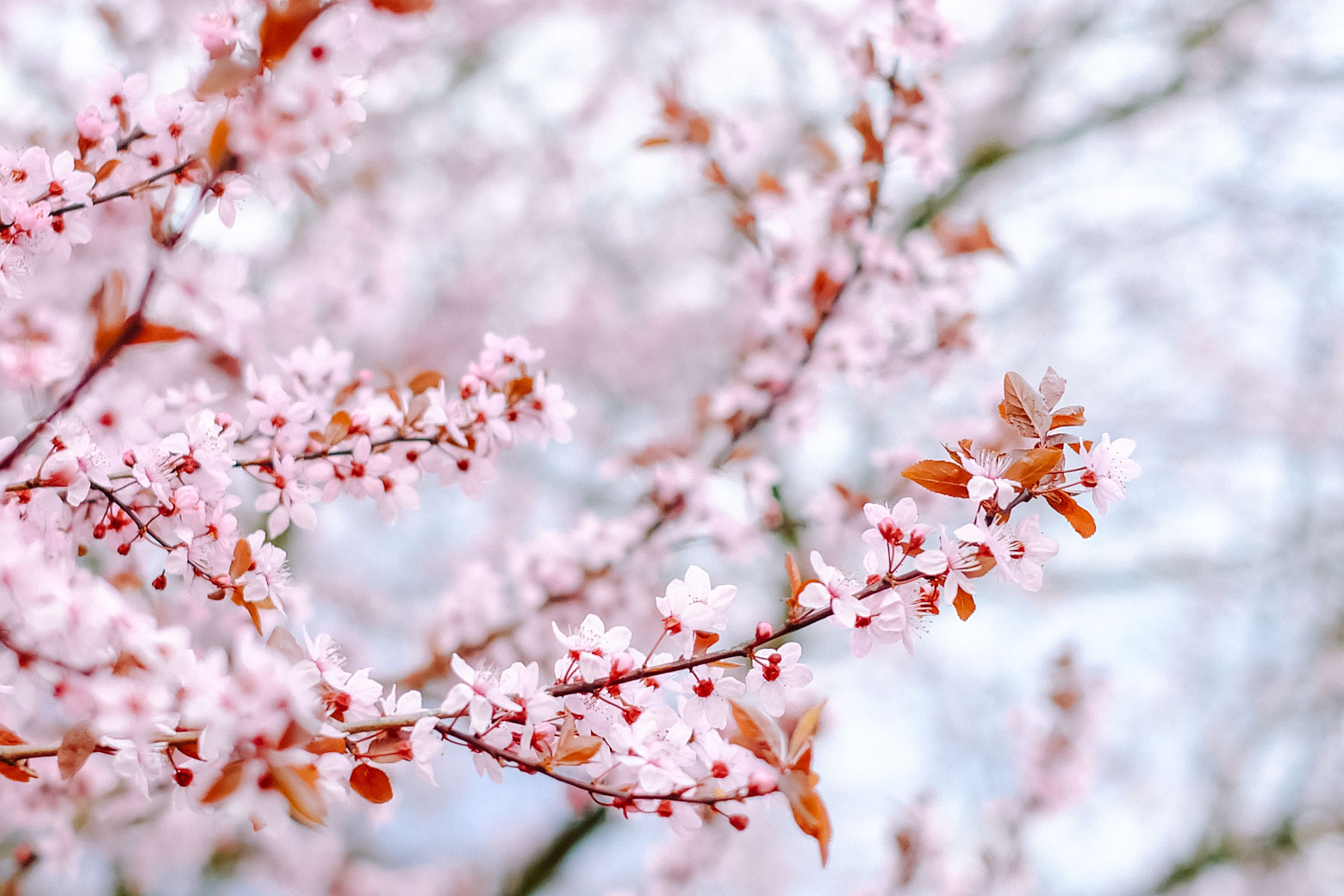 Distance: 12 kilometers (7.4 miles)
Travel time: 45-60 minutes
Reach by: Car or train
Germans love nature, and nature loves the Germans – nowhere is it clearer than Britzer Garten, a large park featuring a lake, rose, tulip, and dahlia gardens, a functioning windmill, and a Liebesinsel (Love Island). Both dogs and bicycles are banned in this park, so it's guaranteed to be peaceful. There's a cafe overlooking the lake, as well as convenient spot for ice cream.
Come here if you're looking for an early taste of Spring – when everything else is still waking up from their winter's sleep, the cherry blossoms at Britzer Garten are already showing off how pretty they are.
When we came to Britzer Garten, we packed for a picnic and ate right across from the Love Island. Everything was fine and dandy until a swan decided he wanted to share our meal! I pretty much thought he was going to fight us, but somehow we managed to defend our food.
What makes Britzer Garten unique? Like Kromlauer Park, Britzer Garten is a place enjoyed mostly by locals who are looking for some time out of the city. You're unlikely to get stuck behind hoards of tourists trying to snap an identical photo – you can just come here to wind down in the middle of a busy tour through Germany.
How to get to Britzer Garten. You can take the U6 U-Bahn south in the direction of Alt-Mariendorf. From there, transfer to the 179 Bus towards Gerlinger Str. and disembark at Sangerhauser Weg. A short walk (6 min, 550 meter) down the same road and you're there!
11. Müggelsee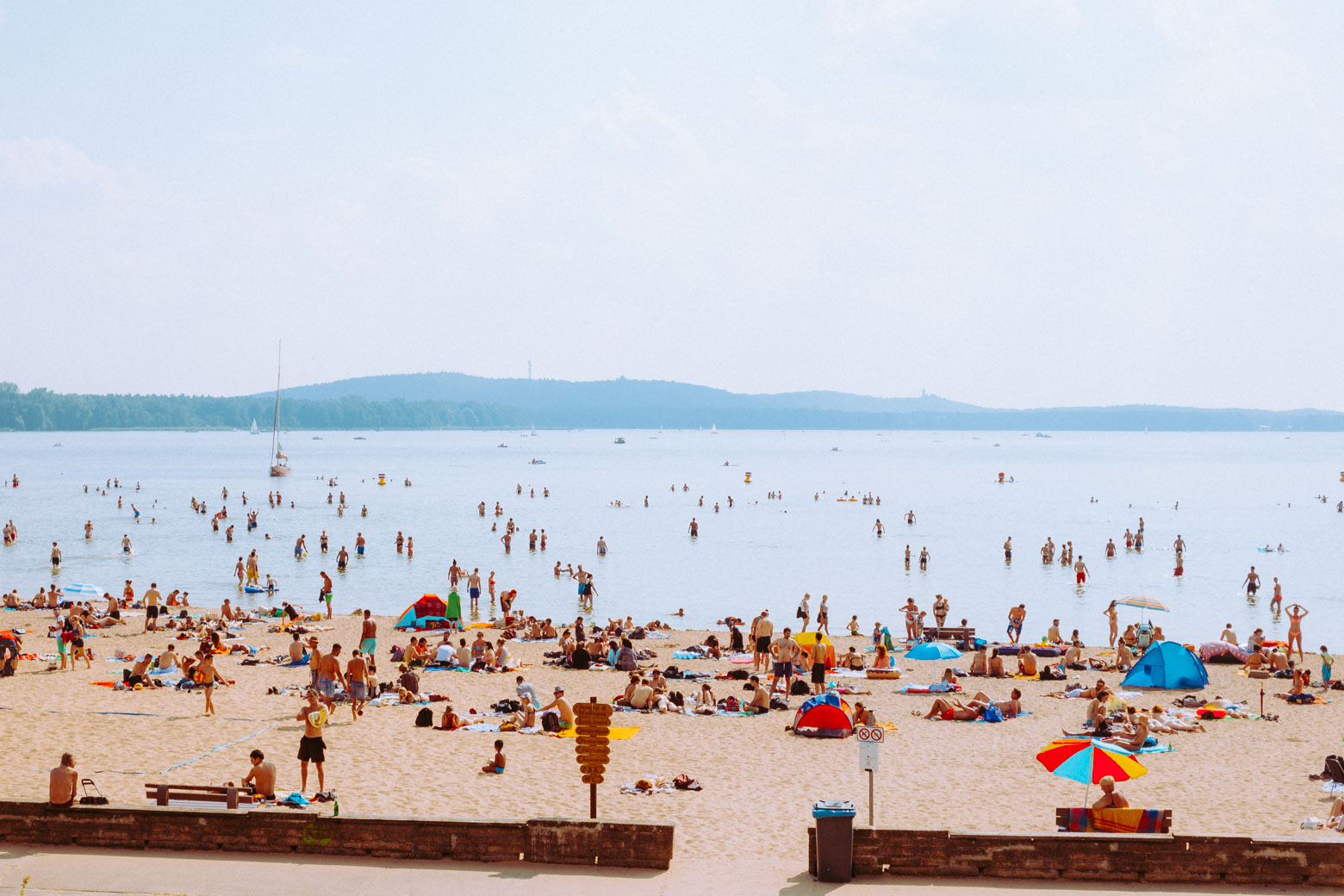 Distance: 21 kilometers (13 miles)
Travel time: 50 minutes by S-bahn from Alexanderplatz
Reach by: S-bahn
Berlin is surrounded by countless lakes, and if you come in Summer on a weekend, you'll see the public transit full of people who are clearly heading for a day at the beach. Müggelsee is one of the most popular lakes in Berlin, given its shallow waters make it one of the warmer options. You can bring your family or set up solo. There are some snacks available at the lake (for a premium) or bring your own food and drinks.
How to get to Müggelsee. The easiest way to get to Müggelsee is to take the S-bahn (S3) to Köpenick and then ride your bicycle around the lake. Otherwise at Köpenick you can connect to a bus that will take you closer to the lake. All in all the trip takes between 50-80 minutes depending on where you're starting in the city.
12. Wittenberg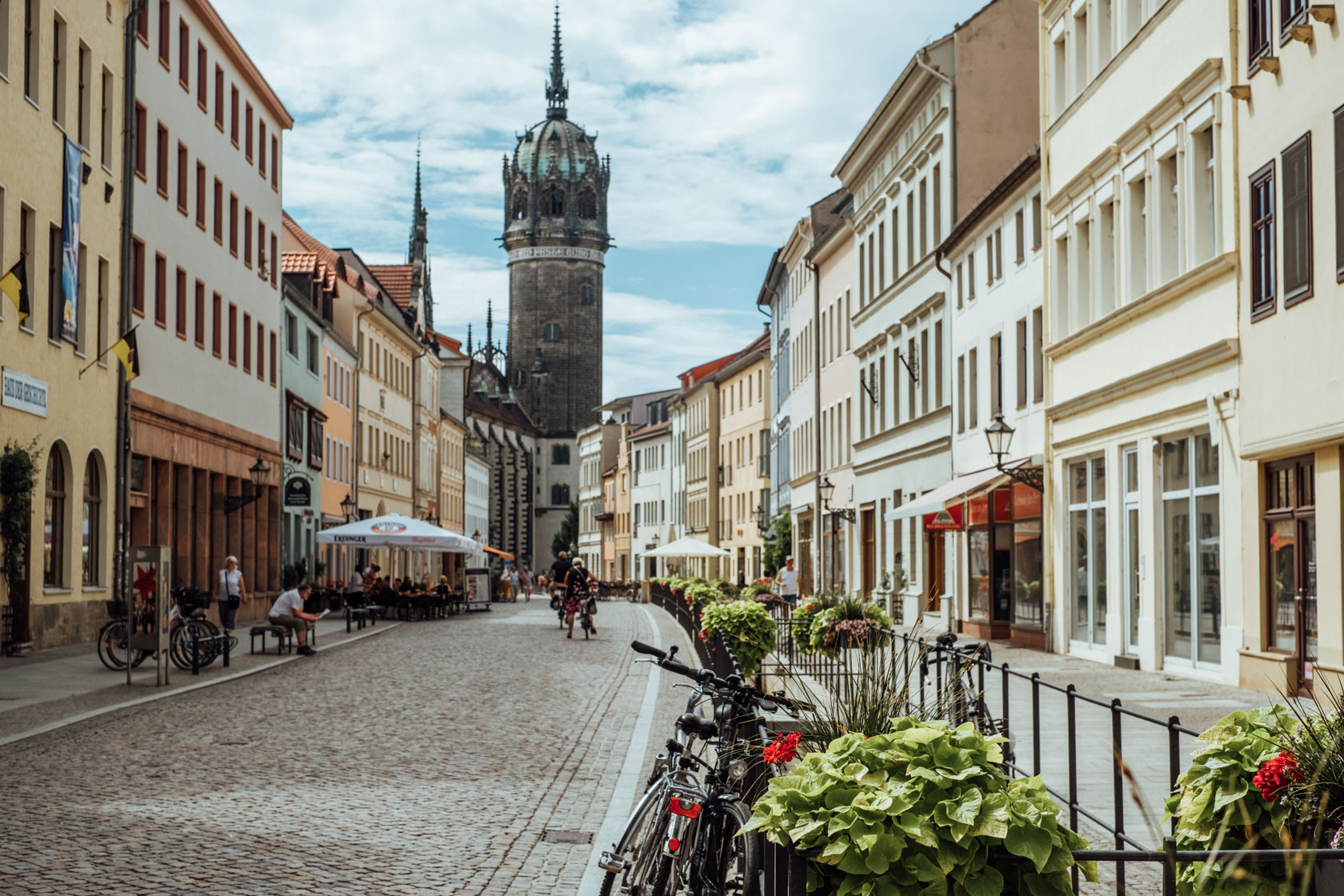 Distance: 112 kilometers (69 miles)
Travel time: 90 minutes by car, 1 hour 40 minutes by train
Reach by: Car or train
If you learned about the Protestant Reformation in school, there's a good chance you're familiar with Wittenberg's most famous resident: Martin Luther. It was in Wittenberg that he nailed the 95 theses to the door of the church, and if you come here you can see the exact door that he nailed it on.
The city isn't huge but you can come by and explore some small shops, get an ice cream, and give yourself a small historical tour. Near the church there is also a museum about Martin Luther and the protestant reformation.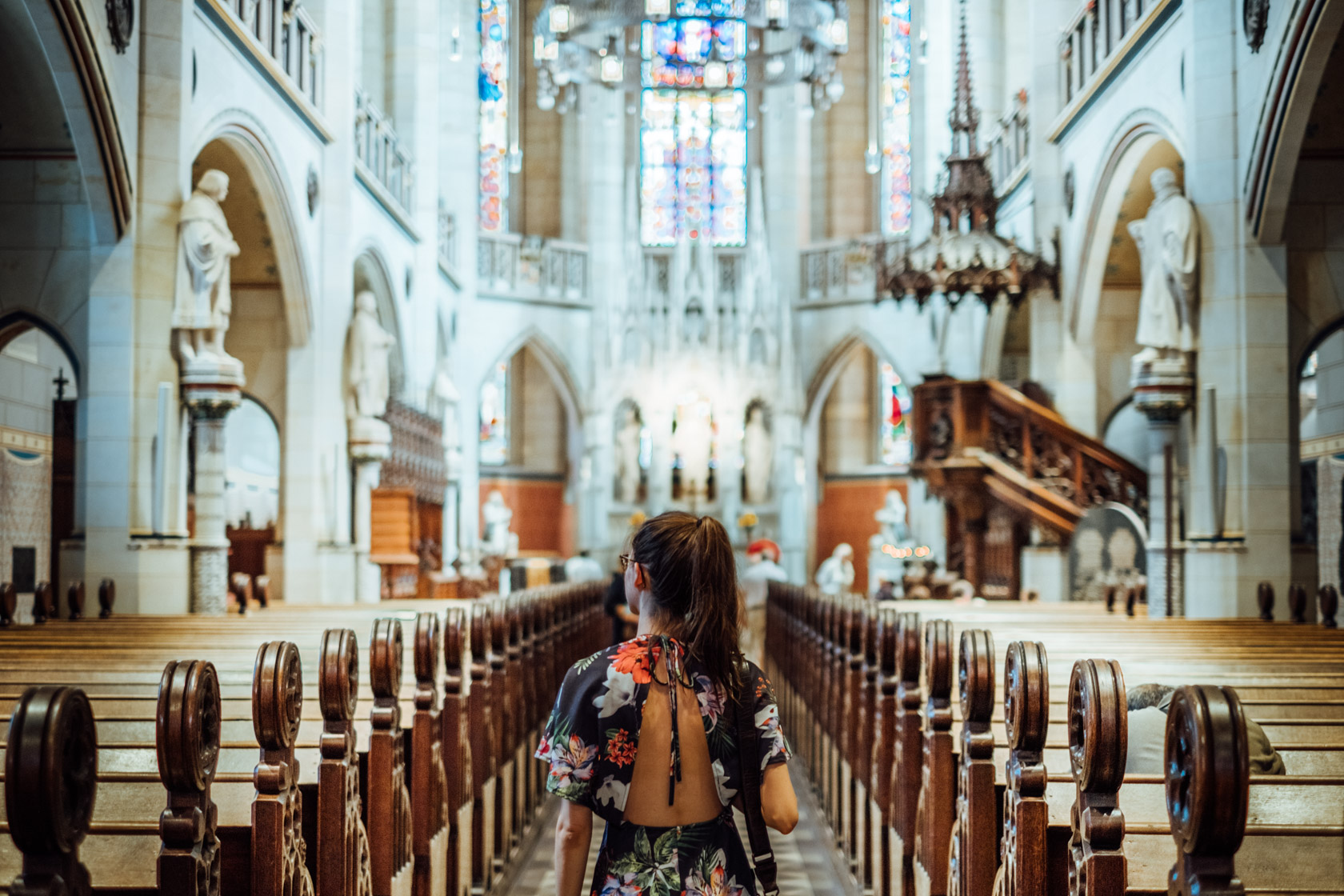 How to get to Wittenberg
You can simply book a train directly from Berlin to Wittenberg, or opt for renting a car if you prefer. You can book a train on the Deutsche Bahn English website .
13. Prague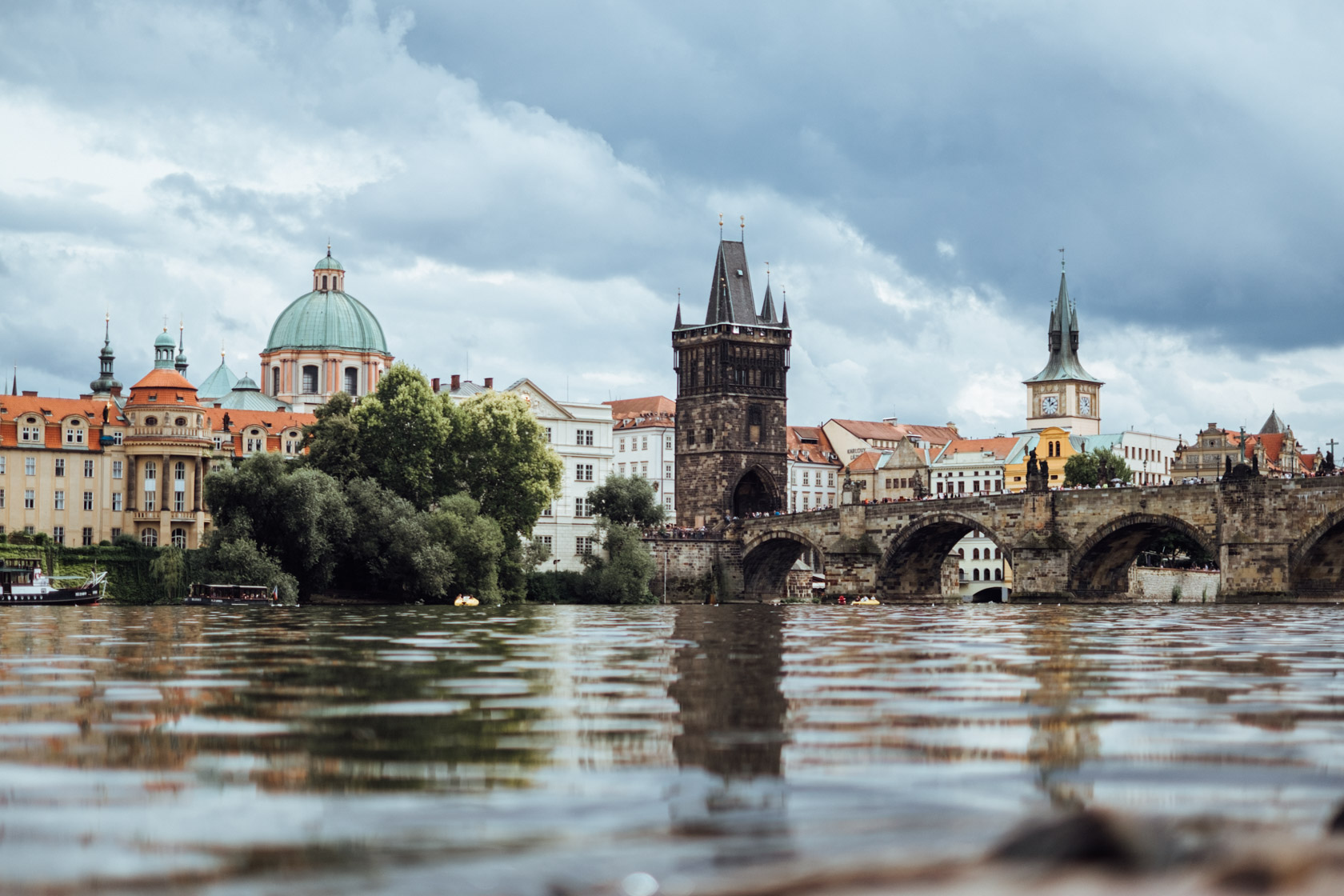 Distance: 349 kilometers (216 miles)
Travel time: 4 hours by car, 4.5 hours by train
Reach by: Car or train
It's arguably a stretch to call Prague a day trip, but if you really want to see Prague from Berlin it's doable. You need to get up early, and you need to come back late, but it can be done! I've done it as a day trip from Leipzig before.
Plus, the Czech Republic is probably the easiest of all the countries near Berlin, Germany to visit.
Prague may be one of the most popular cities with tourists coming to Europe and it's no surprise why – the architecture is beautiful, the prices are still rather low, and there is a ton of things to do in this historic city.
How to reach Prague from Berlin
In the interest of time, the best way to get here is by car. It's also possible to take a train which will add an hour on to your travel time, or even to take a six hour bus. At six hours I would argue it's easier (and probably costs just as much) to take a plane!
14. Hamburg
Distance: 289 kilometers (179 miles)
Travel time: 2 hours by express train, 4 hours by car
Reach by: Car or train
I've only been to Hamburg once in the dead of Winter and it was cold and dreadful. But in the Summer, Hamburg is known to be one of the prettiest cities to visit in Germany. It's a port town, with nautical vibes up and down. You can take a walk along the sea, participate in its famous nightclub scene, or infamous Reeperbahn.
How to get to Hamburg. Trains run regularly from Berlin to Hamburg, so you'll have no issue booking one with Deutsche Bahn. If you prefer you can also go by bus via Flixbus, but it will take much longer.
15. Dresden
Distance: 193 kilometers (119 miles)
Travel time: 2 hours 25 minutes by car or train
Reach by: Car or train
I have to admit – I've never been to Dresden! I've always wanted to go but never quite made the time. Which is a shame because it's so close to Berlin and is meant to be very beautiful. You can spend a weekend here and enjoy the history of the city, which came under heavy fire during the second world war. Today you can visit the reconstructed version of Dresden's most famous sight, the Frauenkirche (Church of our Dear Lady).
How to get to Dresden. Similarly to Hamburg, there are plenty of regular trains at your disposal as well as bus service. Dresden is close to Saxon Switzerland so if you'd like, you can combine these trips into one.
Have you ever been to these cities and towns outside of Berlin?
What's your favorite daytrip you've even taken outside of a major city? For me, Kromlau is my absolute favorite out of Berlin (although Leipzig might contend if I were truly a first-time visitor). Versailles was also cool, but way too crowded! Let me know what your favorites are in the comments!
Like this post? Pin it for later!