Saxon Switzerland (or, Sächsische Schweiz in German) is a hilly region only 30 kilometers from Dresden, Germany. Here you can hike, camp, rock climb, all while looking over a sweeping view of the Elbe river. If you've come to Berlin or Dresden on a city trip, you might enjoy stopping by this beautiful natural park. In my opinion, it's one of the the best day trips from Berlin because it can be explored in a day, or extended into a weekend trip if you prefer.
Here's how to best reach Saxon Switzerland National Park from Berlin, Dresden, or Prague, as well as basic tips on entering the park, costs to expect, and things to do in Saxon Switzerland!
Some links in this post are to affiliate sites. If you purchase something through them, I may earn a small comission — which costs you nothing! I am very grateful when you use my links to make a purchase.
How to reach Saxon Switzerland
Saxon Switzerland is a popular place to visit from a number of different nearby locations. In all cases, the easiest thing you can do is to rent a car.
Renting a car in Germany for a single day will usually run you 50-70€ including just the minimum insurance, plus petrol of course. I personally visited the area by car, and found it to be rather convenient. You do still need to pay for parking, plus pay a small fee for the bus that takes you from the parking lot to the park entrance.
I highly recommend using Discover Cars find a rental car, because you can compare prices across different companies to get the best deal for your trip!
But in case you do not (or cannot) rent a car, you are in luck because there are many different tours that run to Saxon Switzerland, especially if you are starting in either Dresden or Prague.
Keep reading for tips on how to reach Saxon Switzerland National Park, including driving directions, how to reach it with public transit, and the best guided tours.
TIP - If you want to try it by public transit, make sure you look for directions to "The Bastion Bridge" rather than to the whole park. It will help get you to enter the correct side of the park.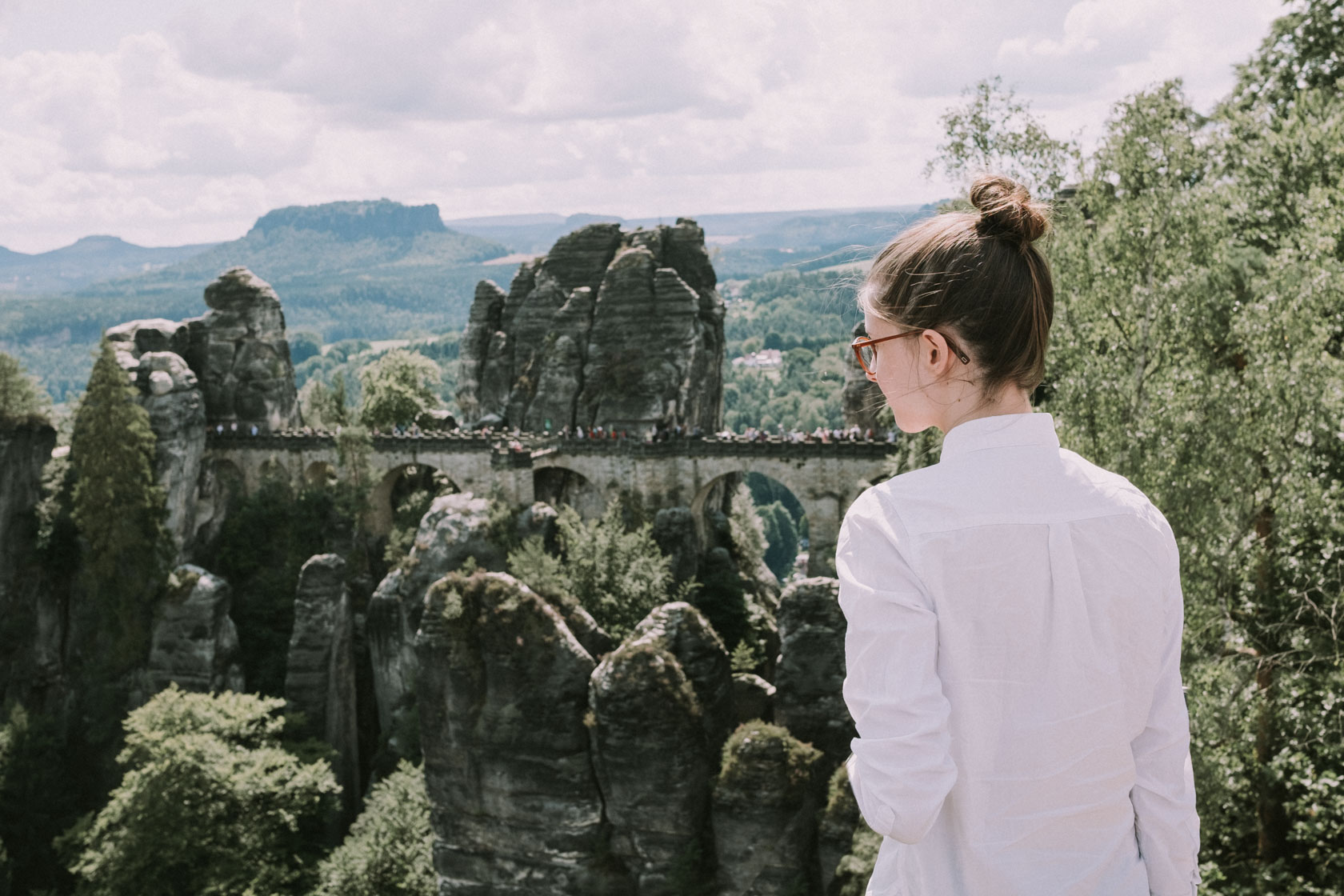 Reach Saxon Switzerland National Park from Dresden
By car – For the most part you're going to be able to follow signs straight to the entrance. You'll use the A17 and the B172, and the drive from Dresden takes about 45 minutes to traverse 47 kilometers.
By train – From the Dresden Hauptbahnhof (main station), you need to take the S1 to the Bad Schandau bus station. From there, you will need to take a ferry across the river, and then finally the bus to the entrance of the park from the parking lot.
By tour – There are several different guided tours available to go from Dresden to Saxon Switzerland National Park. It all depends on exactly what you want to see, as well as your budget. Be careful when picking a tour that it's in a language you know! These are the only English-speaking tours to Saxon Switzerland from Dresden that I could find! Luckily both have good reviews 😉
Tour name
Pros / Cons
Check prices
From Dresden: Bohemian & Saxon Switzerland Day-Trip (€€)

10-11 hour duration
Visits Bastei Bridge, Pravcicka Gate, Kamenice Gorge, and Elbe Canyon view point
Lunch, snacks, and bottled water is included
Small group tour
Several variations of the tour are offered (also runs in Winter)
Only 1 review so far
Languages: English

Check prices
Bohemia and Saxon Switzerland Day Trip from Dresden (€€€)

12 hour duration
Visits Bastei Bridge, Pravcicka Gate, Kamenice Gorge, Elbe Canyon view point, and Hrensko
Includes a small boat ride through the gorge
A la carte lunch included
8 positive reviews
Languages: English or Czech

Check prices
Reach Saxon Switzerland National Park from Prague
By car – Driving from Prague takes about 1 1/2 hours to drive the 128 kilometers. Keep in mind, if you rent your car outside of the Czech Republic and drive across borders, you may need to pay extra for your rental car! You need to disclose it when renting the car.
By public transit – Reaching Saxon Switzerland from Prague requires you to take the train from Prague Central Station to the Bad Schandau National Park Bahnhof, and then transfer via two bussess. Otherwise, you can also simply take a train to Dresden, and then follow the direction from getting from Dresden to the park.
By tour – Again, there isn't a huge selection when it comes to tours in English, but check out this Bohemia and Saxon Switzerland Full-Day Tour from Prague . It lasts a full 12 hours (remember, some of this is spent in the bus). They'll even pick you up from your hotel!
Again, if you decide to look for alternative tours, do double-check that they are being conducted in a language you speak 😄
Reach Saxon Switzerland National Park from Berlin
By car – You will primarily drive along the A13. The route is about 250 kilometers and takes 2 hours 47 minutes to drive by car. If possible, when coming from Berlin, I strongly recommend to turn it into a weekend trip and visit either Dresden or Prague as part of your itinerary!
By public transit – You can take a train from the Berlin Hauptbahnhof (main station) to the Dresden Hauptbahnhof (main station). The train ride lasts 3 hours if you get a direct train with no transfers. The cost is roughly 70-70€ for that part of the journey. From Dresden, you need to take the S1 to the Sebnitz Busbahnhof (bus station), and then another bus, the 241, to reach the national park.
By tour – Unfortunately there are no tours directly from Berlin to Saxon Switzerland. Given the complexity of using public transit in this case, I would recommend taking the train to Dresden, and then take the guided tour from Dresden .
Or, if you base yourself in Dresden, check out the directions below from Dresden to Saxon Switzerland.
Things to do in Saxon Switzerland
We built this trip in to a roadtrip to Prague , which you can reach in about two and a half hours from Berlin. On the way back, we stopped by the Saxon Switzerland, Bad Muskau (a UNESCO protected area near Poland), and our favorite spot in Germany, Kromlau Park.
What that means is that we didn't have a lot of time to spend here, but we do try to spend our city trips with a stint in nature so it still did the job.
Felsenburg Neurathen
This is a small area inside of Saxon Switzerland near the Bastion Bridge that you can access for a small fee. It gives you some unique vantage points to look at the bridge compared to only the publicly accessible points. You made it all the way here, spend a couple bucks and walk around!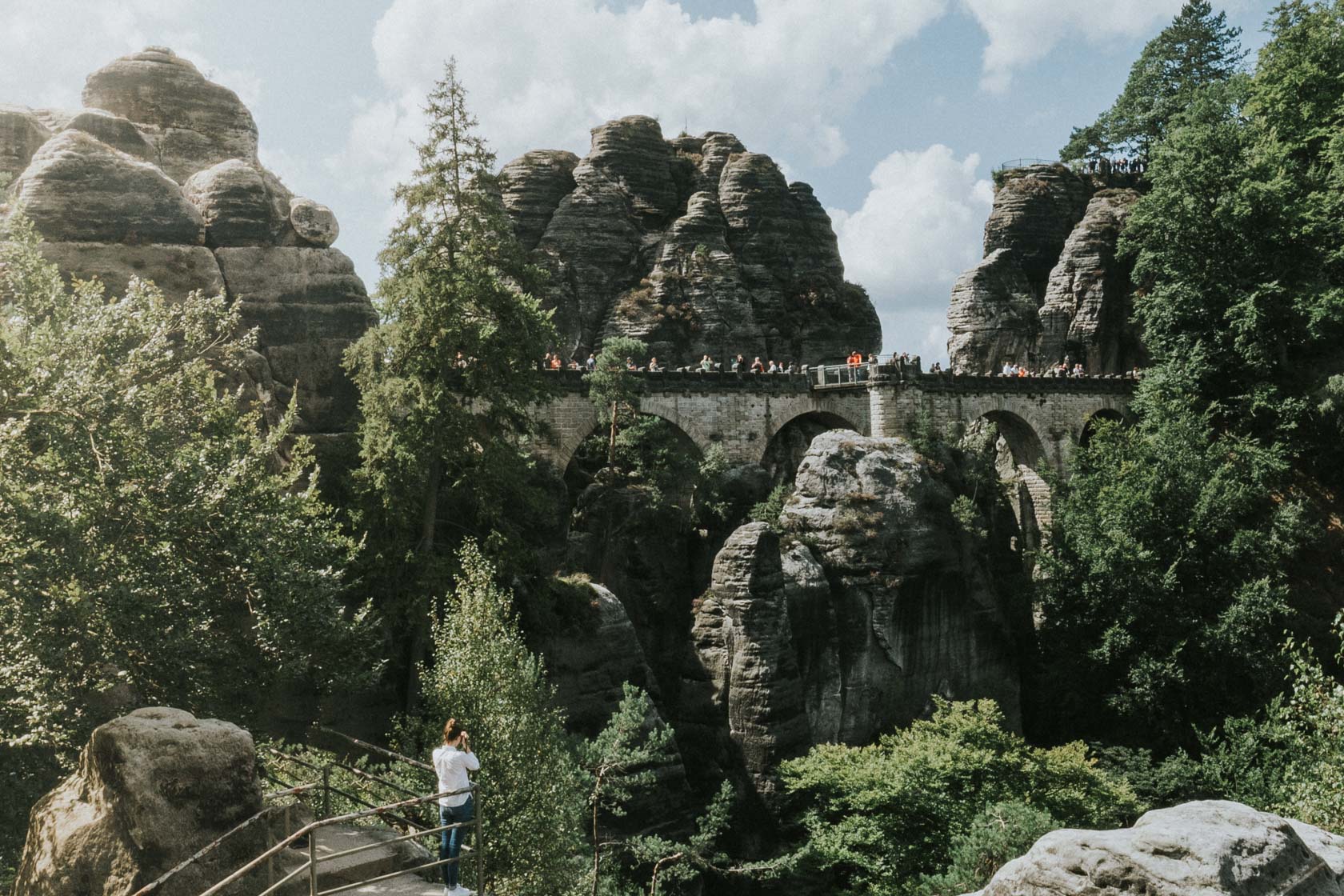 Bastei Brücke
The best known landmark in the Saxon Switzerland National Park is Bastei Brücke, known in English as "Bastion Bridge". You can cross this bridge yourself and see it from many different angles from the different trails within the park. If you're feeling up for it, you can even go rock climbing in this area on the neighboring sandstone rocks.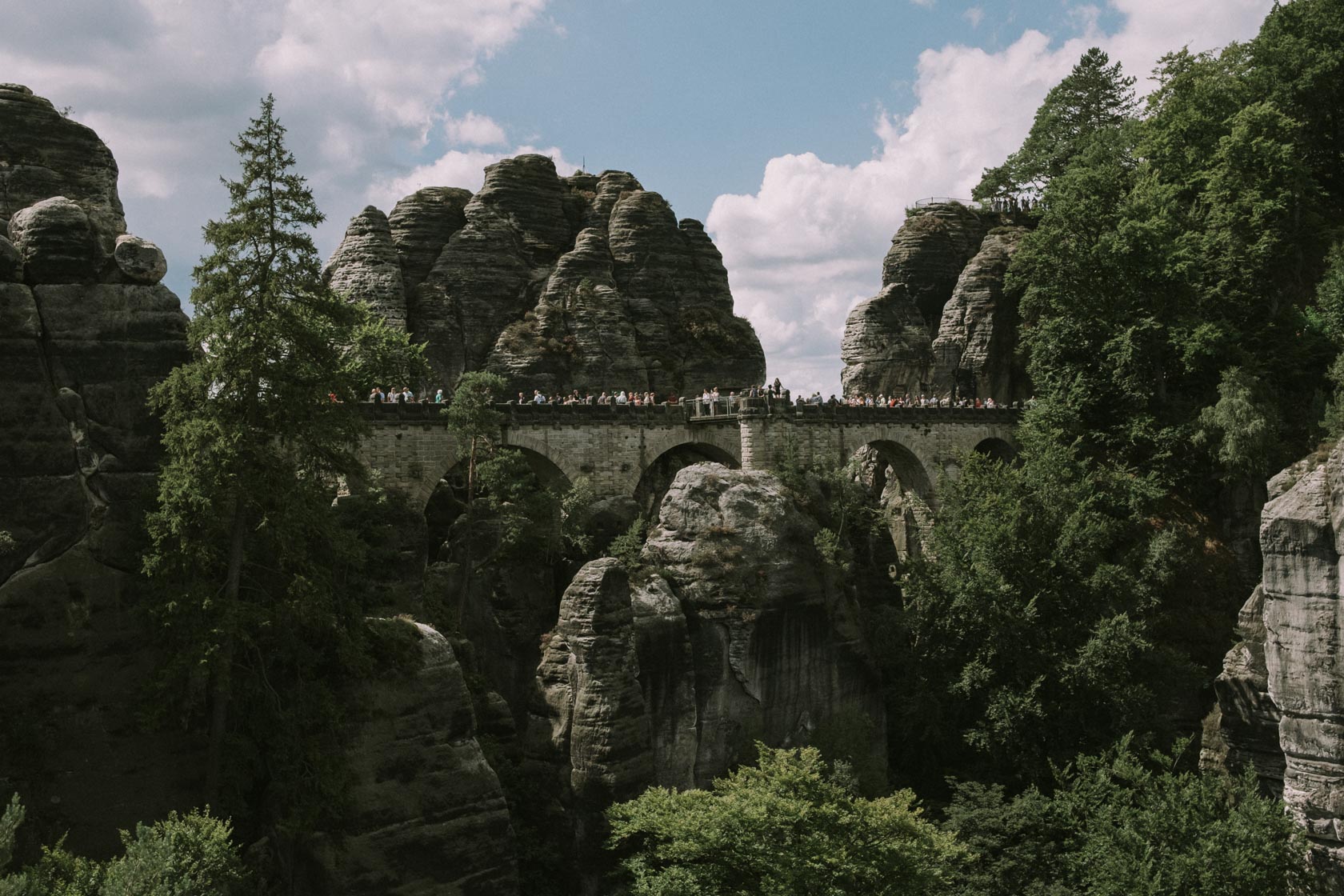 River Elbe
Alternatively, step onto the viewing platform that gives you a broad view of the Elbe River. It begins in the northern mountains of the Czech Republic, and flows through Germany towards the North Sea. Unfortunately the last time I was there, the main viewing platform was under construction, so you may want to check that out in advance. That said, I think we still got a pretty nice view over the river!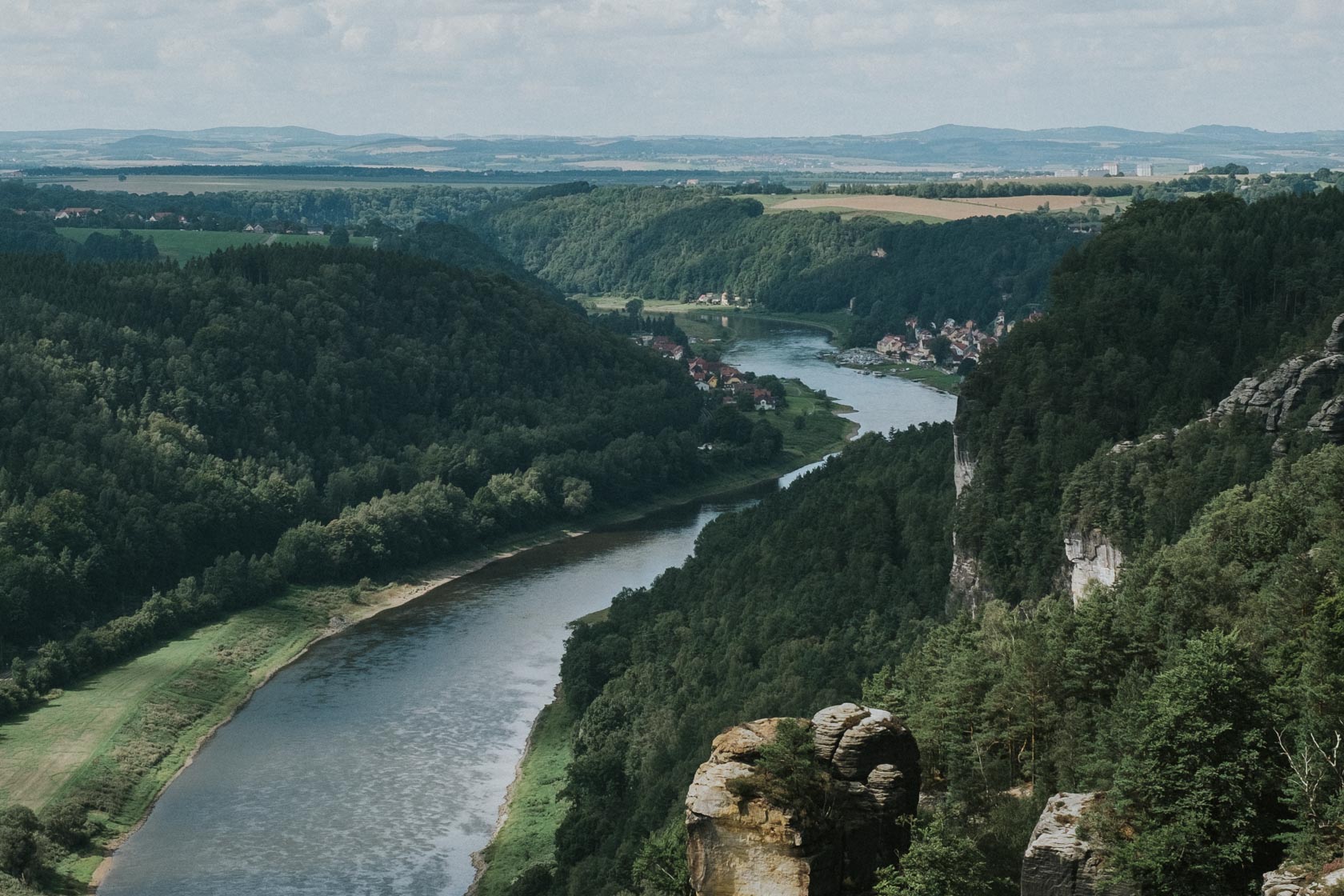 Tips for visiting Saxon Switzerland
Avoid German holidays, if you can - it's a lot busier on weekends and during holidays, so coming just a few days before or after will give you a little more space.
Stay overnight - Coming first thing in the morning will guarantee you have the place all to yourself. There are several nearby towns, as well as a hotel right near the Bastei Brücke.
Visit during Autumn - the Autumn foliage in this region is really beautiful and photogenic! Summer is lovely, but the Autumn colors in Saxony are really something magical.
Saxon Switzerland prices
Saxon Switzerland is free to enter and has no opening or closing times. The only thing you should be aware of is that the bus that runs between the parking lot and the main rock formations, but you can also walk or bike this distance (3.5 kilometers).
Parking: Up to 3 hours (3€), more than 3 hours (5,50€)
Bus from parking to entrance: 2-3€ per person
Entrance fee: Free
Entrance to Felsenburg Neurathen: 2-3€ per person.
Would you like to visit Saxon Switzerland National Park?
Let me know in the comments if this looks like a place you'd be interested to spend a few hours, or a whole weekend!