The Harz Mountains is a beautiful highland area in Northern Germany, famous for its well-preserved medieval towns, stories of magic and witches, regal castles, and immersive forest hikes through the 247 km2 (95 sq mi) Harz National Park. It combines land from three different federal states: Lower Saxony, Saxony-Anhalt, and Thuringia.
If you're like me, you've just found out about the Harz Mountains and are asking yourself, "How is it possible I've never heard of this place?" This guide to the Harz mountains includes: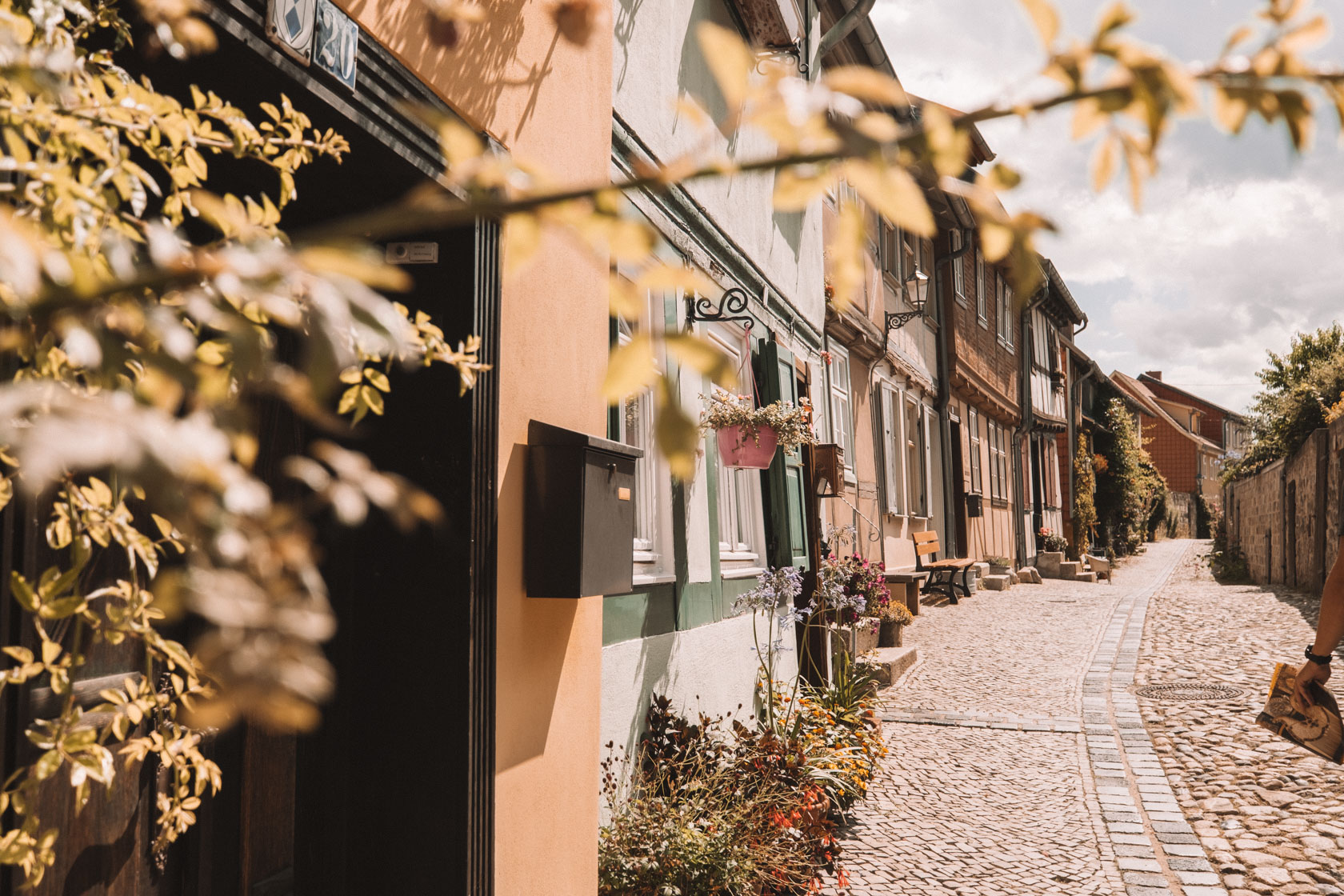 Some links in this post are to affiliate sites. If you purchase something through them, I may earn a small comission — which costs you nothing! I am very grateful when you use my links to make a purchase.
How to reach the Harz Mountains
You can reach the Harz Mountains from anywhere in Northeast Germany, such as Berlin, Leipzig, Hamburg, or Dresden, in under 3 hours. It works as a Berlin day trip but for the best experience, you'll want to stay for at least a couple days.
Here are the different ways to reach the Harz Mountains:
By car – The easiest way to reach the Harz Mountains is definitely by car. This is because the trains run infrequently, so if you miss a connection you'll be waiting for an hour at minimum. We always book with Discover Cars and recommend them.
By train – There are two main train stations in Harz which you can reach from Berlin: Wernigerode and Goslar . Between the two, I'd recommend staying in Wernigerode. To get the best deal, you should definitely book these tickets in advance. For train tickets to Wernigerode from Berlin, click here to check prices and availability .
By tour – The only tour I could find departs from Leipzig as a day trip. If you only have one day and you're based in Leipzig, you can check that out here .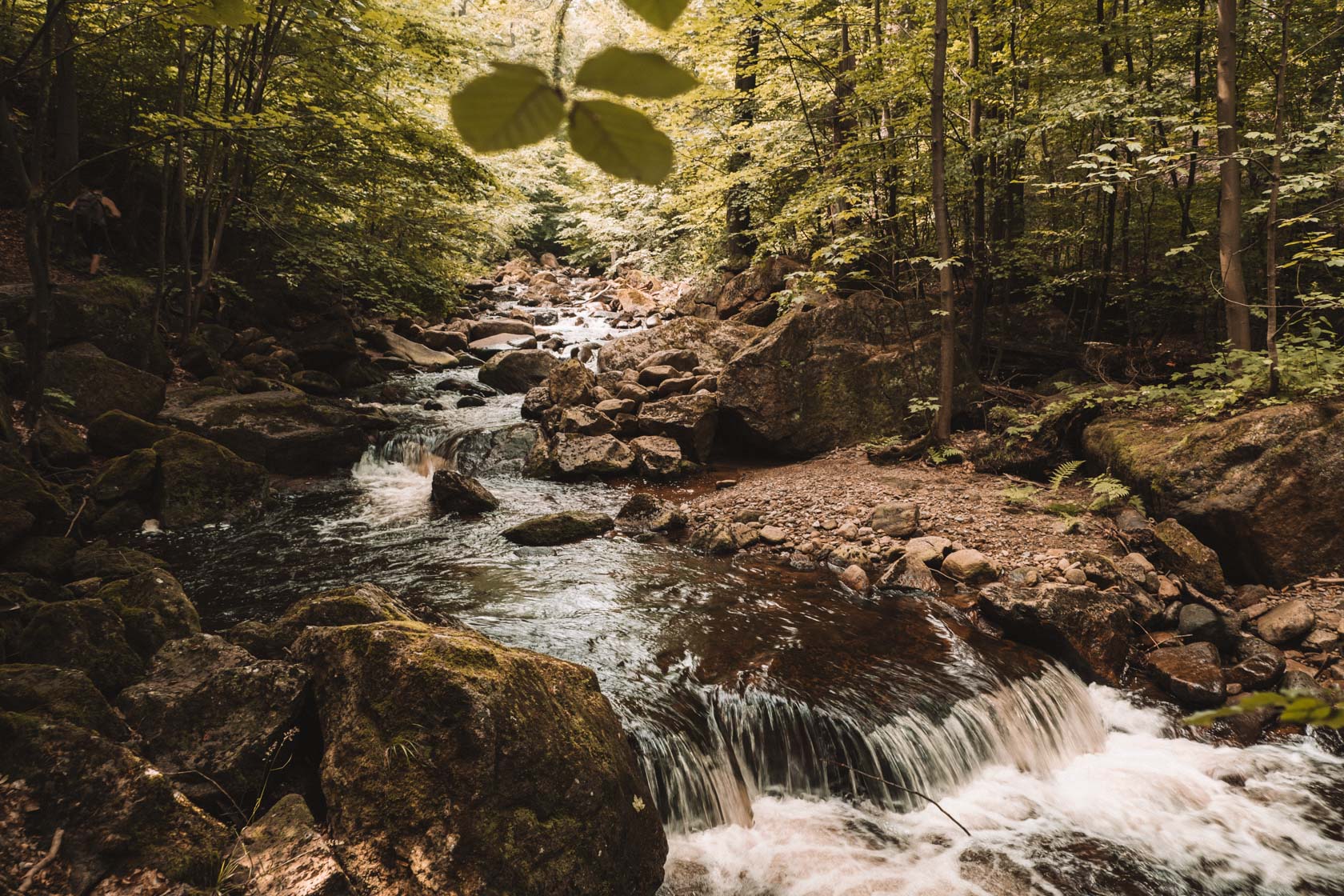 Tips for visiting Harz
You should spend at least 3 days in Harz. We stayed for an entire week, and still felt like we had much more to see. In three days, you can visit the main towns, do one longer hike, and have a flexible day for special excursions.
The best time to visit Harz is Summer and Autumn. Harz is often cooler than neighboring cities, so it's a great escape from the heat. Autumn sees spectacular foliage, as well. Prepare for intermittent thunderstorms in both seasons.
Most menus, signs, and directions will only be in German. Some of the more touristic towns like Wernigerode and Goslar will have more available in English. But it's best if you come prepared, either brushing up on your German or with a translation app handy.
Cell phone reception is very spotty in smaller towns and on the road. It's extremely common to drive through Harz National Park and lose your cell signal. Be sure to download offline maps.
Make reservations for any meal you plan to eat out. It is surprisingly hard to find somewhere to eat in this region without a reservation (even for breakfast!). Call ahead and make a reservation every night, you won't regret it.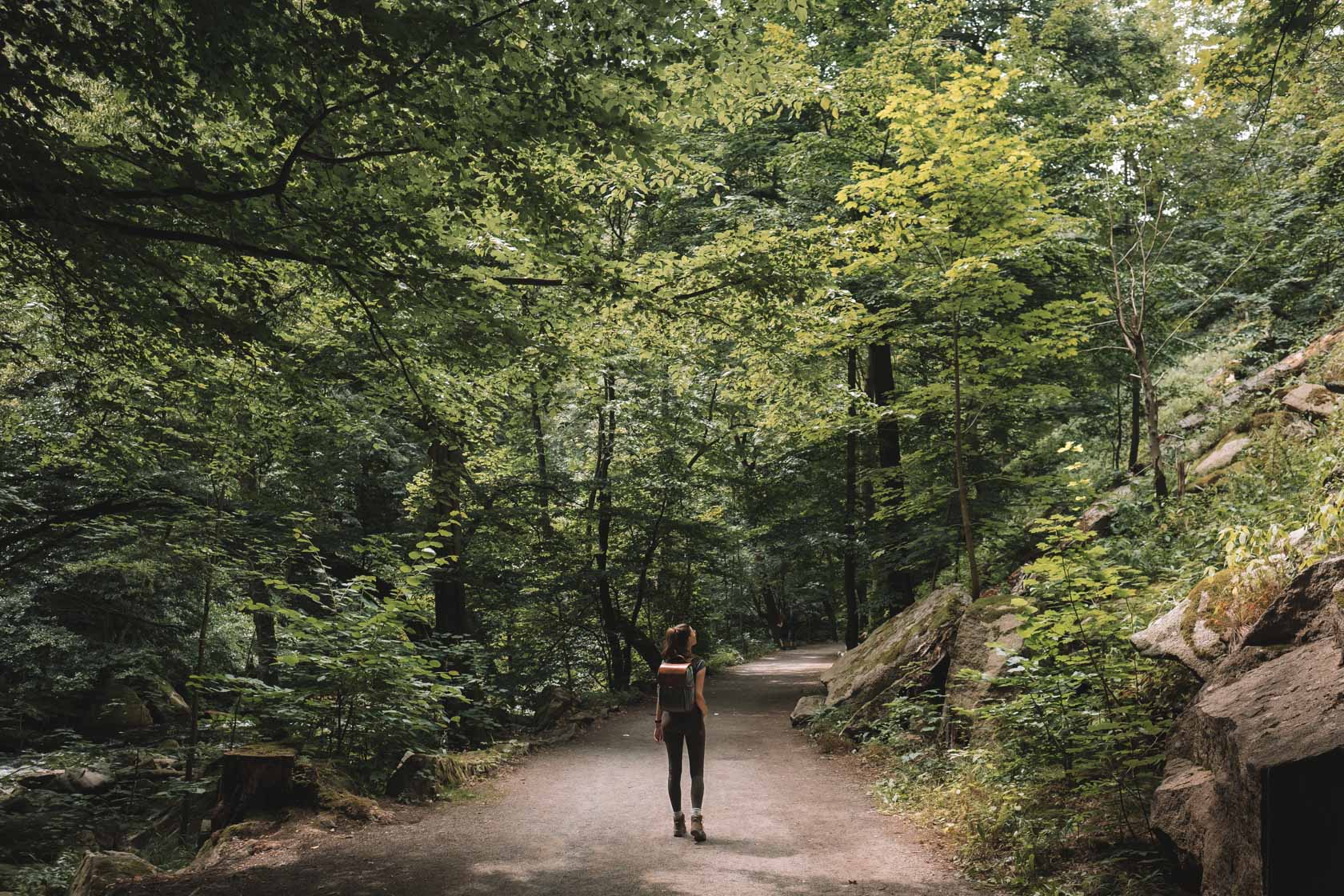 Where to stay in Harz
The Harz region looks pretty big on a map, and it can actually take quite a long time to travel from corner to corner (45 minutes to an hour, depending on the route). That's why it's so important to carefully choose where you're going to stay.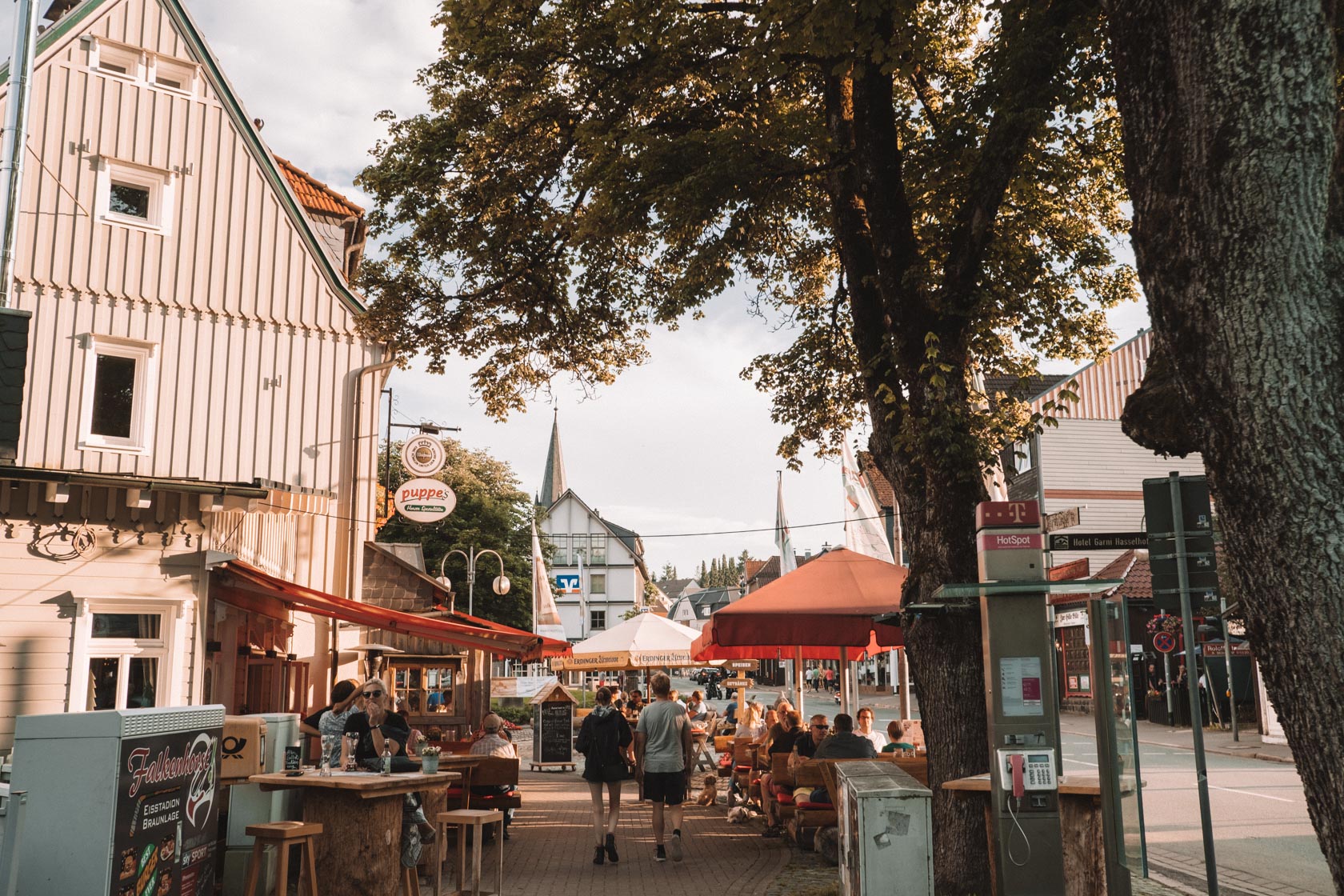 Braunlage

Best for a long stay

– This is where we stayed. Very central location, close to great hiking spots. We stayed in BergNest Braunlage which was an absolute steal at under 100€ per night.
Wernigerode or Quedlinburg

Best for a short stay

– Located in the Northwest, these are convenient spots for exploring North Harz (the most popular area).
Sankt Andreasberg – Located next to Braunlage, also has a proper dining/shopping street and a small supermarket for stocking up.
If you're staying more than a weekend, I definitely recommend staying in Braunlage , a surprisingly cute mountain town on the edge of the Harz National Park in the East. Tons of places to eat dinner, handy hiking and outdoors shops, several proper-sized supermarkets close-by, a gas station, and located centrally.
These towns are small, and get booked out fast. If you're planning a trip now, put in your dates below and hit "Search" to see what's available:
Things to do in the Harz Mountains
1. Collect stamps for the Harzer Wandernadel
Harz is famous for hiking, and one of their initiatives to get people to visit more diverse areas in the region is the Harzer Wandernadel.
Known as the "Harz Hiking Pin" in English, Harzer Wandernadel is a program where you can collect stamps from 222 different stations scattered throughout the region in a booklet. Then, you can trade in those stamps for pins as you reach certain milestones.
Participating in the Harzer Wandernadel was easily one of my favorite things to do in Harz!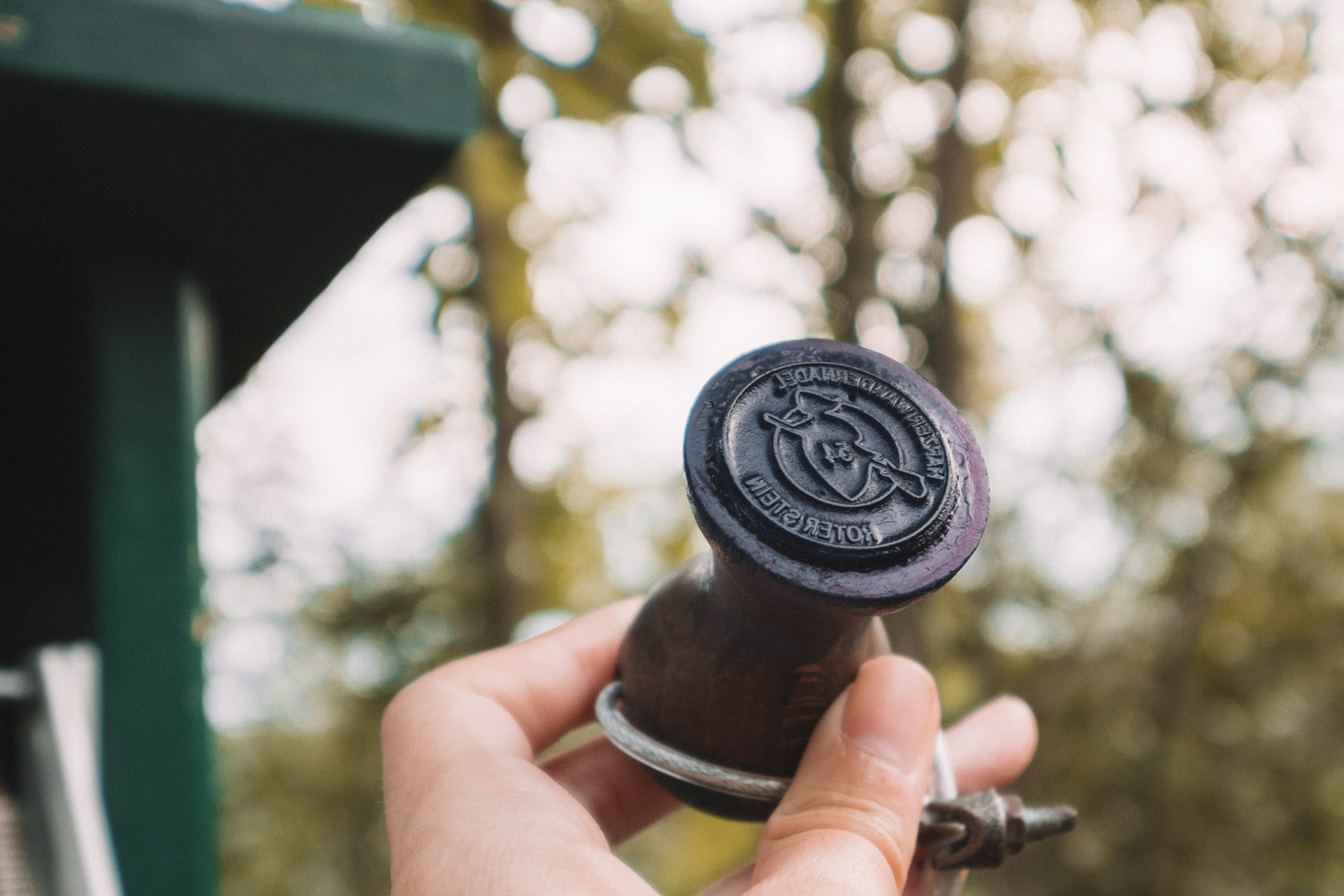 Each location has a number, and the booklet you pick up has a list of each and where to find them. Though sometimes, finding the stamp location can be an adventure on its own!
It's a fun, gamified way to explore the region while you seek out stamps in all sorts of obscure locations. Most locations will include a bit of hiking (which makes sense, given the name).
Here's an example of what one of the Stempelstelle (stamp locations) looks like: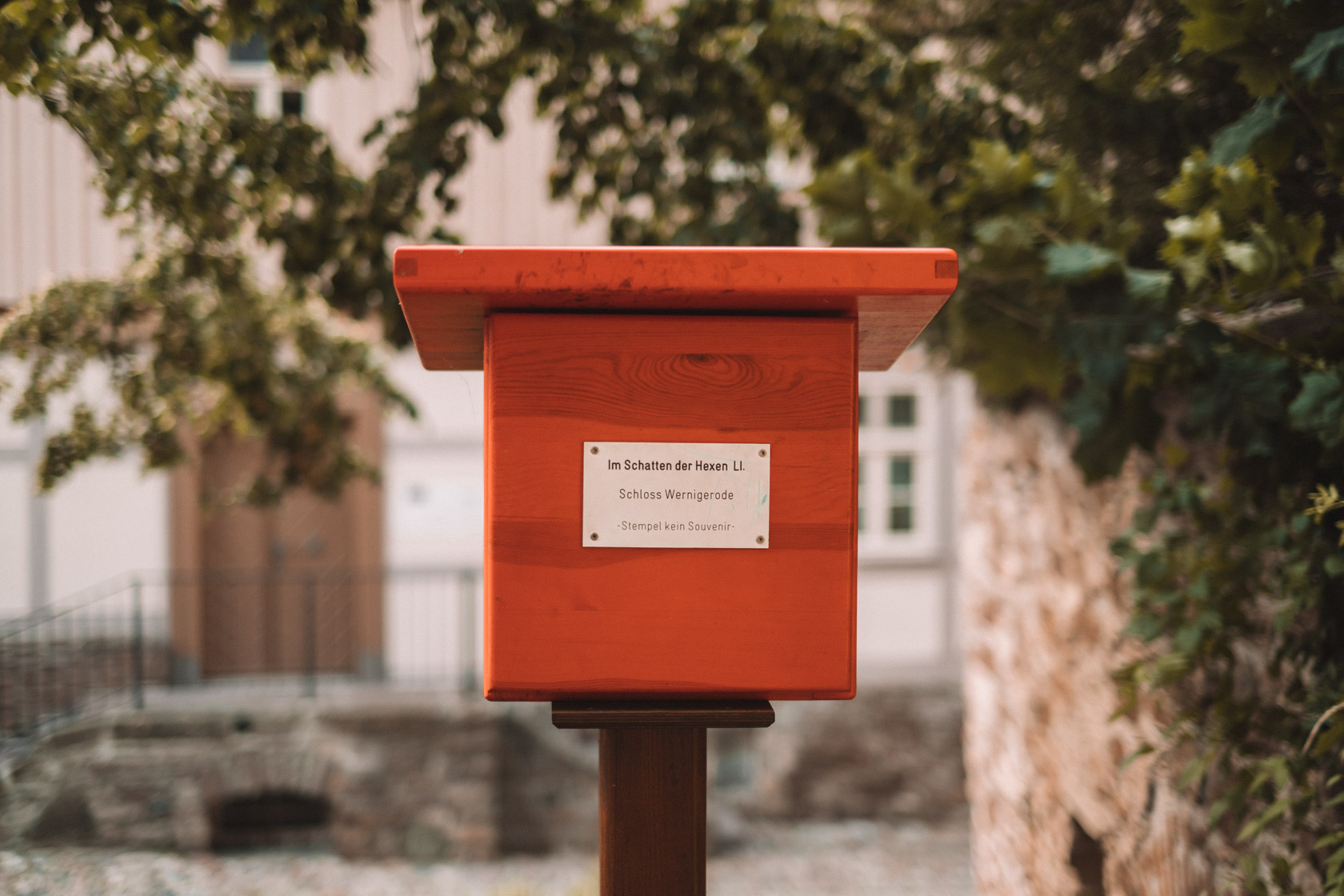 By the end of our weeklong trip, we were able to claim both the Bronze and Silver hiking pins! Beyond that you can also get a gold pin, and be crowned as the Harz hiking king or queen for collecting stamps at all 222 locations.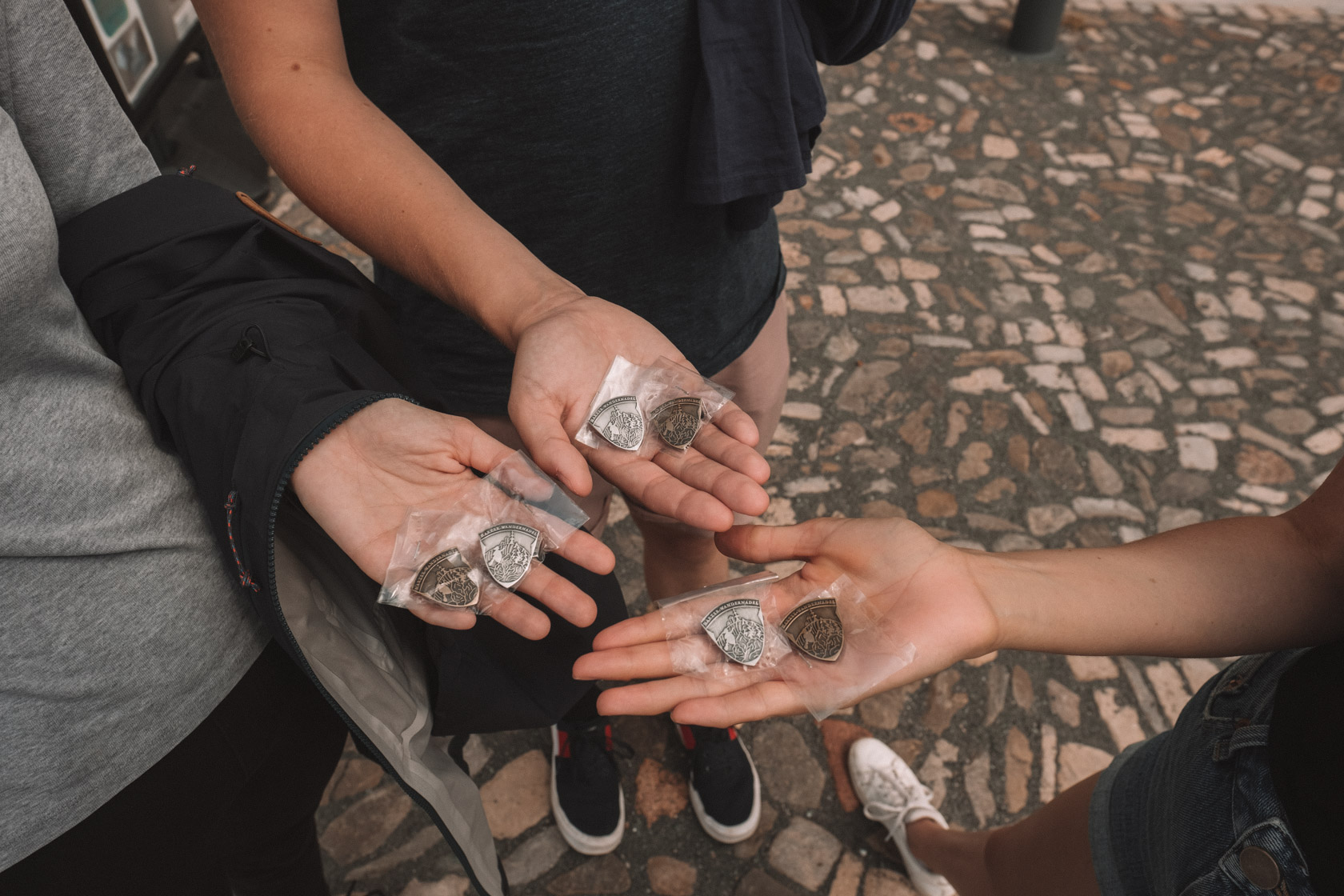 My top tip: Pick up the Harzer Wandernadel pass early in your trip, so you can get as many stamps as possible without needing to backtrack. We got ours at the tourism center in Wernigerode.
2. Hike the Bode Valley (Bodetal)
Bodetal is easily the top outdoor destination in the entire Harz region. Sometimes called the "Grand Canyon of Germany", this valley features lucious green forests and calming river sounds to keep you company on your hike.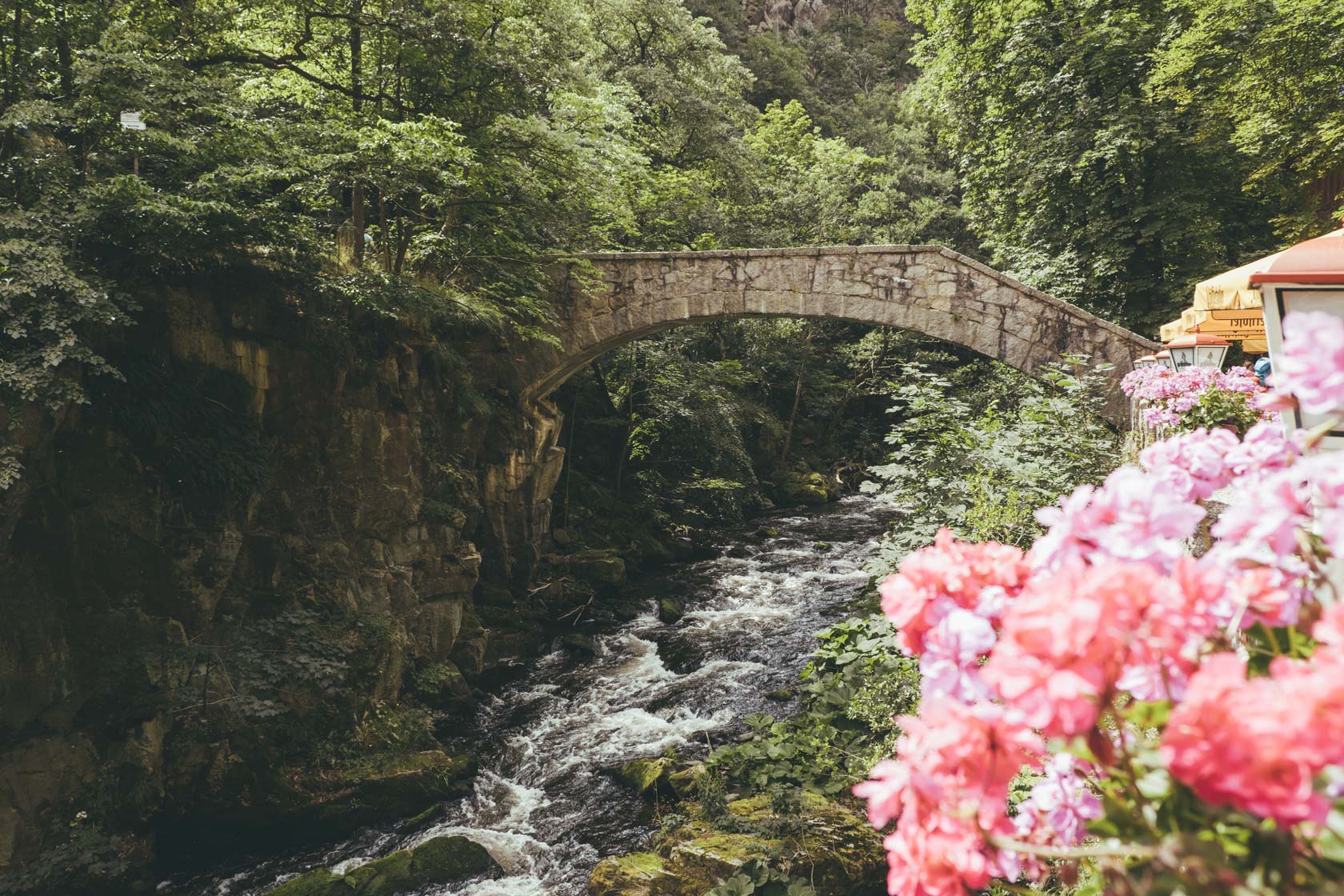 There are two main ways to hike the Bodetal: down next to the river, or at the top of the canyon. If you make it a roundtrip hike (10km there and back), you can theoretically take both paths.
If you want to really hike through the more forested areas, then you'll enjoy the lower path. The hike starts out with a wide, almost paved path and after the Jungfernbrücke gets more rocky and more like a typical hiking path.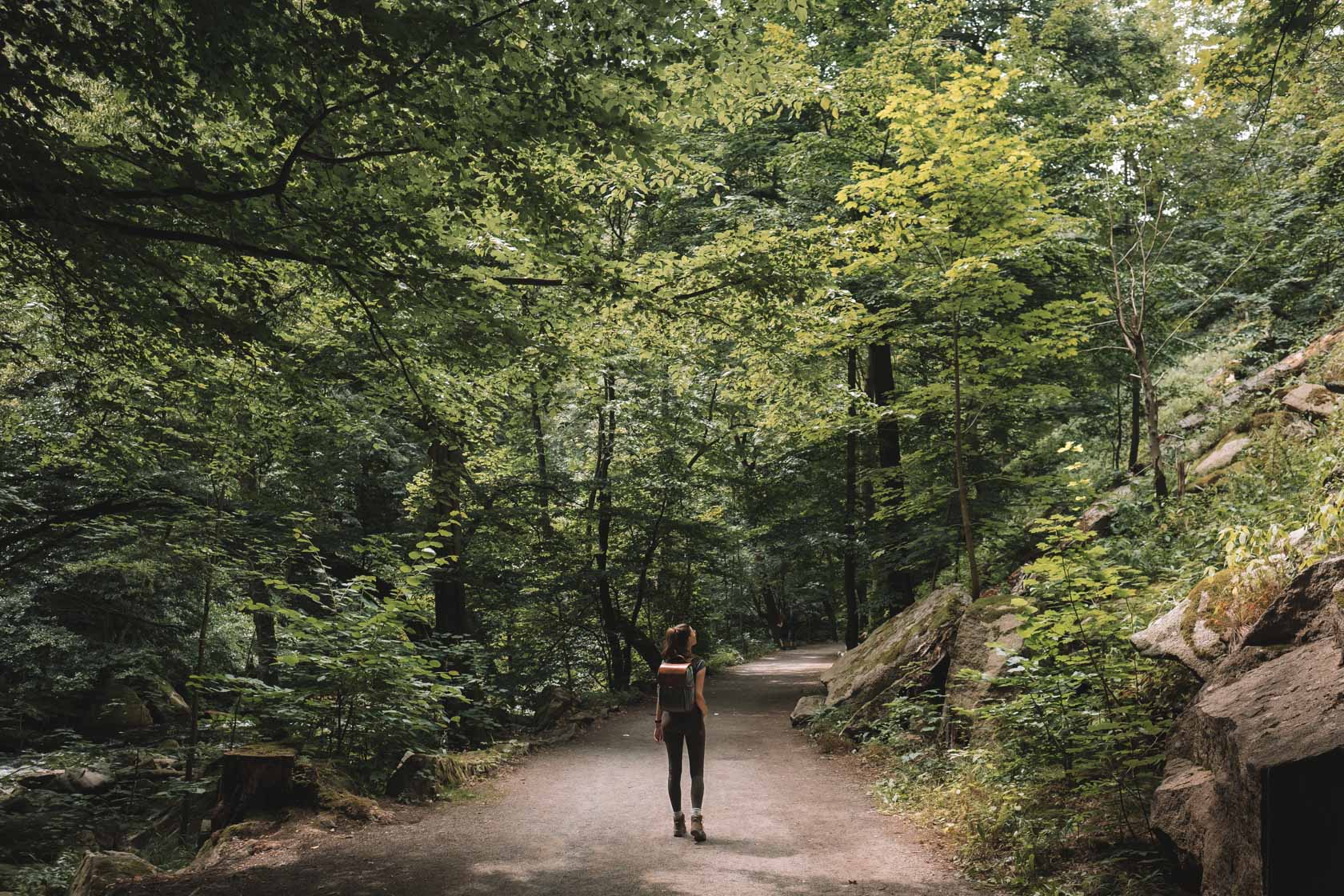 Definitely bring food for lunch, and plenty of water. This hike took us something like 5 hours to complete at a leisurely pace, stopping for photos/video, and admiring the valley.
If you're not up for the full hike, just hiking to Jungfernbrücke is a popular, and very short path. There's a restaurant at the end which will be very busy if you arrive around lunch.
The most popular way to do this hike is to start in Thale and do it as a one-way hike ending in Treseburg . From there, you can call a taxi or take a (very infrequent) bus back to Thale. Make sure to bring cash (30€ at least), in case the taxi doesn't accept card.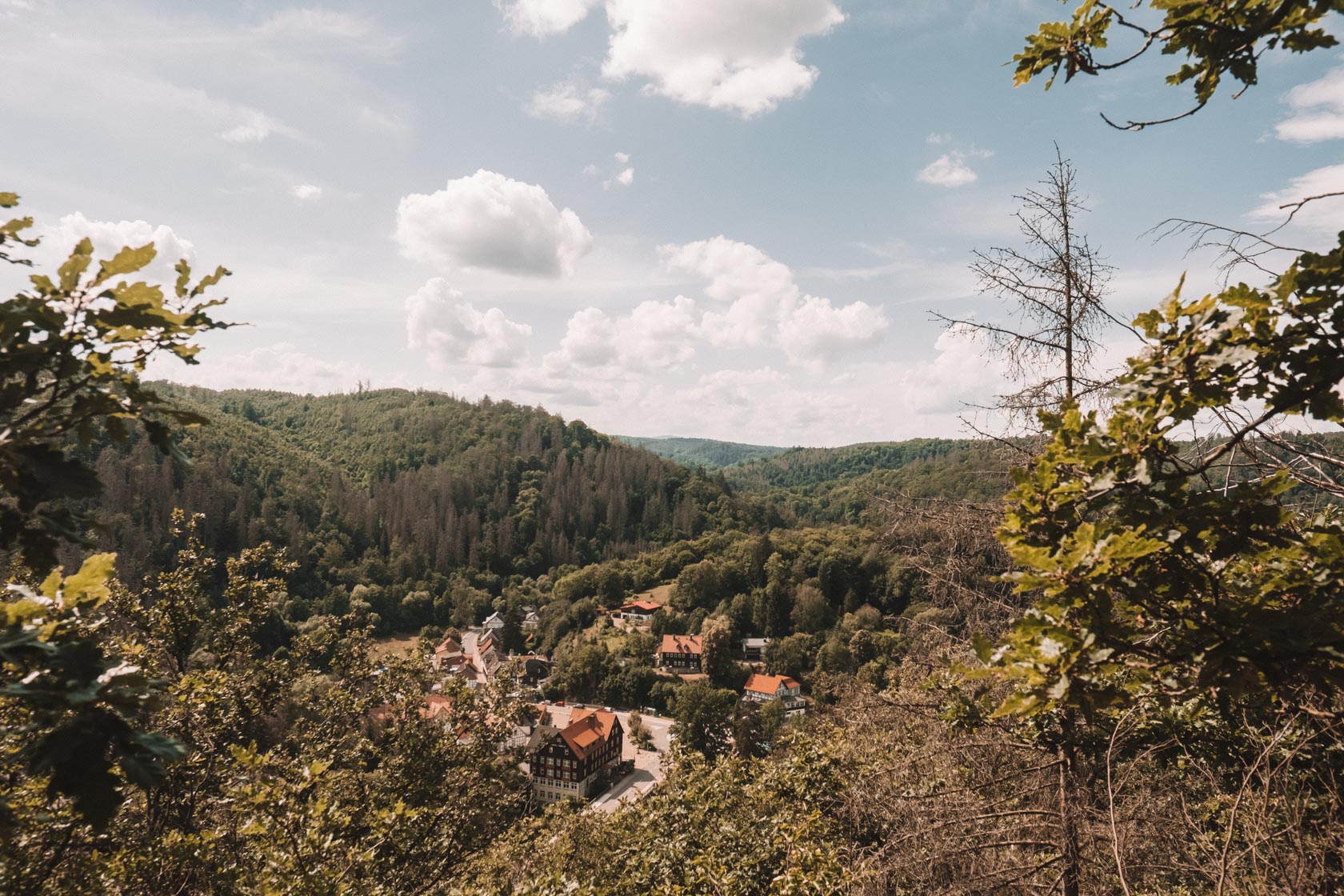 There's not much going on in Treseburg, so I wouldn't plan on it for more than a post-hike refreshment. You'll see prettier towns during your Harz trip.
3. Climb the Agnesburg for a view of Harz's best castle in Wernigerode
I'd be lying if visiting the Schloss (castle) in Wernigerode wasn't towards the tippy-top of my Harz itinerary. This stunning castle can be seen from many angles in Wernigerode, but the best is undoubtedly from the viewpoint at the top of Agnesburg .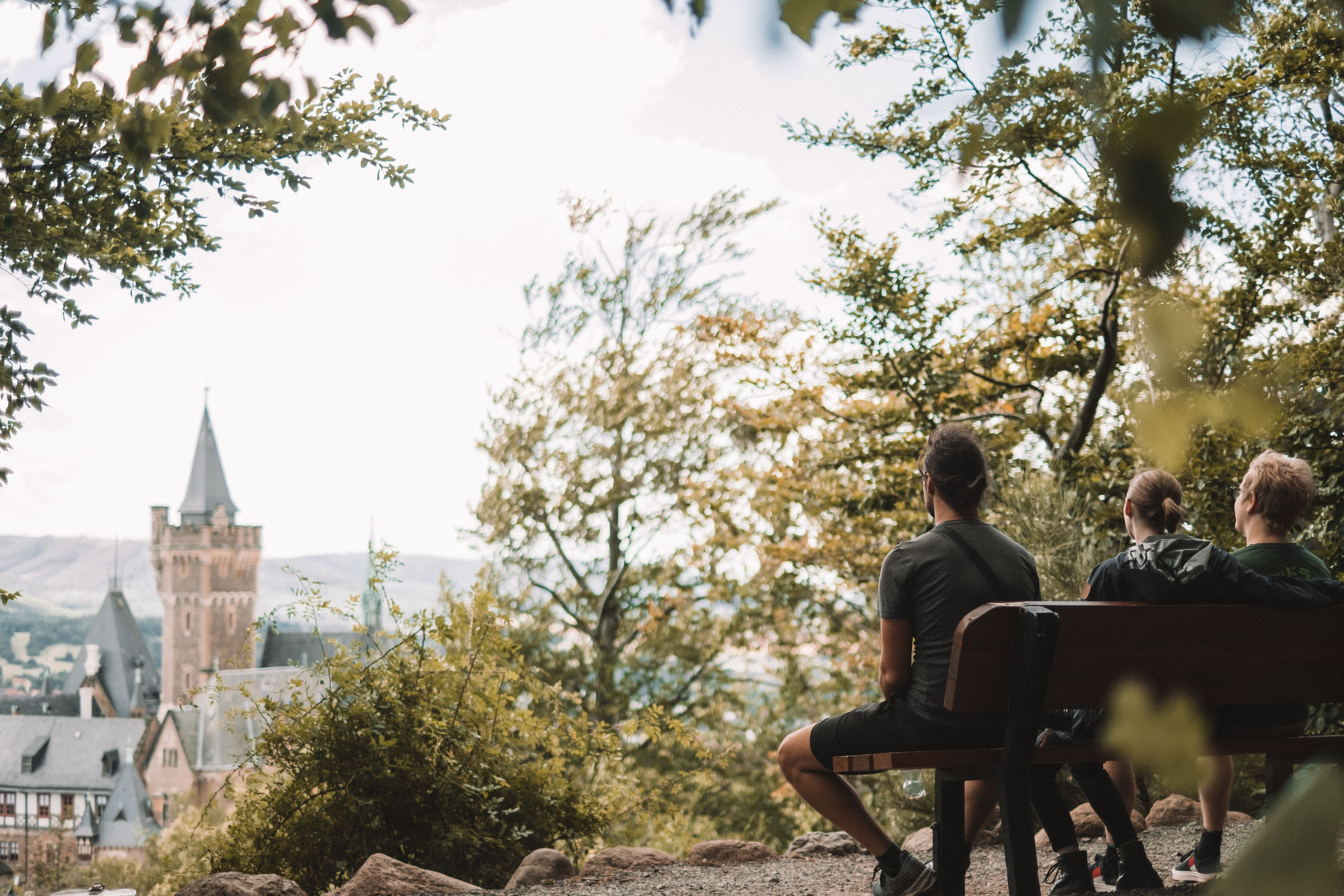 The hike up here wasn't long, but it's all uphill and is a little confusing with all the winding paths. But if you make it, and catch a glimpse of sunshine, you'll be rewarded with stunning views of Schloss Wernigerode.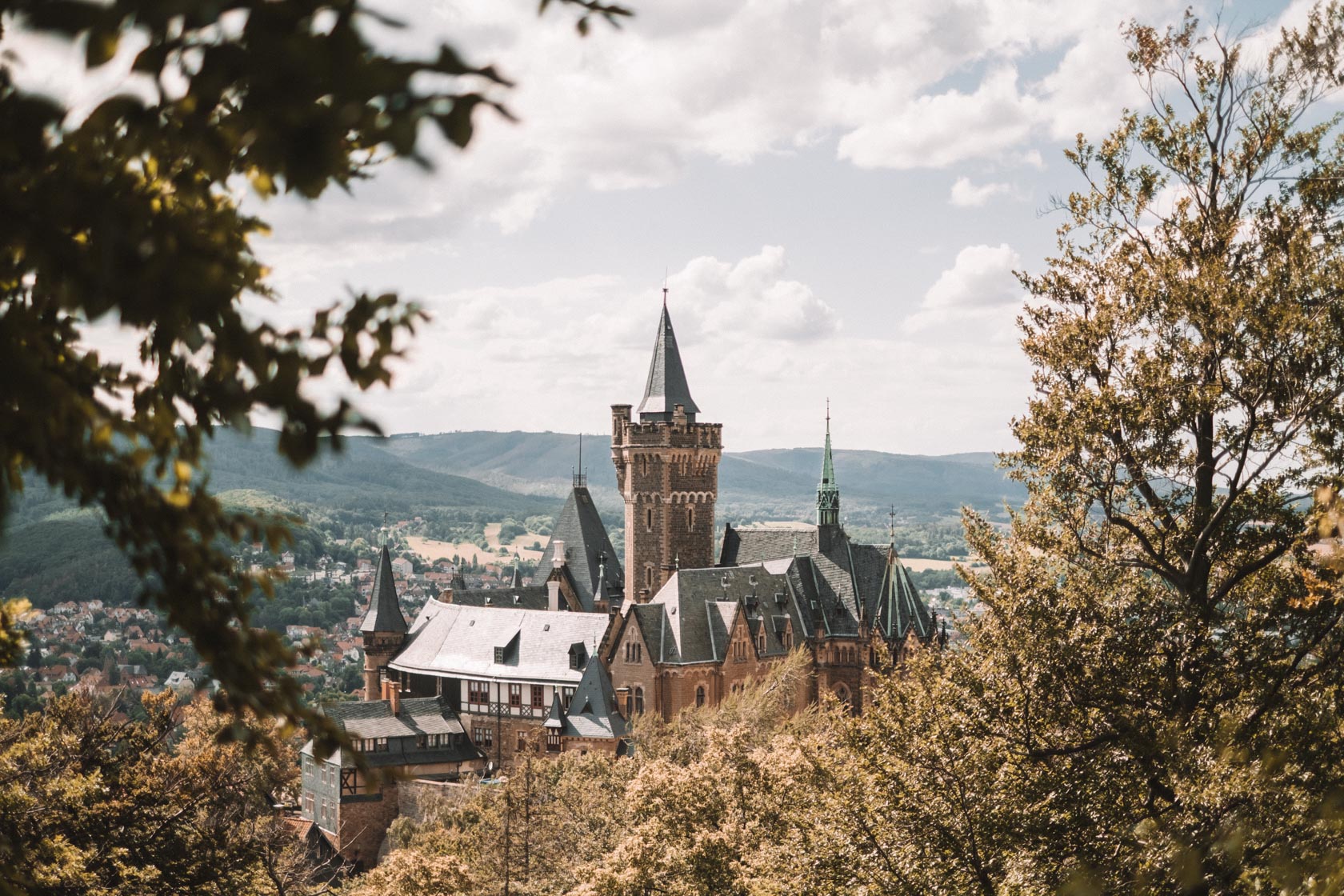 At least when we went, there weren't a ton of people at the top. This meant we had time and space to ourselves to take photos and enjoy the view. I certainly enjoyed some nice bench time after the uphill hike.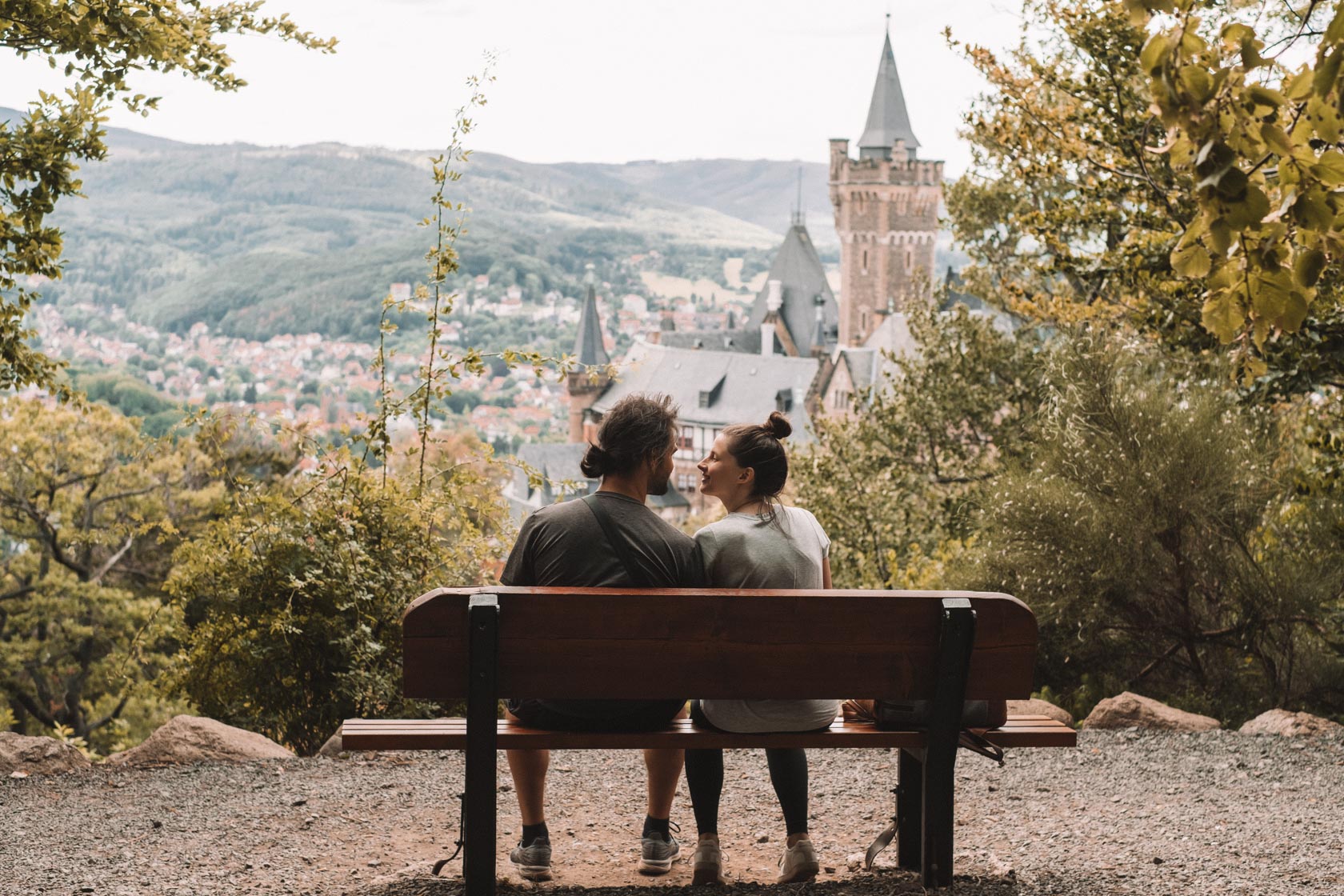 4. See the famous orange town hall in Wernigerode
While you're in Wernigerode, you can't miss the famous Rathaus (town hall) in the main square. It clearly looks like something out of an old witches tale, with its ominous pointed spires and half-timbered exterior.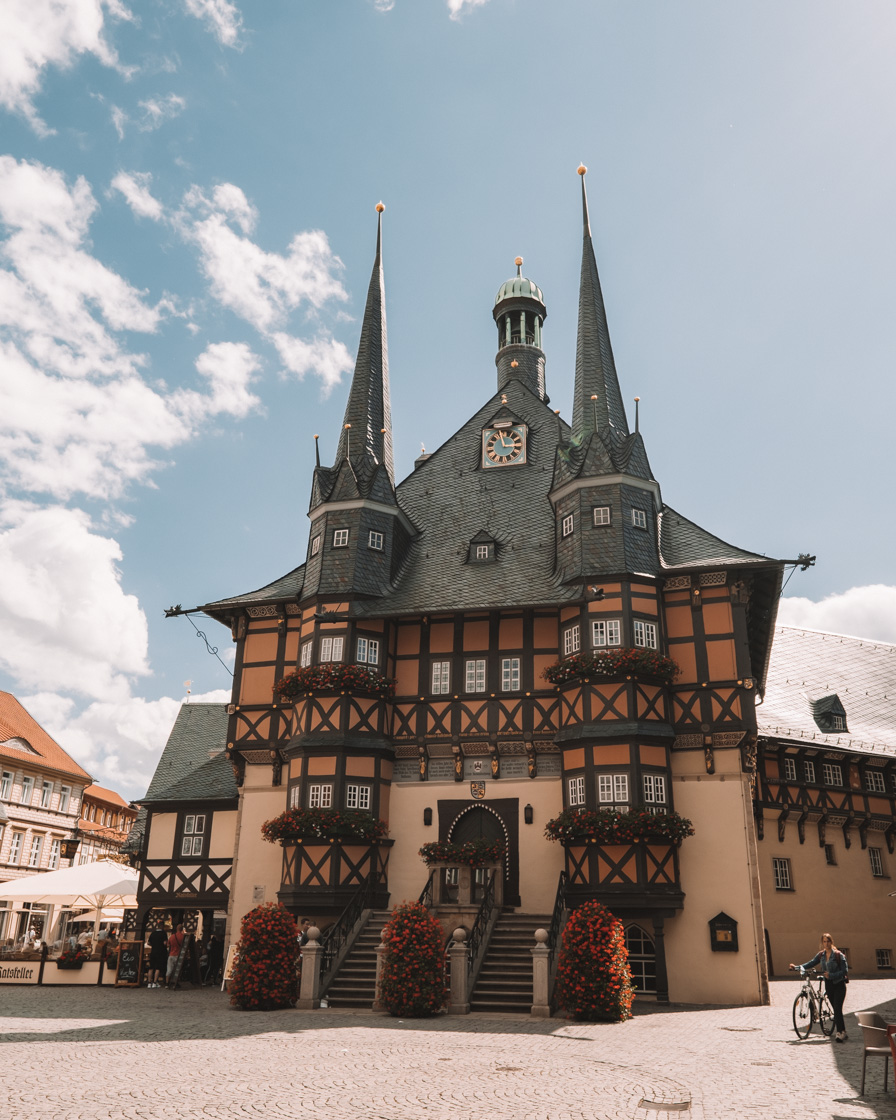 Attached is a cafe, and behind it on the left you'll find the Wernigerode tourism office (where you can pick up your Harz Hiking Pass!).
Wernigerode has plenty more scenic streets while not being a huge town. Your main challenge will be finding parking, as it's one of the most popular spots to visit in the entire Harz region. Its popularity is also reflected in steep prices for food and coffee.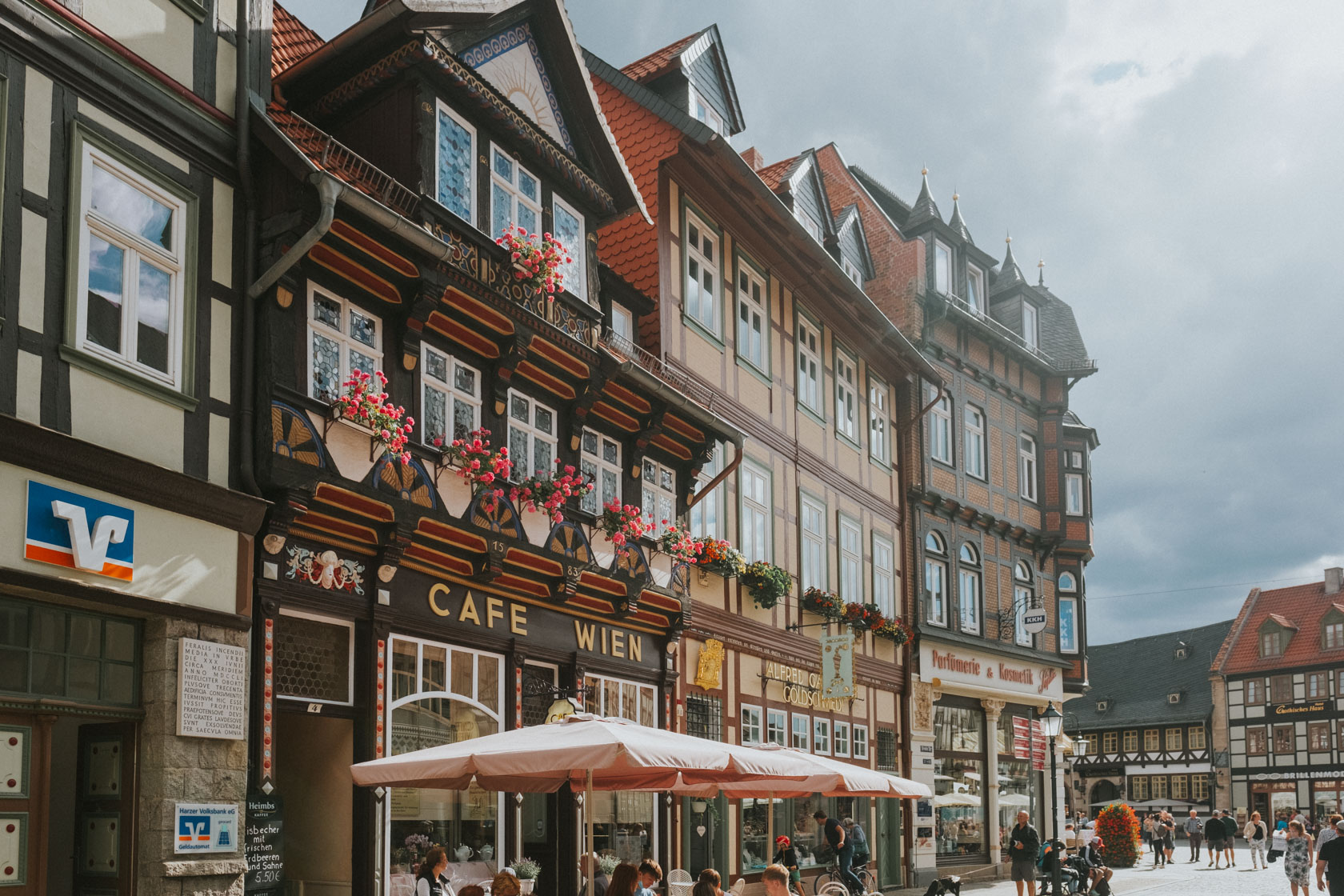 Come early to avoid the crowds, or later in the afternoon when they've all emptied out. The morning is best for pictures because that's when the Rathaus has direct sunlight.
5. Hike the Ilsenburg (or go all the way to Brocken)
While the Bodetal is inarugably the most popular hike in Harz, I'd venture to say that Ilsenburg is even prettier. Both have beautiful forested pathways you can wander along for hours, but what Ilsenburg offers is a lot of variety along the way.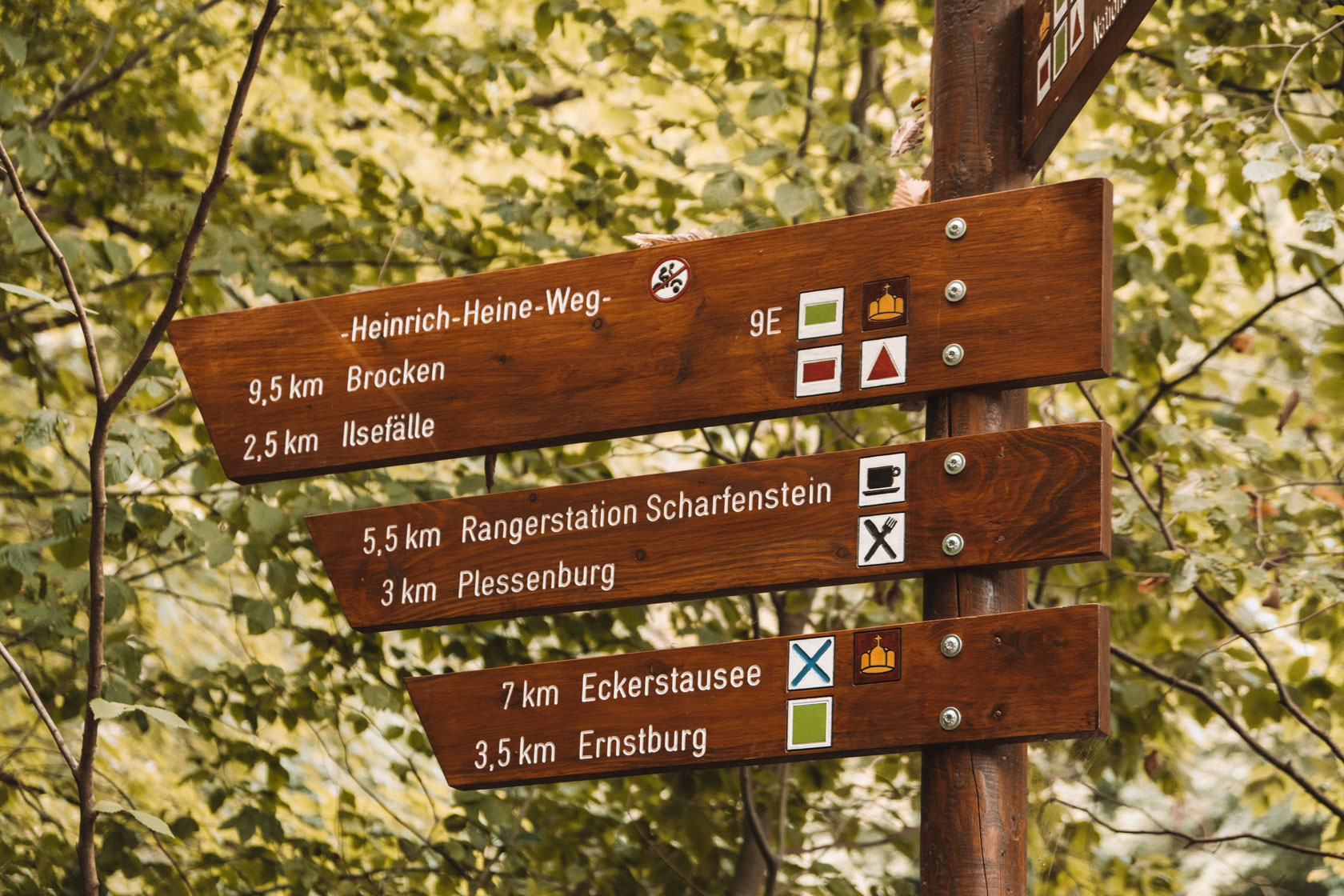 Your first stop on this hike will be the Ilsenburg Lower Falls, a great spot for a picnic and some photos from the bridge. We thought that the lower falls looked even better than the upper falls, which you'll reach later.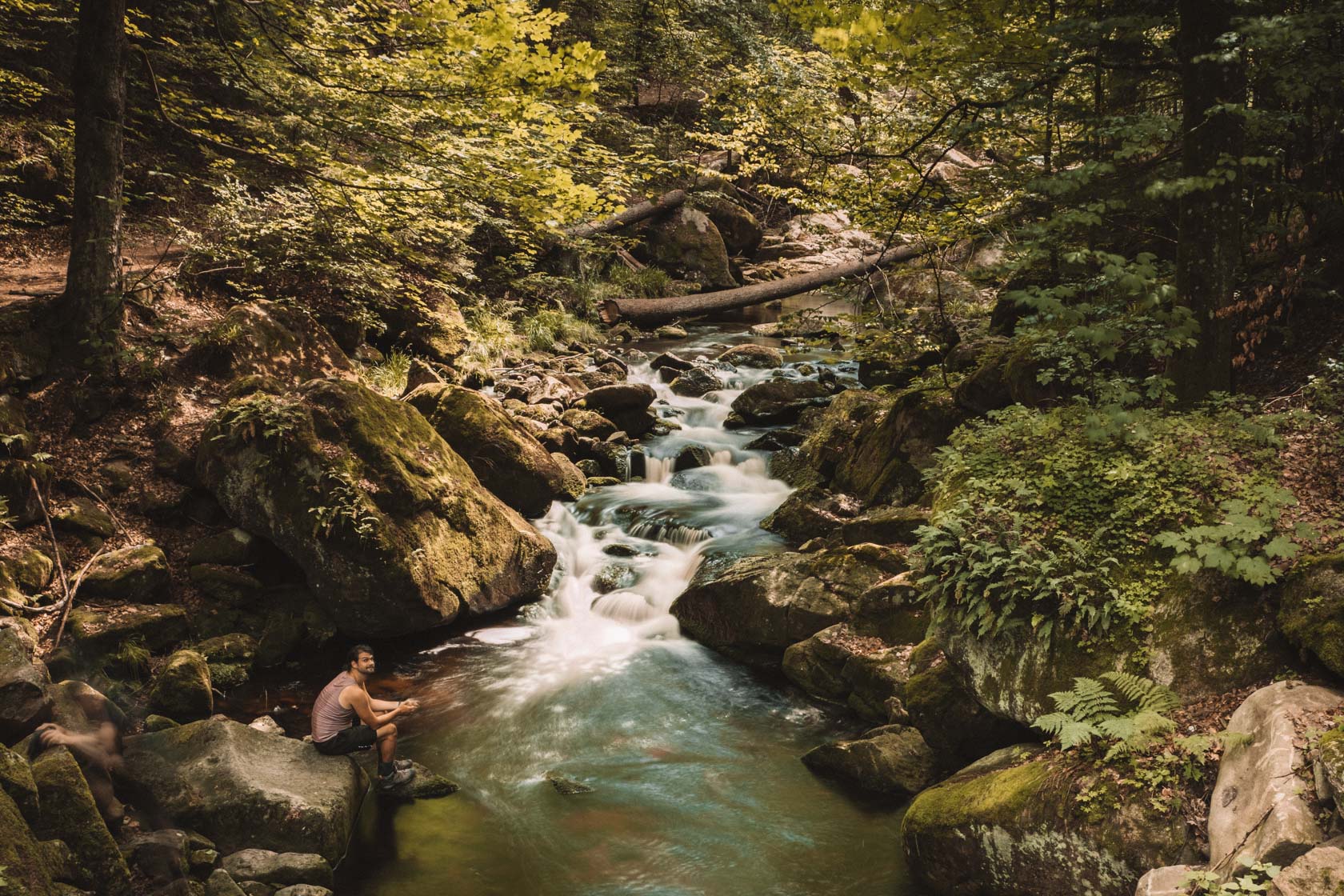 Along the way there are also a lot of little detours you can take to scenic viewpoints (and more hiking stamps!). You can easily just keep an eye on sign posts, and check in your hiking pass whether the locations are named.
One great place to get a view over the valley is Ilsestein .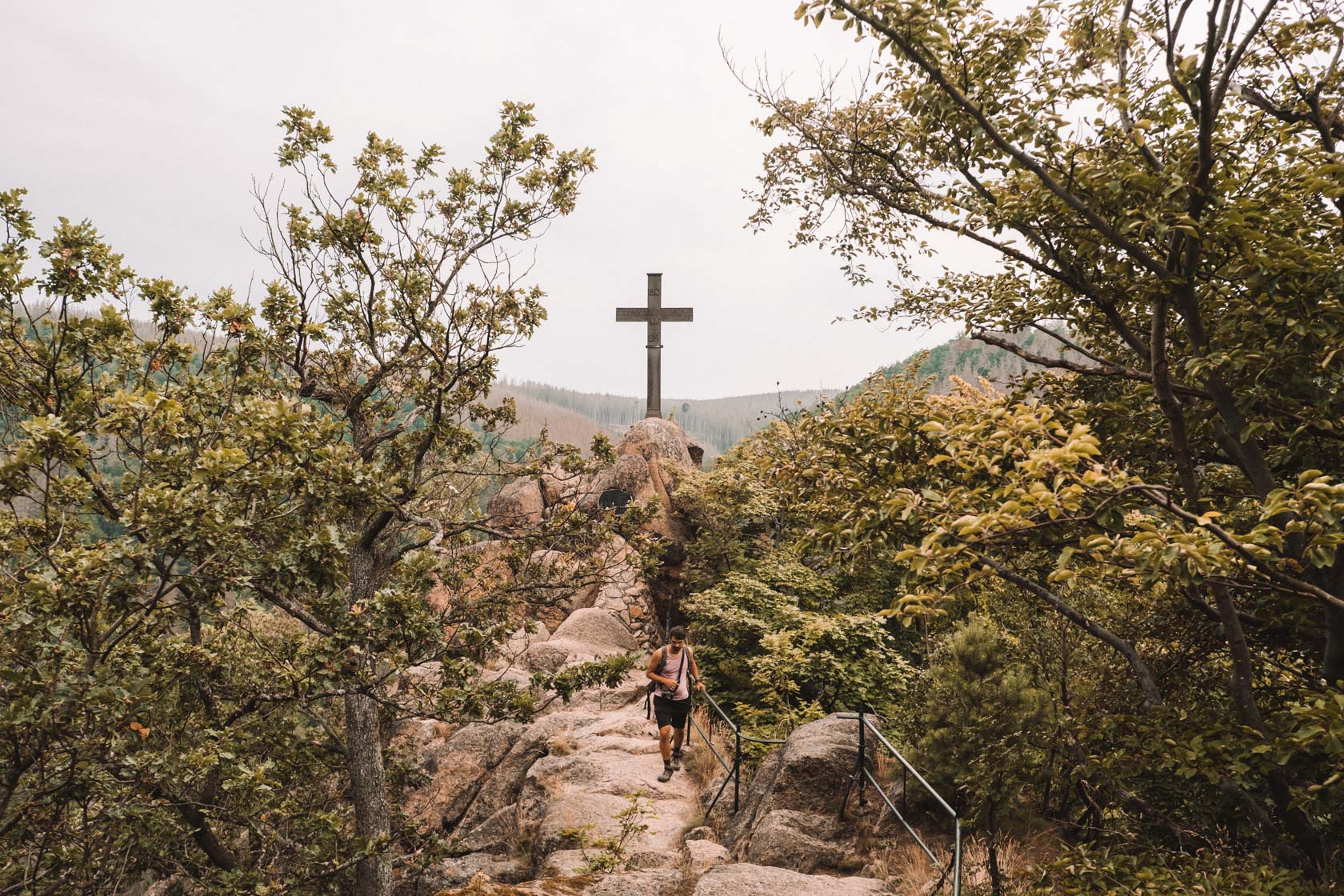 You'll also find a lot of self-described Klippe ("cliffs" in English). Like this one below called Gebertsbergklippen , which does not exist as a location on Google maps: a common issue in Harz.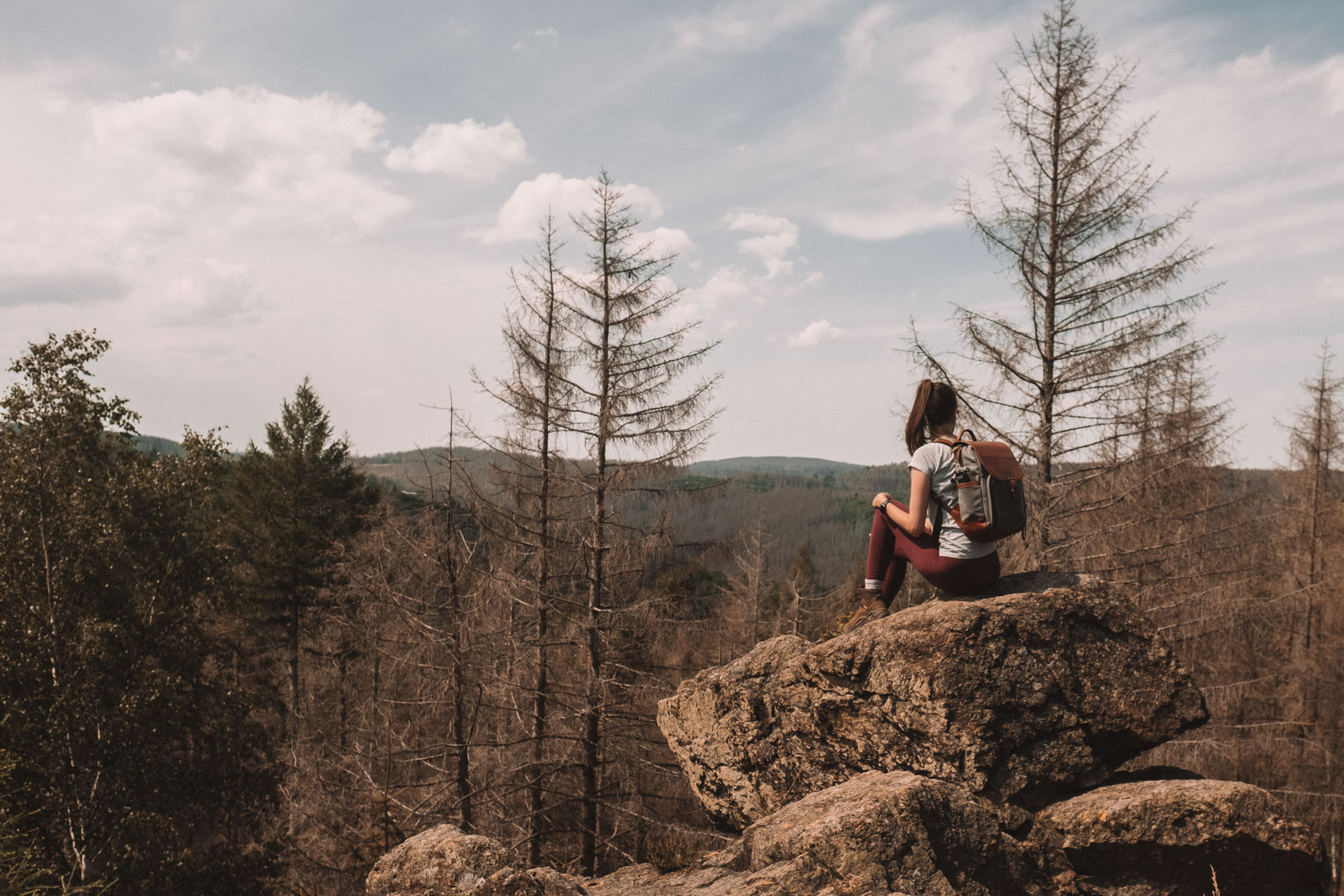 Towards the end of our hike, we landed in Plessenburg . Here we could collect a hiking stamp, and down a Radler for refreshment. But it's possible to hike all the way to the highest point in the Harz, the Brocken.
5. Have a coffee in Germany's most beautiful village, Stolberg
Stolberg was rated Germany's most beautiful village a few years ago, and if you're one of the few people to visit you'll see why.
This cute town in the South of Harz used to be much more popular with tourists. But in recent years, people have flocked instead to the bigger towns of Quedlinburg and Wernigerode instead. Better for you, as you wander the streets of this adorable village, ice cream in hand!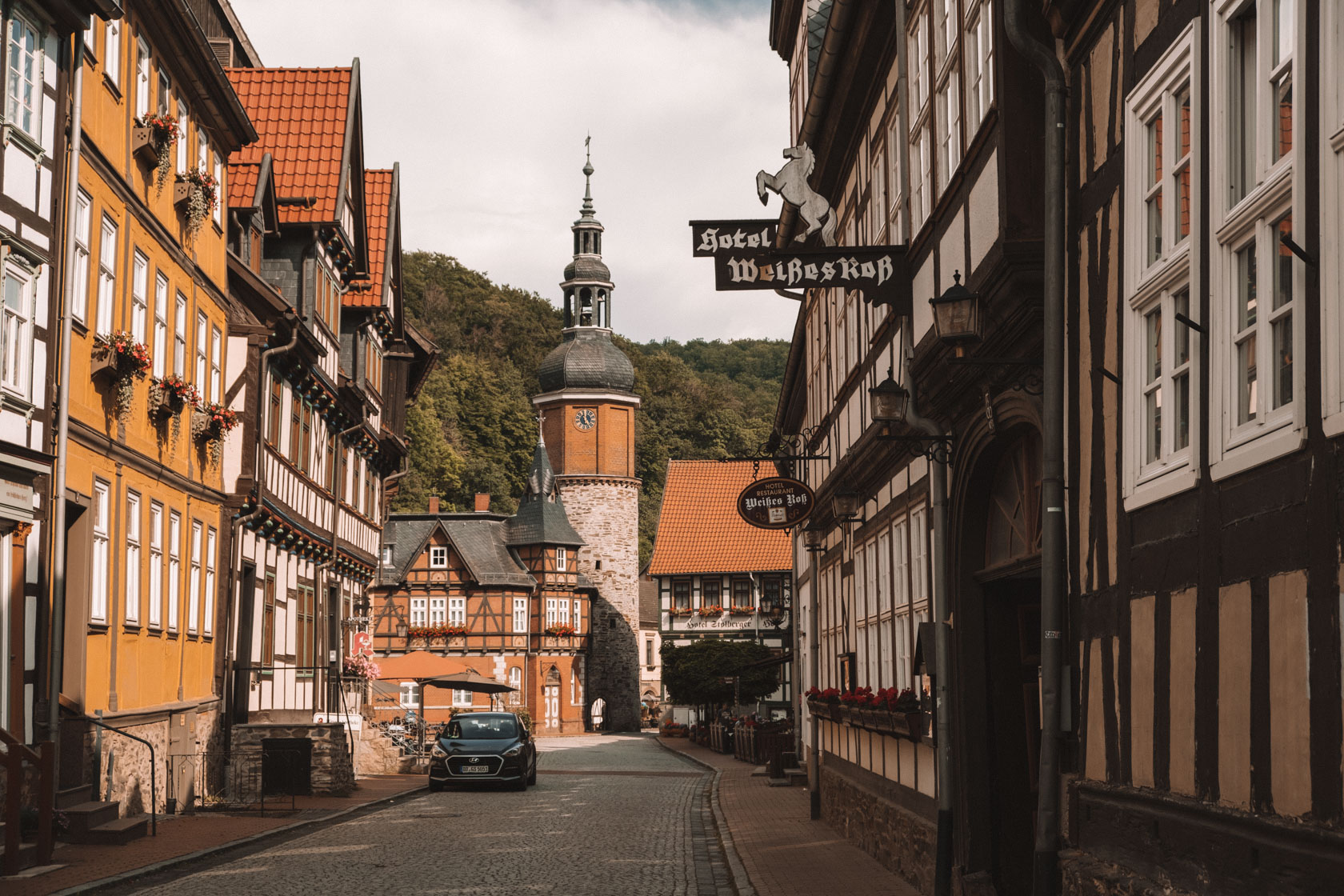 Come here for a coffee on the main square, and visit the next spot on the list: the Luther Beech forest just outside of town.
6. Walk up to the Luther beech forest for a view of Stolberg palace
After you've seen Stolberg, climb the path to the Luther Beech Forest. It's named after Martin Luther, who apparently came to Stolberg and stopped to rest and reflect at this spot.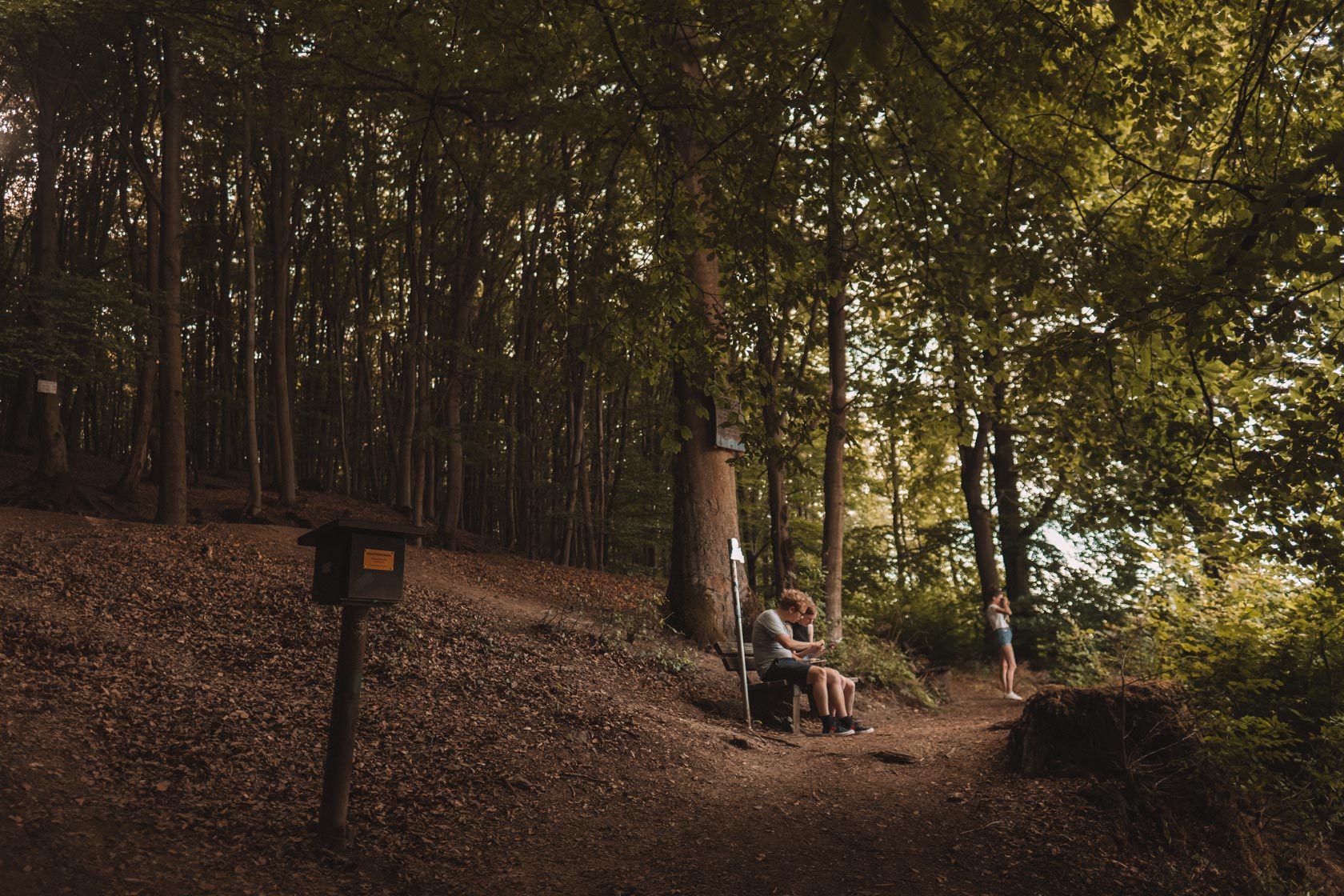 There's a wooden plaque attached to a tree that claims Luther compared the town to the shape of a bird. Whether or not that makes any sense is for you to decide, as you peer over Stolberg and its castle.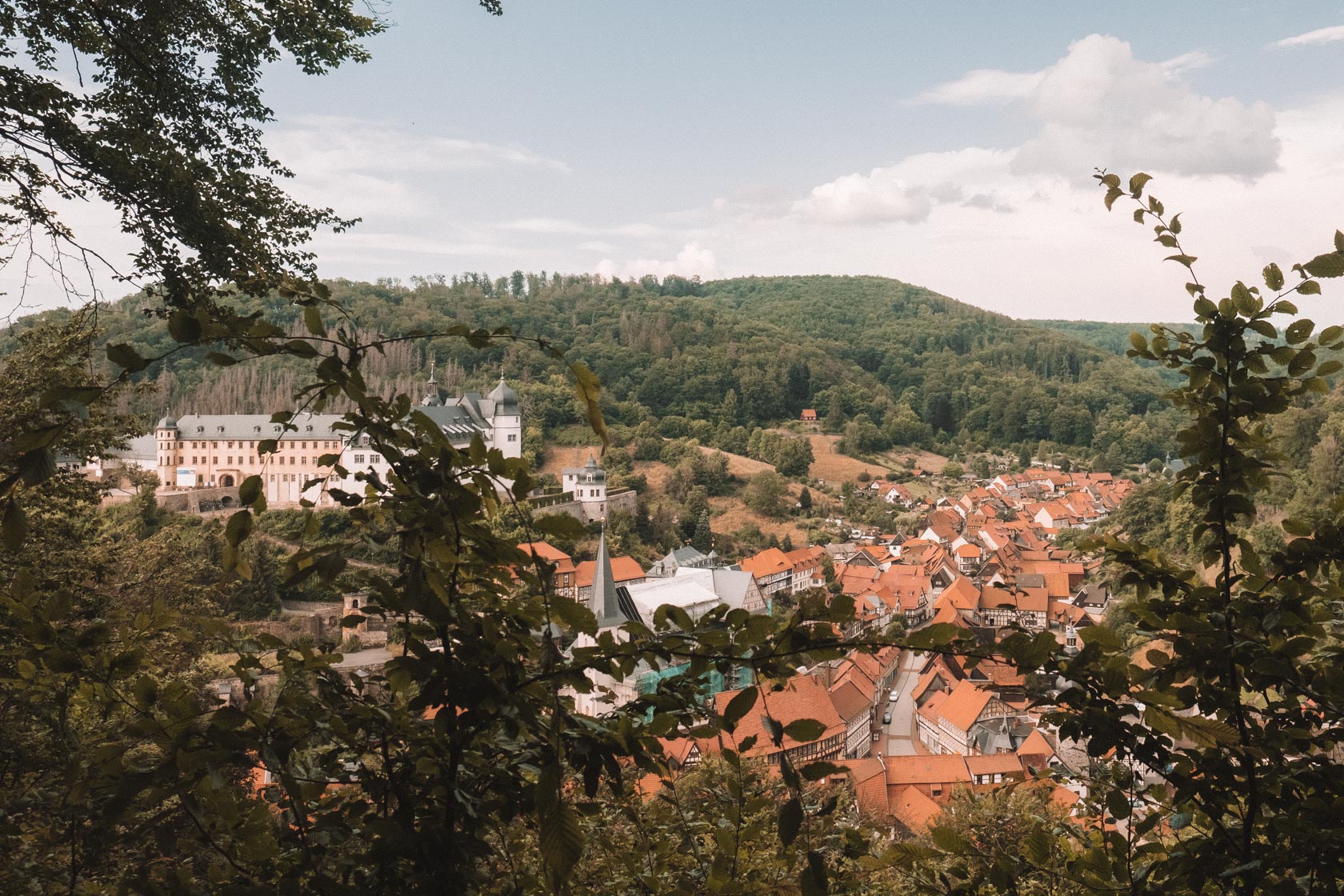 As usual, you can collect a stamp here for your Harzer Wandernadel.
7. Ride the Brockenbahn
The Brockenbahn is what's called a Schmalspurbahn, which translates literally into "narrow-guage train". This steam-powered train is a blast from the past, and traverses 140 kilometers of narrow guage railway throughout the Harz region.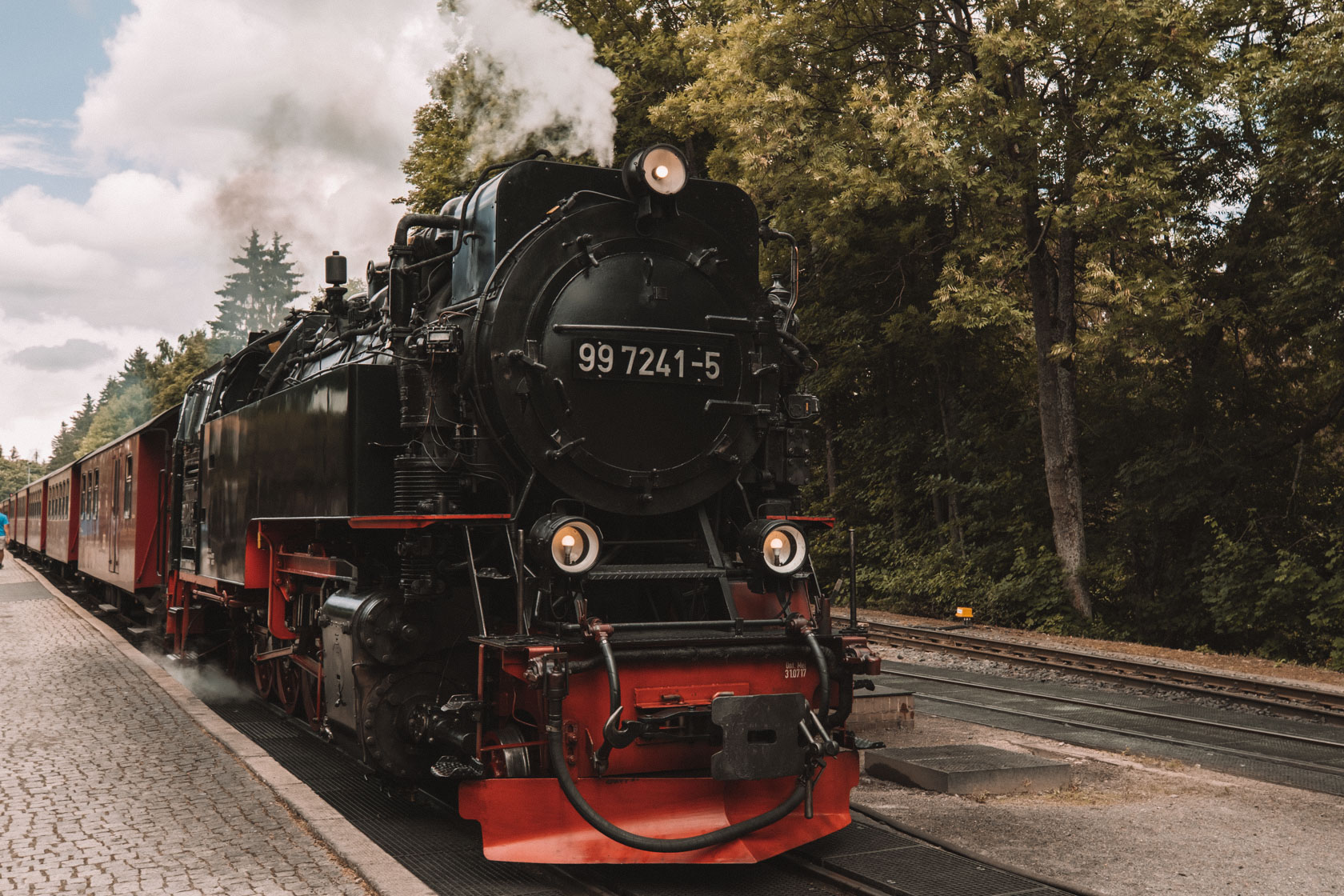 It's called the Brockenbahn because you can take it all the way up to the Brocken, which is the highest mountain in the region at 1,141 meters (3,743 feet) above sea level. This particular line was completed in 1899.
You can ride the Bahn for 34€ as an adult (one-way), or 51€ (return trip). That is to say, it's not cheap especially considering how short the ride is.
If you just want to snap some photos, the best place to get a glimpse of the Brockenbahn is at stations like Drei Annen Hohne .
8. See over 16,000 half-timbered houses in Quedlinburg
Quedlinburg includes a castle, church, and old town which were all added to the UNESCO World Heritage List in 1994. The town contains over 16,000 half-timbered houses and is one of the best-preserved examples of a medieval and Renaissance towns in all of Europe.
This is because it escaped much of the bombing in Germany during World War II.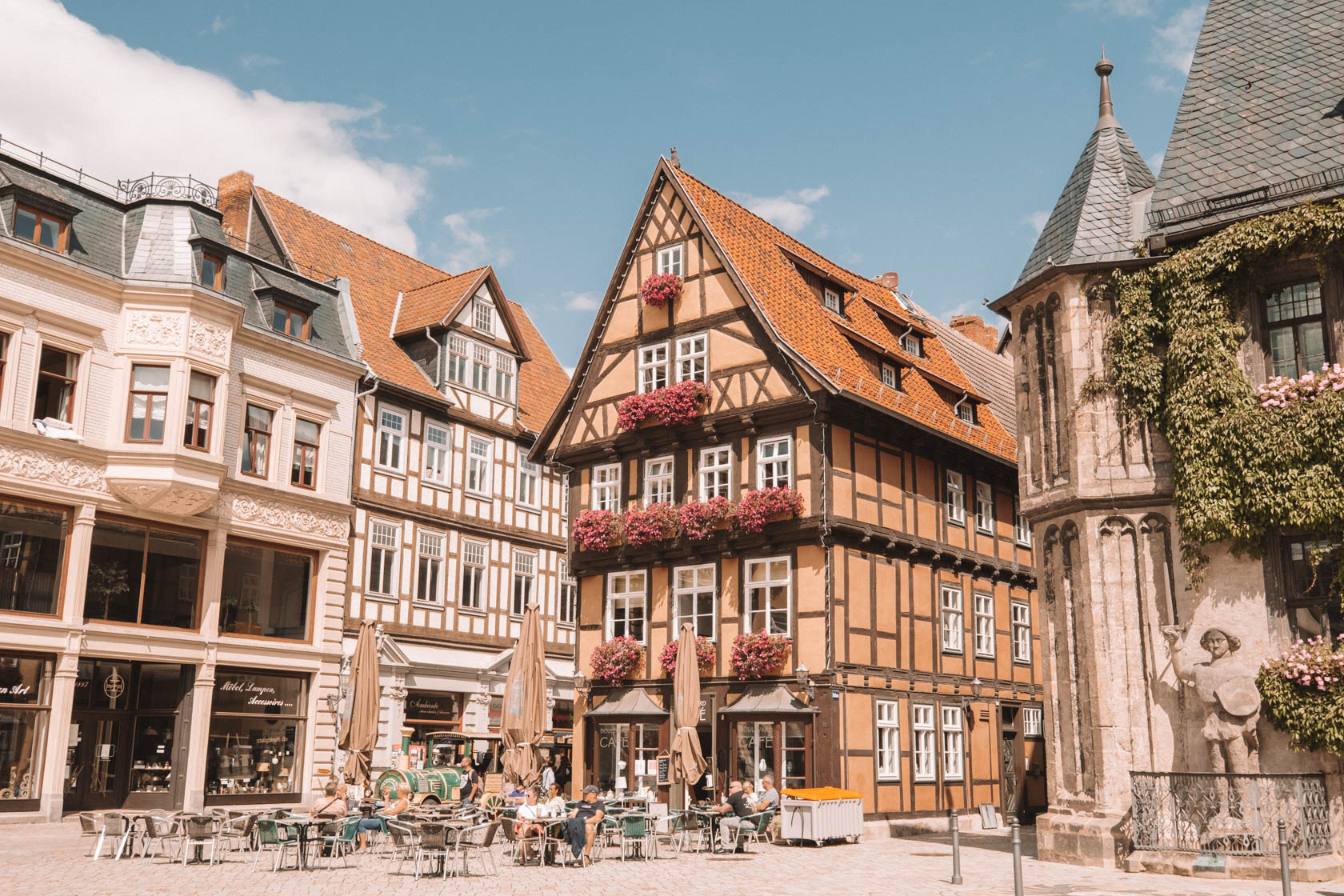 In fact, the buildings in Quedlinburg are from at least five different centuries. One of which, is from the 14th century and one of Germany's oldest buildings. And you thought you had to go to Munich to see traditional Germany? Not so!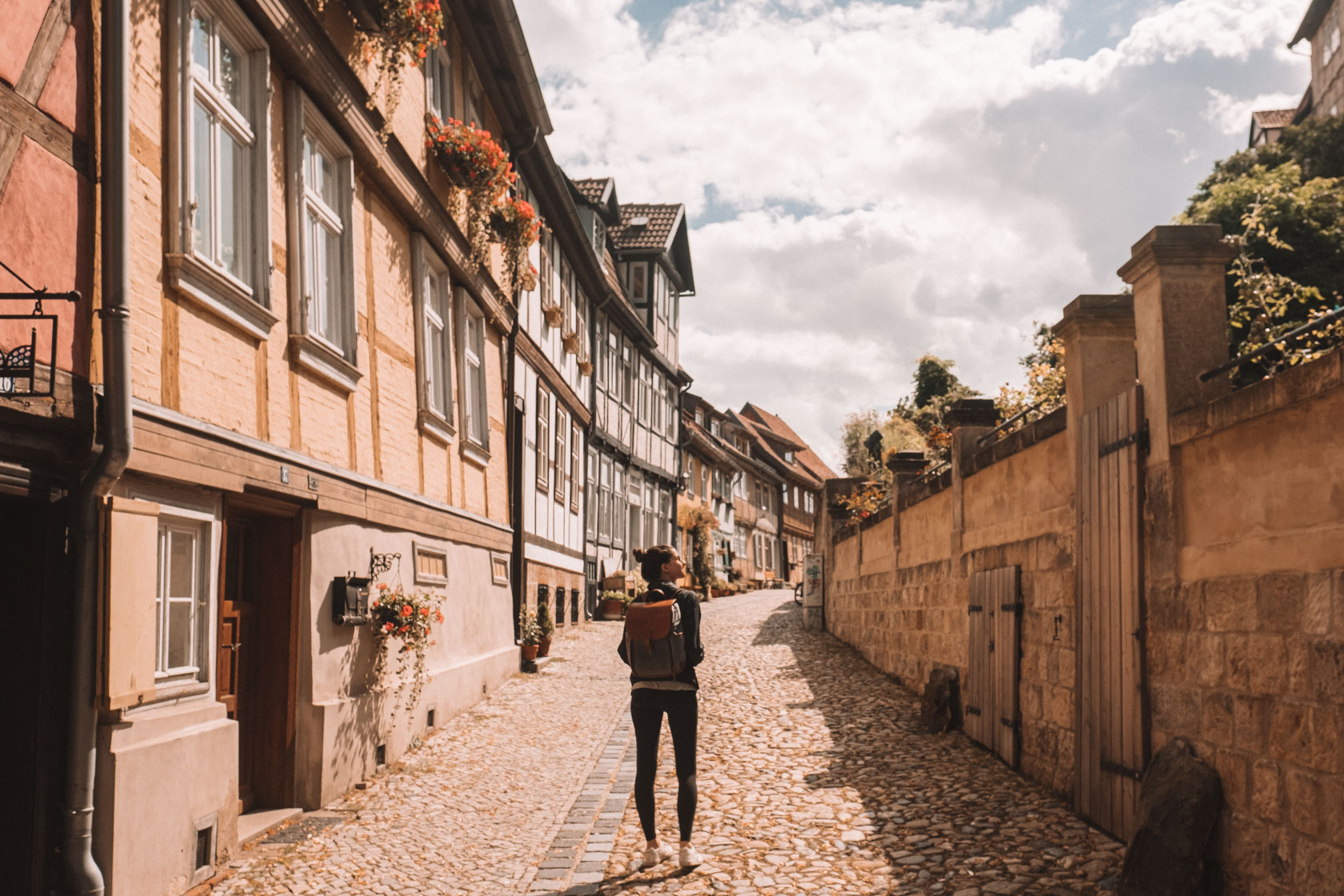 Among domestic tourists, Quedlinburg is probably more famous for its Christmas market, with hotels and guest houses selling out months in advance. Can you imagine something more quintessentially German than a Christmas market in a town that looks like this? I think not.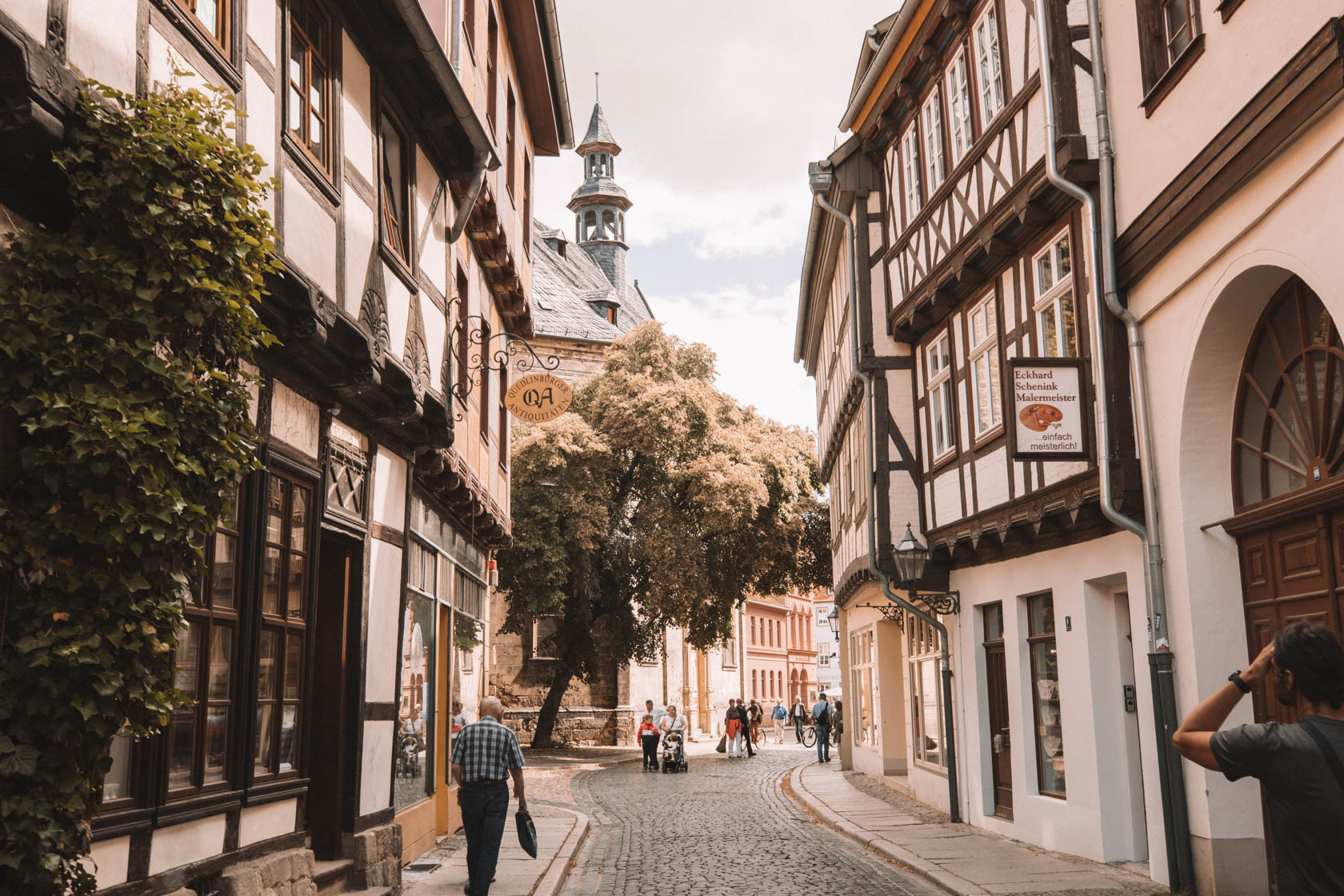 9. Go inside one of Germany's only surviving Stave churches
Stave churches are ornate, wooden churches that were once common in North Western Europe but few survive today. The most famous examples are located in Norway, but a precious few churches in this style survive in Europe. As you can probably imagine, being made of wood, they had a nasty habit of burning down.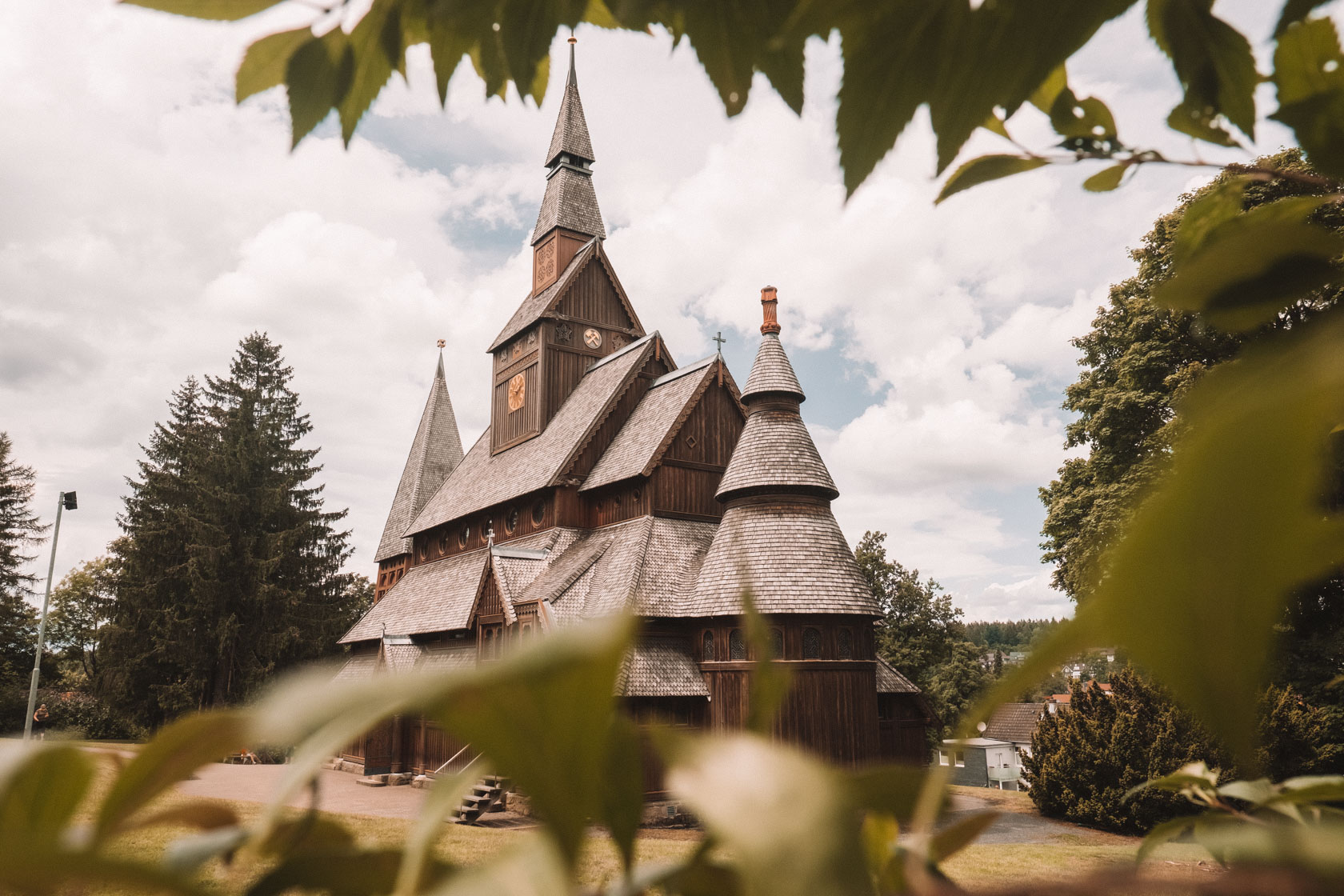 The Gustav Adolf Stave Church is actually more of a replica of older churches, in particular the Borgund Stave Church located in Norway. As such, it was only constructed in 1907.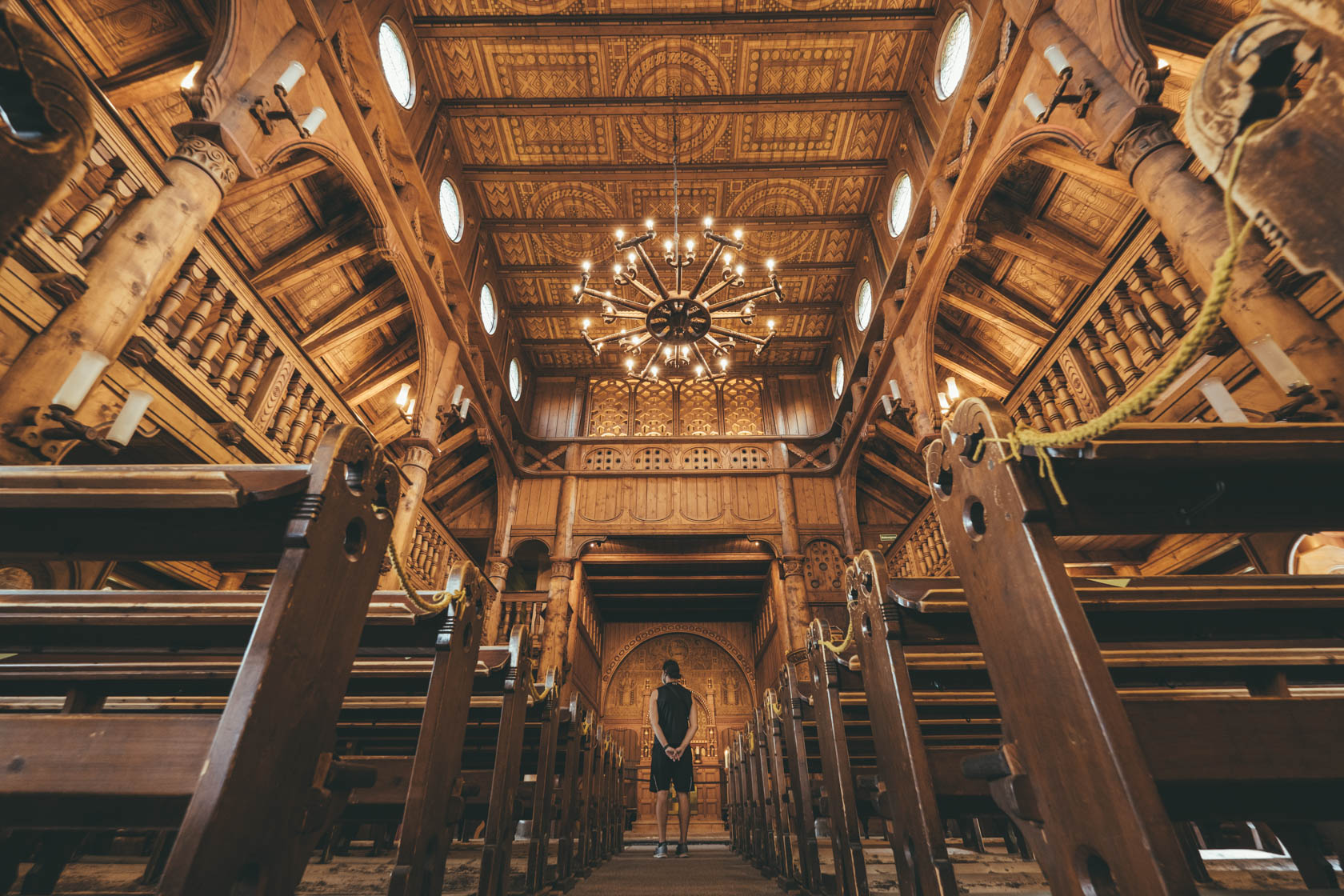 The church is located in Hahnenklee and you can go inside for a small fee.
10. Climb to the top of Josephskreuz in South Harz
On your way to Stolberg, stop by the Josephskreuz where you can climb up this steel structure to get a view over the entire South Harz region. It was inaugurated in 1896 and is held together by about 100,000 rivets. From the top, you're about 38 meters above ground.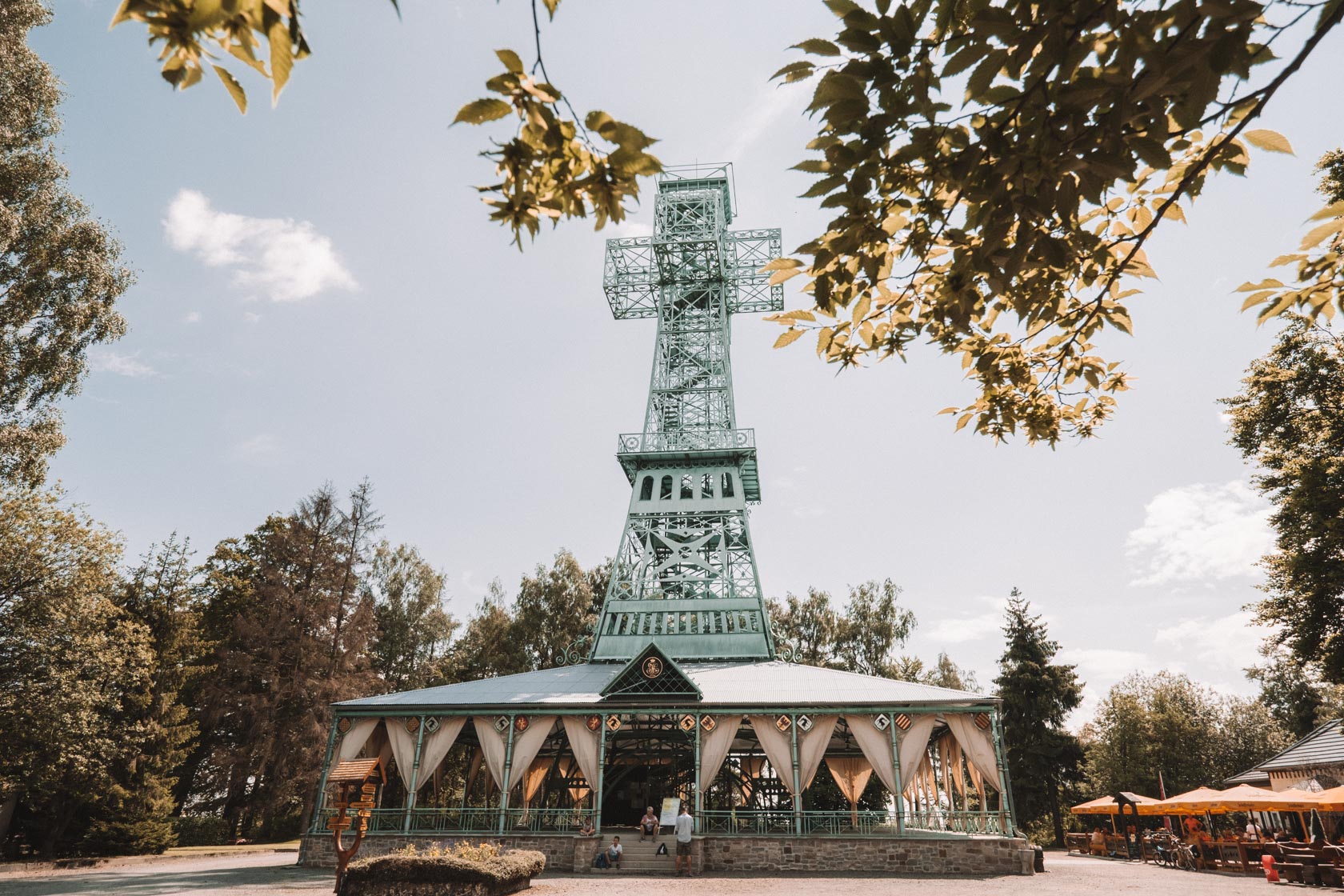 To reach Josephkreuz, you'll start on a forest path marked by these two creepy children carvings. Go through and it's about a 20-30 minute walk from the parking lot up to the Kreuz.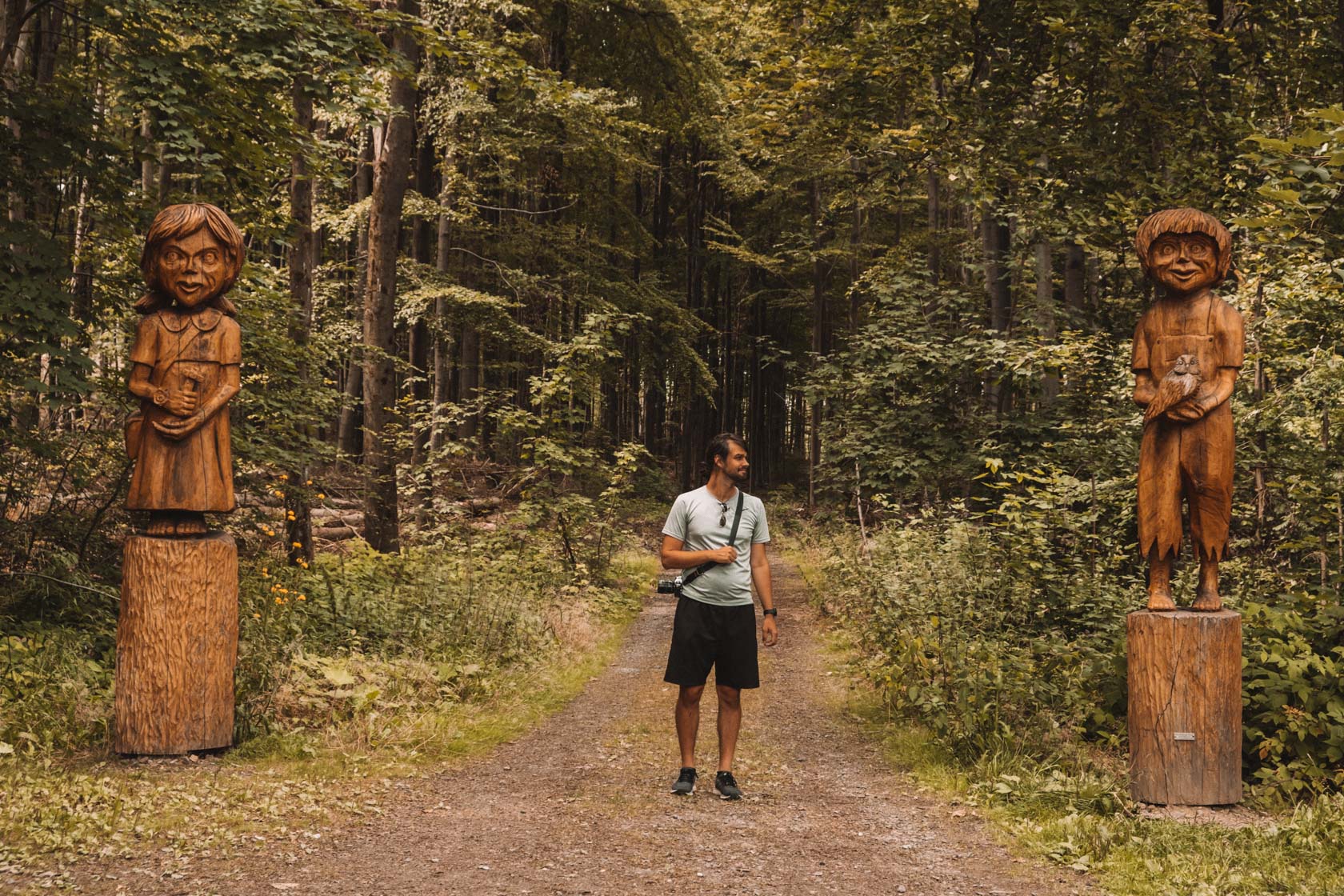 Once you arrive, you can buy an entry ticket and climb up to the top of the structure. Originally, Josephskreuz was built in wood but because it wore down with time, it was eventually replaced by the steel structure you see today which weighs in at 125 tons.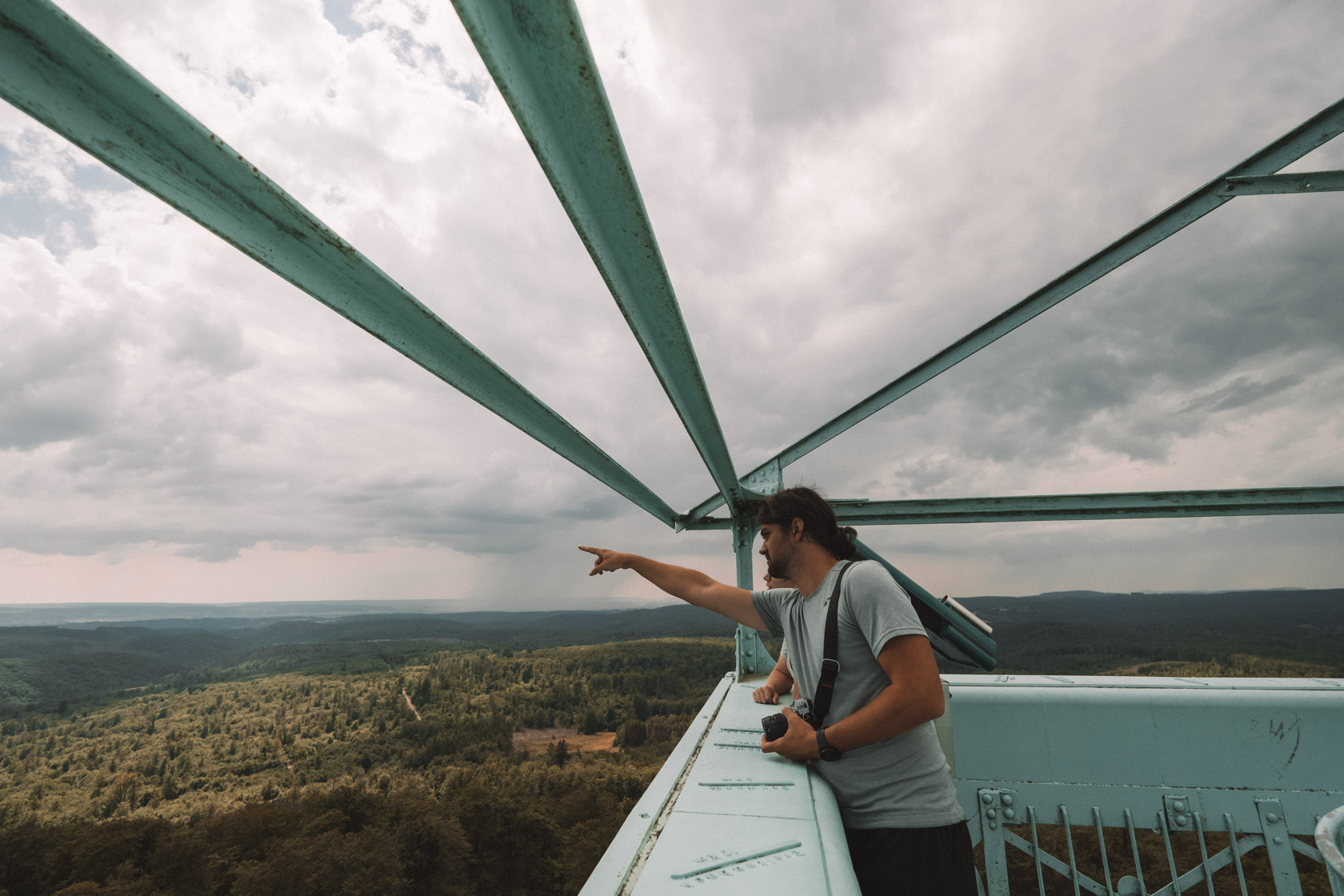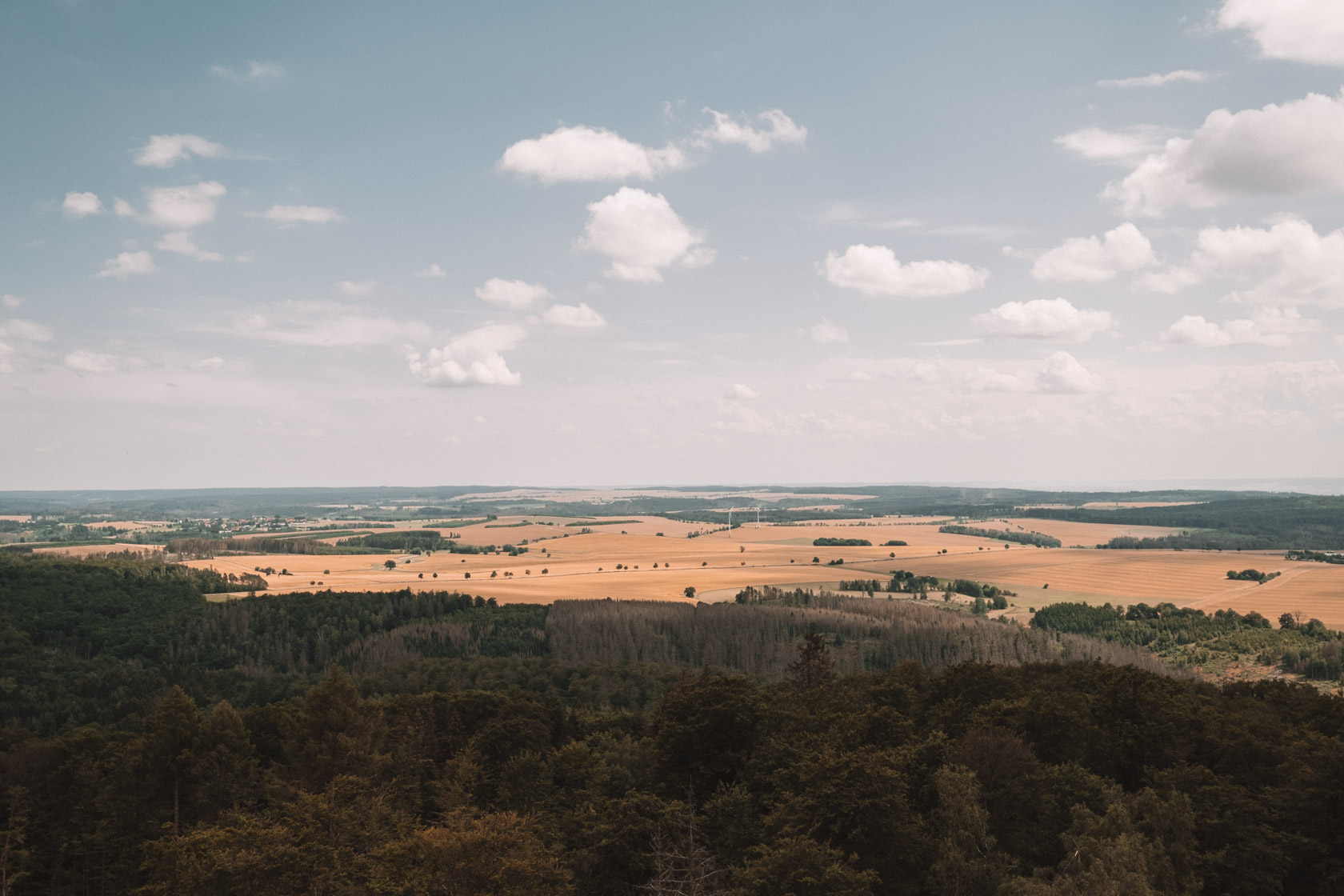 The spiral staircase to the top includes about 200 steps, and lets you see the entire landscape of the lower Harz region. This includes the Brocken mountain, Inselsberg and Magdeburg. And as usual, you can pick up a stamp here for your Wandernadel.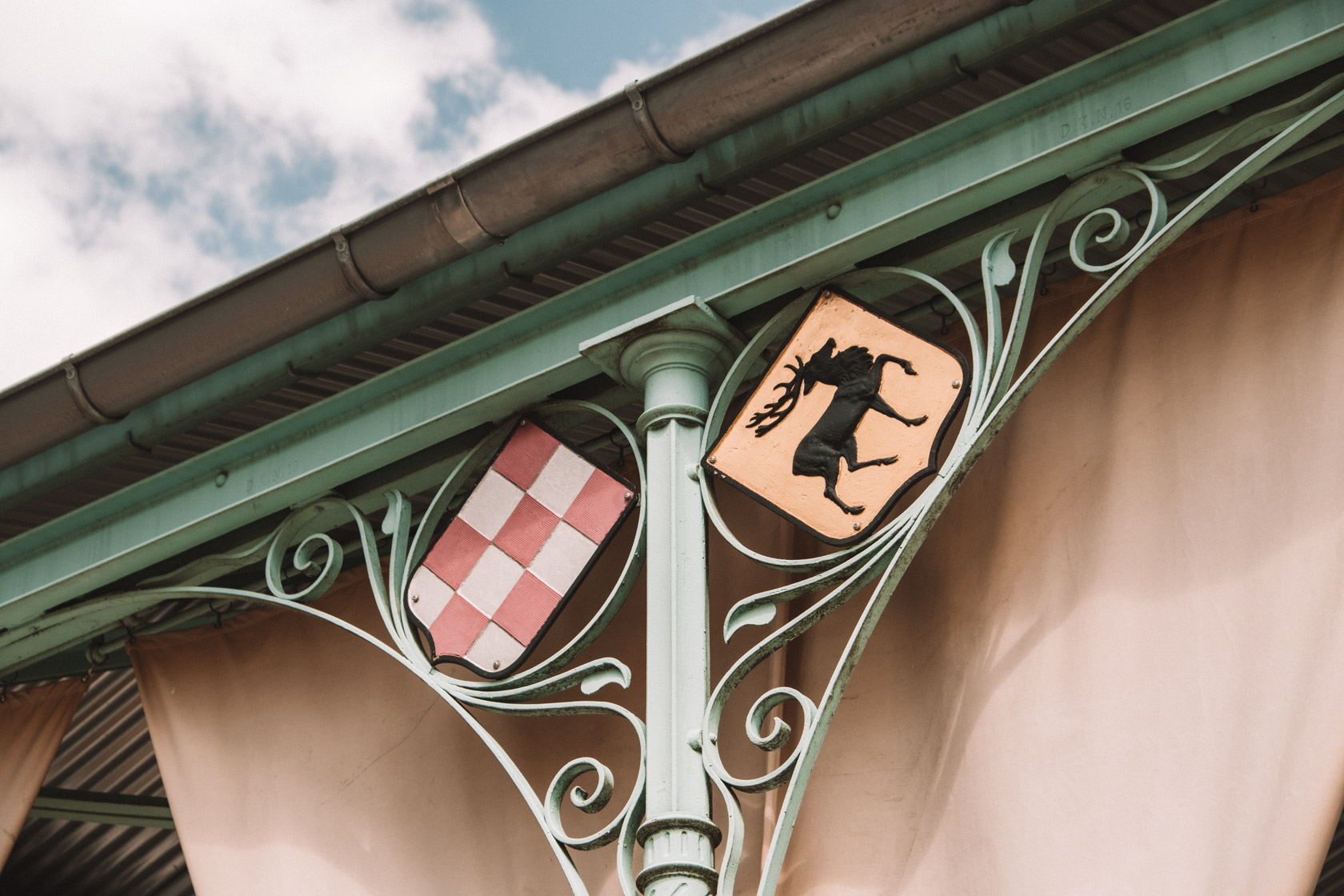 11. See the smallest half-timbered house in Germany, Kleinstes Haus
Say hello to Kleinstes Haus , which literally means "Smallest House" in German. Located in Wernigerode, this is the smallest half-timbered house in all of Germany. It contains a small museum, which unfortunately wasn't open when we visited late in the afternoon.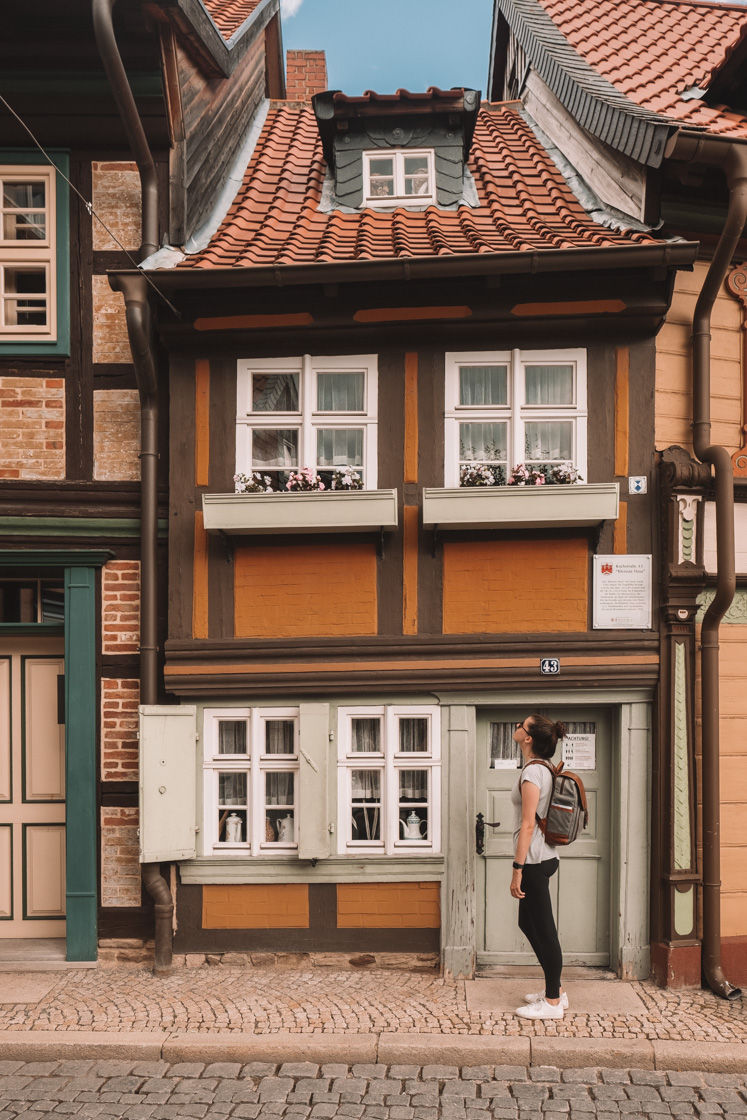 If anything, a quick pitstop during your trip to Wernigerode.
12. Drive up to Hexentanzplatz (Witch's Dancing Place) for a view over the Bodetal
Hexentanzplatz is like a very, very miniature amusement park for children which also includes some places to eat. Apart from statues of devils that children play on, you'll also find a few trailheads you can use to see the Bodetal from several different angles.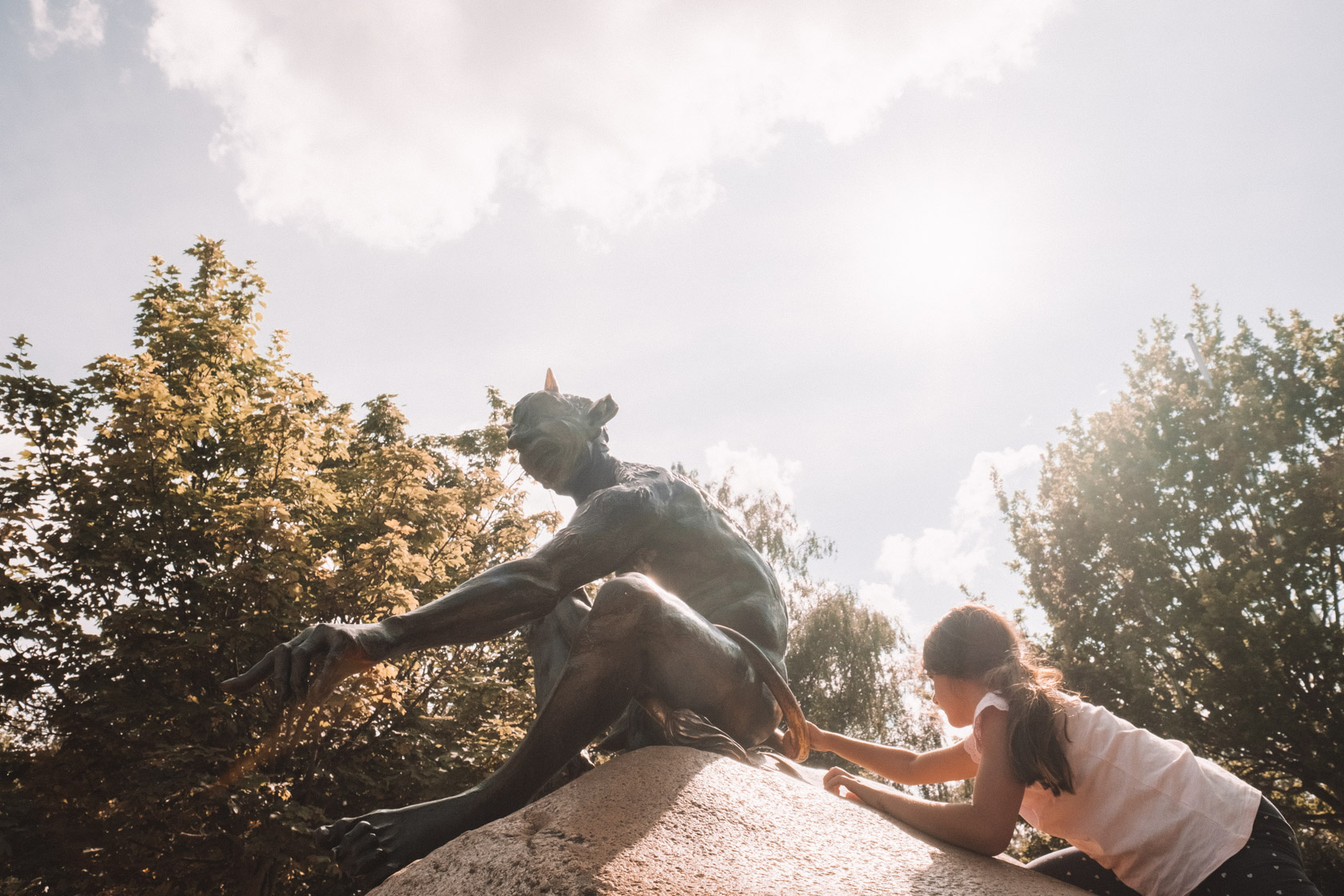 13. Hike over to La Viershoehe
This viewpoint called La Viershoehe is located just around the corner of the main viewing platform at Hexentanzplatz. From here, you can walk out to the edge and see a sweeping view of the Bodetal.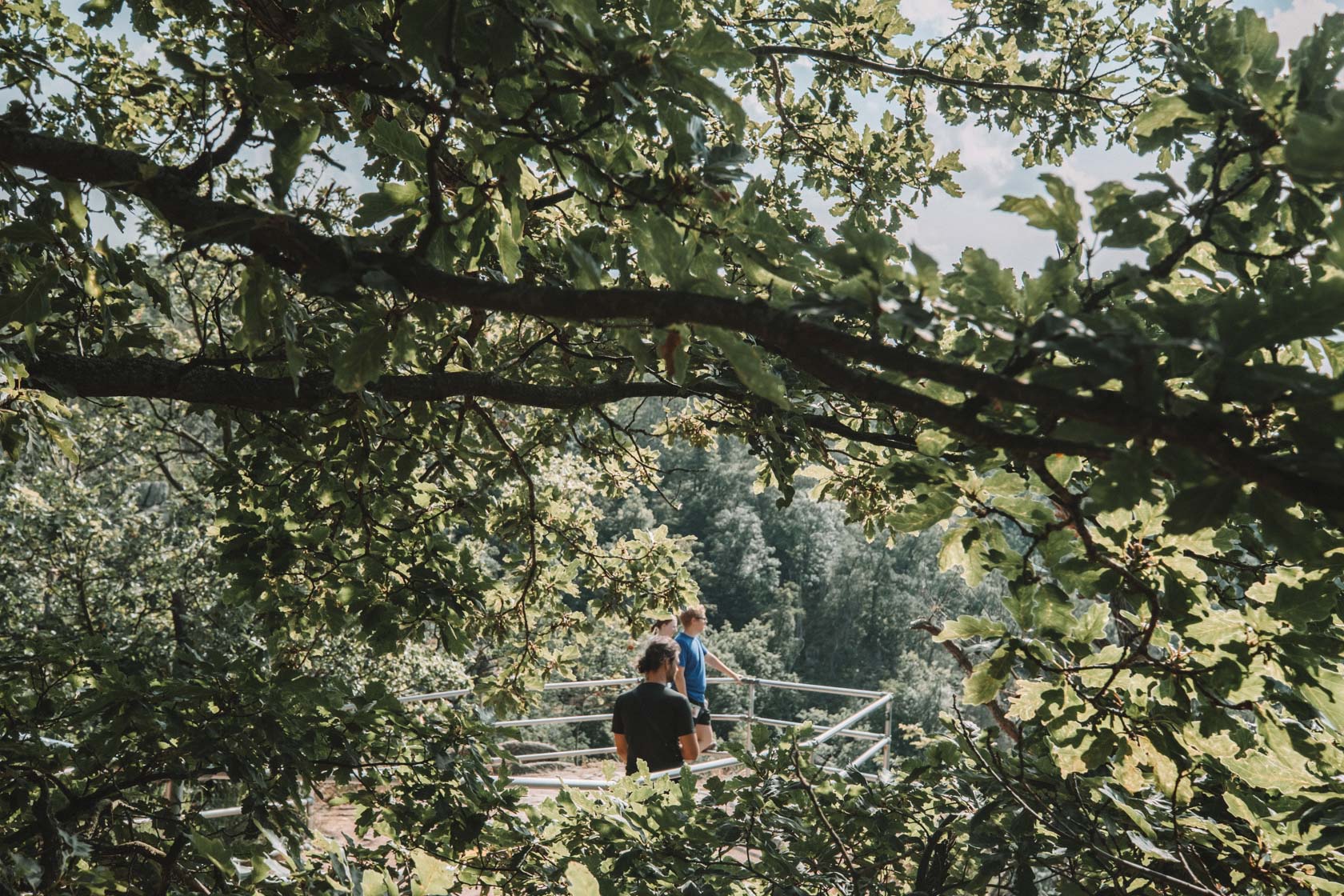 It's a great way to end your hike around the Bodetal, because you get to see the kind of terrain you were surrounded by during your hiking adventure.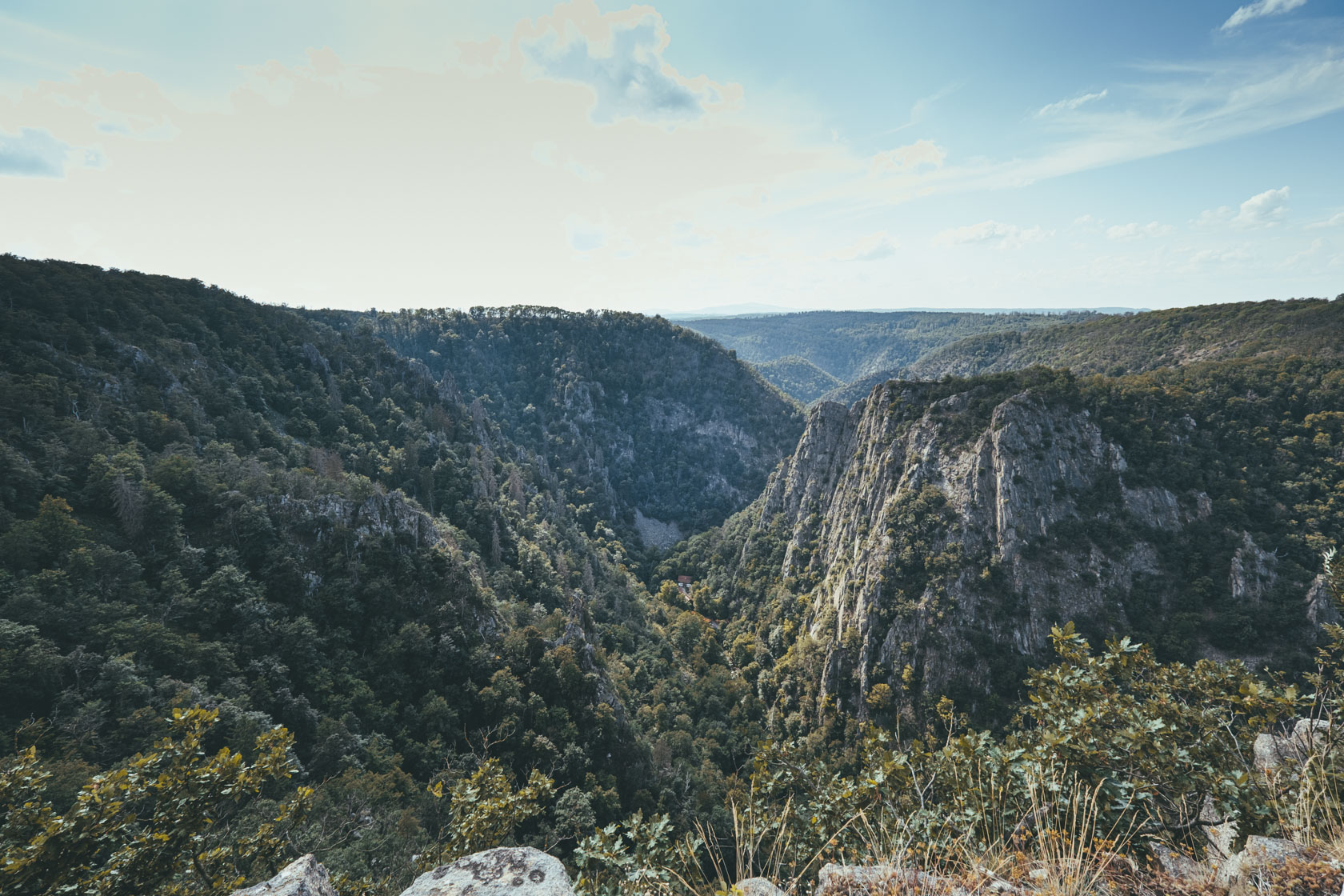 14. Go to Goslar
Goslar is one of the bigger, and more developed towns in Harz and completes the trifecta of towns most tourists go to see (with Wernigerode and Quedlinburg being the other two). It's quite a bit bigger than the other two, with a population of around 50,000 people.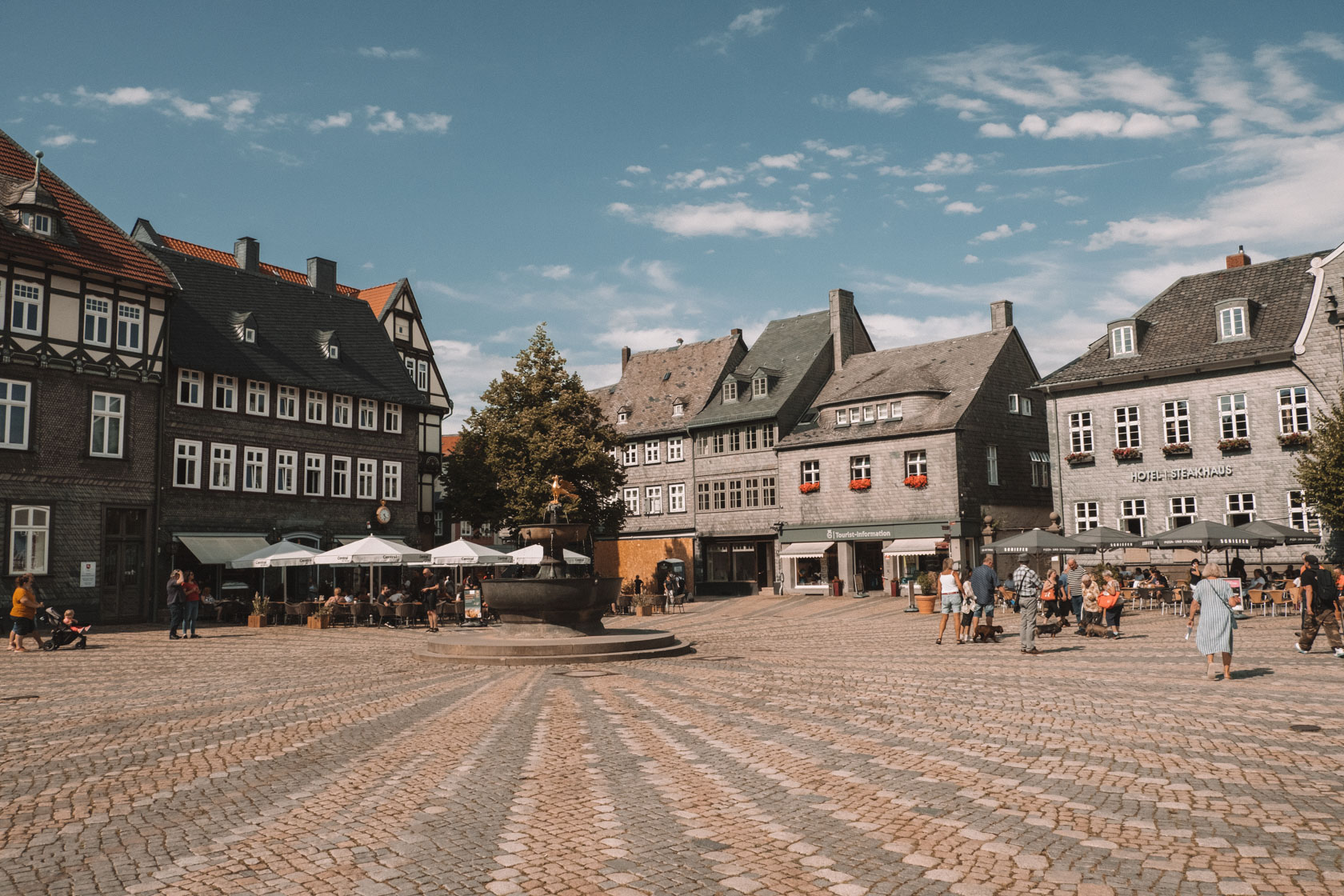 Goslar's most famous viewpoint is the town square, which includes the Town Hall and market fountain. This fountain is considered the largest and oldest surviving Romanesque fountain in Germany.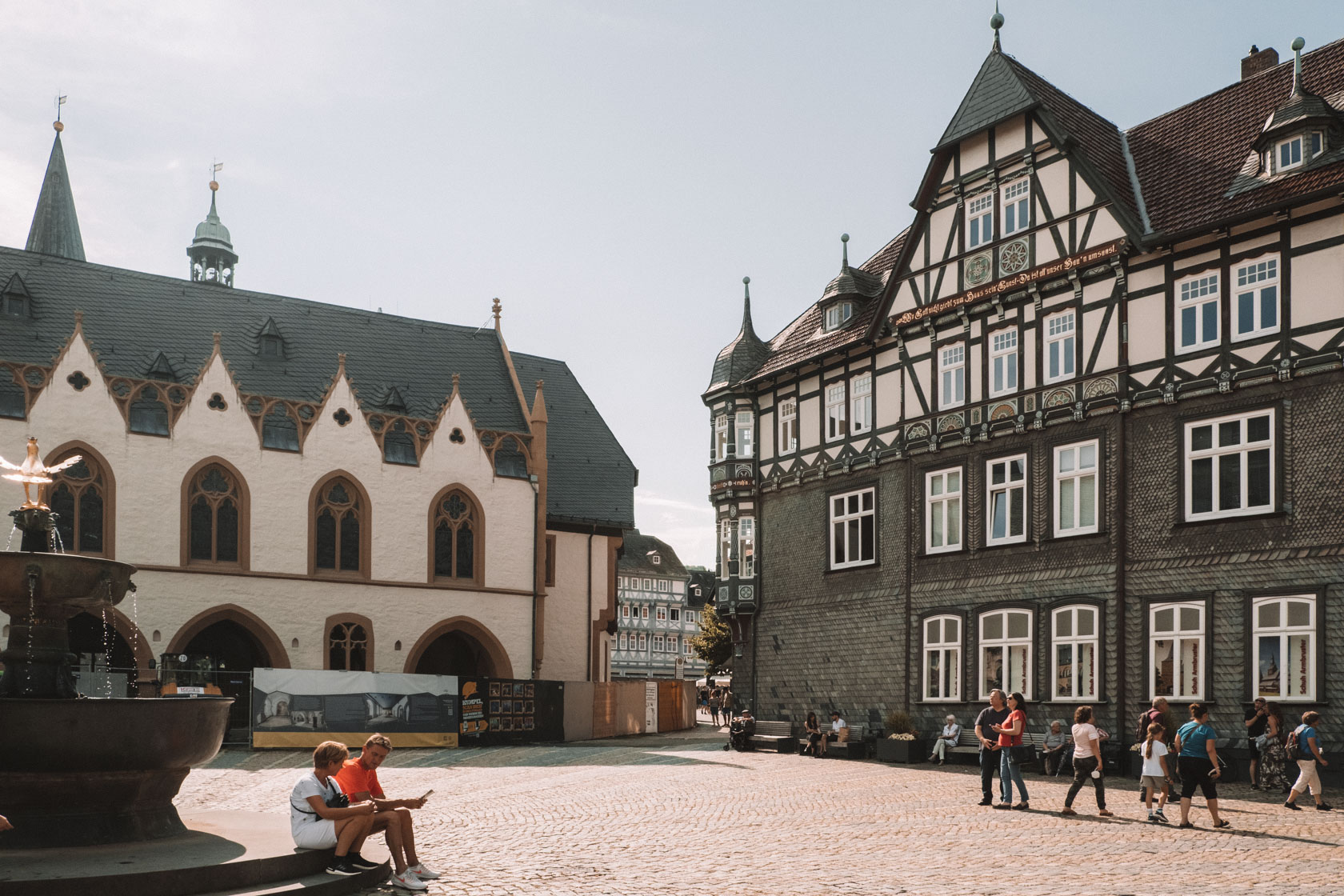 From here you can just wander around and find some cute, cobbled streets for your Instagram shots. Goslar is also a great place to grab a traditional German meal at once of the eateries near the center.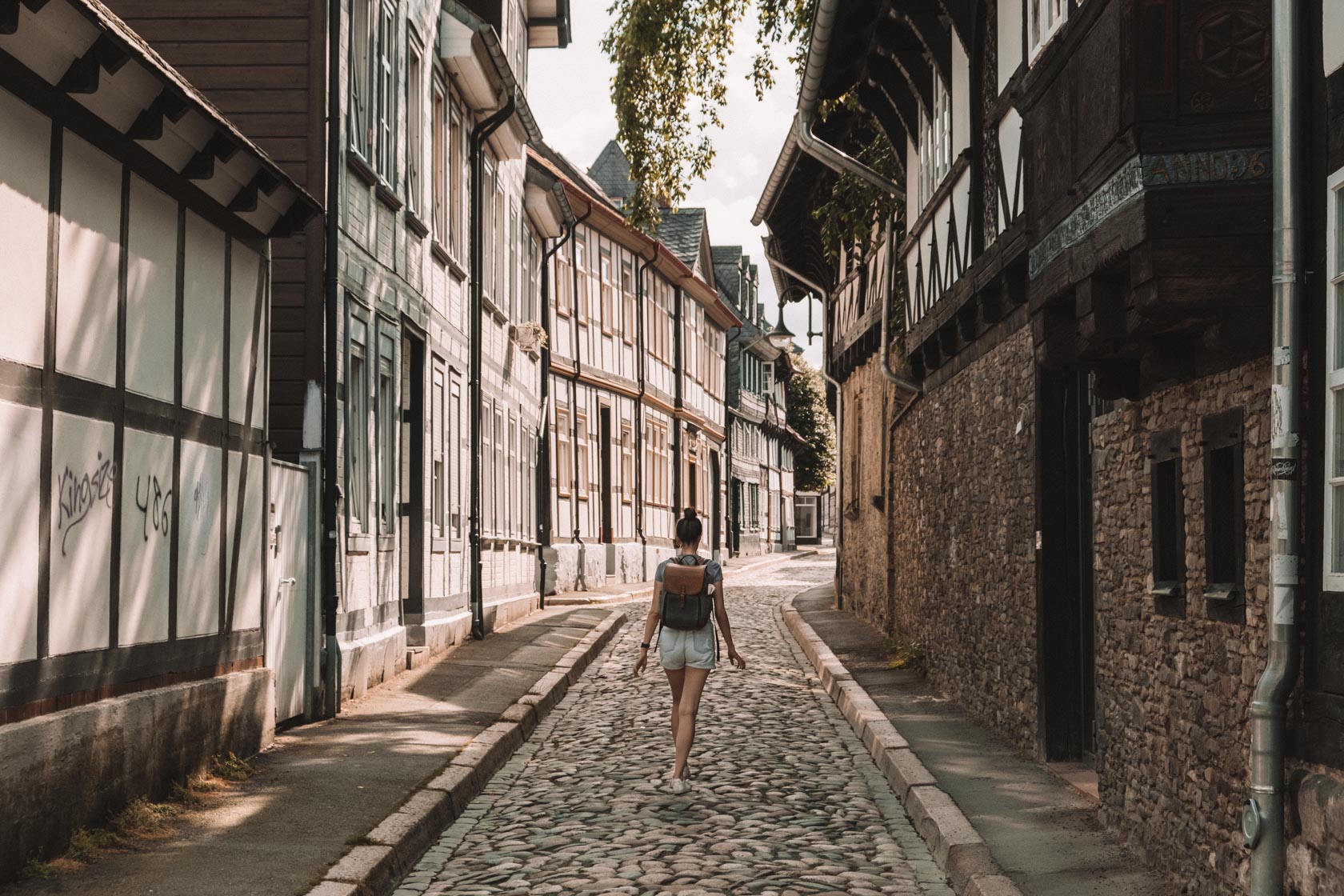 15. Grab a stamp at Engagement Island in the Oker
Engagement Island is one of the many places on our Harz trip we originally just stopped to pick up a stamp for our Wandernadel. It was a bit of an adventure to find the path that would actually lead us to the island and not result in falling into a pit of mud.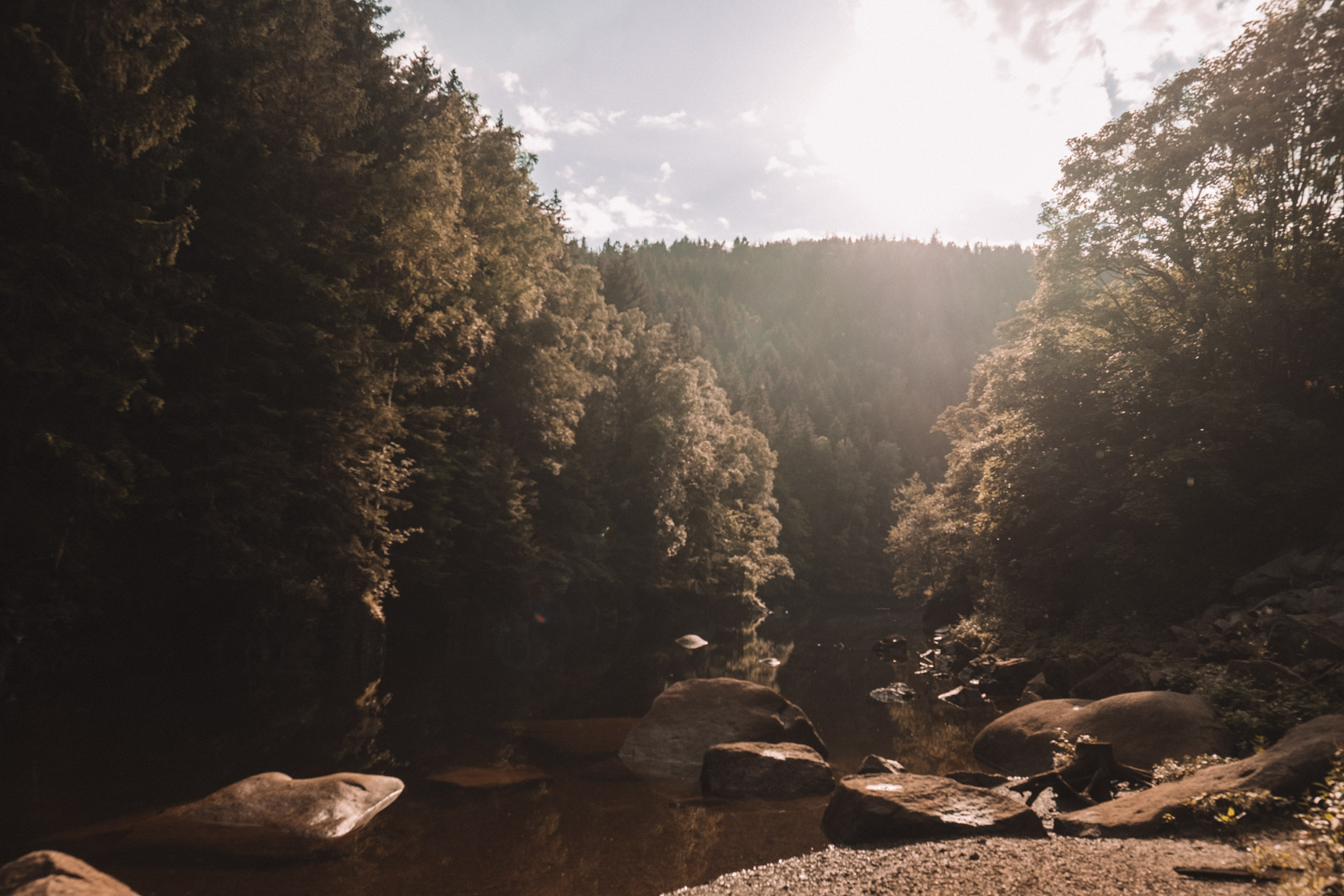 But once we made it, it was a beautiful spot to enjoy golden hour.
16. Visit Herzberg am Harz in South Harz
Herzberg am Harz is a cute, small town in Harz which has a main, car-free pedestrian center. Maybe the favorite structure we saw during our stroll through Herzberg was this firehouse: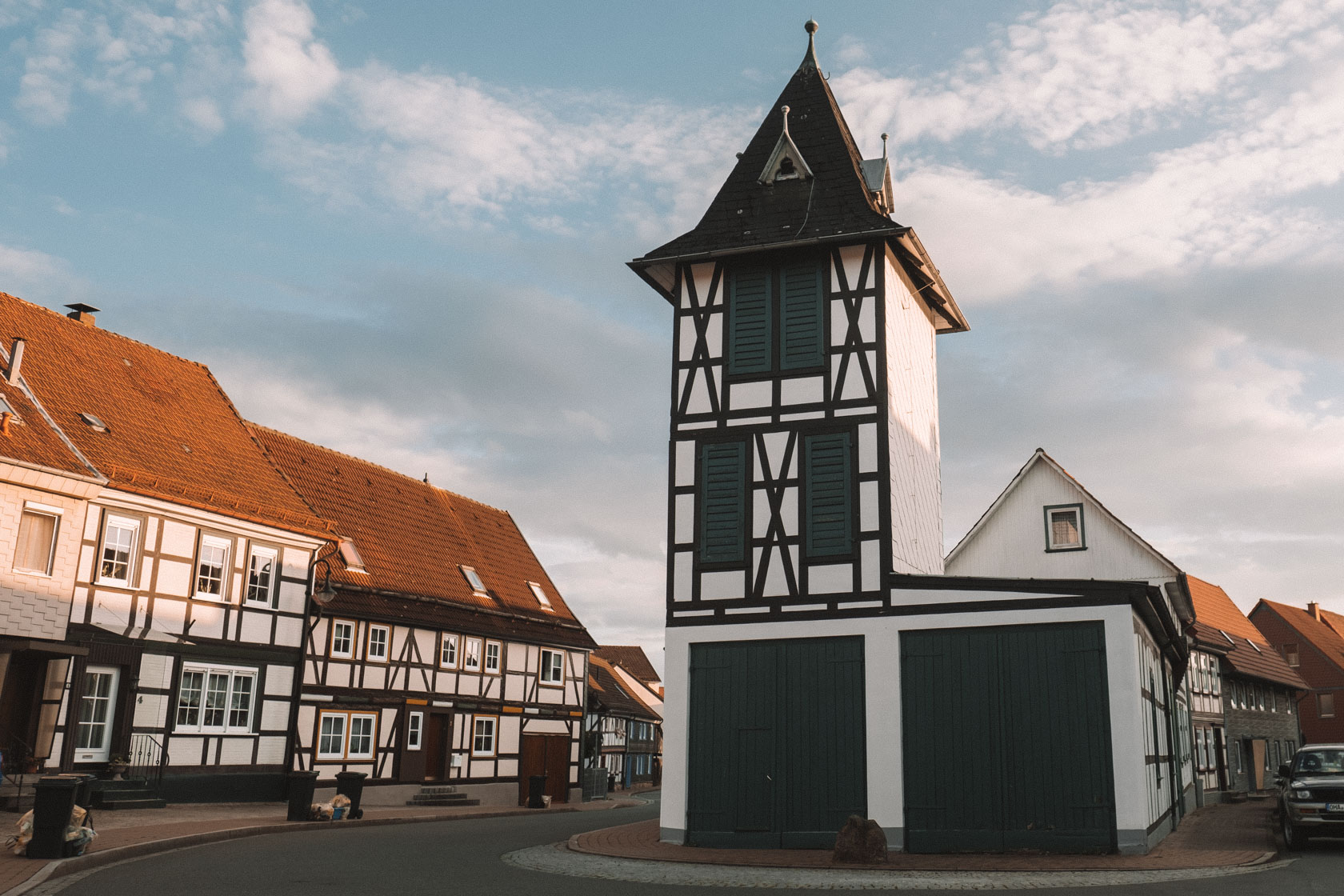 On the way out, you'll also probably see the Herzberg Castle, which the town is probably most famous for. After that, the fun fact about Herzberg am Harz is that it happens to practice Esperanto as an auxiliary language to German.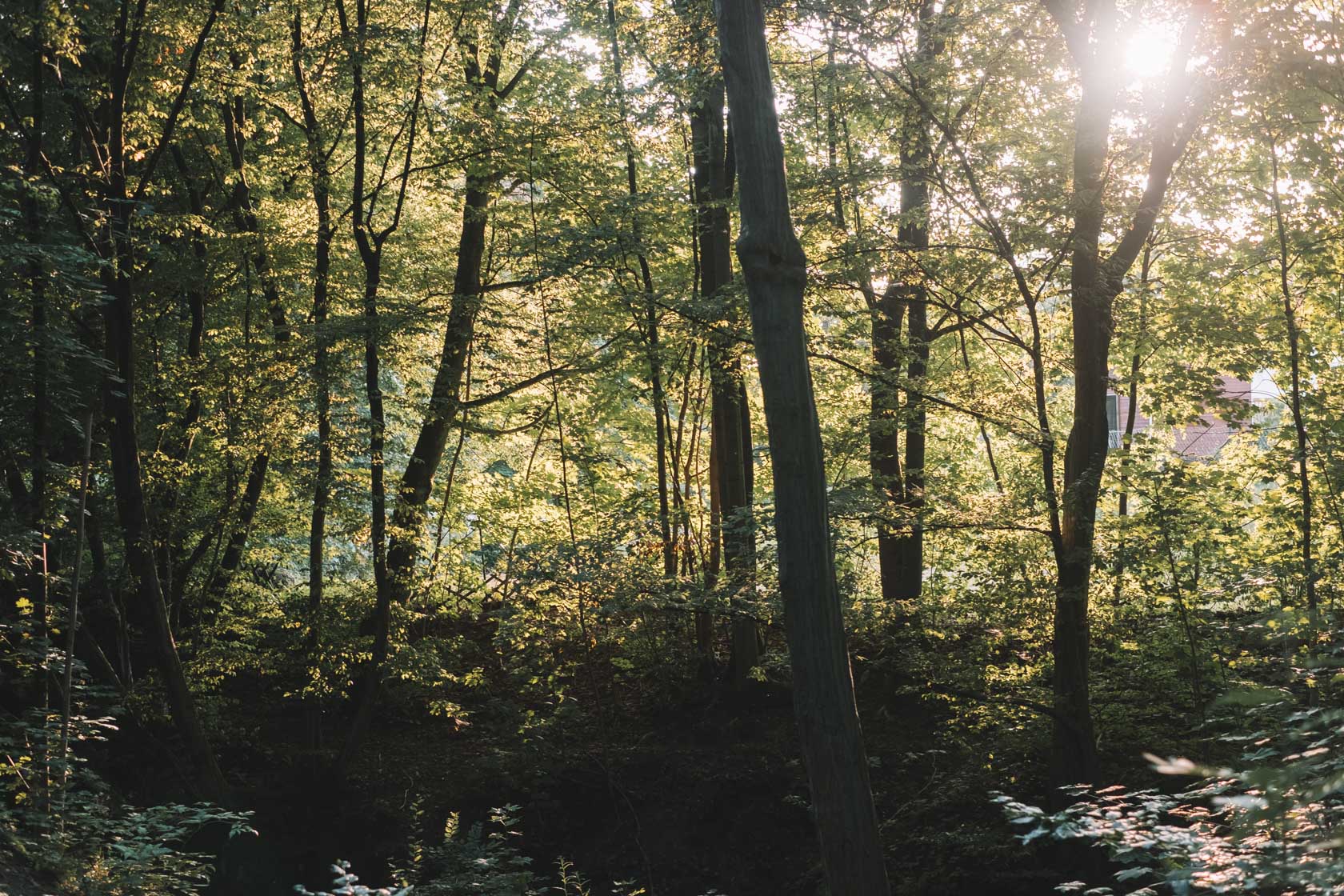 17. Stop by Lonauer Waterfall
Lonauer Waterfall is a 10-meter high natural waterfall, and the largest natural waterfall in the western Harz mountains. You can reach it on an easy hike, which you'll find in an otherwise residential neighborhood of Herzberg am Harz.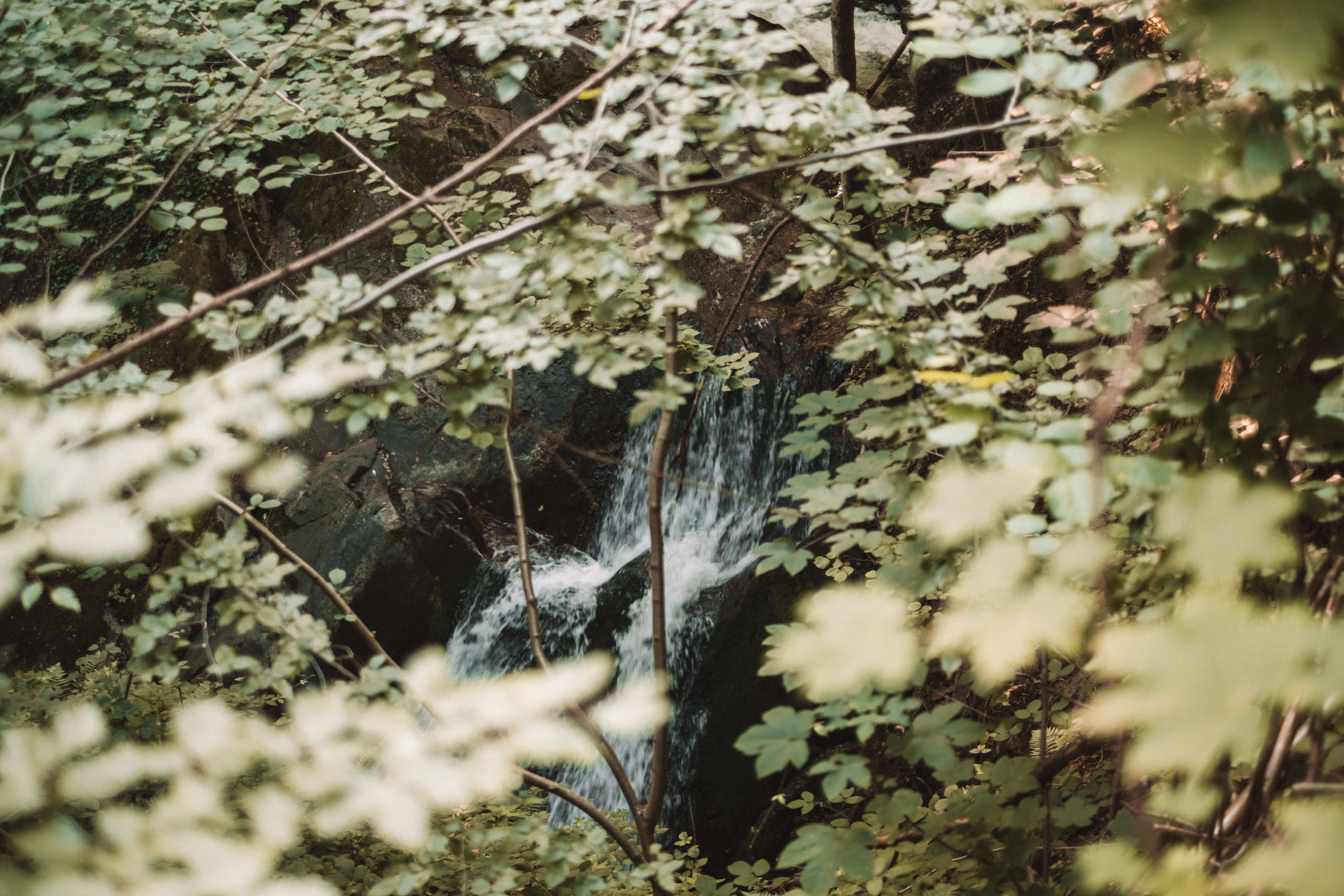 It's a worthy stop if you happen to be in the area and want to catch a waterfall.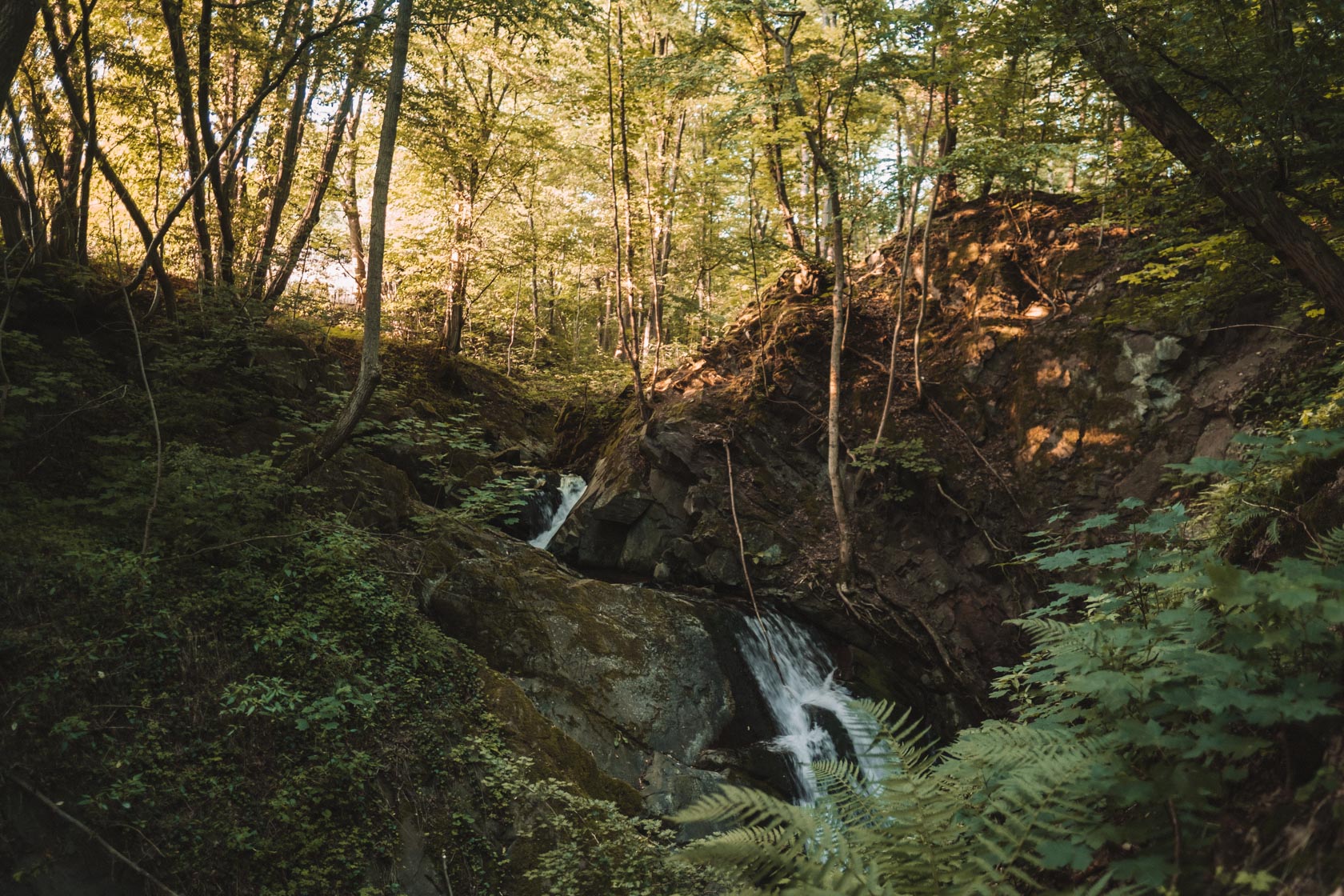 18. See one of Germany's most impressive monuments at Kyffhäuser
Kyffhäuser Monument is a monument to Frederick I Barbarossa, the legendary king that united Germany from a patchwork of over 1,600 states into a single nation. In fact, the ruins of Imperial castle are also located here and date back to 1,000 AD.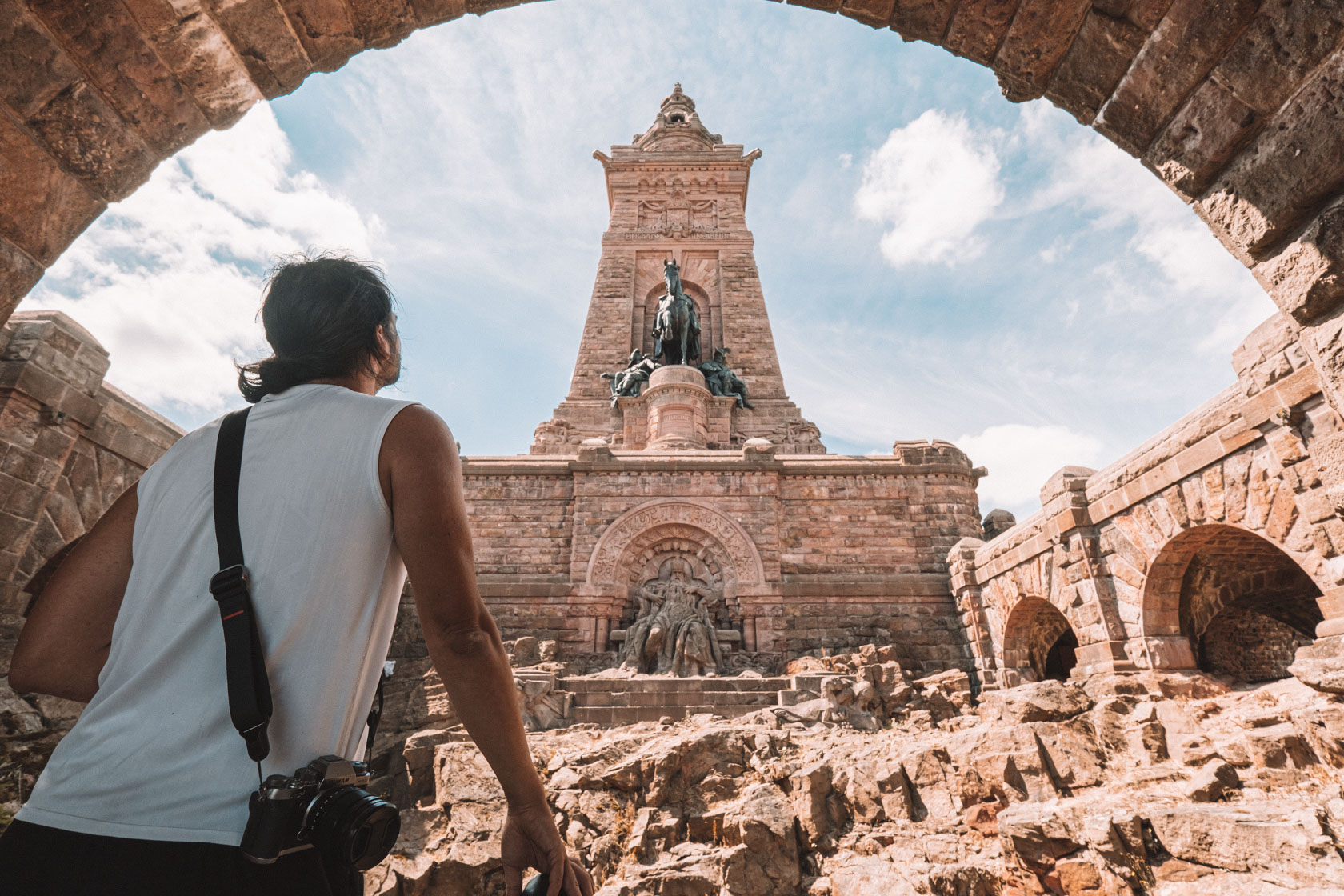 According to legend, Barbarossa slept under the Kyffhäuser until Germany needed him. The king who actually had this monument constructed, Kaiser Wilhelm I, was portrayed as the second coming of Barbarossa and is also memorialized at Kyffhäuser.
19. Grab a stamp and a view at Rote Stein
Rote Stein is one of the many scenic viewpoints in the Harz region, which also has a stamp you can get for your Harzer Wandernadel. Come for the stamp, stay for the views.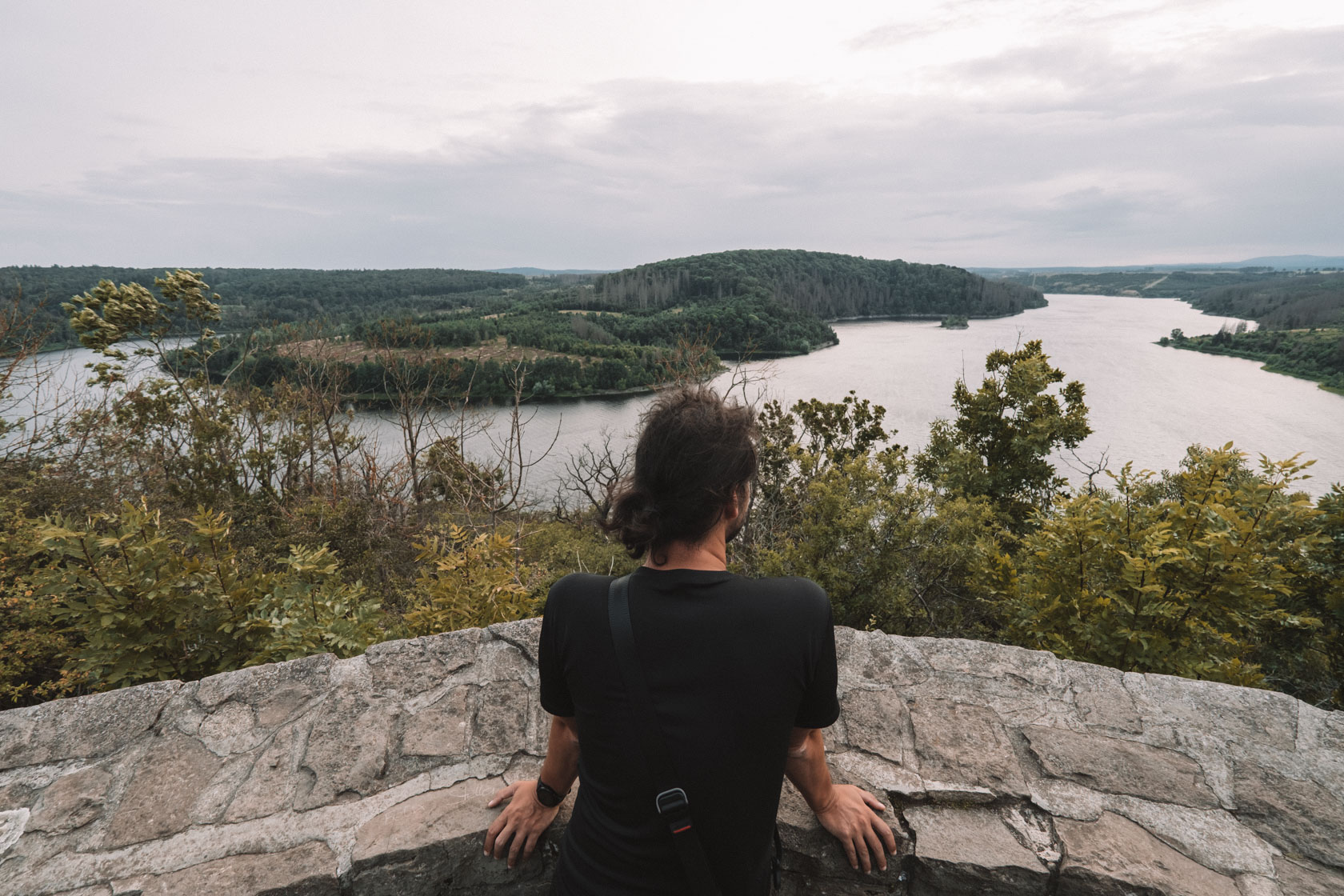 20. Visit Teufelsmauer (Devil's Wall) from two locations
Teufelsmauer is a rock formation made of sandstone, located on the Harz region. It runs all the way from Blankenburg to Ballenstedt, and as such there are several pieces you can specifically visit. All the key paths to the rock formations are easily accessible by footpaths and not too far from the car park.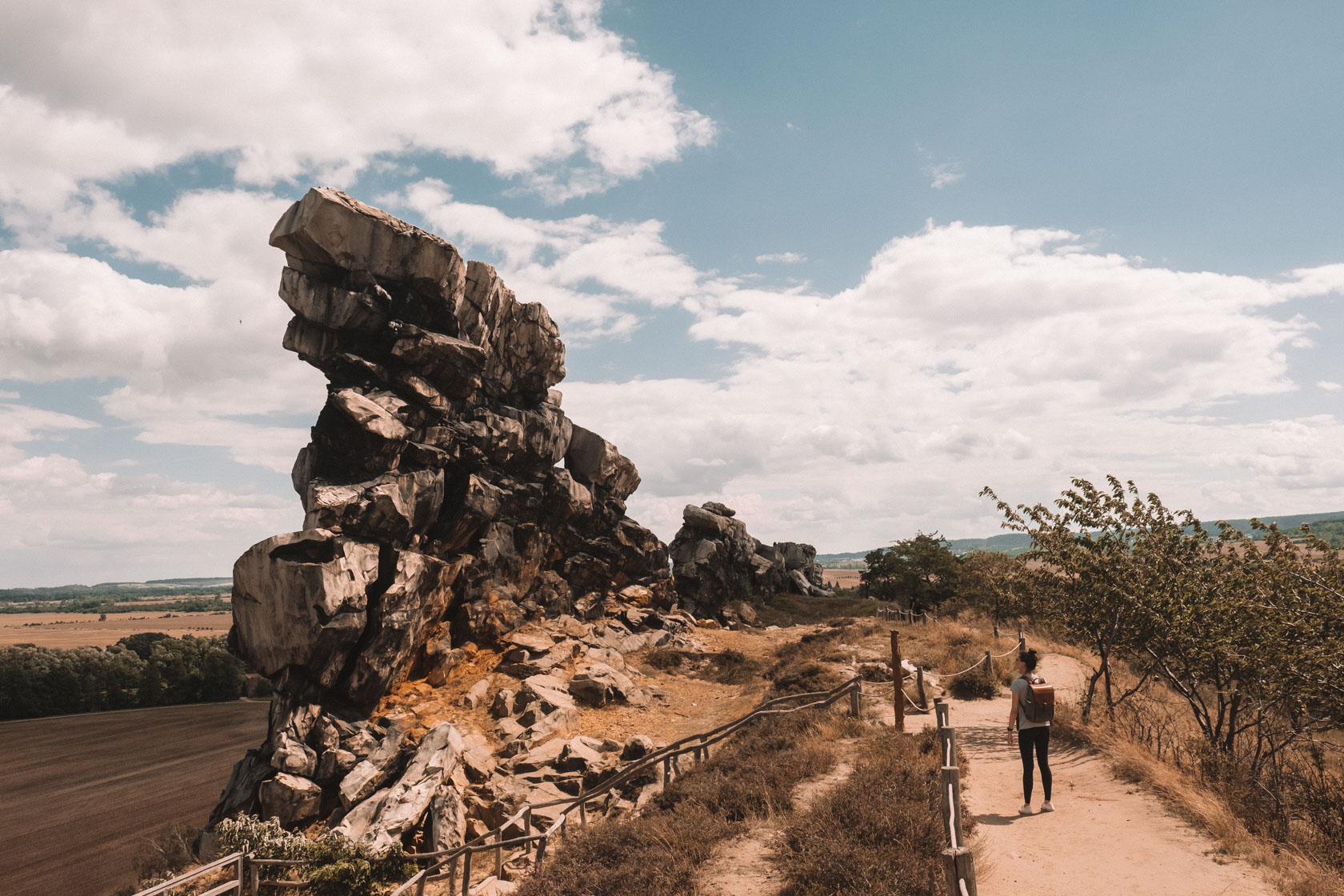 21. Visit the monastery at Walkenried
The Walkenried Abbey was founded back in 1127 by Cisterians, a Catholic religious order of monks and nuns. During its long history, it was greatly damaged and much of it fell into disrepair until the first effort to renovate the building began in 1876. Today you can go inside and visit a museum.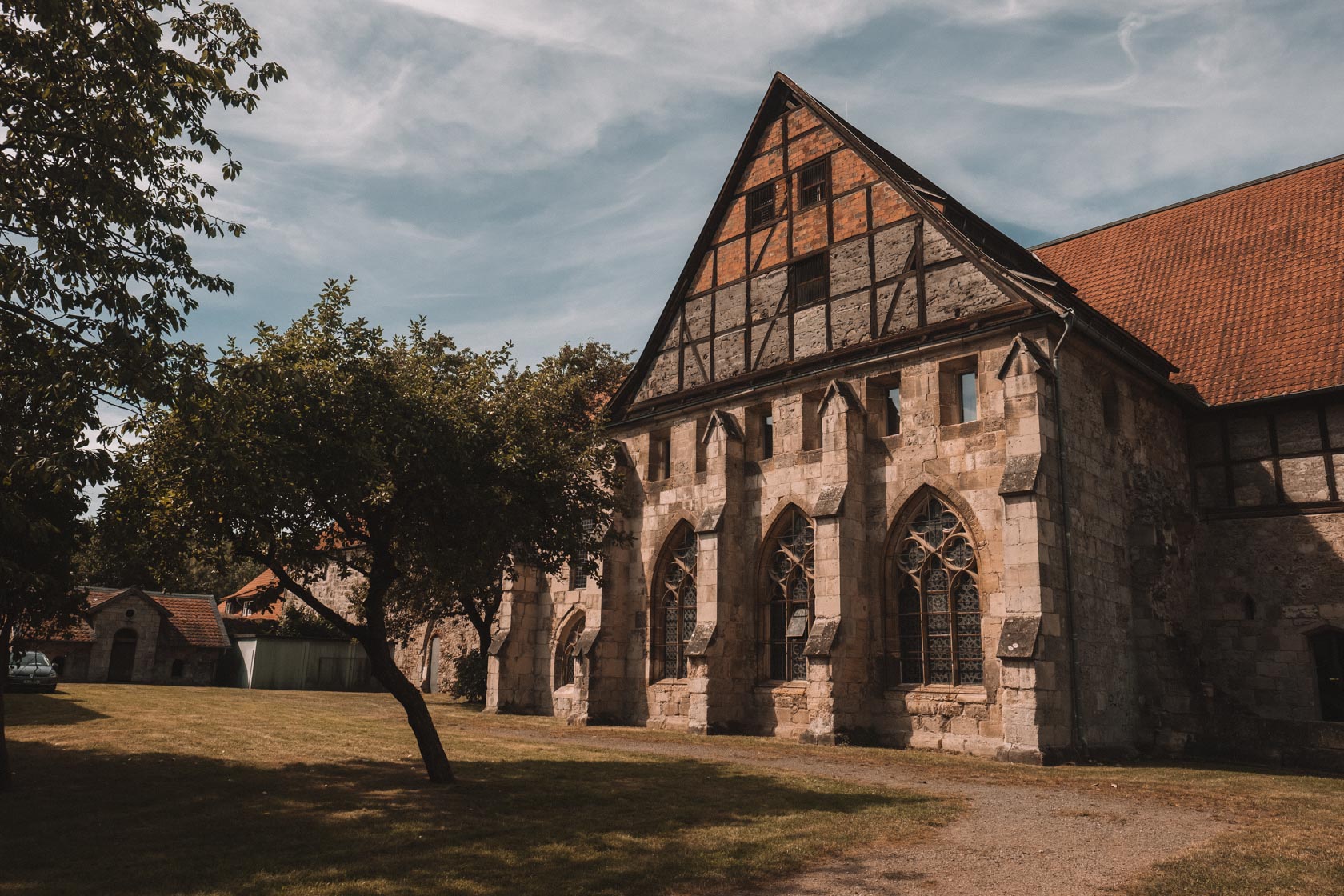 People are still excavating the area around the abbey and if you come here you may see archaeologists at work.
22. Radau Waterfall
The Radau waterfall stems from the Radau river, and ultimately plunges 23 meters (75 feet) into a pool below. This waterfall is easily accessible from the highway, making it a lovely and quick stop during your Harz road trip.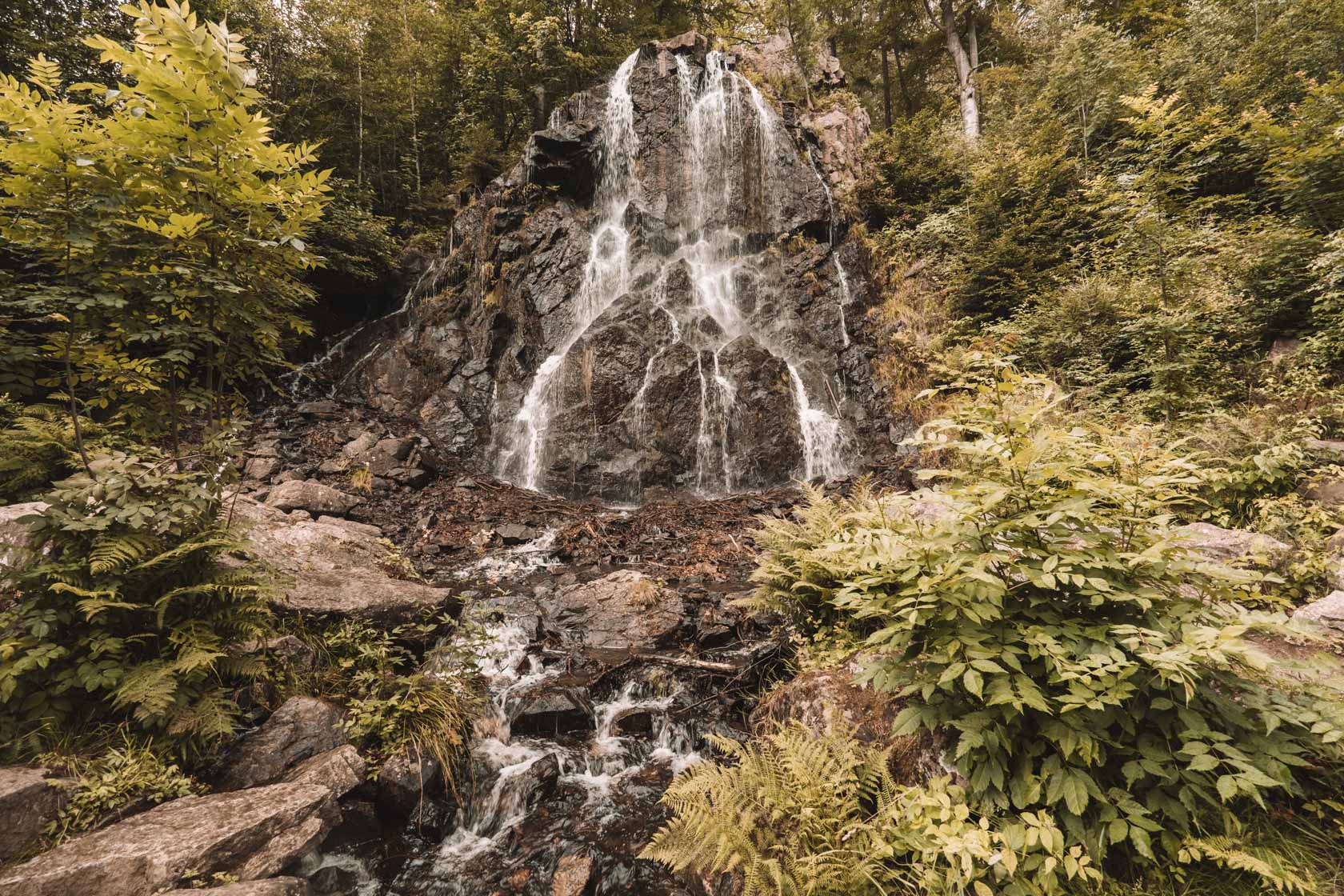 Planning a trip to Harz?
I hope you enjoyed this guide to visiting Harz, Germany and you have a wonderful trip. If you're planning to visit more in East Germany, don't miss my guides to Berlin's best day trips and things to do in Berlin.