Spreewald is a biosphere reserve and forest located in Brandenburg, southeast of Berlin, Germany. Spreewald ("Spree Forest" in English) is famous for its winding canals, traditional Sorbian villages, and spa resorts. It's one of the best day trips from Berlin for anyone who loves nature and wants a taste of traditional Germany.
It took me 7 years of living in Berlin until I finally visited Spreewald in October 2020. But I loved kayaking through Spreewald's canals under the Autumn foliage, and wanted to share some tips for anyone wondering if the trip is worth it (spoiler: Yes).
As of July 2021, Spreewald is fully open for visitors and doesn't require a negative COVID test for key activities like boat tours. As of November 2020, you can stay overnight in Spreewald again, too. Since Spreewald is a primarily outdoors destination, it's a great place to visit this Summer to escape from Berlin.
This post is all about the best things to do in Spreewald, plus tips for how to reach Spreewald, where to stay, when to come, and a map to help you get the lay of the land.
Some links in this post are to affiliate sites. If you purchase something through them, I may earn a small comission — which costs you nothing! I am very grateful when you use my links to make a purchase.
What exactly is Germany's Spreewald?
Spreewald refers to a forested area in Brandenburg, Germany. It's also a biosphere reserve , which is an internationally-recognized UNESCO designation for natural areas worth preserving for their social and ecological systems. The main towns in Spreewald include Lübbenau , Burg , and Vetschau and the villages of Lehde and Leipe .
What makes Spreewald special is over 200 canals traversing more than 276 kilometers, which you can navigate by traditional punting boat (called Spreewaldkahn), kayak, or canoe. The total length of all channels, rivers, and streams is over 1,500 kilometers.
As you glide through the water, you'll find over 6,000 species of plants and animals inhabiting Spreewald's meadows, forests, wetlands, and marshes. It's a really beautiful places to take a break from the city!
Apart from the nature, Spreewald is also unique because its original residents didn't speak German — but rather, a slavic language called Sorbian. The Sorbs have lived in Germany for over 1,400 years, and are even responsible for the name "Berlin" which comes from the word for "swamp" in Slavic. In Spreewald, the famous village of Lehde is a unique insight into traditional Sorbian life and culture.
Here's how to reach this beautiful place.
How to reach Spreewald from Berlin
Spreewald is just 100 kilometers (62 miles) southeast of Berlin and is easy super easy to reach by either car, train, or tour, though you can also reach it by bus with some determination.
Getting to Spreewald from Berlin by car and train take approximately the same amount of time. Getting to Spreewald by bus takes longer, because it involves a transfer and backtracking from Cottbus' central station (Cottbus Hauptbahnhof). In all cases, the destination to put in your GPS is Lübbenau , the town in the heart of Spreewald.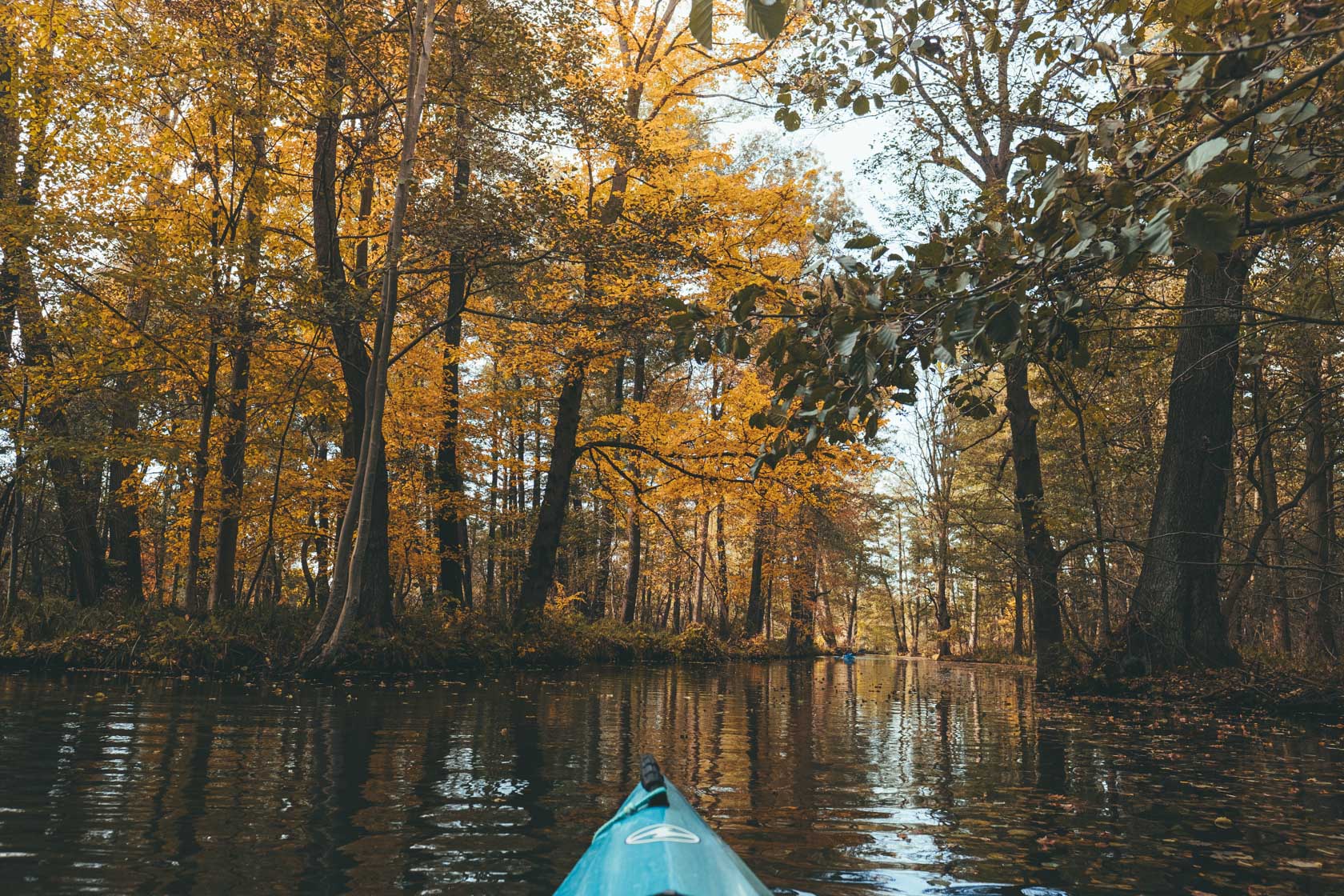 Reach Spreewald from Berlin by car (Recommended)
Drive on the A13 for 90-100 kilometers (depending on where you're coming from inside Berlin) until you see an exit for Lübbenau. Driving takes approximately the same amount of time as the train, roughly 1 hour to 1 hour and 15 minutes.
Personally, I recommend renting a car with DiscoverCars so you have the most flexibility with getting around Spreewald (there are plenty of places to park and driving is pretty simple in this area). Book in advance, and the cost isn't much more than taking the train if you're traveling in a group of two or more people.
Reach Spreewald from Berlin by train (Quickest)
Take the train from Berlin's Hauptbahnhof (main station) to Lübbenau (Spreewald) which is the name of the stop. You can easily book train tickets online here and the total trip takes about an hour. This route uses the regional train (RE), but be sure to check whether your train requires a transfer (Umstieg) because many trains have just a 5-minute transfer window in Ostkreuz.
There are lots of departures every day, so it's easy to catch a train to Spreewald. Train tickets cost from 25€ round trip, if you buy for fixed time slots for departure and arrival. Tickets with Deutsche Bahn typically cost more if you want flexible arrival and departure times.
The only downside is, once you've arrived in Spreewald, you are at the mercy of the local bus system. While I'd say Germany's busses are pretty good, they are much less consistent than trains.
Reach Spreewald on a Tour from Berlin (Simplest)
If you don't want to mess with figuring out the train and reserving a boat tour, you can take a guided tour to Spreewald from Berlin. This Spreewald tour with Viator starts in Kurfürstendamm in Berlin and takes you by bus to Spreewald.
While the live commentary is in German, there's also an English audioguide (which is honestly often better, as sometimes German tour guides speaking English can be hard to understand). It lasts 7 1/2 hours and includes transit, a traditional boat tour, and local snack on arrival for a very fair price considering the cost of everything separately. Click here to check availability.
Reach Spreewald from Berlin by bus (Slowest)
Finally, you can travel with Flixbus to nearby Cottbus , a super popular bus network for budget travel around Europe, for about 10€ each way. From Cottbus, you'll need to take a train from the Cottbus Hauptbahnhof (main station) to Lübbenau for an additional 12€ or so per person. This makes it about the same price as taking the train, but longer because you'll be "backtracking" from Cottbus Hbf to Lübbenau.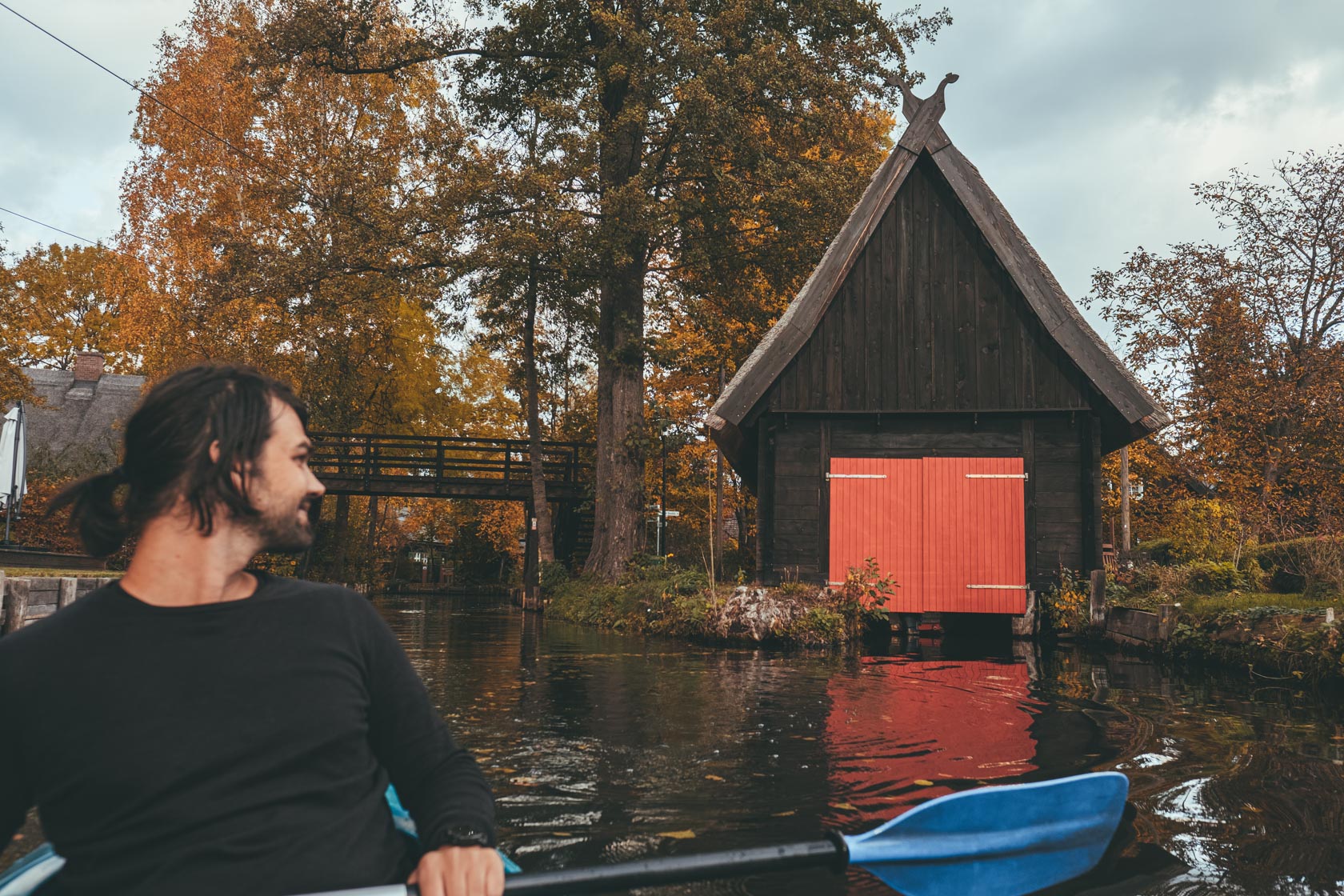 8 Things to do in Spreewald, Germany
Now that you know why you should visit Spreewald and how to get here, these are the best things to do in Spreewald that I'd recommend for any visitor!
1. Rent a kayak or canoe
Exploring Spreewald by boat is undoubtedly the best way to experience the region, and renting your own kayak or canoe gives you the ultimate control of where you go. Plus, in "these times" it's a great outdoor activity you can do far away from other people.
You'll find tons of places that rent boats along the Spreewald, designated by signs that say Bootsverleih (or, "Boat Rental"). You can find options for boats for one, two, or more people, and naturally the prices increase as your boat gets fancier (more on pricing in a second).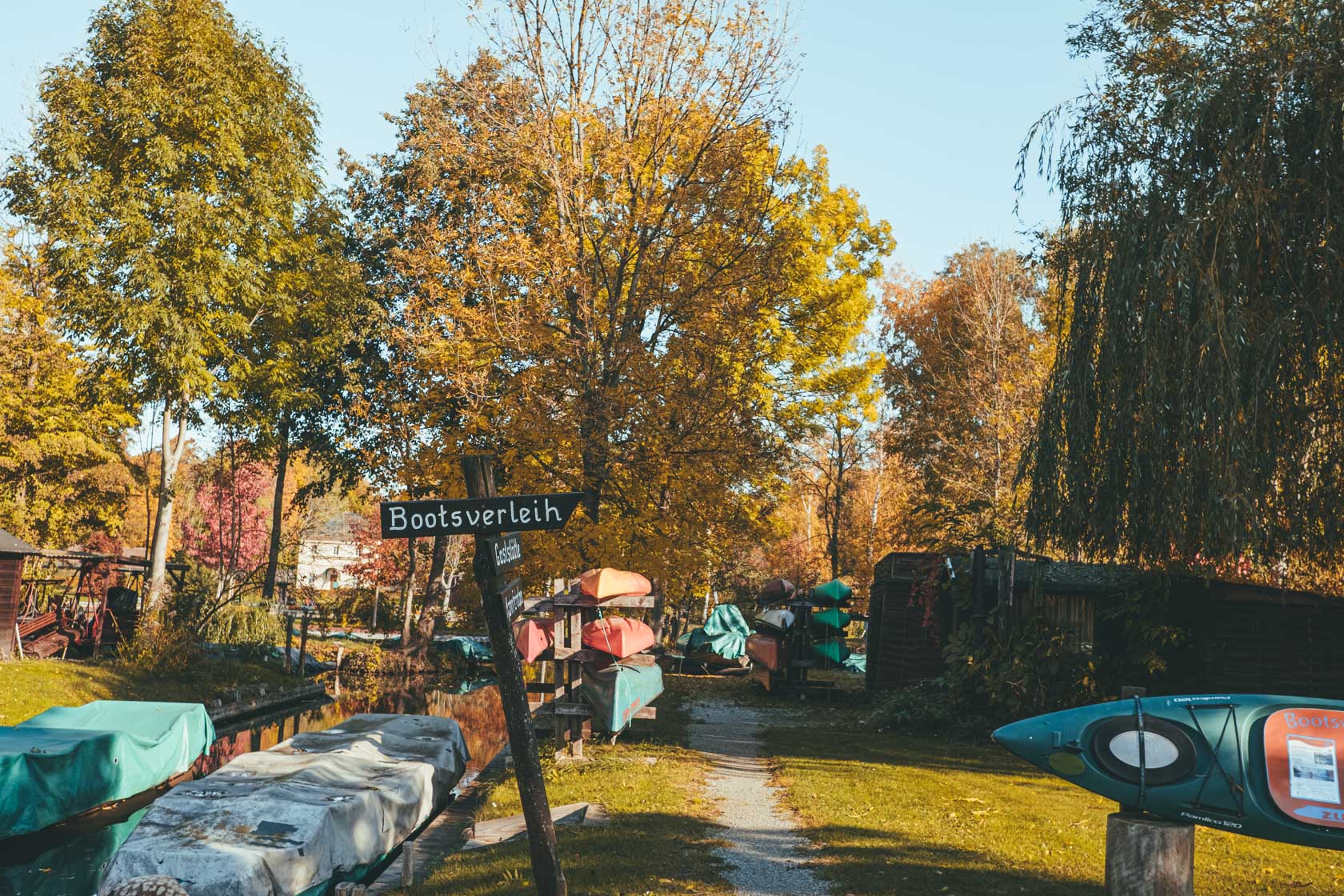 When we went to Spreewald in Autumn 2020, there was plenty of space for boats in the canals. It wasn't empty, but it also wasn't super busy either. There were long stretches where we didn't see other boats.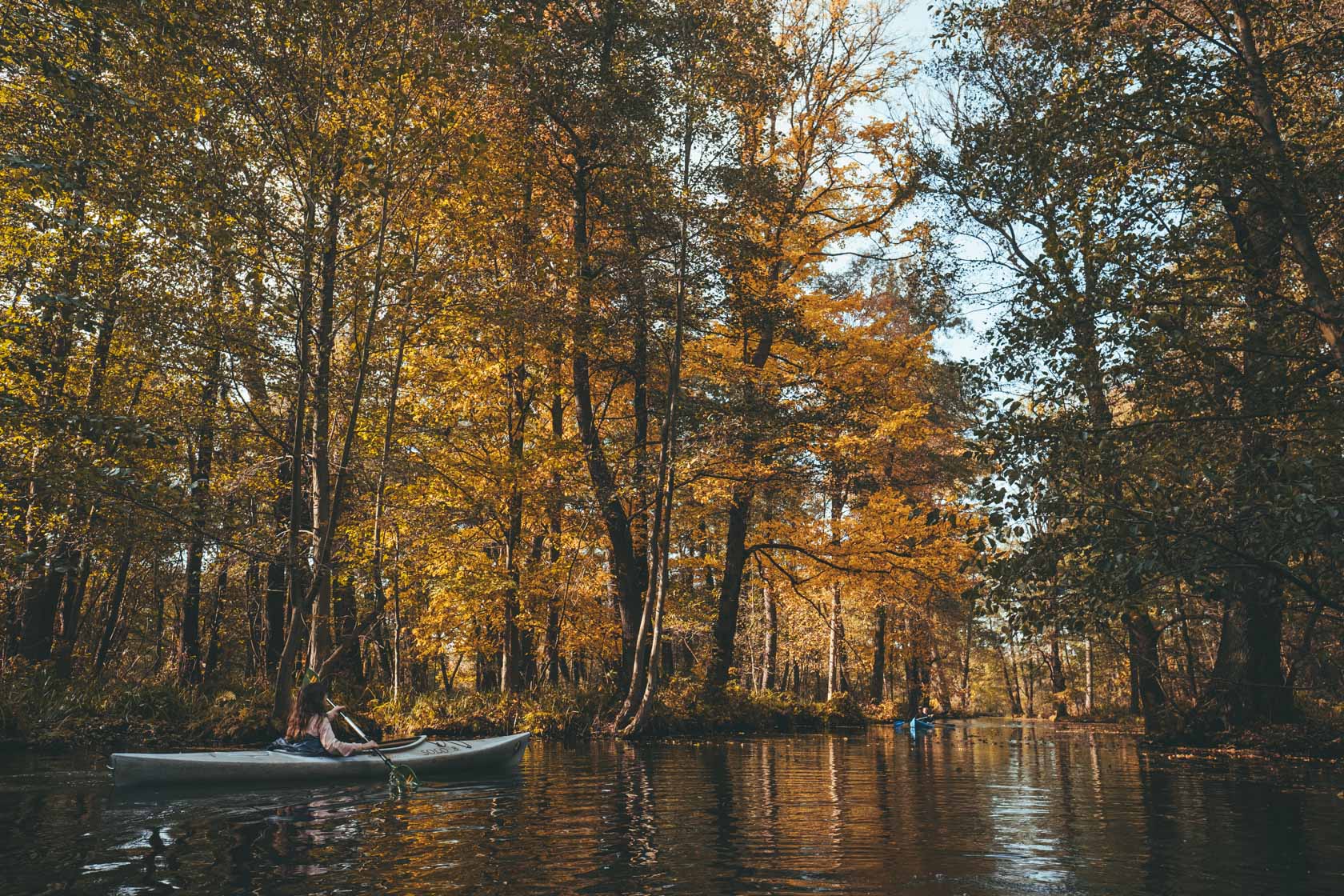 The main way you'll navigate is by following signs at "intersections" of the canals, which help tell you which direction you can go to get to various points of interest. Importantly, "sport boats" are not allowed in certain canals, which will also be clearly marked.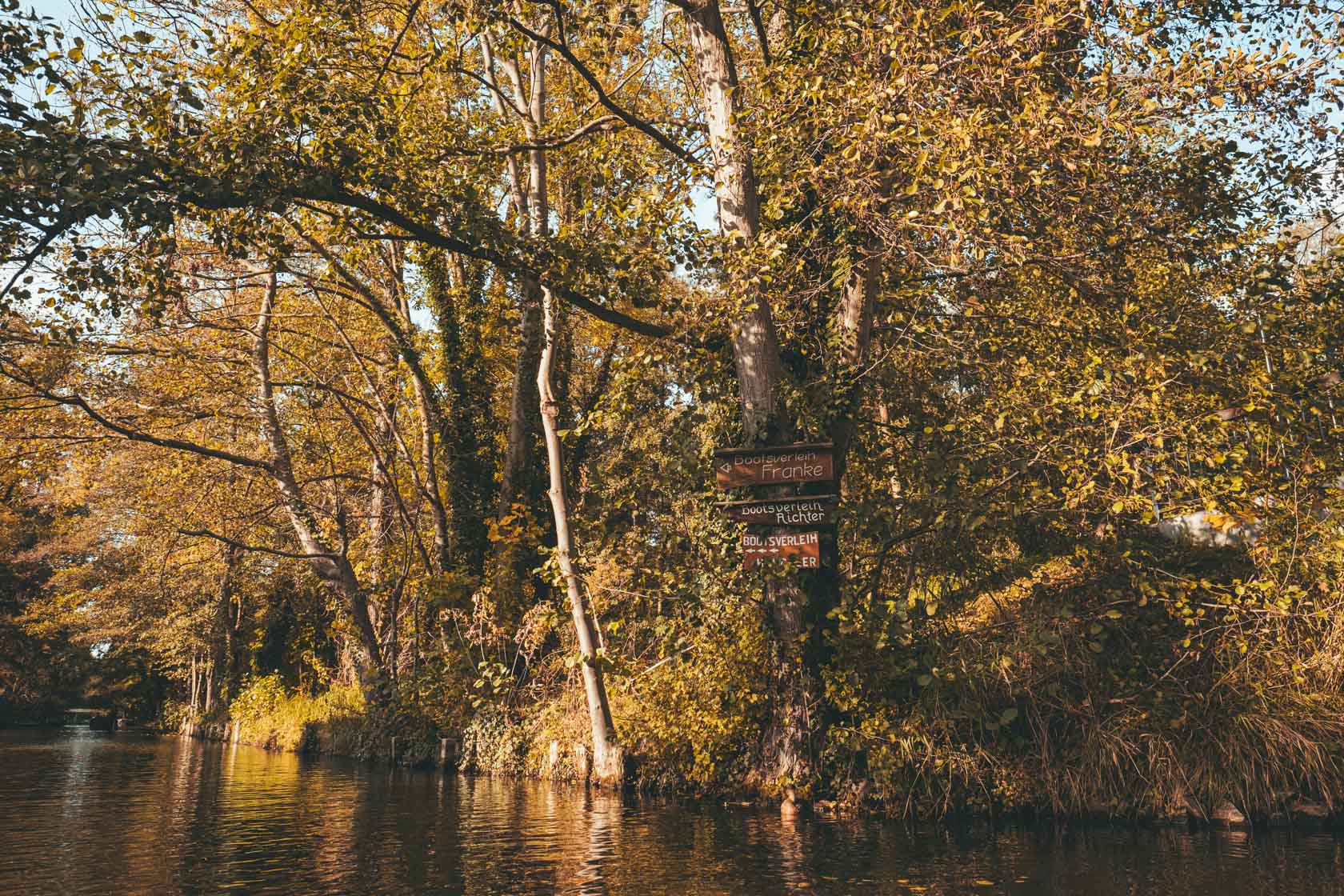 Tips for renting a kayak or canoe in Spreewald: If you're starting in Lübbenau, you can find a list of places to rent a boat on the Spreewald Tourism website, some of which have their own websites. We booked with Bootsverleih Richter which offers a 2-person kayak for 32€ per day, though you can also book hourly. It's also possible to reserve a canoe online here which could come in handy during the high tourism season.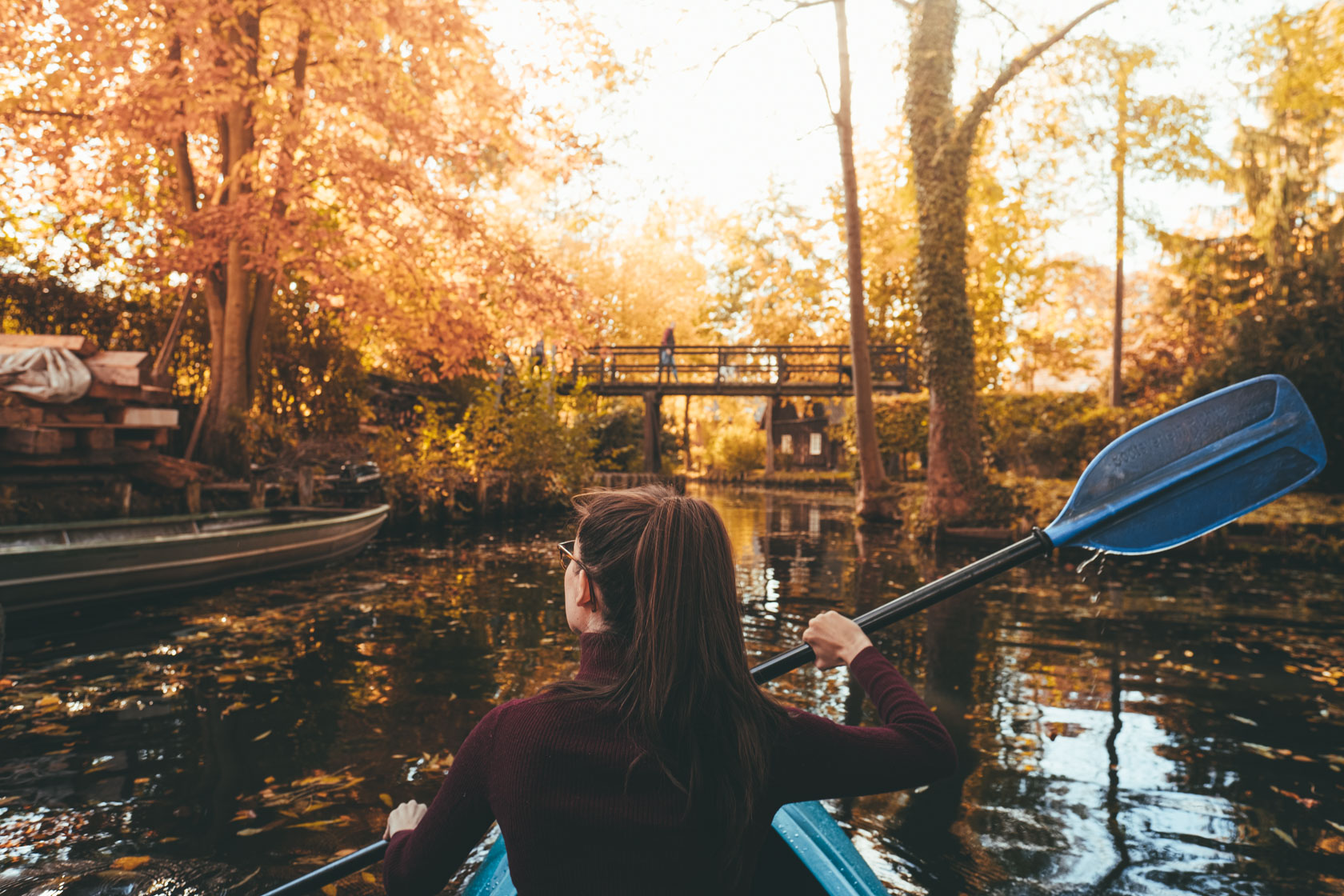 Ultimately, renting your own kayak or canoe in Spreewald is an incredible way to get around, and is a family-friendly activity to boot.
2. Or join a Spreewald boat tour with a Spreewaldkahn
But if you want pure relaxation, you can also book a Spreewald boat tour in a traditional Spreewaldkahn. A Spreewaldkahn is a punting boat, where the navigator pushes the boat along by pressing wooden paddle against the bottom of the canal.
At first, it right remind you of the gondolas of Venice, but the water in Venice is actually too deep for this technique to work. Since the canals in Spreewald are quite shallow, this makes it easy to get around using punting boats.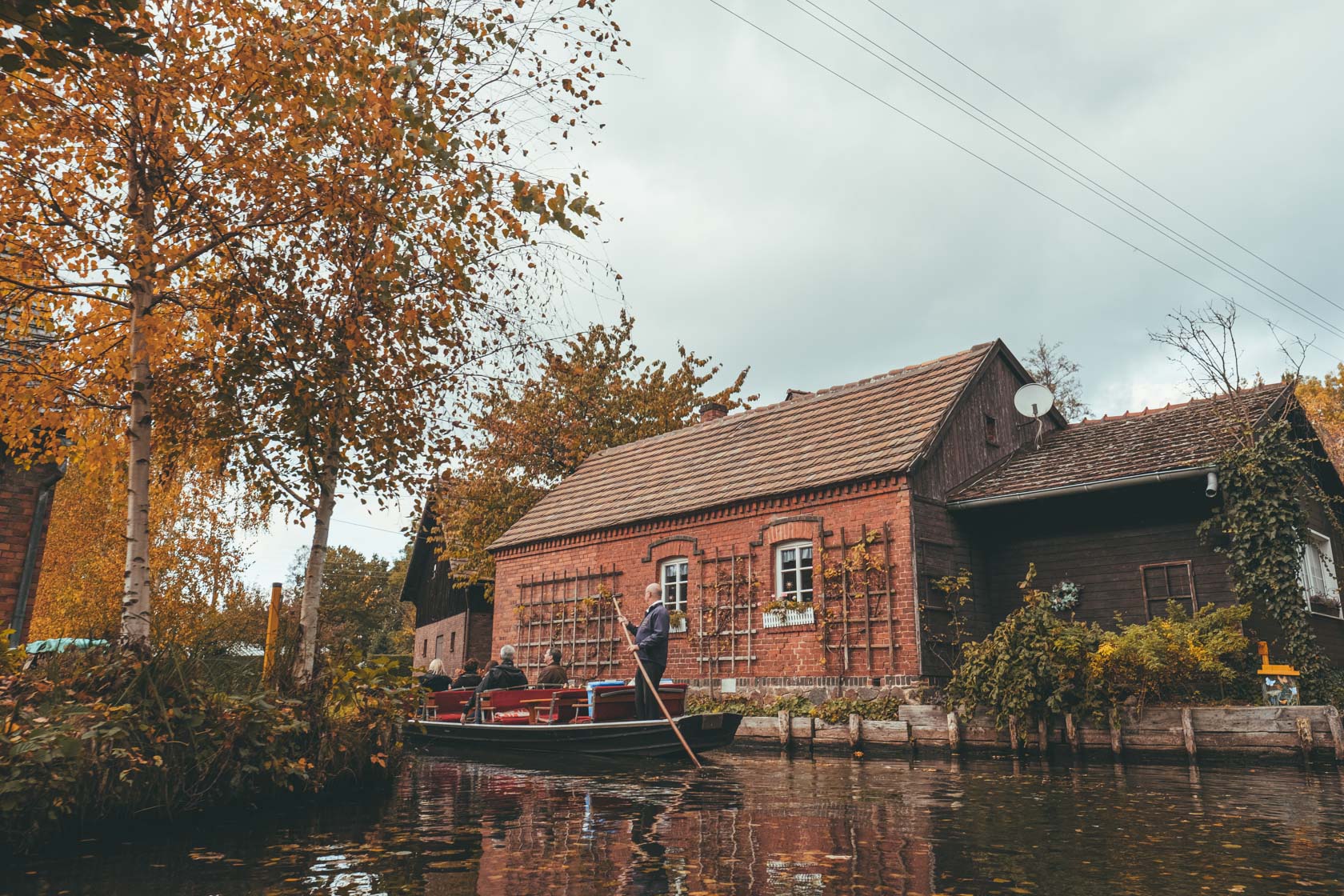 These kind of tours typically don't include a full meal, but will include local snacks like Brot mit Schmalz und Spreewald Gherkin (bread with lard and Spreewald gherkins). For the best seats, you'll definitely want to reserve in advance and show up before boarding time so you can pick where you'll sit on the boat.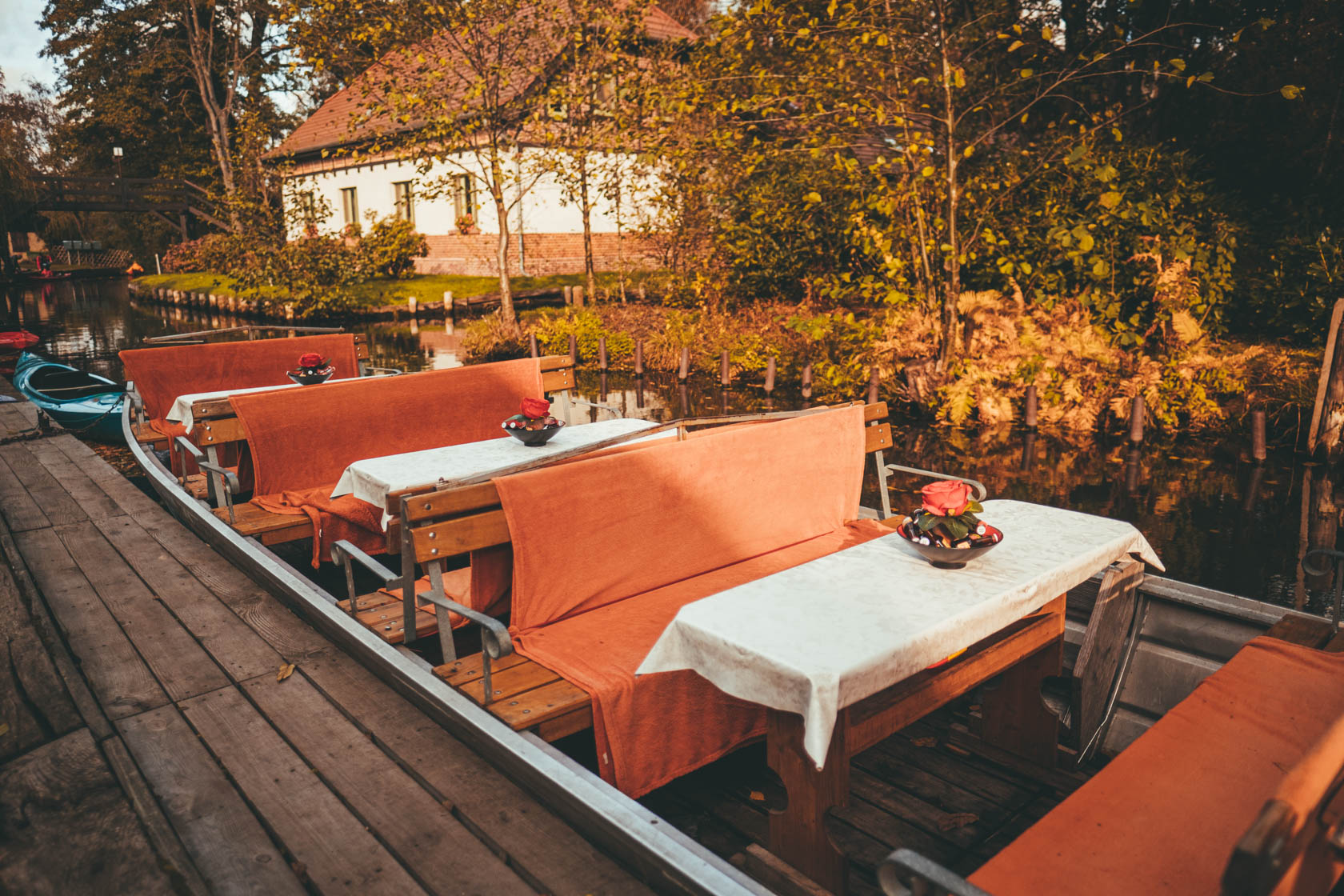 Note: It used to be that in order to ride on these boats, you had to present a negative COVID test. However, this is no longer required since the incidence level in Brandenburg is so low. You'll only be required to provide your contact details when you book a boat tour in Spreewald.
3. Paddle around Lehde, a traditional Sorbian village
If you're starting from Lübbenau, you'll ultimately want to make your way to Lehde . Lehde is a small village with just 130 residents, and one of the oldest and most beautiful in Spreewald. You'll notice that many houses you pass also have a small boathouse with a traditional Spreewald boat docked nearby.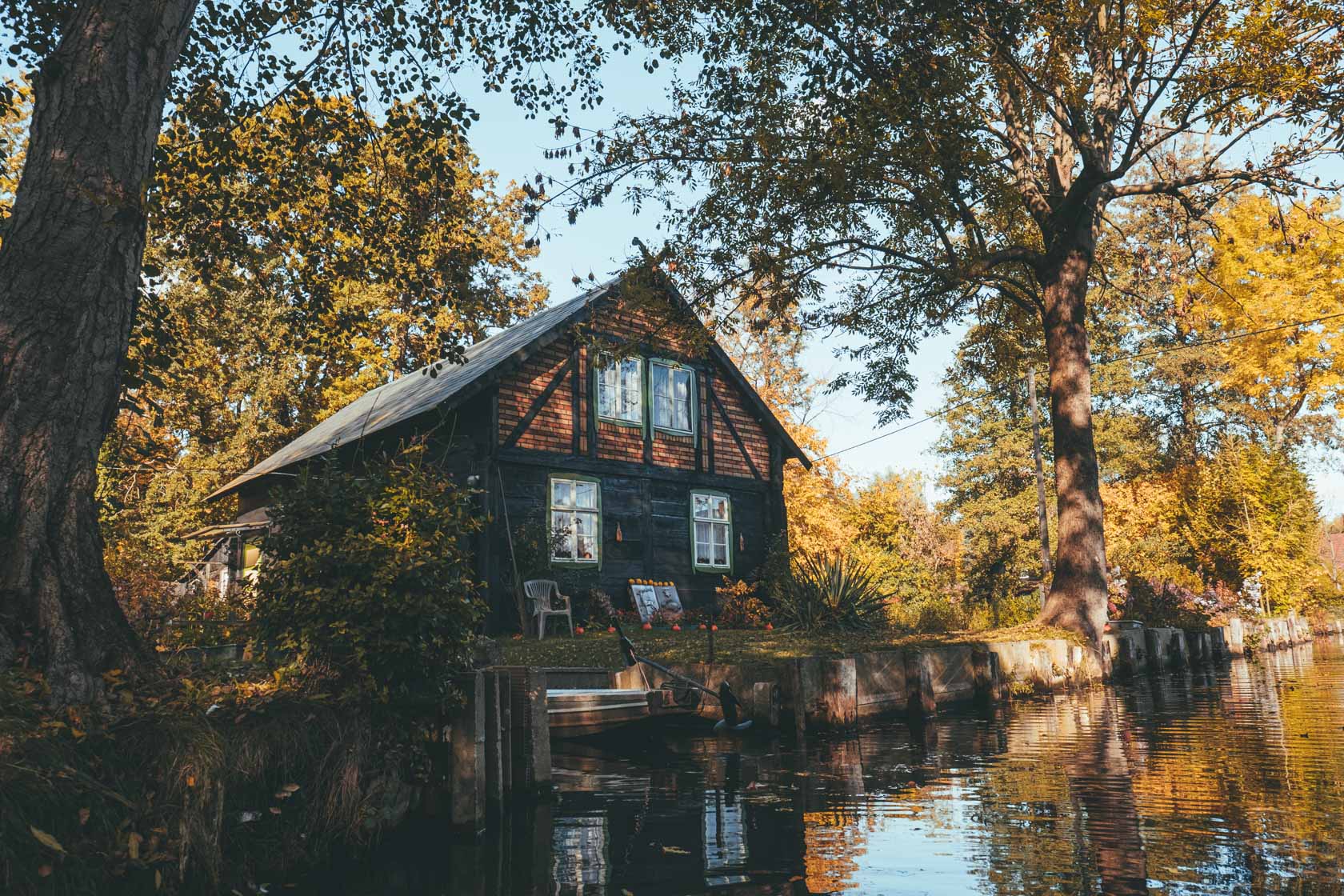 It is also possible to reach parts of Lehde by car and then by foot, as there are a number of bridges connecting the two sides of the canal. You can also consider getting out at the Spreewald Freilandmuseum in Lehde. We didn't have time for this, but it costs just 5€ to enter so worth checking out if you have the time.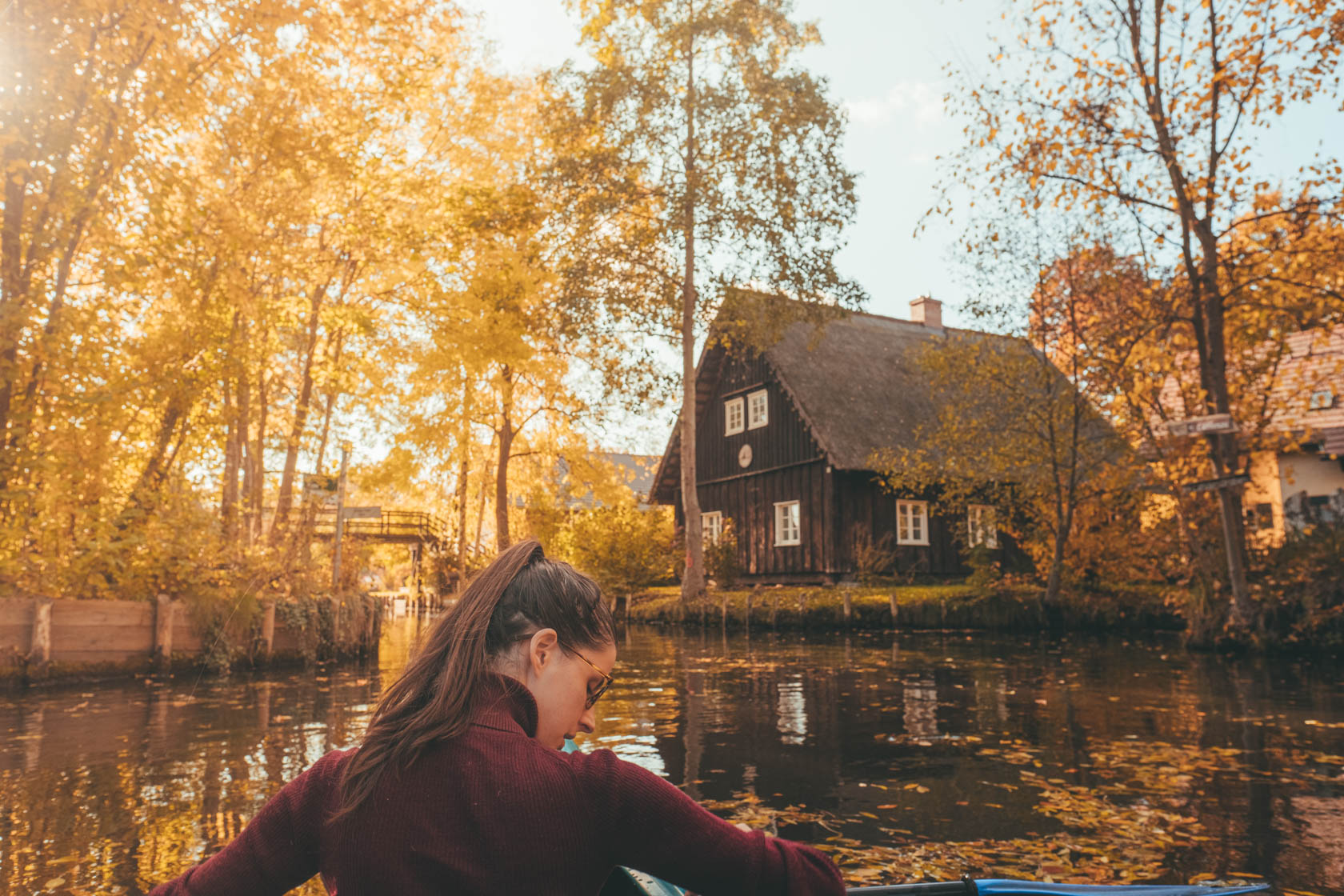 4. Eat (or stay!) at a traditional German Gasthaus
After all that boating around, you'll want something to eat. Inside Spreewald, you'll find a number of restaurants, cafes, and guesthouses (in German, Gasthaus). Pretty much everywhere offers outdoor seating, so you can sit near the canal and enjoy the weather while you have something to eat. A lot of these restaurants also double as guesthouses, meaning you can stay overnight in the Spreewald.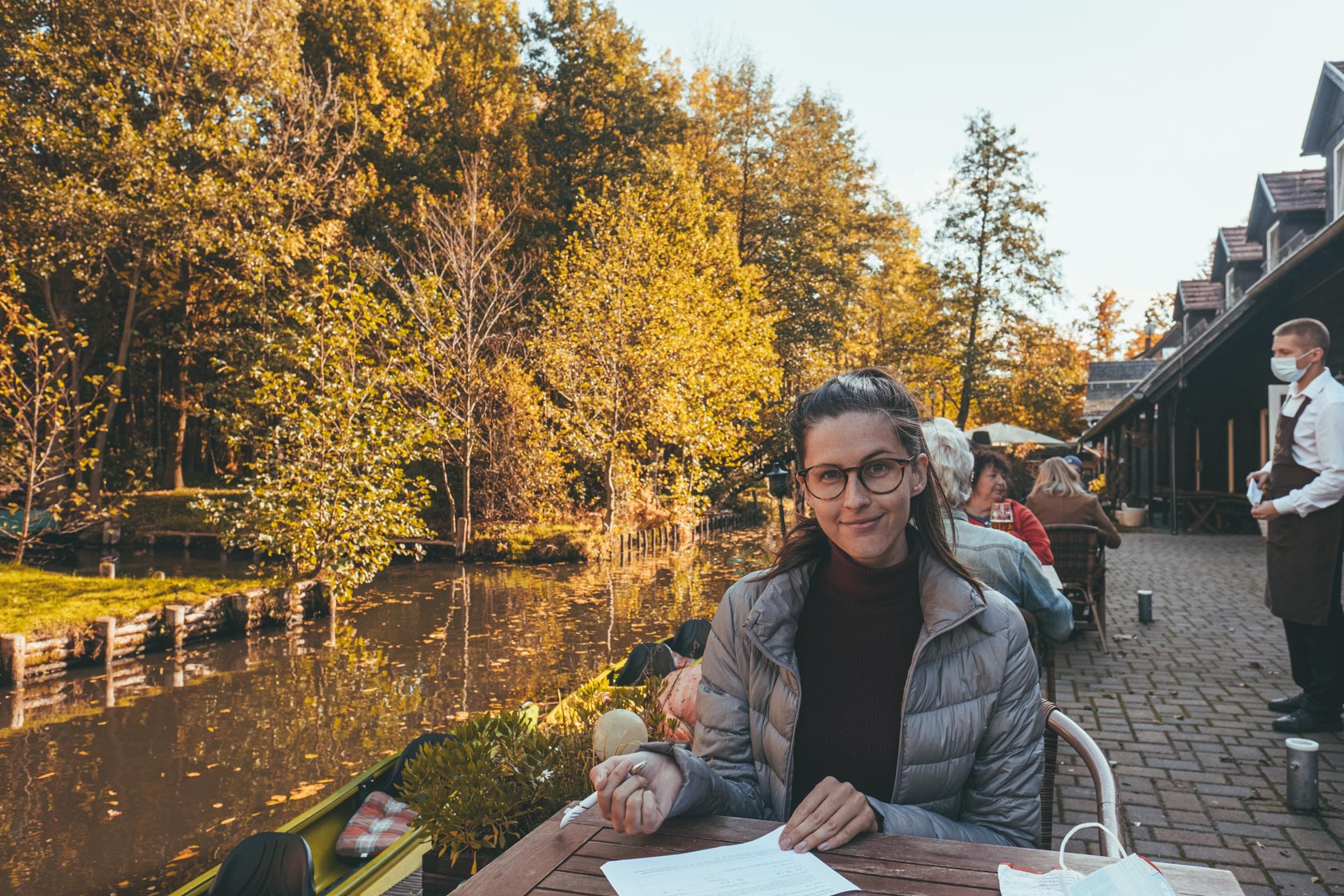 On offer you'll mostly find standard German fare, like Schnitzel and Pommes (French fries). It is a bit overpriced considering what you'd pay for something similar in Berlin, but obviously you're in a "local tourism hotspot" in Spreewald so it's to be expected.
Here's a peek at my Schnitzel and Pommes: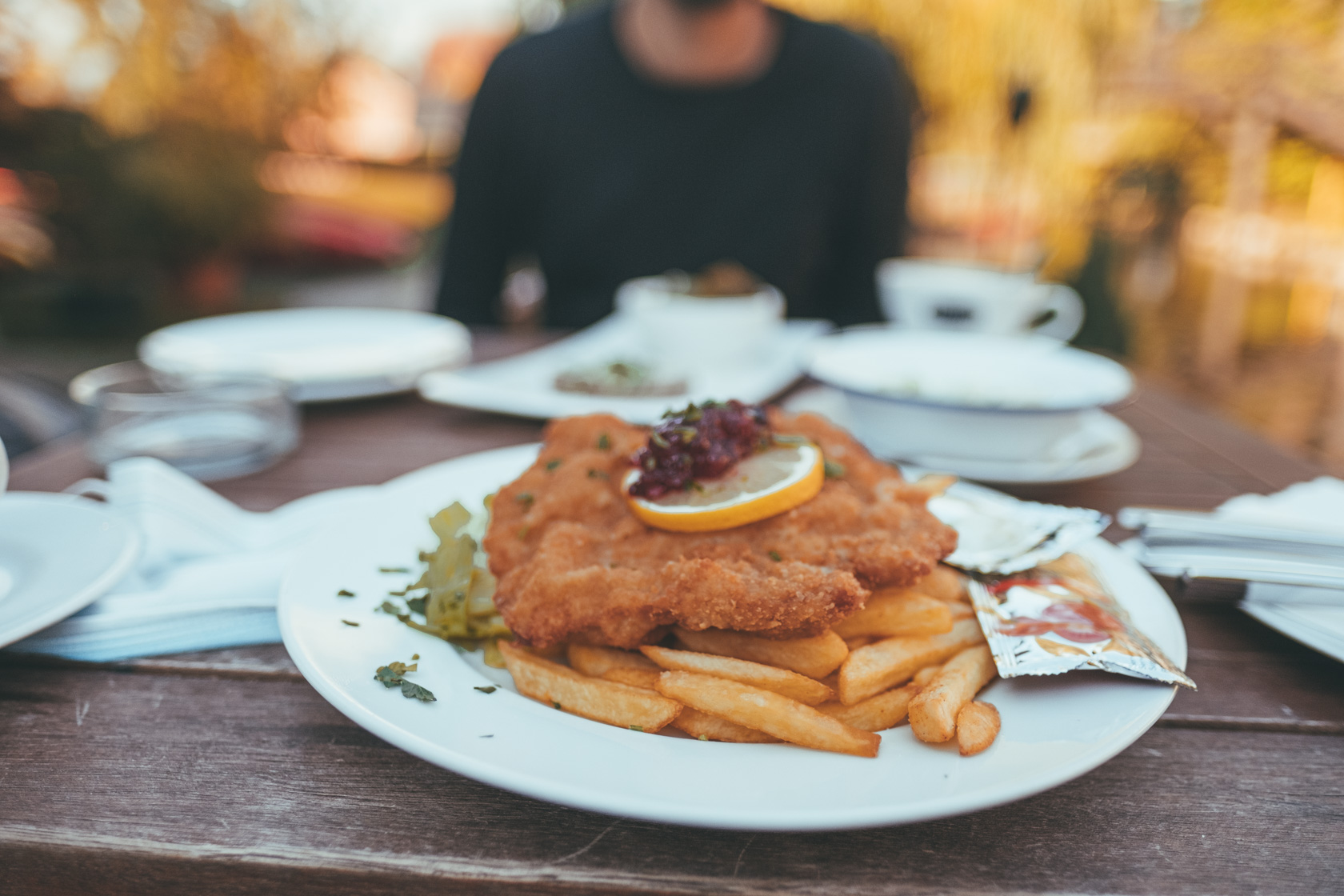 Lots of the restaurants and cafes are on Google maps, which you can check out as you're boating around in the canals.
5. Try local Spreewald Gherkins
If there's one local specialty you have to try, it's the Spreewald Gherkins. Spreewald Gherkins are a type of locally made pickle, which are protected by the EU as a Protected Geographical Indication — just like Champagne from the Champagne region of France. But pickles.
There are cucumber fields in the area where the special cucumbers are grown, which are eventually made into Spreewald Gherkins. This is a look at three varieties of Gherkin served together, alongside some Bot mit Schmalz (bread with lard):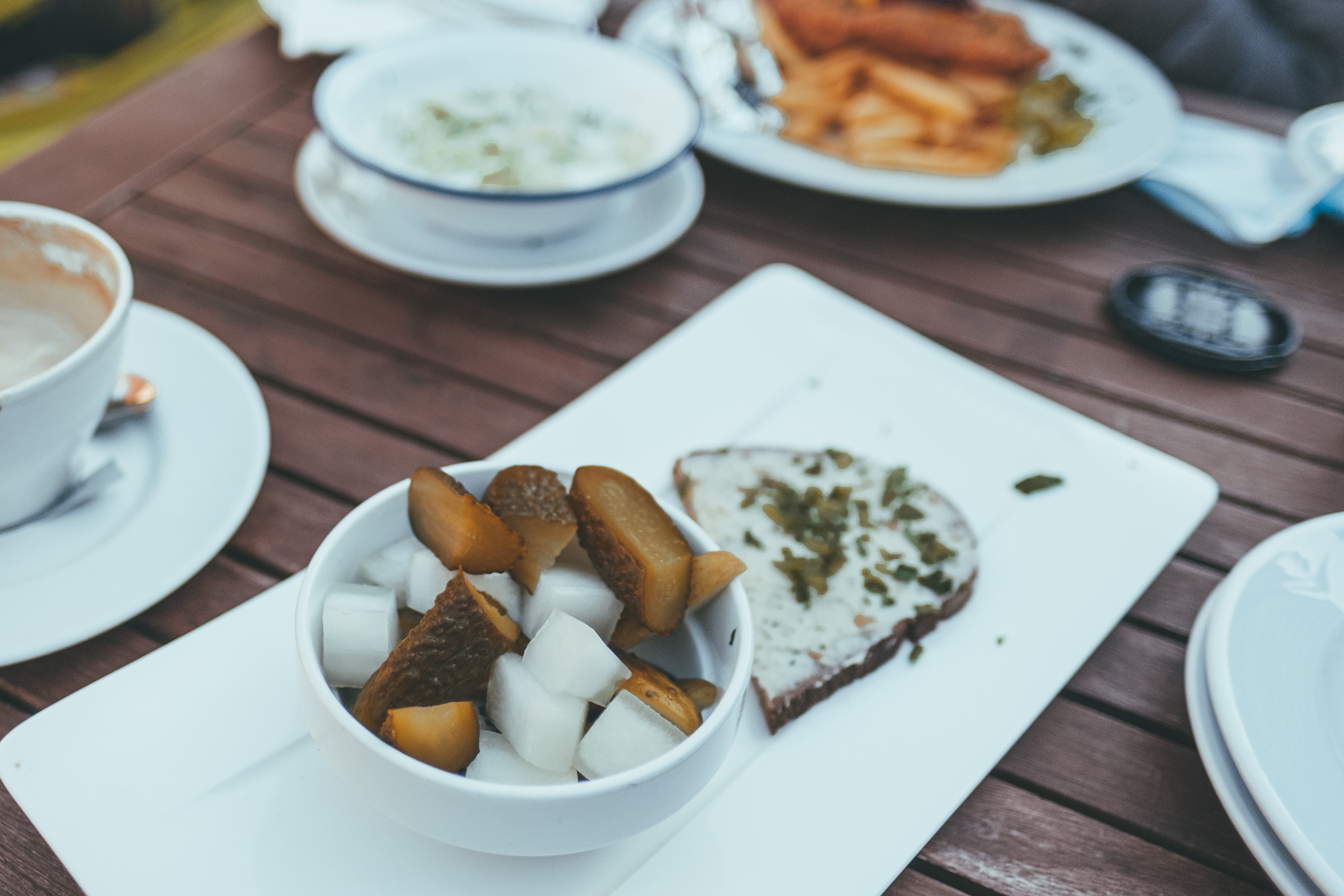 If you are a big-time pickle-lover, you can even check out the Spreewald Gherkin Museum . We didn't make it in and honestly the reviews aren't that great, but you can also buy yourself a jar of pickles right in Lehde or back in Lübbenau.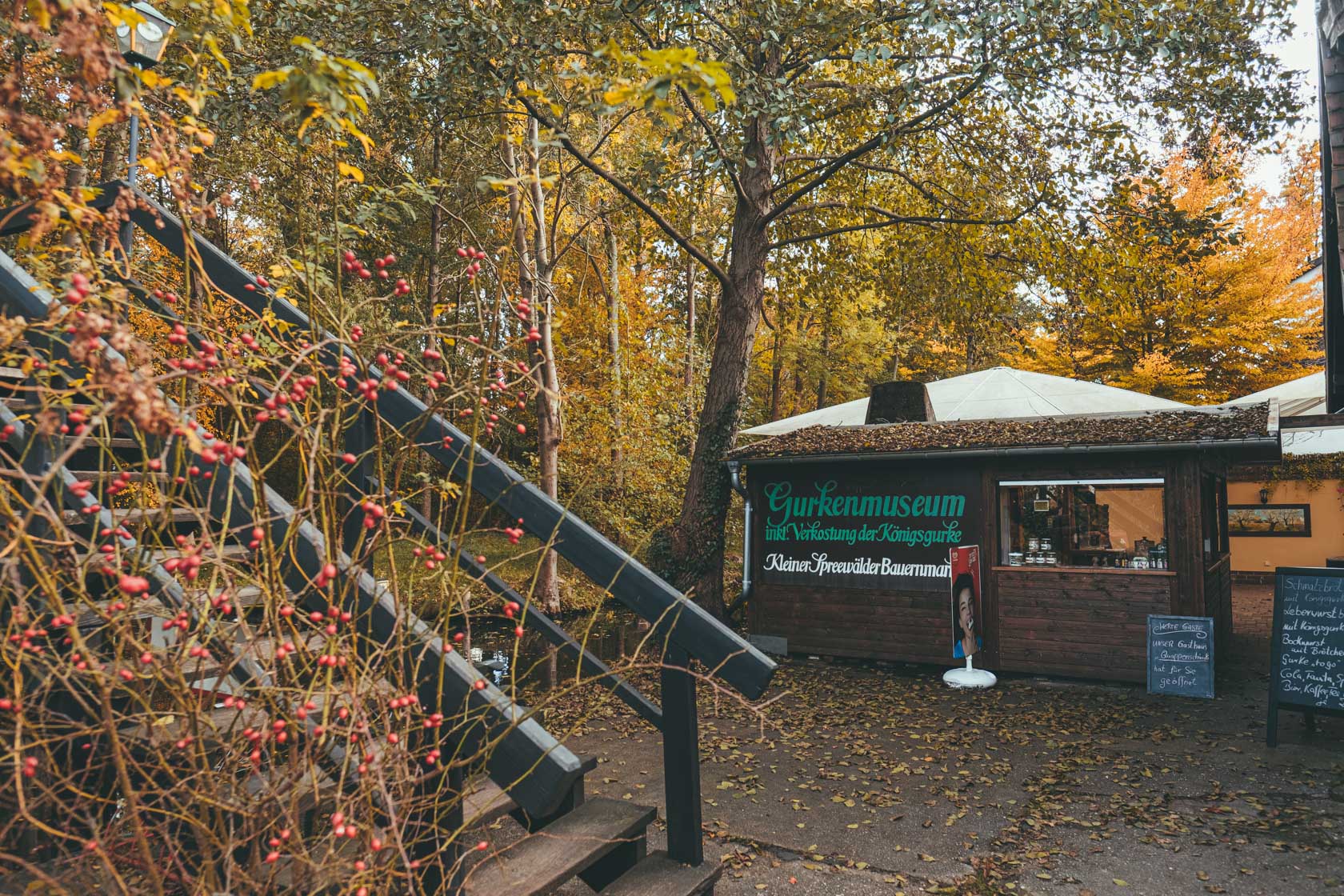 The sign here says than entry to the museum includes a tasting of the Königsgurke ("King's Pickle") in case that entices you inside.
5. Walk around the town of Lübbenau
After your paddling adventure, you might want to check out some of the surroundings in Spreewald. A logical place to start would be Lübbenau.
Lübbenau is a town in Brandenburg, most famous for its incorporated villages of Lehde and Leipe. It has a popular port/marina, from which many of the Spreewald boat tours depart hourly. There's also a small market nearby called the Gherkin Mile where you can buy local products like pickles and honey.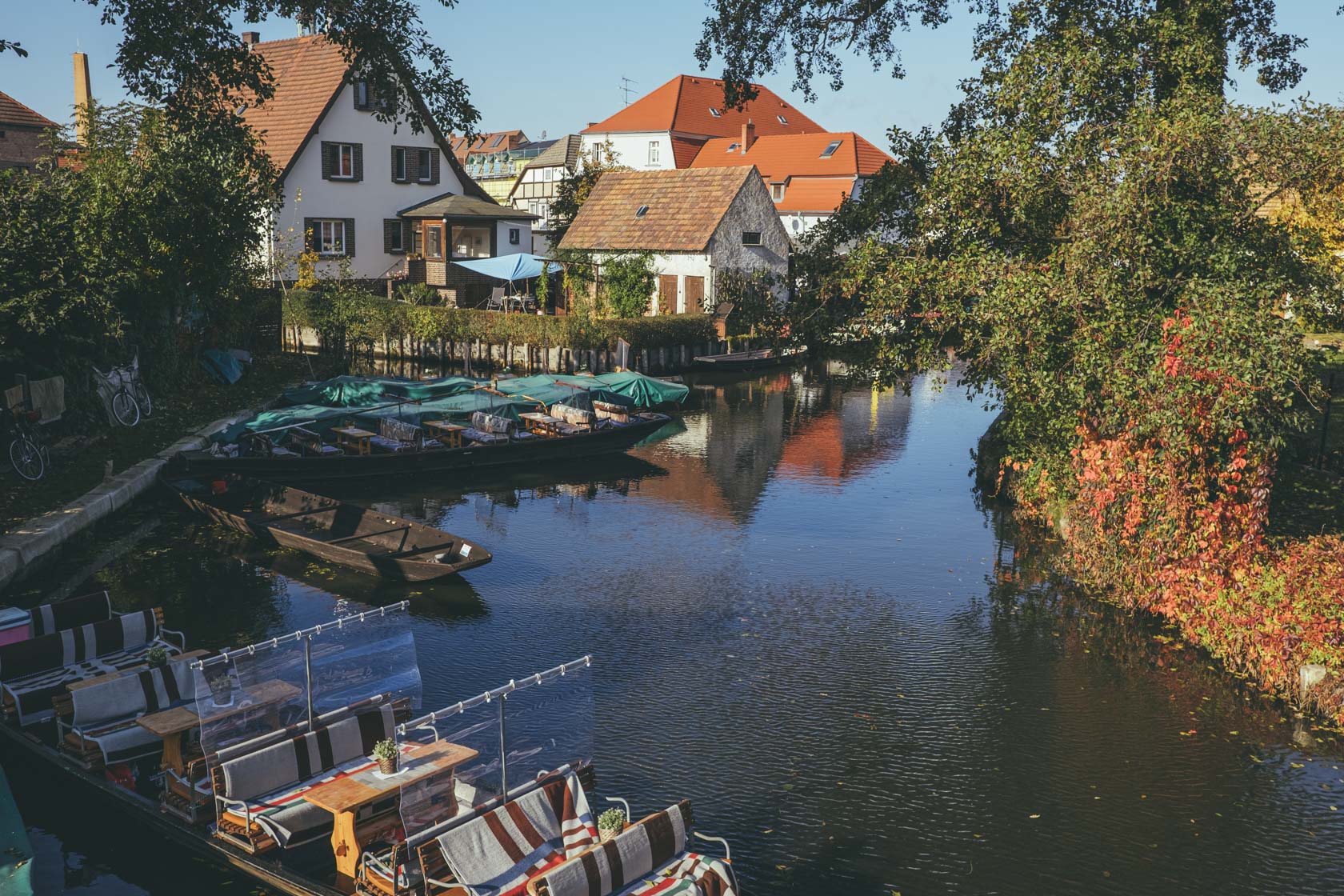 Drive around town, and you'll also be able to find the Spreewald Museum and a castle, Schloss Lübbenau which is today a four-star hotel where you can stay in overnight.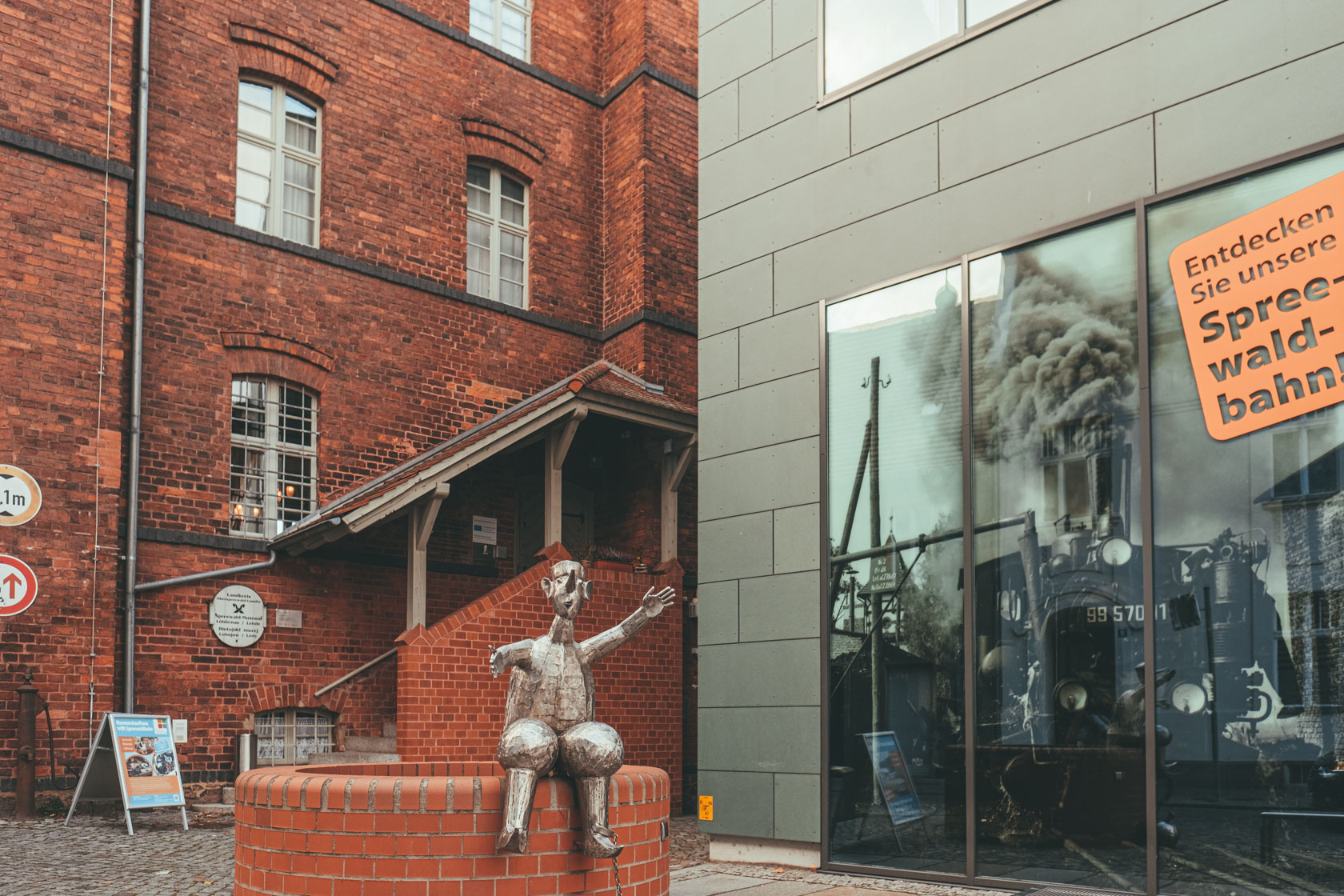 6. Visit the Slavic castle Raddusch
Raddusch is best known for its reconstruction of the Slavic Castle pictured below. Back in the 9th and 10th century, the western part of Spreewald was connected through a string of ring-shaped castles like this one. If you go inside, you'll find a permanent exhibition of the region (known as Lower Lusatia) from the Stone Age through the Middle Ages. Nearby, you'll also find the town of Vetschau , which was first mentioned as early as 1302.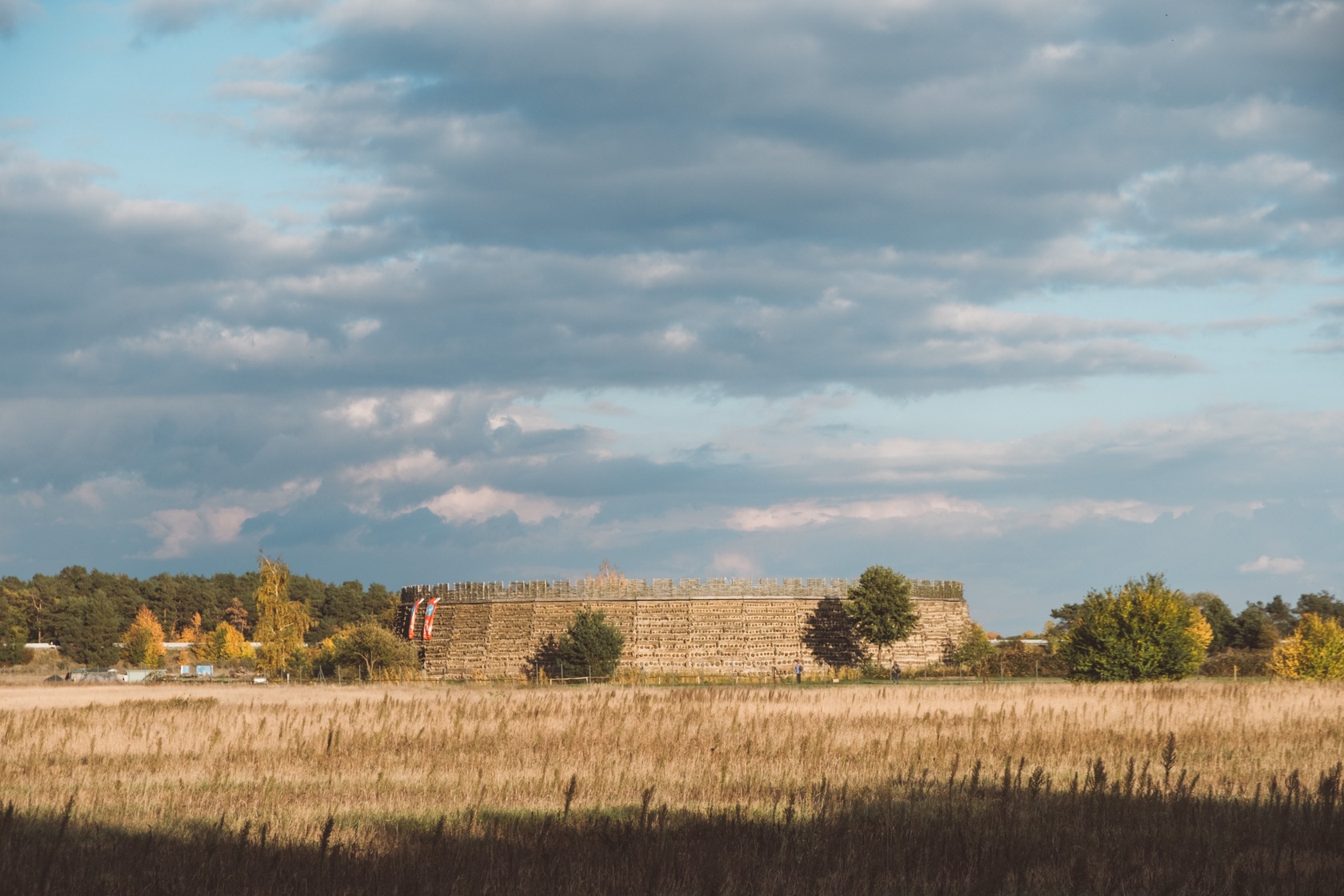 While you're in Vetschau, you can also pop by Vetschau Castle (which also has some accompanying gardens) and the Wendish-German double church .
7. Relax at a Spreewald Spa in Burg
The most famous spa in Spreewald is definitely Spreewald Therme located in Burg, an opportunity to soak in salt water thermal baths whose brine comes from 1,350 meters below. They've got a Finnish sauna, fitness centers, aroma steam bath, and a fire sauna. And of course, you can experience all of this while eating your fill of Spreewald Gherkins!
8. Cycle the Gurkenradweg
The Gurkenradweg is a 260 kilometer bike trail that winds through the Spreewald, including its famous villages and nature. The route is very flat, and even has a network of battery charging stations in case you want to explore it with ebike. The route can be broken into 8 different stages, usually started in Lübbenau.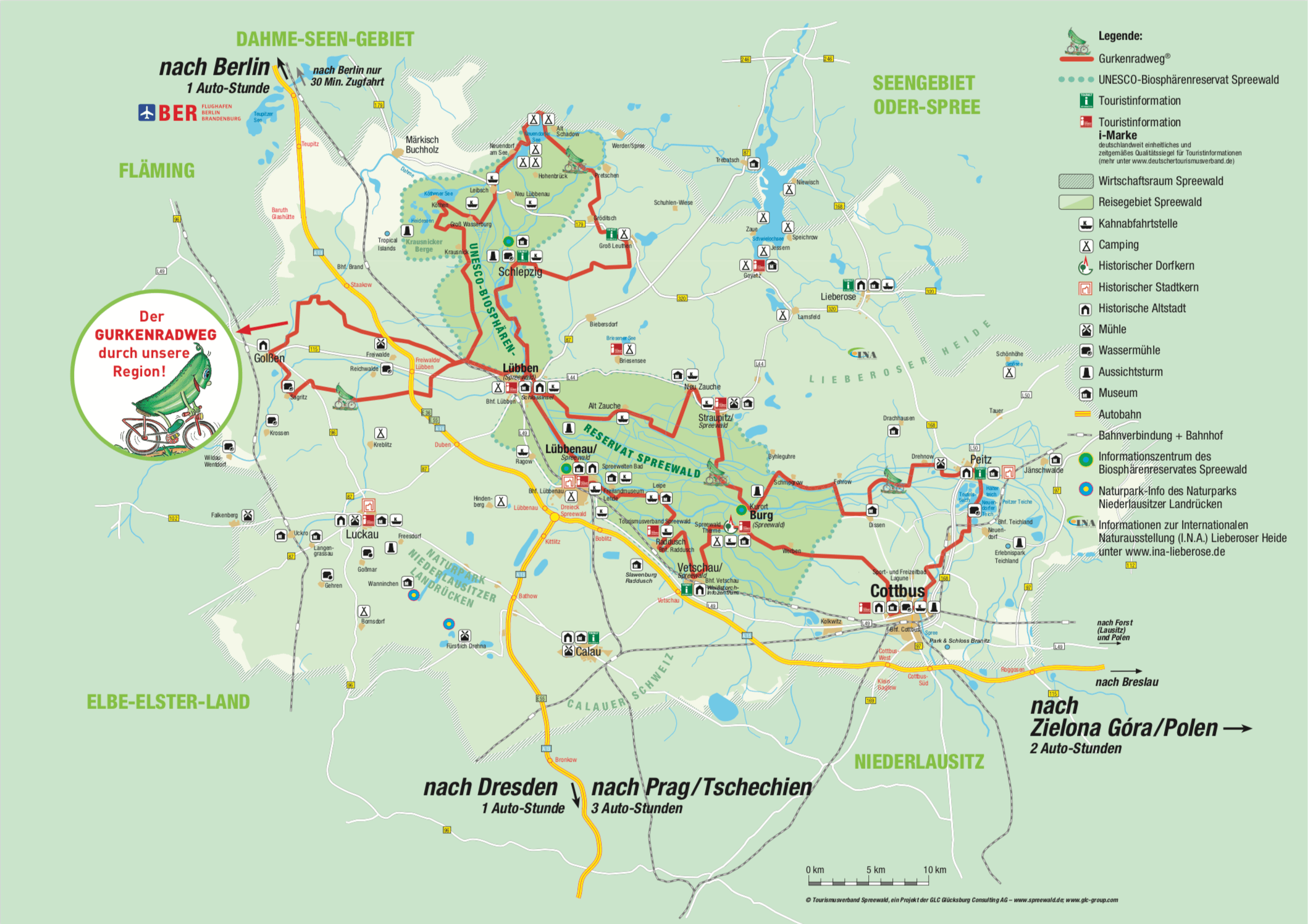 Apart from this route, there are other cycling routes in the Spreewald. So if you love outdoor cycling, you can definitely bring your bike here as an alternative way to get around.
Where to stay in Spreewald
There are a few main places you'll want to stay in Spreewald overnight, but the most popular are in Lübbenau itself or in guesthouses in the historic villages of Leipe or Lehde. Here are the most popular places to stay in Spreewald with great reviews:
Pension & Gasthaus Spreewaldhof in Leipe – Excellent location right on the canal, you get a real sense of living in one of these historic villages for the night. Breakfast included, and you can rent a boat directly through the guesthouse.
Schloss Lübbenau – Your chance to stay in a legit castle while you explore the Spreewald over the weekend. This four-star hotel has a great location as a base in Spreewald.
Hotel Ebusch – Luxurious, four-star accommodation in Lübbenau with glowing reviews and a 9.3 "Superb" rating on Booking.com.
That said, if you are visiting during the high season (April through October) or trying to make a Winter trip near Christmas, there is not a ton of accommodation and it tends to get rented out quickly.
That said, since Spreewald is an easy day trip from Berlin, you can also choose to stay in Berlin. It really depends how much time you have and whether you want to do a simple boat trip or also enjoy some of the cycling, hiking, and other sights in Spreewald.
Map of Spreewald, Germany
Here is a map of Spreewald, which you can use to plan your trip (larger here).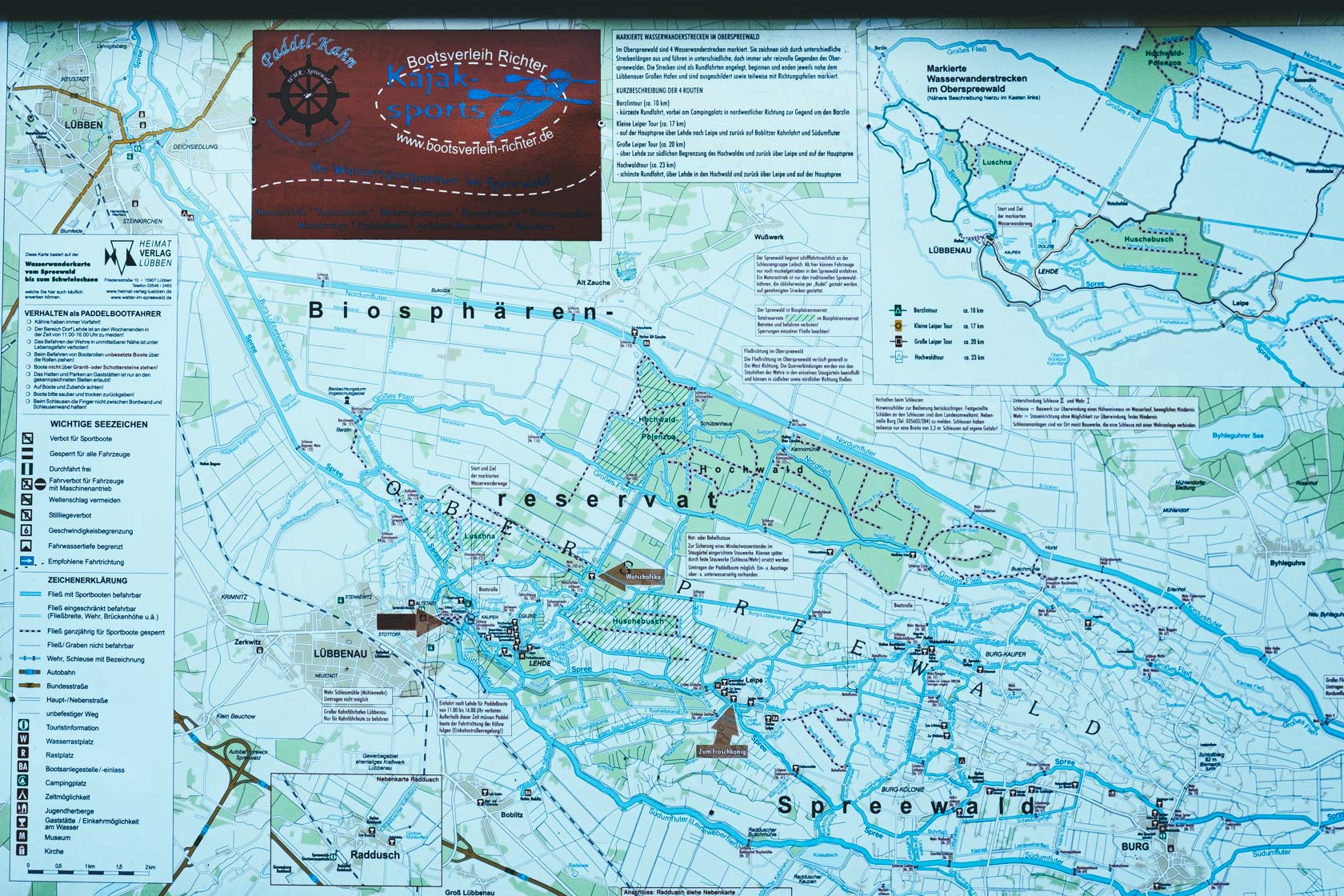 Best time to visit Spreewald for great weather
Spreewald is more or less a year-round destination, with the high season in April through October, and the low season from November to January.
Summer is the most popular time to visit Spreewald. The weather is great, and the trees offer a lot of shade during most of your boat trip through the Spreewald canals. However it's also much busier, so you'll want to be sure you book in advance as this is a very popular local weekend trip.
Autumn is also a beautiful time to visit Spreewald. For the best Autumn foliage, I'd recommend the very end of October (though my tip for hitting the peak is to check recent photos on Instagram to see how far along the change of color is). Another reason to visit in Autumn is that during this season, large numbers of waterfowl stop by Spreewald on their journey South for the Winter. You may also be able to spot sea eagles as well.
Finally, Spreewald in Winter (and during Christmas) is also a sought-after experience. In especially cold winters when the canals freeze over, you can even get around in a sled!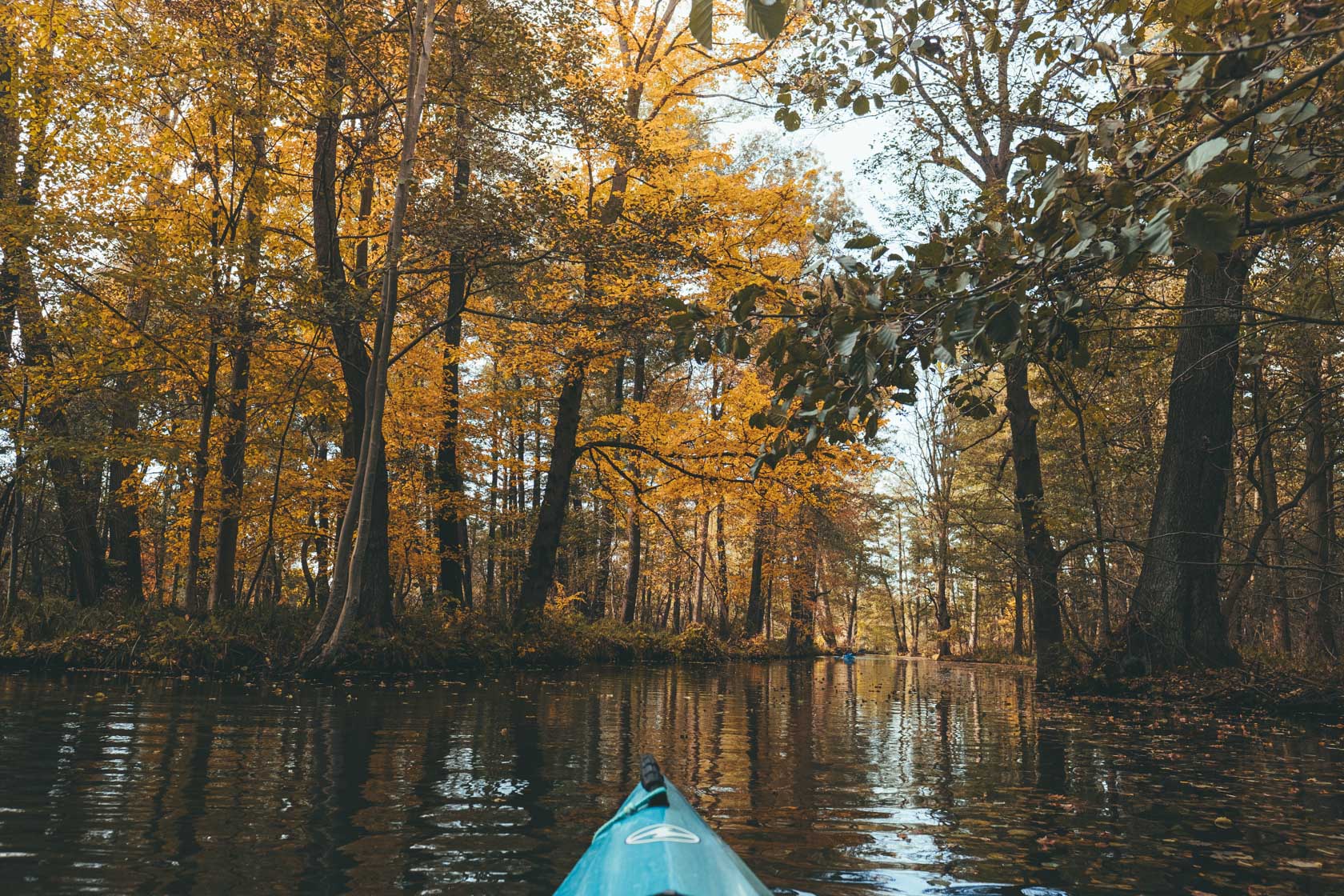 If you want to time your visit alongside an event, you can check out the Events page on Brandenburg Tourism's website (unfortunately only in German). But there is a lot going on, ranging from a Chopin concert to a Slavic Fairytale Festival. You'll find plenty no matter what month you end up visiting.
Looking for more places to visit near Spreewald?
One hour away from Spreewald to the southeast and you can visit Germany's Devil's Bridge, in the Kromlau Rhododenron Park. It's really only easily accessible by car, and is absolutely stunning to visit in Autumn. The park was recently under reconstruction, which should be finished in Summer 2021.
Otherwise, the nearest town is Cottbus , which is a small German city. Only worth a stop if you are already in the area, Cottbus has a zoo, castle, and museum.