What happened when you told your friends and family you were planning a trip to Iceland in Winter? Was the look on their face something like? 😱 Did they think you were going to die of frostbite or get buried in an avalanche?
Honestly that's what most people think about Iceland, but you might be surprised to know that Winter is the second most popular time of year to visit Iceland after Summer. Yeah! Tell that to your concerned loved ones. You're definitely not the only one who figured out that Winter in Iceland is a special experience.
The reality is that there are SO MANY awesome Iceland winter activities, things you just can't do any other time of year. And as they say in Iceland, "If you don't like the weather, wait five minutes." 😉
Read on for the best things to do in Iceland in Winter, what to wear in Iceland in Winter, what kind of weather to expect in Iceland during the winter months, and general safety tips for traveling Iceland in Winter.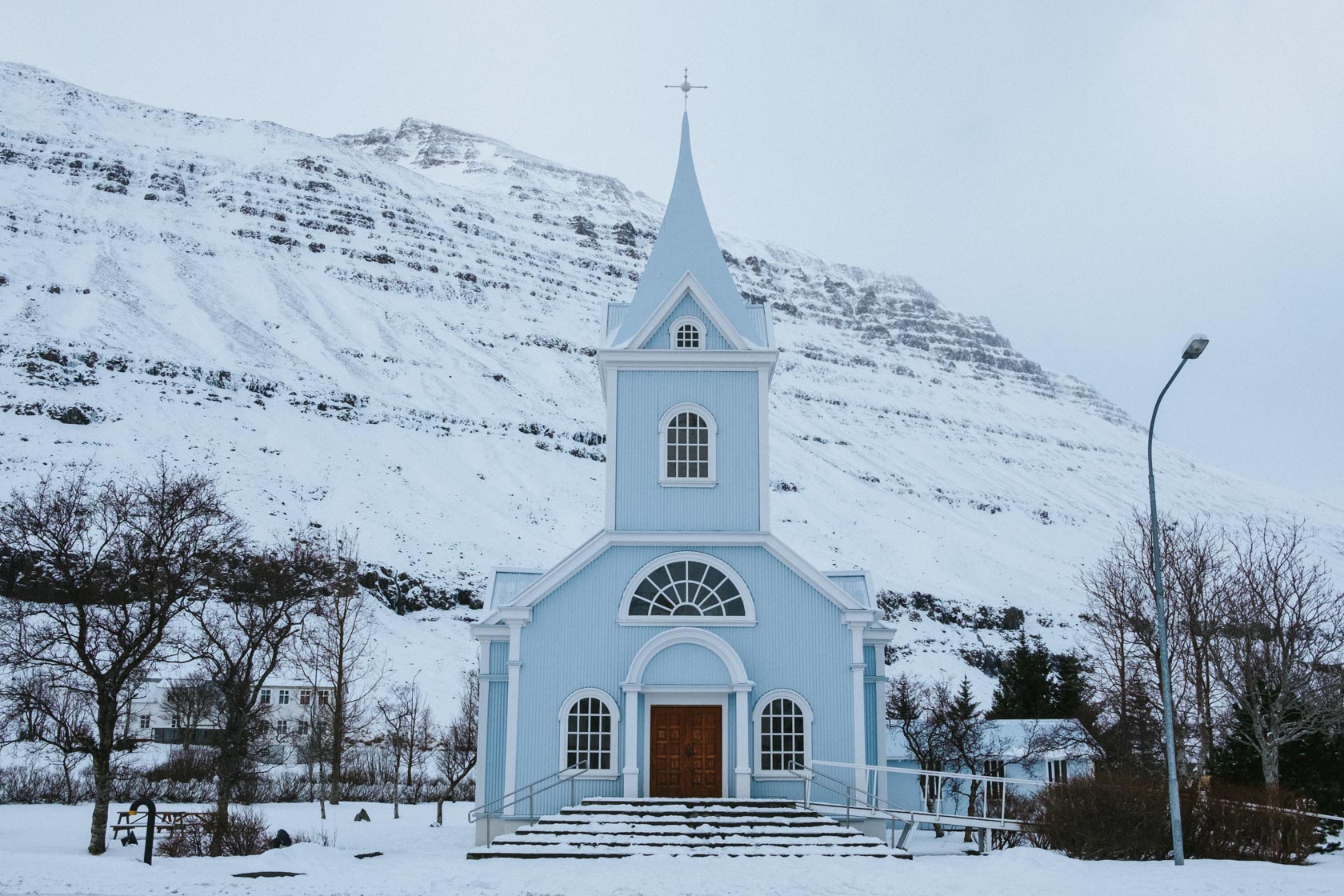 Some links in this post are to affiliate sites. If you purchase something through them, I may earn a small comission — which costs you nothing! I am very grateful when you use my links to make a purchase.
Can you visit Iceland now? (Summer 2023)
As of February 25, 2022, all measures due to COVID-19 at the Icelandic border have been lifted.
13 Special Things To Do in Iceland in Winter
1. Take an ice caves tour
Taking an Ice Caves tour is probably the top thing on a lot of people's lists when they start planning a trip to Iceland. A big part of that is because Iceland's ice caves are only open every year from mid-October to about mid-March, though you should check for each tour when they're running, as the exact dates can change every year. Still, what it means is that you won't be able to visit them in Summer because that's when they're flooded full of water! So getting to see them is something pretty special, and it was the first activity we booked when visiting Iceland in Winter.
You might also be wondering: do I really need to take a tour to visit the ice caves? The answer is Yes, you do need to go through a tour. It's completely unsafe and not allowed to go out on the glaciers on your own! There are massive chasms you can just fall down in unstable parts of the glacier. The guides are experts and understand the glacier's thickness and where they can drive their Super Jeeps 😎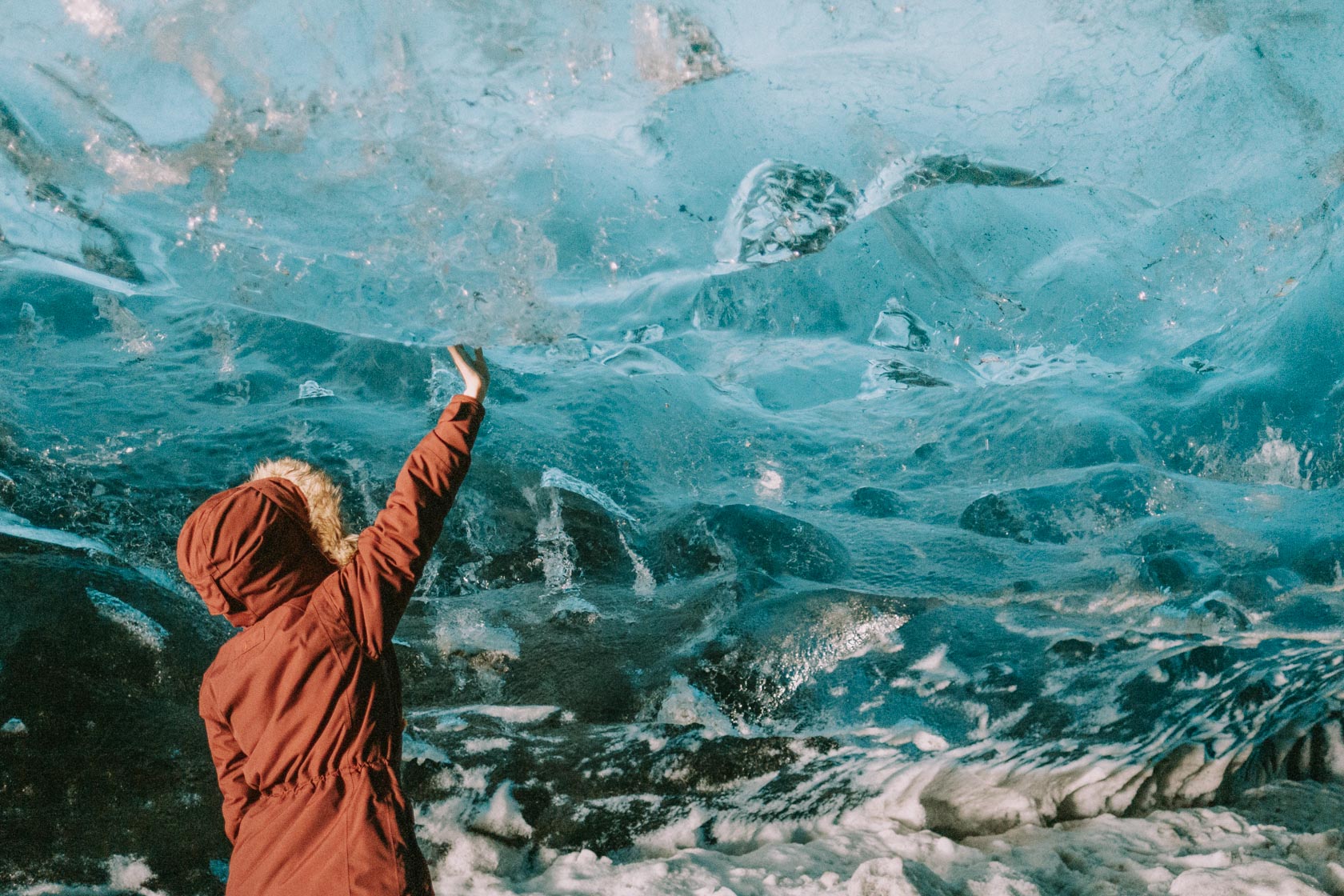 Where to take an ice caves tour in Iceland
There are three main locations you might want to visit ice caves in Iceland, ordered by distance from Reykjavík:
Sólheimajökull (2 hours from Reykjavík). This glacier is easily the most ideal if you can only make a day trip from the capital, and it's easy to book both ice cave tours and glacier hike tours including transfer from Reykjavík.
Mýrdalsjökull (2 1/2 hours from Reykjavík), Katla Volcano. Located closer to Vik, you could reach this glacier as a day trip from Reykjavík but you'd probably need to self-drive.
Vatnajökull (4 hours from Reykjavík, 2 hours from Vik), Skaftafell National Park. This glacier is Europe's largest and conveniently close to Jökulsárlón (Glacier Bay), which you'll want to see anyways. It's about a 4 1/4 hour drive from Reykjavík, meaning you'll need to stay somewhere like Vik or Hof in order to reach it.
Keep in mind, you WILL be driving more slowly in Winter conditions!
If you're going to Skaftafell, you'll want to base yourself in towns like Hof (closer) or Vik (1 3/4 hours drive) if you have a glacier tour happening first thing in the morning. Read my post on where to stay in Iceland if you're traveling the Ring Road and looking for tips on choosing accommodation.
I've marked the meeting points for the tours listed below. The majority of tours for a given glacier all start in the same place, but always double check with the tour company!
How to choose an ice caves tour
Most ice cave tours are more or less the same (meaning at any given glacier, they visit the same naturally occurring caves), with costs about $120-170 per person. It sounds pricey but you really won't get lower than that. Yes, Iceland is $$$! Even if you book a "small group tour", the reality is that most ice caves have more than one tour at them at the same time so you're mostly paying for sharing the Super Jeep with more or less people. For that reason, the main variables you want to consider are: which glacier can you reach, how much time do you have and do you want to do glacier hiking?
Here are the best value tours available in each of the three main ice cave locations in Iceland:
(4h) Skaftafell: Ice Cave Tour & Glacier Hike – This tour is one of the least expensive Skaftafell glacier tours, quite long at 4 hours, and also has both ice cave exploration and hiking. If I were to go again, this is probably the ice cave tour I'd choose. If you're going to end up at the same caves no matter which tour you get, in my opinion you might as well get the cheapest and the longest tour!


(4h) Sólheimajökull: Ice Cave Tour – One useful thing about Sólheimajökull is the fact that you can reach it as a day tour from Reykjavík. This particular tour involves hiking to and from the ice cave, which takes about 1-1.5 hour each way, and is suitable for children as young as 10. You can even book the same tour with transfer from Reykjavík for an extra $50 or so.


(3h) Katla Volcano: Ice Cave Tour – This ice cave is located at Mýrdalsjökull near Vik. You get to both see the ice cave and do a little bit of hiking. Come here if you can't make it all the way to Vatnajökull but still want to have an ice cave experience!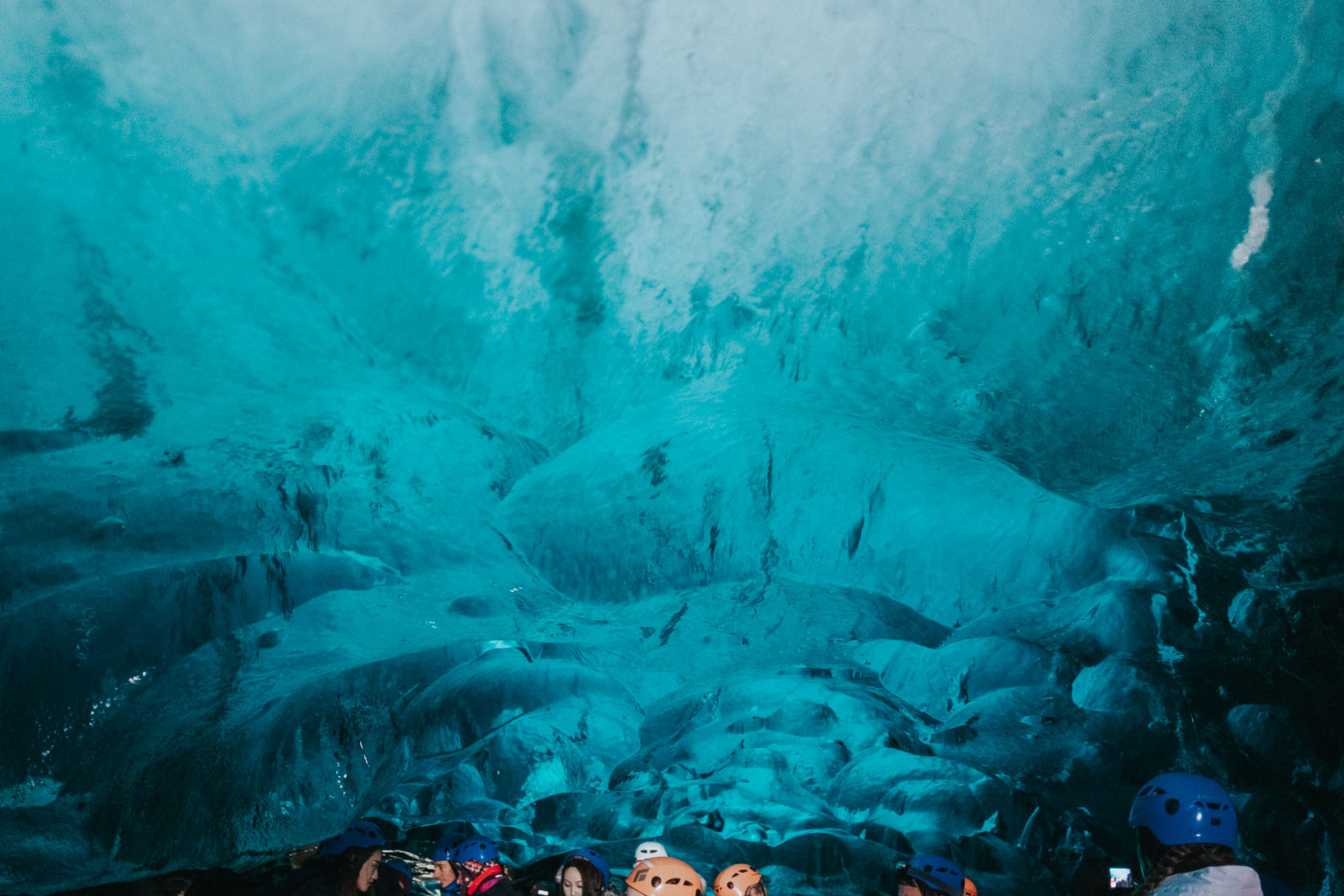 2. Hike across Europe's largest glacier, Vatnajökull
I'm pretty sure Iceland is the first place I'd ever encountered a glacier, and it was particularly special to do if for the first time at Europe's largest glacier, Vatnajökull. The amazing thing to me is that it takes almost 45 MINUTES to drive from the starting point of most glacier tours, over the glacier's surface, to reach the location of the ice caves.
In case you're wondering, how physically strenuous is a glacier hike? you can put your mind at rest – children as young as 8 years old are allowed on the hikes, and you'll also see seniors as well. You just need to be sure to wear proper hiking boots, to which they'll be able to attach crampons (spikes) on the bottom. Besides that, just wearing warm clothing and gloves is basically enough. Don't forget that Iceland is windy and when you're on a glacier, there's nothing to shield you from the wind. So wearing wind and water reisistant clothing is going to save your butt (literally!).
Except in this case where you can slide down on purpose 😉
TIP – If you're based in Reykjavík, you can do a glacier hike on Sólheimajökull . Located just 2 hours away from the capital, this tour includes transporation from Reykjavík at the same price you'd pay for a on-site glacier hike at Vatnajokull. Alternatively you can save money by booking a tour that starts at the glacier's foot .
Glacier hikes on Vatnajökull
Both of these tours are operated by the same company, so the big difference is how much time you have on your hands. Besides the standard hike (ha!) you can also do an glacier hike and ice climbing tour .
In terms of pricing, the 3-hour tour is cheapest, followed by the 5-hour hike, and then the ice climbing and glacier hike which lasts 4 hours. My guess is the additional equipment and instruction accounts for the extra cost. In any case, the costs are not massively different and your biggest factor (as always!) comes down to how much time you have to spend here before moving on to the next leg of your trip.
3. Hunt for the northern lights
This MIGHT just be the dream of just about every person who visits Iceland in Winter. Tell me that's not true! Also known as the aurora borealis , the northern lights are a natural phenomenon that happen in high-latitude regions thanks to solar wind. While most auroras we saw were green in color, you can also see them with tinges of purple, yellow, and even red. Iceland was the first place I've seen the Northern Lights in my entire life and it was easily one of the most exciting parts of my trip to Iceland in Winter.
How to find the northern lights in Iceland
In fact, in our 10 days in Iceland we saw the northern lights FIVE TIMES. One thing you might find surprising is that most of the time, the problem with being able to see northern lights is not actually aurora activity – it's cloud cover. You can use this awesome aurora forecast website to see where the northern lights activity is and how the visibility will look. It's super useful because you can look several hours in the future and plan your evening based on where you need to be to see them.
In our case, one night we even ended up taking a "nap" before venturing out to see the northern lights at 3AM. Let me tell you – IT WAS COLD. My fingers nearly froze off, because it's totally hard to operate a camera with gloves on. But in the end, you can tell me if it was worth it: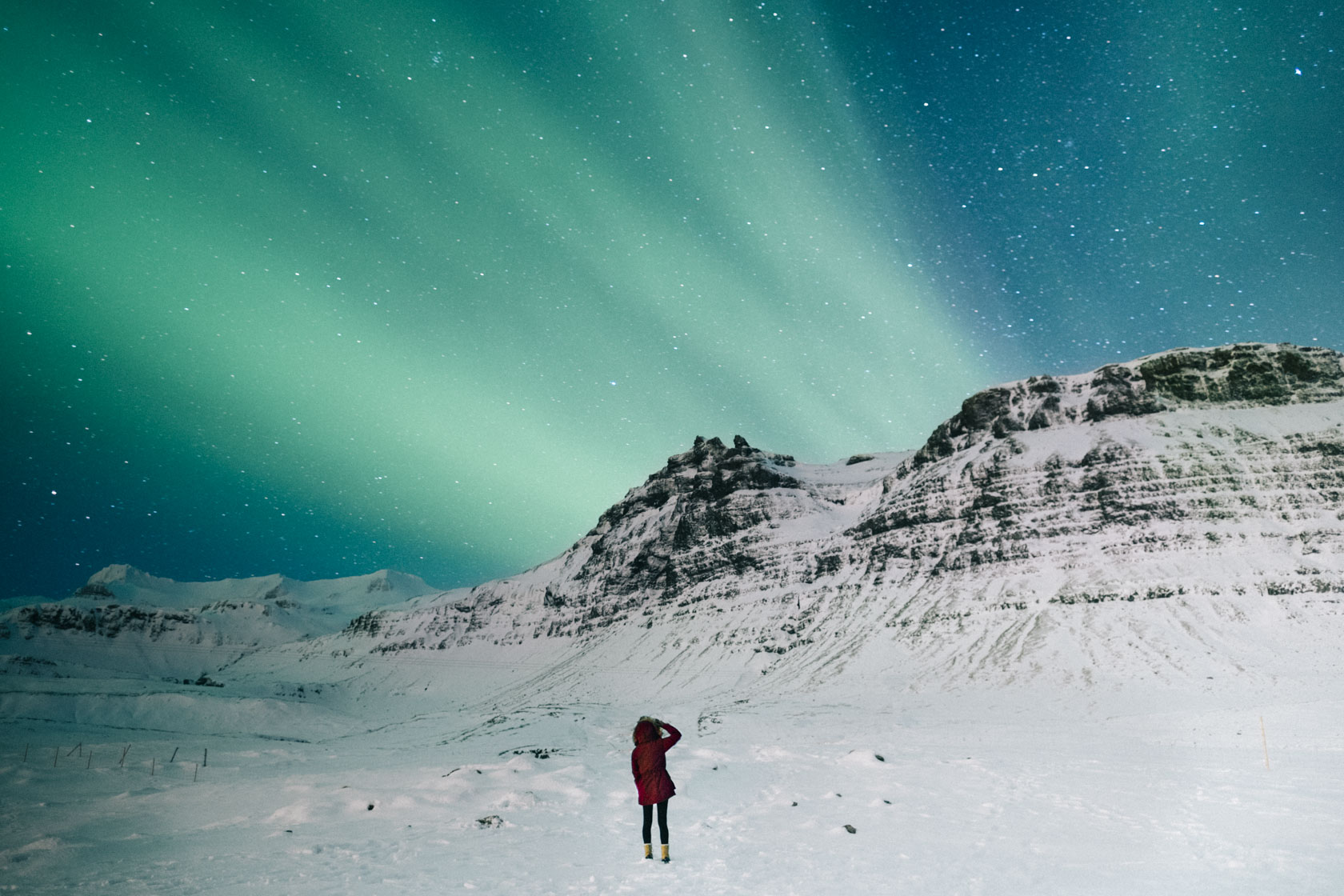 Yeah, thought so 😏 I had to stand perfectly still for 30 seconds for this photo, and somehow, I survived!
How to photograph the Northern Lights in Iceland
Pretty much everyone wants to take photos of the Northern Lights, but if you've never done much photography, you might be surprised to learn that it's not really possible to take photos of the northern lights with your phone. You need to take a long exposure photo, using a wide angle lens (at least 16mm on a crop sensor, 23mm on a full frame) with a very wide aperture (ideally f1.4, f1.8, or f2). On top of that, you need a tripod! I used this carbon fiber travel tripod to take all the northern lights photos you see in this post.
You can learn more about how to take pictures of the northern lights in my post about Iceland photography tips, but in general I would make sure you have a camera that's capable of doing it and that you learn how to work with your camera before you arrive in Iceland. Nothing is more frustrating than tinkering with a camera when something amazing like the aurora borealis is happening and you're trying to get your gear to behave!
Should you go on a northern lights tour in Iceland?
To me this depends entirely on whether you're able to safely drive a car in Iceland in Winter. As I mentioned already, the road conditions can be VERY icy, and you want to have experience handling ice on the road. If you're renting a car, there is no good reason to join a northern lights tour – you'll have a lot more flexibility planning yourself with the Aurora Forecast website and driving to interesting locations. However, if you are NOT able to drive yourself, a northern lights tour might make sense. It's rather unlikely you'll see northern lights from the city center of Reykjavík, but you don't have to stay too far out for the possibility of seeing them. I know it's possible to see northern lights from within Akureyri, in North Iceland.
One good thing about Northern Lights tours is that many offer a free re-try if you don't see any northern lights. Depending on whether you're based in Reykjavík or not, this could be a viable option so you can re-book your tour when the aurora activity is forecasted to be strong and with clear skies.
Another cool option (even for self-drivers) is taking a northern lights boat tour . It'll be hard to take photos with a rocking boat + tripod but who knows! I can imagine it's a really special view, especially if you can see the lights reflected in the water.
4. Go whale watching
Iceland has a bit of complicated relationship with whales. You might have heard that it's possible to eat whale in Iceland, similarly to how you can also eat puffin. However, a lot of people have said that consuming these animals is not promoting sustainable practices and that these days they're mostly hunted for tourists.
Instead of eating them, in Iceland it's possible to see them in their natural habitat – even in Winter!
Whale watching in Iceland in Winter
Iceland is famous for its whale-watching, and even though Summer is prime time in Iceland for observing wildlife, there are some whales that prefer it in the winter – such as the Orca pod that spends its Winters off the Snæfellsnes peninsula. You can also see Humpback whales in the Winter, and there are tons of boat tours that will take you out to see them.
In the Summer, many tours even claim to have a 97-99% success rate. That's a pretty bold claim if you ask me, but I'm guessing there's a reason for it 😉 Even in the Winter, you can still have really good chances, and similarly to the northern lights tours, many whale-watching tours will offer you a free re-try tour if you don't see whales the first time.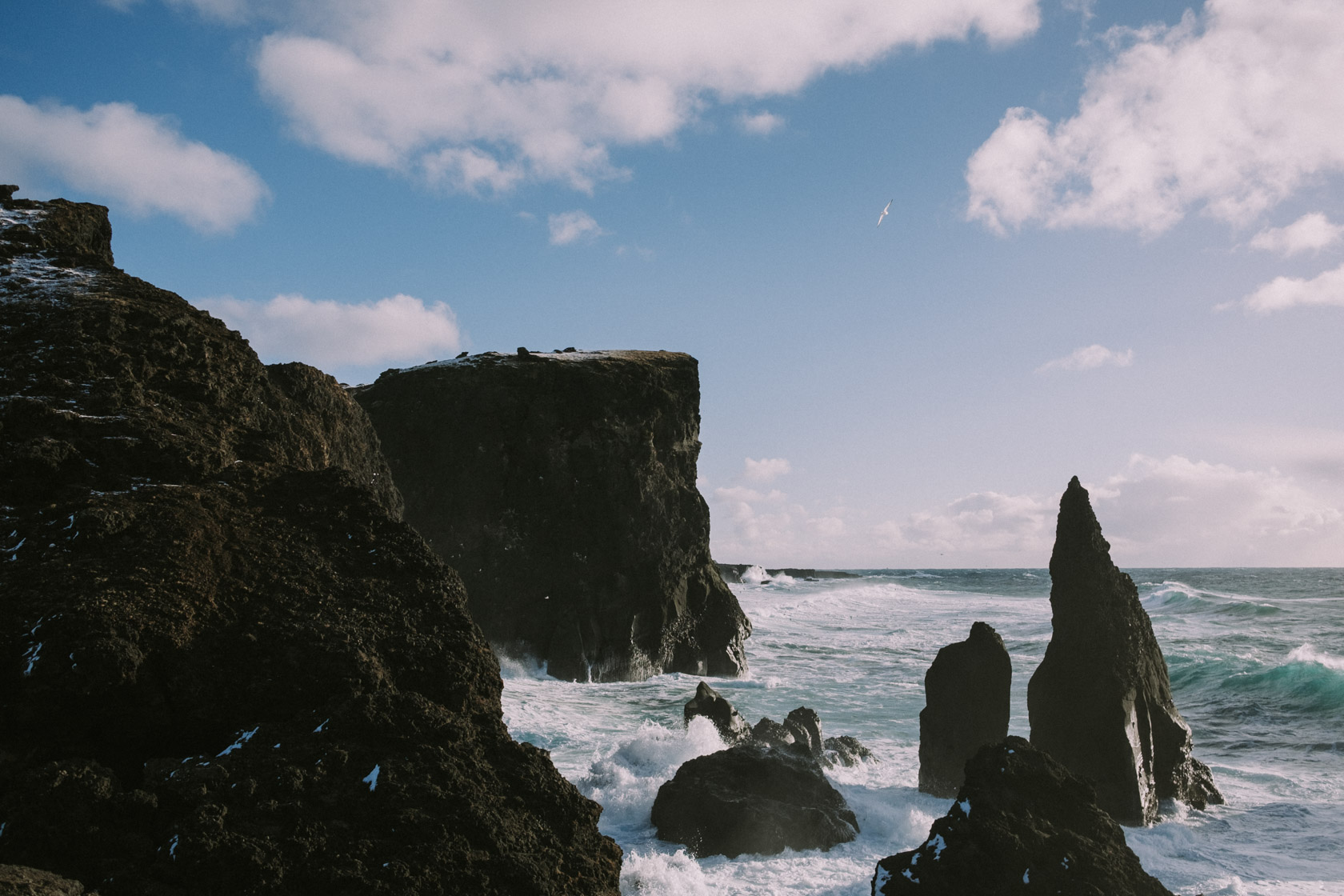 Best places to see whales in Iceland
Whales love Iceland, and there's an entire article about whales in Iceland and the best places to see them. To hit the highlights, here are the best places you can see whales in the country, with the best locations for Winter denoted with a star ★:
Húsavík – While this is the whale-watching capital of Iceland, a lot of the whale-watching tours shut down here in the Winter. Be sure if you're booking a tour in Húsavík, that you double-check they're operating during the dates you have planned!
Akureyri – Most whale-watching tours will take you to the longest fjord in Iceland, Eyjafjörður. Since it's less windy here, the tours are well-suited for people who tend to get seasick, children, and seniors. Here you can mostly see humpback whales, although blue whales, orcas, and fin whales have also been report. Book your tour here with a tour company that continues to operate in Winter and has great sighting success.
Reykjavík ★ – While the peak season is April until October, you still have a really good chance of seeing whales in the bay near Reykjavík. This whale-watching tour also runs in Winter and offers you a free re-try if you don't see whales on your first tour. Works great if you are based in Reykjavík.
Snæfellsnes peninsula ★ – Your chance to see killer whales! Especially in Winter, this is the prime season to see them. This whale-watching tour from Grundarfjörður is in exactly the right spot for your chance at seeing killer whales. I highly recommend spending time in Grundarfjörður regardless because it's close to Kirkjufell (pictured below), Iceland's most famous mountain. You'll get a double win if you can do both while you're in this part of Iceland.
5. See Iceland's most recognizable mountain on the Snæfellsnes Peninsula
If you've watched Game of Thrones there is a VERY good chance you already seen Iceland's most famous mountain, Kirkjufell . It's name literally means "Church Mountain", and is reportedly the most photographed mountain in the country. The funny thing is that it only looks so nice and pointy when taken from this particular angle, so it's hard to recognize when you're driving up to it that it's going to be the mountain you're looking for!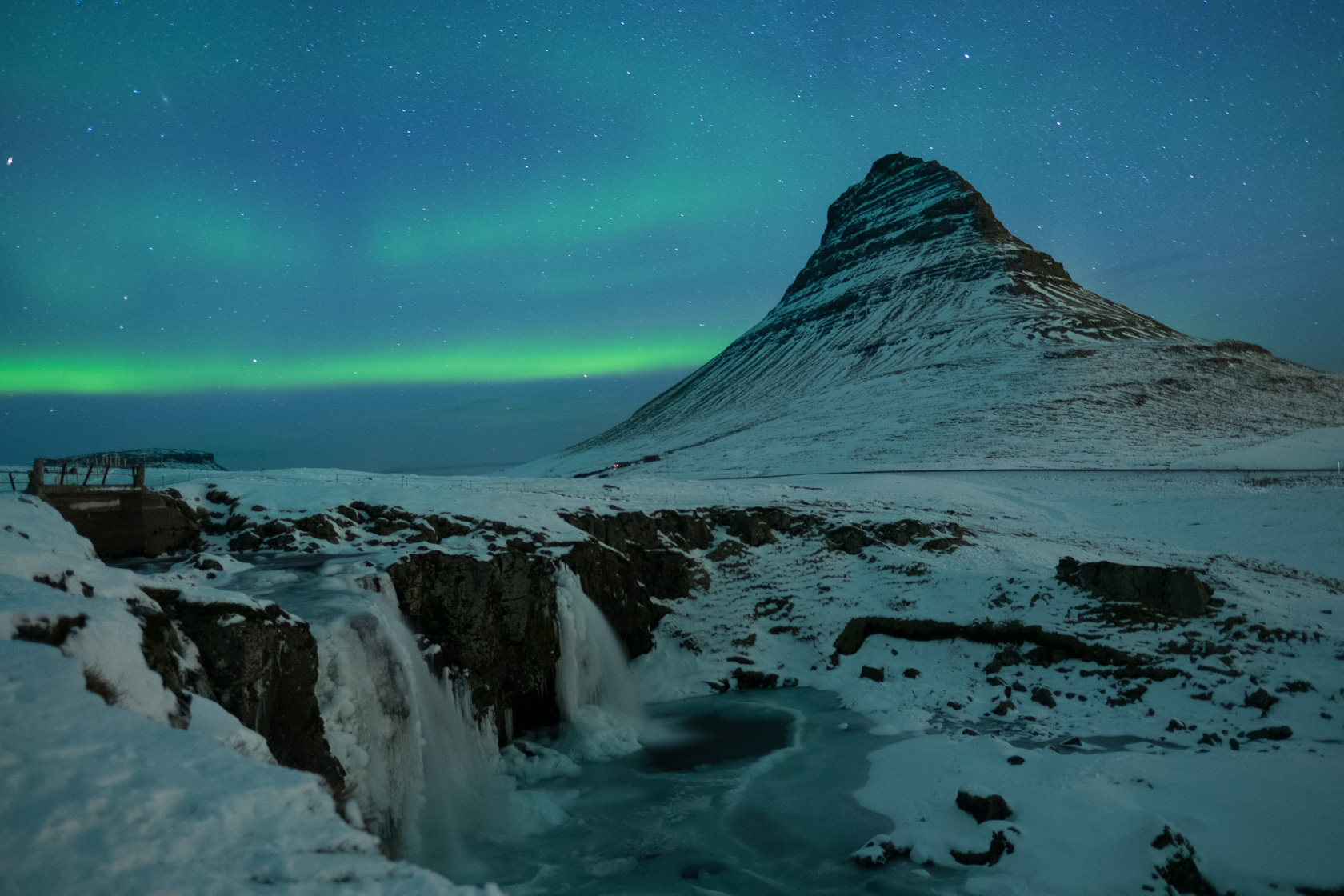 You need a VERY wide angle lens for this photo! This was shot on a 16mm lens on a crop sensor camera and I wish it were wider.
If I'm going to give you one tip, again and AGAIN in this article, it's this: BUY YOURSELF CRAMPONS! . Seriously I cannot tell you how many people I saw trying to walk to the viewpoint of Kirkjufell and slipping on their butts and falling down. I remember one specific man who just looked so confident, and everyone just watched him knowing he was going to tumble.
And tumble he did.
It is SO icy here because of the waterfall and mist from it, that the path (even with the rubber flooring) is incredibly slick. The other problem is that without crampons, people resort to walking in snow and that results in widening the path and impacting Iceland's fragile nature. The best option: buy crampons, stay on the path, don't fall on your butt, preserve nature.
6. Drive around the Golden Circle
If there was a Disney Land in Iceland – imma be honest – the Golden Circle would be it. LUCKY FOR YOU, it is totally NOT as bad in Winter as it in the Summer. Or was that because we did our tour ahead of a "No Travel Storm"? You be the decider. In any case, our experience traveling around the Golden Circle was pretty efficient until we finally had to stay in a giftshop near Gulfoss for a few hours until the winds weren't strong enough to rip the doors off our car.
Are you excited for Winter in Iceland? I sure hope so.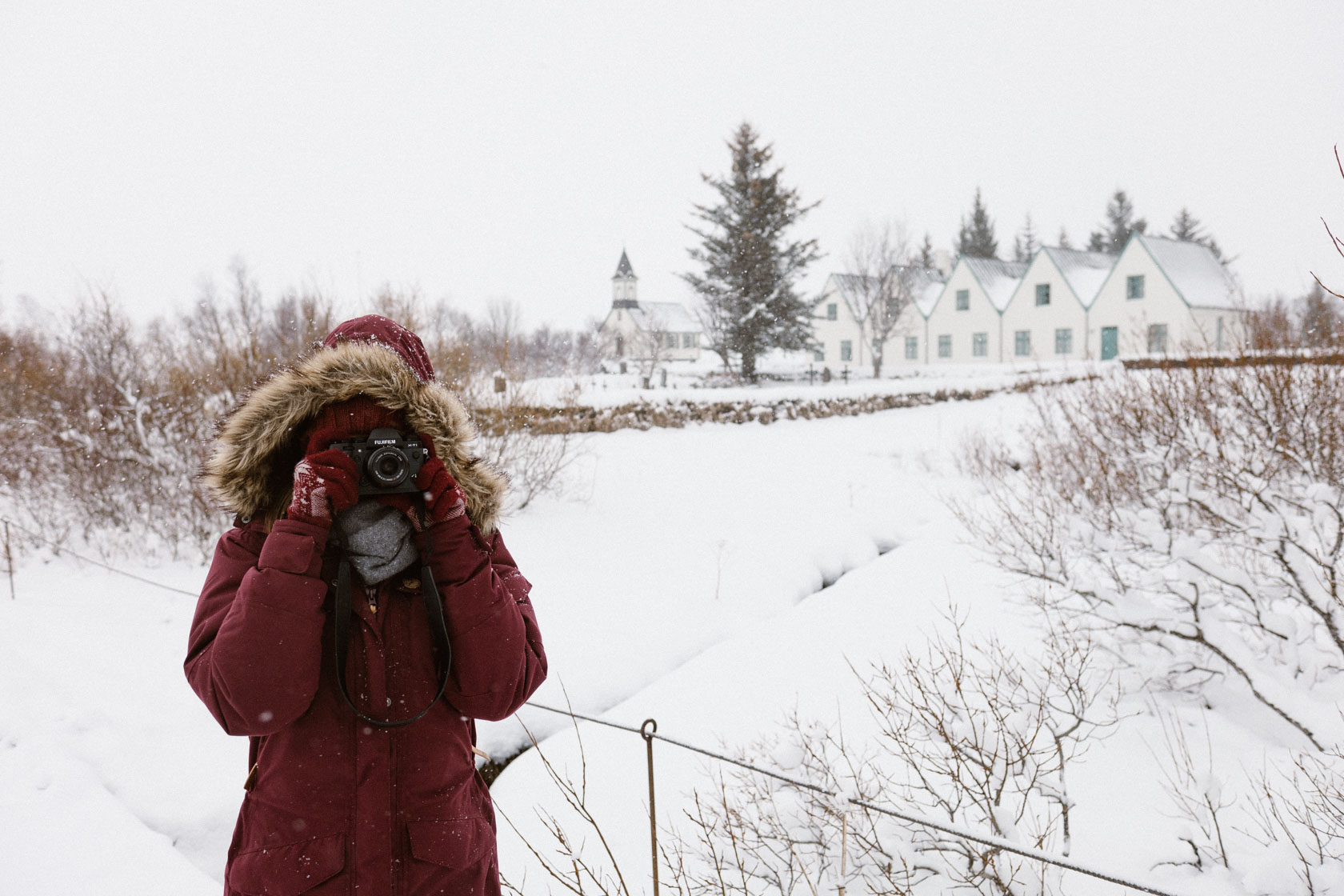 Where to go in the Golden Circle in Winter
Anyways, back to the Golden Circle. This beautiful stretch of Iceland's Southwest has some unmissable stops you're going to want to see, and I'm not even joking here. There are a lot of people who come all the way to Iceland JUST to visit the Golden Circle. Here are some of my recommended stops for people visiting Iceland's Golden Circle for the first time:
Geysir and Strokkur – Geysir is where the term gets its name, a nature occurrence where the earth shoots super hot water into the air. If you're American, you might liken it to "Old Faithful" in Yellowstone National Park. The Golden Circle is one of the few places you can see one with such regularity. While Geysir goes off only very rarely these days, you can see its little friend Strokkur erupt on a regular basis. Just don't stand downwind!
Gulfoss – This might be the first waterfall you see in Iceland! This powerful waterfall is very easy to access and has two vantage points: from the parking lot above, and also below. Try both for different perspectives on this waterfall.
Þingvellir National Park – The location of Iceland's first parliament all the way back in 930 AD. You can see the summer house of the parliament members, and watch the water run through this park. It's beautiful even when it's covered in snow.
Silfa Fissure – Perhaps the only place in the world where you can snorkel between tectonic plates? You can either dive or snorkel, though you need to be open-water diving certified in order to do the diving option. Spots book up fast, so you'll want to book your Silfra snorkeling tour in advance to secure a spot.
Crater Kerid – This is one place we missed on our golden circle tour, but somewhere easy to add on whether you're self-driving or not. It's also included on many guided tours. You can see the pure blue color of the water filling this red rock crater, it creates a really great contrast in photos!
Secret Lagoon – Secret Lagoon is basically a less hyped and less commericalized alternative to the Blue Lagoon. You have to swim at least once while you're in Iceland, no matter the season! Book Secret Lagoon tickets in advance – you even even get tickets with transfer from Reykjavik included if you aren't self-driving during your Iceland Winter trip.
7. Swim in hotsprings or natural baths
Swimming when it's below zero outside – what could possibly go wrong? You have TONS of amazing options in Iceland when it comes to getting wet in the wintertime. While the Blue Lagoon might be the most Instagram-famous baths in Iceland, they are surely not the only option that you have. When we visited the Blue Lagooon (without buying tickets in advance!) they were sold out, so if you want them you need to BOOK EARLY.
If you're a procrastinator like me, you can think about it like being spontaneous instead 😉 There are some fantastic alternatives to the Blue Lagoon as well, depending on where you'll be visiting in Iceland in Winter.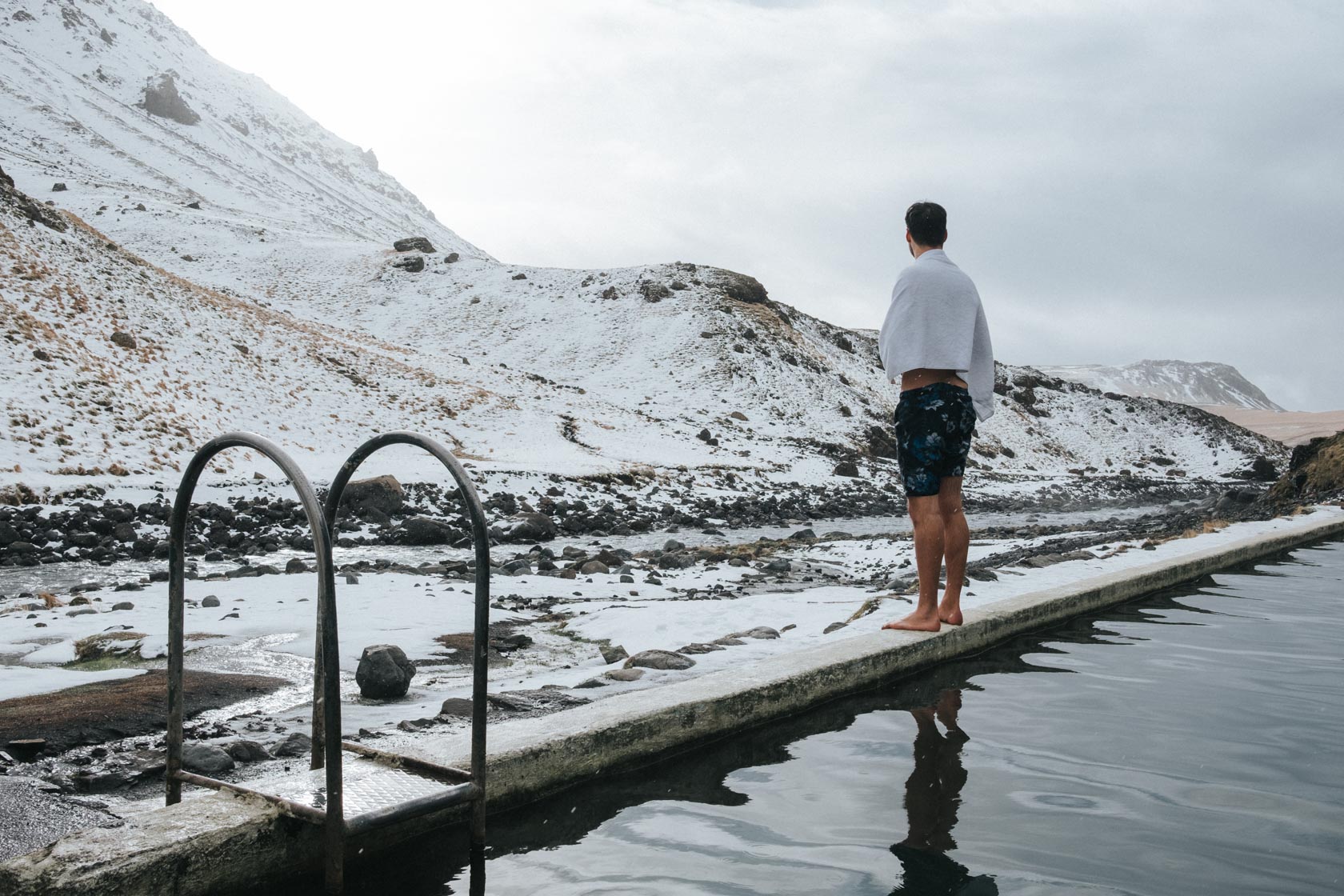 Blue Lagoon alternatives (for procrastinators like me)
Secret Lagoon – If you don't get into the Blue Lagoon, the Secret Lagoon is a really solid backup plan. It's easy to get to from Reykjavik and less famous online so you're less likely to get denied entry because you didn't book over one month in advance. In Winter.
Seljavallalaug Zwembad – Honestly, this is a natural bath in the middle of a valley and it is VERY COLD getting in and out of here, I thought I was going to get hypothermia. But I didn't, and looking back on the photos it's was pretty cool so why not? You need to hike to get here, but believe it or not this spot is actually on Google Maps. What you need to do once you reach the parking is to walk along the river. It's MUCH easier to cross the river where it's wide and shallow. I fell in. I got wet. Don't be like me. Keep going and you'll find this natural bath after about 15-20 minutes of light hiking.
Mývatn Nature Baths – We also went here and honestly it has almost everything you want to get from Blue Lagoon but with fewer tourists. Of course, it's in North Iceland and you might not make it here. But it was really neat: hotter and colder sections, sections with a bunch of algae, so much steam you can barely see anything and super blue water. Love it!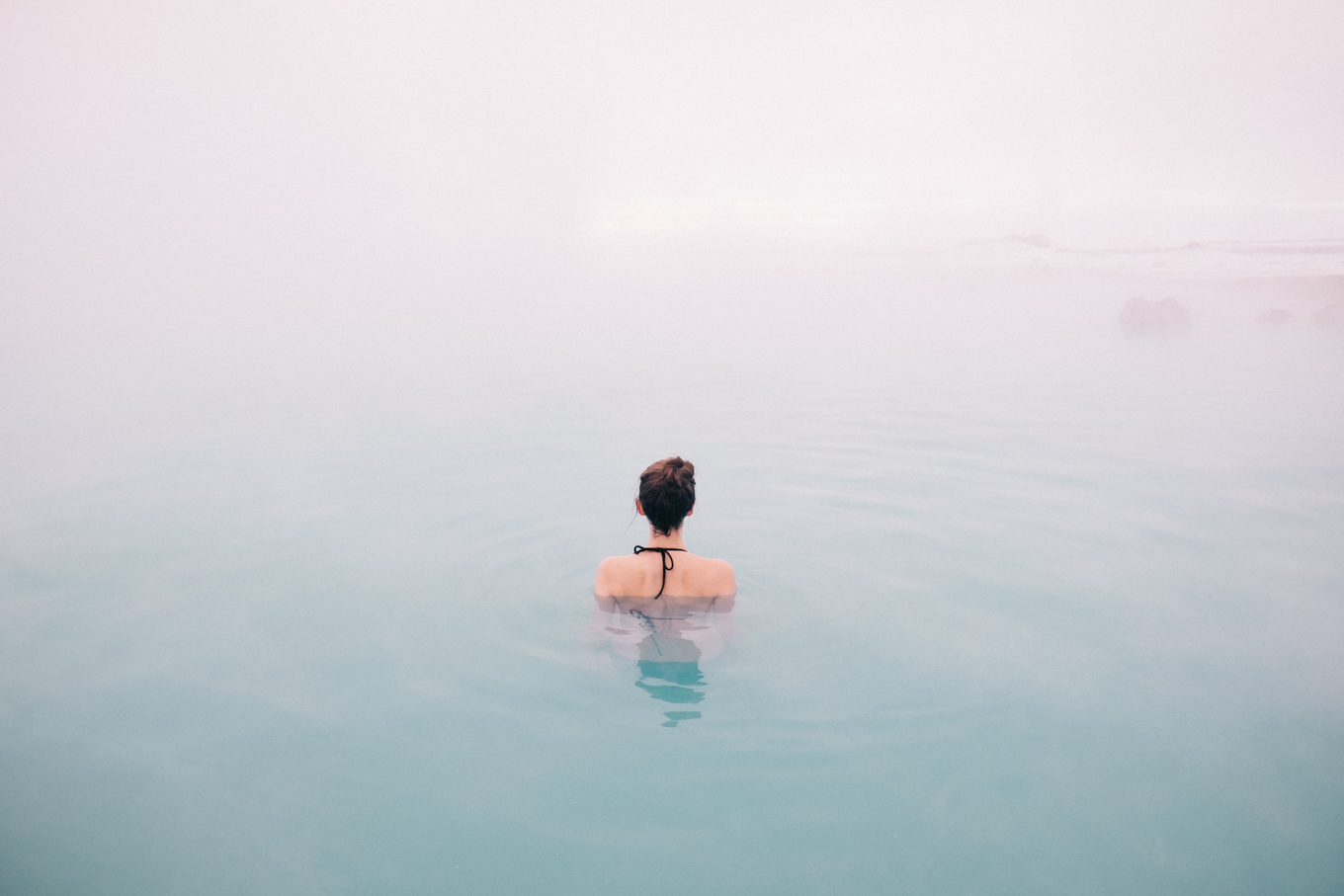 8. Head to North Iceland
There are a lot of Winter guides to Iceland that might tell you not to bother going to North Iceland – but that's the exact reason you should! North Iceland is far less touristed than the South, and it has some really special places worth exploring in it. Whether that's the capital of the north, Akureyri , or the lake region that looks more like the surface of the moon, Mývatn , or maybe even Europe's most powerful waterfall, Dettifoss which is in the Northeast of the country.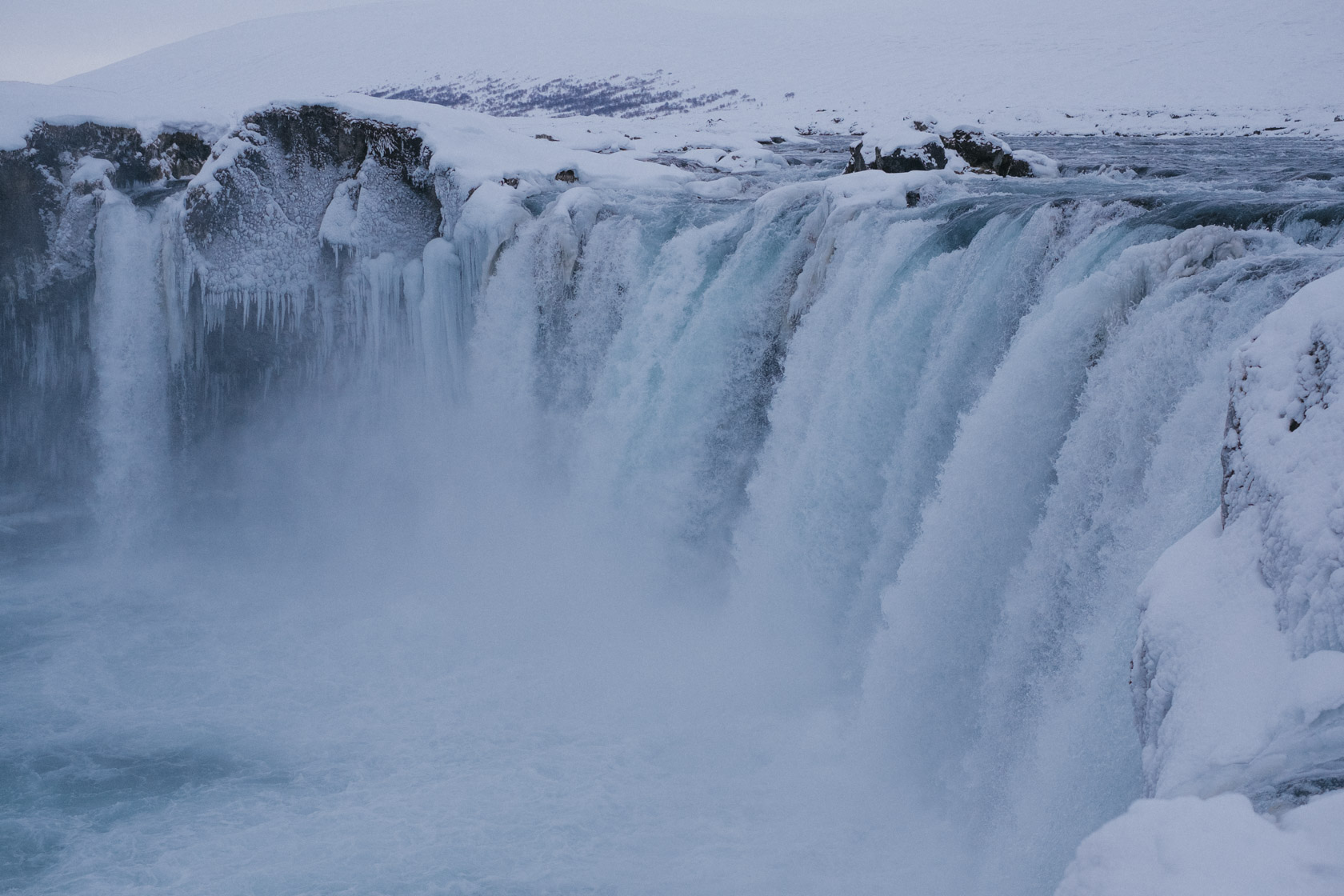 Best places to visit in North Iceland
Akureyri – The capital of the north! This is a great spot to be based in central northern Iceland, though you'll probably want to stay in Mývatn while you're in the western part of the North.
Dimmuborgir – These lava formations were supposedly home to the "Yule Lads", a gang of trolls who lived in these formations. It's said that the area looks like an entire city formed out of lava rocks, but it's hard to see it when it's covered in snow. I bet this place is more interesting once the snow melts though!
Námafjall Hverir – If you've been to geothermal areas elsewhere on this trip, you should still visit this one – it's bigger and more impressive than the others, and you can get even closer to some of the springs and bubbling pits.
Mývatn Nature Baths – As I already mentioned, this is a much less expensive (and touristy!) alternative to the Blue Lagoon, here you can experience the Icelandic tradition of naked bathing and getting into ultra hot water. In the winter it's hard to see the surrounding landscape because of the steam coming off of the water, but that also makes it even more interesting to explore.
Krafla Power Plant – Iceland is a leader in producing the energy consumed in the country using geothermal means, and this powerplant is just one that harnesses nature to provide power to homes in Iceland. In the Spring you can take a tour of the plant, but in the mean time you can still drive up to the plant and see it at work.
Skútustaðagígar – You can walk around the rim of some of these craters, which is definitely a unique experience. You'll encounter these craters when doing a loop around Myvatn, you basically can't miss them from the car window!
Dettifoss – Dettifoss can be accessed from two different directions, from the east and from the west. On the East, you'll meet an unpaved road which may be closed in Winter (it was for us). This side let's you get right to the edge of Dettifoss, which is amazing for photos. The road on the West is newer, paved, and you only have to walk for about 20 minutes to reach the waterfall along a paved path. If you have the time, it's probably worth it to view Dettifoss from both sides.
Selfoss – While Dettifoss is more powerful, Selfoss is definitely the prettier waterfall. The distance markers are a bit misleading, as Selfoss is a quick walk from the car park and will be your last stop of the day.
Góðafoss – Take it in because Góðafoss is the last proper waterfall you'll see in Iceland if you're driving counterclockwise around the Ring Road! Luckily it's very beautiful, and extremely easy to access from the Ring Road. You can basically park next to the waterfall, and it can be accessed by foot from both sides by a bridge.
9. See the snow-capped eastern fjords
Driving Iceland's east coast is considered one of the most beautiful drives in all of Iceland, and when you're here you'll understand why. There are so many beautiful places just sitting right outside your window, you'll wish you could take a photo around basically every corner. There's not a whole lot to do besides drive, but that's entertaining enough when you have views like this!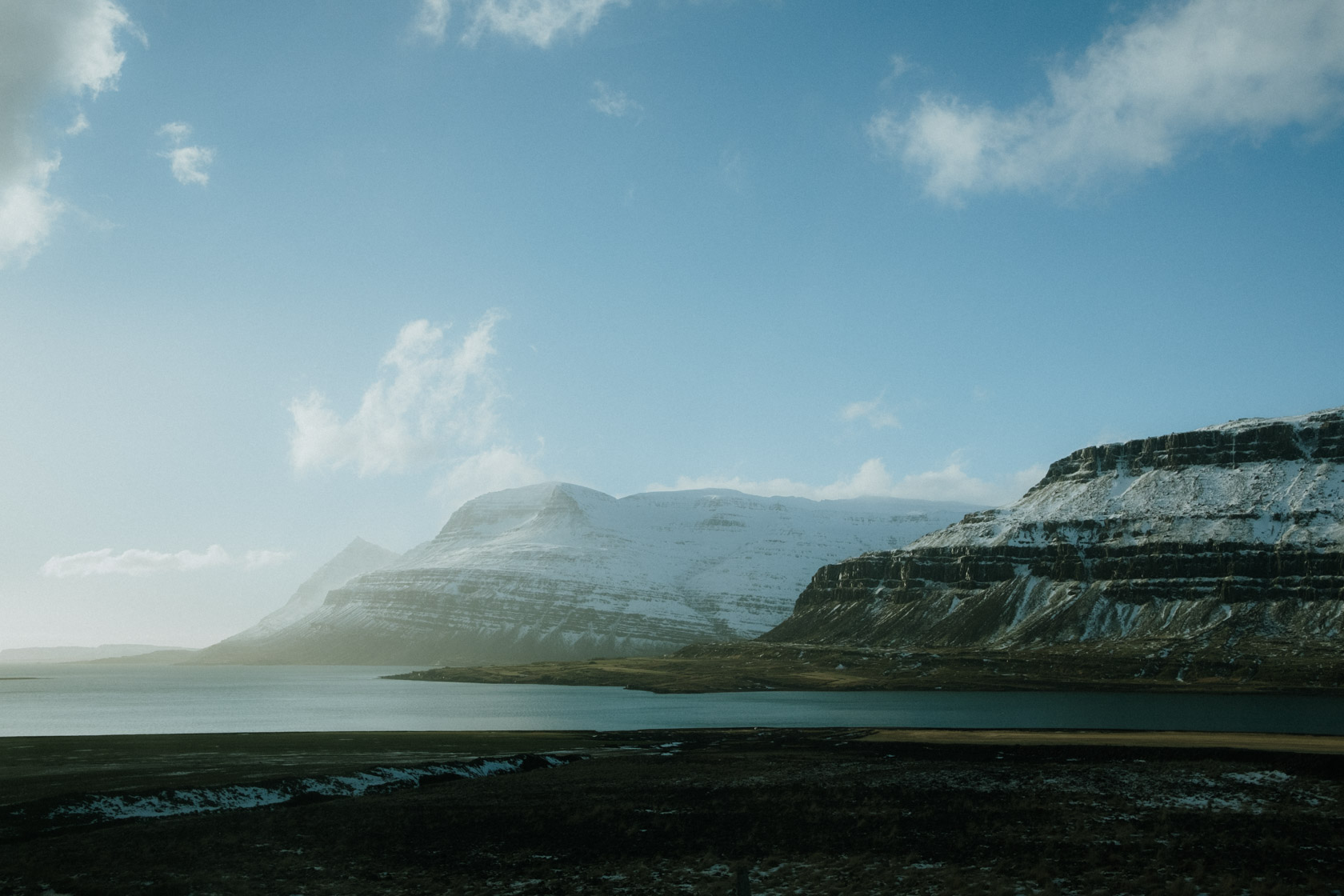 Places to see in East Iceland
Drive along the Ring Road – This long and windy road will keep you close to the sea. Keep an eye out for possible road closures in Winter, as you may need to improvise and take a slight detour off the Ring Road.
Egilsstaðir – The only "major city" in East Iceland, here you can stock up at the grocery store, get gas, and even buy some crampons at a local outdoors shop (bear in mind: winter hours mean they open at 3pm).
Seyðisfjörður – You have to take a mountain pass from Egilsstaðir to access Seyðisfjörður, but if weather permits it's worth it to visit this adorable harbor town. There's a weekly ship that heads to the Faraoe Islands and then on to Denmark from here, but the main attraction has to be one of Iceland's prettiest, tiniest churches. Coming out of town, you can also pull off to see a small waterfall, naturally.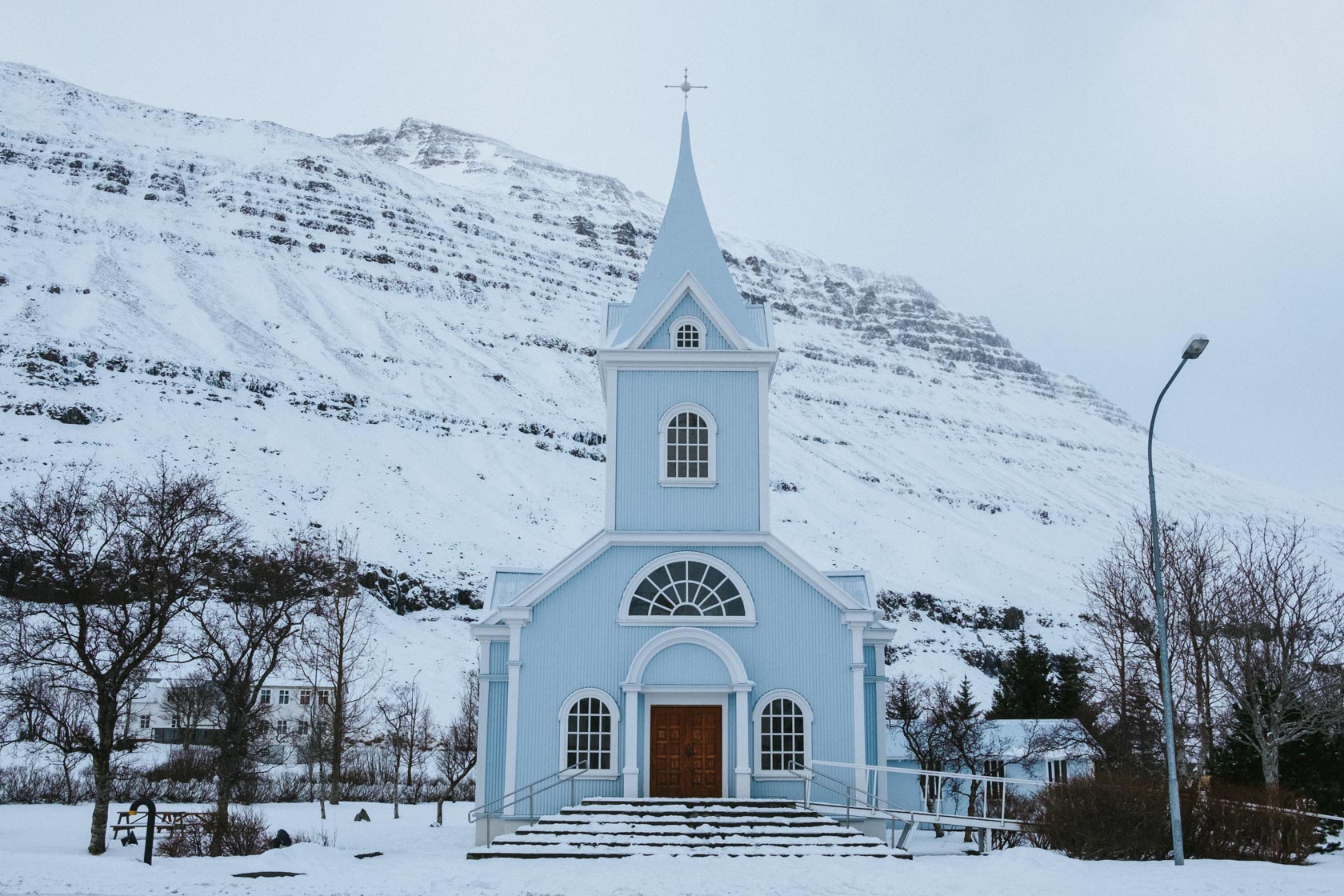 9. Tour the Reykjanes Peninsula
Most tourists visiting Iceland miss the Reykjanes Peninsula, which is an easy detour you can make on your way from the Keflavik airport to Reykjavík. We toured the peninsula right after picking up our car because reaching the city for the evening.
Things to do on the Reykjanes Peninsula
Reykjanesviti – See an Icelandic lighthouse! This is also Iceland's oldest lighthouse. Just down the road is also your a chance to experience Iceland's geothermal fields.
Krýsuvík and Seltun – A larger area for geothermal activity, where you can walk across bubbling mud pits by way of wooden pathways.
Blue Lagoon – As I mentioned, I didn't enter the Blue Lagoon because we didn't book early enough. There are other options, but don't underestimate how easy it is to do the Blue Lagoon on your way to and from the airport!
Buy an Icelandic sweater – Handknit sweaters will run you around $200 or more, but are also sure to keep you warm with thick Icelandic wool!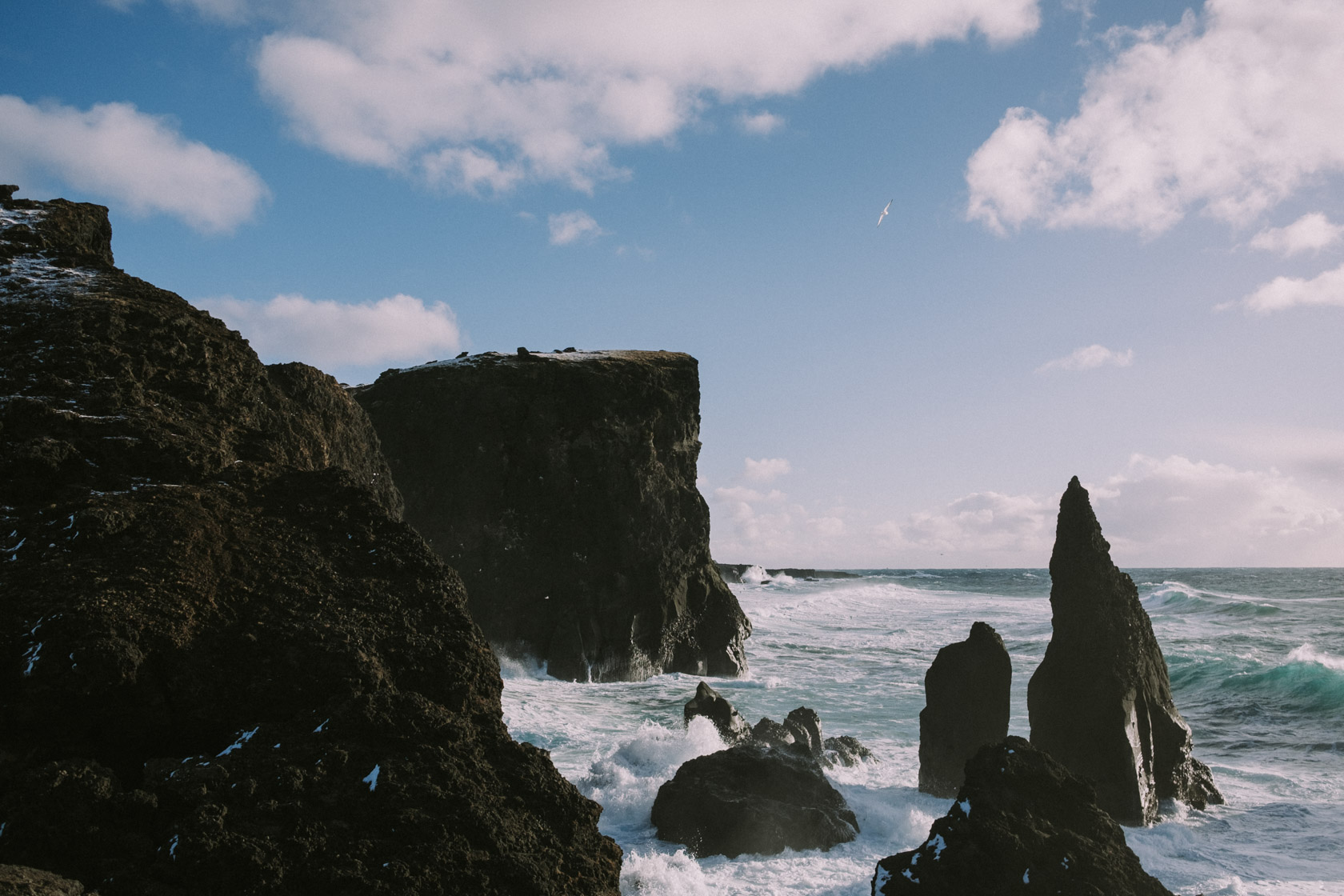 10. See Iceland's South Coast
Iceland's South Coast, combined with the Golden Circle, are the most popular places to visit in all of Iceland. You can see an incredibly dense concentration of the natural sights that make Iceland so special in a very short amount of time: black sand beaches, waterfalls, stunning landscapes, aaaaand the crowds to match. Again, Winter isn't AS busy at the Summer but it's still a popular time to go. You'll never be mad you got an early start to visit these places!
Here are some of the best places you should visit on Iceland's South Coast during your winter roadtrip.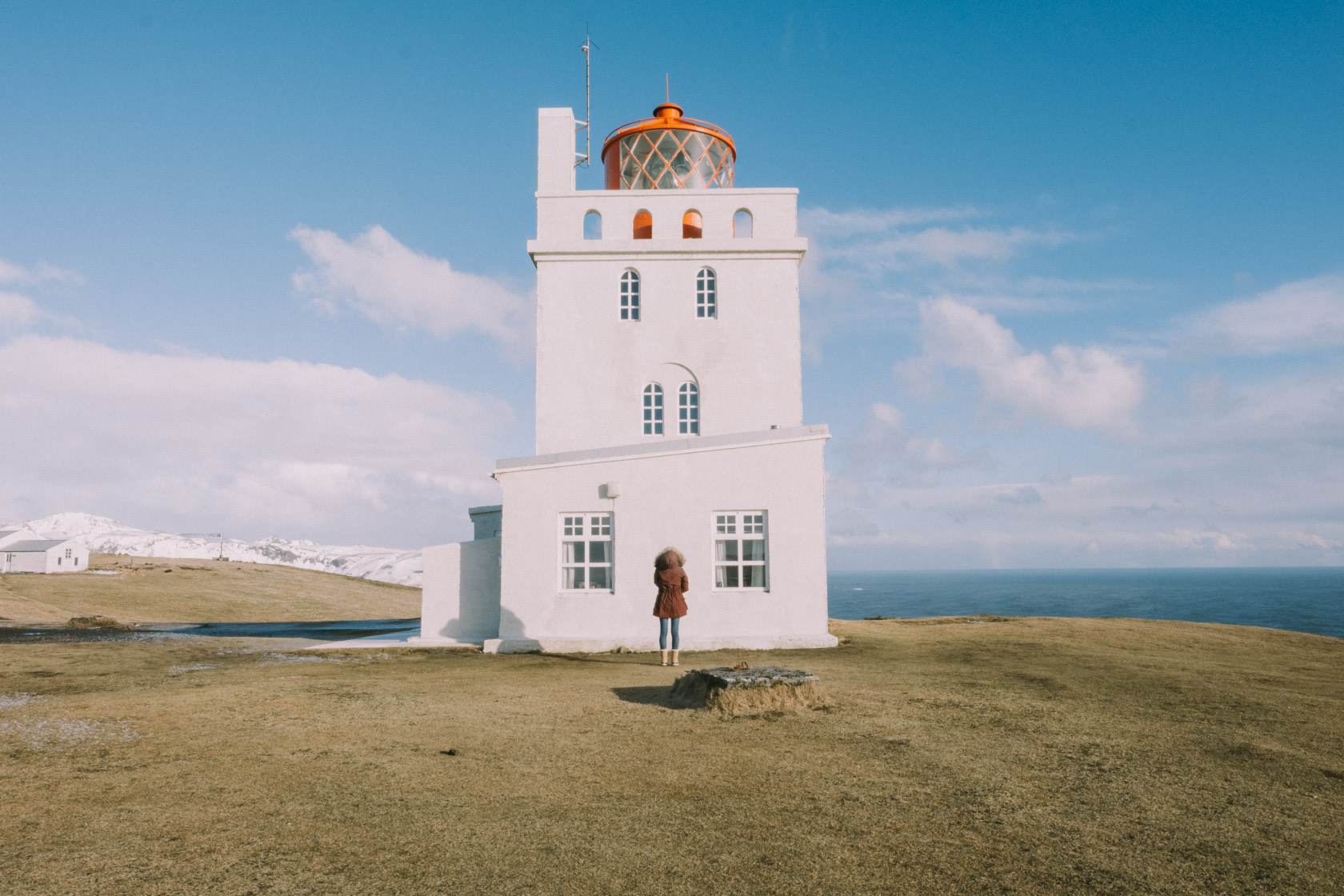 Places to see on Iceland's South Coast
Seljalandfoss – You can also go behind this waterfall, but be prepared to get drenched! Don't miss the other waterfalls along the mountain.
Skogafoss – We visited Skogafoss twice, once during a small snowstorm and once during sunshine. It's amazing how different it looks depending on the weather!
Dyrholaey Arch – Even though the next spot on this list is better known, the area you reach after turning onto the road to Dyrholaey has some of the best views. There's a lower parking lot, which offers great views, and a steep and trecherous gravel road that leads you to even better vistas (plus the lighthouse pictured above, known as Dyrhólaeyjarviti).
Reynisfjara – I've got a confession: the basalt columns you find at this location are actually kind of tiny! There are so many tourists here, even in the dead of winter, that it's not somewhere you're going to want to spend a lot of time (unless of course you show up first thing in the morning and beat the crowds).
Sólheimasandur Plane Crash – The walk to this plane takes about 45 minutes each way. It's extremely easy to find (there's a wide path lined with reflective markers every 50 meters), just make sure the weather is going to cooperate on your walk so you don't end up encountering a storm on your way there or back. There's no shelter 😉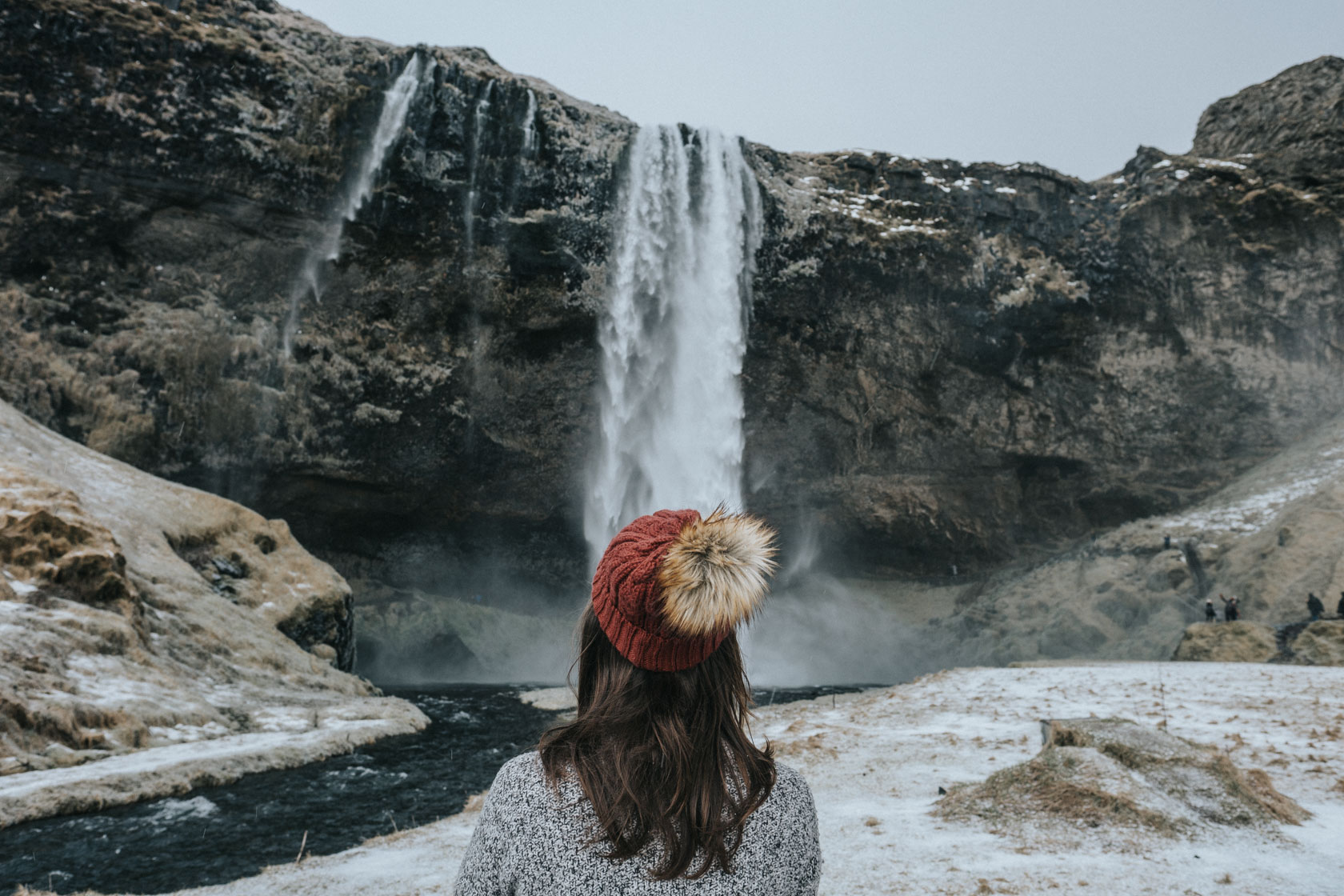 11. Visit Diamond Beach at Jökulsárlón
Diamond Beach is right next to the area you'd depart from if you're going on an ice caves tour or a glacier hike, making it an ultra-easy place to stop and take some photos. Like a number of beaches in Iceland, the black sand is the result of volcanic activity. You can pick up tiny chunk of glacier that have drifted down from Jökulsárlón (Glacier Lagoon) before ultimately getting swept out to sea.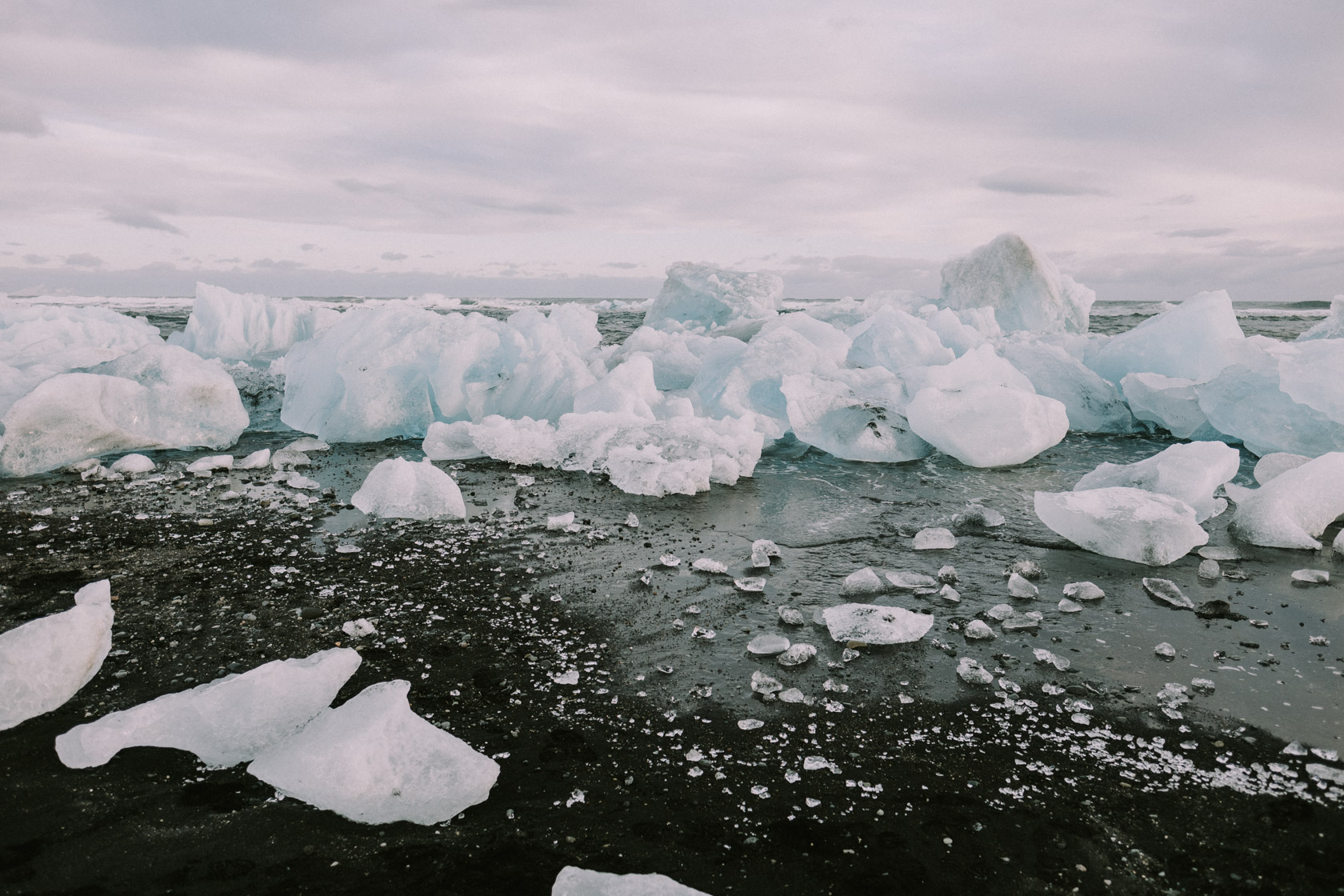 12. Buy (and wear!) a Lopapeysa, a traditional Icelandic sweater
Iceland's traditional winter sweater can be purchased while you're in Iceland, and even worn on your trip. It's made of Icelandic sheep's wool, which is super super warm and comes in gorgeous patterns. You can buy a hand-knit sweater for around $200, though it's also possible to buy non-hand-knit for a cheaper price.
I brought this one in Borgarnes but there's also a popular place to buy them in Reykjavík, called the Handknitting Association of Iceland . When you're buying hand-kit sweaters, every sweater is unique so you can spend ages shopping around and looking for the best one for you. Personally I love the flexibility of the neutral colors but you'll find them in all kinds of patterns and sizes!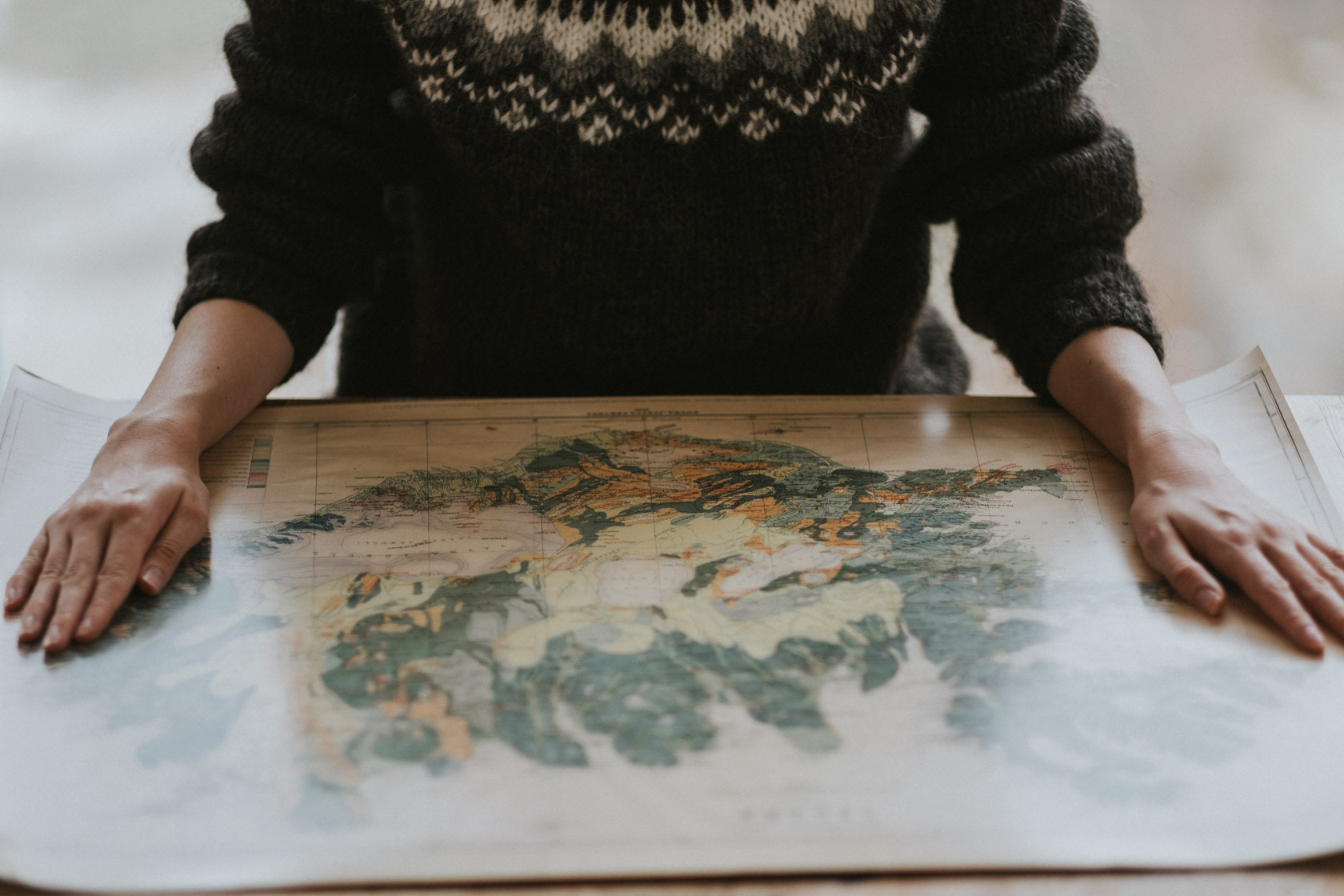 13. Get soaked in a waterfall
If there's anything that's an Icelandic rite of passage it has to be this: you're going to get WET and MUDDY during your trip, especially when you visit during the Winter months. In fact, you'd be wise to pack a rain coat if you're planning to walk behind Seljalandfoss. Pictured below is me getting utterly soaked in Skogafoss, one of Iceland's most famous waterfalls located on the South Coast.
Read on for more suggestions of what to pack in Iceland for Winter so you'll be properly prepared to take amazing photos and have these awesome winter experiences!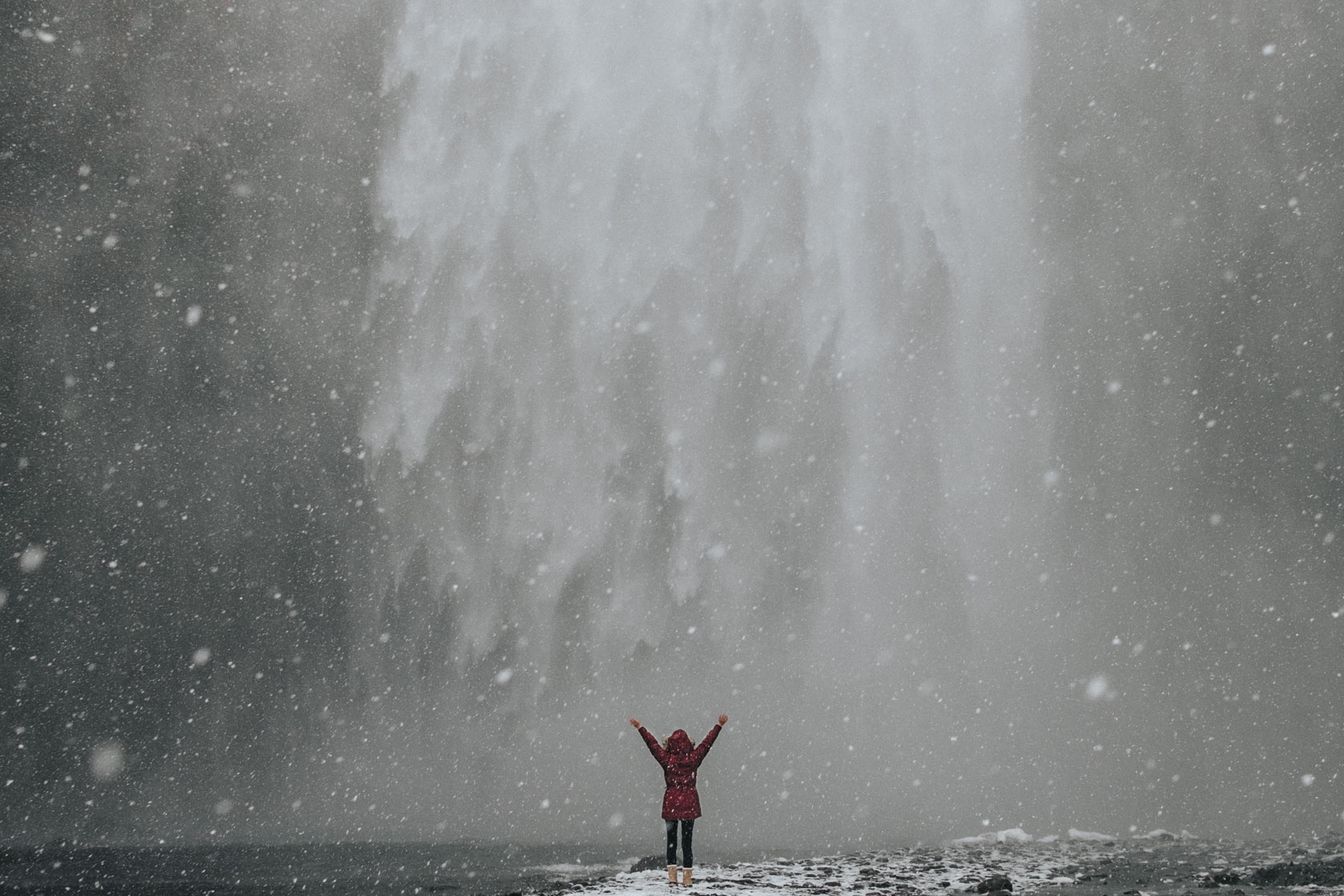 TIP – Make sure your photography gear is weather reisistant! Ours got completely wet during this trip, but had no issues thanks to the fact that it's meant to handle a bit of water. You'll also want to be sure to pack lens cleaning equipment in order to keep spots off the lens that'll ruin your photos.
What to wear for Winter in Iceland: packing list
Crampons – As I've mentioned like a dozen times in this article, you want to get spikes for your boots. There is a LOT of ice, and before I bought my crampons I had to stop my hike to Svartifoss because it was too unsafe to continue on the narrow path without them. You will thank me a thousand times over if you buy crampons! I own these heavy-duty crampons but generally look for crampons with REAL spikes not just the little bottom-of-the-shoe grip. Also keep in mind the size of your winter boots – I don't have huge feet but my winter boots are large, hence the large crampons fit me. ALSO not many stores carry them in Iceland while you're out on the Ring Road, and where they do, they are EXPENSIVE. Shop early and save, seriously!
Parka – It should go without saying, but you need a serious Winter jacket when you come to Iceland. While Iceland isn't ultra cold, it has a serious wind factor and you're going to want something that's both weather reisistant and keeps wind out. I own two of these Fjallraven women's parkas and especially love the tons of pockets.
Snow boots – You need boots that are both warm and waterproof. They don't need to be the WARMEST of all time (depending on your body temperature that might be uncomfortable for you), but the most important thing is they need to keep your feet dry. I fell in a river with Sorel snow boots on and my feet stayed dry. I was wet, but impressed 😂
Rain coat – I didn't bring a rain coat, but if you're planning to do some up-close waterfall photos (such as behind Seljalandfoss) you're going to need one. They also look great in photos so pick a raincoat that stands out!
Layers: long sleeves, leggings – Iceland is about layering, so you can dress and undress when you get in and out of your car as you drive around the country. One thing to remember is that wind layer! I liked wearing thermal leggings in Iceland under my pants as well for extra protection against the wind.
Scarf, gloves, hat – You need these things, and don't settle for your "Autumn season" versions. Especially when it comes to your hat and gloves, be sure to look for items with lining inside that are really going to keep you warm.
Swimsuit – As I mentioned, there are a number of swimming opportunities in Iceland. Besides hotsprings and natural baths, a lot of hotels also have hot tubs you can soak in. It feels great after a long day of brutal Iceland weather!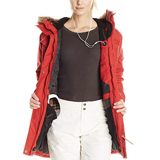 Fjallraven Nuuk Women's Parka (XXS-XL)
I own two of these jackets, the first of which I bought specifically to prepare for a trip to Iceland in February. Ultra warm, cozy, water-resistant, and not real fur!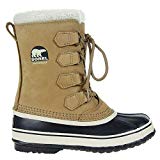 Sorel 1964 Pac 2 Women's Winter Boots
These winter boots are a good balance between warmth and not being gigantic. Waterproof and comfortable enough for short hikes.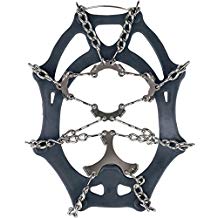 Snowline Chainsen Pro Crampons (S-XL)
If you're going hiking in snowy or icy conditions, just buy these. You'll thank me later. My lifeline in Iceland.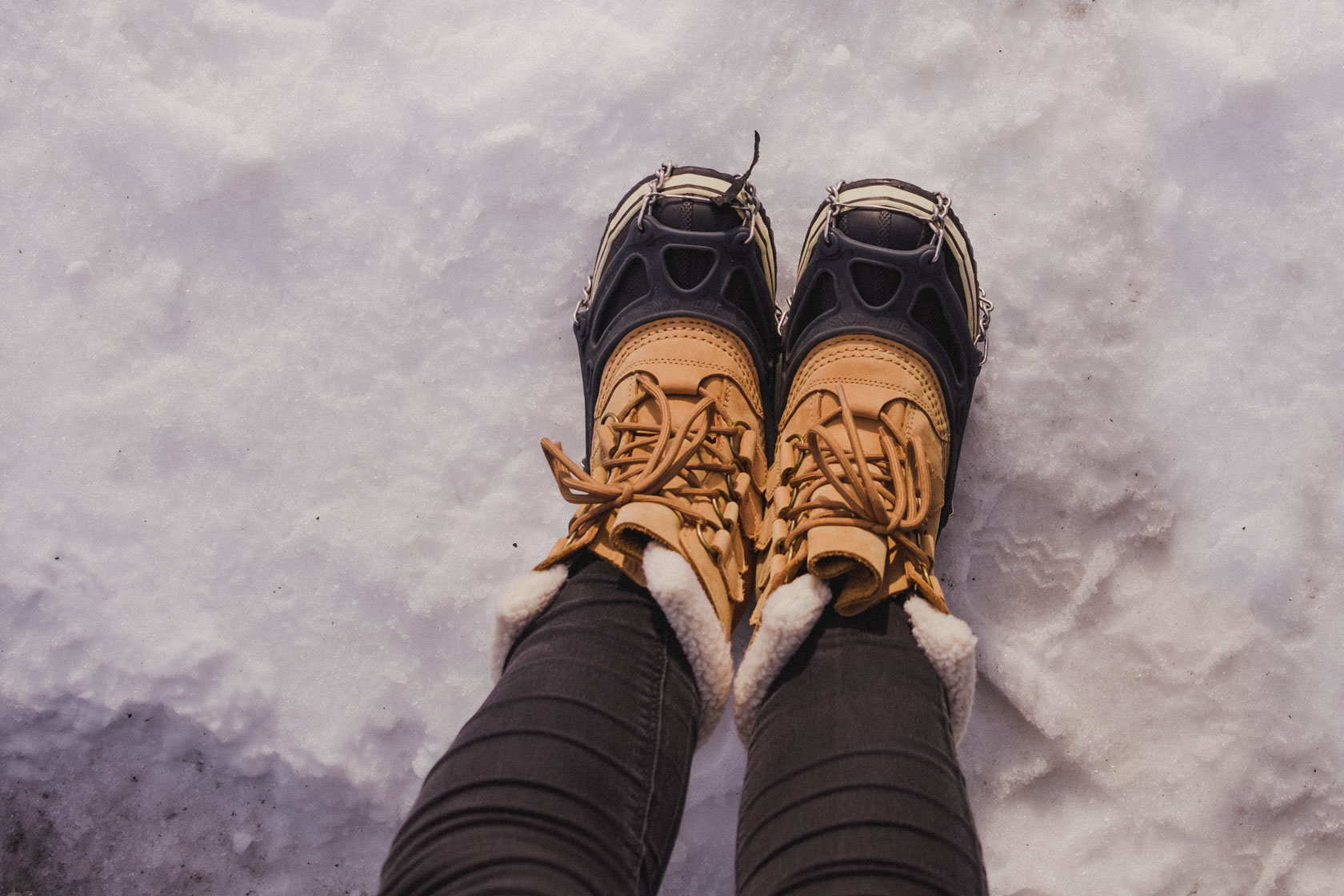 What to do on an Iceland Winter Itinerary
If you're looking for an Iceland itinerary that's especially crafted for optimizing Winter experiences, check out my Iceland itinerary, which is meant for a 10 day roadtrip on the Ring Road. It includes stops for ice caves and covers the entire Ring Road. Apart from that, I've also written a dedicated article on where to stay in Iceland which is super useful because choosing accommodation in Iceland is NOT as simple as looking at the best photos! You want to consider things like access, road conditions, remoteness, on-site restaurants, and so on, especially when booking in Winter.
Iceland weather in Winter
My trip to Iceland was from the end of February to early March. I did a ton of research before deciding exactly when was the best time to go to Iceland. Here's what I learned in the process:
Iceland in November – Daylight dwindles quickly in November. On the first day of the month you can have about 8 hours of light, whereas on the last day only 5 hours. This is something you want to keep in mind in terms of how much driving in the dark you'll be doing. Temperatures are around 4°C.
Iceland in December – December is one of the darkest times of the year with the fewest hours of daylight. Temperatures around -1°C to 4°C (so, around or slightly above freezing).
Iceland in January – Similar temperatures to December, between -1°C and 1°C. Again, don't forget that what makes Iceland cold is the wind, not the temperature.
Iceland in February – At the end of February, we noticed the days getting longer the more we were there. From the first day of February to the last, you gain 6 minutes of daylight every day. That means after a 10 day trip we'd gained an entire hour of daylight! Even though it's one of the coldest months (-3 and +3°C) this makes it an ideal time for ice caves.
Iceland in March – March is the time where you finally get more light during the day than darkness. You can still see Northern Lights and visit the ice caves in March. March also has some of the least tourists, as well as the time that whales start to return from their Summer migration. Temperatures still around -2 and +3°C.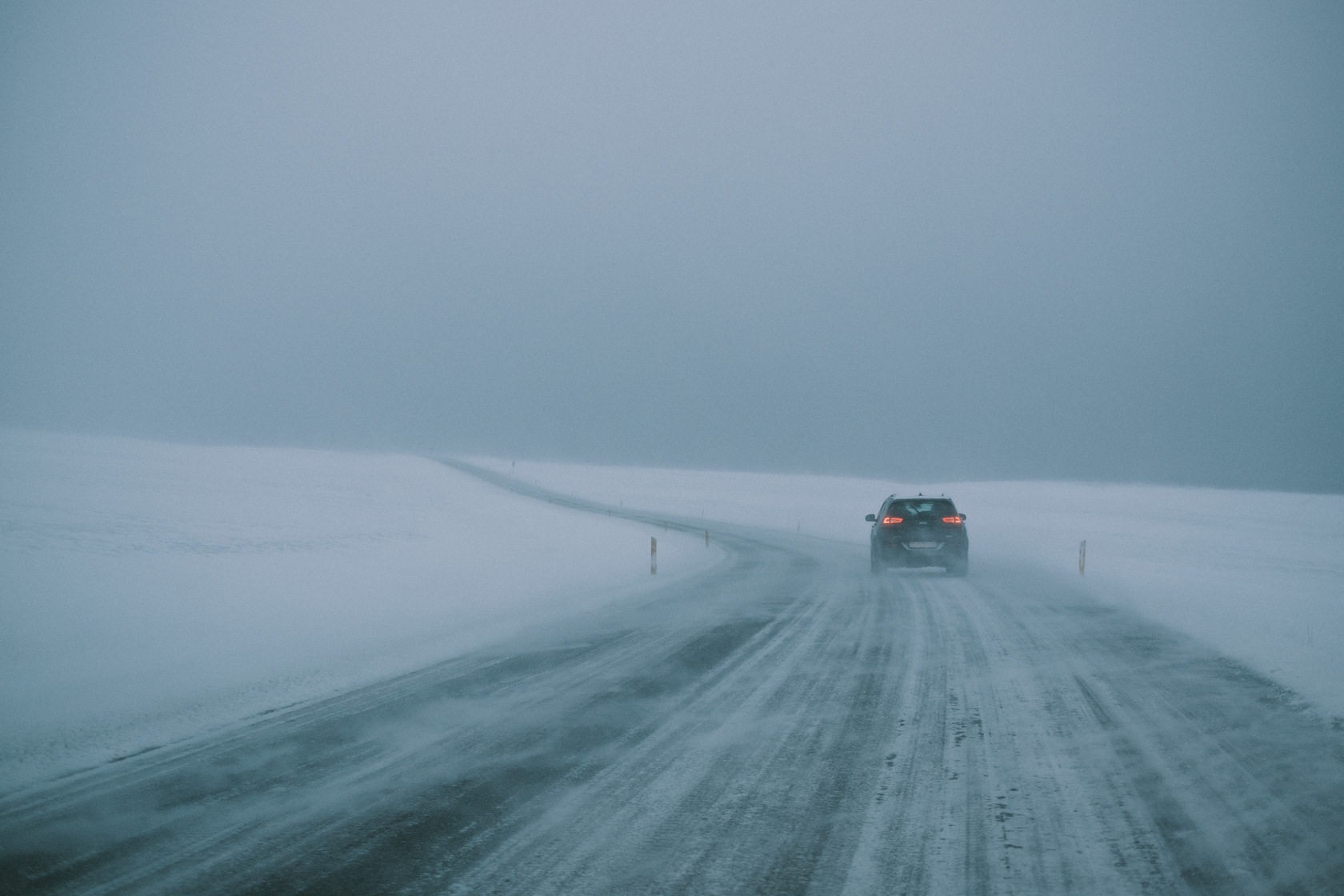 Iceland Winter safety tips
The most important thing you need to know in order to drive safely around North Iceland is to get a car with GPS and 4-wheel drive, plus be sure to check the Iceland Road Network website every morning before you head out. This will tell you about road closures and any storm advisories. For the most part, Iceland's Ring Road is extremely well-maintained but there is always the possibility that you need to drive before they've cleared it after a storm.
If you're not used to driving on Winter roads, my advice would be NOT to learn how to do that in Iceland. We saw plenty of cars in ditches waiting to be pulled back onto the road!
Using GPS in Iceland
We only had one instance where we needed to change roads and we had to follow our GPS instead of Google Maps. By the way, don't forget to download Google Maps in offline mode for your trip! You'll still get GPS service in Iceland, even if you won't have cellular service. That makes it totally feasible to keep looking things up when you're on the go. Plus, if you happen to be coming from Europe, I found that my European cell plan worked perfectly in Iceland (at least, everywhere that had cell reception 😉).
6 safety tips for your Iceland winter road trip
Only rent and drive a car if you're an experienced Winter driver. We saw plenty of cars in ditches who probably couldn't handle the ice, as I already mentioned!
Get 4-wheel drive. It's pretty standard on any car you'll rent in Iceland in Winter.
Get gravel protection for your car. There are MANY gravel roads in Iceland and you don't want to get surpise fees at the end of your trip.
Buy and hike with crampons. Last time I'm saying it in this article. Save your butt, buy a pair of crampons .
Download offline maps for Google Maps. This can help you figure out what to do in the area even without cell reception. I also recommend picking up an Iceland travel guide book for more information available offline than Google Maps can give you.
Get a car with GPS even though you have offline maps. Sometimes you'll need to take alternative routes and we found that the car's GPS understood those better than Google.
Bring a phone battery charger for your car. Either double-check your car has USB ports or bring a charger.
Respect closed roads. In Winter, many of the so-called F-roads are closed, that go into the country's interior. With such poor cell service you do NOT want to get stranded in Iceland!
What do you want to see most in Iceland in Winter?
Let me know in the comments, I'd love to hear what you find the most special about this time of year in Iceland!