Somehow, sea urchins never occurred to me. That was, until last summer at a company retreat in Greece when my coworker stepped on one. He'd swum off to take a leak, only to be interrupted by a very bristly voyeur. Since then, only gruesome tales have met my ears – stories of spines stuck for over a year, simply waiting to be rejected by their host. If only he'd been wearing beach shoes, each person muses as they recount their favorite sea urchin anecdote.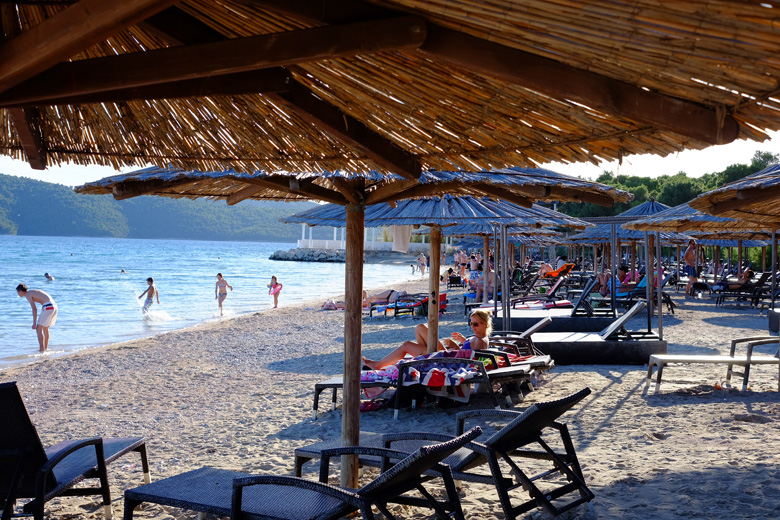 Eventually, I spent so much time thinking about and obsessing about sea urchins that I began to ponder the origins of sea urchin life, and how mama sea urchins could possibly give birth to such spiky infants. Then Gernot reminded me that sea urchins aren't mammals and therefore don't face the, err, challenges of live birth.
I digress.
Back to beaches! And the beautiful city of Šibenik. I mean, these are the factors that pushed me past my fear of sea urchins.
The free city of Šibenik
Like any good fan of Game of Thrones, Šibenik (pron. Shee-ben-ikh) piqued my interest because it was used for early shots of the free city of Braavos. What I didn't know was that it has gorgeous views of the Adriatic Sea and the countless neighboring islands. Actually, I should've known, because everywhere in Croatia is so lovely that you can't help but thinking about retiring there in your mid-twenties. Or…is that just me?
Šibenik has four fortresses, which serve as vantage points for viewing the sea and the city. From St. Michel's Fortress there is a clear view of vacationers' "summer boats", Croatia's iconic red roofs, and the Cathedral of St James, famously constructed without a dab of mortar.
In the top-left corner of this photo you might be able to see a faint arch. There's a turn out accessible when leaving Šibenik for Zadar, where you can park and get a view over the city. Bring a super zoom lens!
Šibenik is relaxing because there are far fewer tourists than, well, most places in Croatia these days. Nobody is pushing through to see even the city's best known sites. The leisurely pace of life here is enough to make you feel really comfortable, and also like you're not being a nuissance!
The only real downside to Croatia is that it gets very, very hot. I say this as someone who lived in a desert for the formative years of her life. If you don't believe me (but I thought that Southern Europe is temperate?!), take a moment to believe my vibrant crimson arm, a souvineer from a day at Plitvice Lakes National Park.
Finding sand in Šibenik
Croatia's Dalmatian Coast is known for its beautiful, but pebbly beaches. We set out to find something nice and sandy, and hopefully…urchin-free. Owing to my past experiences on private beaches in Cannes, I was 100% prepared to pay a bomb for the privilege of placing my bum on a beach chair. What we stumbled upon was a goldmine…but probably because someone screwed up.
We found ourselves at the Solaris Beach Resort, which is about a 15 minute drive from downtown Šibenik. Parking is a bit of a nightmare, and our car ended up at the Marina parking. No one seemed to care or notice.
And then, for reasons unknown, they told us we could park anywhere and access the beach for free. The conversation went something like: "Please take my money." "No thanks". From there we just followed some other people who looked like they knew what they were doing, and minutes later – a universe unfolded in front of us. Ranks upon ranks of straw umbrellas, swimming pools, a snack hut selling fried kalamari, and a pirate ship swim-up bar. What had we stumbled upon?!
At some point after we'd laid claim to a pair of beach chairs, careful that no one discovered we had no idea what we were doing, a Croatian couple approached us and asked if we'd paid anything to be there. Seems that even the locals can't believe it either! We suspect that the resort was either too disorganized or understaffed given that it was mid-June and Croatia's main tourist season really kicks off in July.
Ready, set, (check for sea urchins) swim!
The moment of truth. I sat on my beach chair, keenly observing all the other beach-goers in order to determine: Are they wearing beach shoes? Are there sea urchins lurking in this deceptively clear water? Am I going to be in a Croatian hospital later today?!
Results were mixed. A lot of people wore beach shoes, though it's hard to tell whether this is to protect against sea urchins or just pointy rocks. Turns out our sandy beach was only sandy up to a point. All told, it was enough sand for me, but the presence of a couple rocks made it that much more difficult to feel confident about a lack of sea urchins.
This is my, "It's cold!" face. Yes, dear readers, I made it in to the urchin-infested Adriatic Sea and lived to tell the tale!
I felt a little more confident when I saw that parents were letting their kids into the water without child-sized beach shoes on. If it's safe enough for the little ones, it's safe enough for me! But I would be lying if I said I wasn't trying to penetrate the water with a mighty stare in case any sea urchins were to be found. At that point my attitude was: I'm in, and if a sea urchin gets me, there's nothing I can do about it now! Very fatalistic.
Dirty details and tips
Getting to Šibenik from Zadar – There is a gorgeous costal road called Jadranska magistrala which will take you through quaint red-roofed towns. You also avoid paying the toll that's charged on the E65. Google won't recommend this path by default, so you have to DIY it a bit until you start seeing signs for Šibenik along this road.

Zadar to Šibenik via Jadranska magistrala (Google Maps)

Disposable underwater cameras are available at dm stores in Zadar (and probably elsewhere), if you're a Luddite like me and don't have GoPro.
Getting to Solaris Beach Resort – On this one, Google Maps is your friend. Only problem is that the Solaris Beach Resort complex is so massive, it's nearly impossible to go in without a plan. We were the at the beach near Hotel Ivan. We never stepped foot inside, but this serves as a "target" on Google Maps to know where to drive within the complex.
You can buy all sorts of things in a general store at the Solaris resort: cute mediterranean hats, sunscreen, snorkeling supplies, Croatia souviniers, you name it! The weird thing is that nothing has a price on it, so you have to ask.

Food at the beach cafes was decent and not overly expensive. Unlike in Cannes, I can't see the staff here making a fuss if you bring your own food. So if you really want the 100% free experience, packing a lunch would be easy!
Have you ever had a scary sea experience or encounter with a wild creature?
Okay, maybe a sea urchin doesn't count as a 'wild creature'. Maybe "dangerous" is a better descriptor. Anyways, please share! Maybe next time I'll buckle down and buy the protective shoes…maybe.