Sofia isn't a city that typically ends up on your European bucket list. But it should! Over the last four years, I've been to Sofia more than 10 times, and have accumulated a big list of things to do in Sofia, Bulgaria. From walking around this ancient Roman city and seeing both ruins and archaeological sites, to eating tasty traditional food or enjoying the booming craft beer scene. There is a lot to do in this city of a little under one million people.
Here are some of the best things to do in Sofia, Bulgaria based on my travels to the city over the last four years!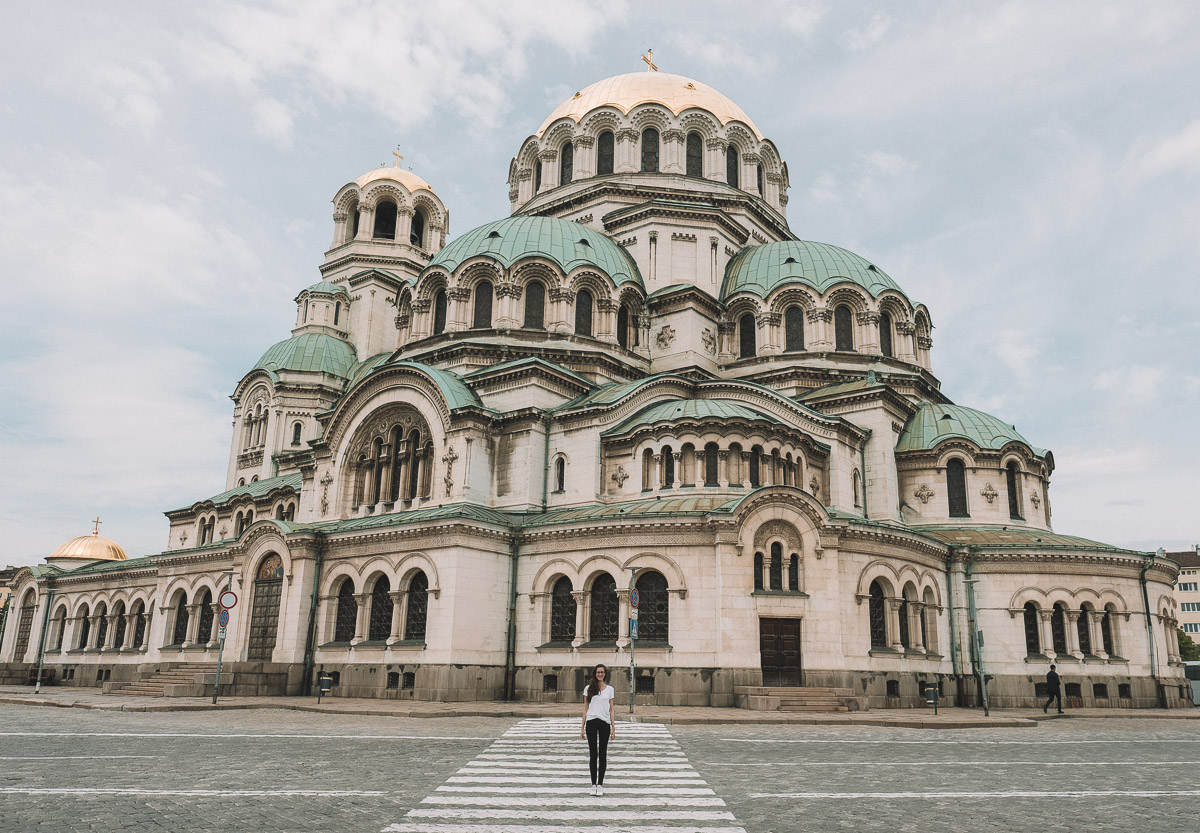 Some links in this post are to affiliate sites. If you purchase something through them, I may earn a small comission — which costs you nothing! I am very grateful when you use my links to make a purchase.
Best things to do in Sofia, Bulgaria
With all those travel tips out of the way, let's take a look at some of the best things you can do in Sofia on your trip!
1. Take the free walking tour
An excellent way to start your time in Sofia is by taking one of the free 2-hour walking tours offered by Free Sofia Walking Tour . In the Summer, Free Sofia Tour operates four times per day, at 10AM, 11AM, 2PM, and 6PM. Besides the standard sightseeing tour, they also started to offer tours in Spanish as well as a tour focusing on the history of the Jewish people in Sofia.
The tour is operated by a non-profit, so it costs nothing and you are welcomed to leave a donation at the end for the tour guide.
2. Take a day trip from Sofia
Bulgaria has way more to offer than just Sofia, and is especially famous for having ancient sites and stunning nature. Here are the top three things you can do as day trips from Sofia to add some variety to your trip:
7 Rila Lakes and Rila Monastery Tour from Sofia

Recommended

– Rila Monastery is one of the TOP sights in the whole country, and this tour not only takes you to the monastery but also shows you some of the famous Bulgarian nature.
Plovdiv and Koprivshtitsa Full-Day Tour from Sofia – Plovdiv is one of the most ancient cities in Europe, and a popular day trip (just 2 hours from Sofia). This is the top rated tour you can take that includes Plovdiv.
Belogradchik Rocks Full-Day Trip from Sofia – These rock formations in the Balkan Mountains were nominated for the 7 new natural wonders of the world. You can spend the whole day exploring them!
3. Check out Sofia's former bathhouse, now museum
Known as the Sofia Central Mineral Baths, this spot was once the main social spot to visit in the city. You can think of it as old-school Facebook 😉 Where all the goings-on among the locals. Some people wish the city still had a bathhouse, like the one you might know in Budapest .
Today, this historic building is home to the Sofia History Museum , which has a TON of history as Sofia is such an old city. You'll find exhibits on pre-history, antiquity, the middle ages, all the way through modern times. If you want to appreciate the history of the city, do pop in. Even a combined ticket for both permanent and temporary exhibits will set you back just 10 lv, or 5€.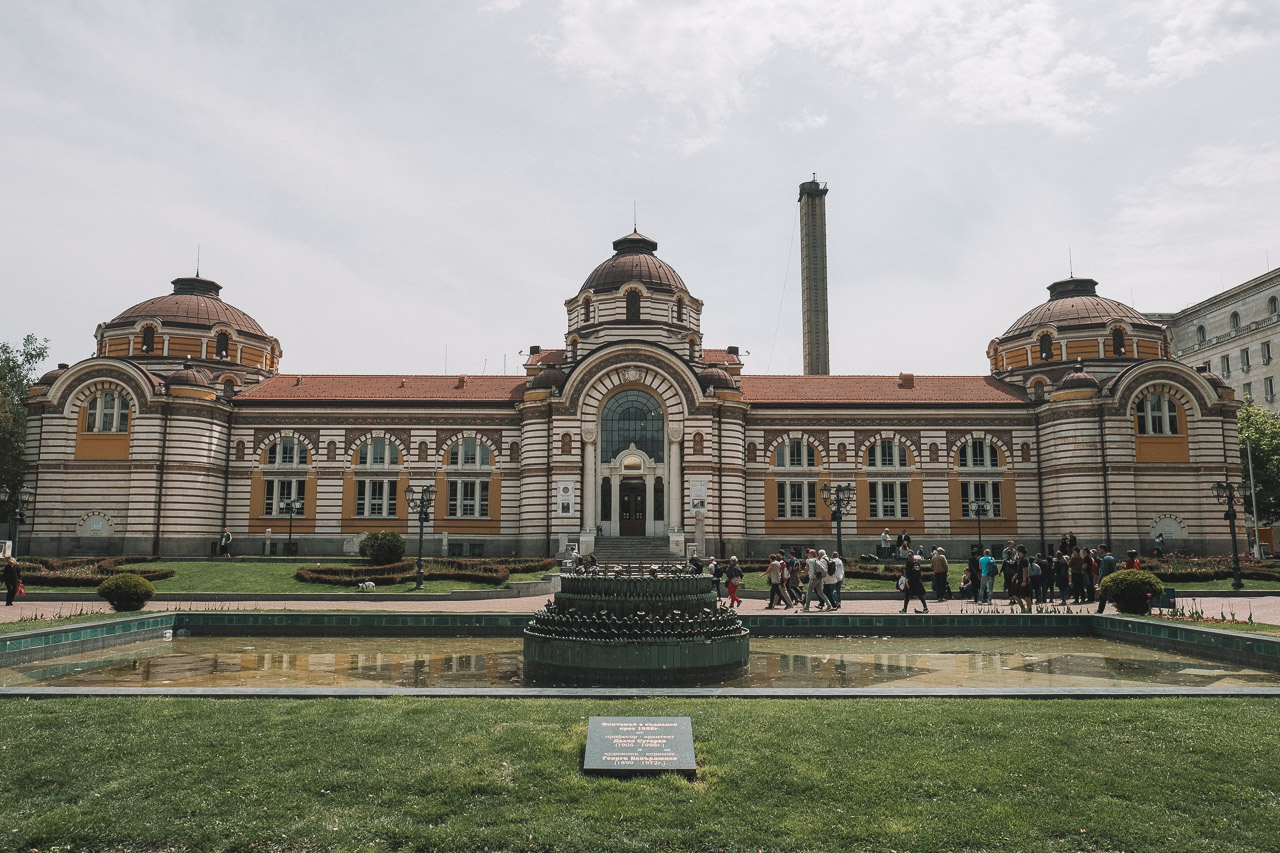 4. Enjoy the local craft beer scene
There are a number of great craft beers brewed in Bulgaria, though my favorite is probably the Stolinchno Pale Ale. You can get this beer at a number of different restaurants and bars, though I can specifically recommend two excellent spots for enjoying beerin Sofia.
Vitamin B – This small bar located on a side street has a huge selection of beers, as well as some spots to stand outside and enjoy the sunshine.
Kanaal – Lots of nice beers on tap, and even better it has a nice little garden where you can sit outside. Super friendly staff.
5. Taste Bulgarian wines
Bulgaria is also famous for its wine, as the grapes love to grow in the country's sunny weather. Sofia has a number of different wine-tasting tours if you'd like to get some more information from an expert 😉
TIP – If you're traveling outside of Sofia, definitely check out Starosel Winery , located near Plovdiv. You can drink wine underground in a room that looks like a Thracian temple! Even if you don't stay there overnight, you can come enjoy the restaurant and winery during the day. I've been here and it was awesome.
6. Visit the Alexander Nevsky Cathedral
Easily the most famous sight in the entire city, the Alexander Nevsky Cathedral is a stunning example of an Eastern Orthodox church. Come inside for a dark and intimate church experience, with stunning ceilings and incredible sculptures. You can buy a photo pass for a 10 lv, or just walk around and enjoy the interior itself.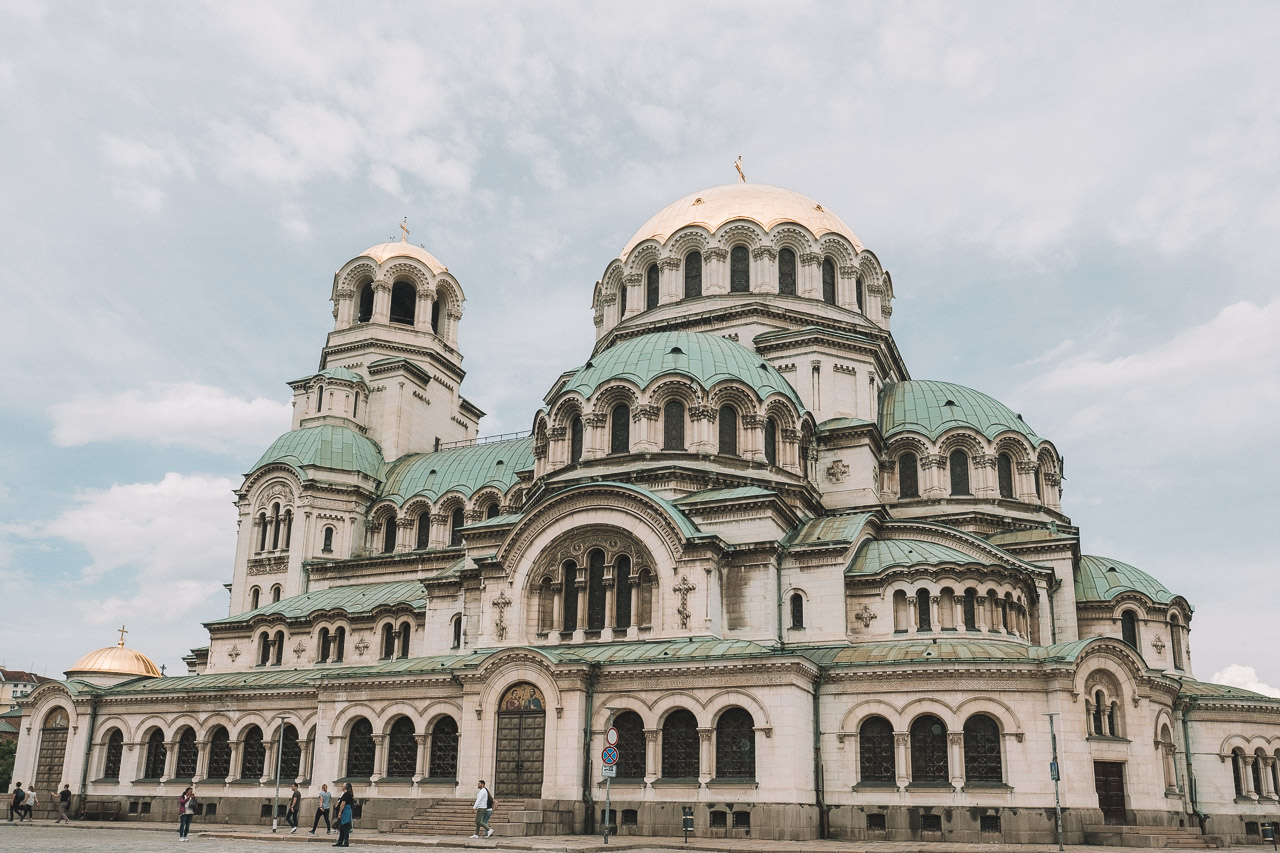 7. Walk down the main pedestrian street, Vitosha Boulevard
There are so many shops and places to eat on Vitosha Boulevard, the main pedestrian street in Sofia. You can see Vitosha Mountain, the biggest mountain that overlooks Sofia. Come here to walk up and down on the street, go window shopping, stop for a beer at a cafe, and meander past different churches.
8. Go for a hike on Vitosha Mountain
Speaking of Vitosha, you can take the ski lift up to the top and hike down. During the winter, it's also possible to go skiing. You can also see the biggest waterfall on the mountain, Boyana Waterfall. There's also a monastery located on the mountain, in case you can't make it to Rila Monastery.
9. Order some traditional Bulgarian food
A lot of Bulgaria food is like a unique twist on traditional foods in neighboring countries like Greece or Turkey. Bulgaria is especially famous for its wine and tomatoes, and is a country that consumes a whole lot of meat. Here are a few foods worth trying during your trip to Sofia.
Shopska Salad – Similar to a Greek Salad, but with Bulgarian cheese rather than feta. It's got tomatoes, cucumber, olives, white cheese, and parsley. Seems simple but trust me, it's addicting.
Tarator Soup – This cold soup is yogurt-based and makes a great starter before you have your lunch.
Meat – In general, there are a lot of options for people who enjoy eating meat. You can go to Skara Bar for a wide array of barbeque accompanied by potatoes.
Mish mash – A vegetarian friendly option! Mish mash tastes better than it sounds and is offered in many traditional restaurants.
Fried bread with feta and jam – A popular Bulgarian breakfast food, I could probably eat this by the kilo!
Banitza – Another veggie-friendly food, this popular snack is commonly made with pastry dough, spinach, and/or feta cheese.
10. Or try some of the more modern restaurants
Traditional food is great, but one of the nice things about Sofia is that the prices are really affordable so you should not feel guilty to spend a ton of time eating in the city! Of course, like most places, a random restaurant on the street might not be the best representative of what the city has to offer. Here are a couple of specific recommendations:
Made in Home – Super tasty, has indoor and outdoor seating. Cash only. If possible, make a reservation as it can be pretty popular.
Boom Burger – A Sofia institution, you can order a burger here so spicy you have to sign a waiver. Guess who did that and then regretted it? Yep. Yours truly.
Sasa – Fun sushi place and better than most in the city. Has multiple locations in the city.
Rainbow Factory – Great cafe for breakfast and coffee, located in the center.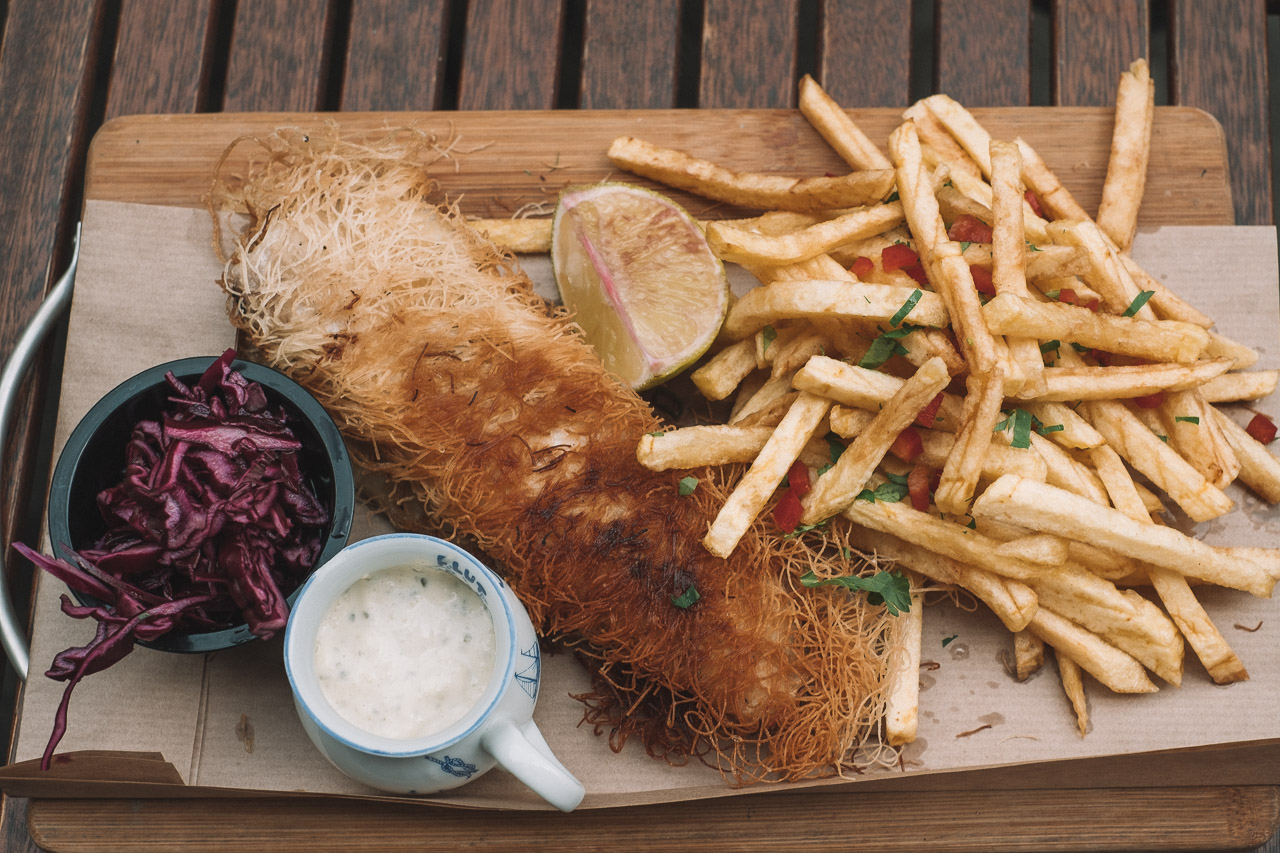 My lunch from Made in Home in the center of Sofia
11. See ruins dating back to the Roman period
Back in the day, ruler of the Holy Roman Empire, Constantine the Great, was debating between setting up the capital of the empire in two places: Constantinople (today's Istanbul) or Sofia. Owing to the former's superior strategic location, it was chosen over Sofia, but you can see a ton of remants of the Roman Empire all over the city. It's not uncommon that anytime they want to build a new building in Sofia, some new ruins are discovered and it has to be evaluated whether to preserve them! That's how densely used Sofia's inner city was during Roman times.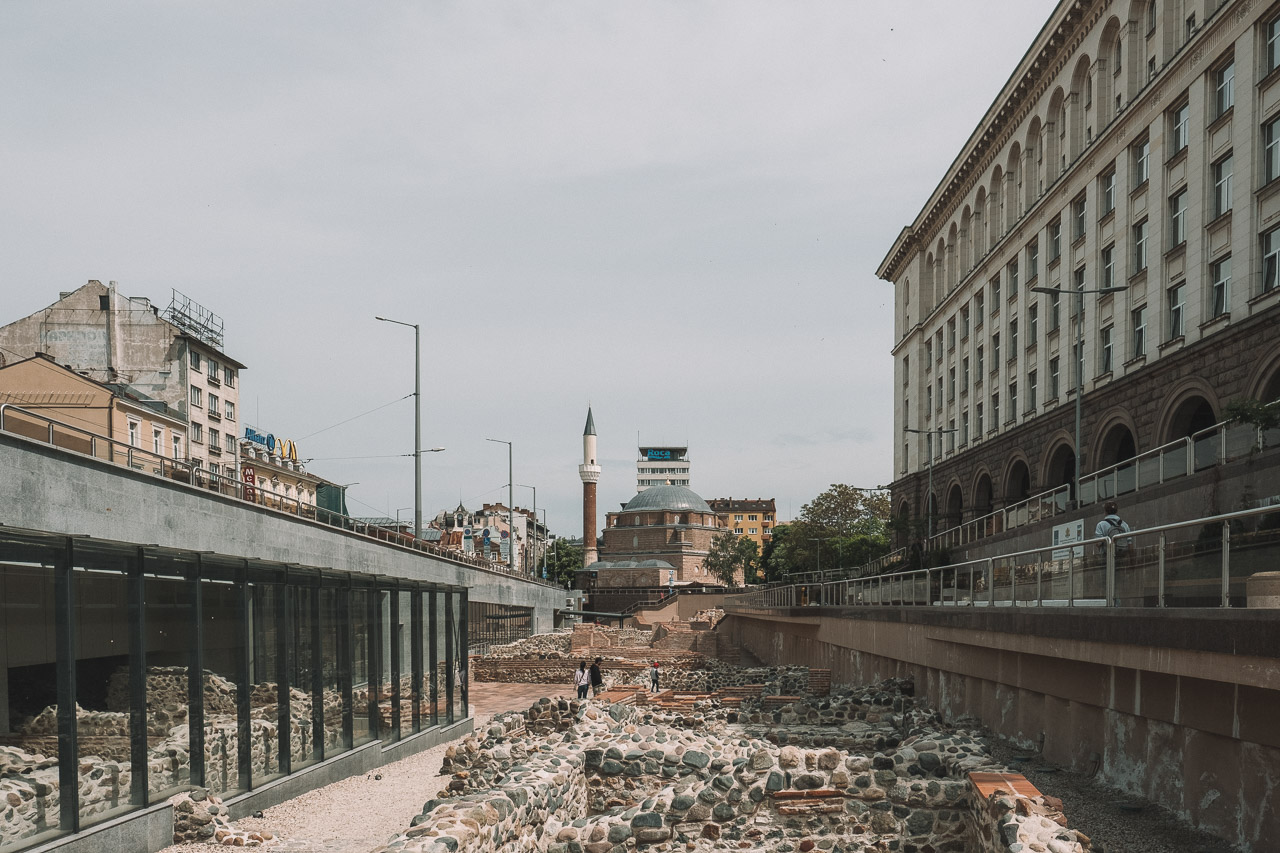 12. Visit Europe's second largest synagogue
Bulgaria used to have 50,000 jews before WWII, 80% of which were in Sofia. One of the most famous kings in Bulgaria's history, Boris III, asked for delays to avoid deporting the jewish population. The total population of Jews in Bulgaria were saved, and many expatriated to Israel. For this reason, you can visit Europe's second largest synagogue in Sofia, which is like the little sister of the one in Budapest.
13. See the seat of the former communist regime
Bulgaria was part of the former Soviet Union, and as such has a history of communism that lasted until the late 80's. There's evidence of this all over the city, especially places like these which used to be adorned with a red star and facing a statue of Lenin. For the most part, Soviet symbols have been removed but the shadow of communism remains.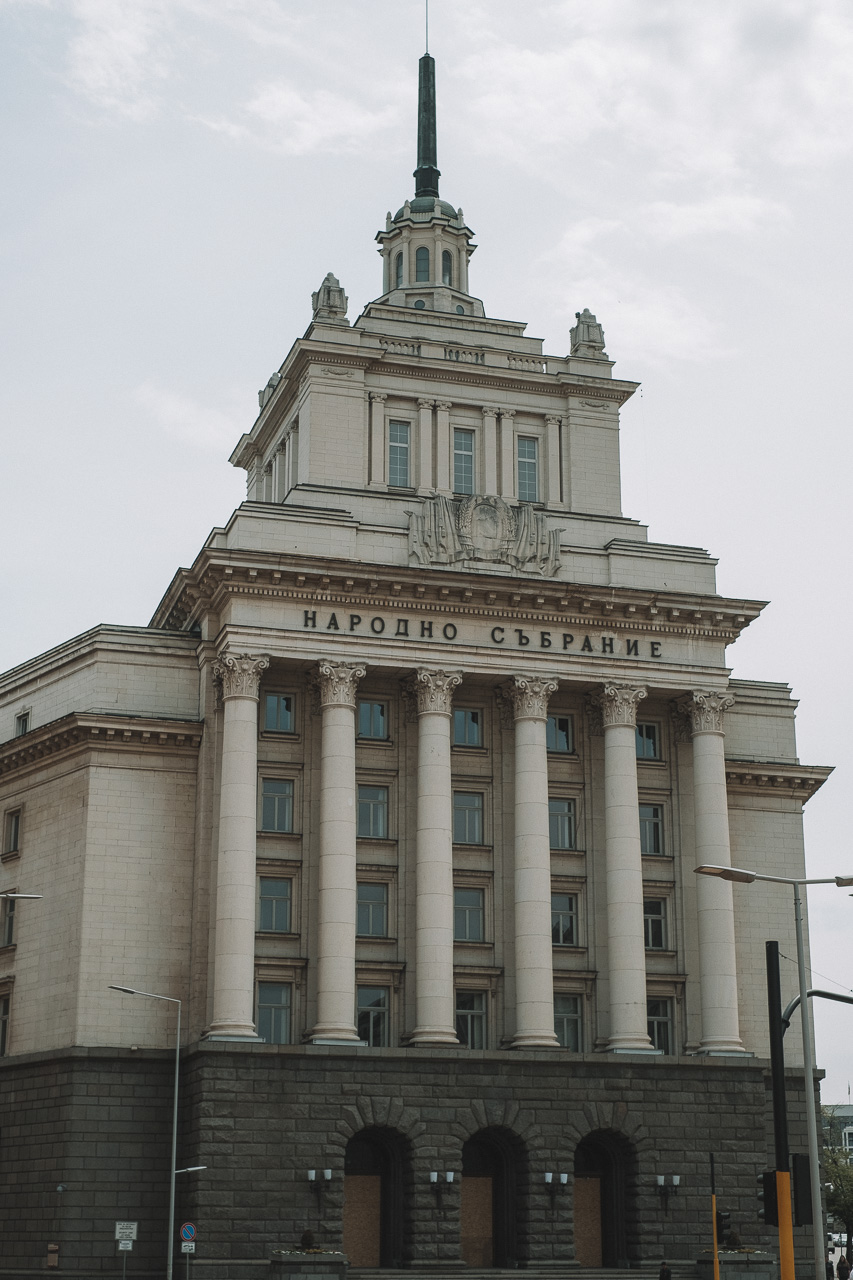 14. Get a blast from the past at the ultra-kitsch Raketa Rakia
Curious what it was like to grow up in a Bulgaria positioned behind the Iron Curtain? You can get a small taste of what it looked like by trying out Raketa Rakia Bar, a retro communist-era bar and restaurant. It's a great place to try out traditional foods like meat dishes or mish mash, or just admire the trinkets and photos plastered over the walls that'll take you back in time.
While you're at it, it's time to try the national spirit of Bulgaria, Rakia. Usually served in a smaller version of a champagne flute, this liquor is about 40% ABV. It's a brandy made from fruit, usually grapes but it can also be different kinds of fruit too. Although it's a popular drink through the Balkans, going by different names, archaeologists do believe that Rakia originated in Bulgaria as early as the 14-16th century.
15. Walk around one of Sofia's many public parks
Sofia has a number of public parks, especially in the city center. It's hard to far without stumbling into one of the parks. You can go for a picnic, listen to live music, or hang out near some of the city's famous buildings and monuments. For example, the National Theatre of Bulgaria, which is pictured below.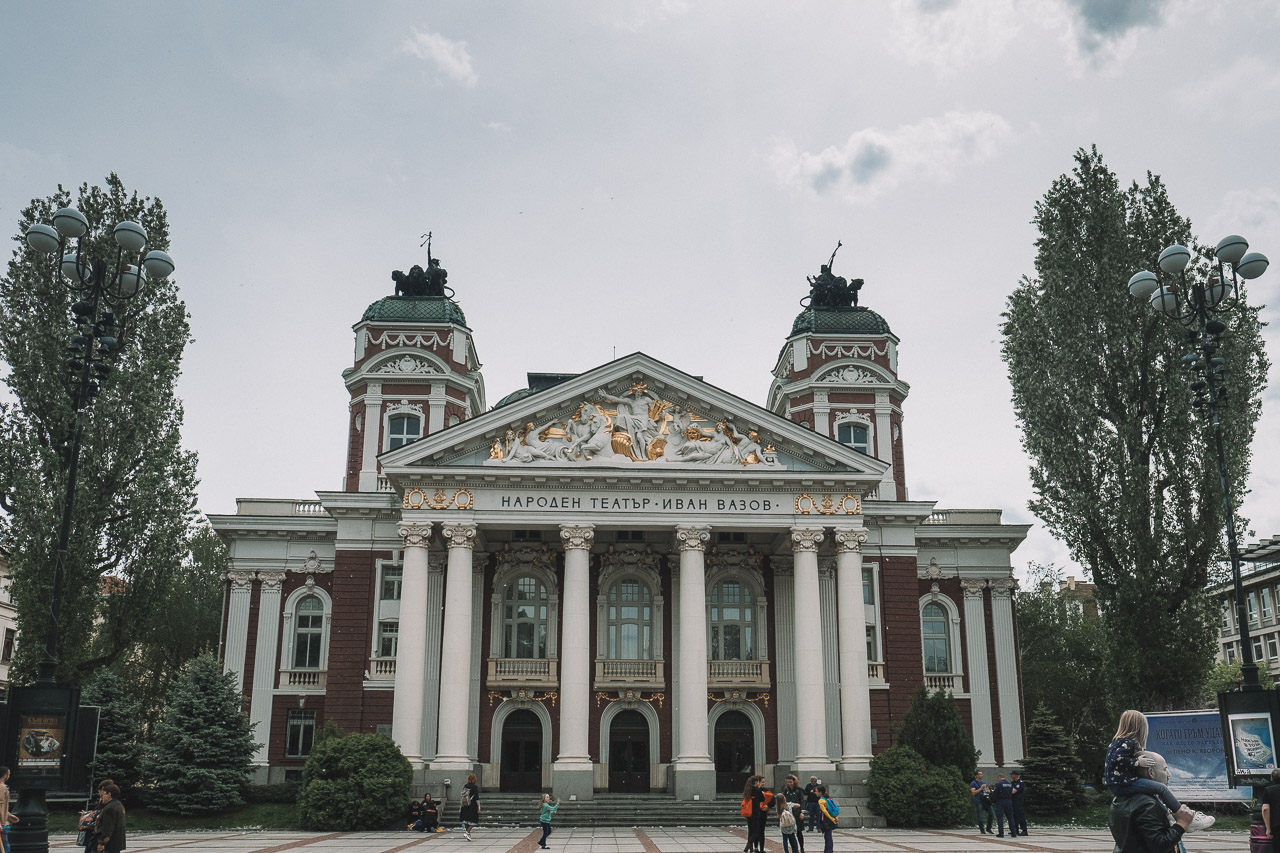 Tips for visiting Sofia, Bulgaria
Do not trust just any taxi. Sofia is known for having a lot of scammer taxis who will charge tourists close to double what locals will pay. Two reputable taxi companies include Yellow! taxi or O.K. taxi. Yellow has an app you can use to order a taxi from your phone.
Book at taxi at the desk in the airport. As soon as you get to the airport in Sofia, you can book a taxi at the O.K. taxi desk. You don't pay there, but you'll get a voucher with a number on it. Then be sure to look for your taxi through the exit on the right near the supermarket to find your legit taxi.
Use the metro for just 1,60 leva. Tired of dealing with taxis? The metro in Sofia is rather new and extremely cost effective, as 1,60 leva is roughly 0,80€.
Sofia is not very bicycle-friendly. Cars dominate the landscape of Sofia, be aware that it's not a place for bikes and there is a fair amount of traffic, especially at certain times of the day.
All menus tell you the weight of your dish in grams. This is a fun fact, no matter where you go, they'll tell you how much your food weighs. If you're not familiar with grams it doesn't help but it's kind of funny!
Shaking the head means "yes". Perhaps the number one most confusing thing about visiting Bulgaria, be aware that when a Bulgaria shakes their head, it actually means "OK" or "Yes".
Learn a few basics words in Bulgarian. Blagodariya means "thank you" but you can also use "merci", which is a common substitute.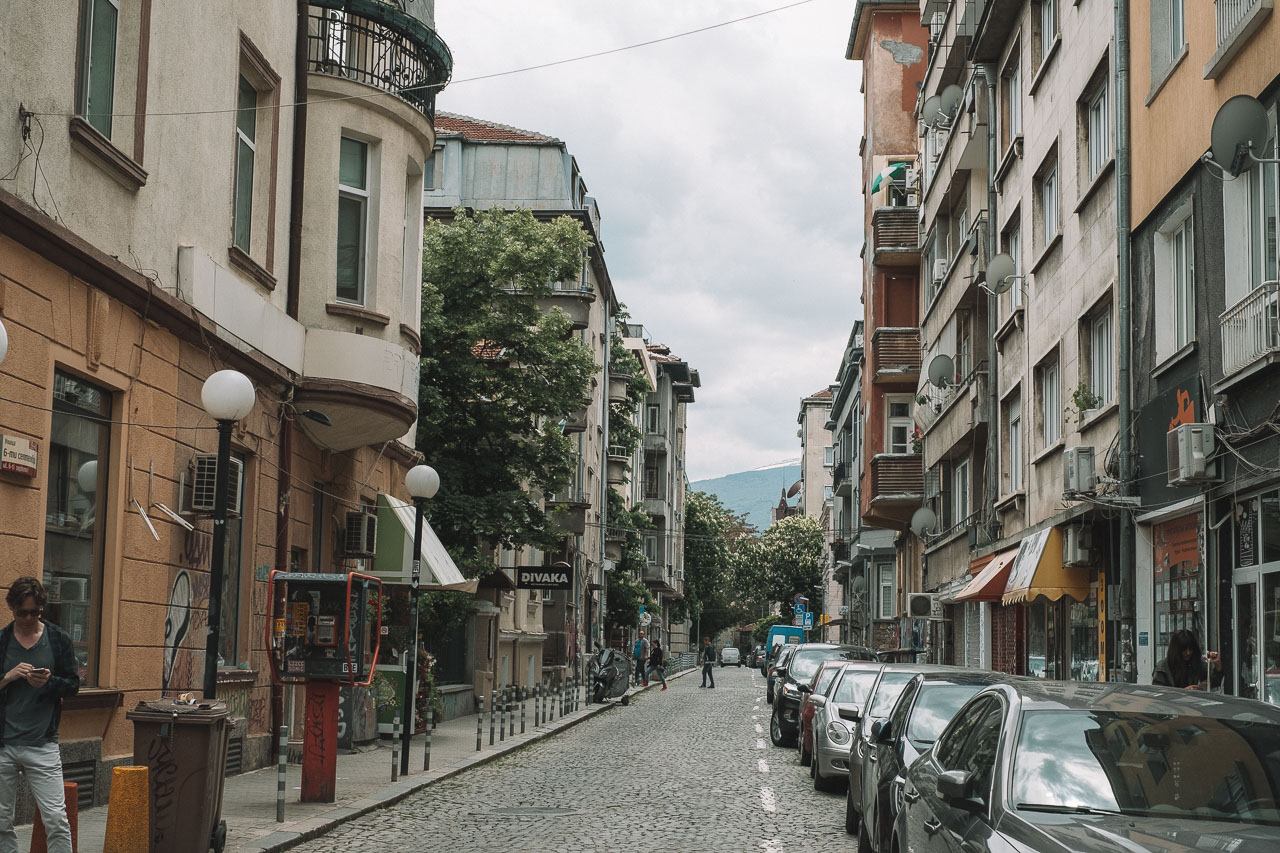 Inspired to visit Sofia, Bulgaria?
Shared your thoughts in the comments what you'd most like to do in Sofia, Bulgaria, or if you've been and have any tips for my next trip there!
Found this post useful? Pin it for later!