Madeira is commonly called the "Hawaii of Europe" and for a good reason — this volcanic island off the coast of Morocco has the stunning beaches, lush forests, and reliable sunshine you'd expect from it's year-round subtropical climate.
The key difference: it's approximately a million times more affordable. Dare I say, budget-friendly?
Even though the island is just 741 km2 (286 mi2), there are so many amazing things to do in Madeira that you can easily spend a week or more. But thanks to how compact and well-connected Madeira is, it's totally possible to hit the highlights in just a couple of days if that's all you have.
Read on for the best things to do in Madeira in 2023, completely up-to-date with what's open now, the island's regulations, and how to make the most out of your Madeira holiday.
Plus, a few travel tips to prepare for your trip and what you absolutely need to arrange in advance.
Enjoy!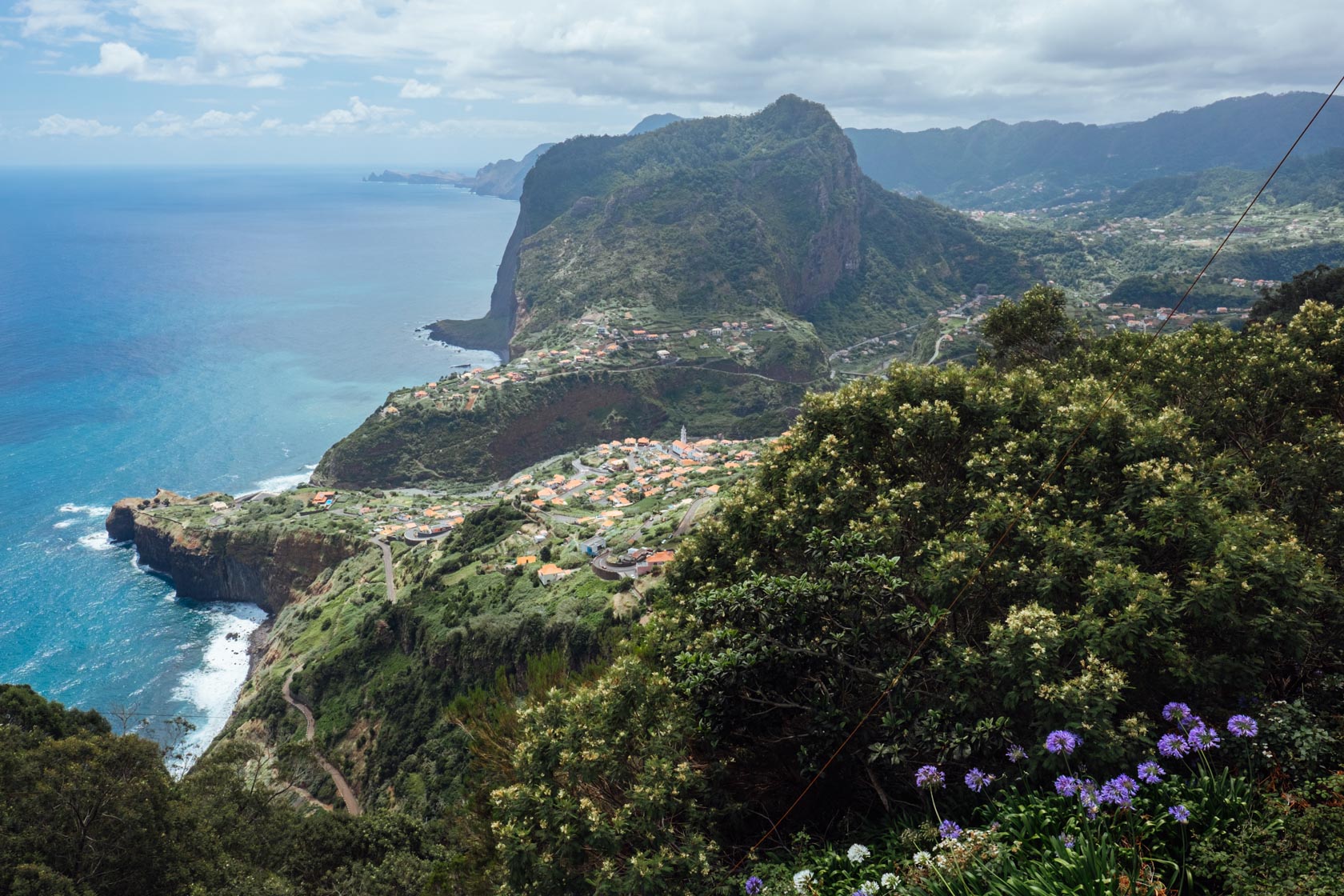 Some links in this post are to affiliate sites. If you purchase something through them, I may earn a small comission — which costs you nothing! I am very grateful when you use my links to make a purchase.
Can you visit Madeira now? (Summer 2023)
Yes, you can visit Madeira without any restrictions on entry requirements. Be aware that if you are visiting Madeira from outside the EU, you may have entry requirements into the country you are transiting through in order to reach Madeira.
Further, there are still restaurants, bars, gyms, etc. which may require proof of vaccination, recovery, or having been tested.
What to know before you visit Madeira
Before heading off in the Madeiran sunset, here's what you need to know to prepare for your trip:
Best way to explore the island is definitely by car. Critically, you want to get a SMALL car (we opted for a Fiat 500) because streets are super narrow. We always book our cars through Discover Car's comparison portal to find the best deal on our car hire.
If you don't hire a car, many places are accessible by small group tour. Wherever possible, I'll also include shuttles and tours you can use to explore Madeira without a car.
You can pay by card almost everywhere. But a handful of places were cash only or Portuguese cards only. For that reason, make sure to carry a small amount of cash.
If you plan to hike, definitely bring hiking boots. Some of the most beautiful hikes to stunning waterfalls are in the forest and can get muddy. There are lots of options for hiking in Madeira for all levels of fitness.
The best time to visit Madeira is May through August. Simply because there is less rain than in Winter. However, Madeira is a year-round destination and has enough microclimates that if it's raining somewhere, you can drive to sun and warmth in under an hour!
The best place to stay in Madeira is in Funchal. Our amazing villa (pictured below) was a 5 minute drive from the main highway, and a 15 minute walk to the city. The location was absolutely perfect as a home base to explore the entire island efficiently.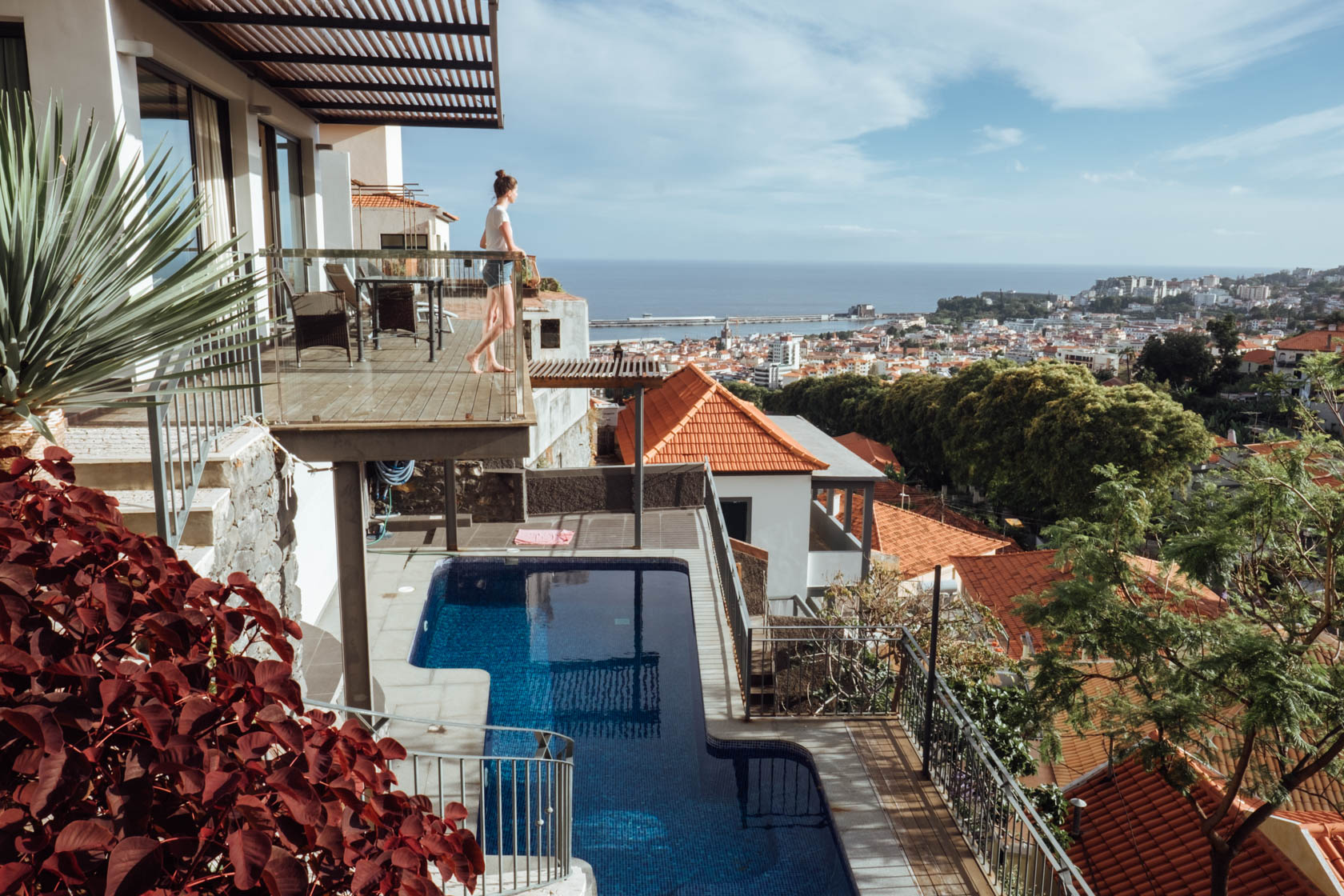 With the fact that Europe has truly opened to international travel, I highly suspect that people will be flocking to Madeira this Summer. So if you're looking for accommodation, I'd definitely recommend booking soon before prices inevitably increase again and availability is limited.
If you want to stay in the same villa as us, you can check its availability here . The host, Louise, was incredibly helpful and we would 100% stay here again on our next trip, as it was just perfect.
Things to do in Madeira
This list of top things to do in Madeira is based on my experience on the island, and such there are tons of pictures of each location and activity. If you have any questions, you're always welcome to contact me and I'll see how I can help!
Here are the best things to do in Madeira in 2023: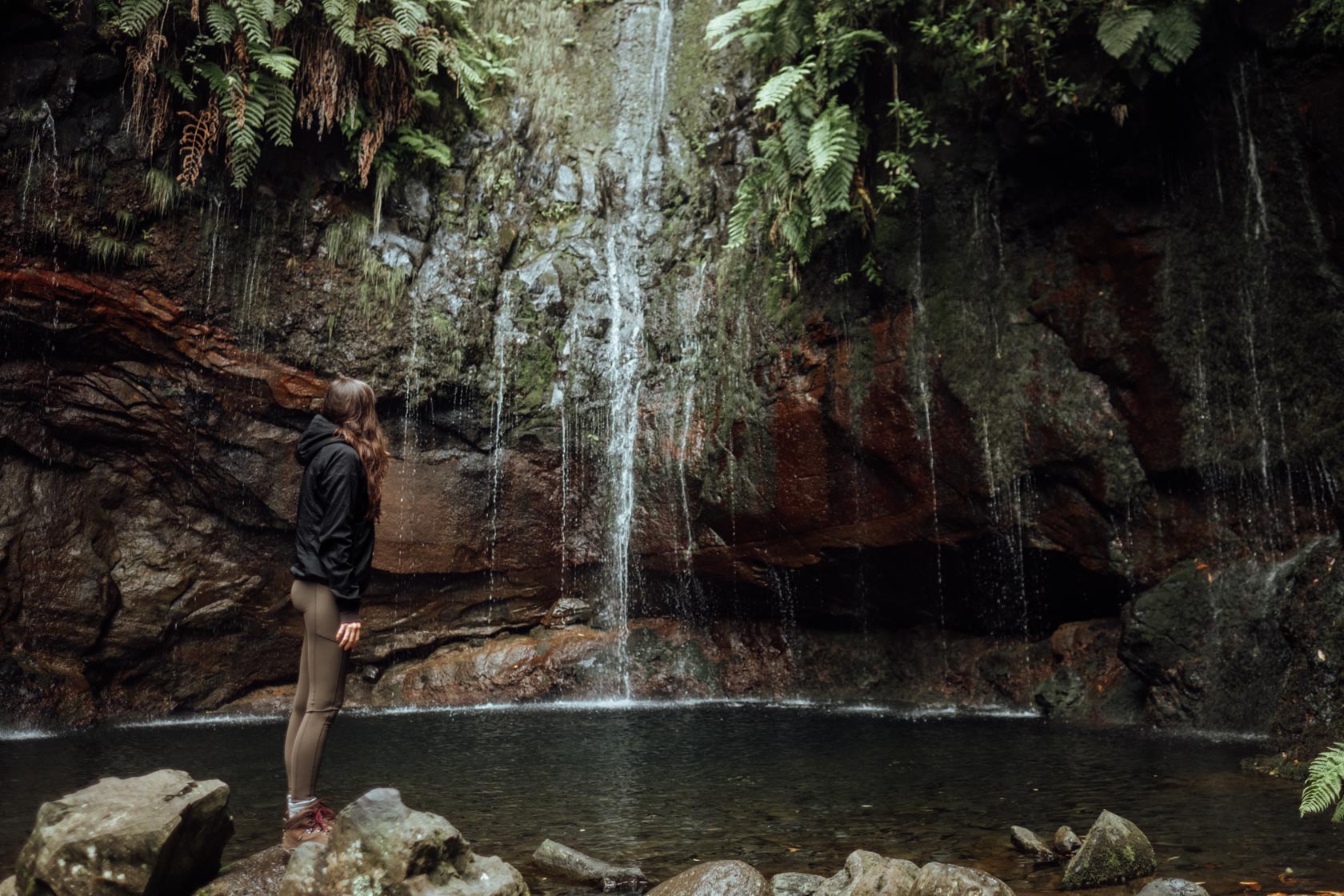 1. 25 Fontes Hike
Madeira's most popular hike, featuring two beautiful waterfalls. Come in the morning to avoid sharing this place with TONS of tourists.
This tour
starts at 8:30AM.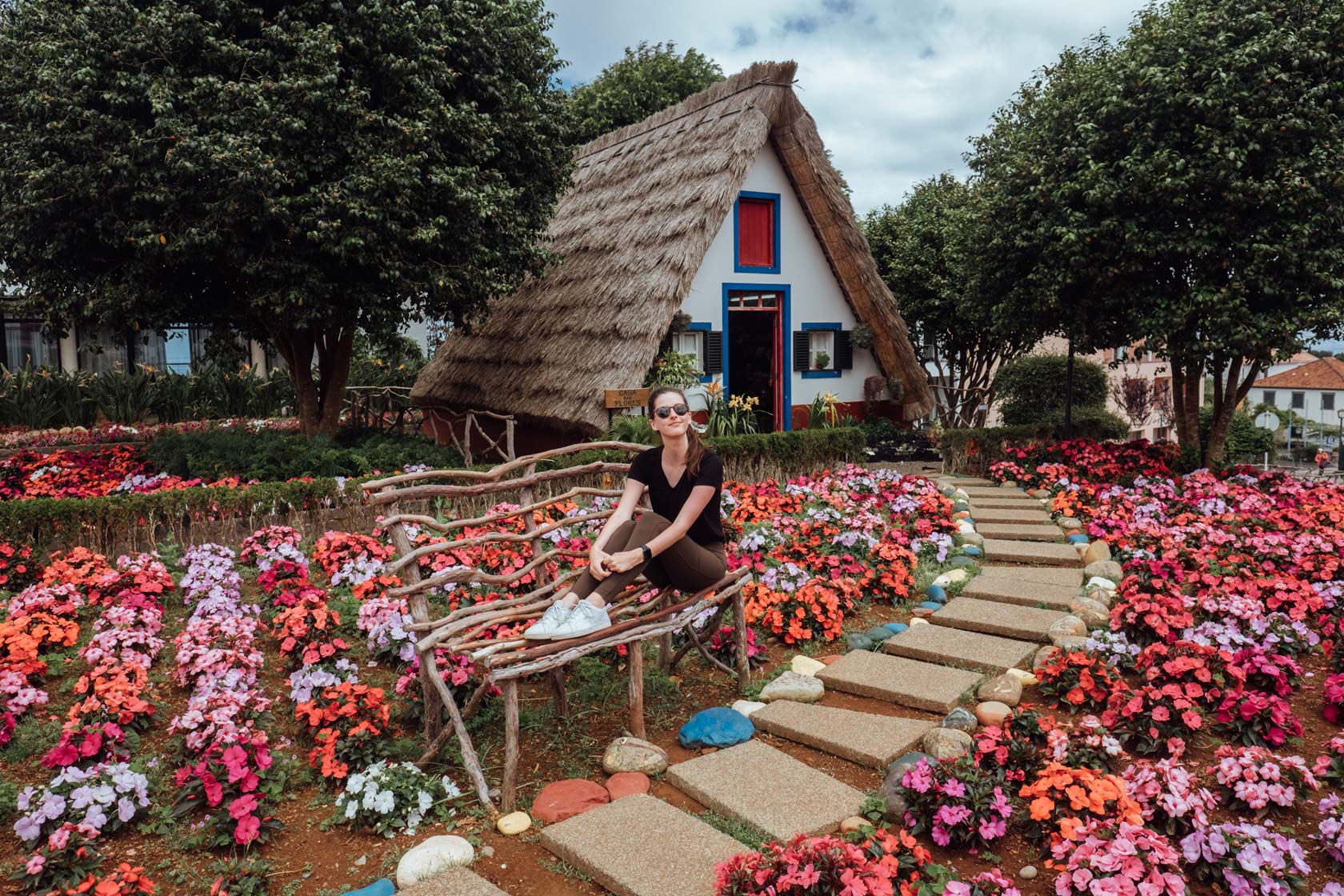 2. Santana Traditional Houses
Santana's traditional houses are a must-see during your tour of the East of Madeira. Countless scenic viewpoints en route, it's why Madeira is known as the Hawaii of Europe.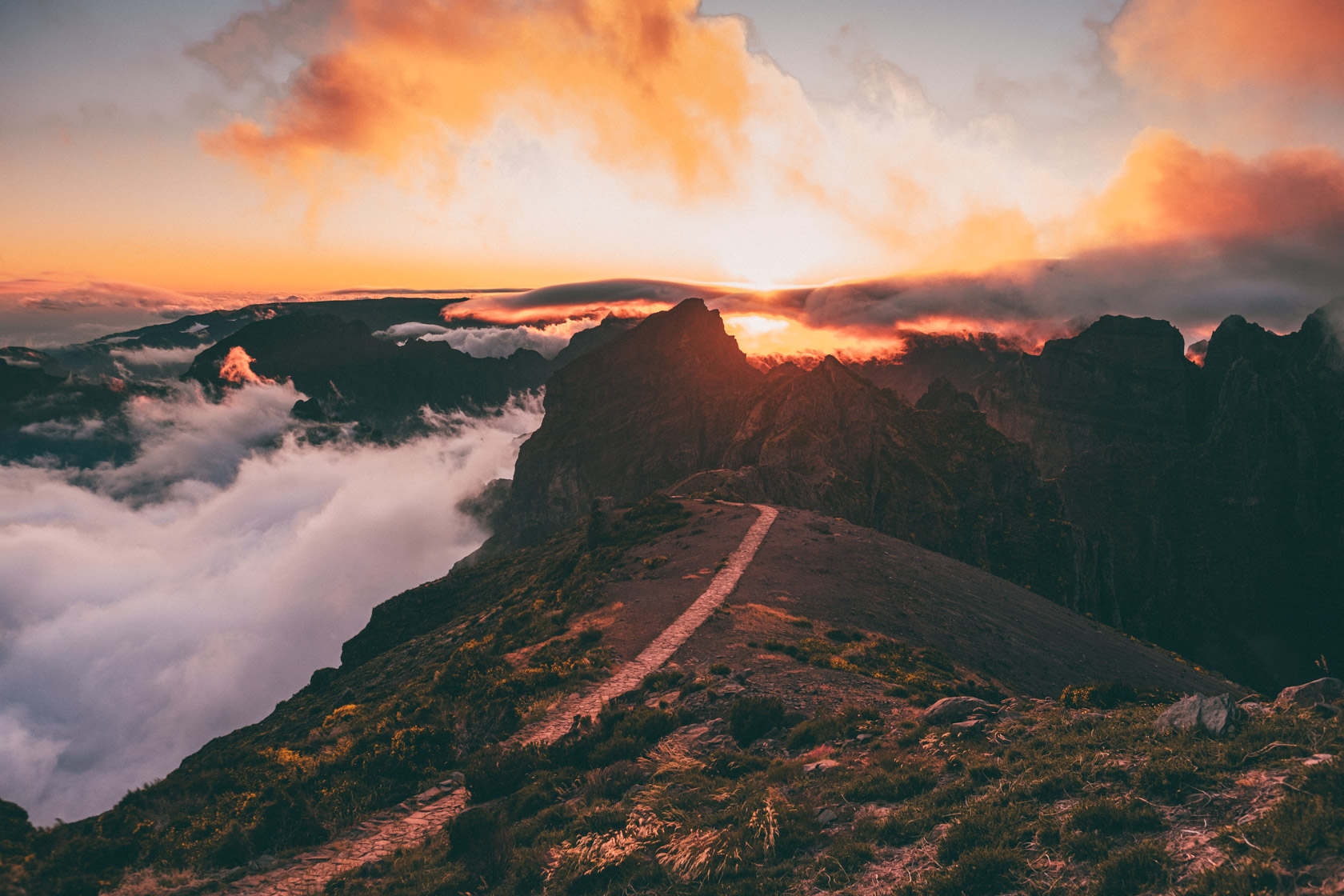 3. Pico to Pico Hike
Madeira's most famous hike among true hiking fans. You hike between two stunning peaks, Pico do Arieiro and Pico Ruivo. Not easy but a bucketlist experience.
1. Take stunning waterfall photos at the 25 Fontes hike
Arugably the most popular hike on the island, the 25 Fontes hike is one of the best things to do on Madeira because it features several gorgeous waterfalls — and is mostly flat after the initial descent into the valley along a paved road.
Flat (ish) hike with a big reward? That's what I like to hear!
The highlight is the 25 Fontes, or "25 Fountains" which feed the levada you walk next to on your way to the source. But for a mere 800-meter detour, you can also stop by the Risco Waterfall along the way (pictured below).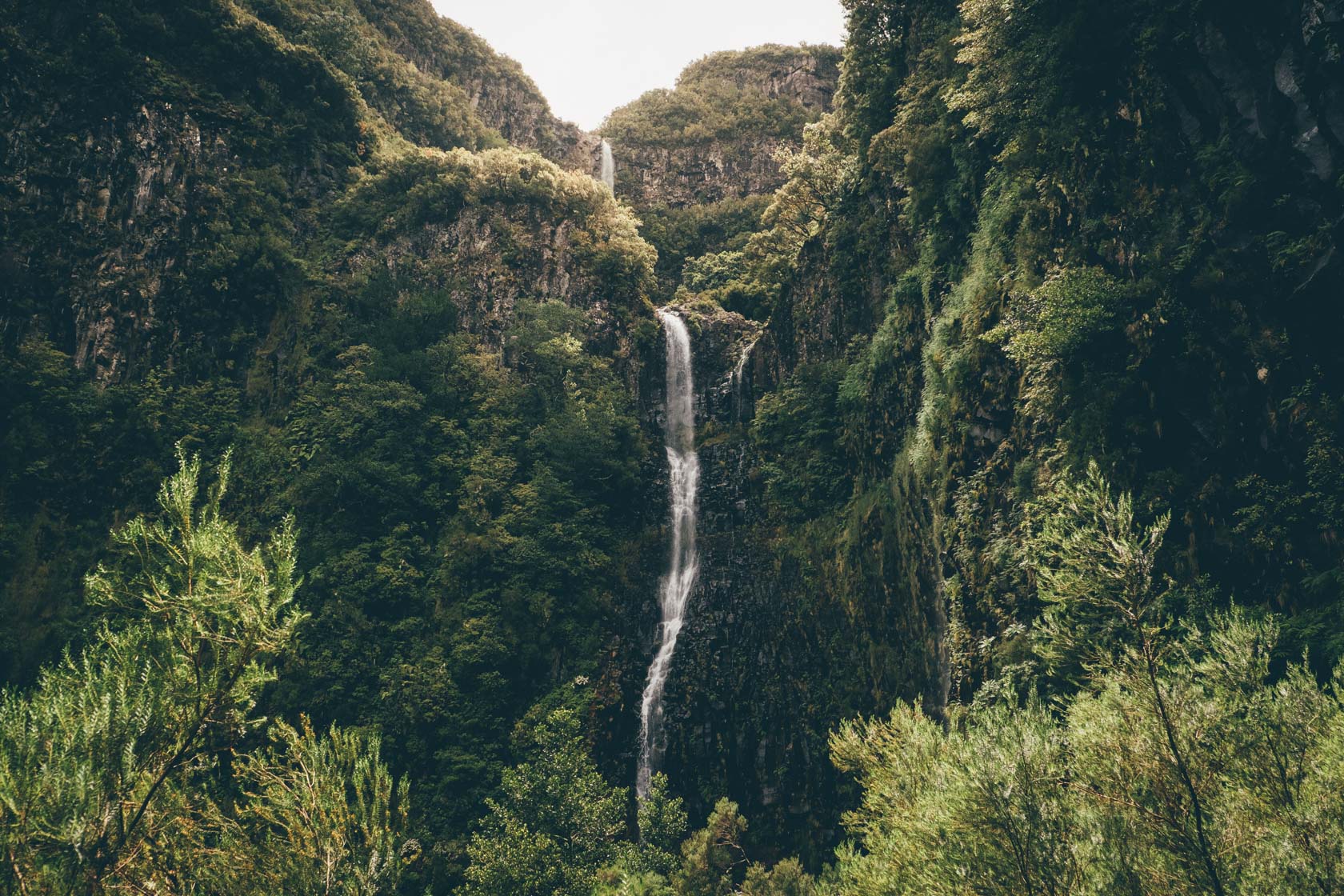 As you hike, you'll find beautiful wildflowers, a peaceful levada stream running alongside you, and birds for company. The path is extremely well-maintained, with plenty of railings near any drop-offs. The finale is a stunning, delicate waterfall complete with fish swimming in the pool below!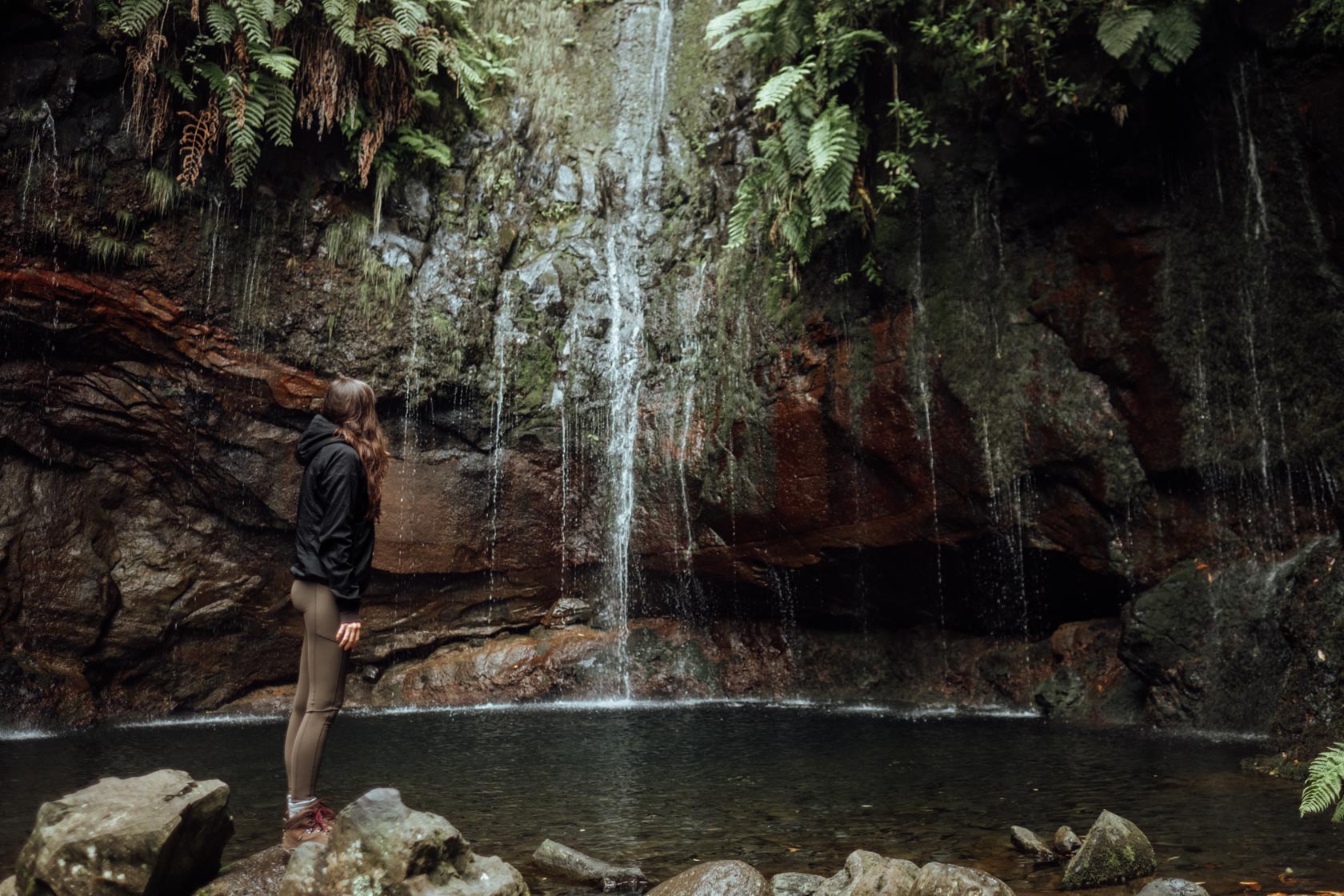 We had about 3 hours of moving time, and 4.5 hours total round trip including stopping for lunch and taking copious photos.
That said, if you have mobility limitations, do be aware there is a decent set of stairs (300 meters of elevation gain in total) about midway through the hike that'll get your heart pumping. As always, "easy" is relative, but we did see people of all ages on this trail.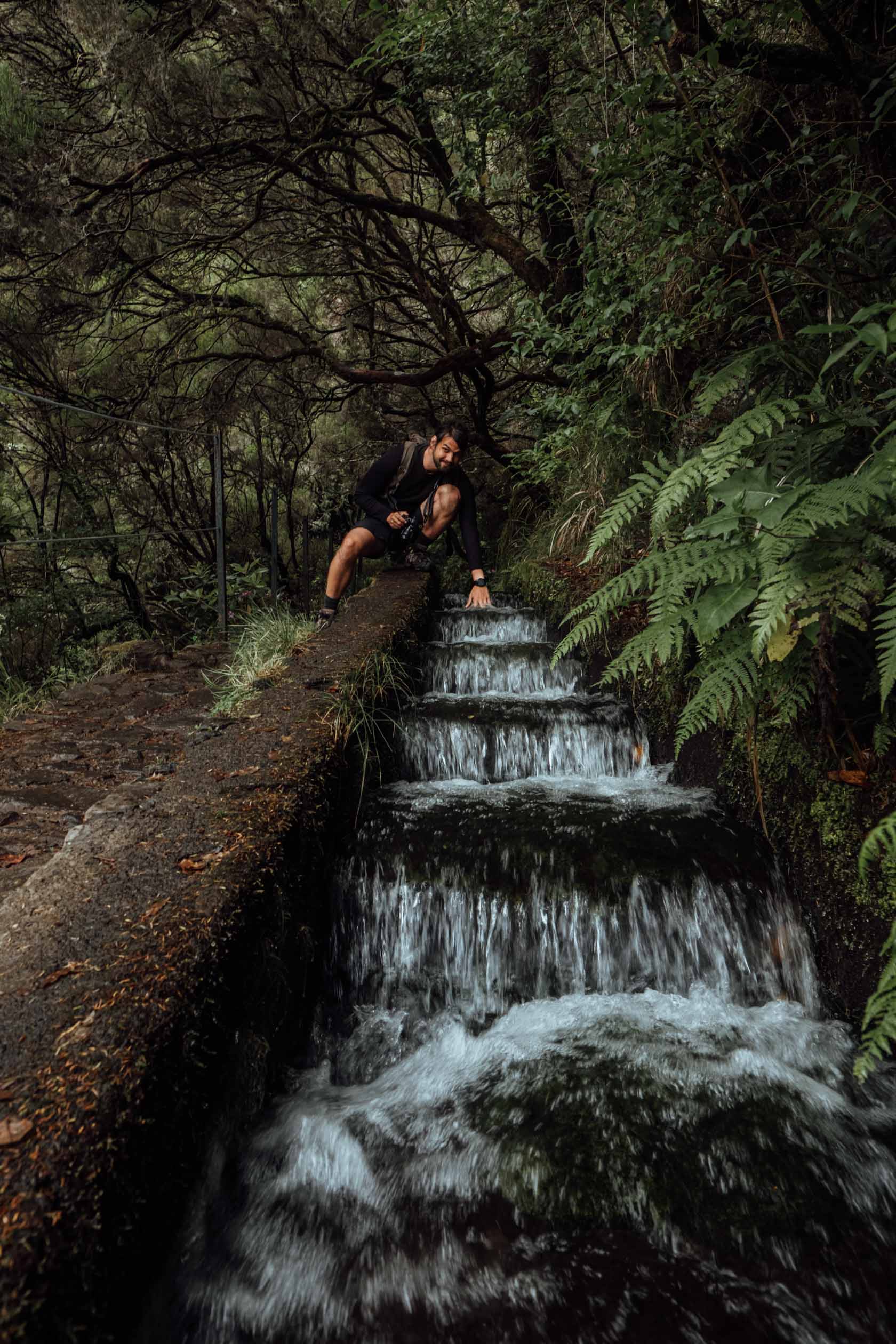 We hiked mid-day on a weekend in mid-Summer, and still found the crowds manageable. That said, bear in mind this hike is very popular so you'll meet plenty of new friends along the way!
Reach it by tour
If you're not renting a car, you can reach the 25 Fontes and Risco Waterfall hike through this guided tour at a really affordable price. Hiking tours are very common in Madeira, and a great way to both stay safe and learn more about the island. Click below for details and availability:
2. See sunset at Pico do Arieiro
Pico do Arieiro is the third highest peak on Madeira, and a must-see viewpoint when the clouds are low enough to form a layer between you and the world below.
The best part? You can get these incredible views a 60-second walk away from a car park! That makes this an excellent location for people who don't want to trek. There's even a stairlift for wheelchair users or people who can't get up stairs.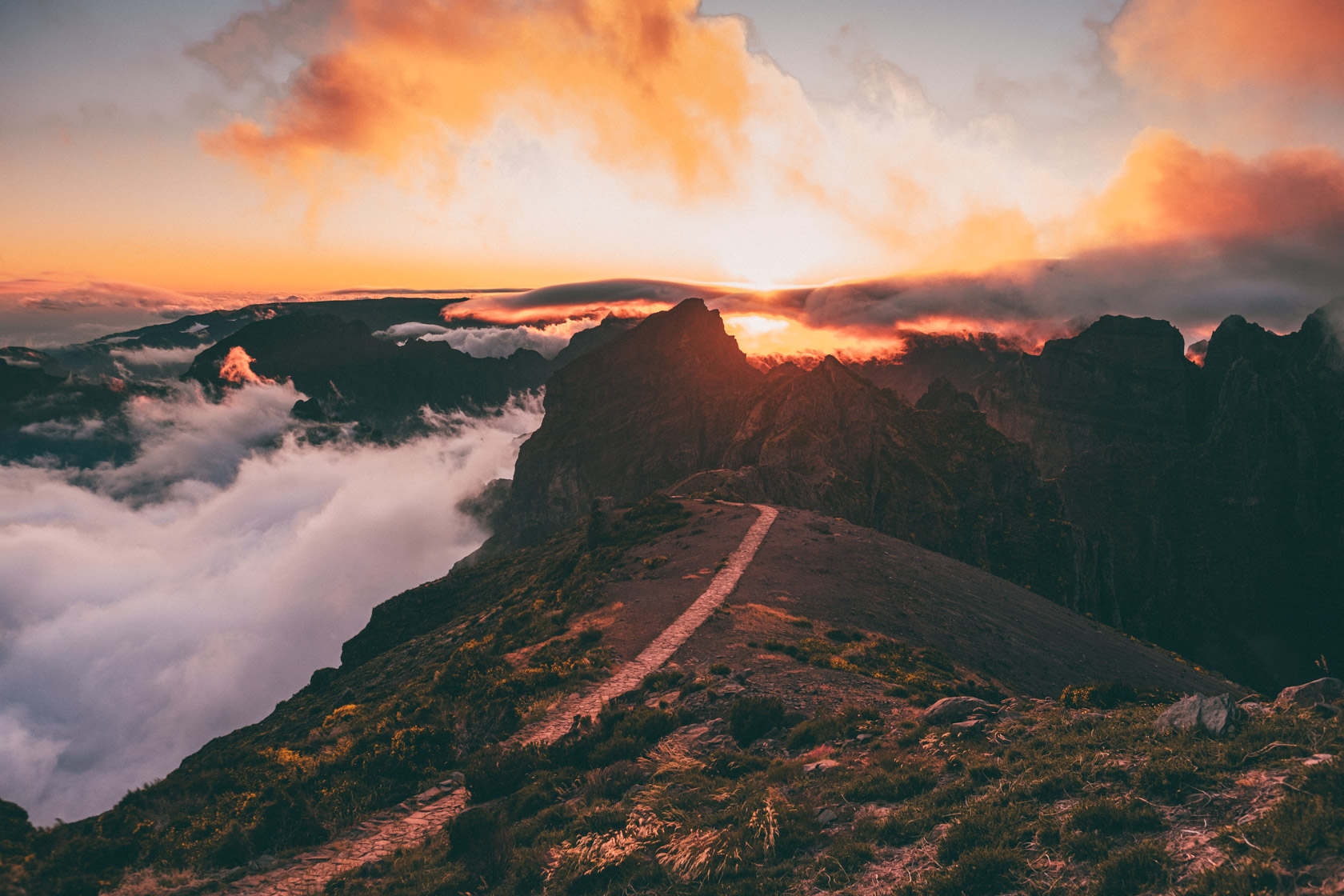 Pico do Arieiro is also a really popular places for sunrise, but with one drawback: this area is extremely prone to thick fog (AKA being inside a cloud!) meaning the risk of near-zero visibility is pretty high.
So if you plan for sunset instead of sunrise, you can use the webcams on NetMadeira to plan your trip during a clear time period. That's how we landed these incredible views on our second attempt: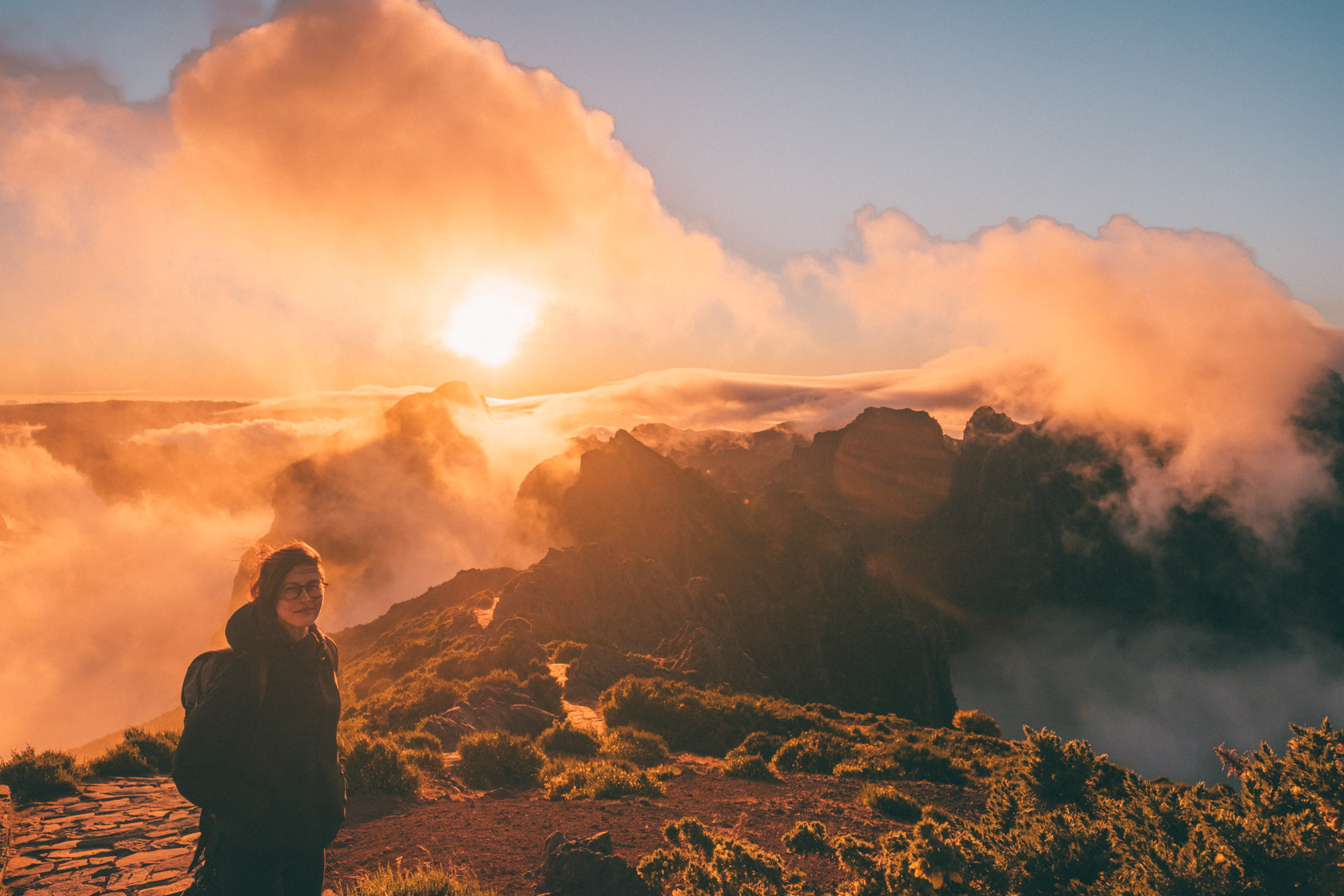 Packing tip: Stay warm! You're at the top of a mountain, which is a very different climate than hanging out on the beach. A sweater and light outer layer worked perfectly against the windy conditions. Ladies with long hair, bring a hair tie or risk eating your mane while trying to take a selfie!
3. See the traditional houses at Santana
Madeira was claimed by Portuguese sailors in the early 1400s, and was supposedly uninhabited at the time (though there's evidence the Vikings may have visited a few centuries earlier).
Some of the early inhabitants built small, triangular houses with thatched roofs, best observed today at the cultural site called Casas típicas de Santana in the Northeast part of Madeira.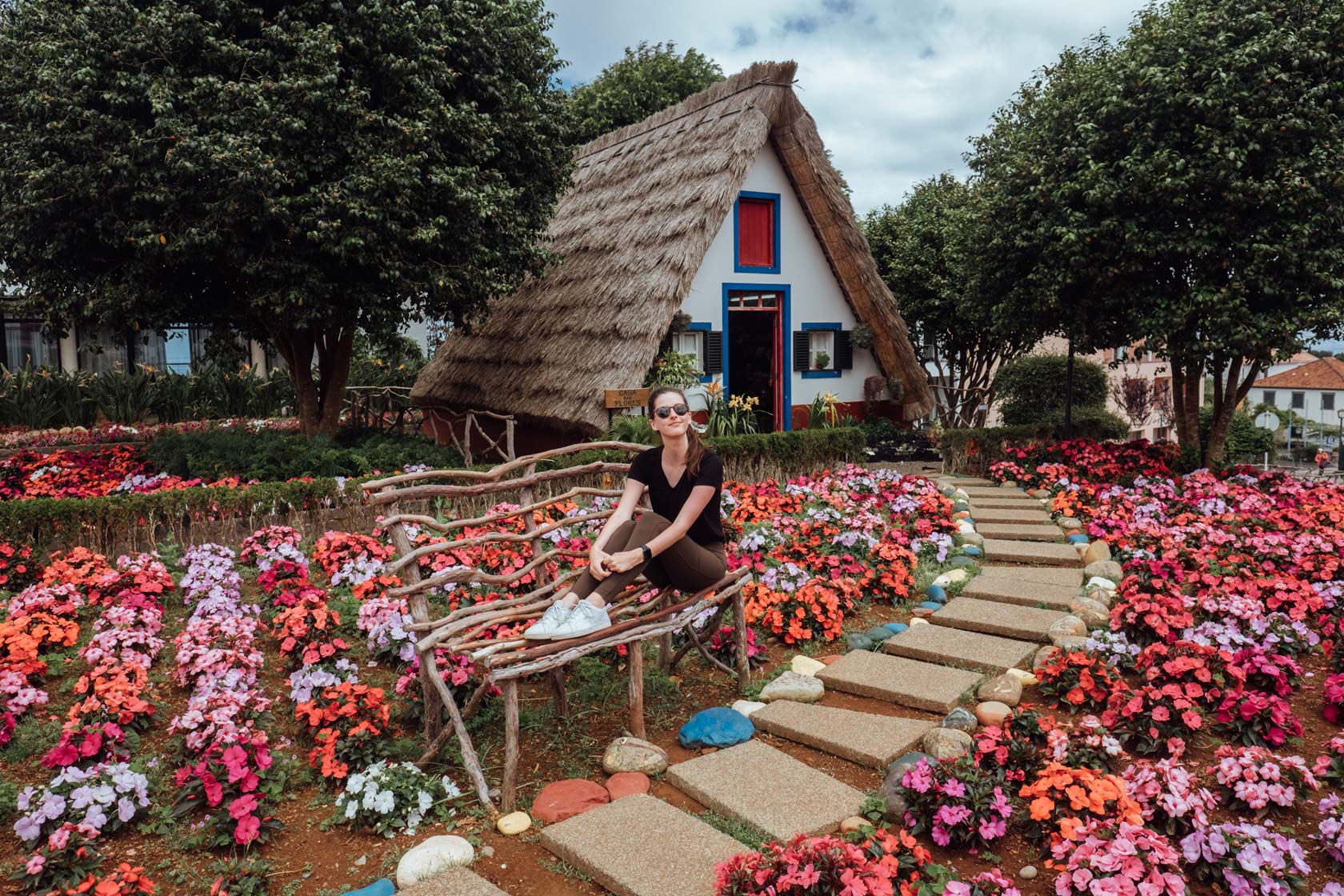 At this location, you'll find several houses including some you can enter, such as the tourism office and a small flower shop. The houses are free to see, and a popular spot to spend 30-45 minutes wandering around.
There are tons of things to do in Madeira in the Santana area, you'll most likely find yourself with several opportunities to stop by these houses on your Madeira road trip.
Reach it by tour
If you're not self-driving, you can reach Santana on this full guided tour of Madeira's East Coast, which includes stops at Pico do Arieiro (mentioned above), levada walk to the Balcões (mentioned below), and of course these famous A-frame houses. Click below for details on pricing and availability:
4. Look out over the Vereda dos Balcões
Probably the easiest hike we took on Madeira, Vereda dos Balcões is an ultra flat, 1.5 kilometer path from the street to this lookout point.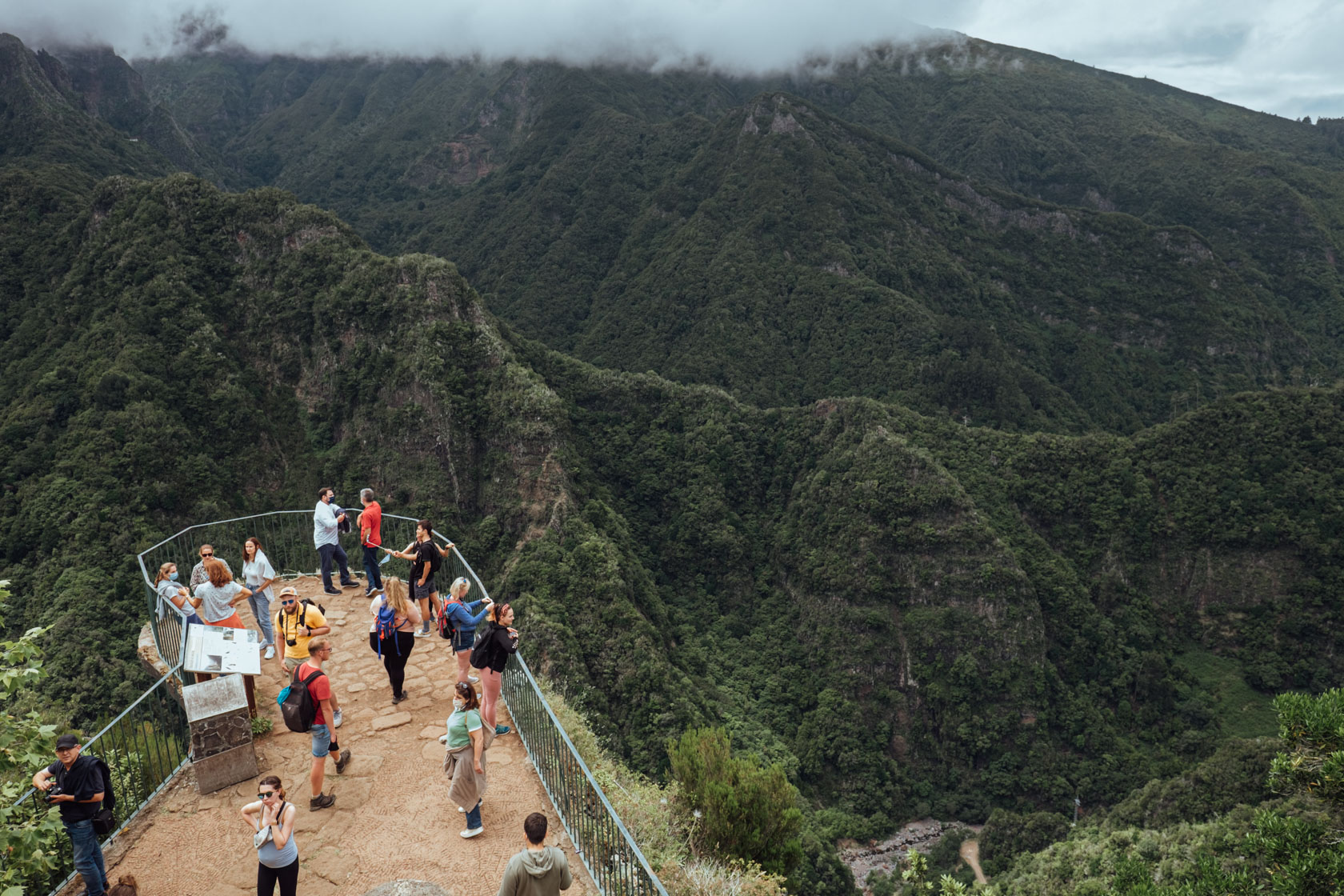 Right in the middle of Madeira is a big natural park, called Ribeiro Frio (which literally means "Cold Brook" in Portuguese). The mountains are covered in thick forest, and you've got a view all the way out to the sea on a clear day.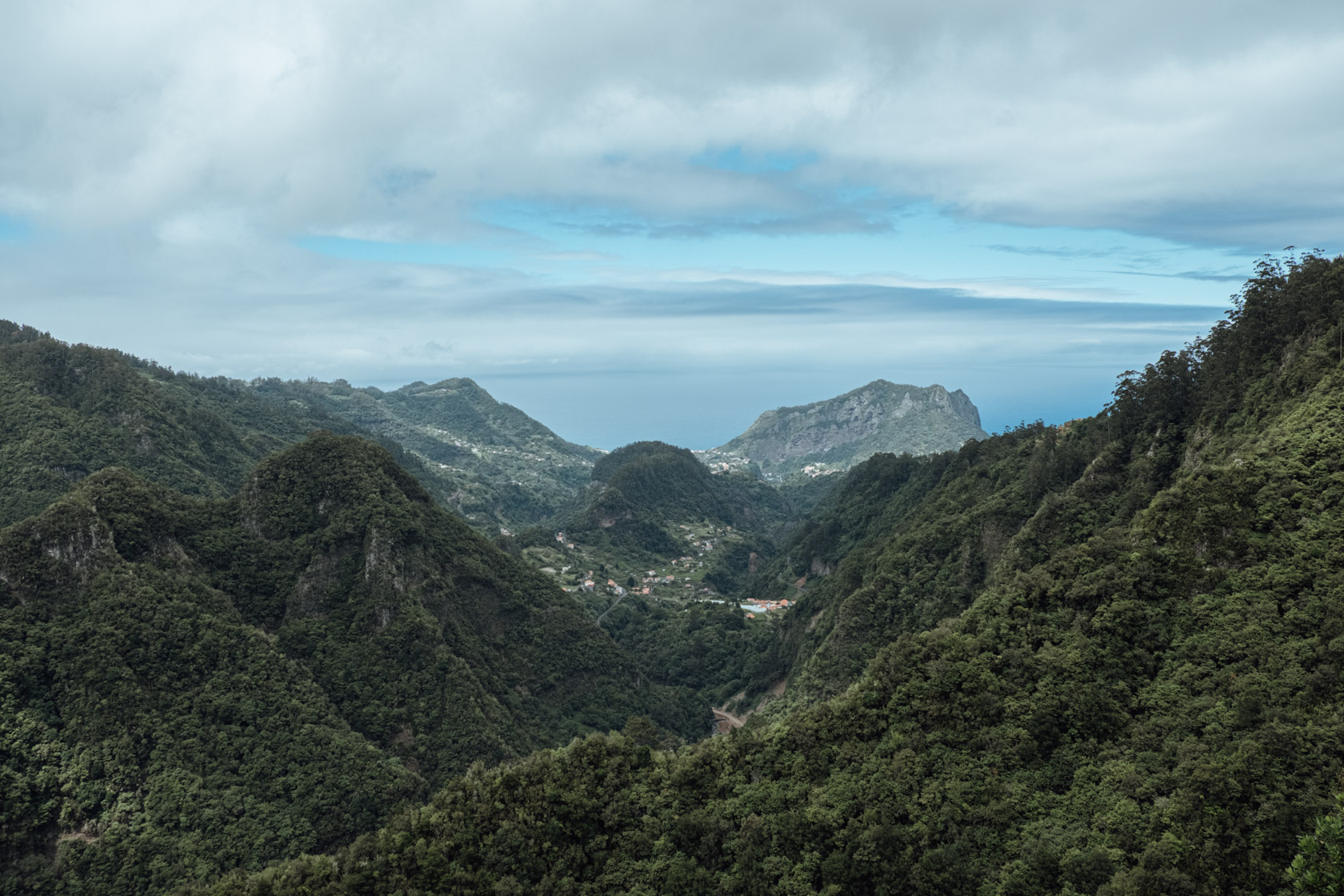 What's important to know is tht this area is also very prone to mist and cloud cover! So you'll want to plan in advance and check visibility on NetMadeira before making the drive through.
5. Hike to the island's highest point at Pico Ruivo
Pico Ruivo is the highest point on Madeira, at 1,862 meters above sea level. You have two options for reaching the summit: from Pico do Arieiro in an intense hike known as the "Pico to Pico", which is a 7km trail between the peaks of these two mountains.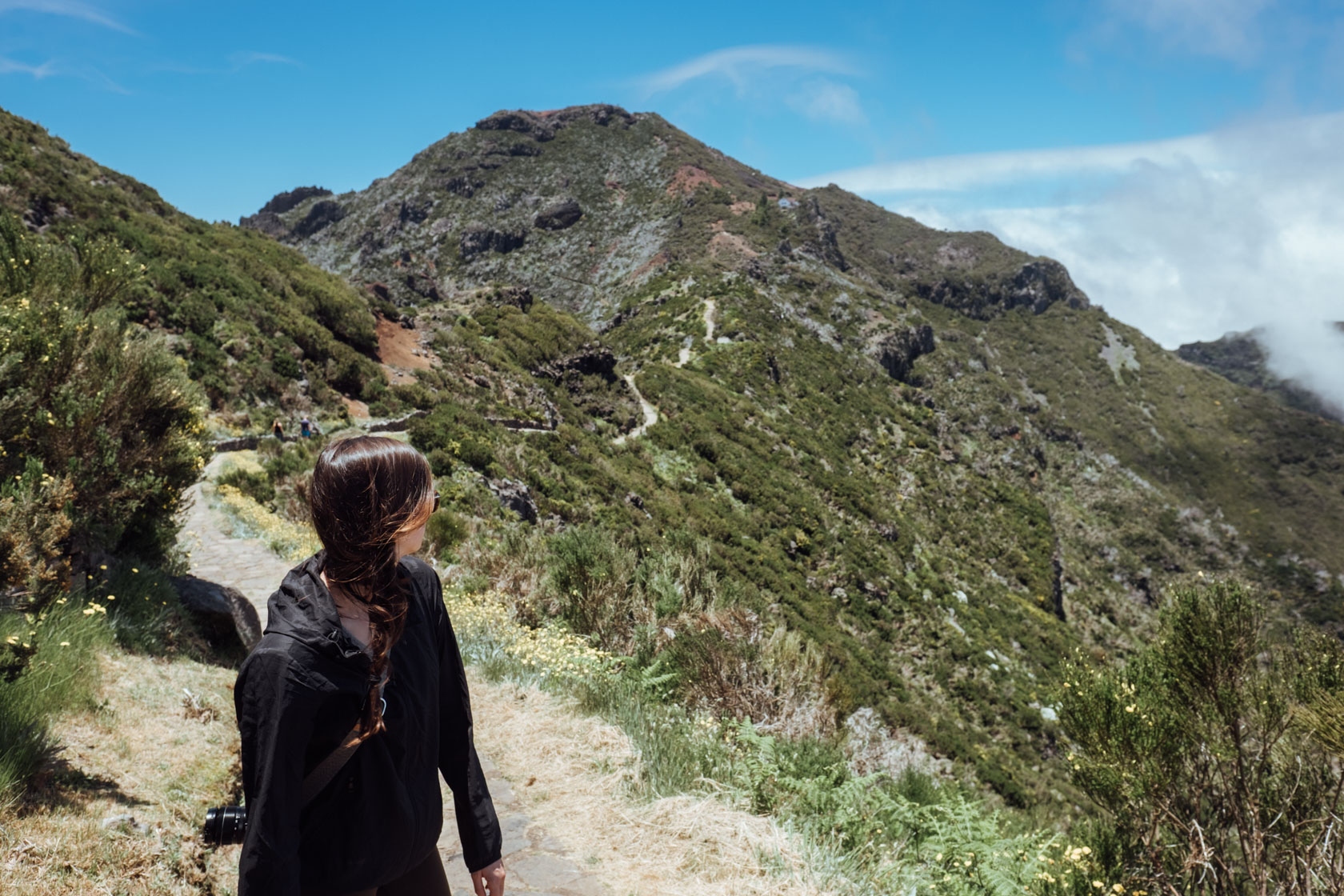 Or you can do what we did, which is the easier Achada do Teixeira trail. It features a 300m elevation gain and 2.8km each way. On the path, you'll spot wildflowers and butterflies, and there are places to fill up your waterbottle, too.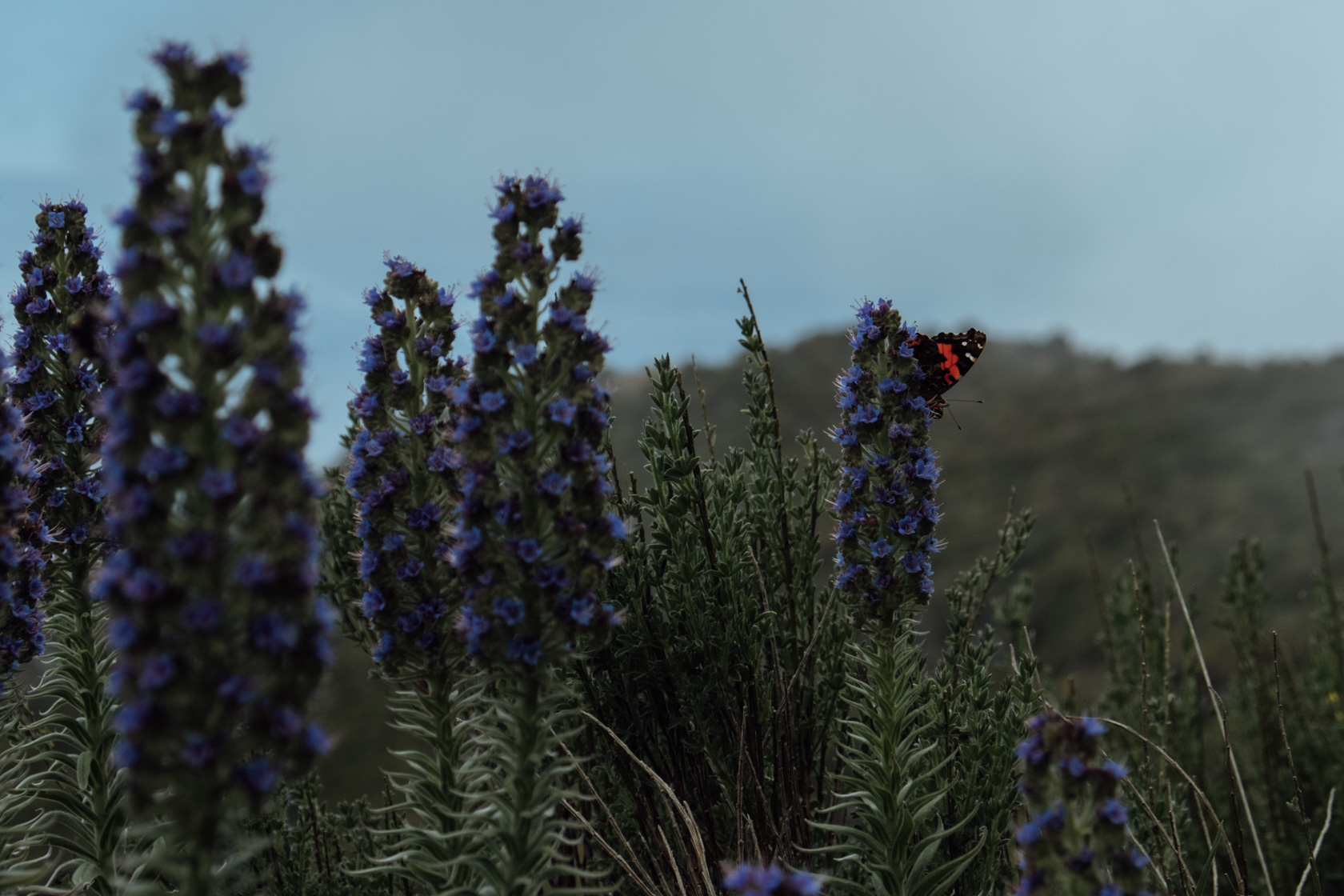 The trail itself is extremely well-maintained, with what is basically a rock pathway all the way up. You don't have to do any climbing, though there are a fair number of stairs to contend with in the last stretch. At the peak, you can gaze down at your kingdown below!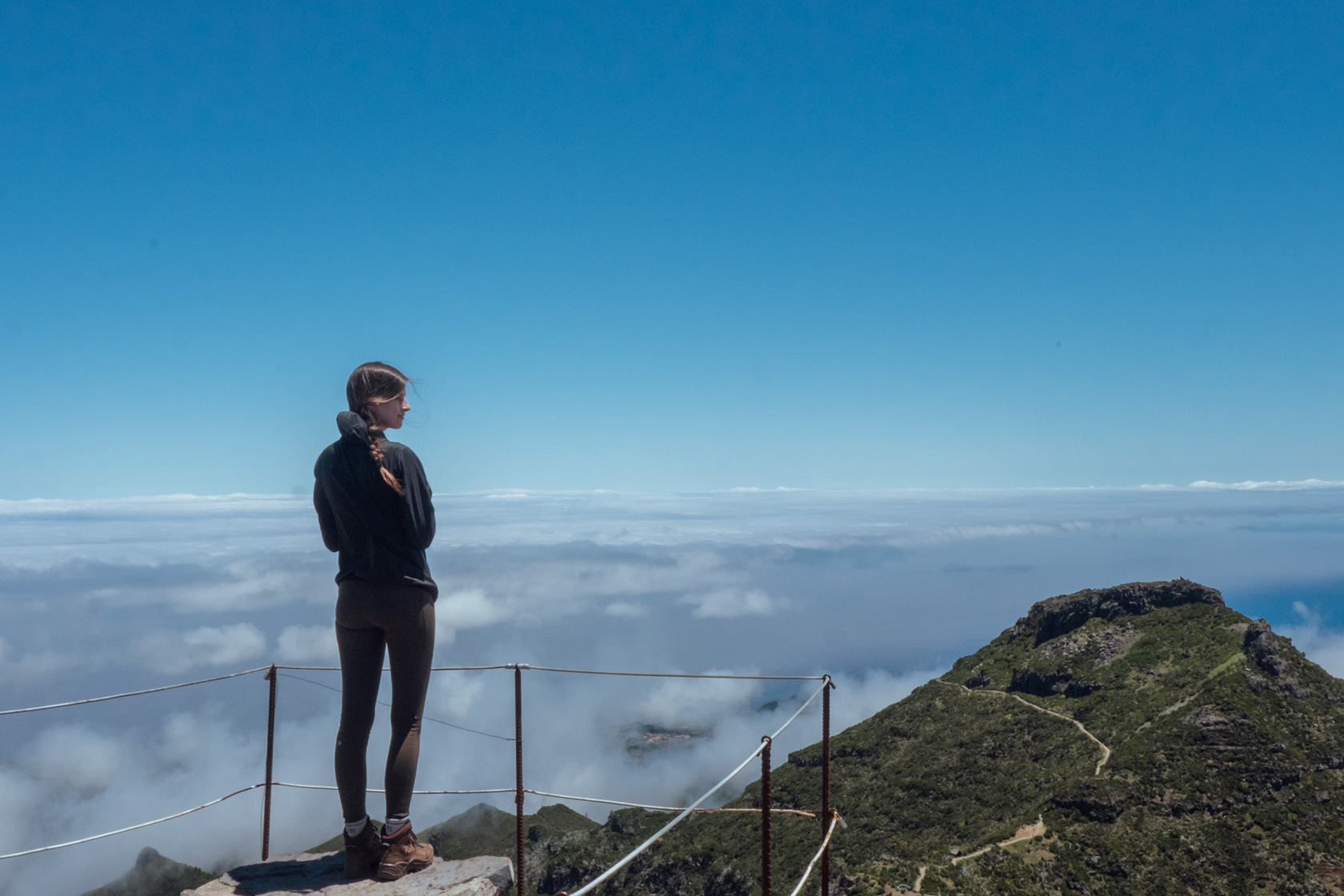 Reach it by tour
If you want to hike the full Pico to Pico route, this hiking tour will guide you for the more challenging 8-hour trek. Learn about the mountain's flora and fauna from a local guide, plus take advantage of pickup and drop off from Funchal. Click below for details and availability:
6. Go on a dolphin or whale-watching tour by boat
The best time for whale watching in Madeira is between April and October, whereas dolphins can be seen year round. This means that no matter when you visit Madeira, you've got a great chance to spot some incredible creatures from a boat.
Not only that, but you get to actually see the island you're on from a totally different angle. We wanted to do one of these tours but didn't manage it in time, and were then recommended to book at least three days in advance to guarantee a spot.
Here are some of the tours we tried booking, maybe one of them will work for you!
Reach it by tour
Boat rides are often the highlights of my trips, as they give you a fantastic way to see your surroundings and connect with nature. Here are three options for seeing dolphins and whales with excellent reviews (click the tour name for pricing and availability):
7. Snap an iconic Madeira panorama at Miradouro do Curtado
If there's any Portuguese word you'll become intimately familiar with on your trip, it's got to be Miradouro (or, "Scenic Viewpoint"). These dot the entire Madeiran coastline on all sides, but one of our favorites was this viewpoint which you'll encounter driving from Funchal to Santana: Miradouro do Curtado .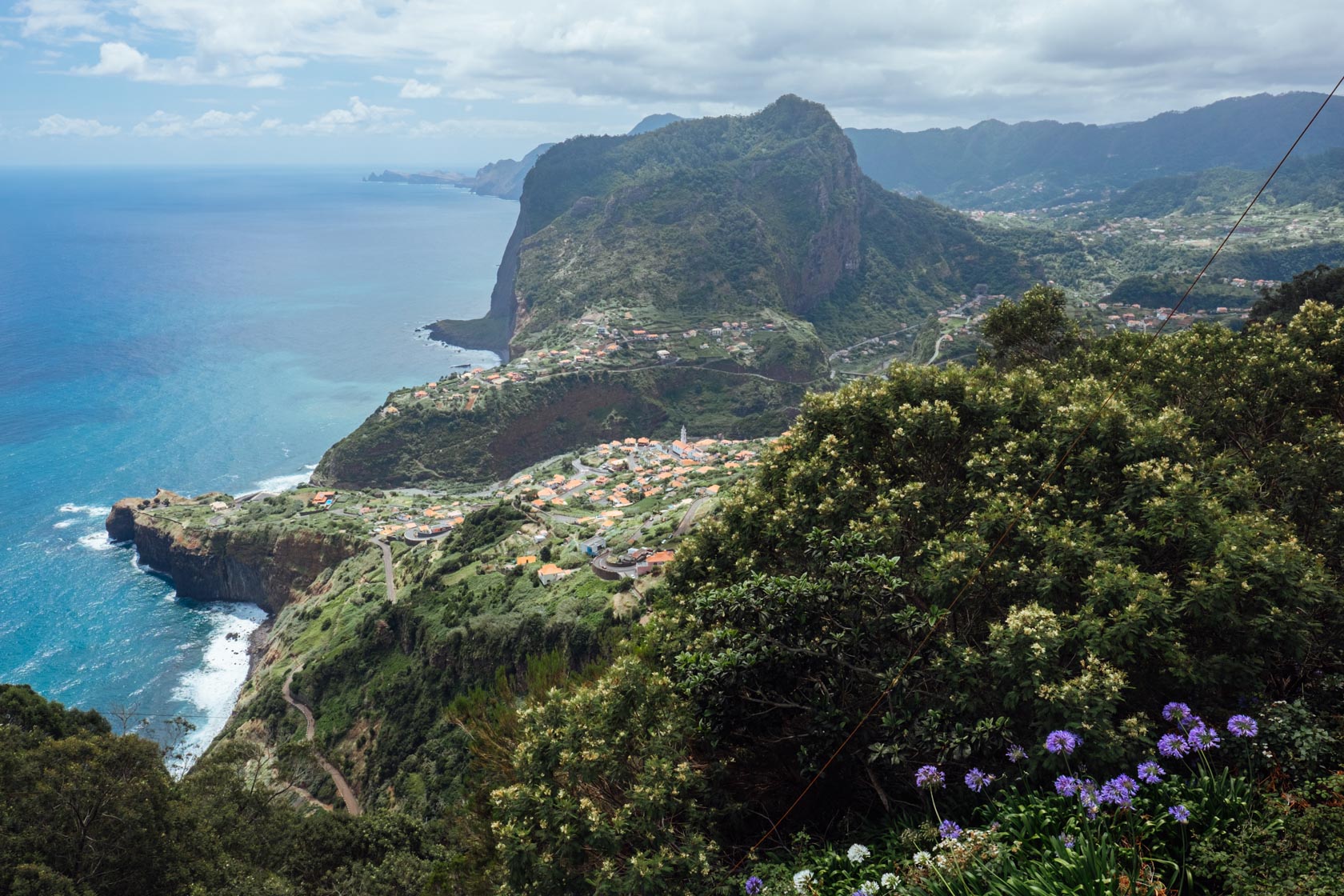 This one really has it all! Mountains, sea, and some of the most popular purple flowers you'll find gracing the roadside all across the Eastern coastal roads.
8. Visit one of the world's top botanical gardens, Monte Palace
Monte Palace is located right in Funchal, in the north of the city. These botanical gardens are sizable (70,000 square meters!). You can spend a lot of time here if you like taking pictures.
Perhaps unexpectedly, a lot of the gardens are inspired by traditional Japanese gardens. Having been to a lot of these in Japan, I can say there are similarities (apart from the palm trees 😉).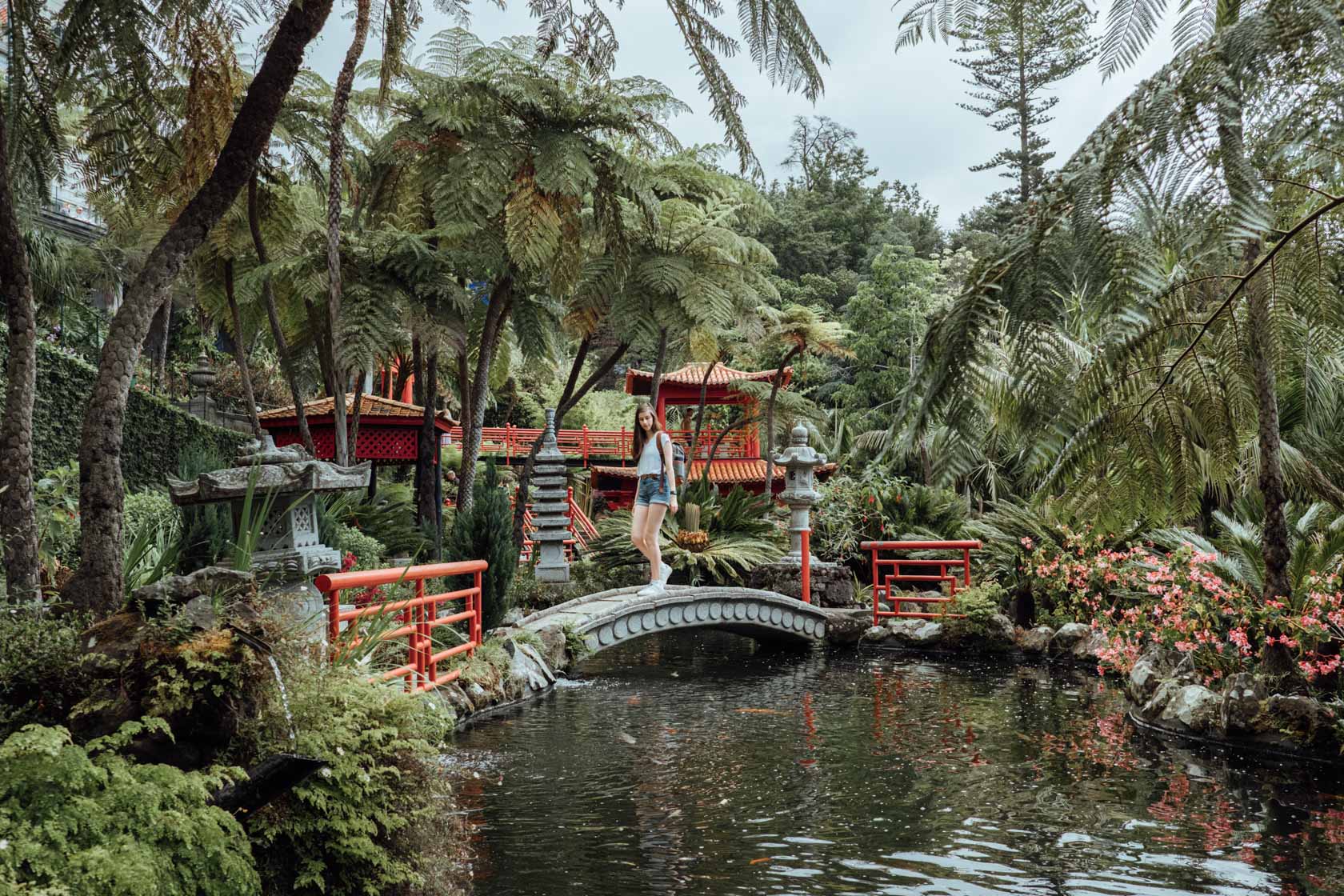 Rated in the top 13 most beautiful botanical gardens in the world by Conde Nast traveler, the main gardens after the entrance definitely stack up to some of the gorgeous gardens we've visited in our travels. Eventually, you'll see "the palace" and from there be able to look out over Funchal to the sea.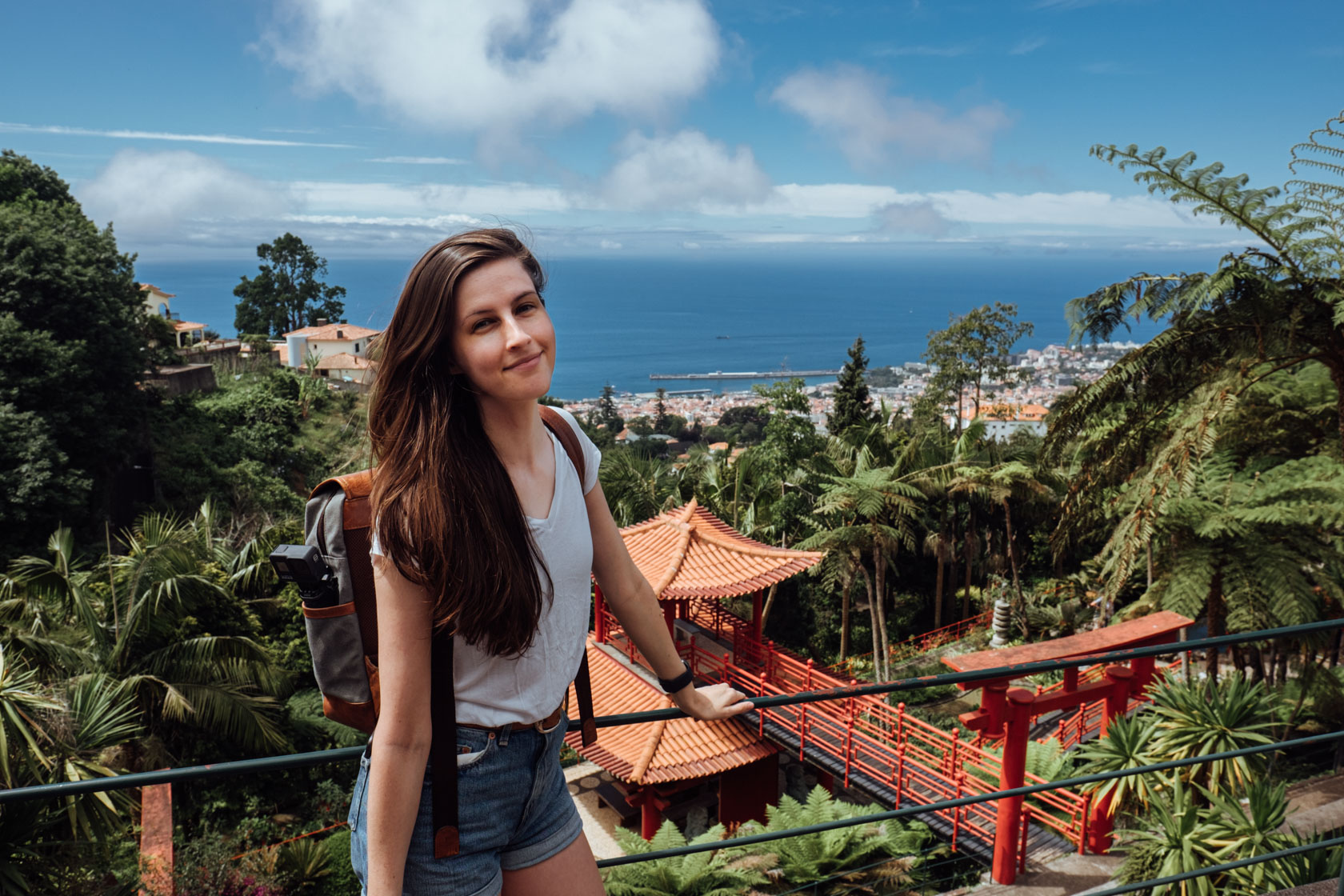 Beautiful gardens, and definitely recommend for anyone who loves visiting botanical gardens on their travels!
8. Stand over the highest cliff in Europe at Cabo Girão Skywalk
Cabo Girão is the second highest sea cliff in the world, and the highest in Europe. What better place to walk across just centimeters of glass separating you from a 580 meter drop?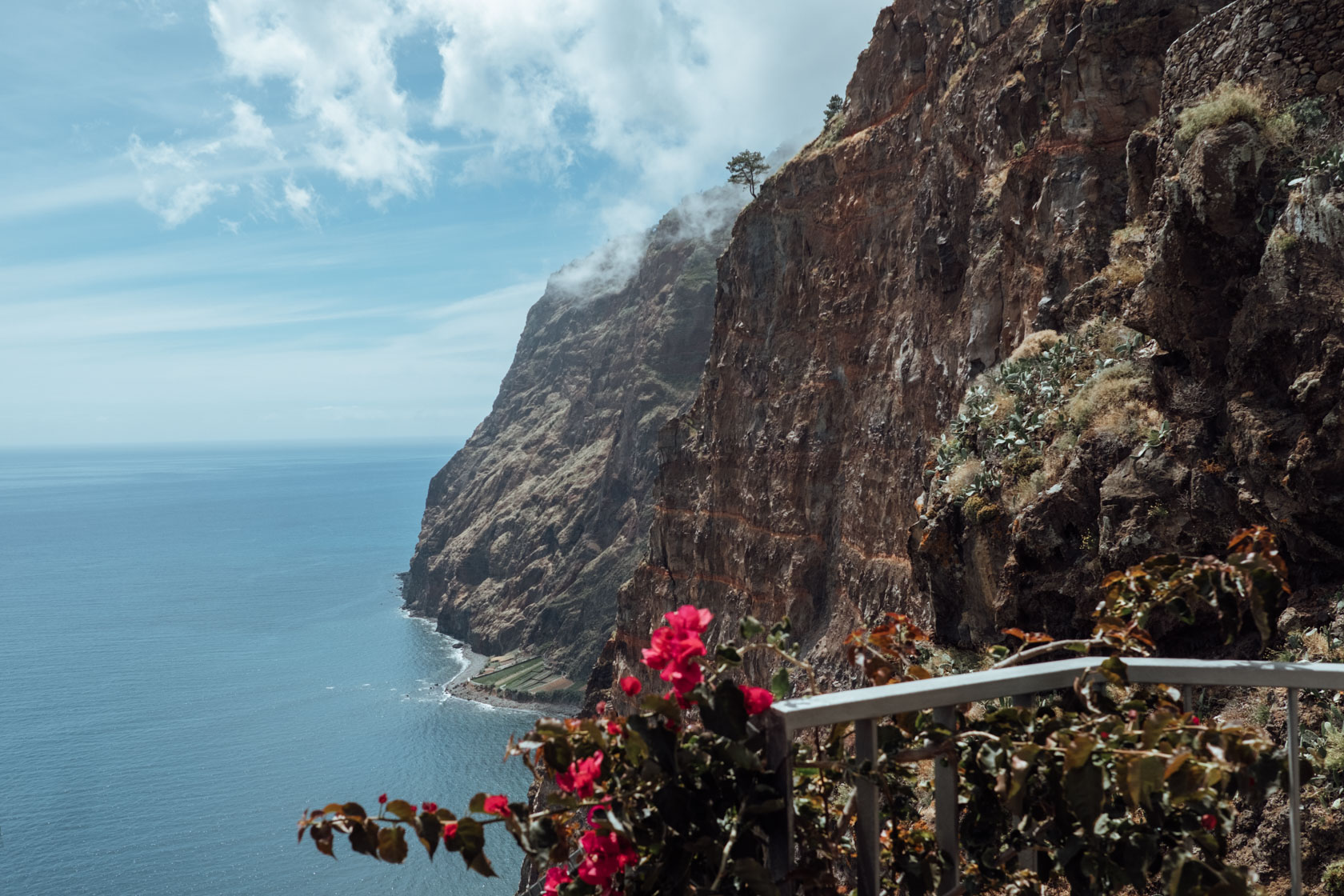 Now, I wouldn't say I'm scared of heights…but they kind of freak me out. Before heading to Madeira, I watched a YouTube video of a guy who wouldn't walk across the Cabo Girão Skywalk because it freaked him out and honestly — I get it.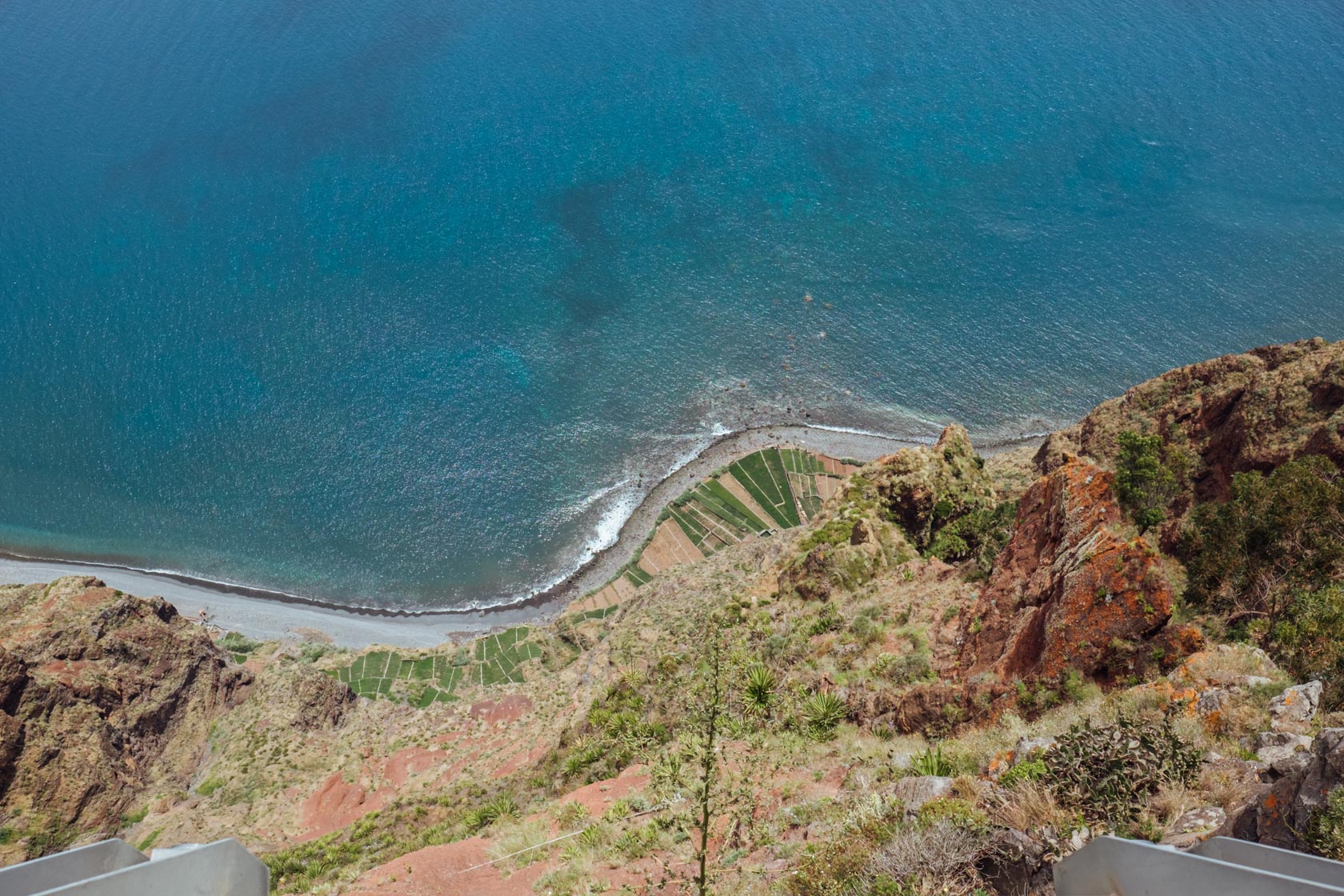 Even if heights scare you, the views from this vantage point are great for looking along the coast.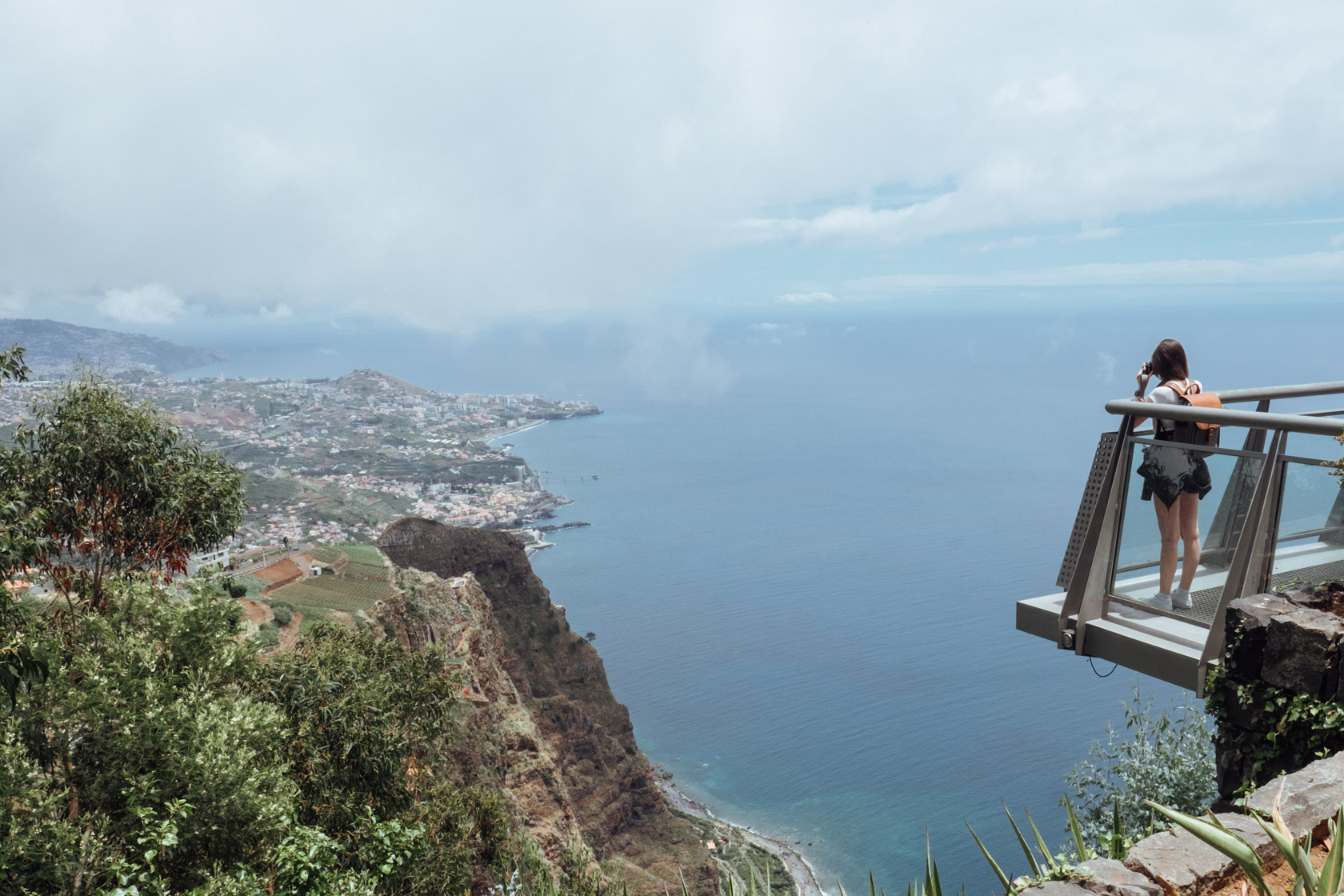 The Cabo Girão Skywalk is free to enter, and has a cafe nearby if you happen to need a drink after your brush with fate.
9. Go for a levada walk at Levada do Caldeirão Verde
Levada do Caldeirão Verde is one of the most rewarding, moderate hikes on Madeira, if somewhat longer at 8.7 kilometers (5.4 miles) each way, for a total of 17.4 kilometers.
What makes it special is the thick jungle you pass through as you follow the levada to several waterfalls en route. You'll find endless varieties of ferns, pretty flowers, and a safe, well-maintained path with railings next to every drop off.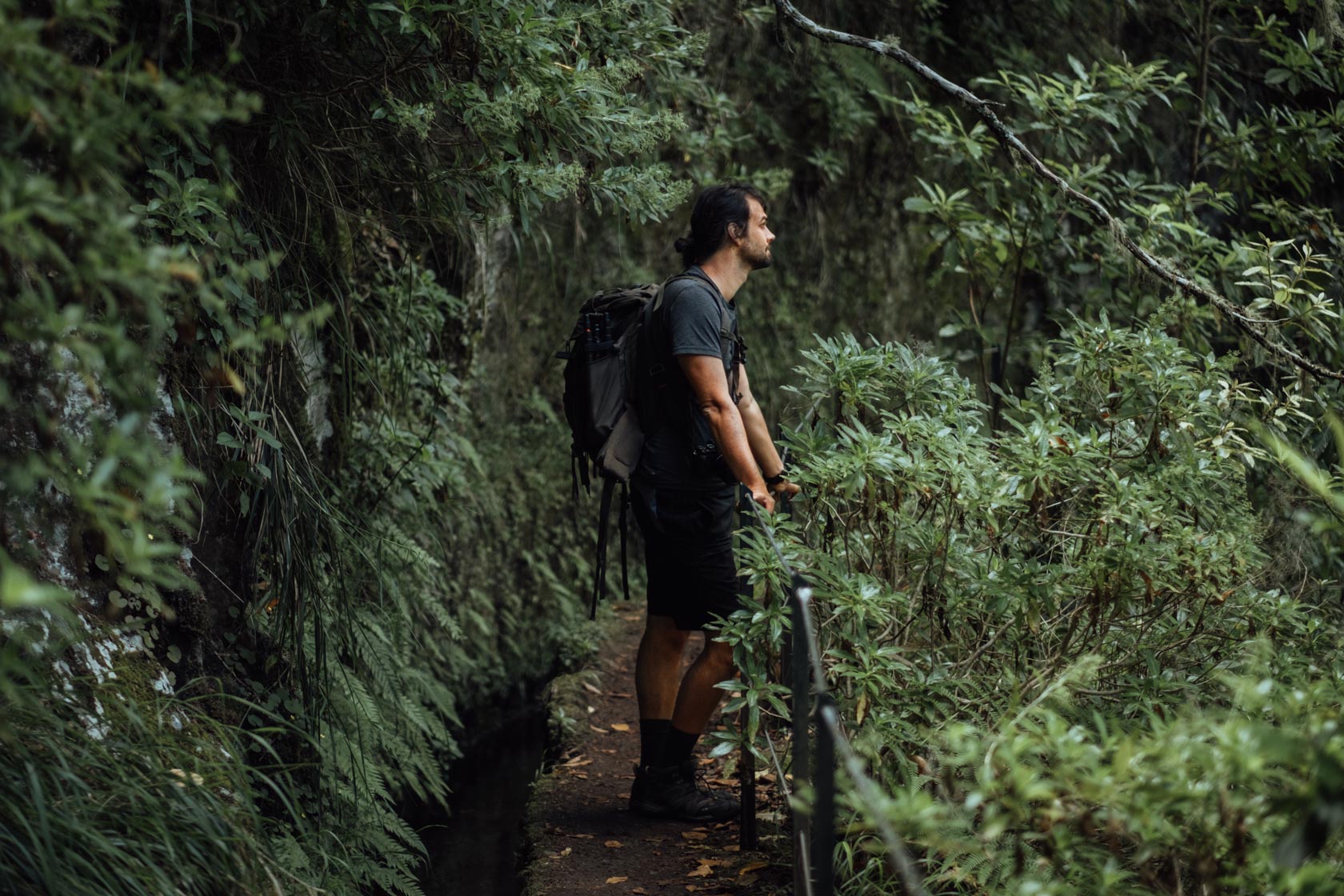 Inside, two stunning waterfalls await! Here's a preview of the first, which you meet relatively early into the hike: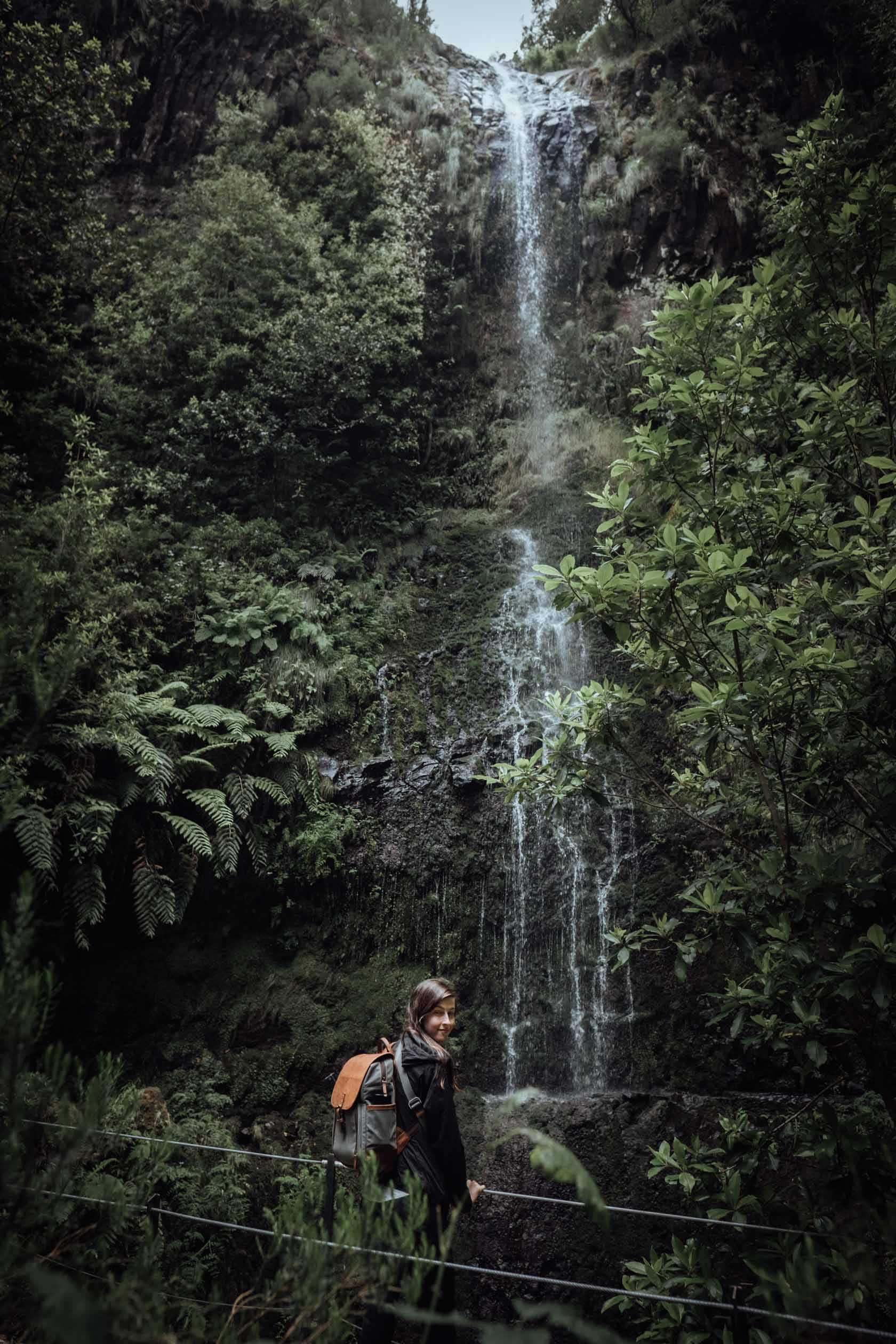 The second is a tall, beautiful waterfall that plummets about 100 meters into a circular lagoon below.
The hike is extremely flat with just a small number of stairs and no rock climbing needed, though you do walk quite a bit on uneven stones as opposed to soft ground which can start to hurt in the final stretch, even with good hiking boots.
Still, the most beautiful hike on Madeira in my opinion! If you go on just one Levada hike, this one is sure to give you everything you could want.
Tip for this hike: You'll pass through several caves with low ceilings and wet floors. My iPhone's light was not sufficient to go through comfortably, so I'd highly recommend bringing a headlamp with you. This particular headlamp is what we later bought and it's ultra bright and simple to use.
10. See a waterfall into the ocean at Miradouro do Véu da Noiva
This beautiful viewpoint at Miradouro do Véu da Noiva features a waterfall that leads straight into the ocean. If you look closely, you'll see there's an old road that used to lead right through this waterfall: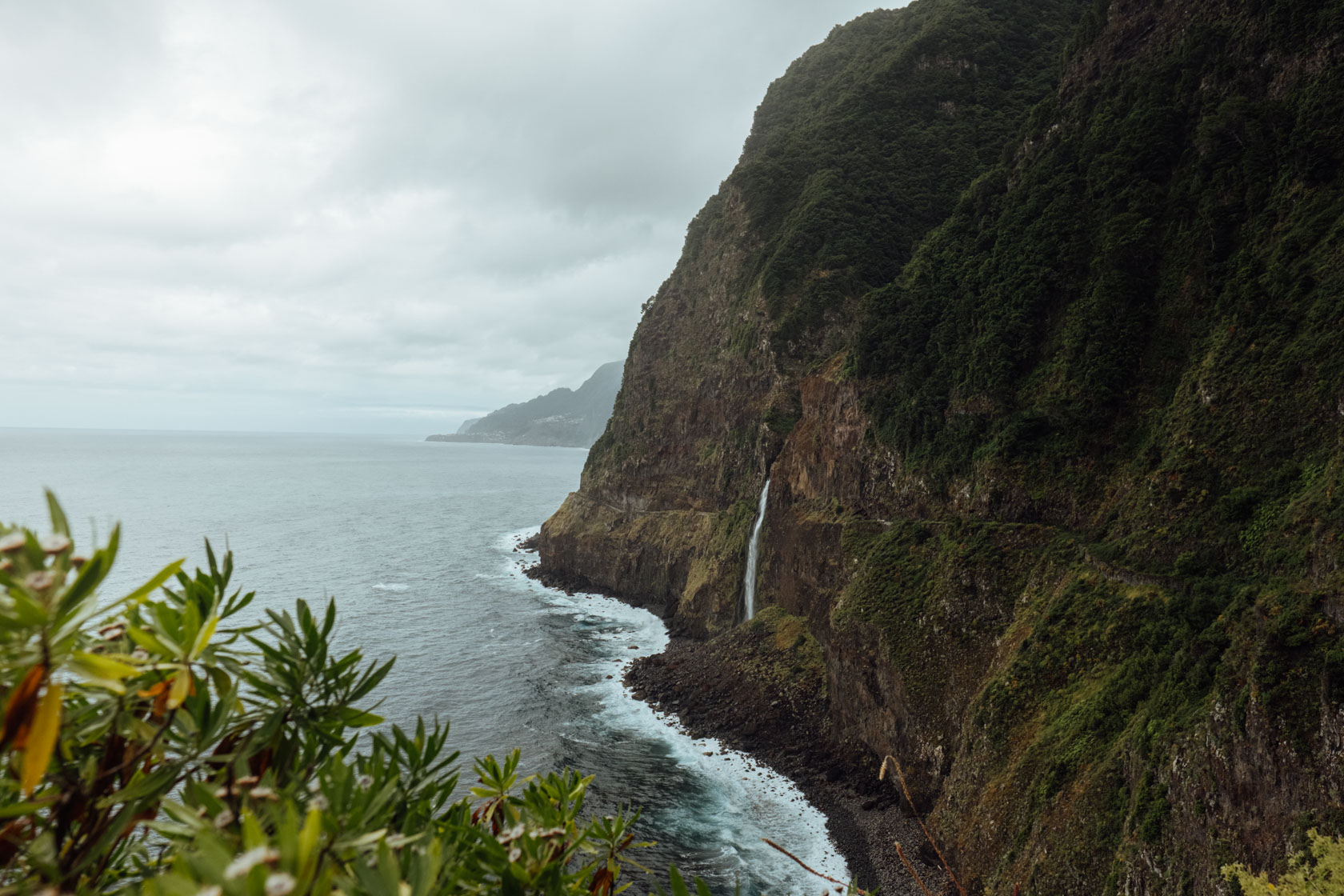 In 2008 there was a landslide that caused damage to this road, and today it's closed off for visitors. You can see what remains of the landslide in the pile of rubble at the foot of the waterfall.
This viewpoint is beautiful, and extremely easy to reach. Just walk for a few seconds from the nearby parking lot, and this view is yours! Hopefully you'll get more sunshine that we did.
11. Visit the black sand beach at Seixal
This is an excellent place to stop after visiting the Miradouro do Véu da Noiva (mentioned above), a nearby waterfall that pours into the ocean right next to Seixal (featured just a little further in this list!).
As a volcanic island, Madeira has a number of beaches with volcanic rocks and stones. But the black sand beach at Seixal has smooth, fine sand you can relax on like any other beach.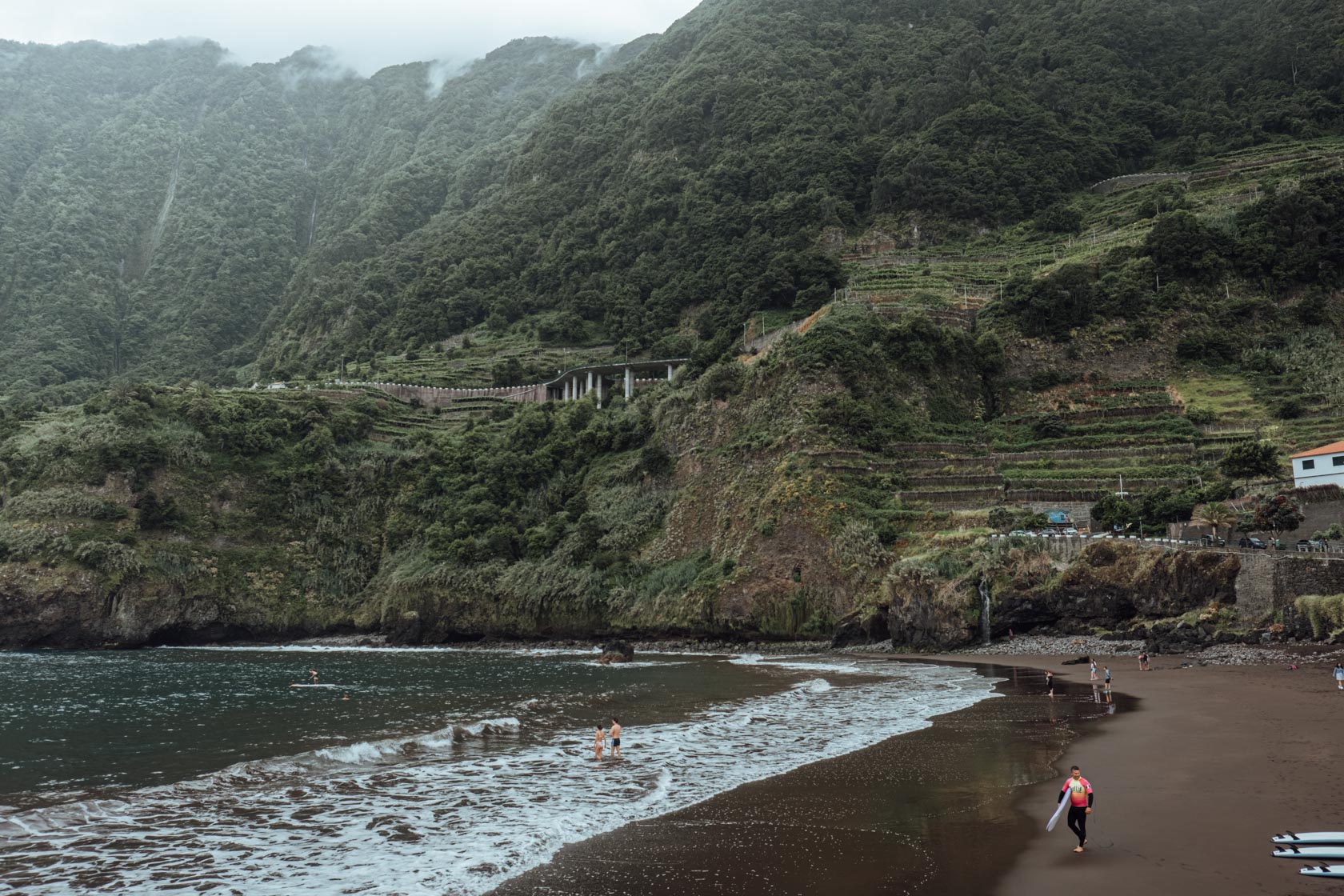 Here you can also take surfing lessons, go paddle boarding, or go for a swim in the gentle waves.
12. Hike the Ponta de São Lourenço trail at sunrise
At the eastern most tip of Madeira, you'll find Ponta de São Lourenço . This rugged, almost desert-like stretch extends into the Atlantic ocean and is commonly referred to as "The Dragon's Tail" of the island.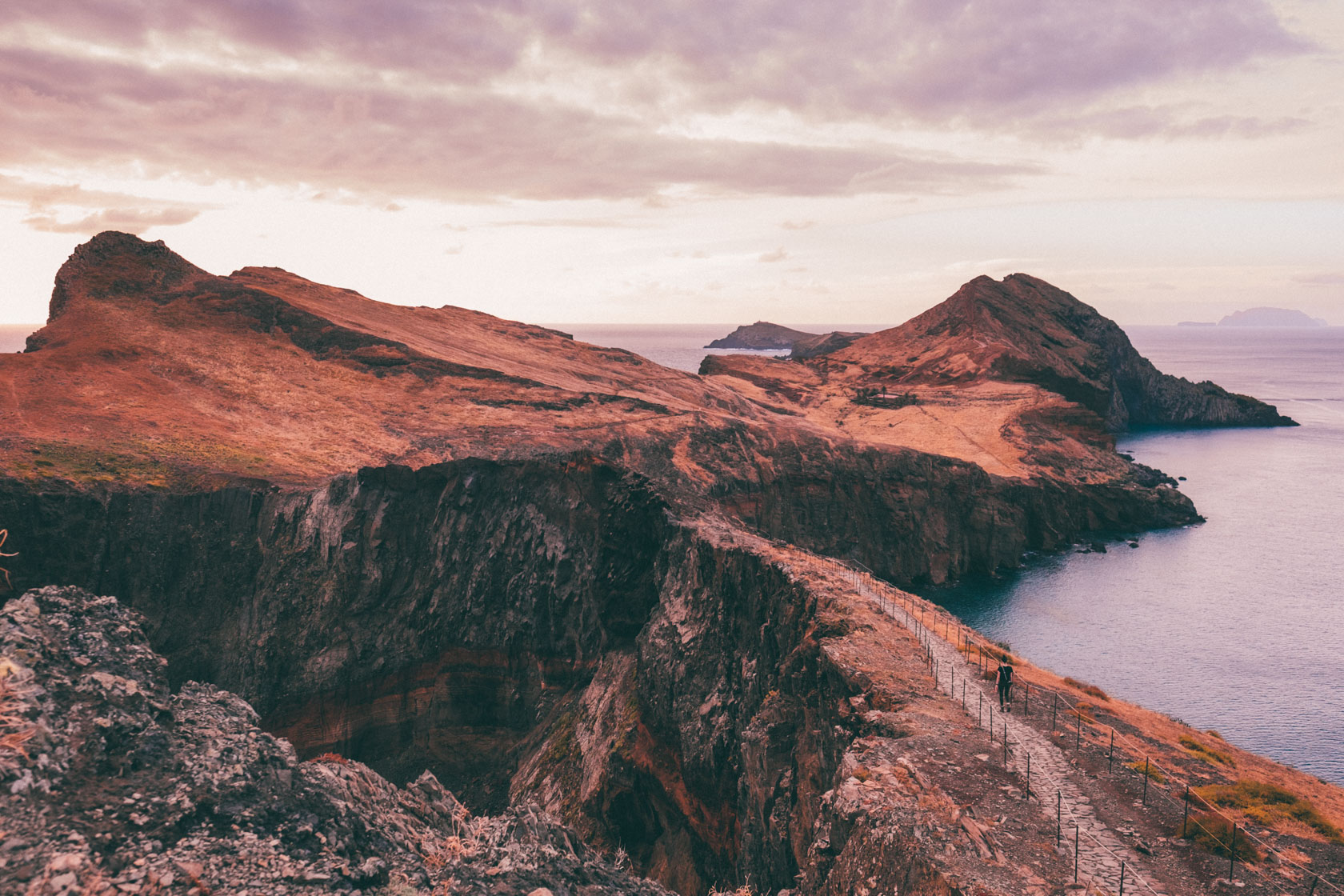 In the distance, you can see the the Ilhas Desertas , an island that's home to giant wolf spiders (google it if you dare). Luckily you'll see no such critters on this trail, though you will encounter beautiful thistle flowers, bumble bees, and (once they wake up) locusts in the high brush.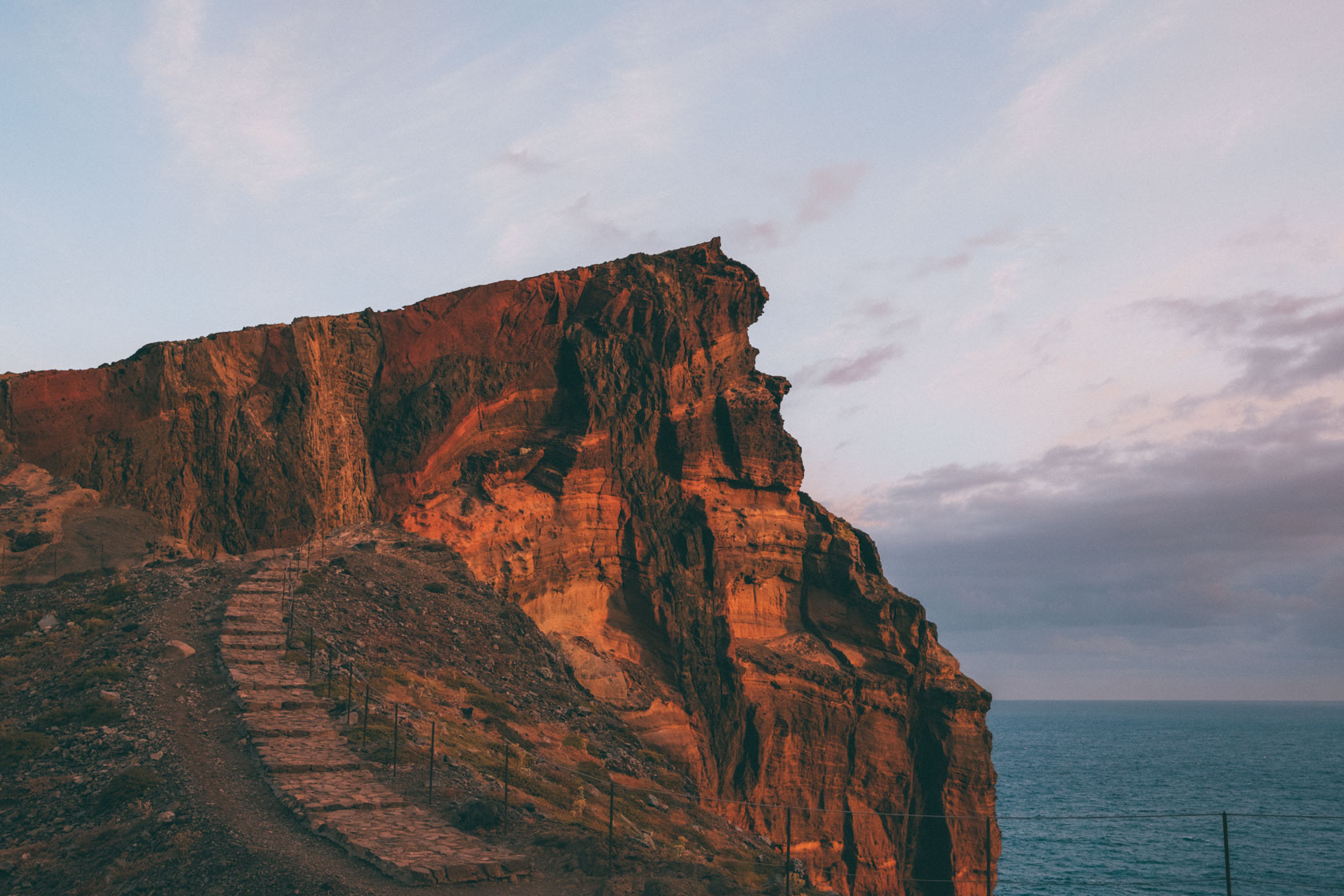 Given there is virtually zero shade or coverage on this trail, hiking at sunrise works great to help you stay cool and avoid the crowds (and the stronger winds) which crop up in mid-morning.
The most famous viewpoint is beyond the "recommended trail", a steep ascent to the very top of the island. As someone who's not a super experienced hiker, this trail was pretty challenging for me! Still, absolutely worth it for these views.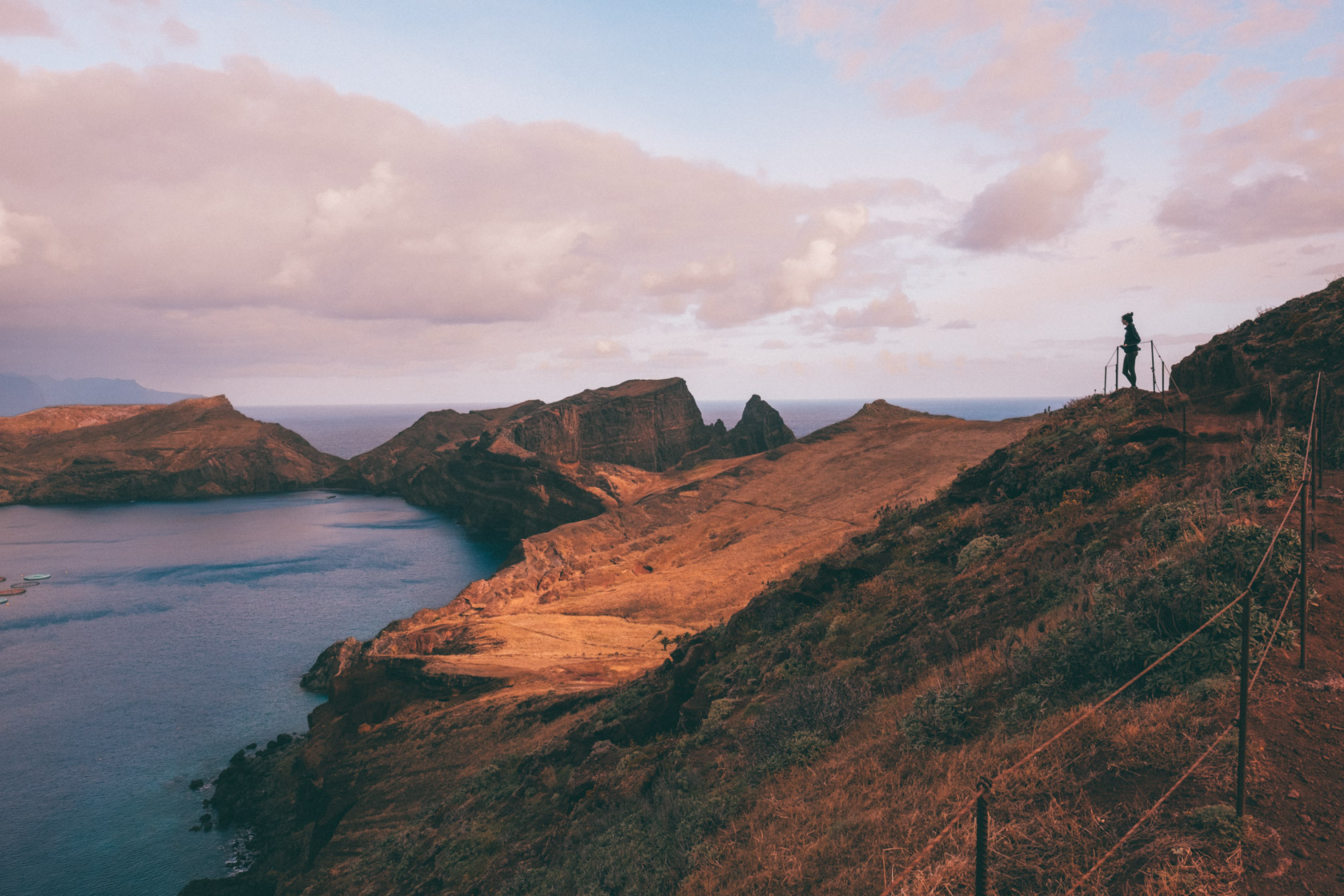 If you opt against sunrise, you'll find a restaurant and cafe at the end where you can put up your boots. Only issue is they open at 10:30AM, so it's on you to bring your own breakfast if you go at sunrise.
13. Look over the Valley of the Nuns at Miradouro Eira do Serrado
As you drive through the mountains of Madeira, you'll get several viewpoints over this valley. But Miradouro Eira do Serrado is great because it gives you an extremely high vantage point but without a ton of stairs or walking. Just a few minutes of walking from the carpark and…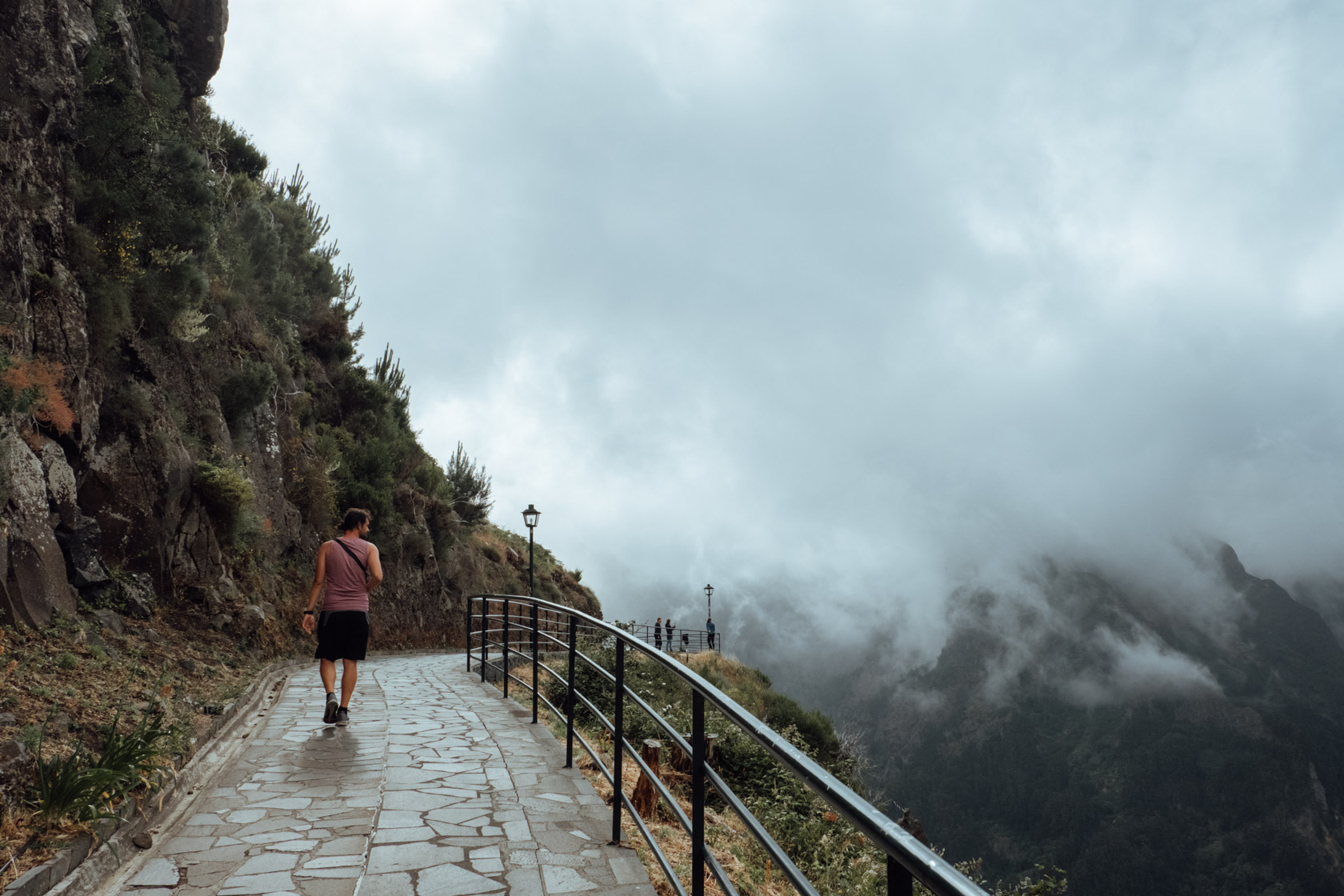 These views over the valley known as the Valley of the Nuns .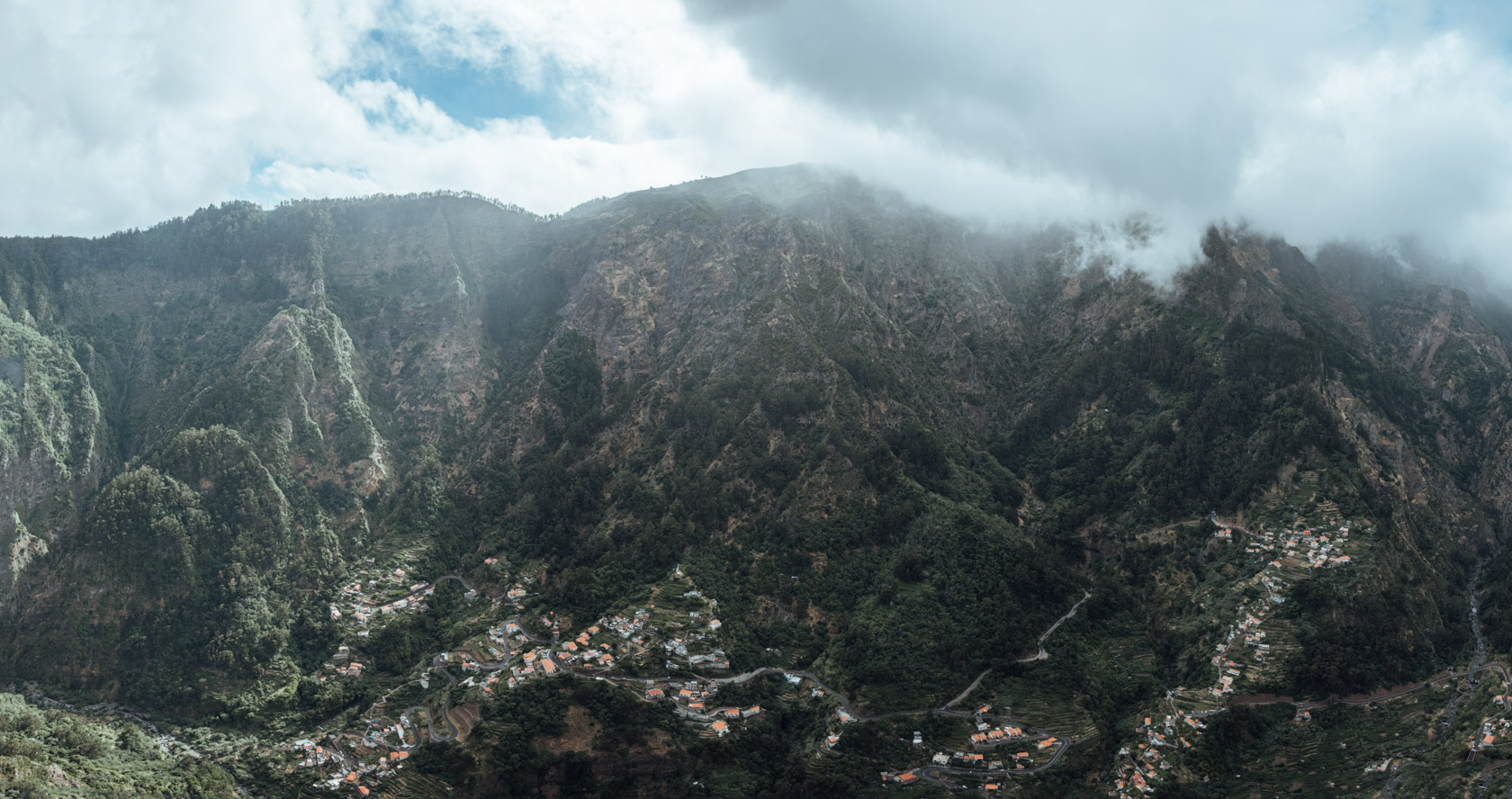 You look out over terraces stacked like a layer cake up the side of the mountain and streets that look fit for a race track, zig zagging across the scene. It's an impressive view with virtually no work to reach in comparison with many of Madeira's hiking trails.
Reach it by tour
Driving in this area can get a little bit dicey, with extremely narrow roads and lots of twists and turns (as you can see in the photos!). This super popular tour spends half a day in the area for an extremely affordable rate and with stellar reviews. Click below for details and availability:
14. Visit the same fishing village as Winston Churchill
A lot of famous people have visited Madeira over the years, but Winston Churchill really put it on the map when he visited Câmara de Lobos . This small fishing village now even bears a hotel in his name.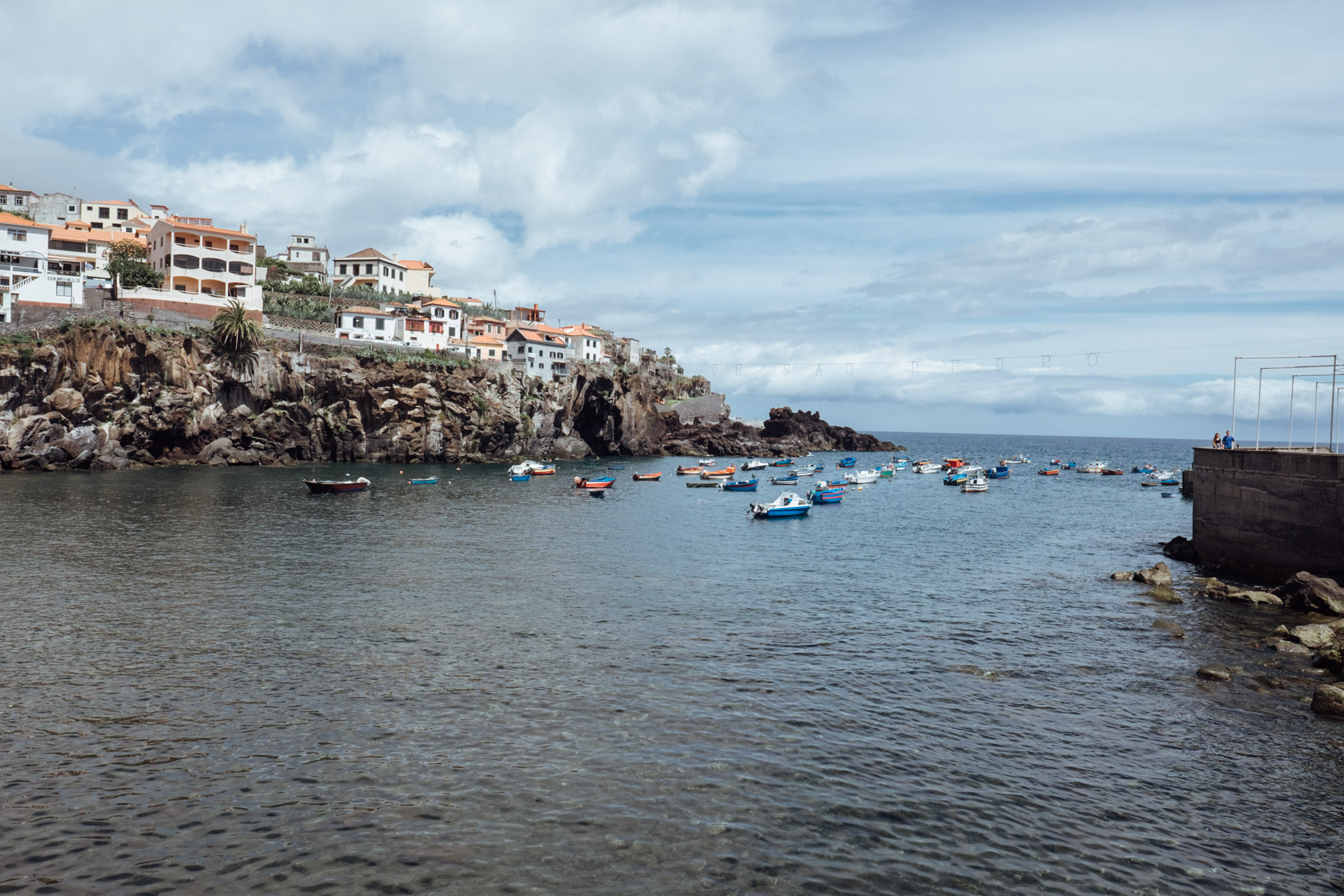 This town works great as a stop after Cabo Girão , where you can stop at one of several harbor bars for an ice cold beer or Poncha. Around the corner, you'll also find a popular beach complete with surfers and a beach bar.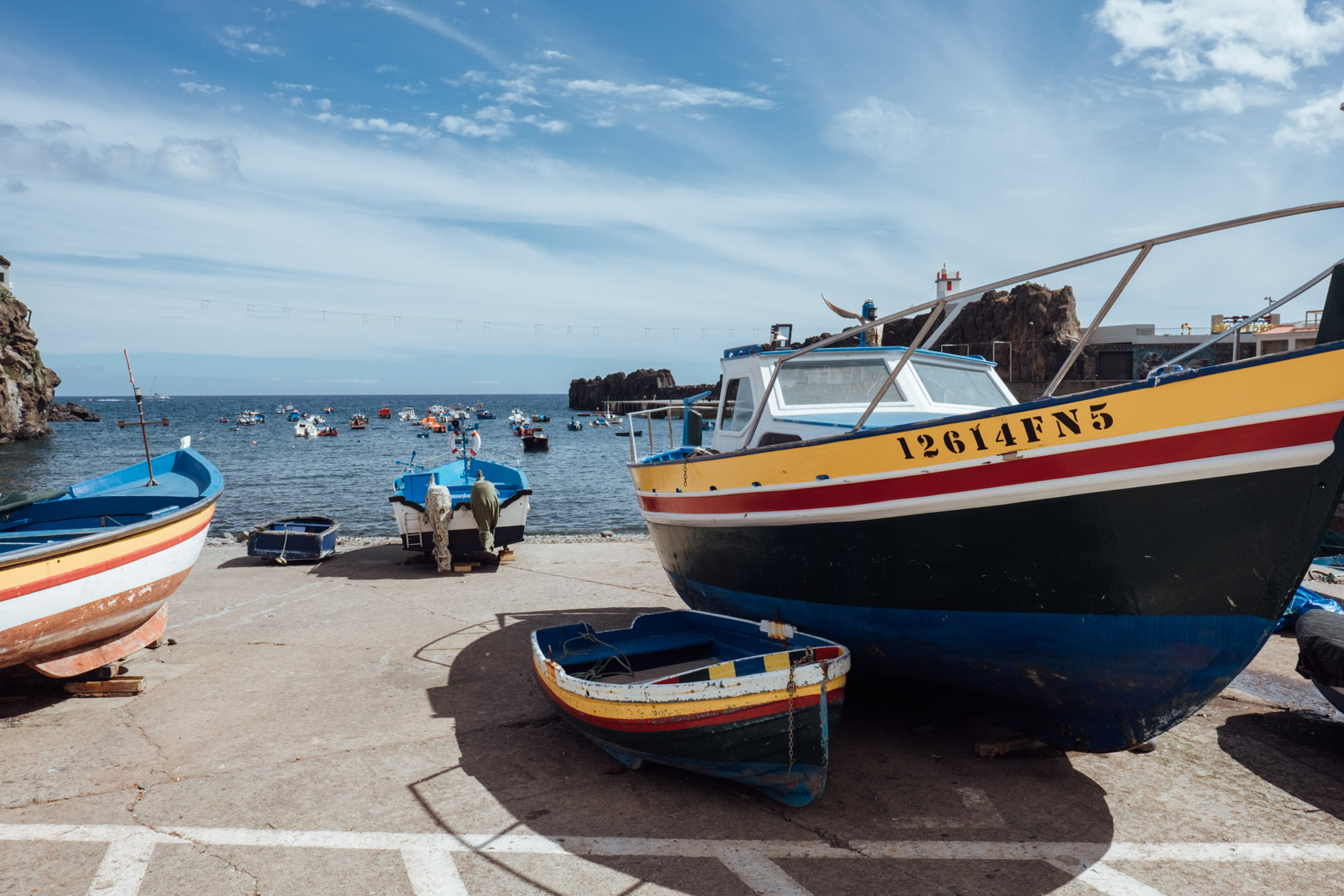 Câmara de Lobos is also home to one of the best meals we ate in Madeira (grilled meat skewers called Espatadas), so keep scrolling for that tip a little later!
15. Drive under a waterfall at Cascata dos Anjos
Cascata dos Anjos (literally, "Angels Waterfall") pours out over a now defunct section of the old highway, ER101. Referred to endearingly as a "free car cash", this waterfall will definitely do the job if your car is dusty!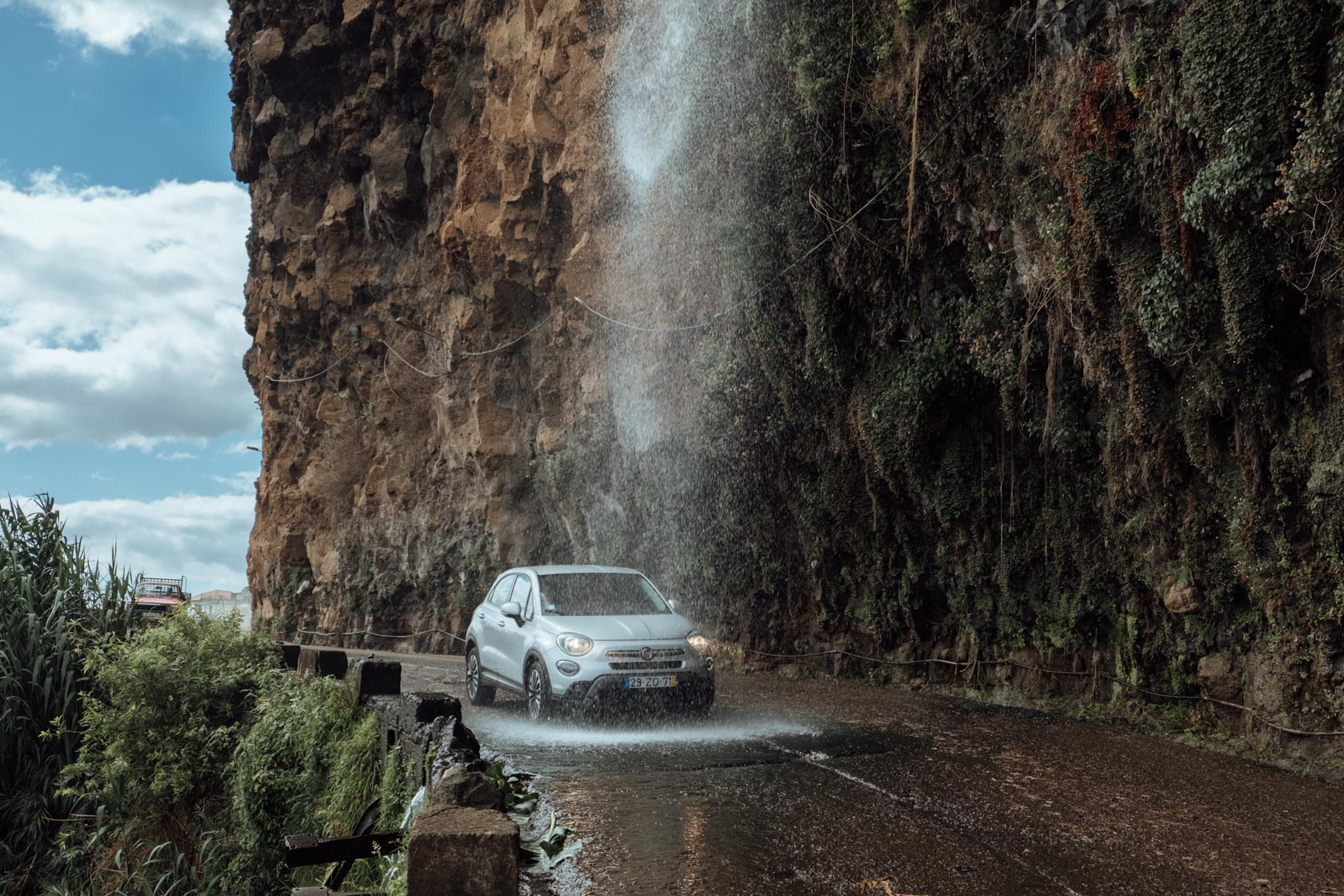 A lot of people also park further way, and simply take photos under the waterfall. The most prepared bring swimsuits. While not the most beautiful waterfall in Madeira, it's certainly a unique experience and easy to reach on any drive back from Western Madeira to Funchal.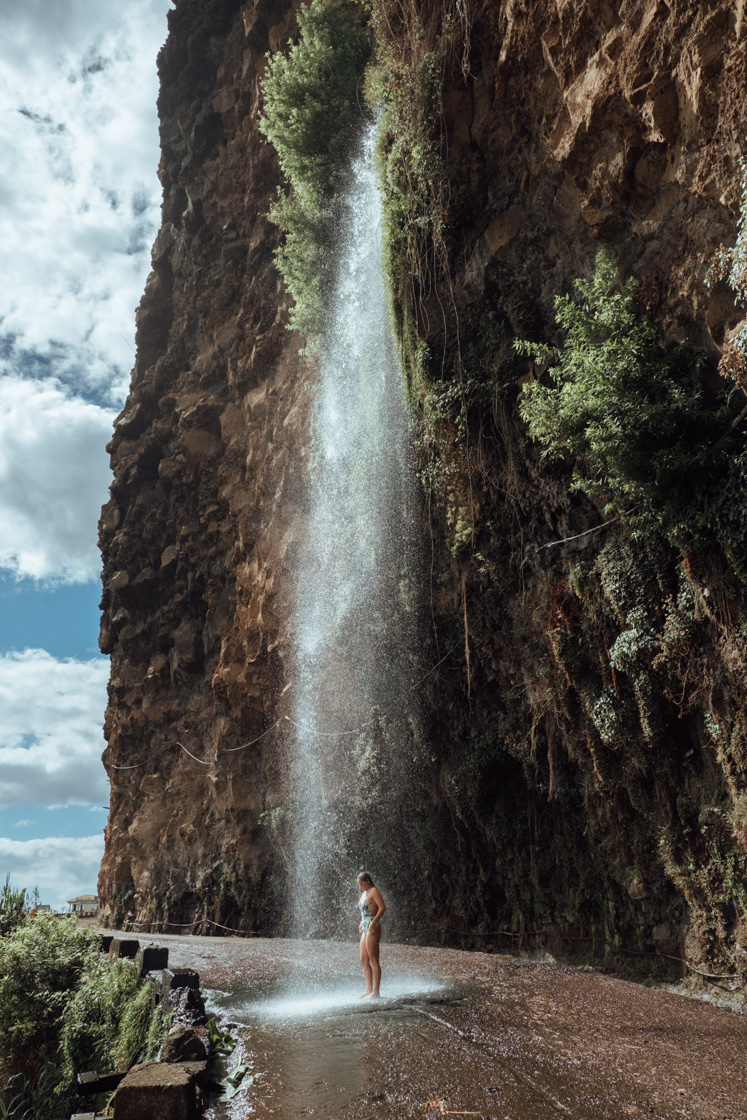 16. Go snorkeling at Garajau Nature Reserve
Garajau Nature Reserve is a large, protected area of Madeira's coast, designated to prevent the desertification of the seabed. It's located to the East of Funchal, and is a fantastic place for both scuba diving and snorkeling. You can see tons of kinds of fish and aquatic wildlife here, including Atlantic Manta Rays, and large fish like the Mero and other coastal species.
Reach it by tour
If you love water activities and want to get a chance to explore Portugal's first and only Marine Reserve, a tour with an experienced local is the best way to do it. Here are two options from my favorite tour company, GetYourGuide:
17. Enjoy some of Madeira's best beaches
Most of Madeira's beaches are rocky, comprising volcanic rock that has smoothed out over the years. This doesn't stop people from sunbathing, Some of Madeira's best beaches include: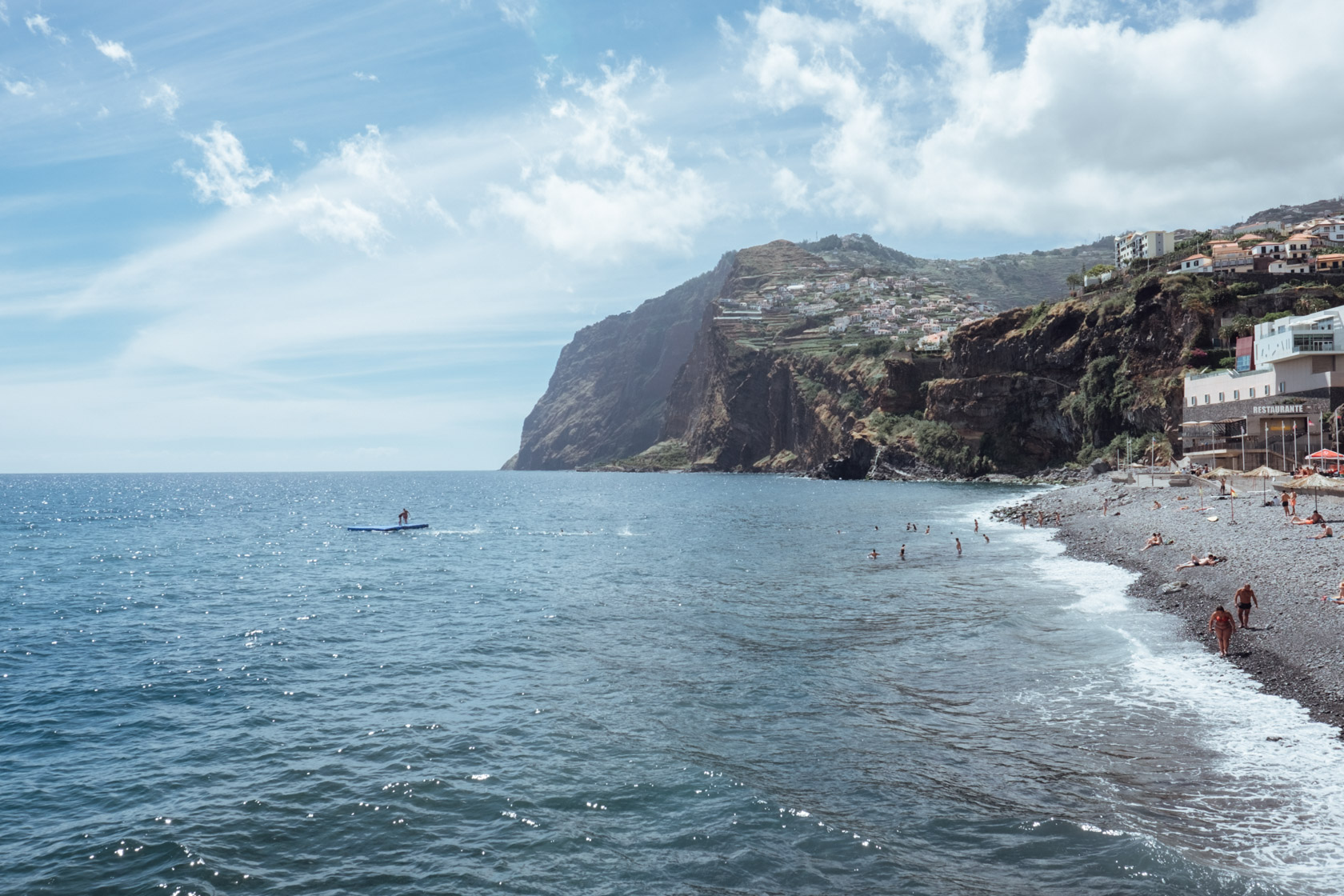 18. Hike to the waterfall at Garganta Funda Viewpoint
Garganta Funda might look small in this photo, but it's actually one of the tallest waterfalls on Madiera at a height of 140 meters. Walking to this viewpoint takes about 5 minutes each way and extremely easy. From here, you'll look down into a carved out section of this cliff and find this:
The best time to visit Garganta Funda is in Winter, because the extra rain makes the stream much mightier than what you see here during Summer. Especially if you can visit after a heavy rainfall!
19. Eat Espatadas at Restaurante O Polar
Espatadas are beef skewers, served on a spit that hangs over your table. These are drenched in garlic butter and served with fresh-cut fries. It was heavenly!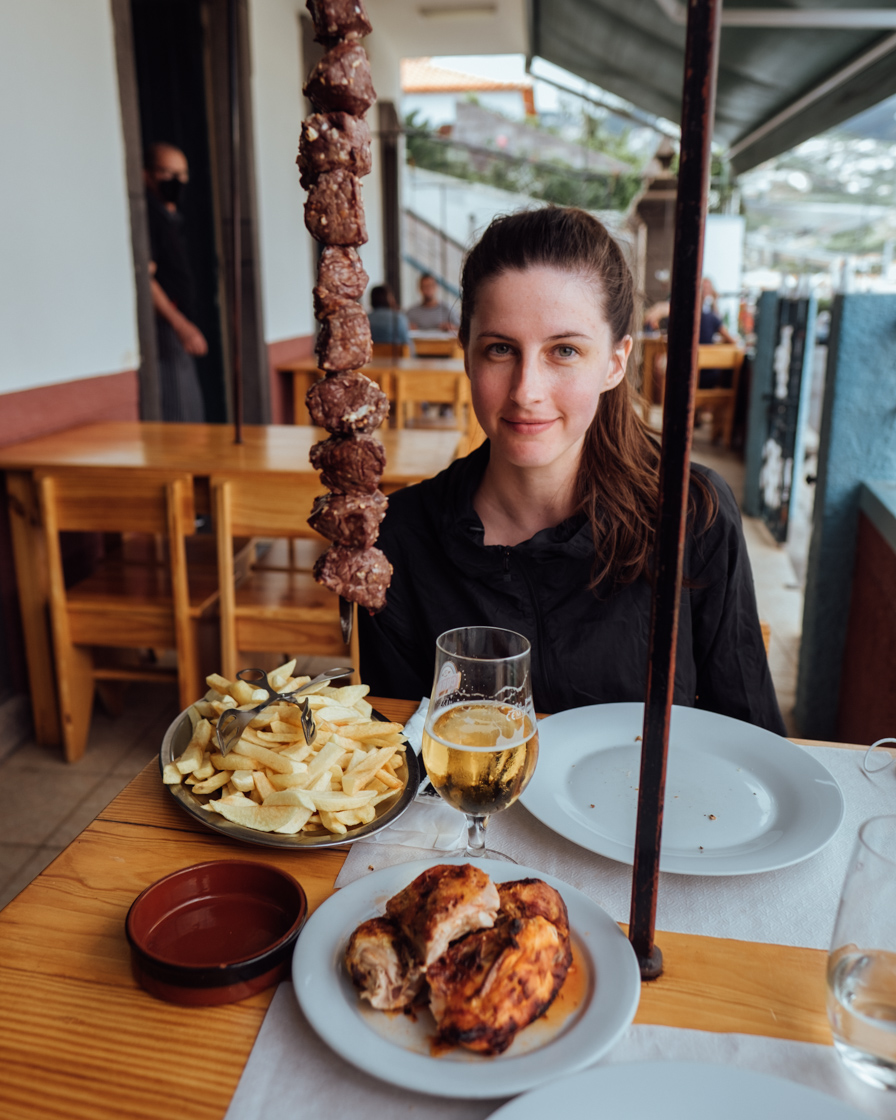 We looked high and low for the best place to try them, and O Polar fit the bill. Our total bill was about 25 euros for two people, and we were stuffed to the brim afterwards.
20. Do a wild levada walk to Cascata Agua d'Alto
Not for those who are scared of heights, the levada walk to Cascata Agua d'Alto is no longer maintained but still accessible with a little determination and geo-sleuthing. You'll walk next to a rushing levada, through the jungle to a waterfall at the end of the path.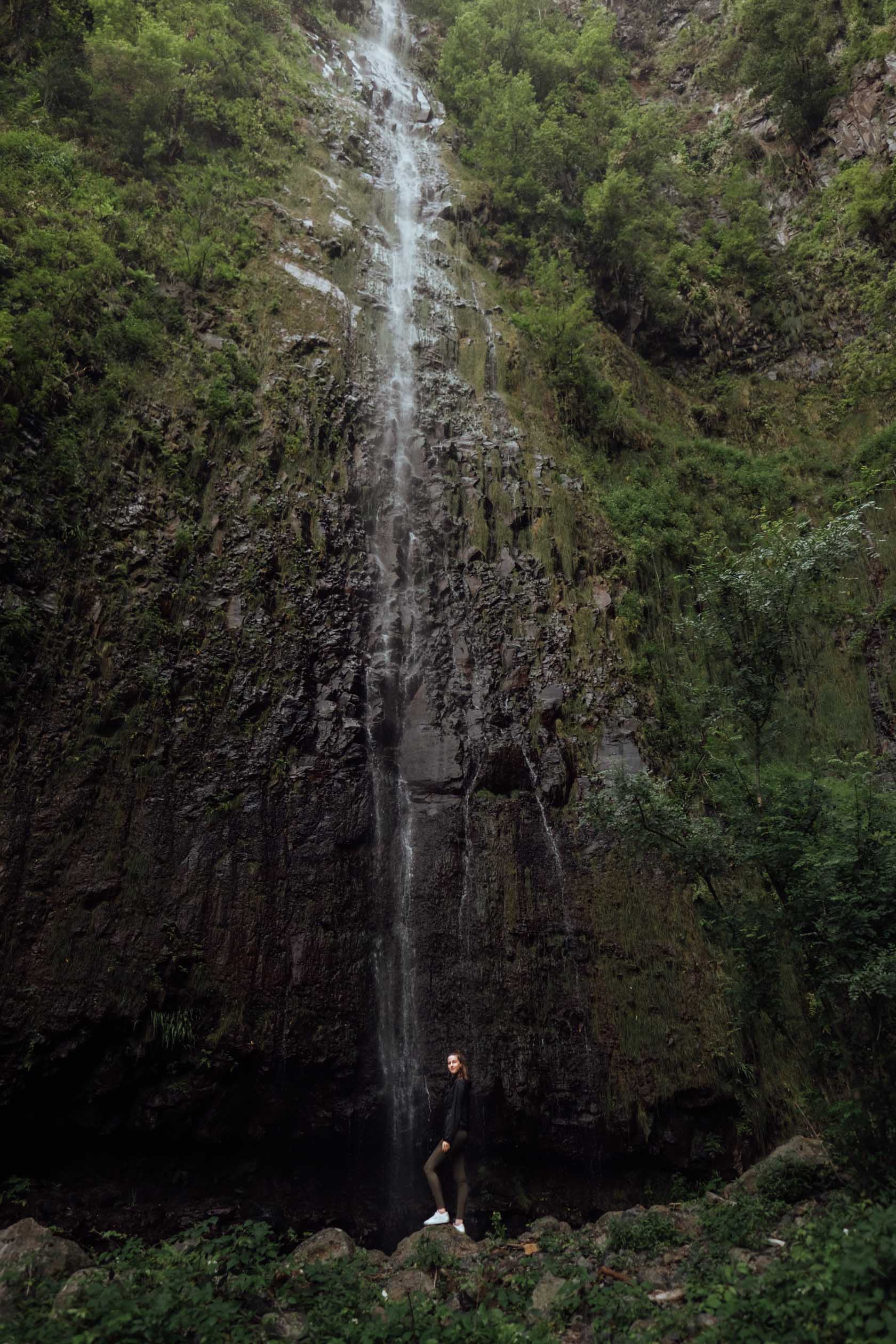 How to get there: You will see a "dead end" sign when driving through the closest town, which is across the way from a bus stop. Technically you can drive up to this dead end and find a tiny parking lot, though we opted to park below and walk up. From there, you'll find some stairs and an overgrown path. Be careful, as there are no railings and some very narrow spots.
Again, there are some short sections with steep drop offs and no railings, so not for kids or or people scared of heights.
21. Eat a delicious steak sandwich
Madeirans love sandwiches, and as luck has it, it's one of the most affordable and filling items on a lot of menus. Made here with Bolo do Caco bread, this steak sandwich cost just 4.30€ and took the place of dinner! You can find these at a lot of restaurants in Madeira, but this particular one was at Ribeiro Frio Restaurant near the entrance to the walk to the Vereda dos Balcões.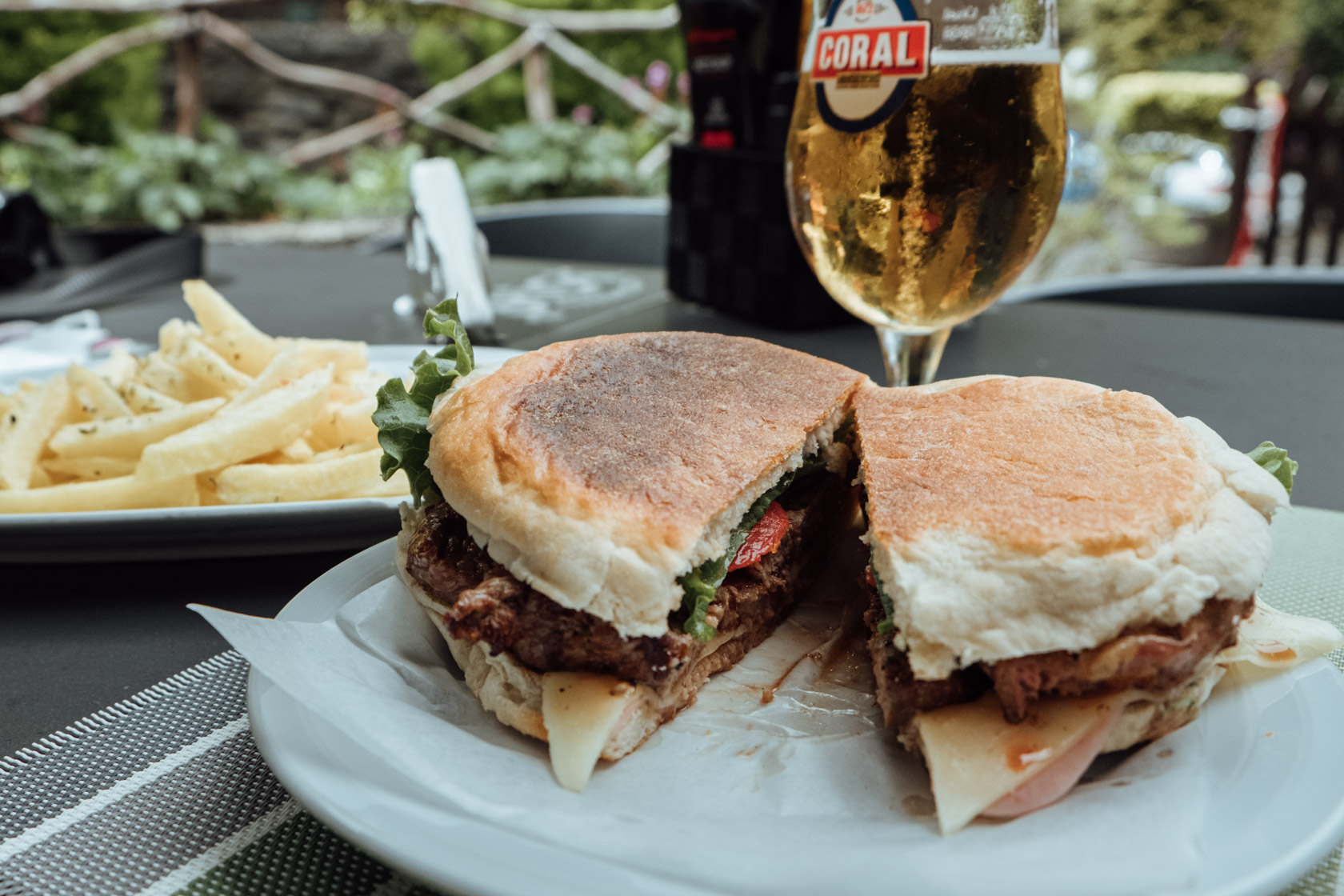 22. Take the cable car over Cabo Girão
Called teleférico in Portuguese, cable cars are abundant on Madeira. You can take them to descend from the top of Funchal, and down from many cliffs, but perhaps the steepest on the island is the one from its highest sea cliff to the coast: the cable car at Cabo Girão.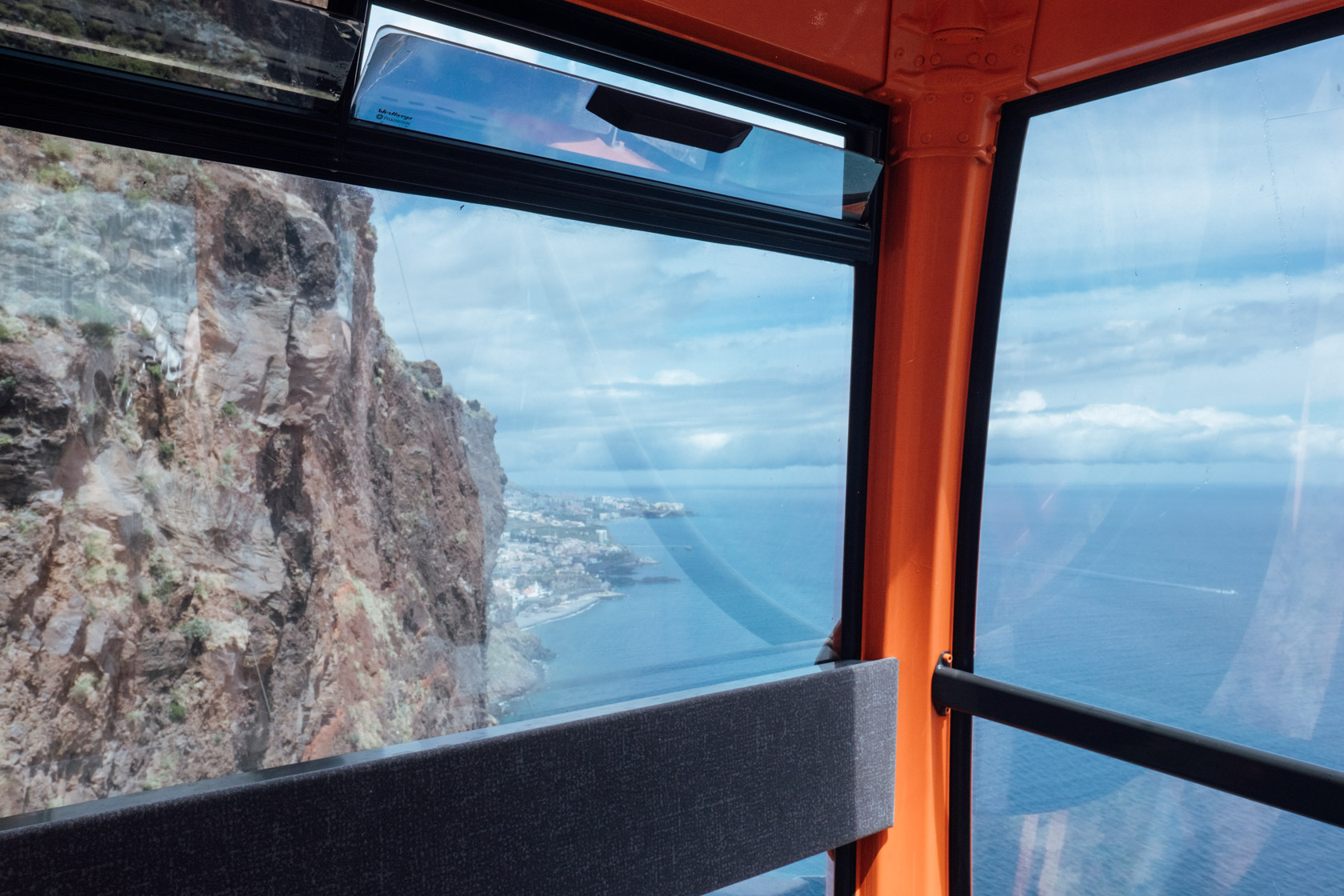 It costs just a couple of euros for a round-trip ticket, and takes you to the bottom of the cliff quickly. At the bottom you'll find black rock beaches, though when we were there, they were clearly cleaning up after a rockslide.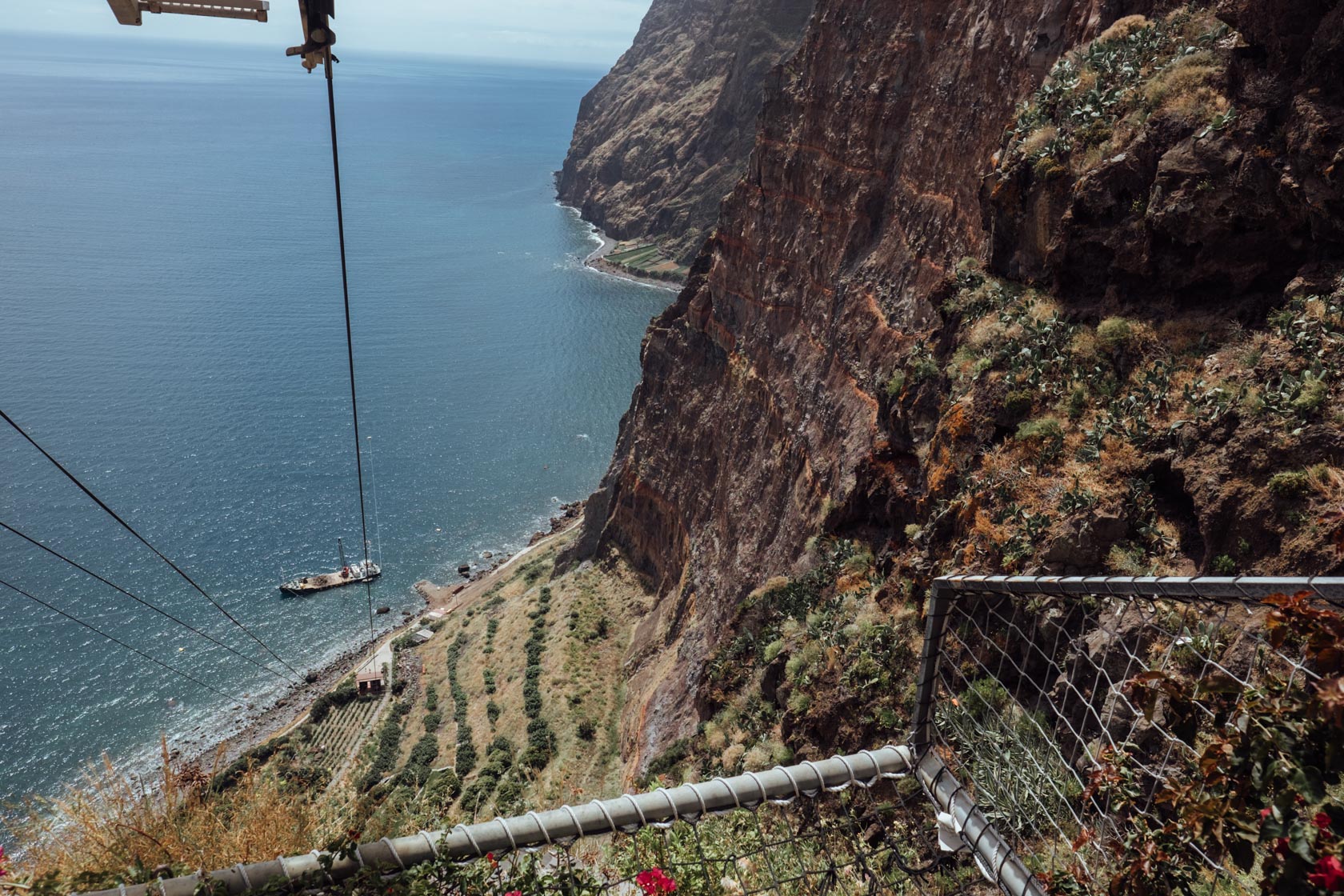 23. Visit Fanal Pond in mist
Fanal is one of the few places in Madeira where you're hoping for that famous mist to set in, so you can capture some incredibly unique photos. This positively disorienting place is fun to wander about, but make sure you've got some GPS to help you find your car afterwards!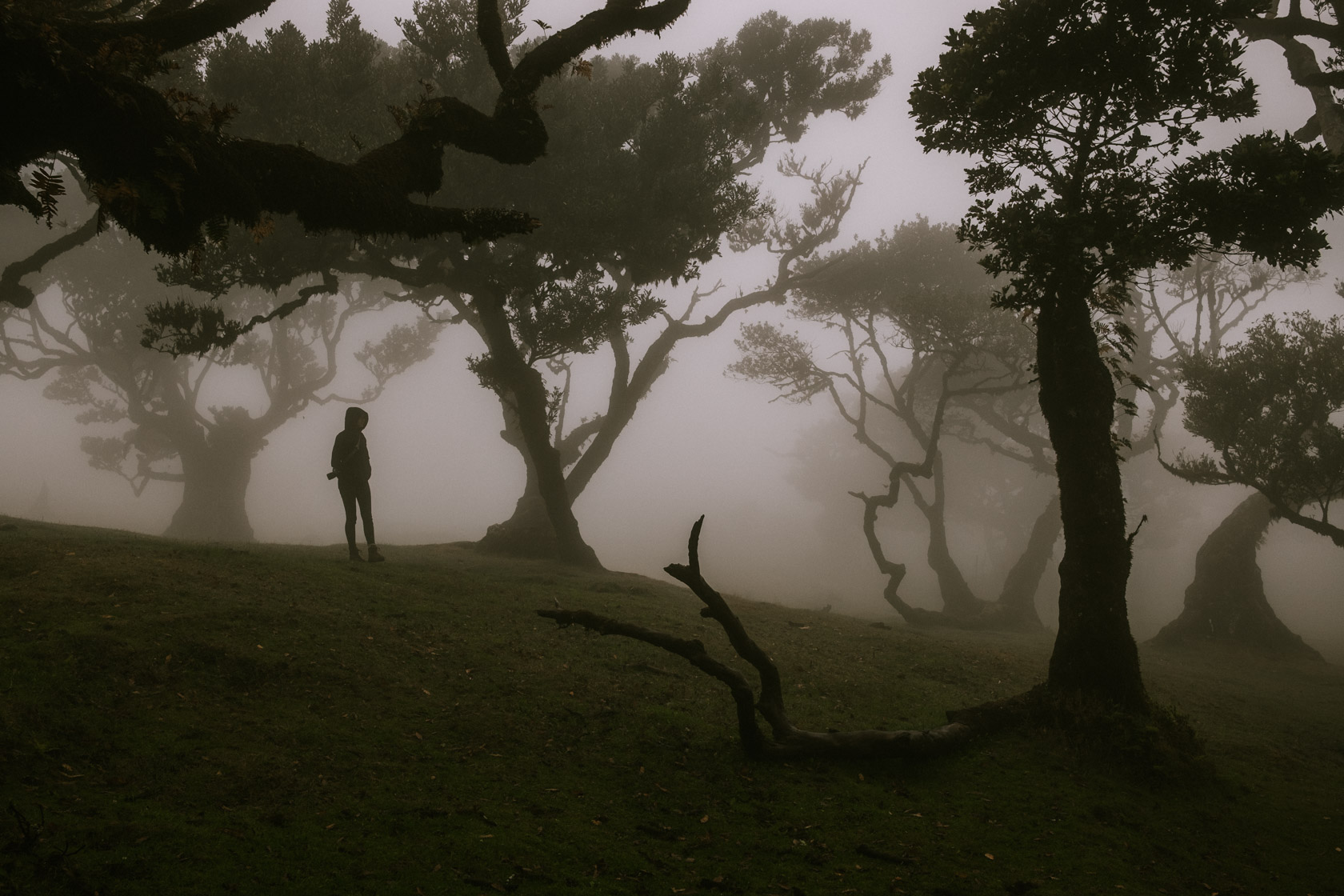 If you keep walking around, you'll find cows chilling in a field (and lots of cow pies to dodge). Come here for some great photos to put on your alternative band's next album cover 😉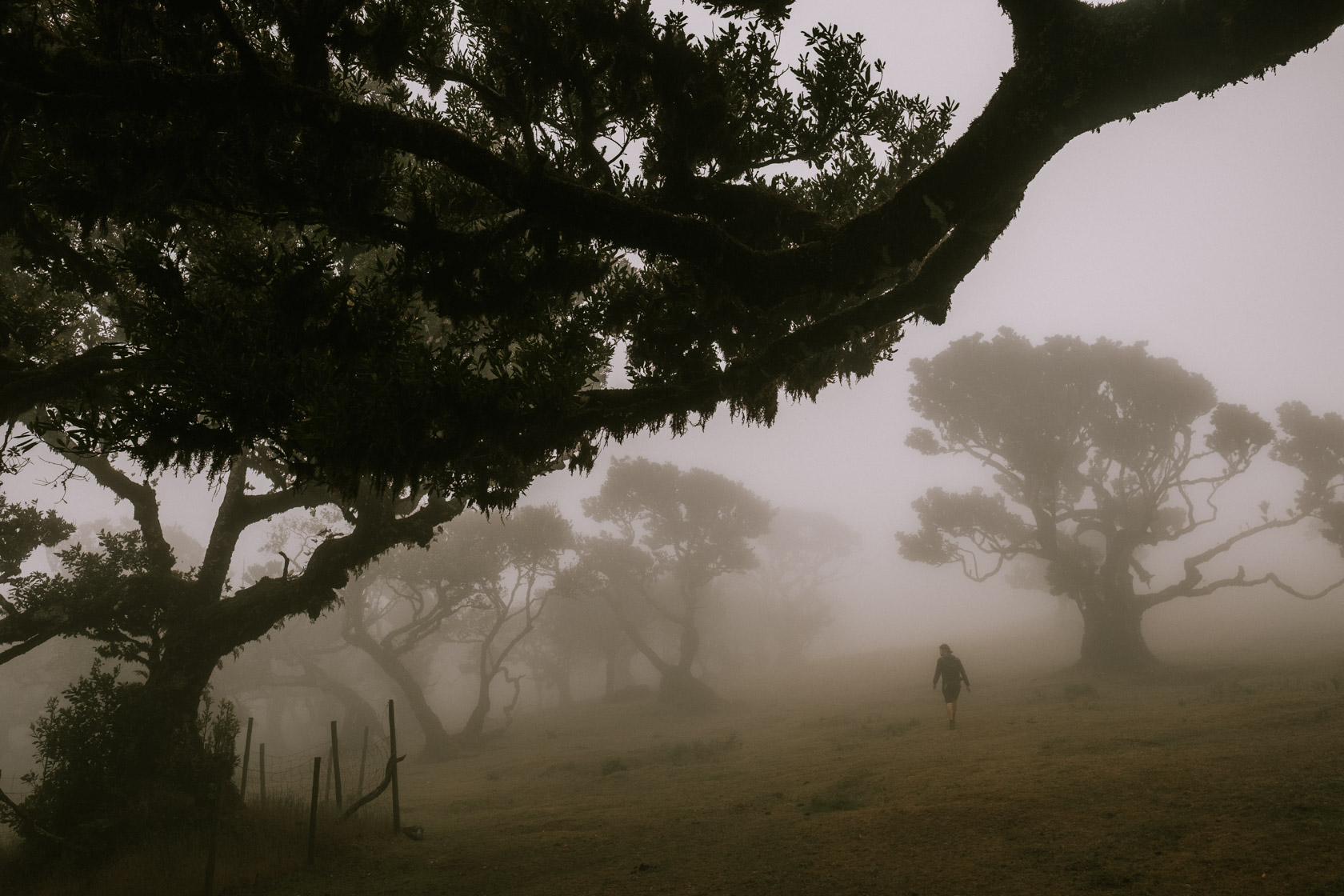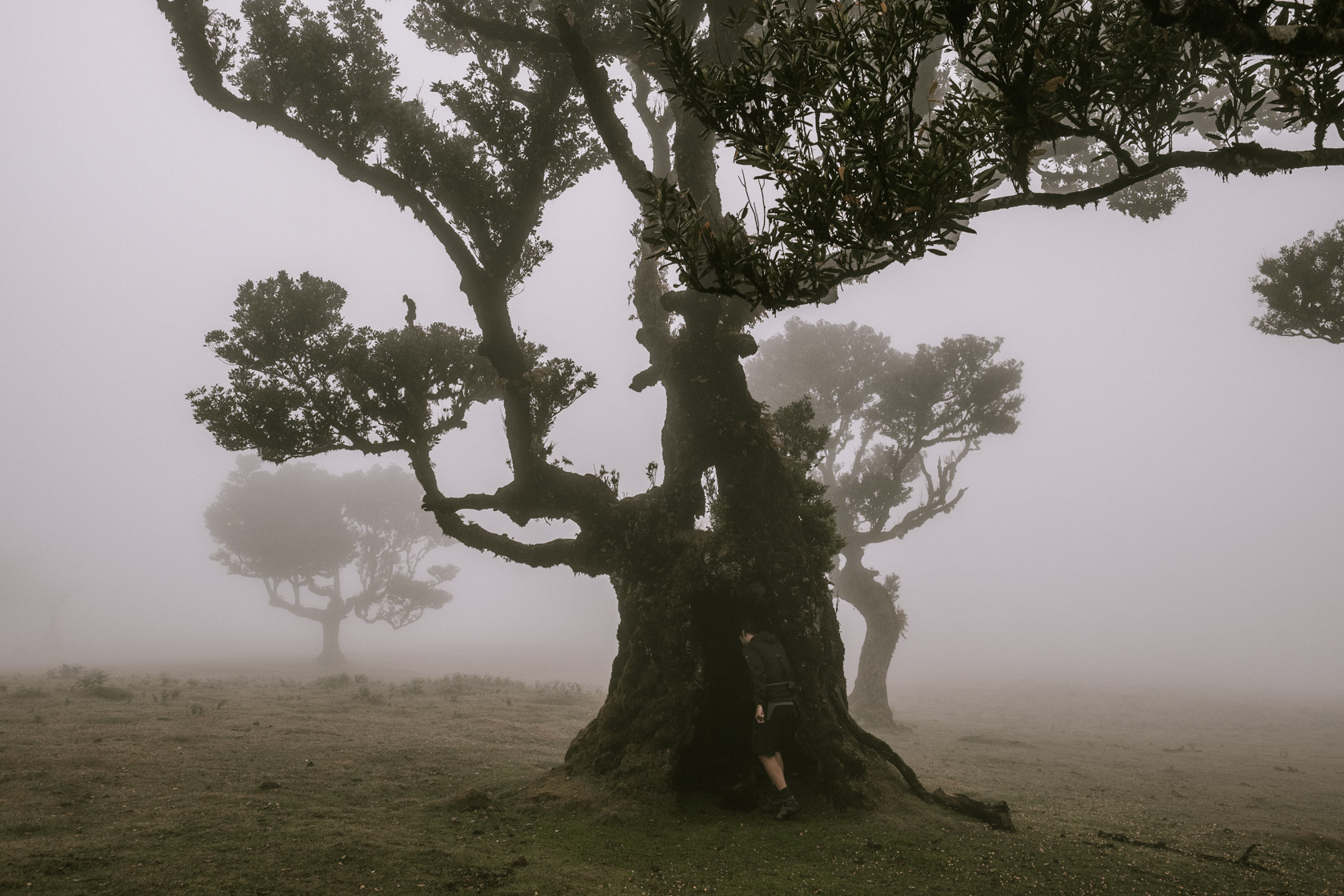 If you happen to show up on a clear day, there's a also a hike you can take, PR13 Vereda do Fanal.
24. Tour the Miradouros on the Western Coast of Madeira
West Madeira is a bit off the tourist track, but this rugged coastline and smaller villages definitely give you a different perspective on the island than the East. As you drive along the coast, you'll find a number of viewpoints to stop at, snap some photos, and learn about the local flora and fauna:
Viewpoint Fio – First accessible viewpoint when coming from the south, depending on your accommodation. Also has a restaurant at the viewpoint.
Ponta do Pargo Lighthouse – When we visited in June 2021, the viewpoint to see the lighthouse from afar was closed. But you can go right up to the lighthouse and walk down a small path in front for photos.
Garganta Funda Viewpoint – One of the highest waterfalls in Madeira, and just a 5-minute walk in each direction.
Boa Morte Viewpoint – Location of both a viewpoint and a church of the same name, walk past some chilled out cows to this viewpoint of the East Madeira costline.
25. Swim in the natural pools at Porto Moniz
Unfortunately we were here on a cloudy day, but don't underestimate how beautiful these pools are. Fed by the ocean, you can enter these natural pools for just 1.50€. Even if you just want to access the cafe, the entry fee is totally worth it.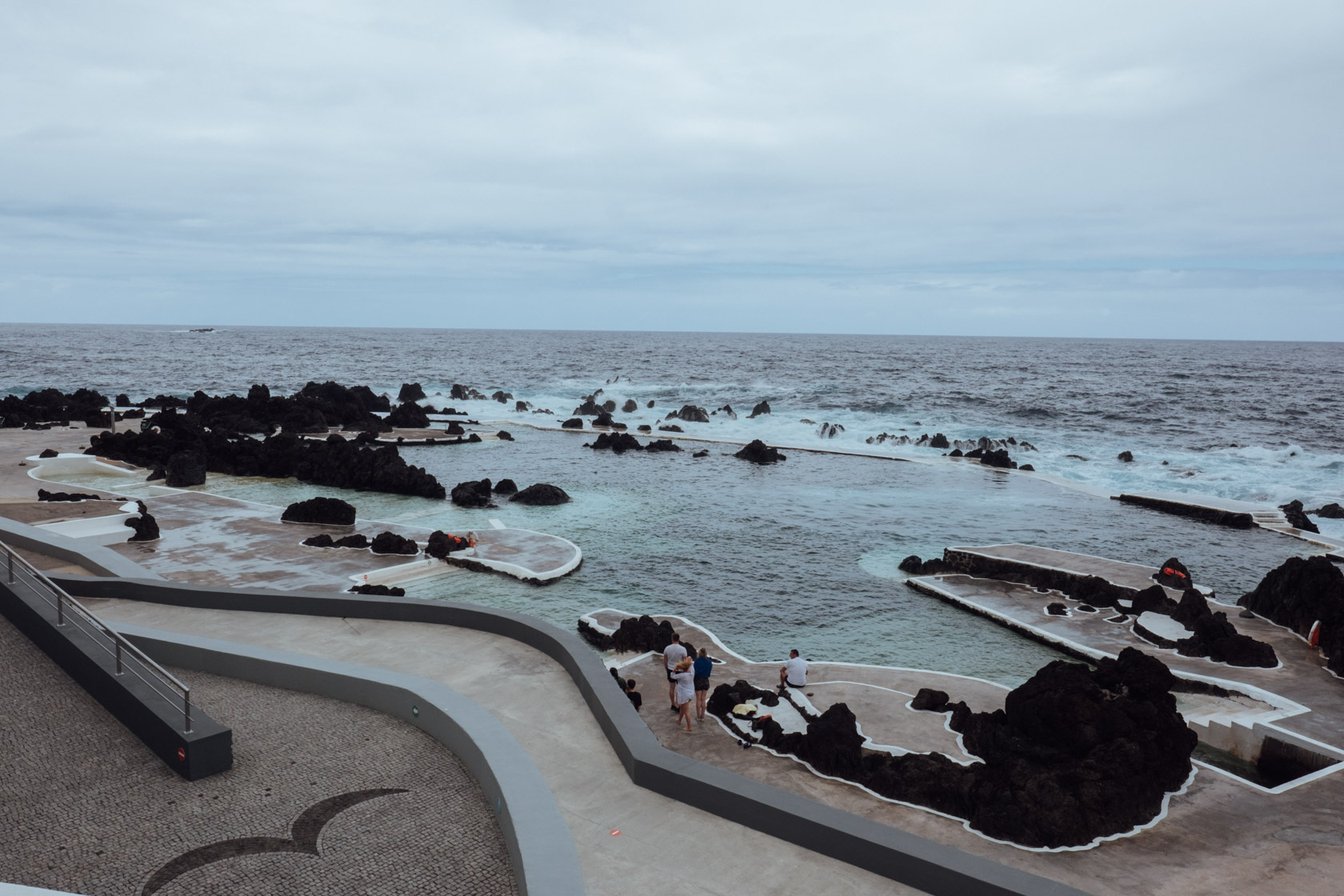 26. Photograph the rock formations at Mirador Illeus da Ribeira da Janela
I'll have to write a separate photographers guide to the island of Madeira, but here's a spot you'll often see in Madeira photos in case you're wondering where it is!
These rock formations are located on the north coast of Madeira, and make for a great spot for a long exposure photo. You can also take some stairs up to a small cave, giving you the best vantage point for pictures of this rock formation.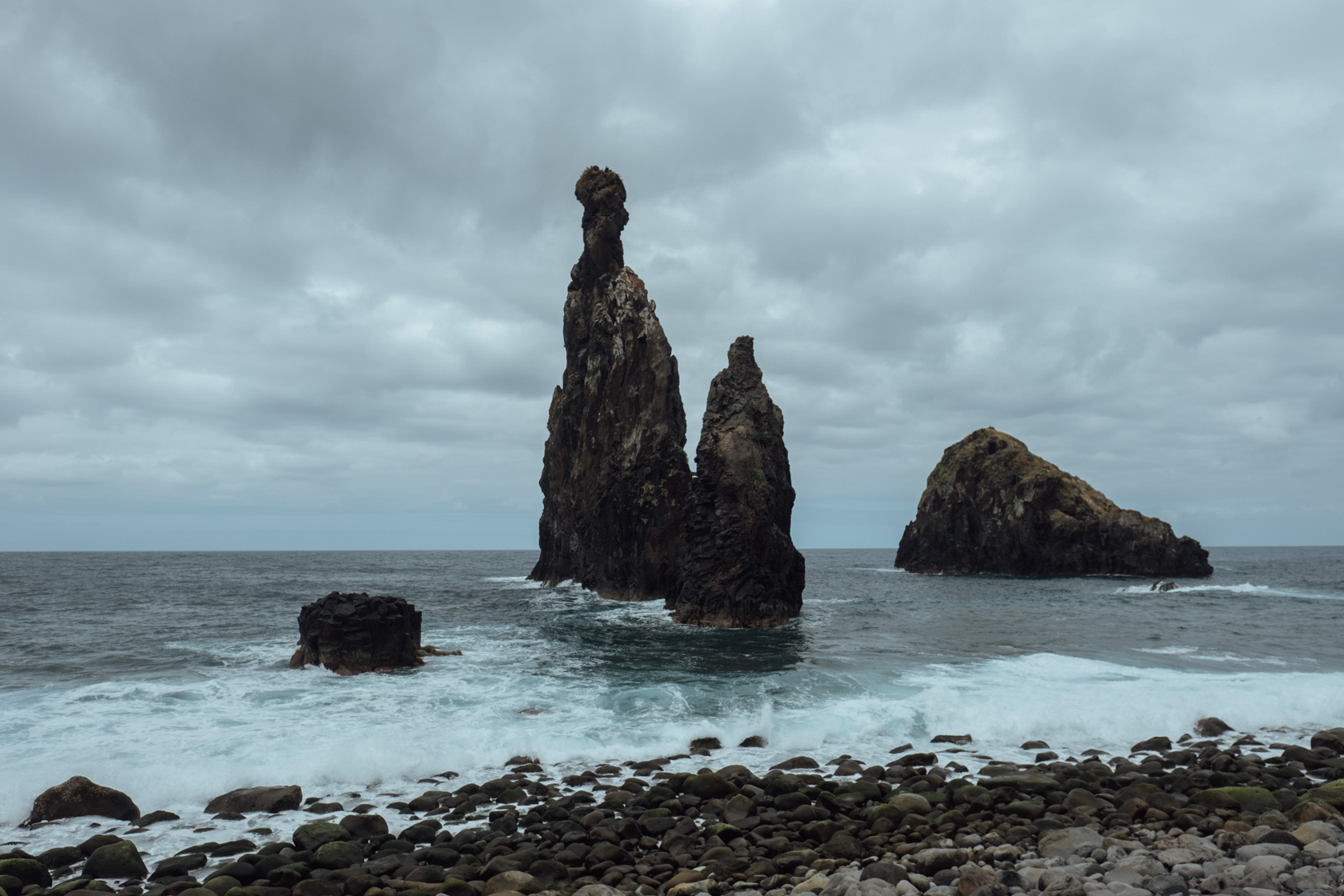 27. Visit the tomb of the last Austro-Hungarian Emperor
This church located just up the street from Monte Palace is called Igreja Paroquial de Nossa Senhora do Monte or the Church of Our Lady of Monte. Apart from the beautiful, golden interior, you'll also see the tomb of Karl I, the last Emperor of Austria.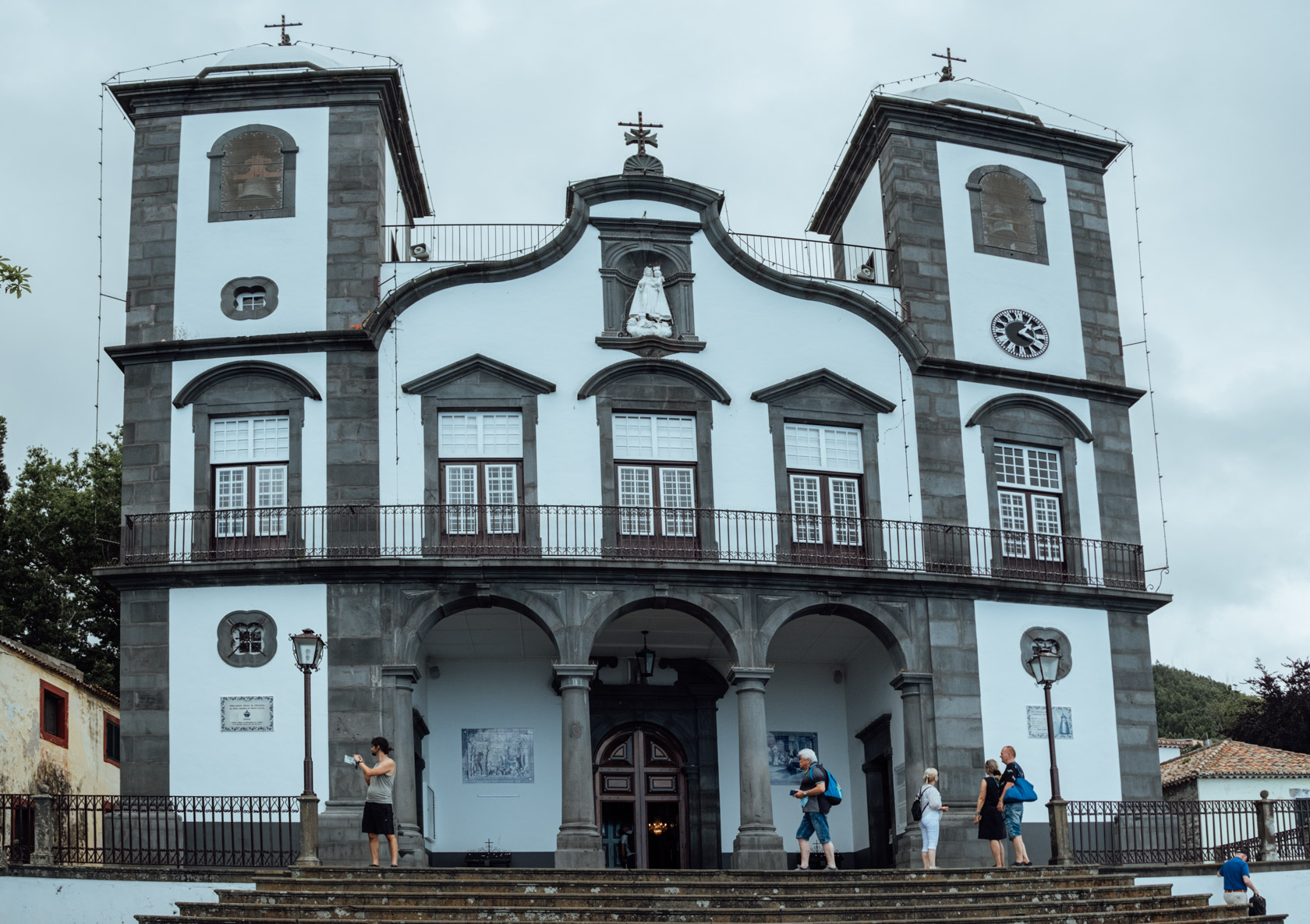 He was exiled to the island of Madeira after his second failed attempt to reclaim the throne of Hungary, and was taken to Funchal in 1921 where his wife and children later joined him. Sadly, he died of a cold that turned into severe pneumonia and never left the island.
28. Try Scabbardfish (Espada), a local Madeiran delicacy
Scabbardfish, called Espada in Portuguese, is a local delicacy and deep-water predator fish that hangs out at a depth of 180-1,700 meters. Local fishermen use special equipment to catch these dish, which come up bearing pretty pointy teeth! Most commonly, Espada fish is served alongside banana but you can also find it alongside chips at pubs on the island.
29. Explore the old town of Funchal
Honestly, of all the places on the island, we probably spent least of our time in Funchal proper and instead explored outside the city. But at least one afternoon or evening should be dedicated to walking through the old streets! Just be aware that if you decide to dine in this area, you'll be paying a premium compared to what a dinner outside the old town would cost.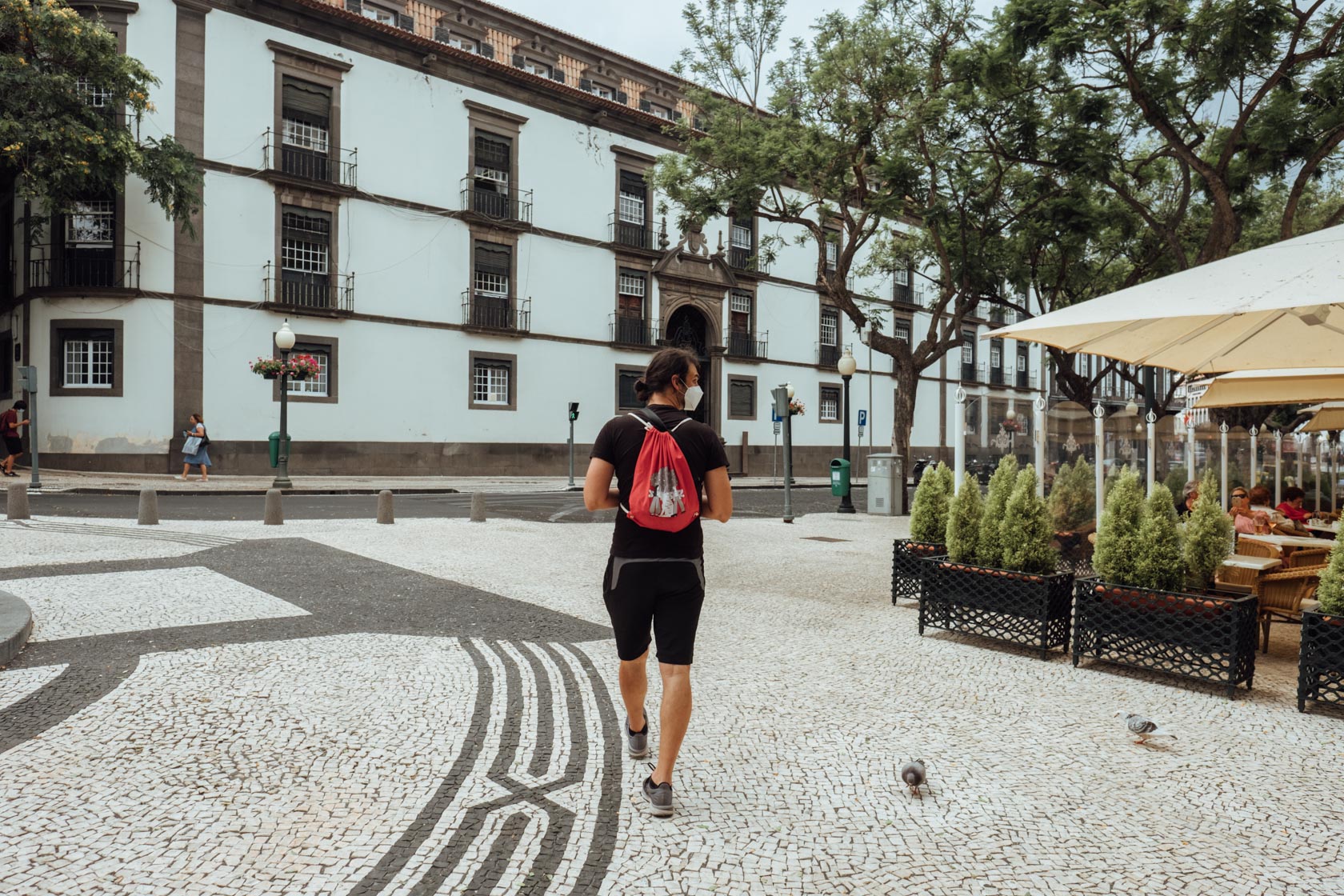 30. Visit the CR7 Museum to Cristiano Ronaldo
Easily the most famous, modern Madeiran is Cristiano Ronaldo, the legendary footballer and Funchal-native. Not only have the Madeirans renamed their airport after him, but they also created a dedicated museum to him called the CR7 Museum .
While we didn't go inside, if you're a soccer fanatic this museum might be for you. You'll find it near the Port of Funchal.
31. Explore the now defunct Royal Path, Caminho Real 23
Back in the 19th century, the King of Portugal commissioned Madeira's very own Ring Road: a path that was designed to encircle and connect the entire island. It's about 170 kilometers long and nowadays, many of the passages have decayed beyond use.
This path is part of what used to snake by Miradouro do Véu da Noiva, a waterfall on the North part of the island.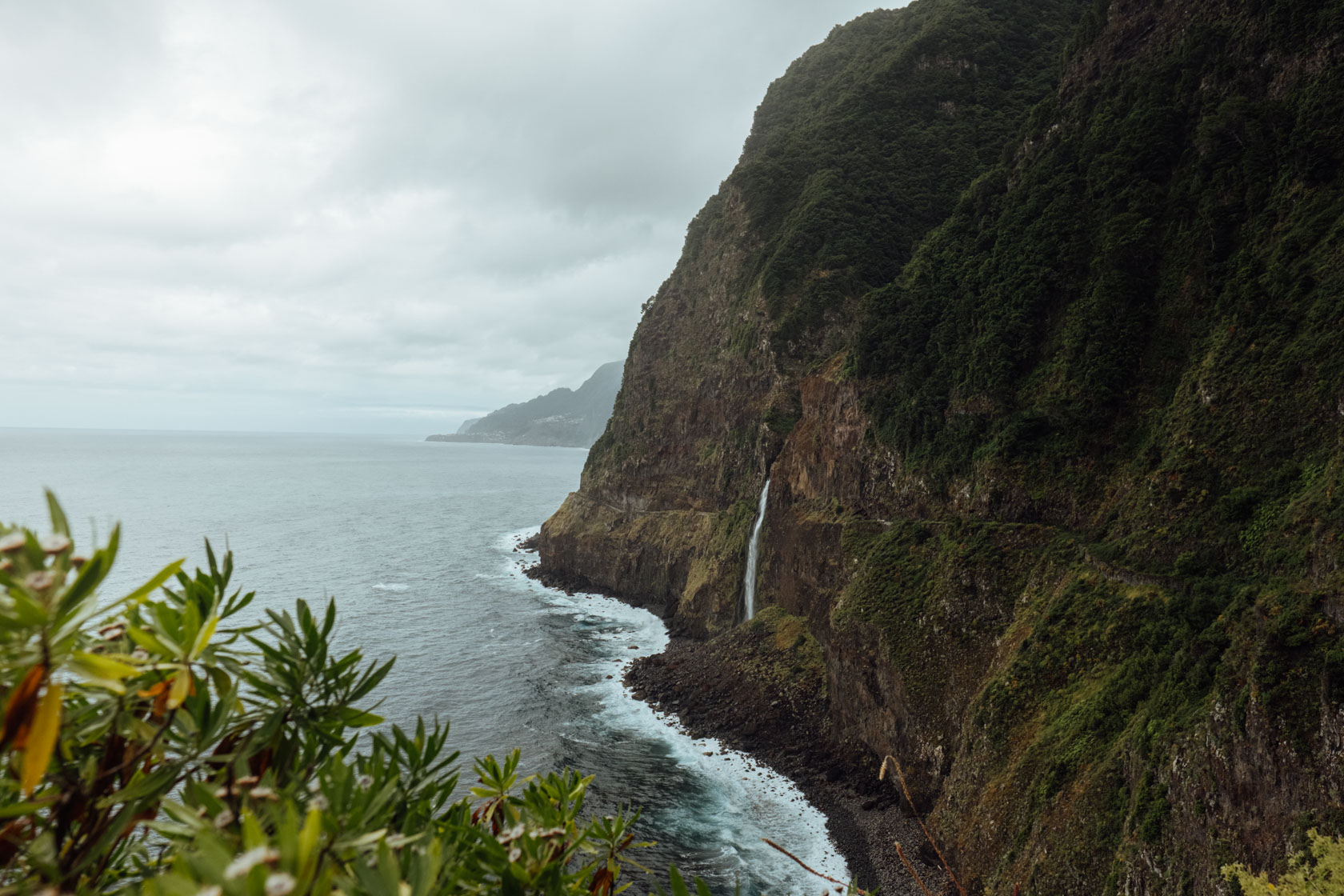 Today, some people still hike on this path though its original use pre-dates modern cars.
32. Visit one of the only white sand beaches at Praia da Calheta
Calheta is a sunny town to the west of Funchal, and one of the possible places to stay in Madeira if you're exploring the Western part of the island.
Oen of its main attractions is a white sand beach, Praia da Calheta . Unlike most of the black sand beaches in Madeira, Praia da Calheta has white sand which was imported from the Western Sahara.
If you've ever been to Tenerife, you might known that their most famous beach, Las Teresitas also imported its sand from the Sahara.
33. Go for fresh fish and chips at O Ideal
Seafood lovers rejoice, because Madeira is an excellent place to eat fresh seafood. Though my boyfriend isn't a big seafood fan so I had to exercise some restraint, one of the best places we had fresh fish and chips was at a tiny bar in Paul do Mar called O Ideal .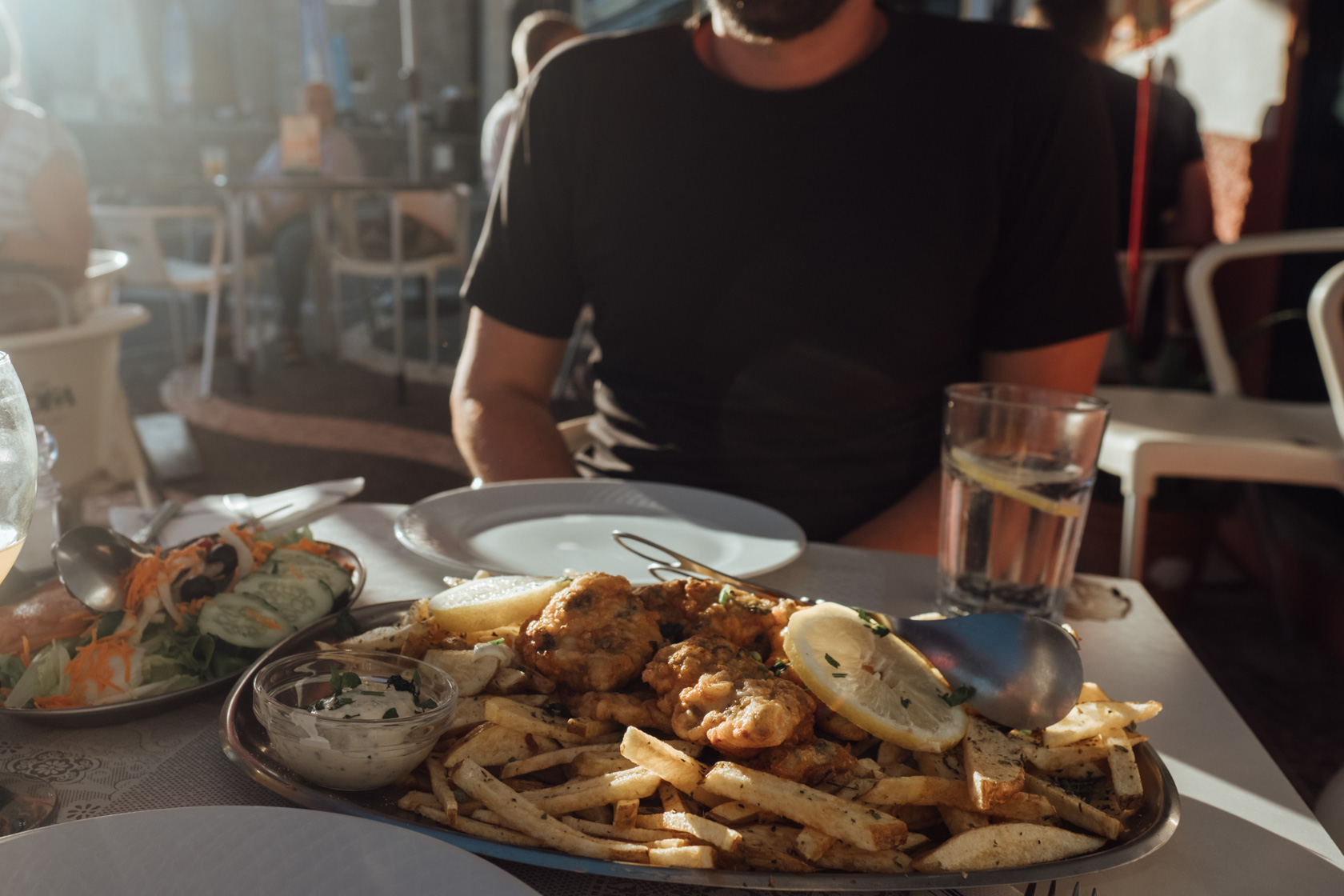 An excellent place to enjoy the sunset, eat fish for a great price, and down your own personal pitcher of sangria. Our entire meal was something like 20€ including salad and a starter of Bolo do Caco.
We even tried to go back the second day, but it was closed on Tuesdays!
34. Stay in a guesthouse outside Funchal
Although we could've stayed in Funchal for our entire trip, we also opted to spend three nights in a more rural part of the island in a town called Faja Da Ovelha . Getting to our guest house was a proper trek of approximately 300 stairs, but every day we were rewarded with panoramic views like this:

Depending on the type of trip you're looking for, a more remote accommodation option could work out. Madeira is small enough to stay just in Funchal, but for those who like variety (and stairs), rewards await!
34. See the Ponta do Pargo Lighthouse and lookout point
While you're on the west side of the island, stop by the lighthouse at Ponta do Pargo. This is one of the most prominent lighthouses on the island, and its red and white color makes for a great photo.
When you arrive, you'll see a couple of stars from the car park leading to a dirt area in front of the lighthouse. You can walk here to snap some photos of the lighthouse, or of the coast itself.
35. Take a toboggan ride from Monte
One of the top things on any list of things to do in Madeira is to take a tobbogan ride from near Monte Palace down the street. While we didn't do this ourselves, we did drive behind one of these rides to observe what it was like.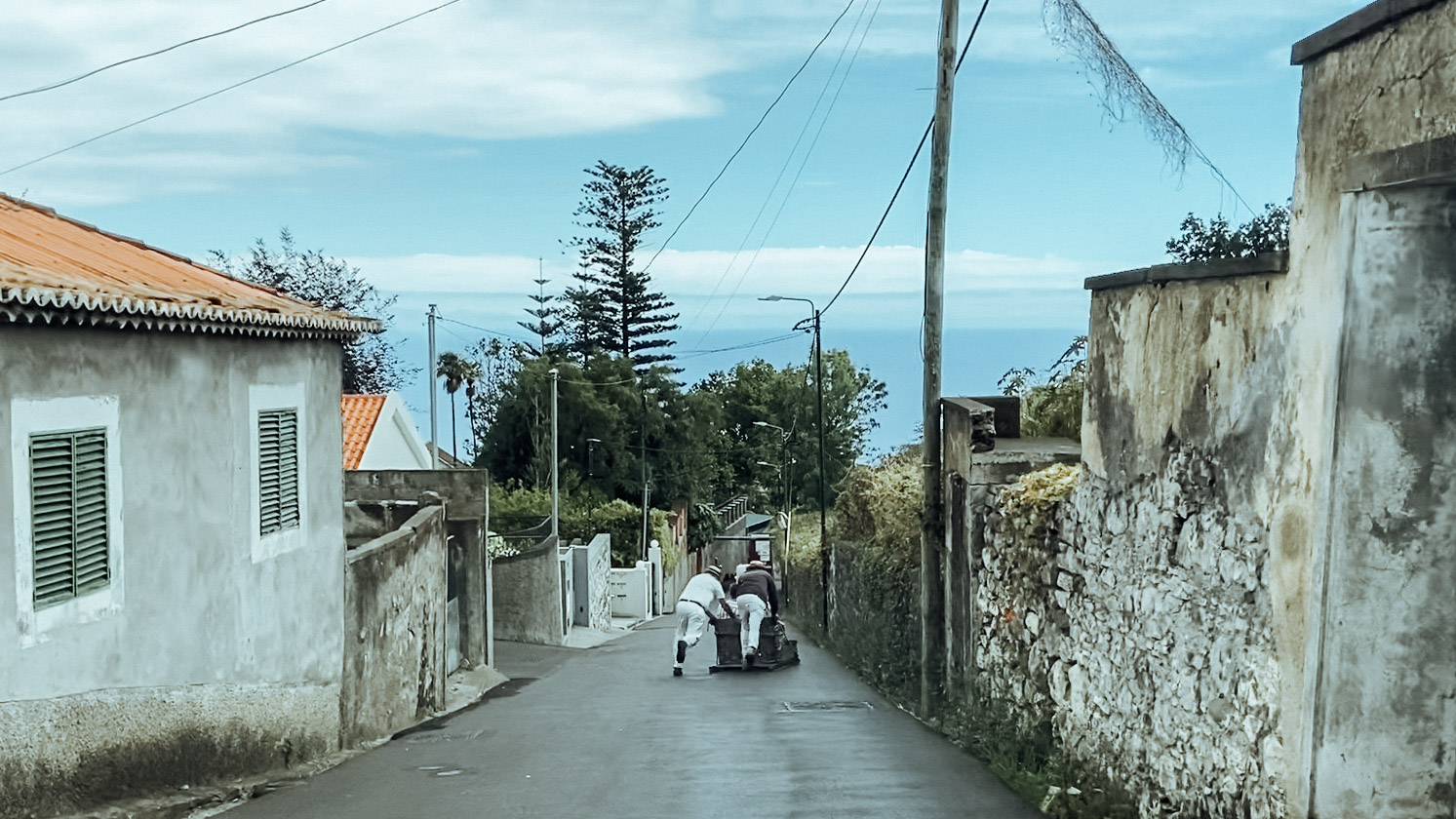 36. Eat at a Michelin Star restaurant in Funchal
Despite being a small island, Madeira is home to two, Michelin-star restaurants. If you want, you can eat very cheaply in Madeira and turn it into a budget trip. But if you're looking for luxury, these are the two restaurants that've been awarded a Michelin star:
William (One Michelin star) – This restaurant focuses on traditional Madieran and Portuguese food, and the menus will set you back between 120-160€ per person.
Il Gallo d'Oro (Two Michelin stars) – This restaurant was the first to receive a Michelin star in Madeira and features a lot of local incredients. Prices range from 130-245€ per person.
We didn't plan in advance to visit one of these, but absolutely would on our return trip!
37. Eat Bolo do Caco with virtually every meal
Bolo do Caco is essentially garlic bread, which is served or offered as an appetizer at nearly every restaurant in Madeira.
Traditionally, Bolo do Caco is cooked on a caco, which is a flat basalt slab. The inside is then smothered with garlic butter and served warm.
Typically it comes sliced in to eight pieces, perfect for sharing before you dig in to the main course.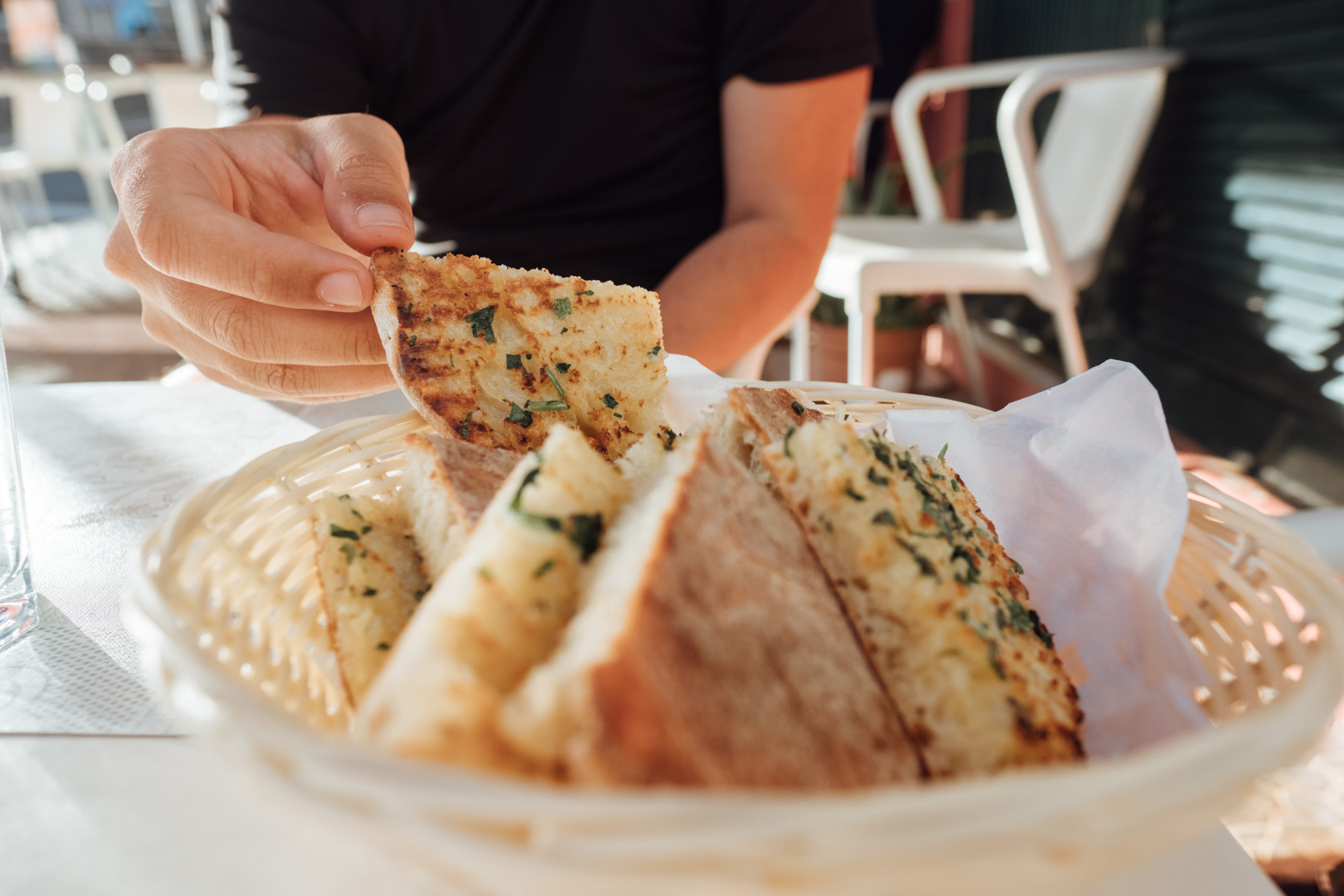 You can also often get sandwiches served in this bread, as it's a really popular replacement for typical bread on the island. Simply delicious, after our first bowl we began ordering it as a precursor to just about every meal.
38. Drink a flight of Poncha at your local bar
Another must-have food, but this time as a drink: Poncha. Poncha is a traditional, very sweet alcoholic drink typically served in a small glass and made from sugar cane (specifically, an alcohol derived from sugar cane called aguardente de cana). It's delicious. And potent.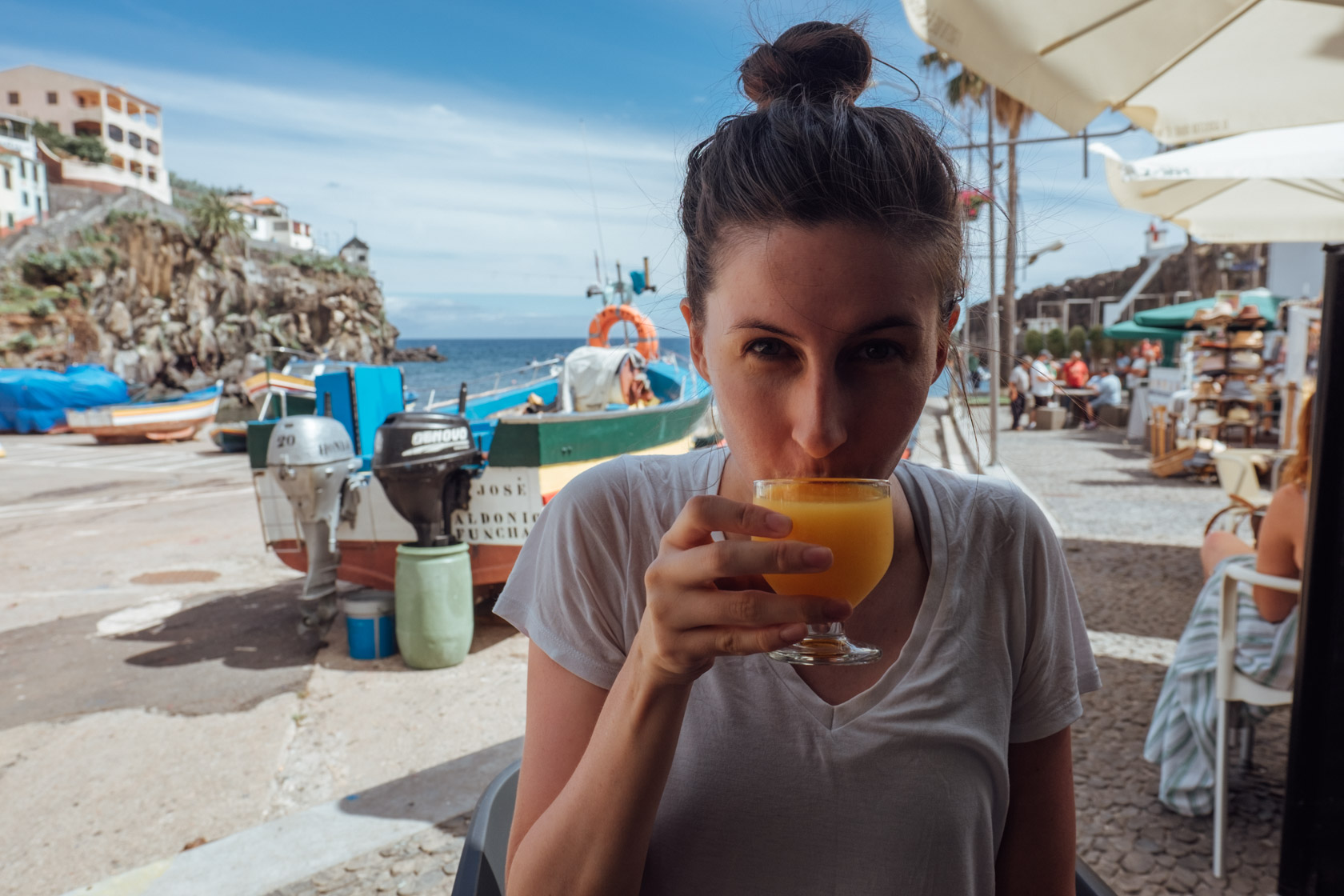 There are many kinds of poncha, with the most popular being passionfruit poncha (maracuja), poncha pescador (fisherman's poncha), even ponchas with kiwi, strawberry, honey and lemon.
Some places even offer poncha "flights", so you can try and taste a variety of ponchas in one go.
Loved this post about Madeira?
Pin this post for later for when you're booking your trip!