Hirosaki, Japan
Hirosaki is the true definition of a hidden gem. Not only do few Western visitors ever hear of this city, but it offers something so unique that few places in the country can compete: over 2,500 cherry blossom trees. If you are looking for the perfect place to see cherry blossoms in Japan, I'm here to tell you that Hirosaki is exactly the location you've been looking for. Between 50 varieties of trees, petal-filled moats, a postcard-perfect castle, and an extensive botanical garden, you cannot have a more quintissential cherry blossom experience anywhere else!
This location is literally ranked in the top three places to see cherry blossoms in all of Japan, and especially recommended for your late Spring trip!
Read on for more details about Hirosaki Castle Park, other activities to do in the city, and hotel and restaurant recommendations (including my favorite food experience in all of Japan!)
Some links in this post are to affiliate sites. If you purchase something through them, I may earn a small comission at no cost to you.
Why visit Hirosaki, Japan?
With the rising popularity of Japan, it's a simple fact that there are fewer and fewer places you can go to escape the crowds and experience a little slice of Japan all to yourself. Seeing other backpackers on public transit is the norm more than the exception, and the ratio of tourists to DSLR-owners is nearing 1:1. So, during the height of Cherry Blossom Season, how can a girl get away from the chaos of the crowds and get in touch with Spring?
The answer is to head north.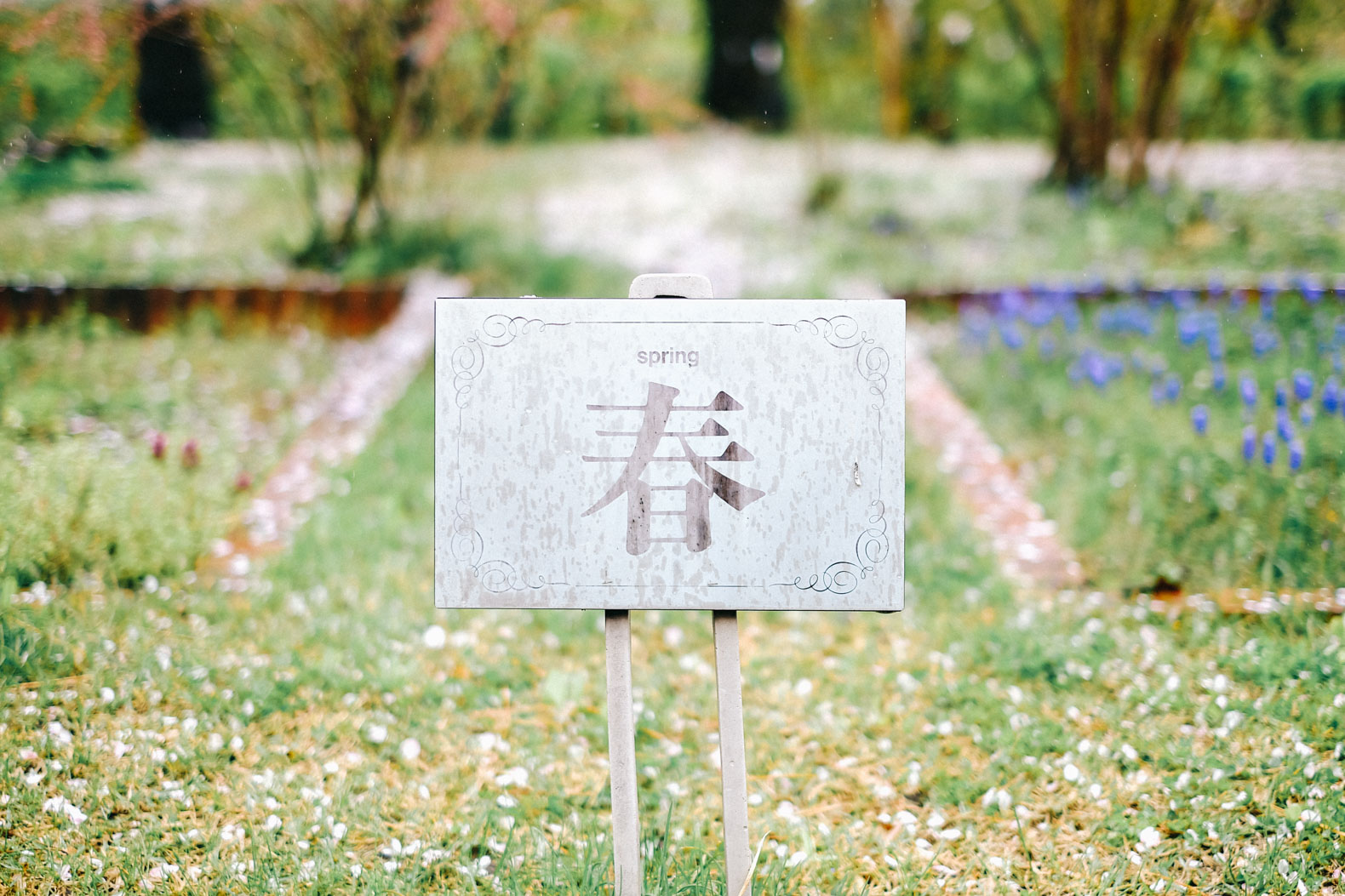 Take the bullet train to the northernmost tip of Japan's main island, and you'll find Hirosaki, the second largest city in the Aomori prefecture. One of the most remarkable things about Hirosaki is how relatively undiscovered it is. I could count on one hand the number of fellow western tourists we saw, and the Japanese could hardly believe it either that we'd stumbled upon their world in the north of Japan.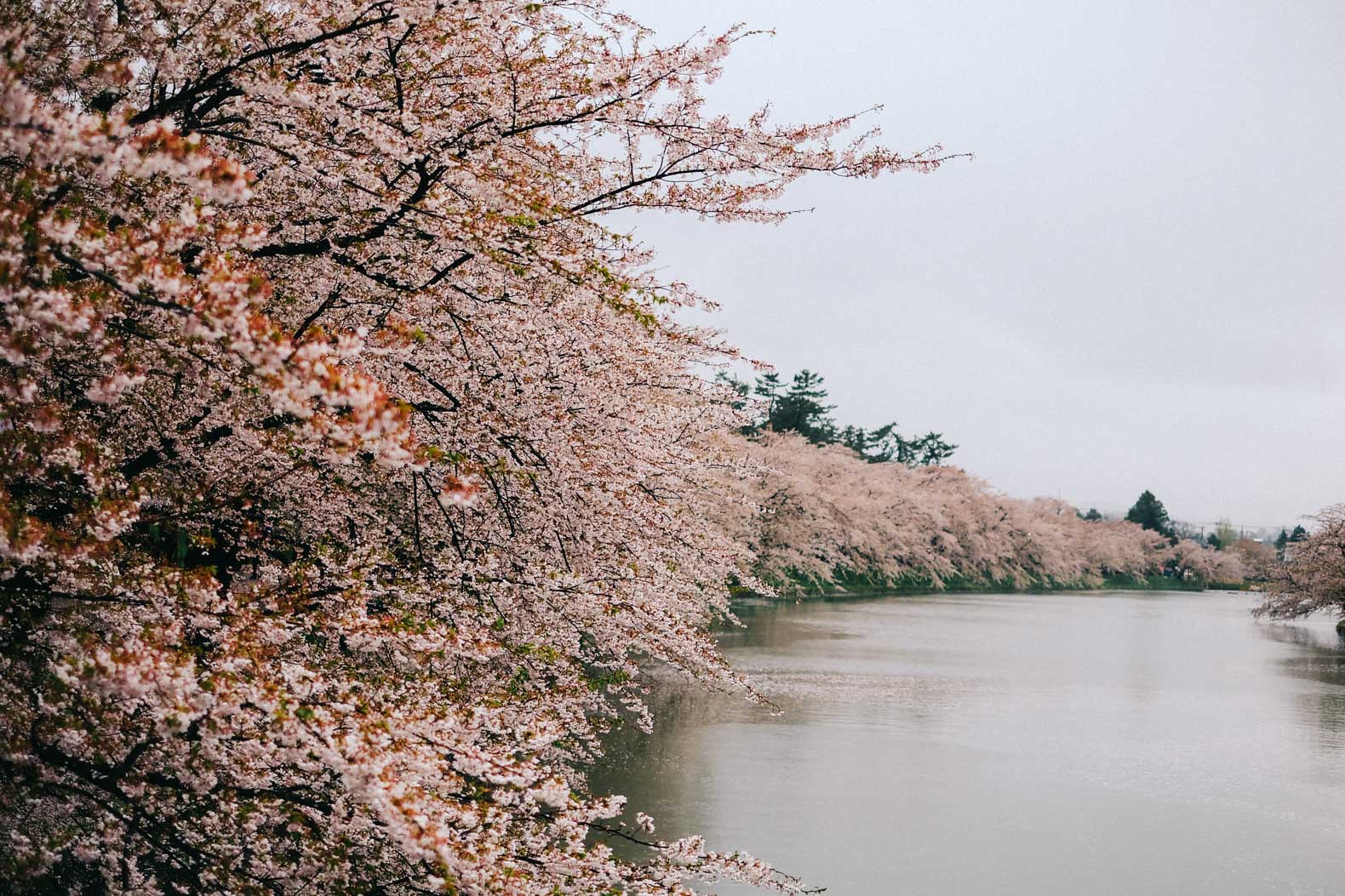 Besides looking for an off-the-beaten-path experience, Hirosaki has something else going for it. Over 2,500 cherry blossom trees. For anyone looking for the most immersive cherry blossom experience in the country, you can't pass up Hirosaki.
Don't miss getting a city brochure of Hirosaki at the main train station when you arrive in the city. It contains tons of fantastic information about Hirosaki, and they actually have one that is completely in English (a true rarity in Japan, much less so far away from the tourist hives!)
Hirosaki Castle Park
You can spend a lot of time walking around this this 0.5mi2 park. Located right in the middle of the city, only a 15 minute bus ride from the main station, Hirosaki Castle Park is practically unmissable. There are tons of banners and lanterns leading visitors towards the entrance.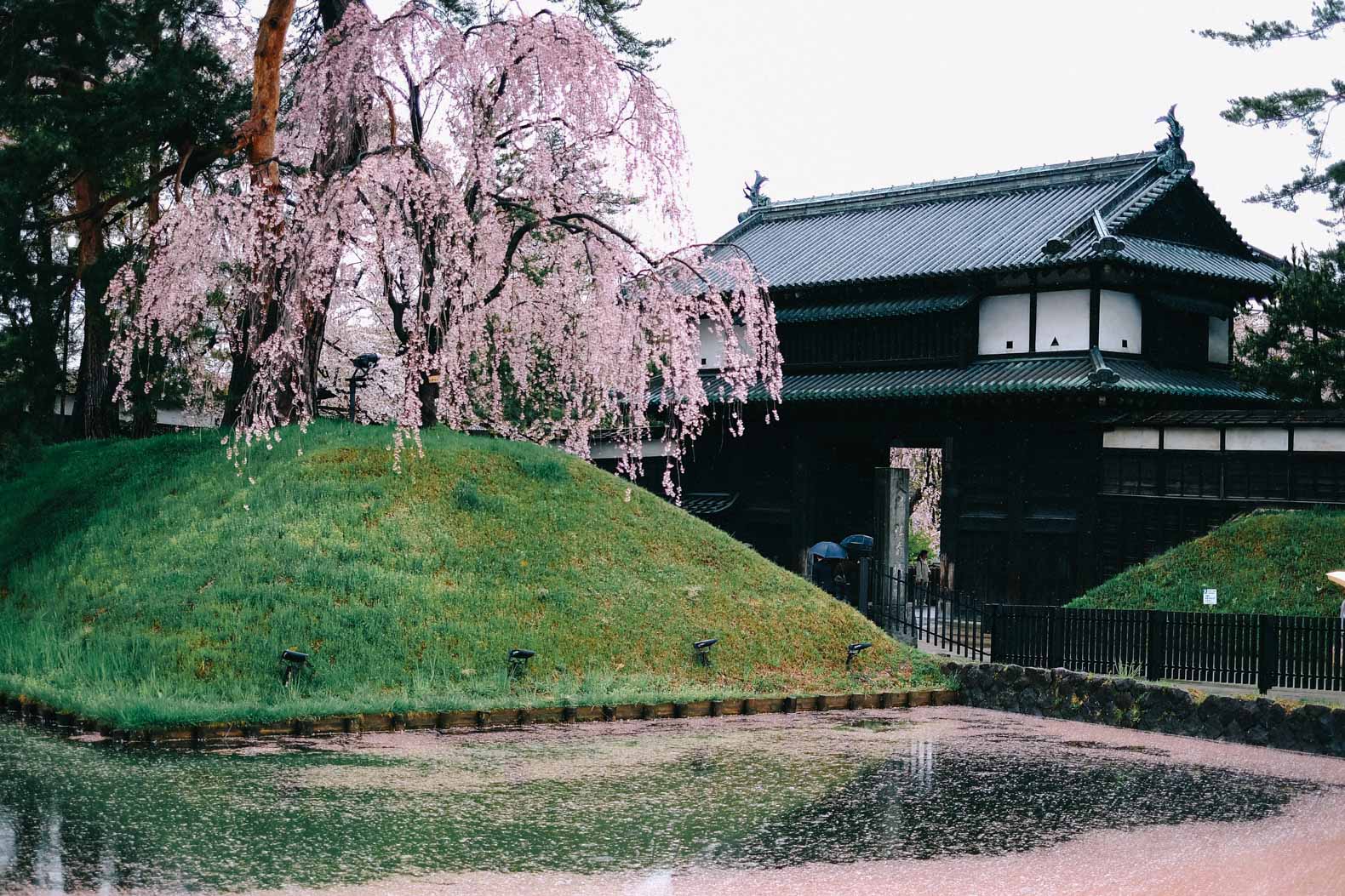 Here are some of the park's prime attractions…
Hirosaki Castle Botanical Gardens
When you come to the park, you have the option of either getting entrance to the park and castle only, or the botanical gardens only, or, of course, a combination ticket (See prices at the bottom of this section). Let me tell you, the botanical gardens are totally worth the visit.
Firstly, there are so many varieties of cherry blossoms, which you may have never seen in your life otherwise. Trees you may never had considered cherry blossoms, ones that only grow in Japan, or some that especially come from the north! The best part is that if you can read some Katakana (the Japanese alphabet used primarily for loan words), you can snap photos of the trees and read up about them later.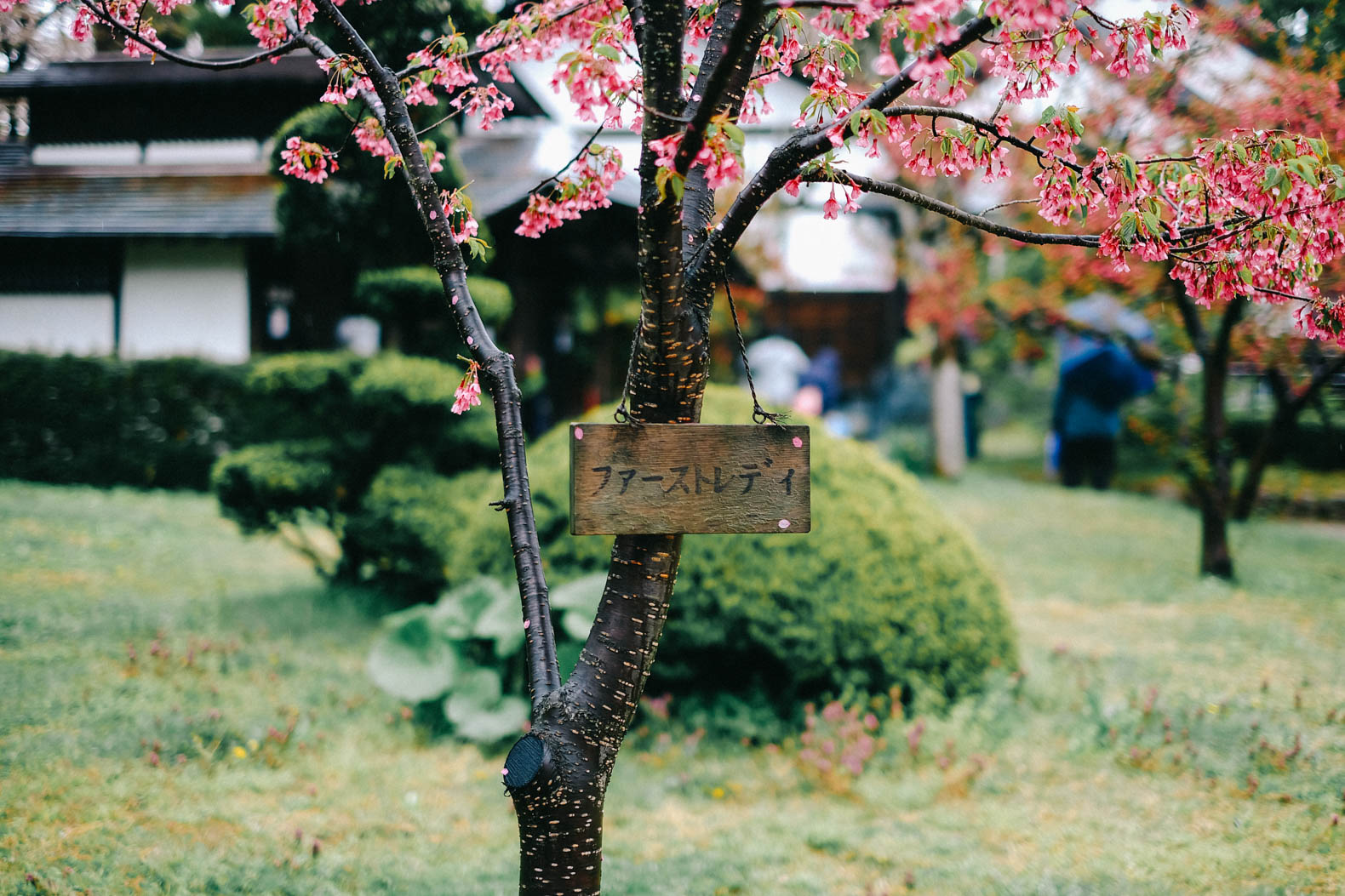 I mean, can you get much more magical than being able to just walk up to a weeping cherry tree and be embraced by its swinging boughs?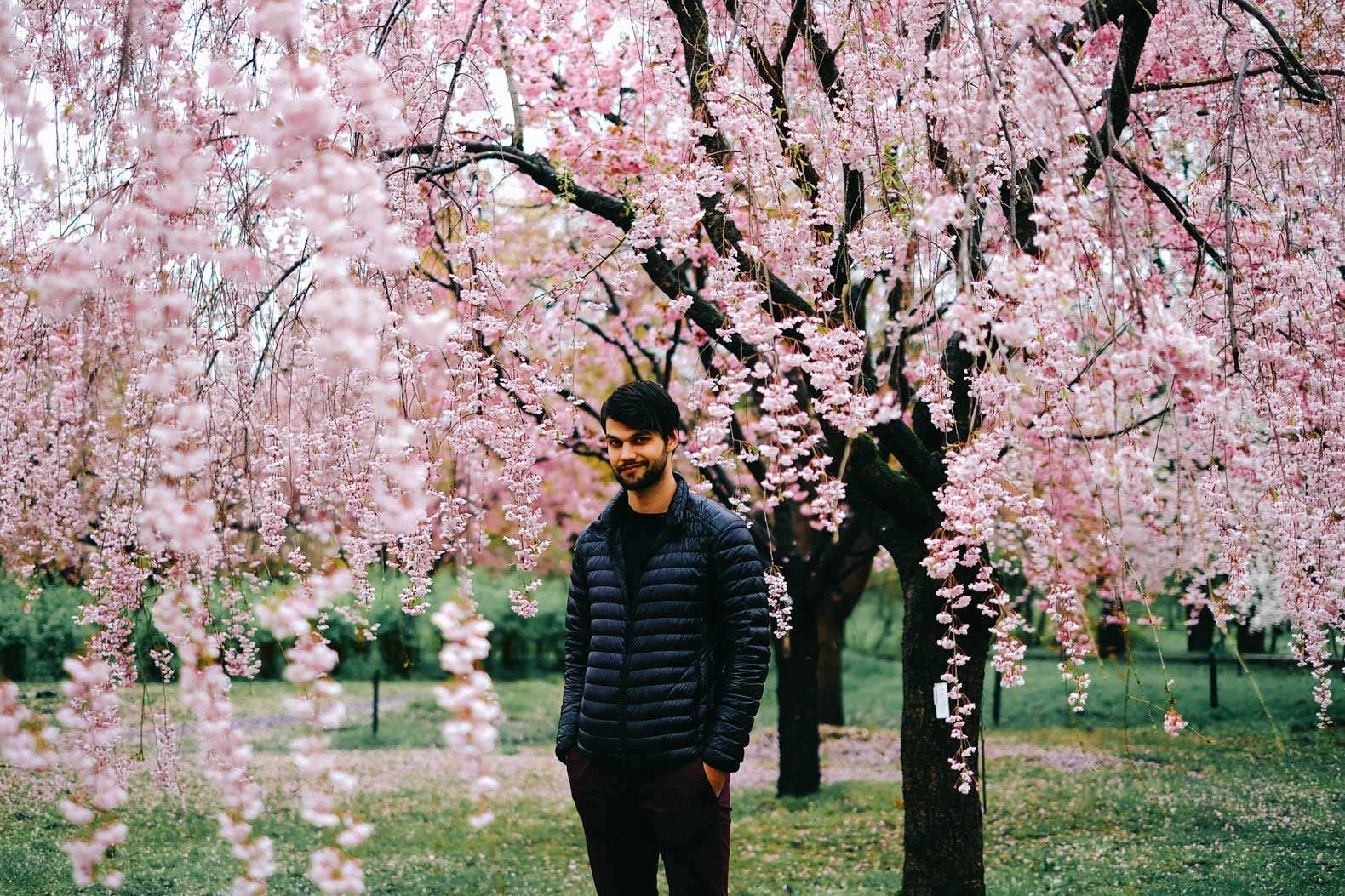 Depending on the time you go, you may or may not get to see other flowers and plant life that call the botanical gardens home. Since cherry trees are some of the earliest plants to wake up after their winter sleep, a lot of other flora and fauna are still dormant 😉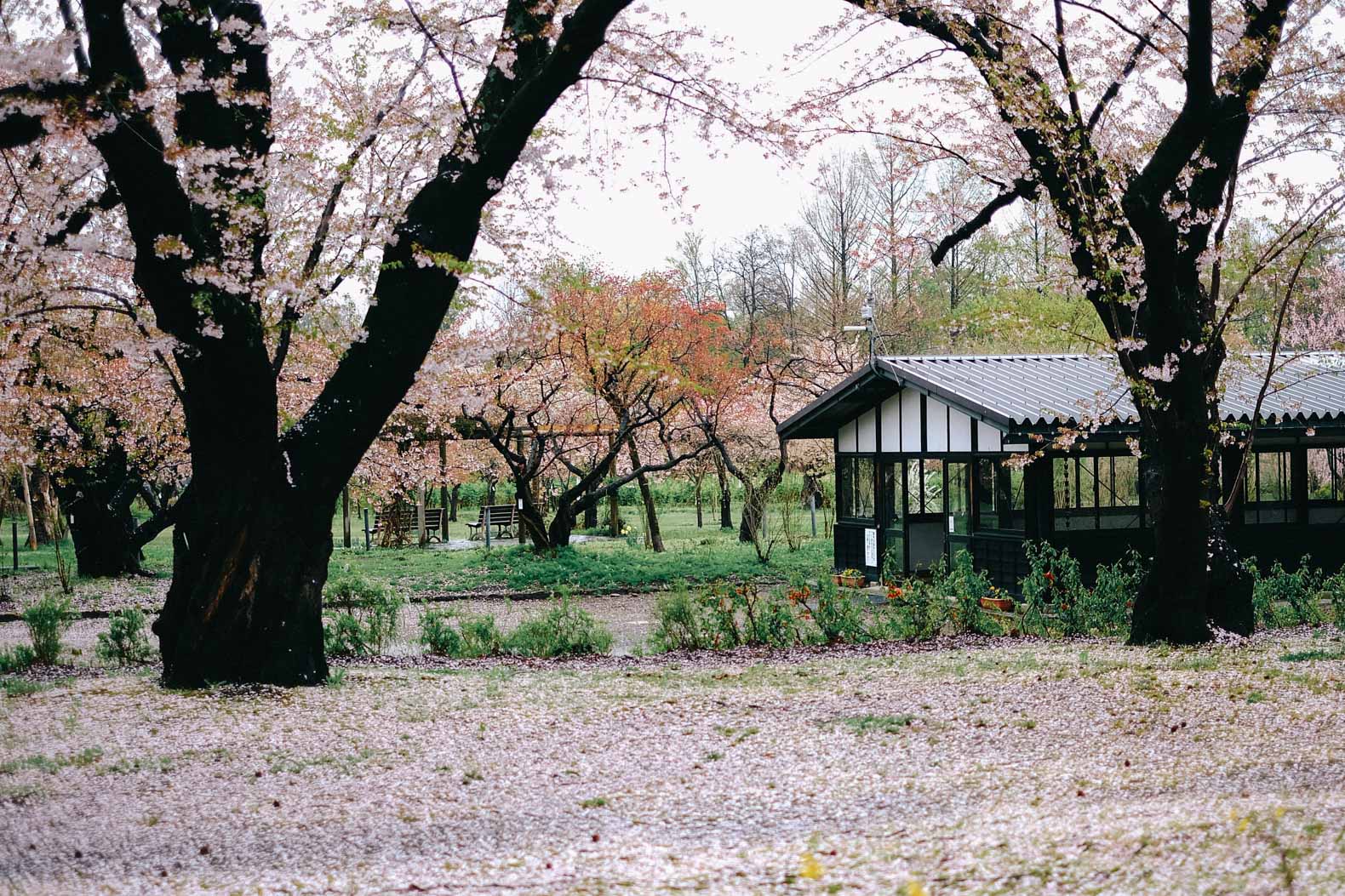 This doesn't affect how lovely it is to walk through the grounds of the garden though. Here and there you'll see a greenhouse or a building in the recognizable Japanese style. This place is perfect for getting in the mood to immerse yourself in the imminent cherry blossom paradise that is the castle park!!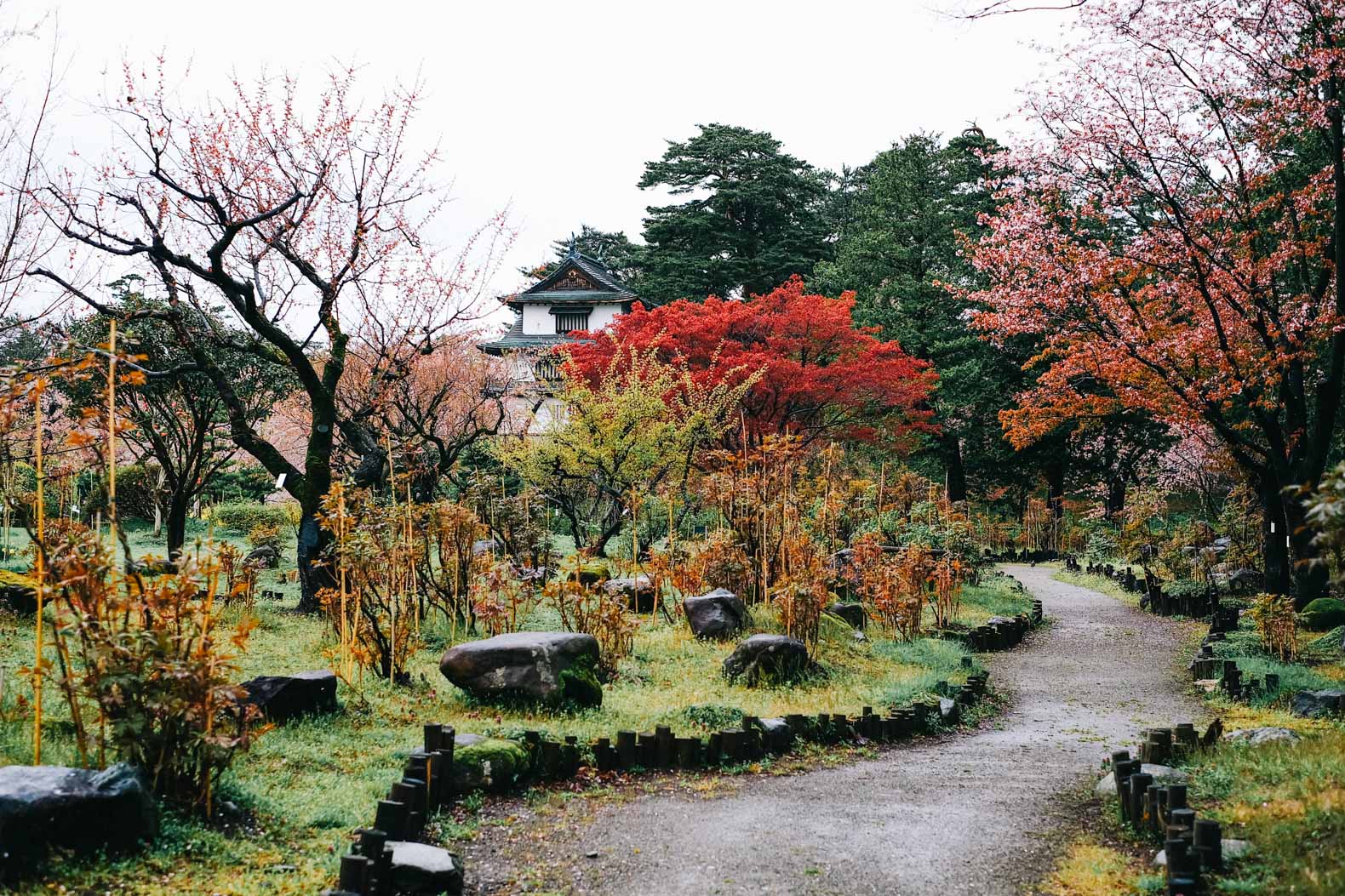 Hirosaki Castle Park – by night!
One of the coolest features of the Hirosaki Park is that you can come back at night, and the entire park is illuminated. The trees and the castle are lit from below, creating a completely different experience than the one in daytime.
In addition to the fact that Hirosaki is out of the way of almost anything, you absolutely have to build in a nightime stroll through Castle Park into your itinerary!
The oldest cherry blossom tree in the park
Hirosaki has dozens of tree over 100 years old, and its very oldest is on display almost as soon as you enter the park. The oldest tree in Aomori prefecture is between 700 and 800 years old, and can be reached by a ten-minute bus ride from the main station.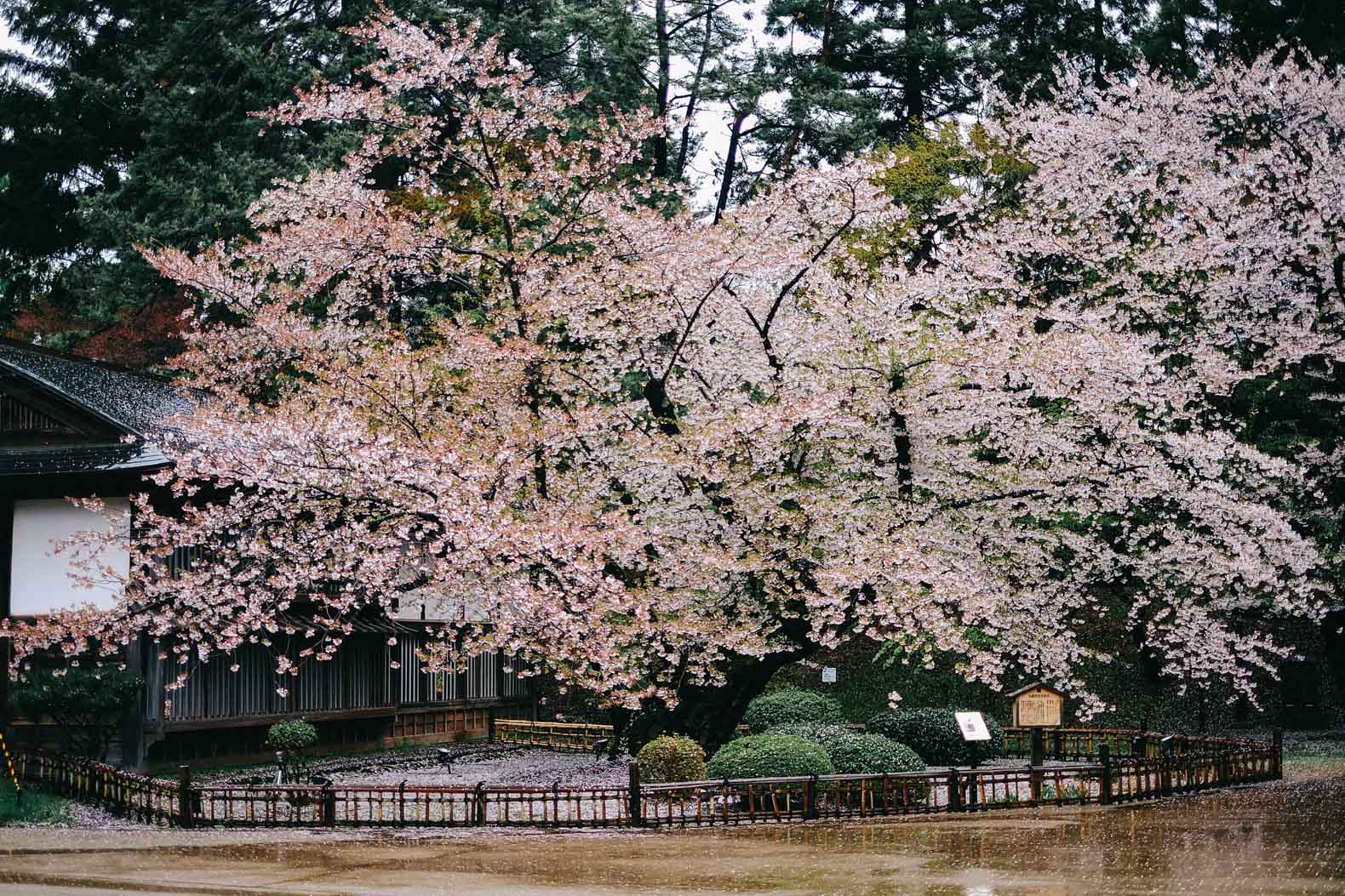 Sakura Tunnel
Take a relaxing walk down this path. To one side is a wide moat, which encircles the entire park. On a windy day, late in the season, cherry blossoms are brushed off their branches, creating a blizzard of petals in the tunnel.
When petals fall into the moat, their varying colors create a marble-like pattern that snakes around the corners as the current sweeps them downstream.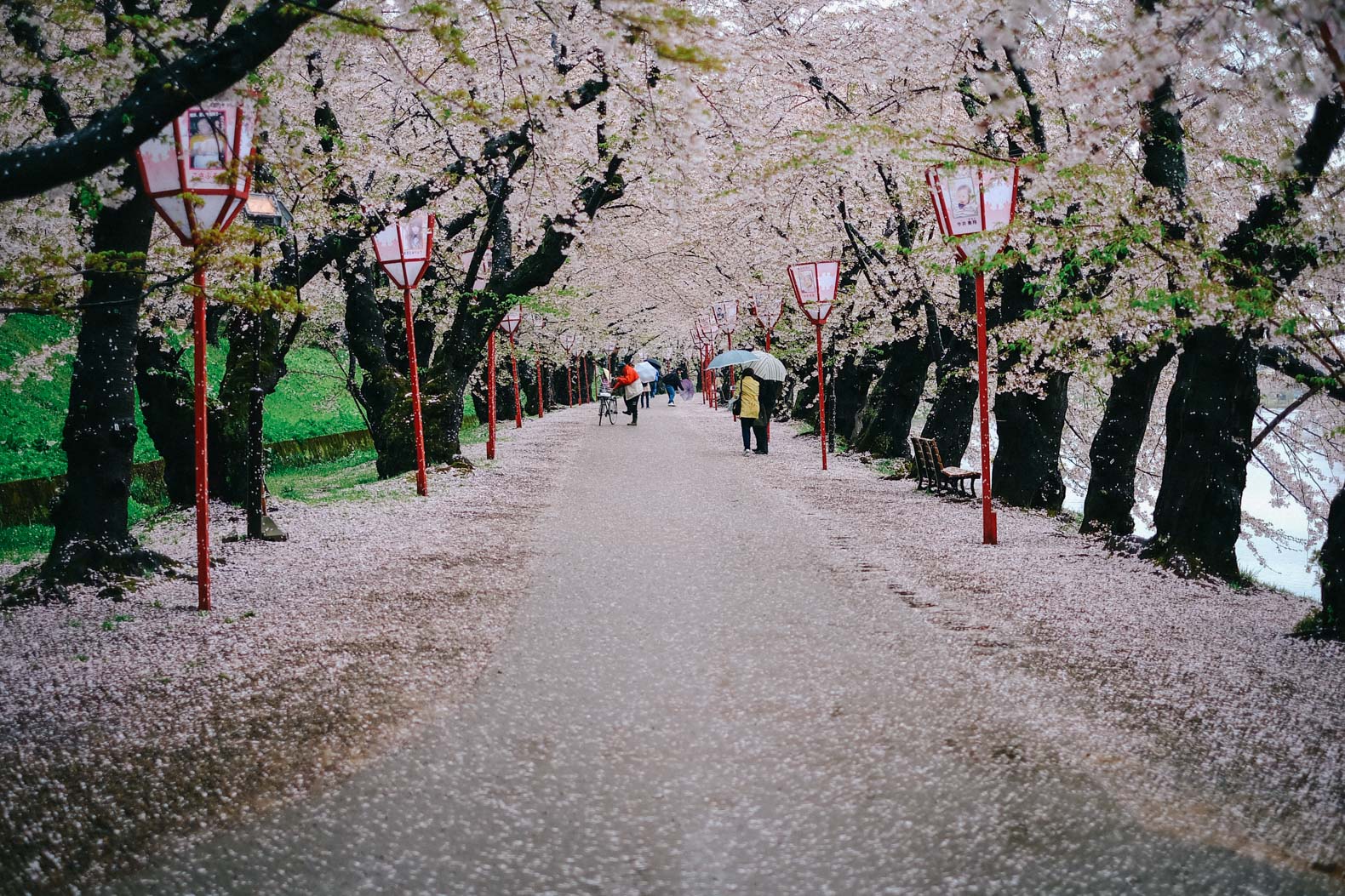 It's like being on another planet.
A planet where petals fall from the sky instead of raindrops. Except, since it's Japan in Spring, you'll probably get raindrops and petals when you only bargained for one 😉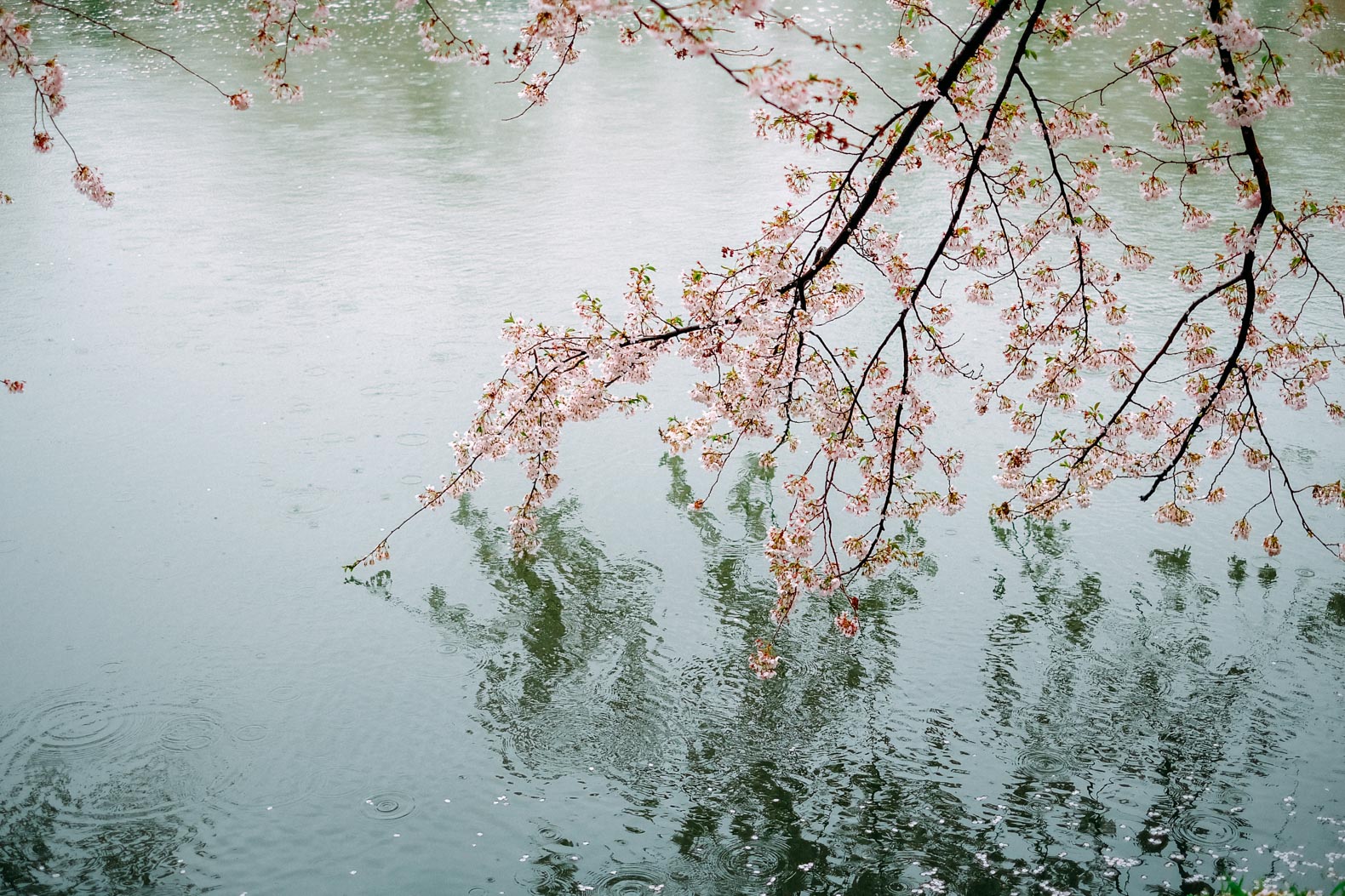 READ ALSO The ultimate guide to viewing cherry blossoms in Japan
Inside the Hirosaki Castle
If you're going to be visiting the impressive Himeiji Castle , the one at Hirosaki will definitely disappoint. It's positively tiny, and works much better as a component of a photo than as a tour. Nothing remains of the original interior. Instead, there's a rudimentary museum.
When I visited Hirosaki in Spring 2016, the castle had been moved just the previous year so that the corner on which it rested could be reinforced. They plan to move the castle back to the corner (creating a far superior photo) once the reinforcements are finished in 2018.
Although small, the castle is very photogenic. See for yourself: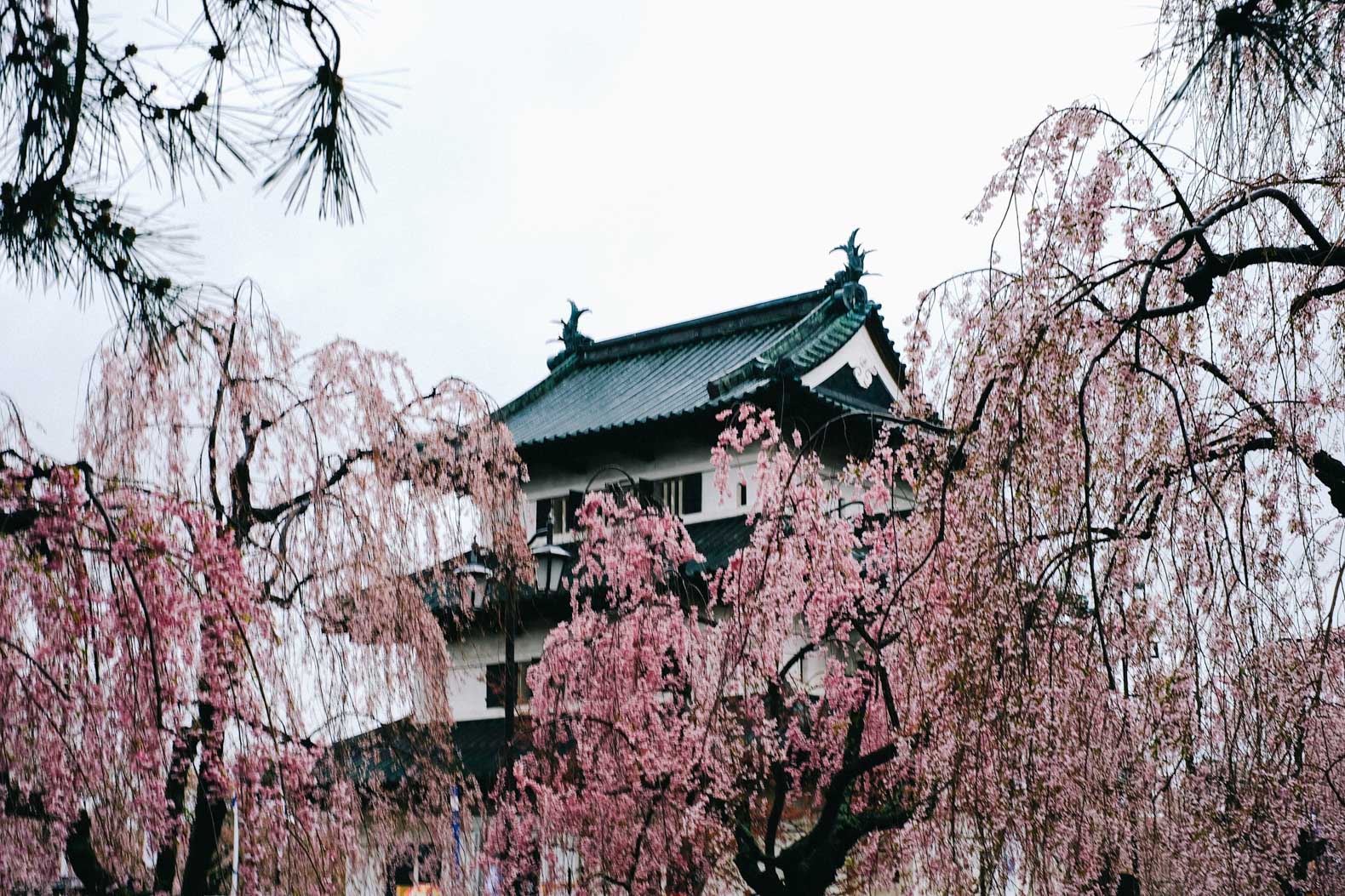 Perhaps "cute" is a better word for the castle at Hirosaki. Just make sure your expectations are in line and you'll have no problem! One nice thing about the Hirosaki castle as opposed to many others is that there simply isn't a line to get in!
Festival food!
Of course, no matsuri (festival) would be complete without some strange Japanese foods to go along with it. I'd been working diligently on my "weird and essential foods checklist" during the entire Japan trip, but managed to miss takoyaki (squid + dough balls) before this point.
Well, you'd better believe I fixed that right up when I saw the multitude of food stalls all over this park.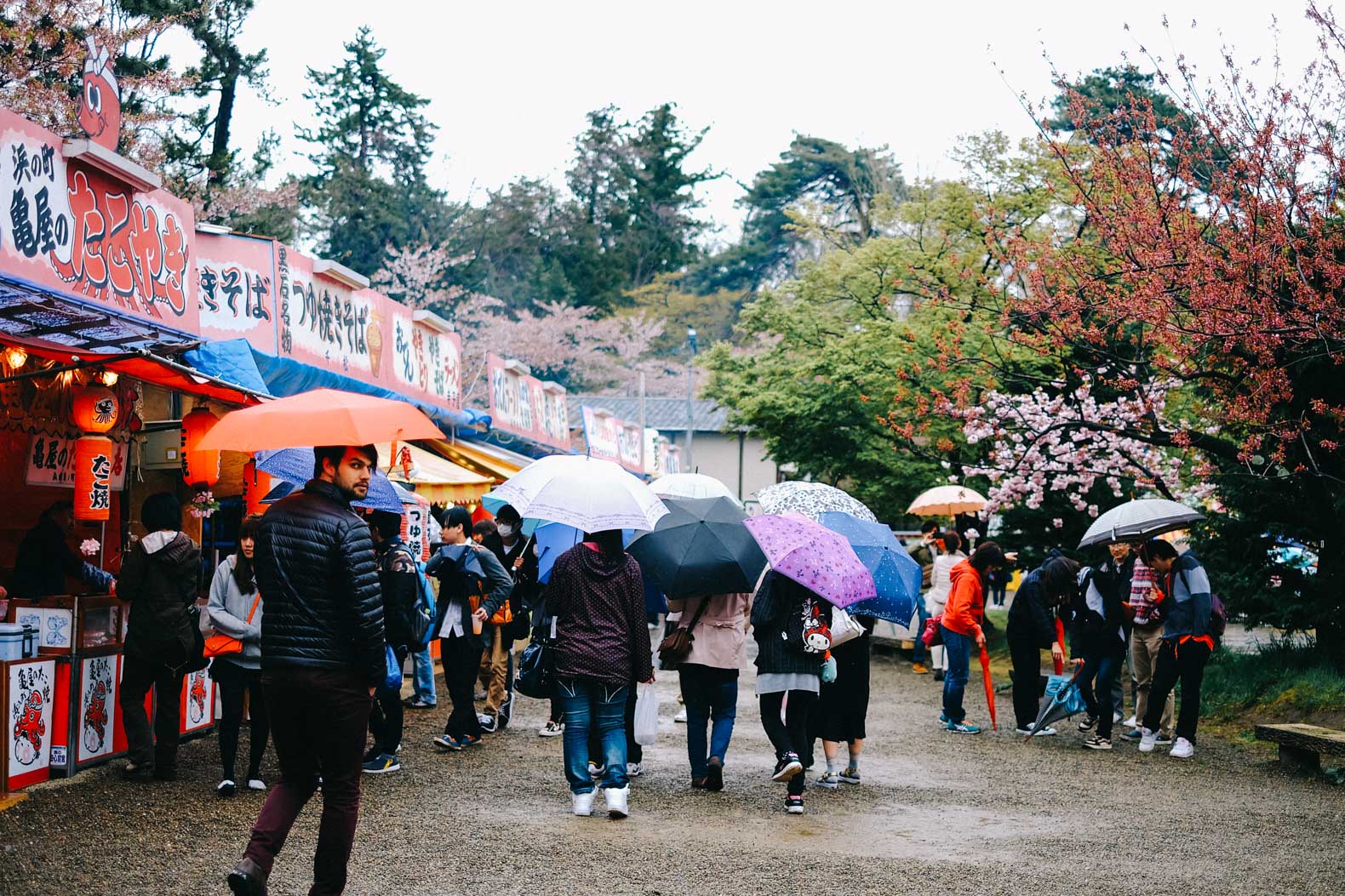 Festivals are a convenient place to catch up on any Japanese foods you might be missing, but don't kid yourself that the quality (or the price!) is going to be on par with a proper restaurant.
P.s. Keep reading for that recommendation on my favorite meal in Japan 😉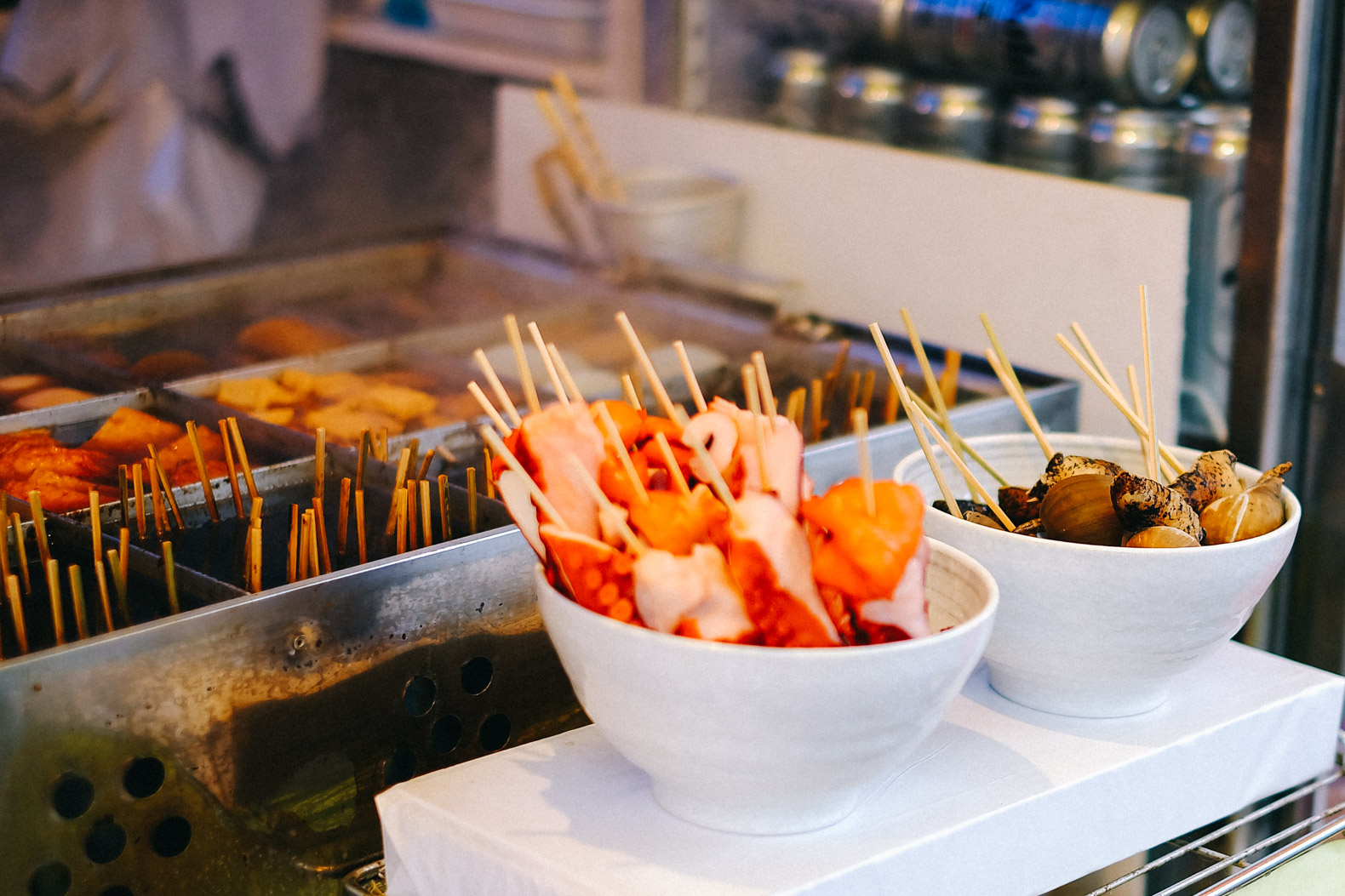 Costs
Entrance to the Castle Park is completely reasonable, and the combination ticket to access the park and the gardens is clearly a good deal. While I wouldn't recommend trying to eat a full-fledged lunch at the park, it is really easy to re-enter with your ticket if you decide to get food off-site.
| Price | Contents |
| --- | --- |
| 310 ¥ / 2.50 € / $2.65 | Castle and park only |
| 310 ¥ / 2.50 € / $2.65 | Botanical gardens only |
| 510 ¥ / 4.15 € / $4.35 | Castle and park, botanical gardens, Fujita memorial gardens |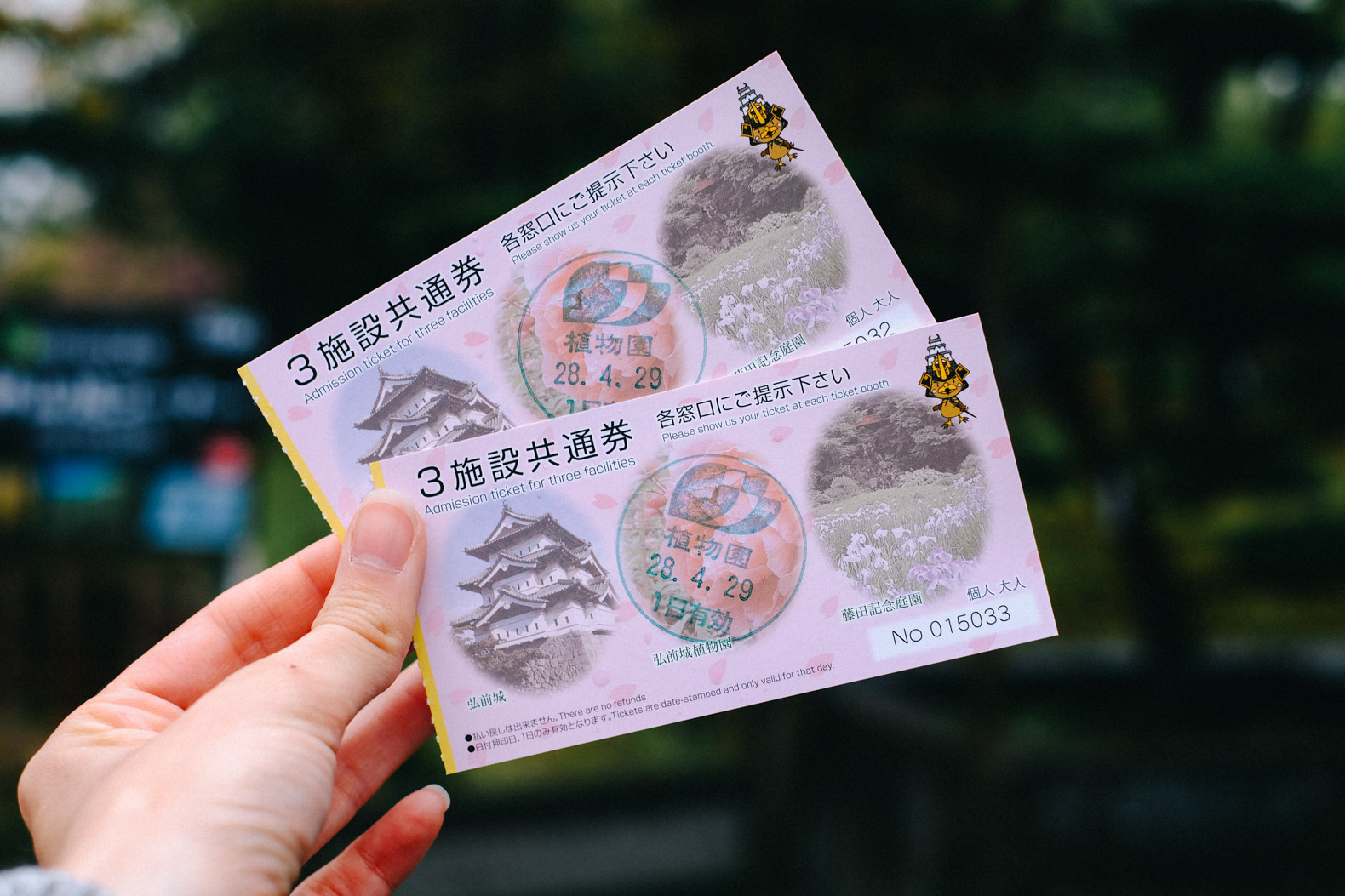 More things to do in Hirosaki
Enjoy locally harvested apples. Everywhere you go in Hirosaki, you will see apple-flavored goods galore. There's even the Hirosaki Apple Park , where over 1,300 trees in 65 varieties have a home at the foot of Mount Iwaki .
Visit the Neputa Mura. Literally, "Neptua Village", this is a folk museum about Hirosaki's most famous festival (that's right, their cherry blossom festival is somehow NOT considered the most famous!). That festival takes place annually between August 1st-7th.
Samurai District. A small section North of the castle park contains Hirosaki's former samurai district, where samurai who served the local Tsugaru Clean lived. There are three samurai houses and one merchant house remaining.
Climb the town hall for a view over the park. The view is not spectacular (you need to be higher up) but it is free, and on a clear day it should be beautiful!
Drive up to Mt. Iwaki. Basically the Mt. Fuji of the north, this mountain is referred to as Tsugaru-Fuji. From here, you can see outstanding panoramic views. It's possible to take a chairlift practically all the way up.
See an ancient cherry blossom tree. If you thought the park's oldest wasn't enough, you can go to the Hirosaki Tenmangu Shrine , where the cherry tree is 700-800 years old. You can reach the shrine by taxi from the train station.
Where to eat in Hirosaki
<a href="http://www.kadare.info" class="place" onclick="ga('send', 'event', 'Affiliate Link', 'Click', event.target.getAttribute('href'));"
target="_blank">Kadare Yokochō deserves its own section in this post, because of the great experience we had mingling with locals, who were all beyond surprised that we managed to find their favorite hideout.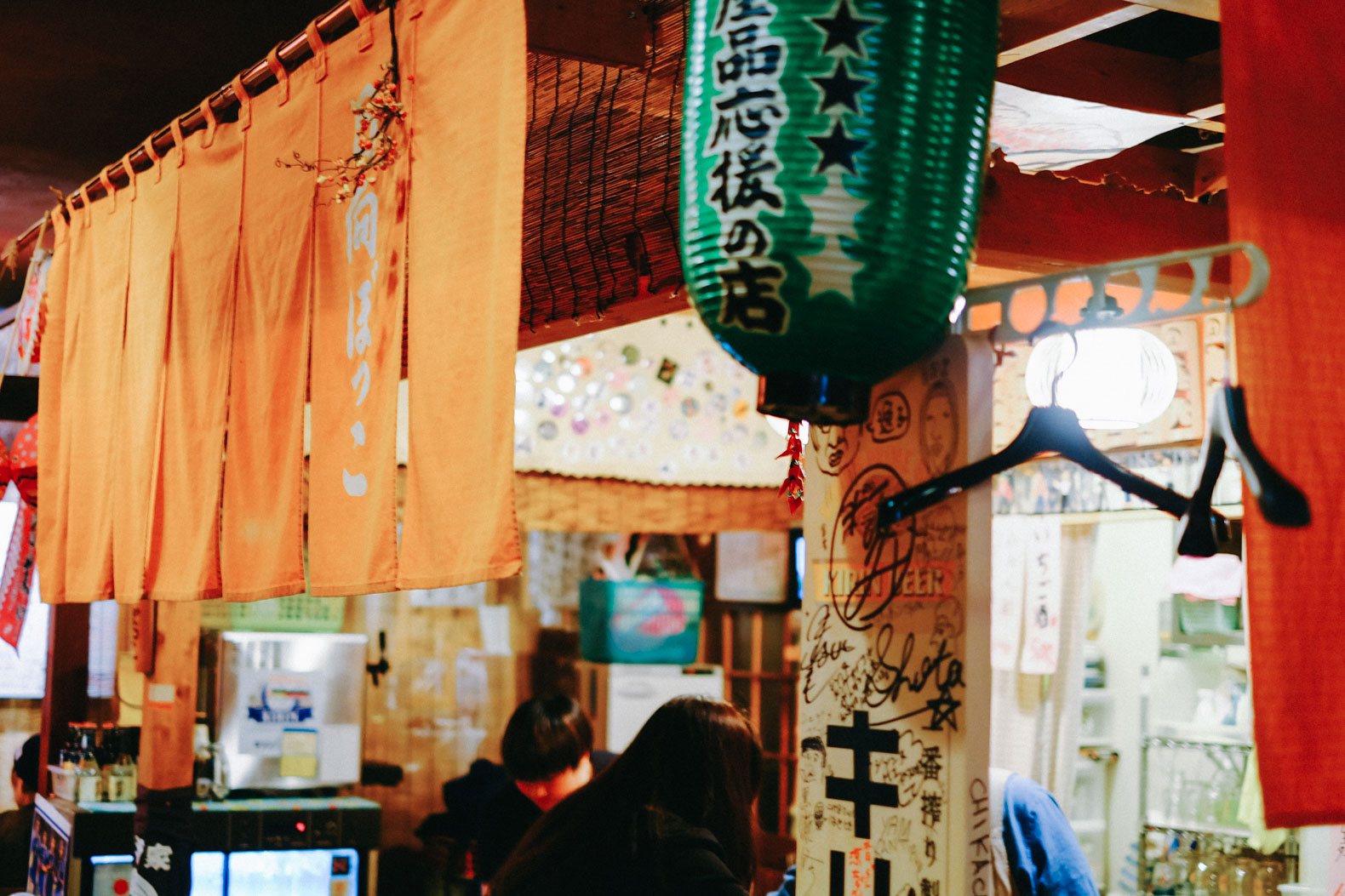 You can try all sorts of local specialities here, which you literally won't find anywhere else in Japan. Don't miss my post on regional cuisine and street food to try in Japan for all the details on the special dishes this place serves up!
The stall is intimate and lively, and we had a hilarious time trying to communicate with the other guests in broken Japanese (who had presumably indulged in a few cups of sake before we arrived). The owner kept feeding us delicious local fruits. I wanted her to adopt me.
Look for the orange curtains once you make it into the building and you will not be disappointed. These designate Hinata-bokko (日向ぼっこ). Sit down for some ikamenchi (fried minced squid) and a hotto sake (hot sake) and you'll be warm in no time.
Big thanks be to the
Lonely Planet Japan Travel Guide
for tipping us off to this place, because we would've never found it otherwise. There is truly so little information available about Hirosaki in English, the LP guide is really one of the few places you can find vetted information about where to eat and drink in this city!
Where to stay in Hirosaki
In Osaka, Kyoto, Tokyo, and other large cities, we stayed in Airbnbs, but you can find next to nothing in this area. Hotels are your only option. Hirosaki has
about 20 hotels total in the whole city , so you won't have a ton of choices. Prices also increase dramatically during the festival, and for good reason: many hotels are booked out long in advance!
I just checked, and the hotel I stayed at ( Hirosaki Park Hotel ) is already booked out for the weekend I was there last year.
In short: If you want to go to Hirosaki's Cherry Blossom Festival, book as far in advance as possible! While you may not be competing with Western tourists, you are competing with local tourists (both from Japan and from neighboring countries in Asia).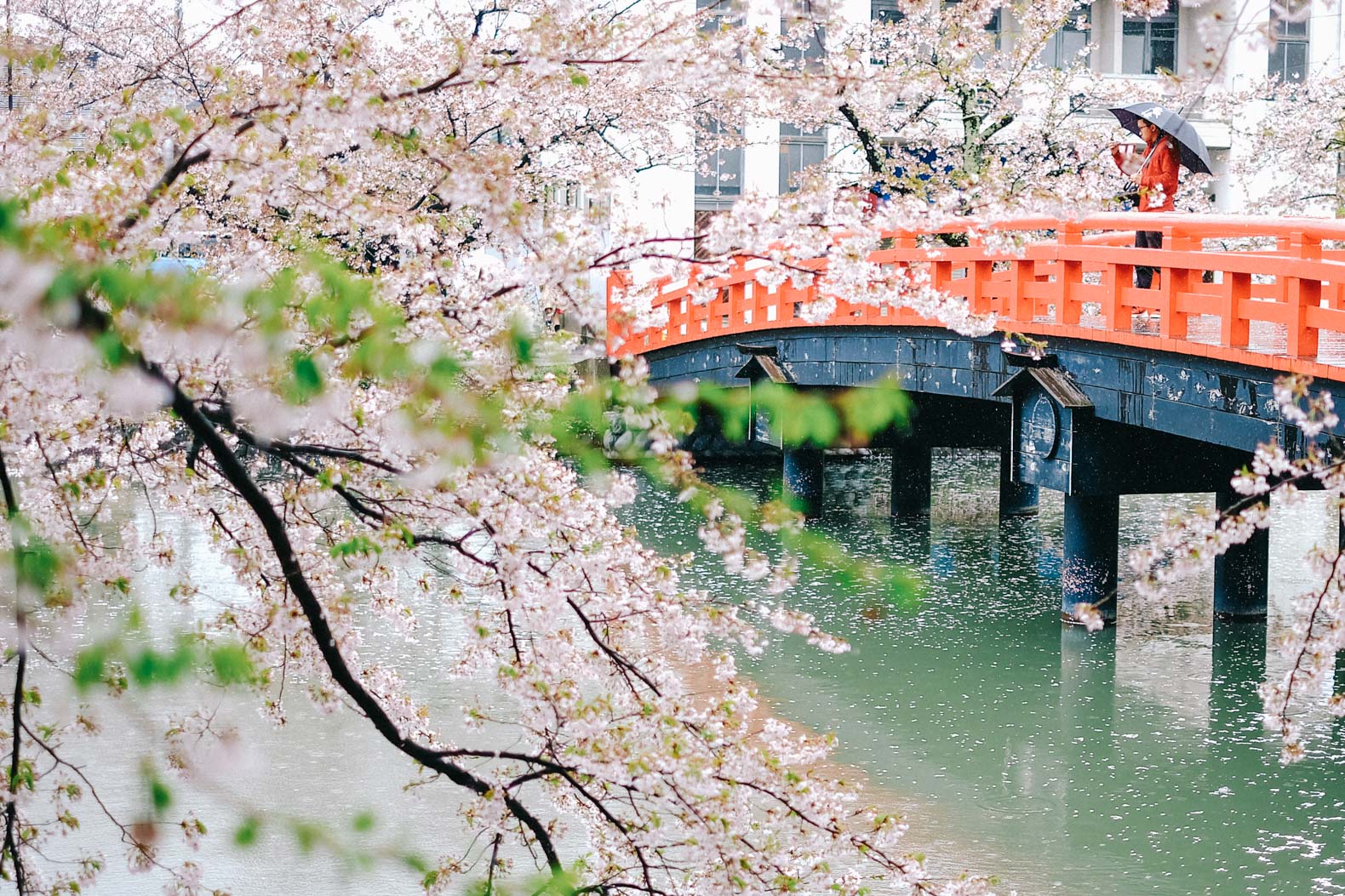 Hirosaki Park Hotel , was particularly convenient because it's right across the street from the train station (which is where the bus that takes you to Castle Park stops). It was a real relief not to have to walk too far in the rain just to get to the bus stop. Hirosaki Park Hotel is not fancy, and it's definitely overpriced, but it was much nicer on the inside than it looked out the outside (though the rooms were, in typical Japanese style, MICROSCOPIC IN SIZE).
Check out these
to get an idea of what options you have.
The best time to visit Hirosaki
Anually, the cherry blossom festival happens between April 23rd and May 5th. The very time best time to visit changes anually of course, but you can keep tabs on the latest on Hirosaki Tourism's facebook page.
Keep in mind that the best time for Cherry Blossom Season is also going to be extremely wet!! Don't hestitate to bring waterproof clothing with you. At night, when the park is illuminated, you will see temperatures around freezing. My number one regret after going to Japan was not bringing a pair of rainboots with me – you'd better believe I will bring with me
a pair of ankle-high rainboots .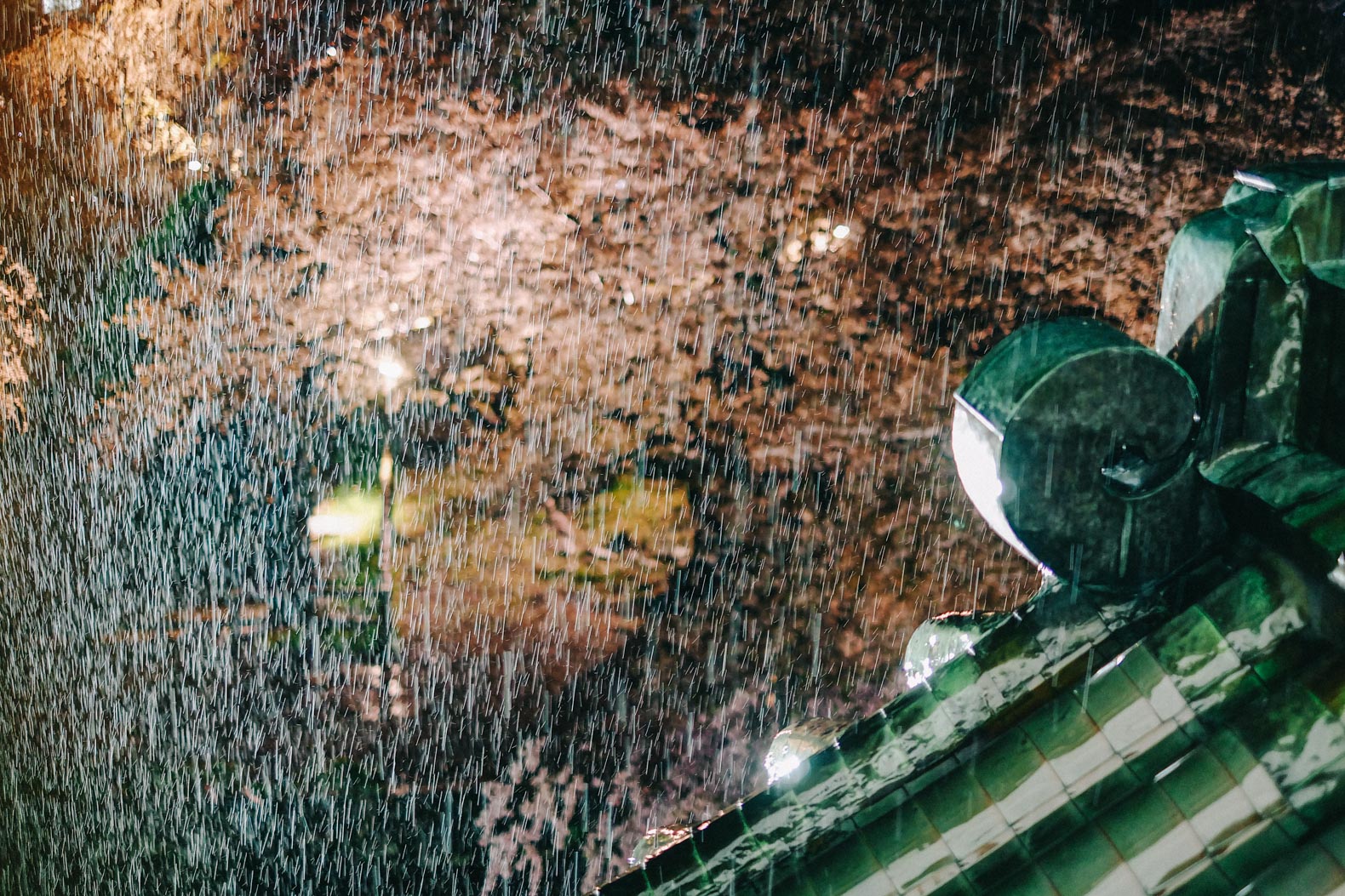 How long should you stay in Hirosaki?
I stayed in Hirosaki for a mere 24 hours, but barely missed a huge rainstorm that destroyed the cherry blossoms the following evening. There is a certain element of luck to coming for the cherry blossoms at just the right time, though the window for seeing the blossoms is relatively wide.
That said, leaving a few days window to see the blossoms would be ideal if you can swing it. With the tendency towards rain in the north, you may want to stick around if you're really hoping for a cloud-free day to see the park!
How to reach Hirosaki
…by train
If you're traveling to Hirosaki, you will almost unconditionally want to do so using the JR Pass, because the cost of the train is exhorbitant otherwise. We went from Takayama to Hirosaki by bullet train, which would have cost the equivalent of 217 EUR on its own.
No matter how you go, you'll likely pass through Tokyo. You'll take the Tohoku Shinkansen North, and then transfer to a much smaller JR Ou Line in Nagoya . The second train was veeeery tight when we went, resulting in 30 minutes of standing with a backpack on. Not cozy, but we were rewarded 😉
…by plane
Depending on where you're coming from, getting to the north of Japan can take an EXTREMELY long time. When we came from Takayama, we spent an entire day of traveling to get to Hirosaki.
Aomori has an airport, so you could instead elect to fly there instead of taking the train. Given the increasing competition between airlines and the trains, you may be able to find some really solid deals for the trip!
More resources for your trip to Hirosaki
There is barely anything online, in English about Hirosaki (a big part of the reason I'm trying to write this post!).
<a href="http://japan-magazine.jnto.go.jp/en/1502_hirosaki.html" onclick="ga('send', 'event', 'Affiliate Link', 'Click', event.target.getAttribute('href'));"
target="_blank">Visit Hirosaki in Aomori Prefecture, one of the best spots for cherry blossoms in Japan – one of the best English resource pages on Hirosaki. *
<a href="http://www.japan-guide.com/e/e3701.html" onclick="ga('send', 'event', 'Affiliate Link', 'Click', event.target.getAttribute('href'));"
target="_blank">Hirosaki by Japan Guide
A rather sparse page on Hirosaki, but still helpful. They have someone who reports annually on the cherry blossom season. *
Unlike
The Rough Guide to Japan , Lonely Planet (LP) did dedicate about three pages to Hirosaki. Rough Guide has about a paragraph. In a town so small with very little information about itself online (much less, in English) having the guidebook to refer to was really helpful!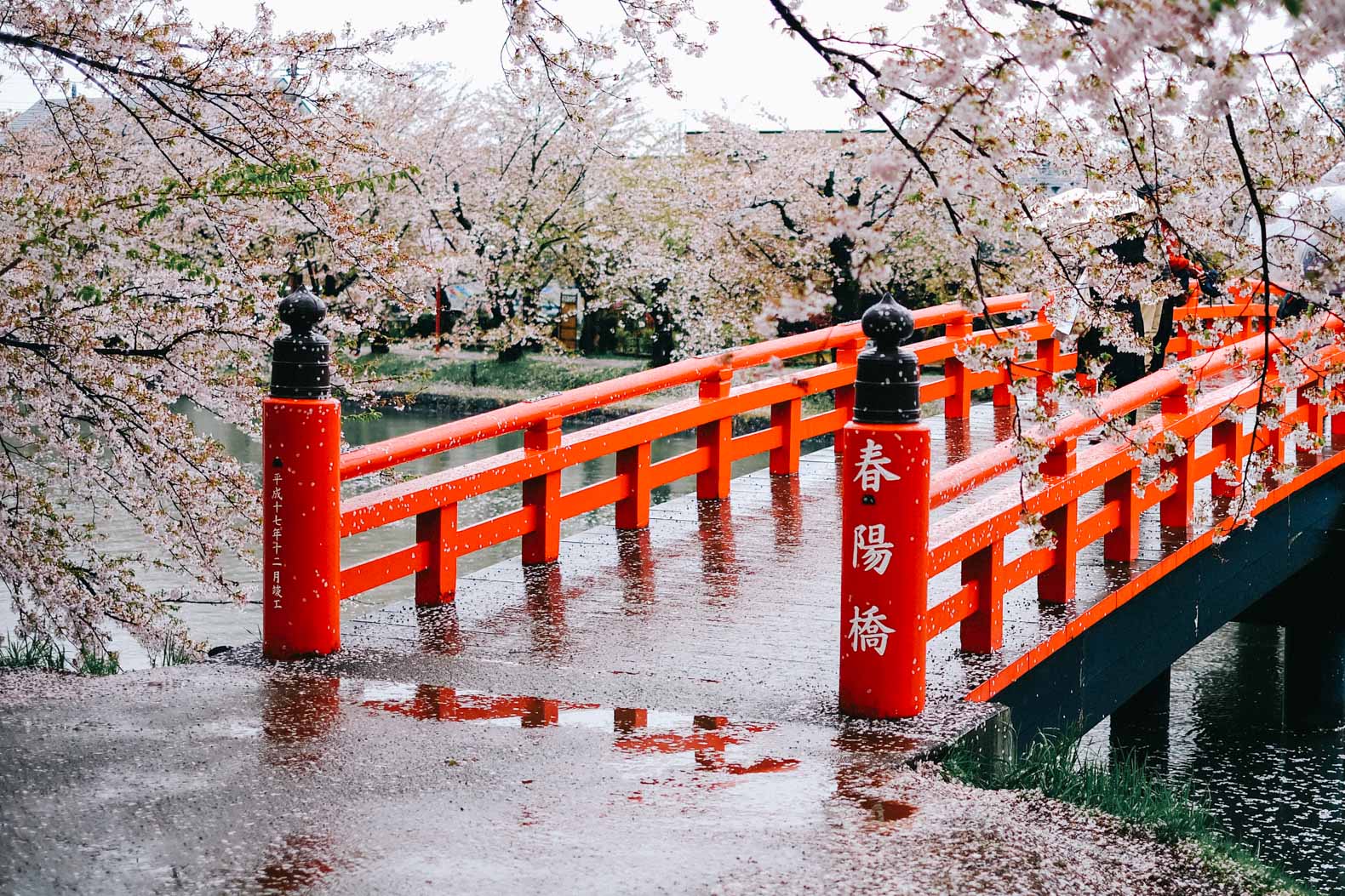 Have you been to Hirosaki? Where would you recommend as the best place for cherry blossom season in all of Japan?
Please share your experiences in the comments, or any questions you have about Hirosaki and I will do my best to respond!
Pin this post for later!