Santorini, Greece has to be one of the most romantic places in the world. Smooth, sparkling white houses baked into the side of cliffs, overlooking a crescent-shaped bay. Plus world-famous sunsets, ideally observed from your private jacuzzi with a glass of wine in hand.
On my first trip to Santorini, I was neighbors with a guy from Germany who'd been making an annual pilgrimage Santorni for over 40 years. At one point, he just decided to stick around and make the move permanent.
Honestly, I get it.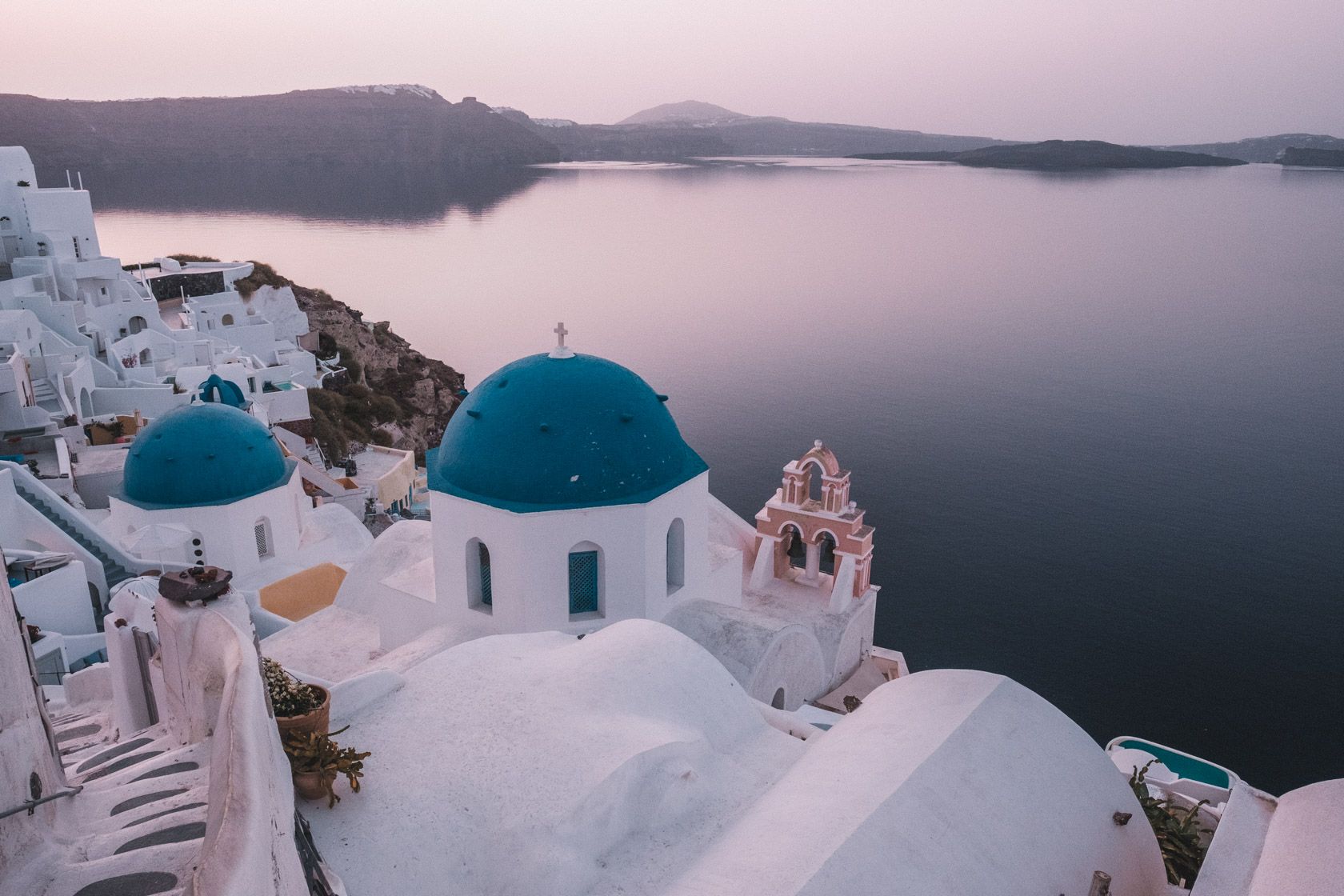 Santorini exceeded my expectations in every way – which is saying something as a seasoned traveler. This Santorini itinerary is the absolute best of this legendary island, packed into three days that balance adventure with leisure.
But the real questions you're asking yourself at this very moment are probably:
Can I even visit Santorini now, in 2022?
When's the best time to visit Santorini during the year?
Where should I stay in Santorni? Do I need to rent a car?
How can I make sure I'm in the best spot for sunset?
And most importantly, how do I do all this without going broke?
So let's start with logistics before getting to the Santorini itinerary. If you've already researched how you'll be getting here, where to stay, and how to rent a car, click here to jump to the itinerary.
Can you visit Greece now? (Summer 2022)
From March 15, 2022 you are no longer required to fill out a Passenger Locator Form (PLF) prior to flying to Greece. If you have a valid EU Covid vaccination pass (including residents of countries that have joined the EU system), you can simply show that and no additional negative test is required.
The vaccination certification needs to have been completed at least 14 days before arrival, and is valid for 9 months after the initial vaccination and for an unlimited time for travelers who have received a booster dose. If you are unvaccinated, you'll need a negative PCR performed up to 72 hours before arrival, or a negative rapid antigen performed up to 24 hours before arrival.
Travelers from the United States, Canada, and Australia must have one of: A) Vaccination certificate (same validity requirements as the EU covid pass) which includes the full name of the traveler as written in their passport, type of vaccine given, and dates of innoculation or B) Proof of recovery issued within 14 days of a positive COVID test, valid for 180 days after or C) Negative PCR test up to 72 hours in advance, or a negative antigen test up to 24 hours in advance.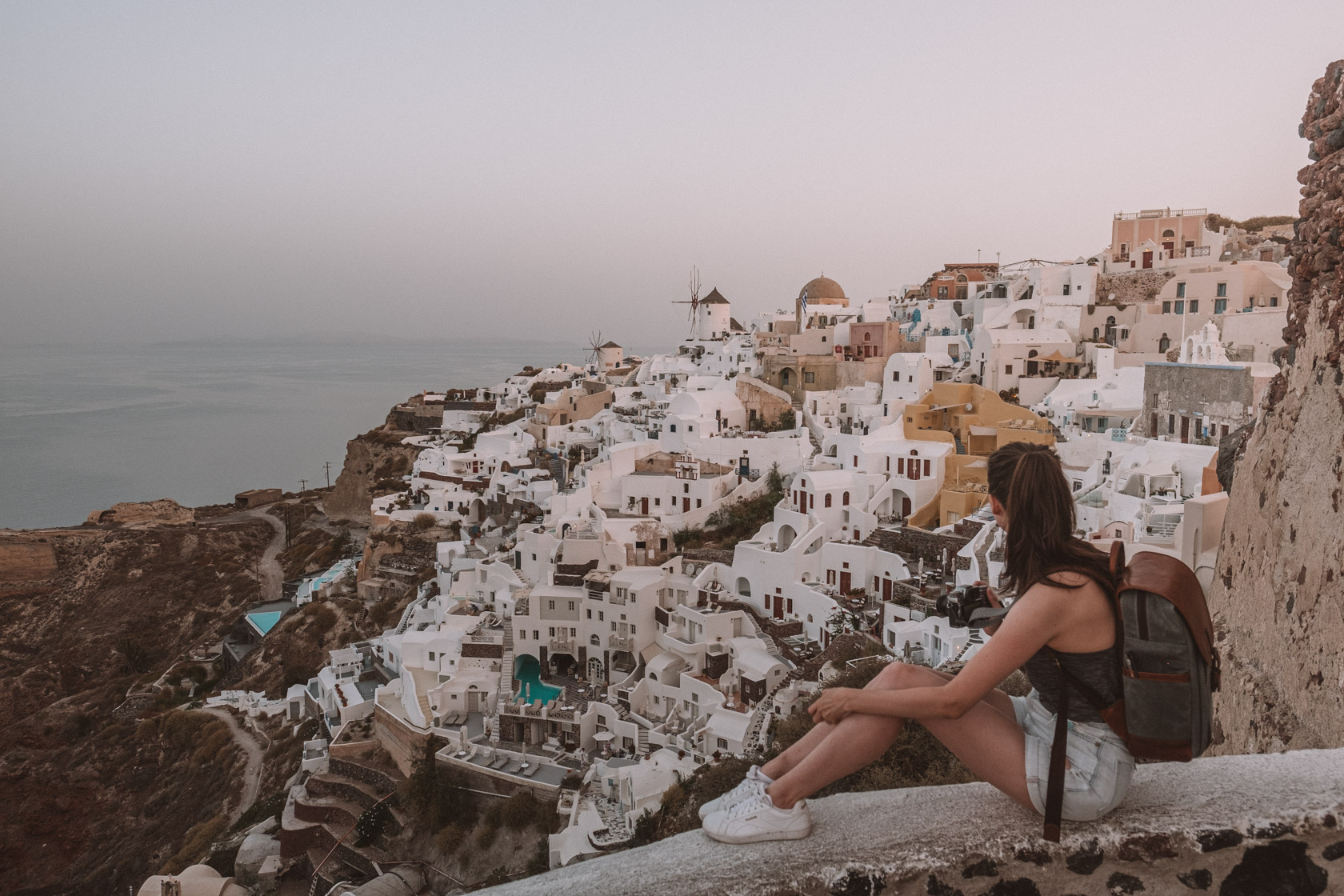 Some links in this post are to affiliate sites. If you purchase something through them, I may earn a small comission — which costs you nothing! I am very grateful when you use my links to make a purchase.
The best time to visit Santorini
The best time to visit Santorini is from April to May or September to October. The weather is still hot and the skies are clear, but there are far fewer crowds. We visited at the end of October and I still managed to get a really bad sunburn!
Don't underestimate how hot Santorini can be. It's even further south than mainland Greece, and the arid climate and lack of trees means you're often exposed to full sun.
Winters in Santorini are grey and rainy, and most restaurants and accommodation close down. When we arrived at the end of October, a number of businesses had already shut their doors for the year. They typically close by the end of October, so finishing your trip to Santorni before then is ideal.
That said, for us, October was perfect. We had sun almost every day, barely existant crowds, plenty of privacy in our perfectly-situated cave house. I'd go again at this time for my next trip!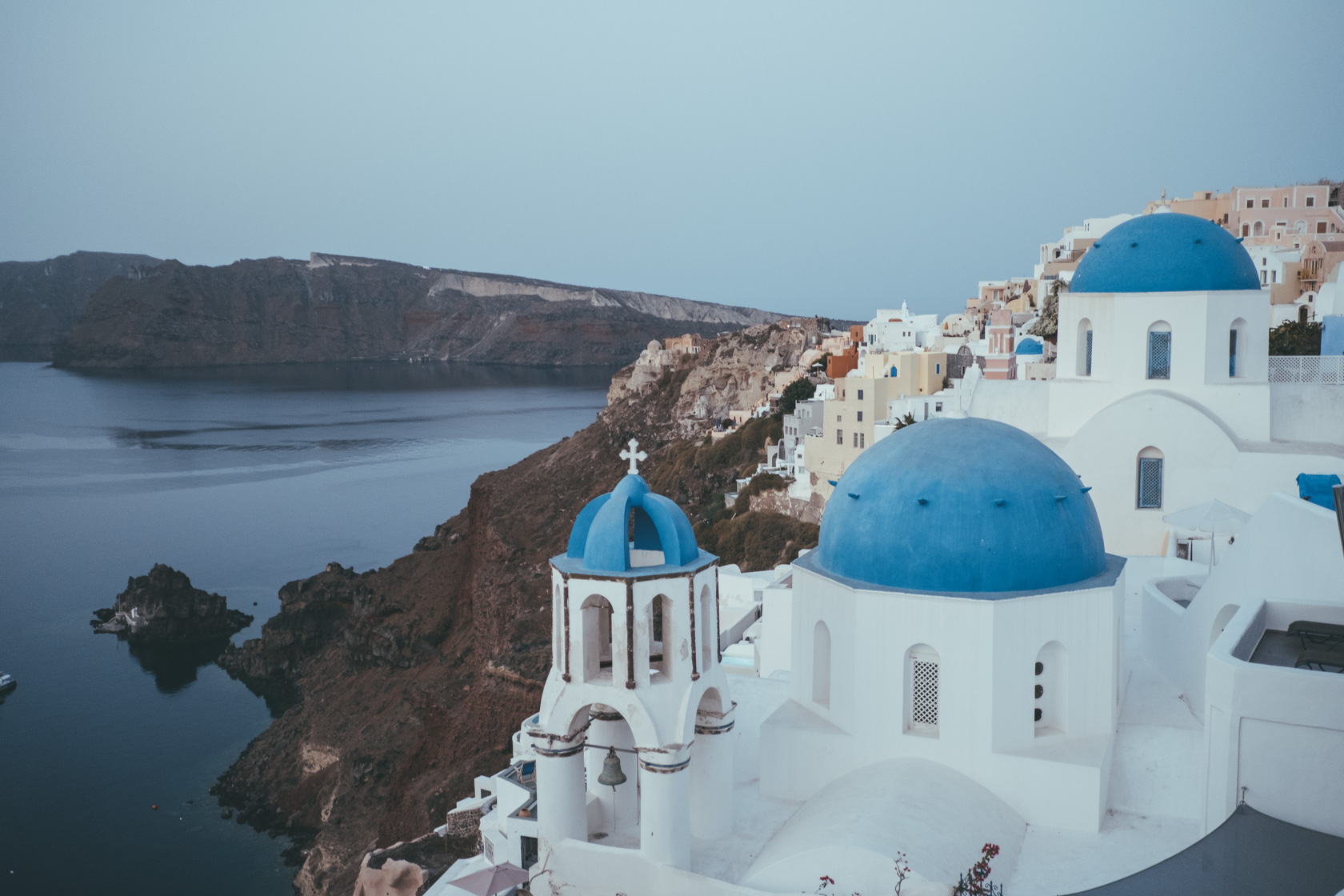 Where to stay in Santorini: Cave hotels and houses
The first question you need to answer for yourself is where to stay in Santorini. There are a couple of main options, depending on what you're looking for:
Option 1: Oia — The most famous town, located at the northern tip of the island. With fame comes crowds, so you'll need to look for accommodation that affords privacy (meaning, your front door is only accessable by private access).
It will be more expensive, but in my opinion, it's the best place to stay your first time in Santorni. Honestly I'd probably stay here a second time, too.
Click here to see my recommended cave house in Oia here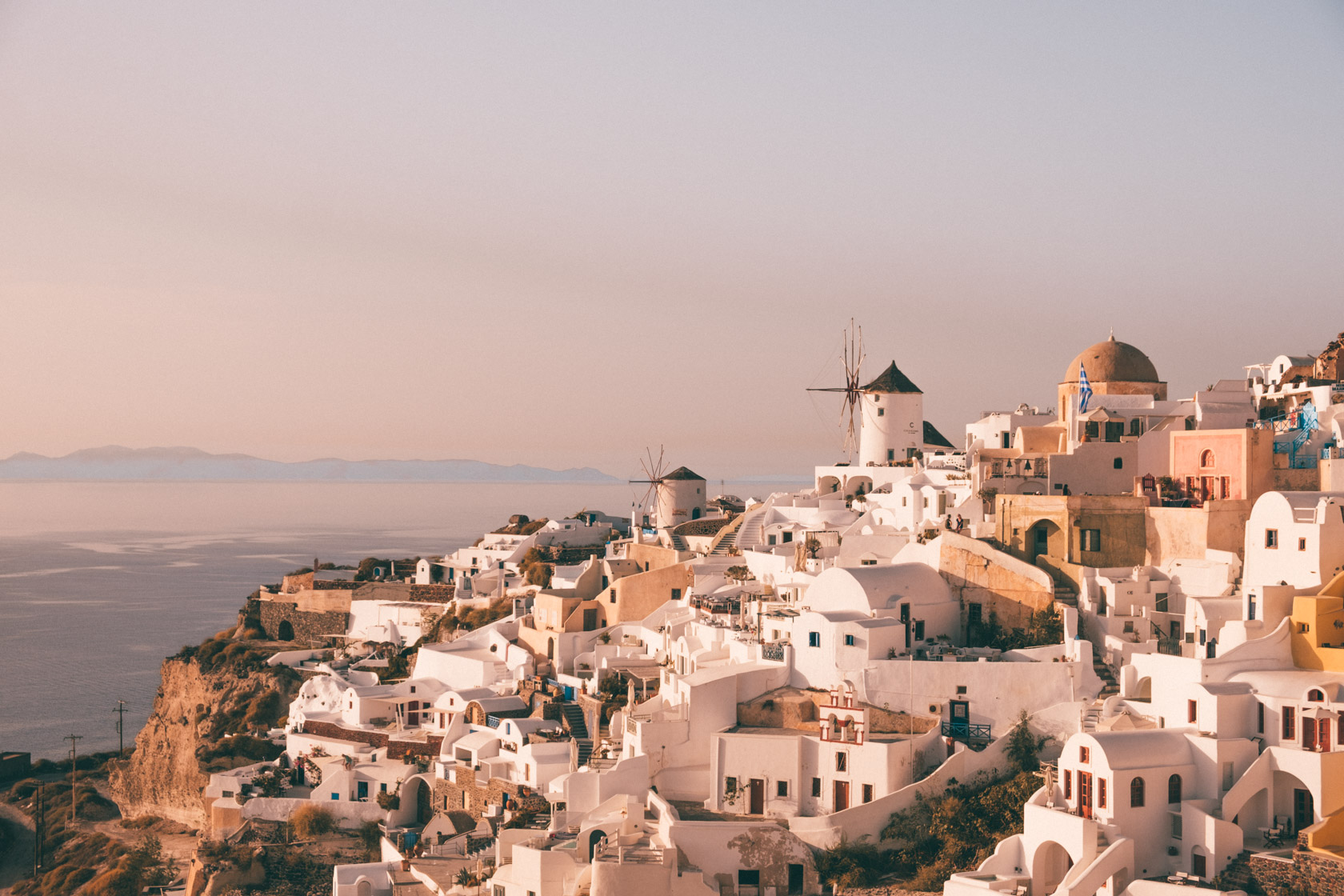 Option 2: Fira — Fira (also spelled Thera) is the biggest town on the island. It's same place you'll probably arrive by ferry, and has a pretty big main shopping street. It's also home to the central bus station if you plan to bus around the island (which I don't recommend, not just in "these times" but for your own flexibility).
The main reason to stay in Fira would be nightlife, however that's not exactly happening right now. It's still a pretty area and has lots of dining options, so your main reason for chosing Fira is lower prices or ease of public transit.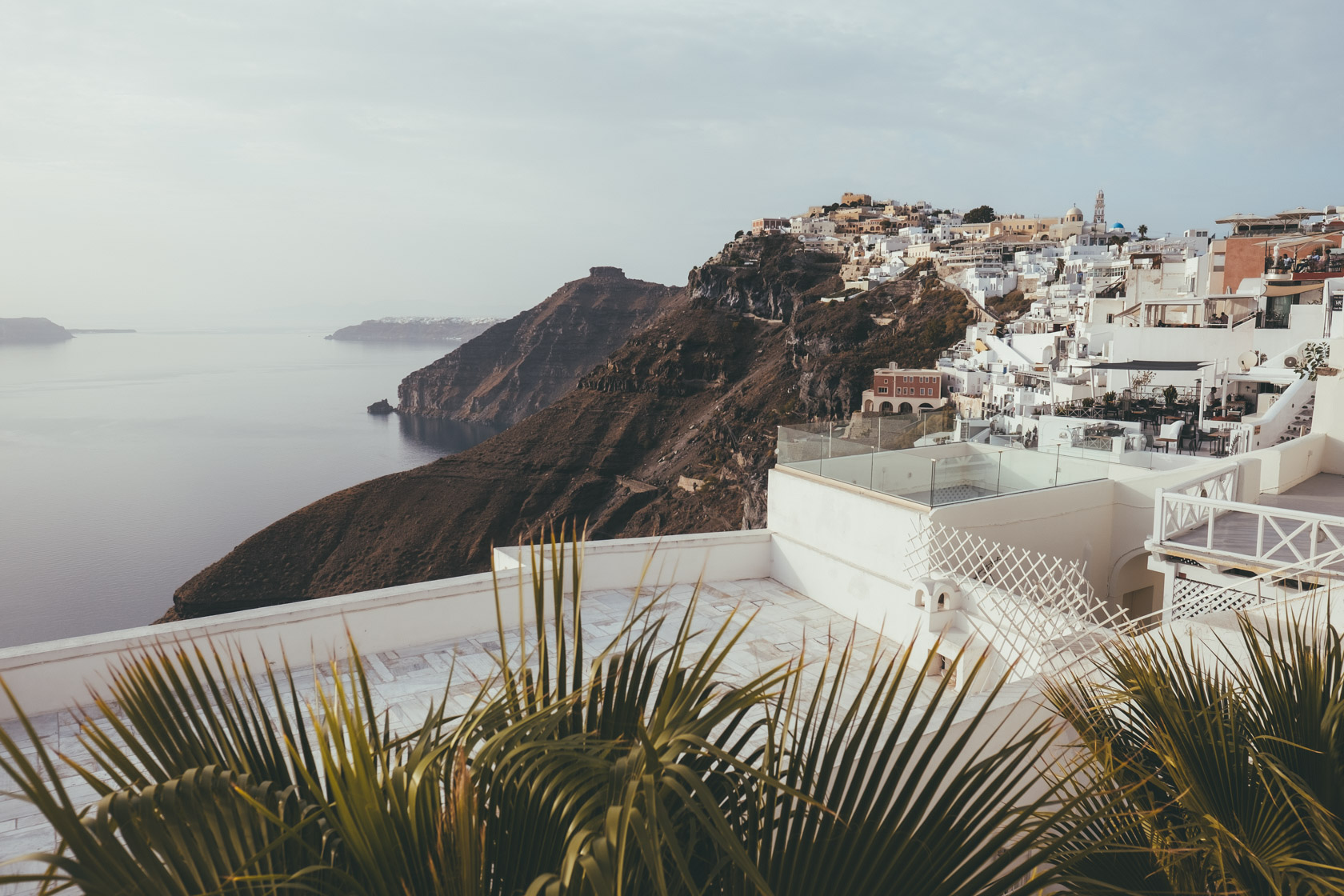 Option 3: Firostefani or Imerovigli — Firostefani and Imerovigli both connect to Fira by a footpath along the Caldera (the name for the crater filled with water that you look out over from most of these towns).
Both have a small number of fine dining options, though in many cases you'll end up in Fira for food. These towns have much more of a "resort" vibe, where pretty much every house is a boutique hotel or rented out. It depends if you like that, but for me personally, I preferred Oia.
Here's my recommended cave house in Oia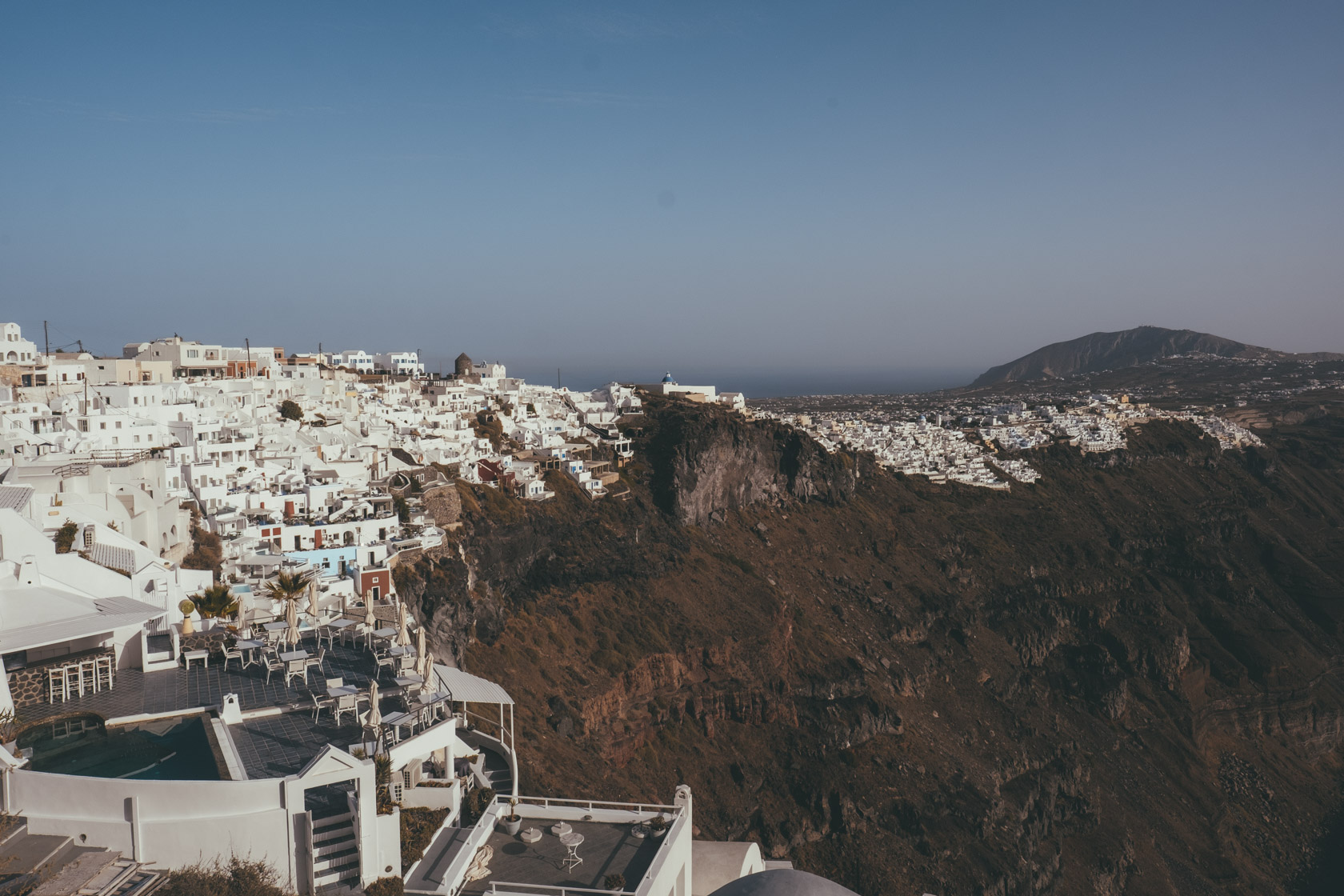 You'll want to choose a location and specific accommodation based not only on price, but on the view you want (sea vs sunset), ease of access by car and stairs,
Here's where we stayed and how we chose it.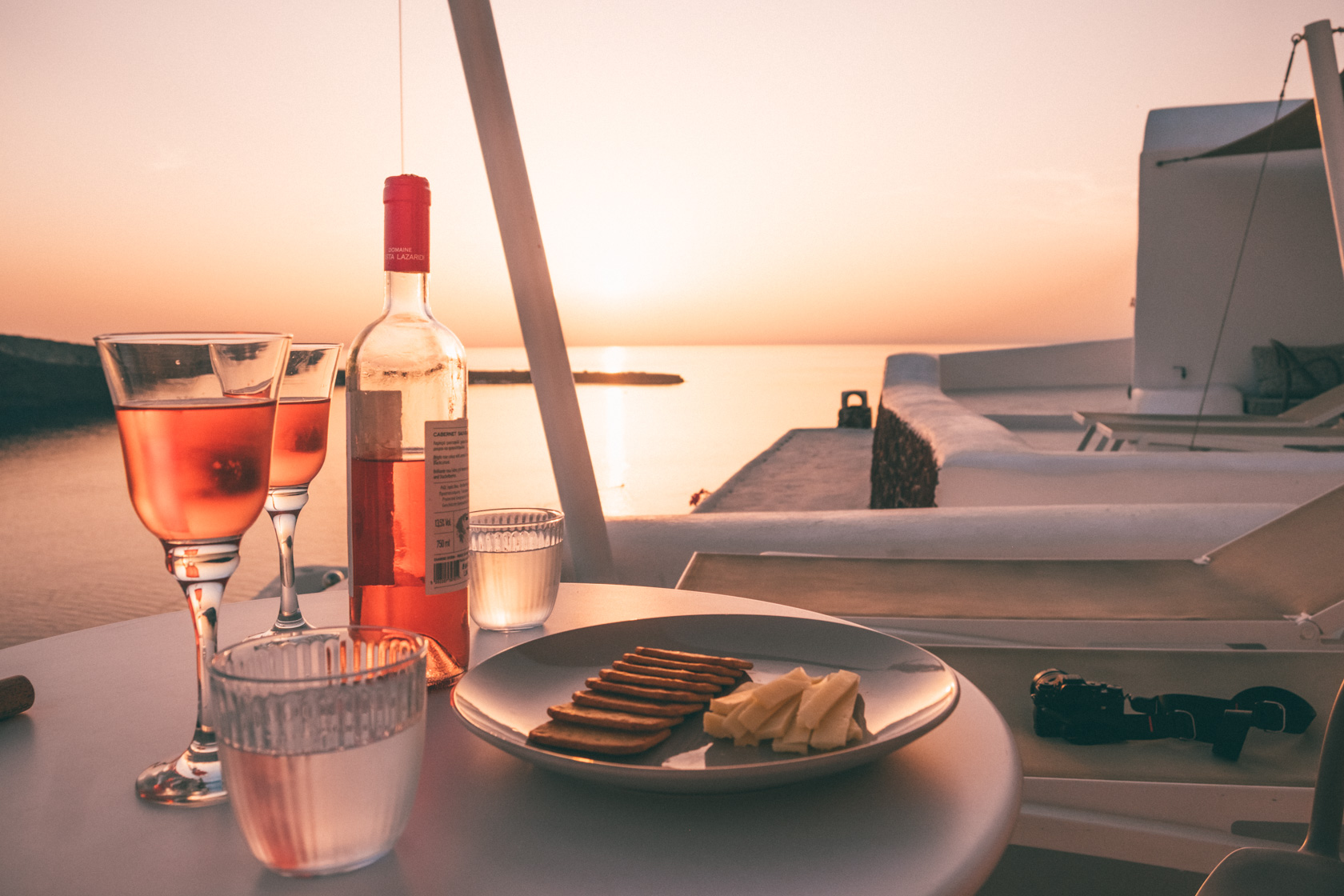 Our cave house in Santorini
We stayed three days in this cave house and fell in love with it. Just looking at the pictures makes me incredibly nostalgic, I mean just look at these sea views from the windows.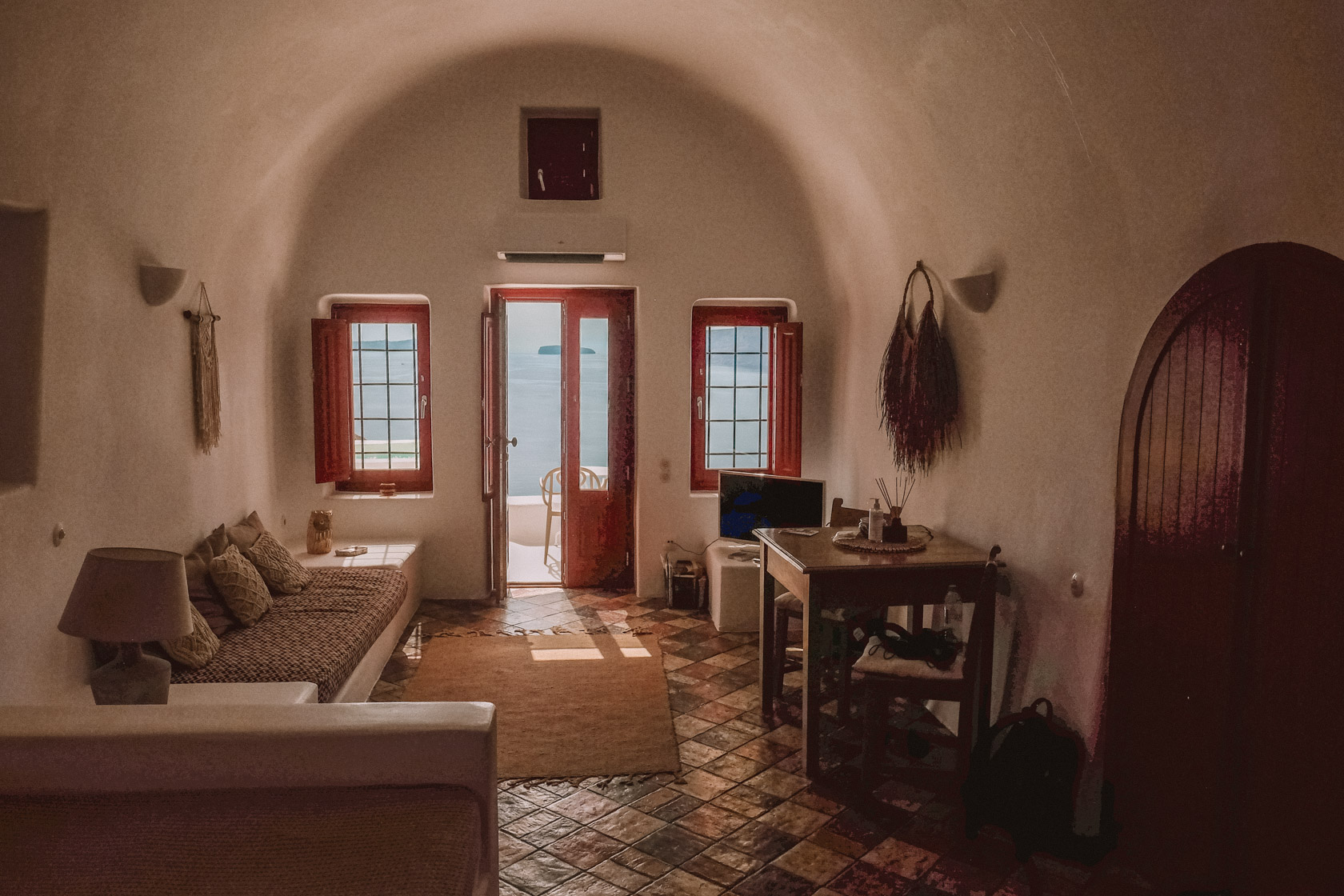 It checked all the boxes: sea view (from bed!) AND sunset view, extremely private, heated jacuzzi, reliable WiFi, free breakfast daily, fabulous air conditioning, tiny kitchen and coffee maker, tables to work at, and comfortable places to work inside and outside. The host was also extremely easy to communicate with us and gave us great tips.
I also spent HOURS in the jacuzzi. Our trip wouldn't have been the same without it. What's nice is the wall gives you some shade during the day, and you have an unobstructed view of the sea and sunset from inside.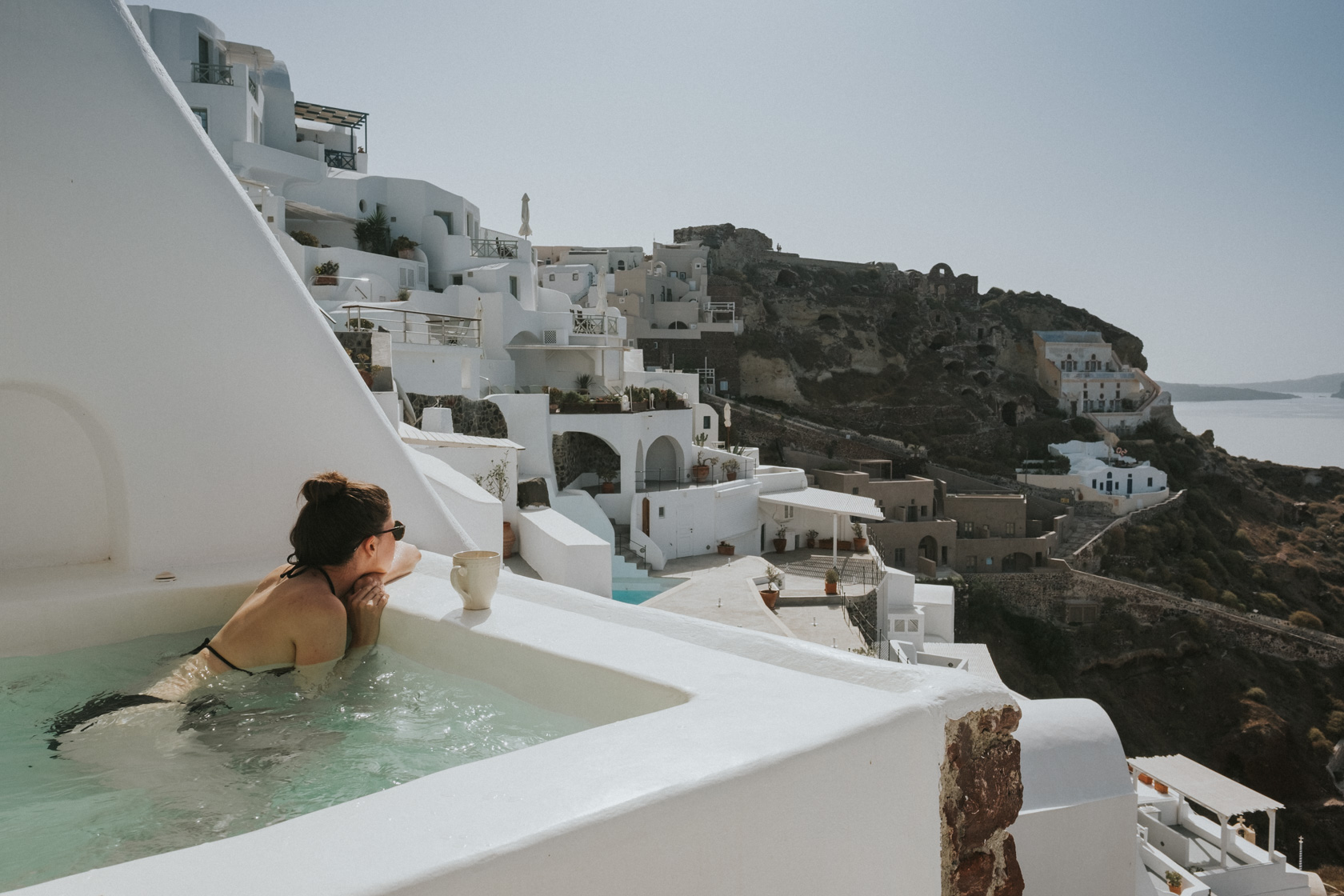 The best part is, our cave house was situated over Ammoudi Bay at just the right angle for sunset.
We had a lot of fun watching people crowd together on popular sunset viewing locations, meanwhile we sipped wine inside the hot tub every evening with the exact same view 😜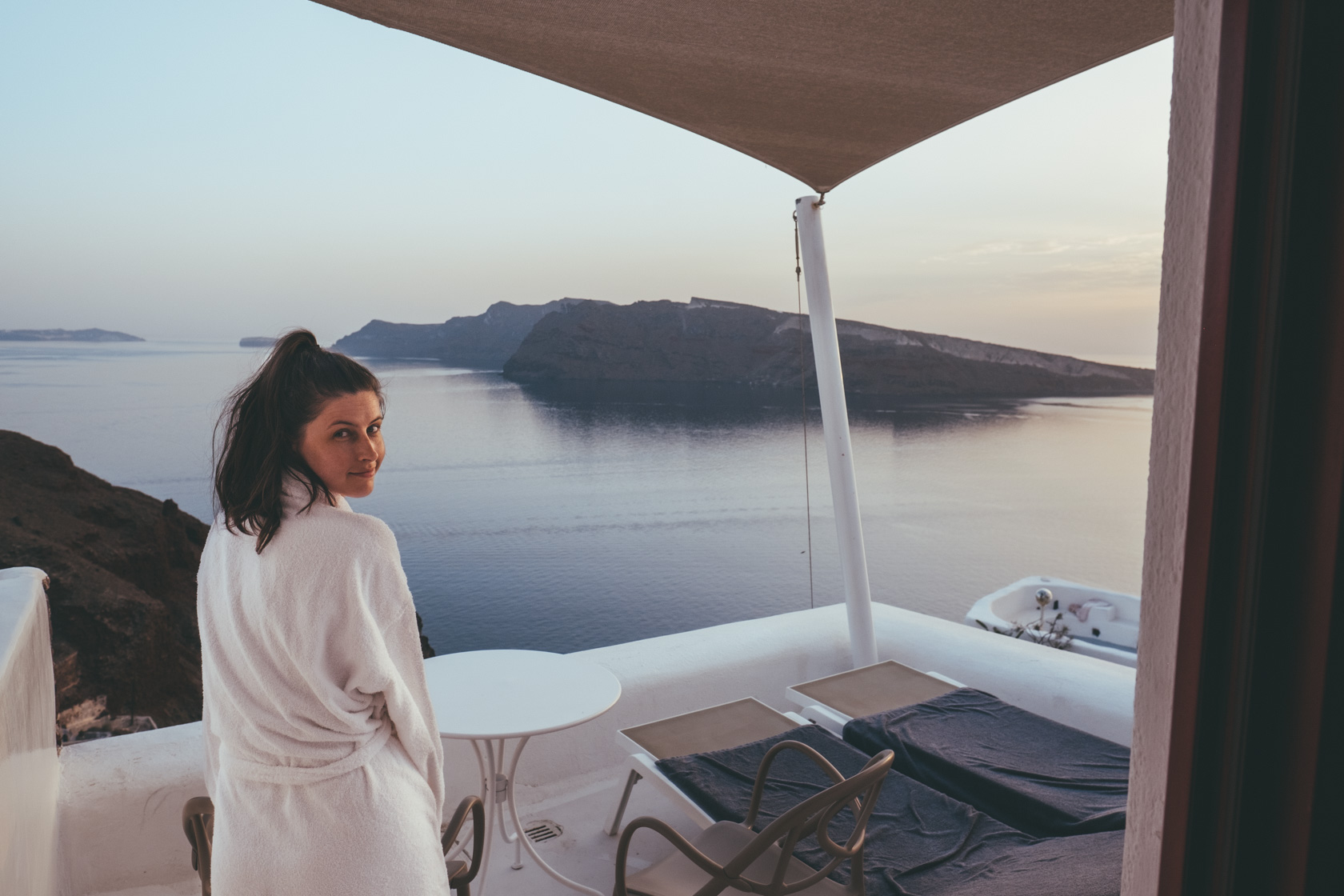 I wish the people that owned this place would adopt me so I could hang out here anytime. Or maybe I'll have to move in with the German guy downstairs 😂
Check availability for this cave house

Should you rent a car in Santorini?
Yes, you should rent a car in Santorni. First, Santorni is HOT, so you'll want something with good air conditioning and shade from the sun. Renting ATVs is popular but I would not advise it because of the pure sun exposure.
I always book my rental cars on DiscoverCars and also recommend getting insurance if you're traveling in a country like Greece.
IMPORTANT TIP — Do NOT go with Hertz located at the Fira port! Their office doesn't exist anymore, we had a painful time picking up our car when we found the empty office. Either book Hertz from the Santorini airport, or Sixt from the Fira Port
Santorini Itinerary: 3 days in Santorini
With that, all your pre-trip planning for Santorini should be taken care of: choosing a base, booking accommodation, and reserving a rental car. Now it's time to actually start this Santorini itinerary right!
Here's where you'll go over the course of three days. For each spot, I'll include restaurant recommendations, navigation tips, and everything else you need 😄
Day 1. Oia, Pyrgos
Today we'll start and end the day in Oia, the crown jewel of Santorni. We'll head to Pyrgos to wander around and have lunch. On the way back to Oia, be sure to stop at a supermarket to pick up food and bottled water (as you're not recommended to drink the tap water in Santorni).
Sunrise in Oia
Assuming you're based in Oia, wake up early for some incredible sunrises over the southern part of the town. The Byzantine Castle Ruins is the best location to see both parts of Oia illuminate as the sun rises, and is easy to reach by foot from most of the town.
In our experience, the sunrises were often more spectacular than sunset. The reason is, the heat in Santorini can cause haze over the sea. Since mornings are cooler, that haze is gone and the colors are much more vivid.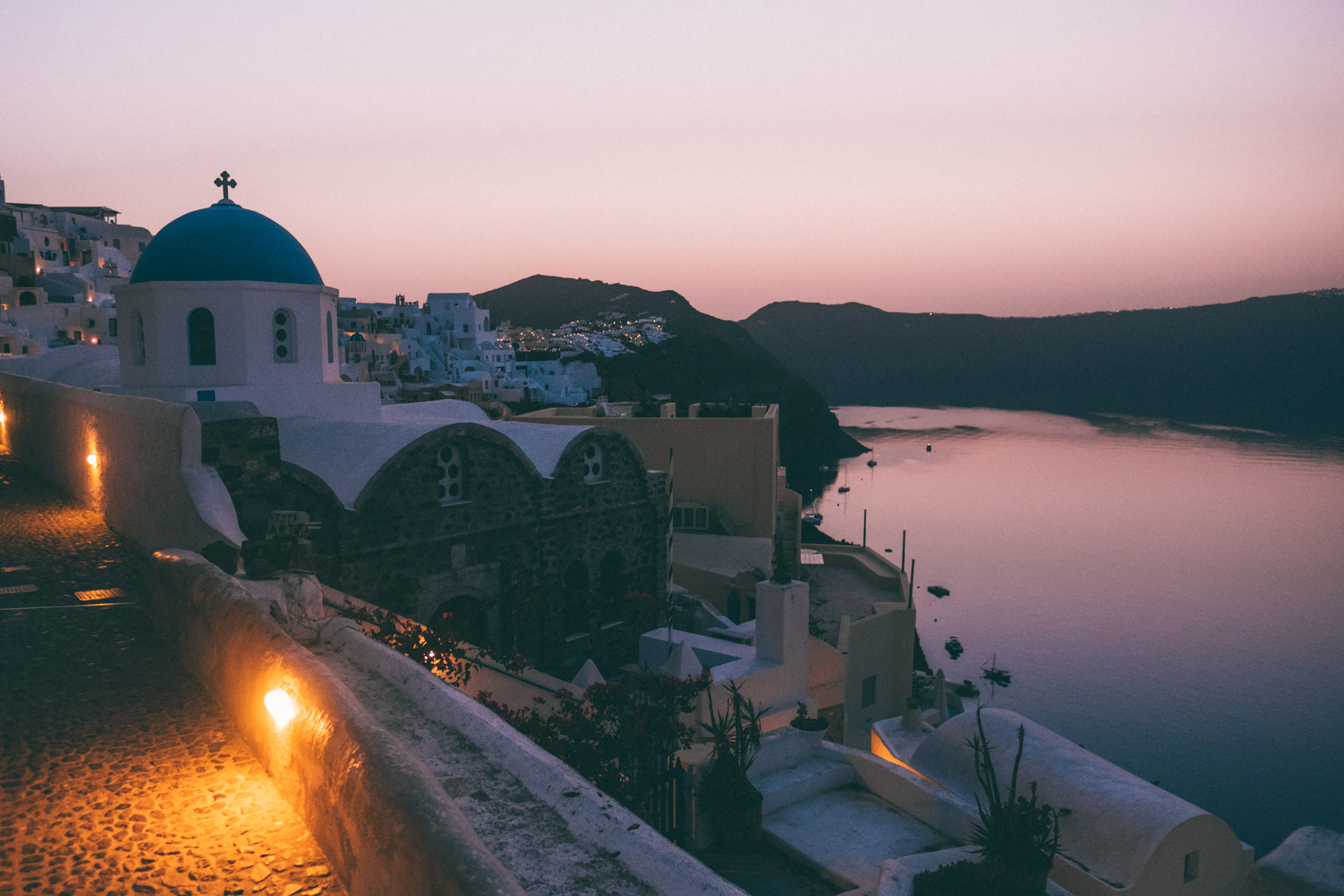 Beautiful, right? The only thing you need to be careful of is that early morning is when all the donkeys assist with deliveries, so you'll want to watch for droppings. It's not excessive though, just watch your step 😉
These photos were taken between 6:00 AM and 6:30 AM in October, so the time you need to wake up isn't unreasonable at all. We took photos for quite a while, before heading back to our cave house for breakfast being delivered at 9:00 AM.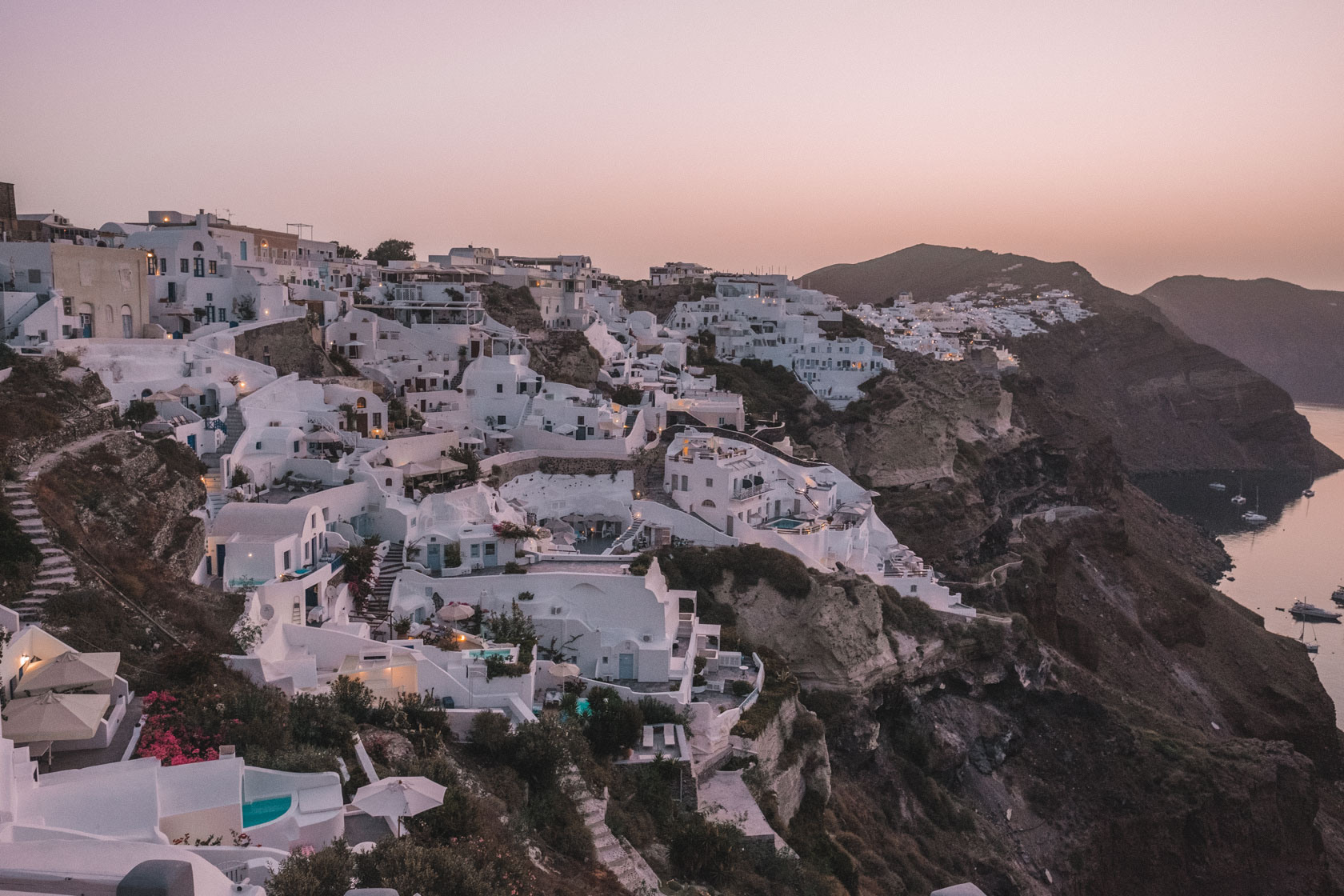 For us, breakfast was included in our cave house booking, but there are a number of spots to pick up breakfast in Oia. You can also buy bread, cheese, salami, and fruit from local minimarts, though we suggest buying from proper supermarkets on the road as it'll be substantially cheaper.
Pyrgos, Santorni
Also called Pyrgos Kallistis , Pyrgos is the best-preserved medieval settlement on the island. It's got beautiful, blue-dome churches on every corner and a maze of stone streets for you to explore.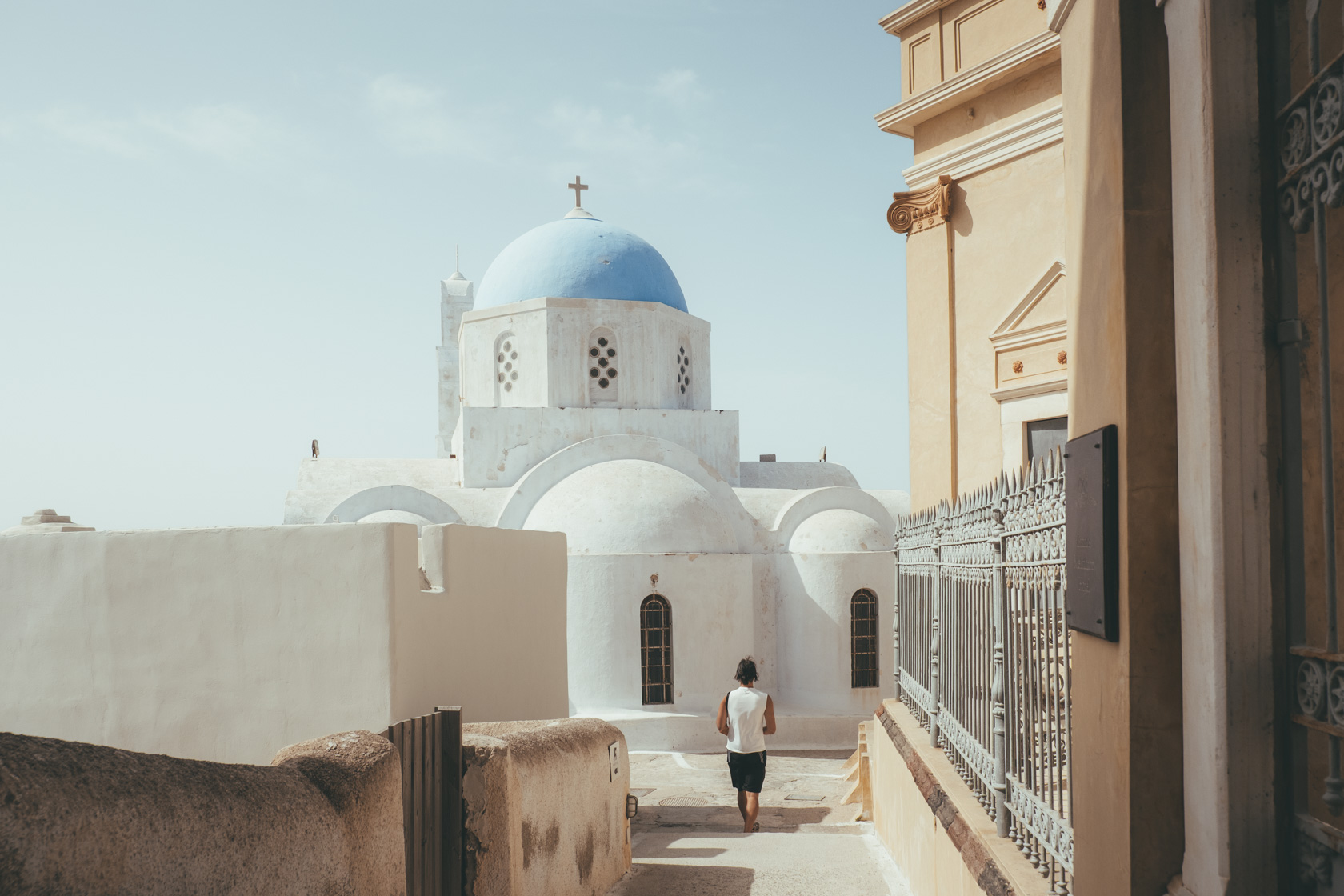 When you arrive in Pyrgos, you'll be parking at the bottom of what's basically a hill. The old down is accessible by stairs and pathways leading upwards. The most iconic Pyrgos sight is probably the Pyrgos Castle with the white tower you see here: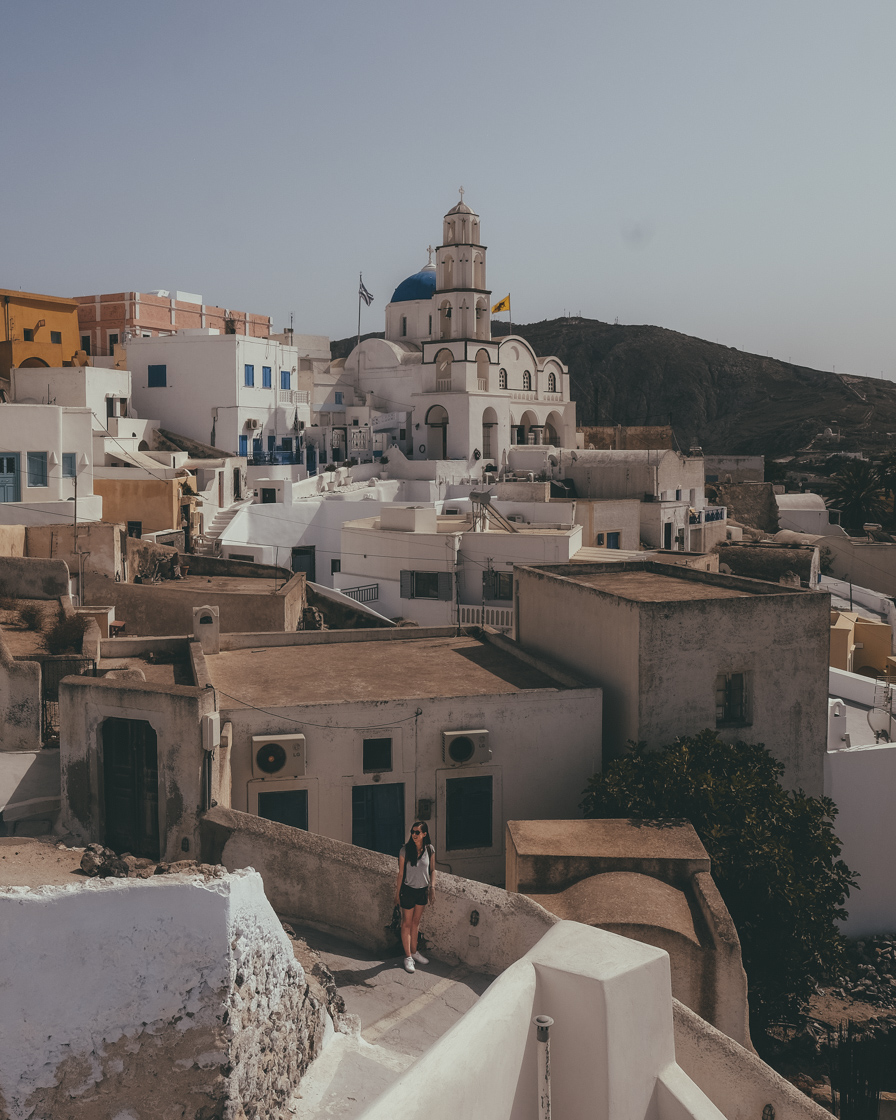 For a break from climbing, a fruity drink and some snacks, make a stop at Franco's Bar . It's home to the most expensive Aperol Spritz I consumed on the entire trip, but came at a prefect time to escape from the heat in the afternoon.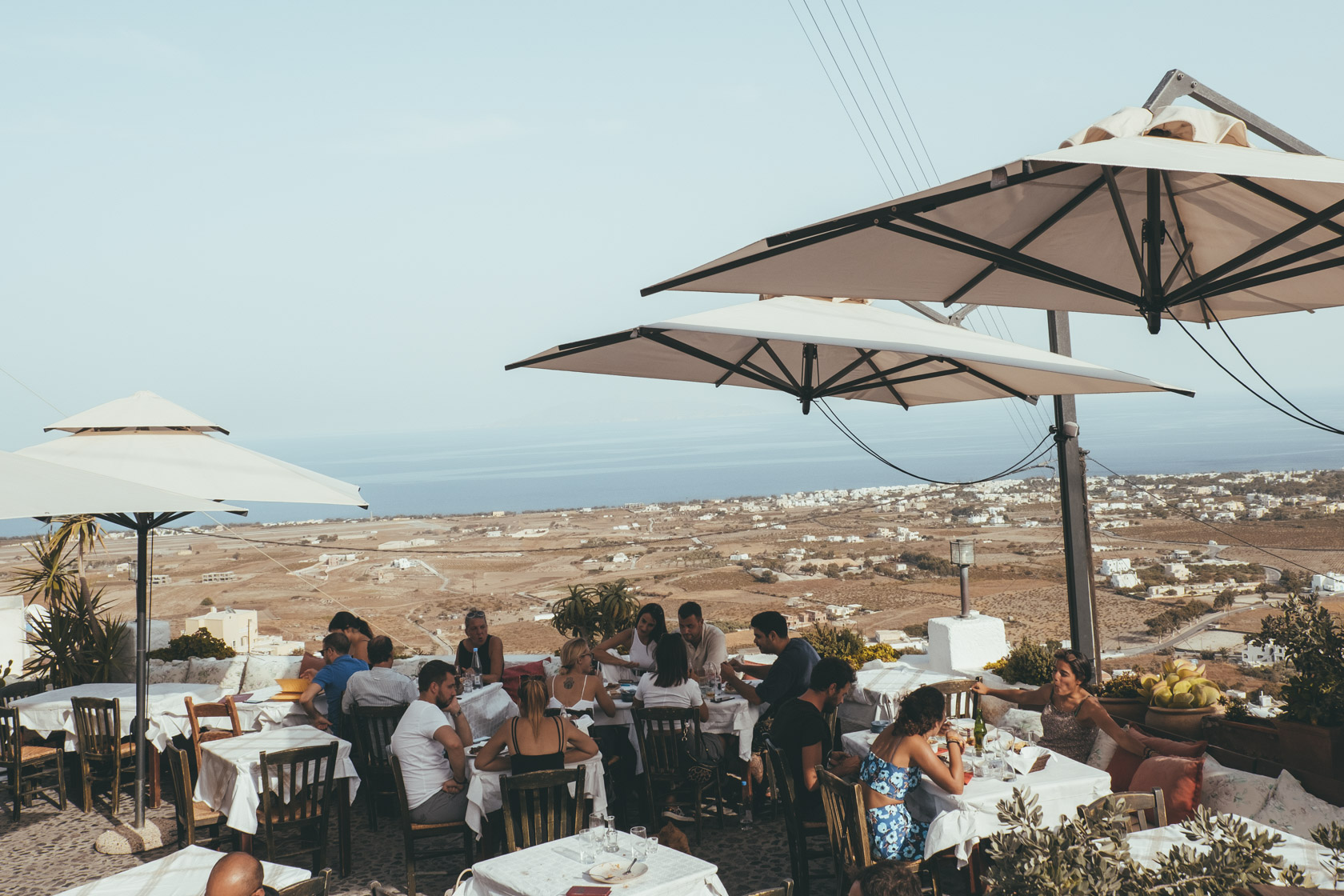 From here you'll spend more time wandering around Pyrgos taking as many photos as you please. As a reminder, people do live in these towns, so tresspassing on private property or climbing on buildings for a photo-op is a quick way to make people angry.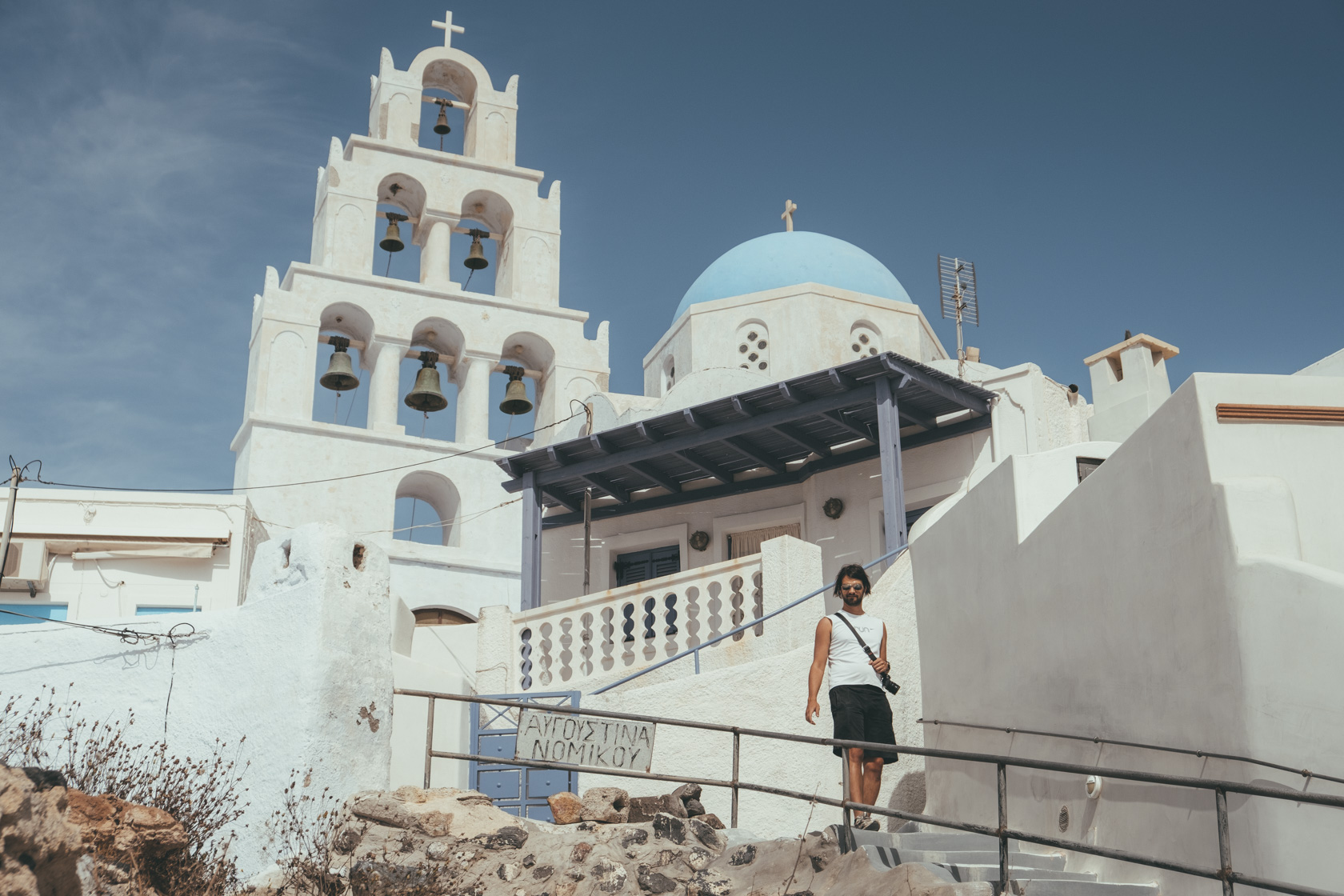 Don't worry, you can get plenty of great photos without being a jerk 😉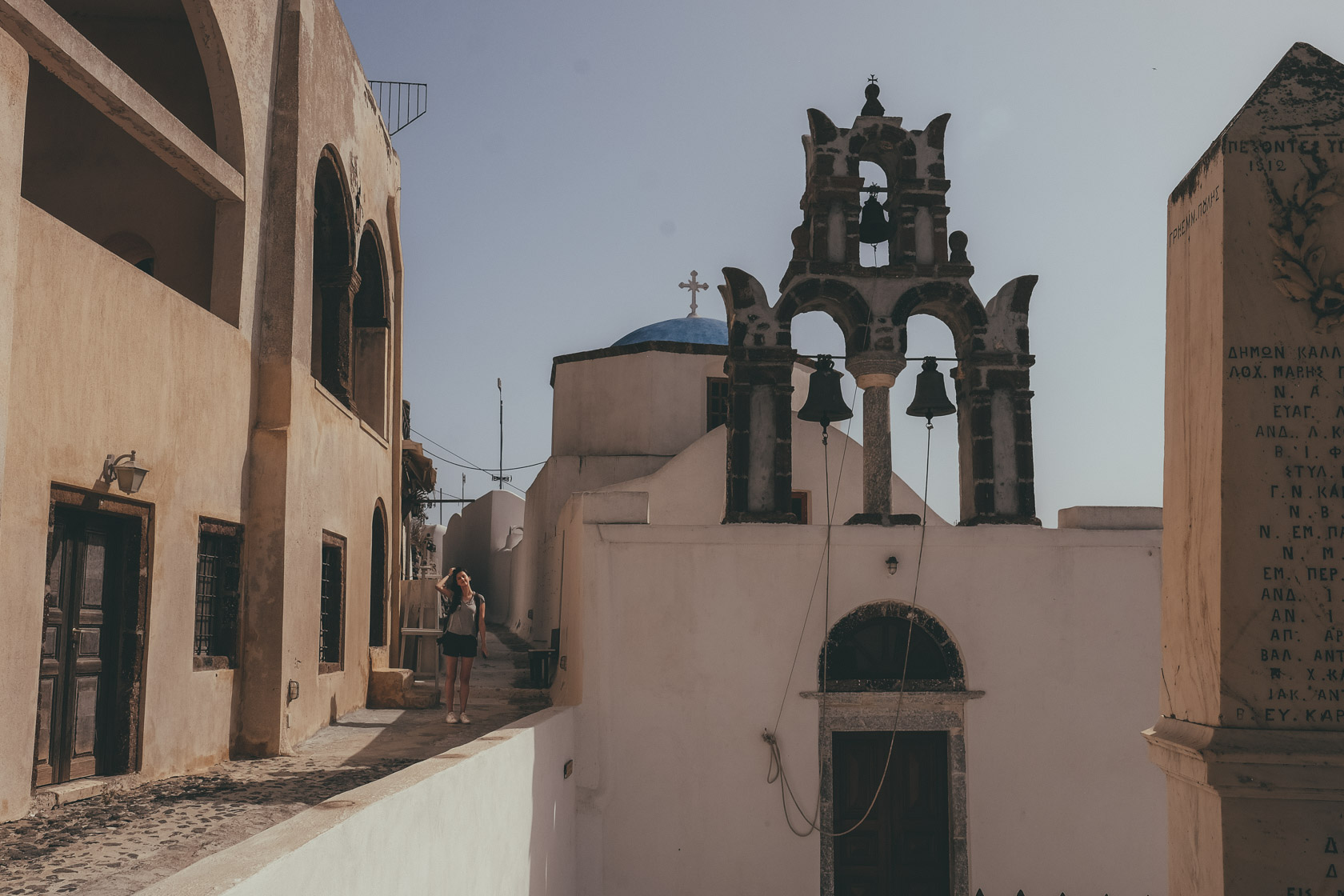 From here, it's time for an early dinner. Make sure you've got room in your stomach, because serves huuuuge portions worthy of sharing.
As a starter, I can highly recommend the Cretan salad, which contains Cretan myxithra cheese which is super delicious. Main portions can be split between two, and there's a complimentary dessert. So as I said, come hungry.
It's easily the most recommended place to eat in Santorni and didn't disappoint. Since it's so popular, be sure to arrive as soon as it opens so you can snag a spot with both shade and a view.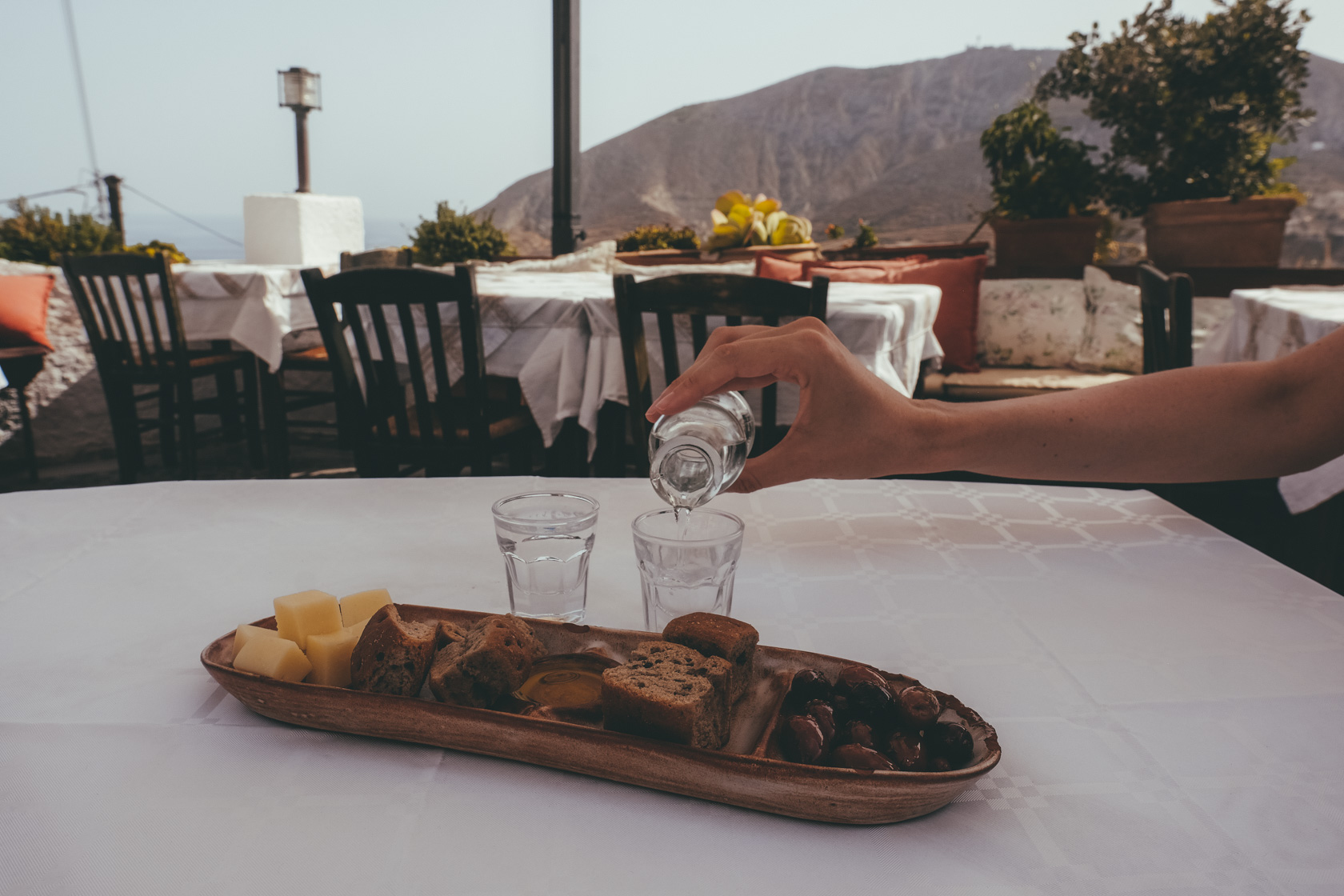 Back in Oia for Sunset
During our entire trip to Santorni, we never missed a single sunset from the hot tub. Can you blame us? Just make sure you've visited the supermarket on your way back from Metaxi mas so you've got all the goods for some evening snacks without spending a fortune at the mini market.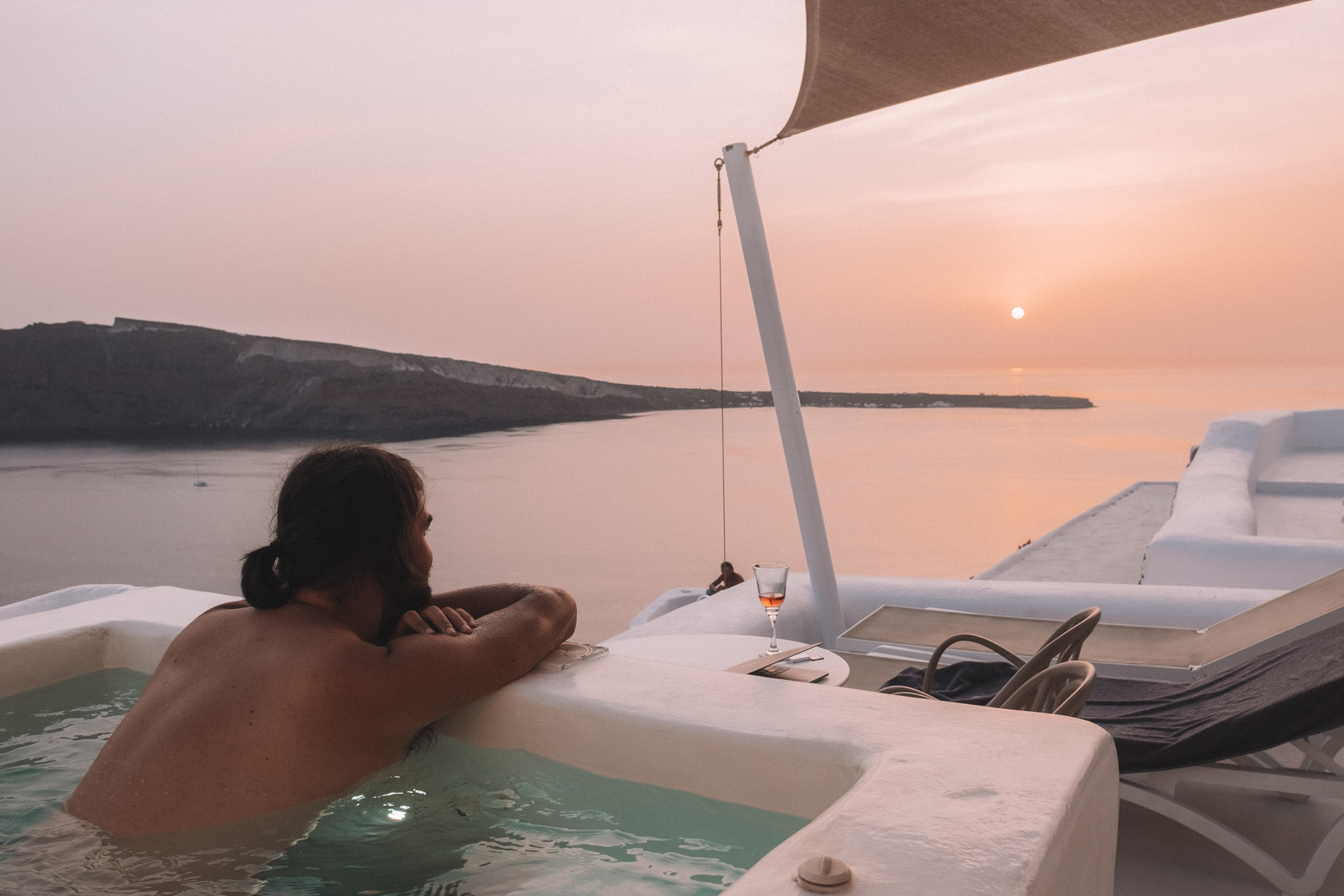 Day 2. Akrotiri, Red and White Beaches, Akrotiri Lighthouse, Imerovigli
This is probably the most active day of this Santorini itinerary, so make sure you bring plenty of sunscreen, bottled water, and have a good breakfast before setting out.
We'll also visit two beaches, Vlychada and Kokkini, a white and red beach respectively.
Visit Akrotiri, the ancient Minoan city
Akrotiri was inhabited by the Ancient Minoans starting from 6,000 years ago. It became a major port to the Agean around 4,000 BC and is often referred to as the "Greek Pompeii".
That said, it's much, much older than Pompeii, making it that much more impressive. The inhabitants were wiped out in the volcanic explosion that formed Santorini's Caldera, though there's evidence than many of the inhabitants managed to flee in time.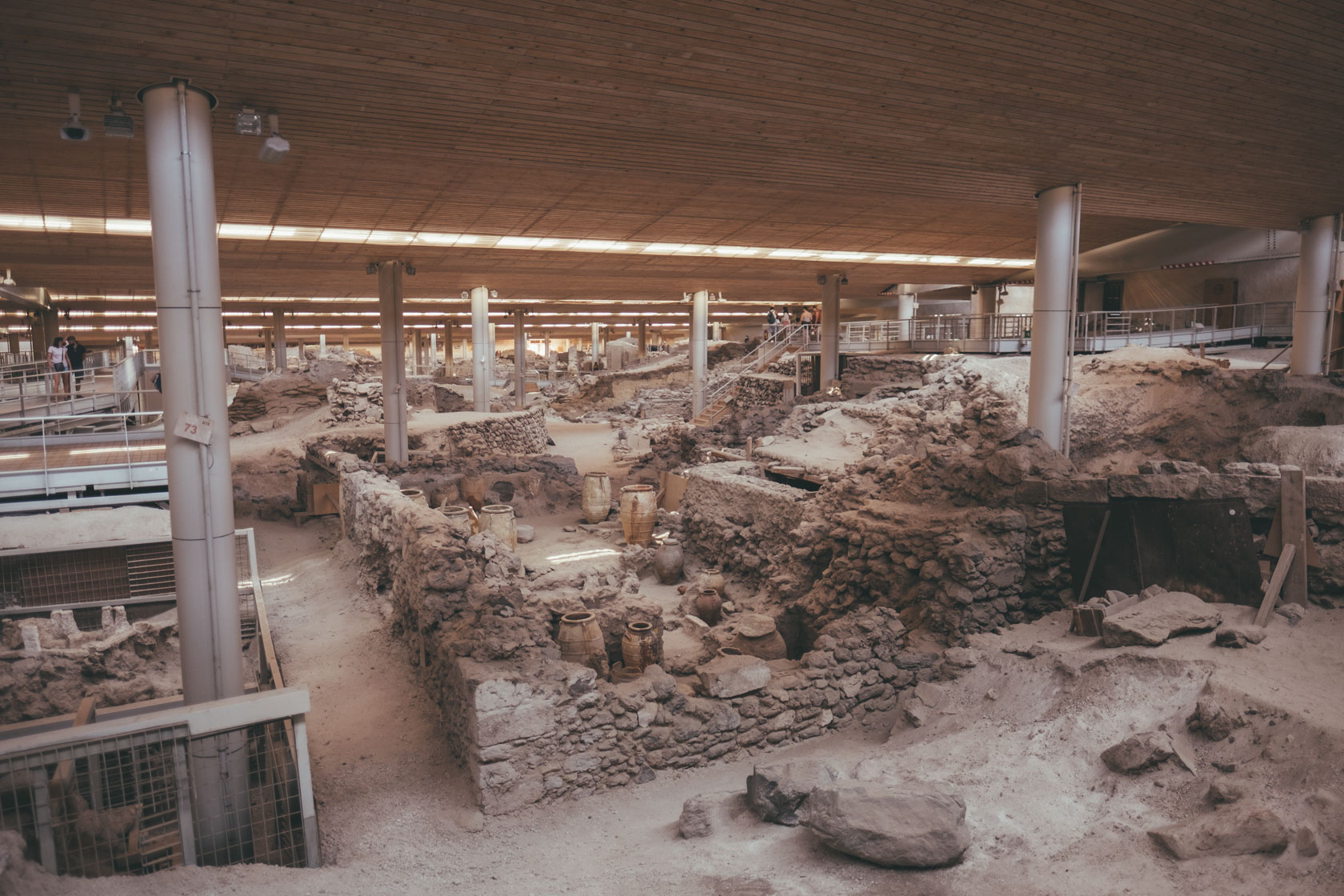 The ruins of Akrotiri are thankfully covered from the elements, making is a suitable mid-day activity even when it's hot outside. Unfortunately, the amount of information available printed inside is extremely minimal. If I were to go again, I would probably book a guided tour in advance with an expert on the site.
Akrotiri Lighthouse
The Akrotiri Lighthouse is about a 13-15 minute drive from the Akrotiri Archaeological site, and is one of the better-known spots for watching sunset on the southern part of the island.
Parking is really limited, and you'll need to be comfortable parallel parking or backing in with very little room to spare! We watched a couple back into the wall just as we were leaving, so don't miss that extra bit of insurance on your rental car 😉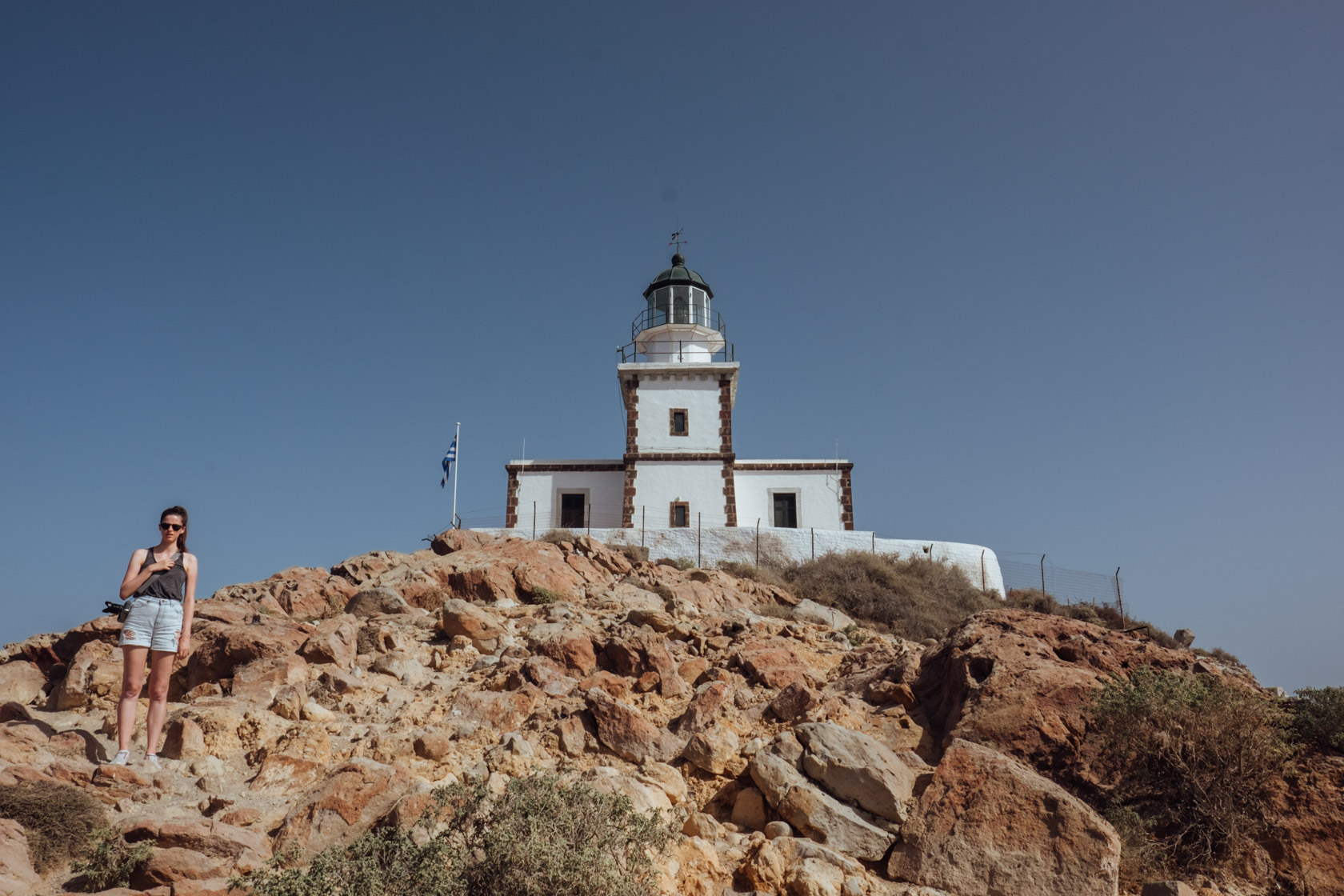 Red Beach in Santorini (and safety considerations)
Red Beach is another spot to stop by while you're on this side of the island. It's famous for the sheer, red wall contrasting a blue and teal bay below. Most photos you see online are dramatically over saturated, here's what it really looks like: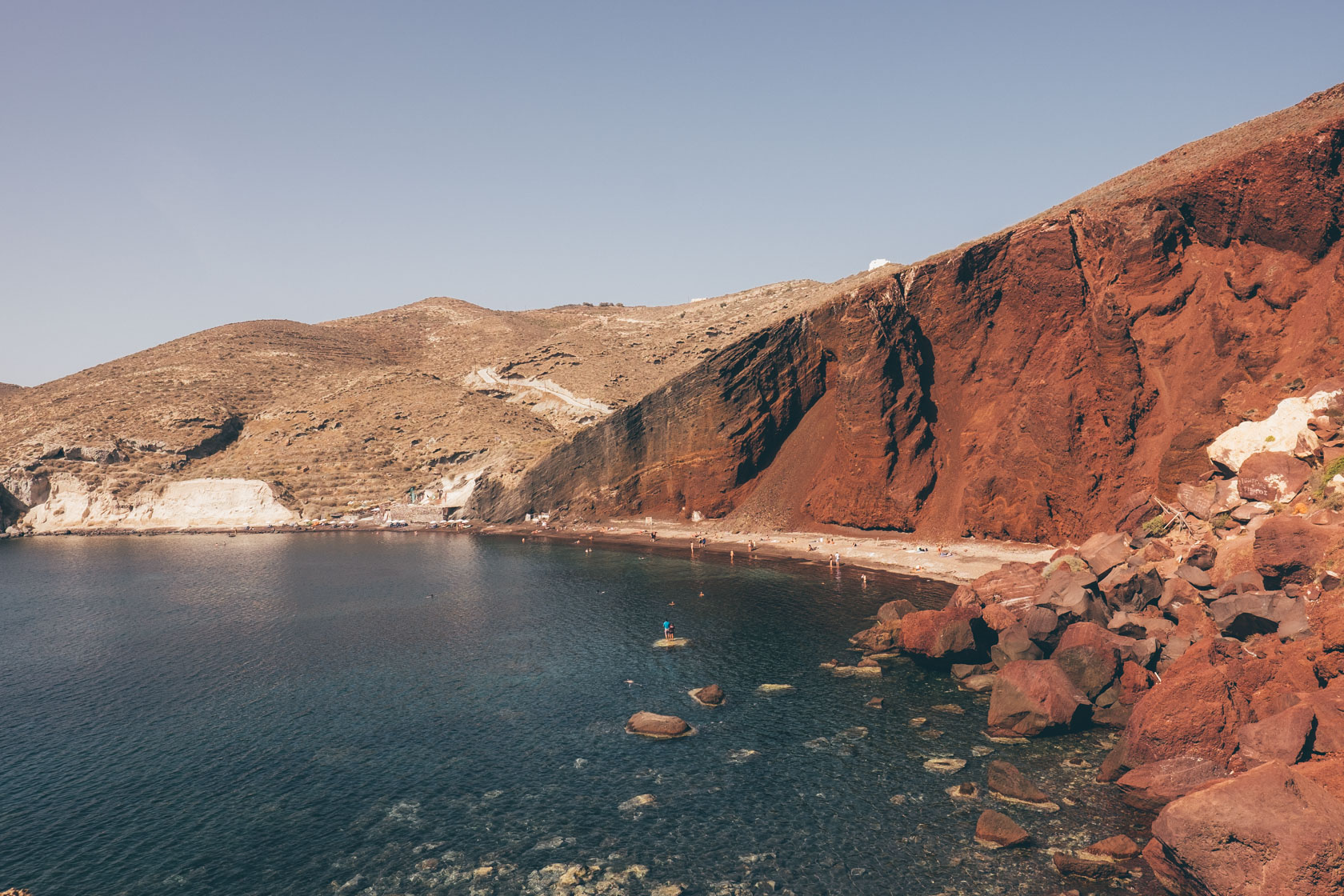 Red Beach is accessible in two main ways: first is a short hike by land along a rocky cliff, marked by ominous signs like the one below. The reason they warn against accessing the beach by the path is because this place is known for rockslides, as you can imagine when you see the sheer wall.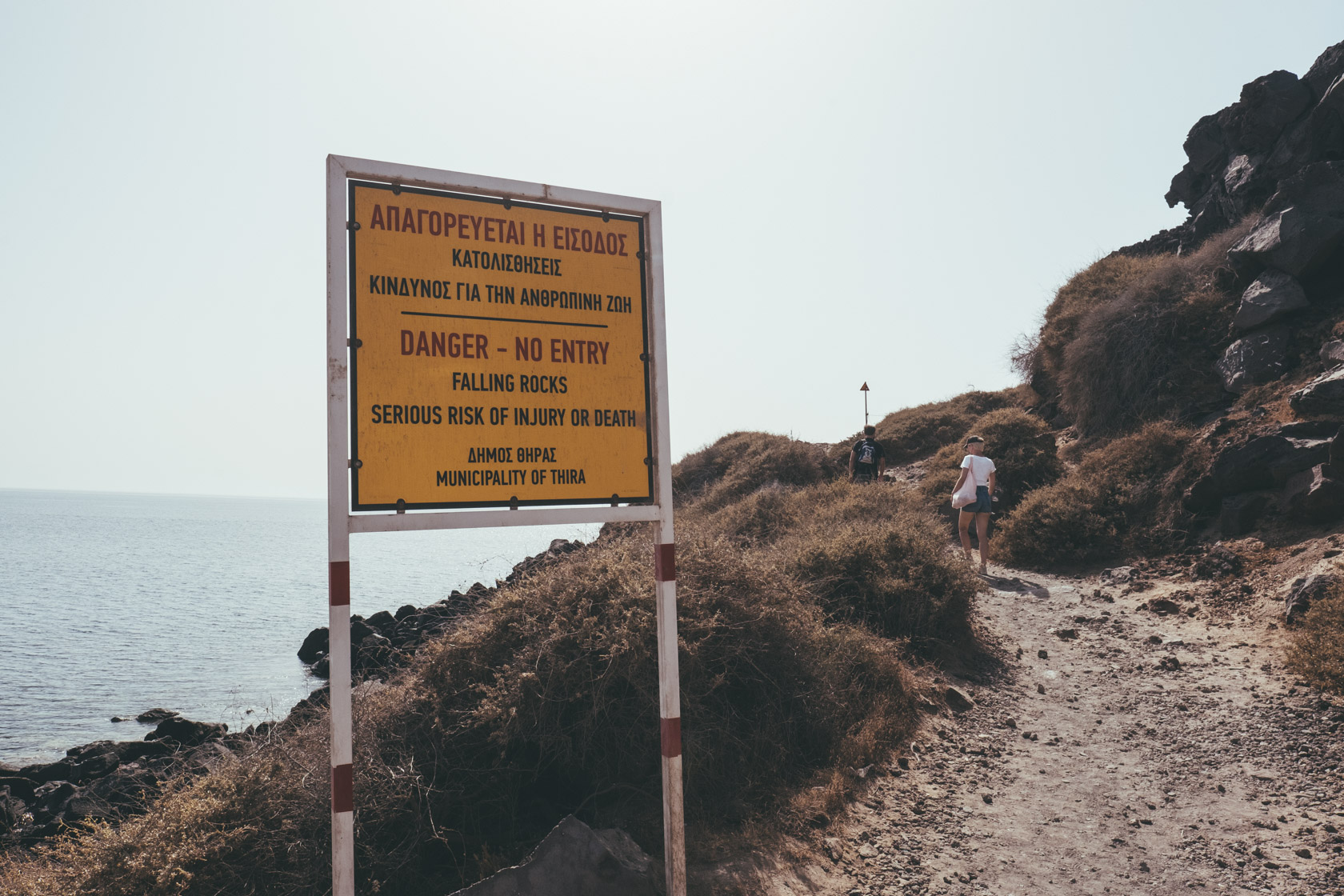 Or, you can take a boat tour that stops at the beach, such as this extremely popular Catamaran Cruise which lasts 5 hours. Honestly I was intimidated by the warnings, so we didn't hike all the way down to the beach, and just observed it from above.
If I were to go again, I'd definitely book a boat tour. I've done boat tours on other trips and they usually end up as one of the highlights.
Vlychada Beach
If you're on the hunt for lunch, we swung by Taverna Dimitris Vlichada for some typical Greek food and a beer to cool off. Prices and portions were reasonable, and the service as friendly as you'd expect.
It's right next to Vlychada Beach , billed as the most beautiful beach on Santorini.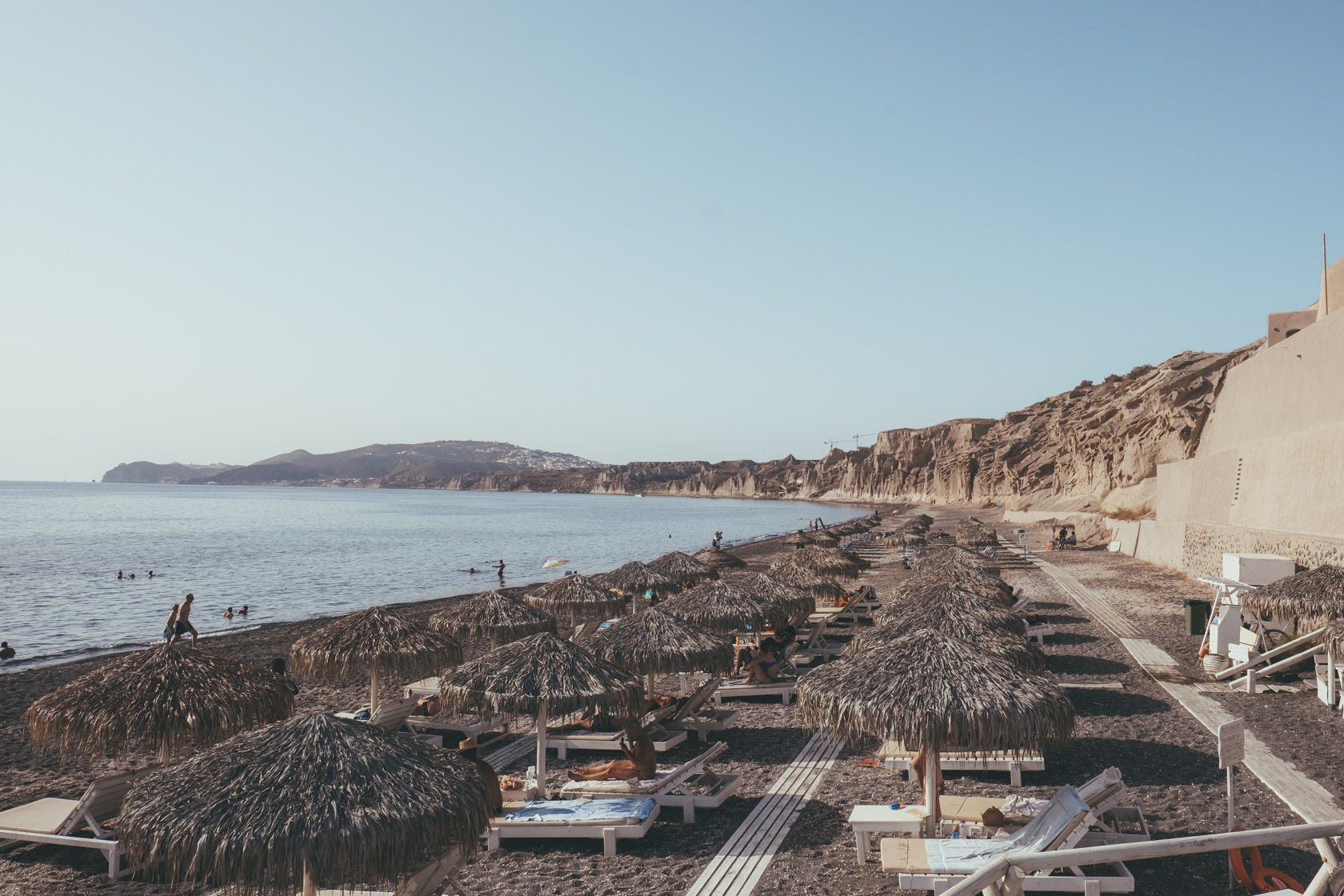 If you like spending your holidays snoozing on the sand, this is probably the beach I'd pick. The ammenities are good, you can get a spot with shade, and it's easy and safe to reach. Just make sure you like the style of pounding techno music you'll inevitably be subjected to by the beach bar 😉
Skaros Rock, Imerovigli
Imerovigli is one of the quieter towns in Santorini, but probably best known for having Skaros Rock as part of its scenery. You can choose to hike it, or just admire how it protrudes into the Caldera from afar. We were here during the hottest part of the day, so a hike wasn't in order. But if you decide to book accommodation in Imerovigli, you could always go there for a morning hike.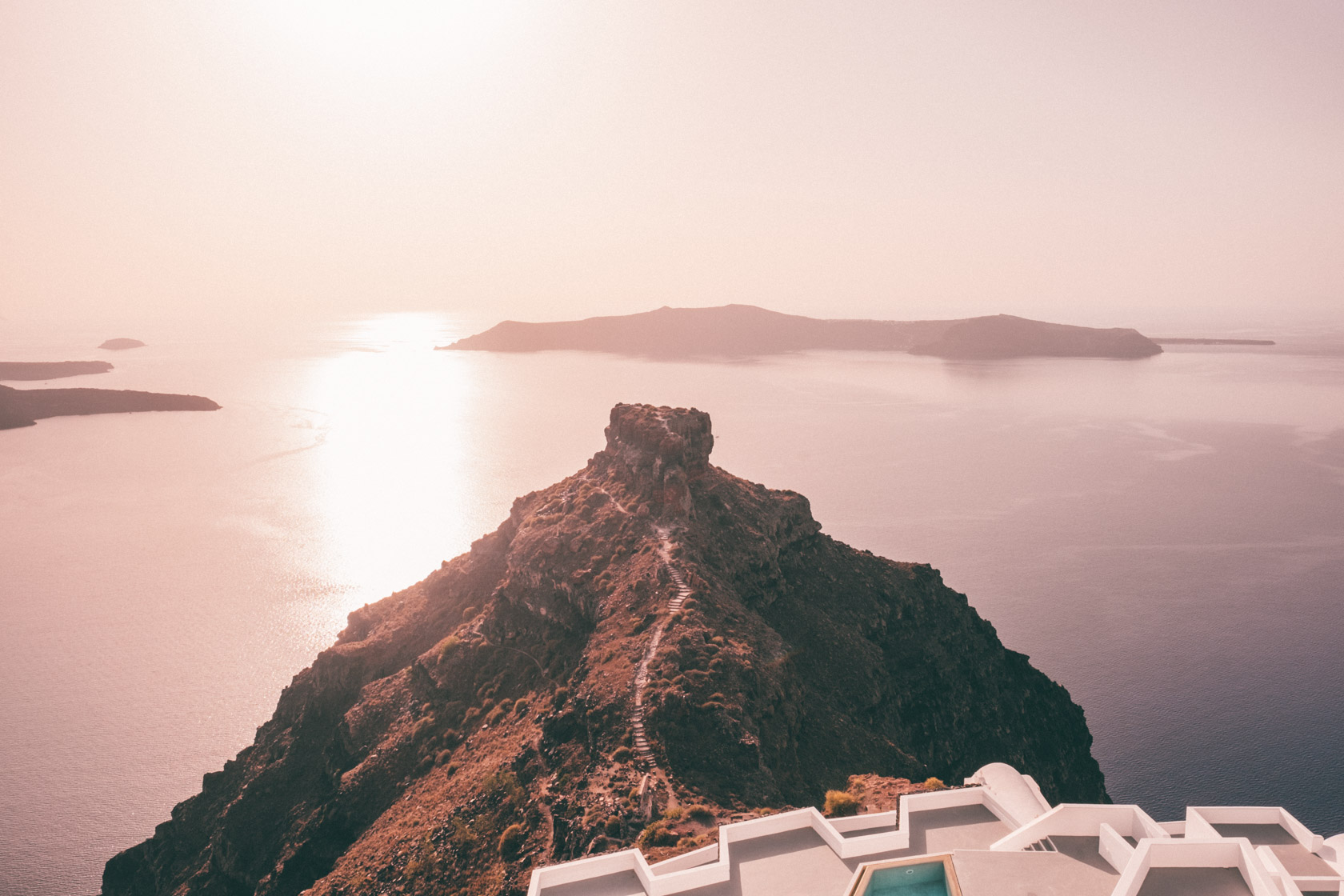 Firostefani
Right next to Imerovigli is its sister town, is Firostefani. The two basically flow into one another, and are connected by footpaths. We didn't have time to walk along the entire way (and again, it was scorching) but you can grab and ice cream cone and go to a number of lookout points to take in the view.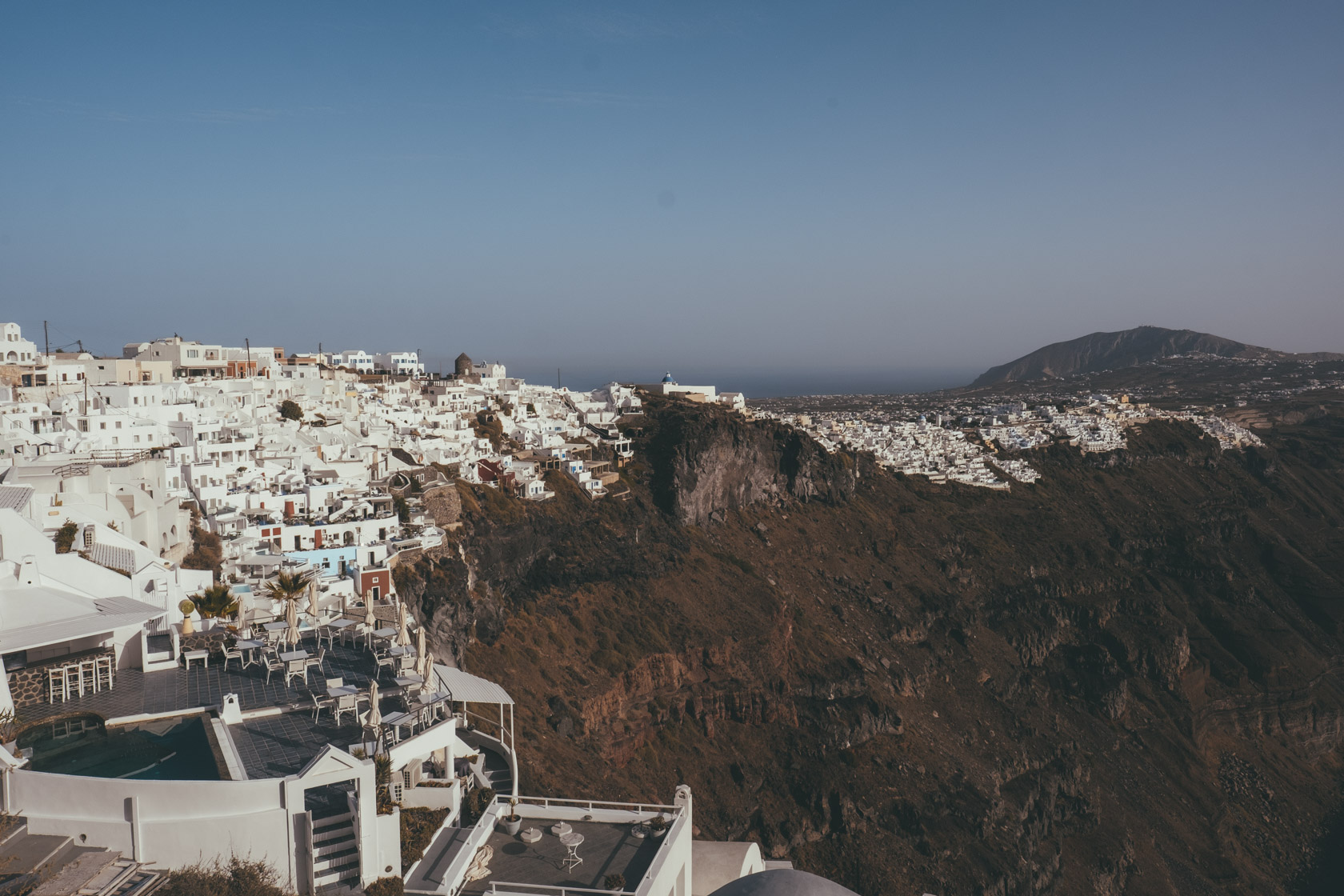 Dinner in Oia
One of our favorite meals in Santorini was at Roka where you'll find fantastic home-cooked food and a "mediocre" sea view. I opted for the local pasta, which is topped with a local cheese. Prices are high like everywhere, but more reasonable than you might expect.
As with every restaurant in Santorini, either show up right at opening time or make a reservation in advance. We did the latter and entered a full house, and still got a great seat outside.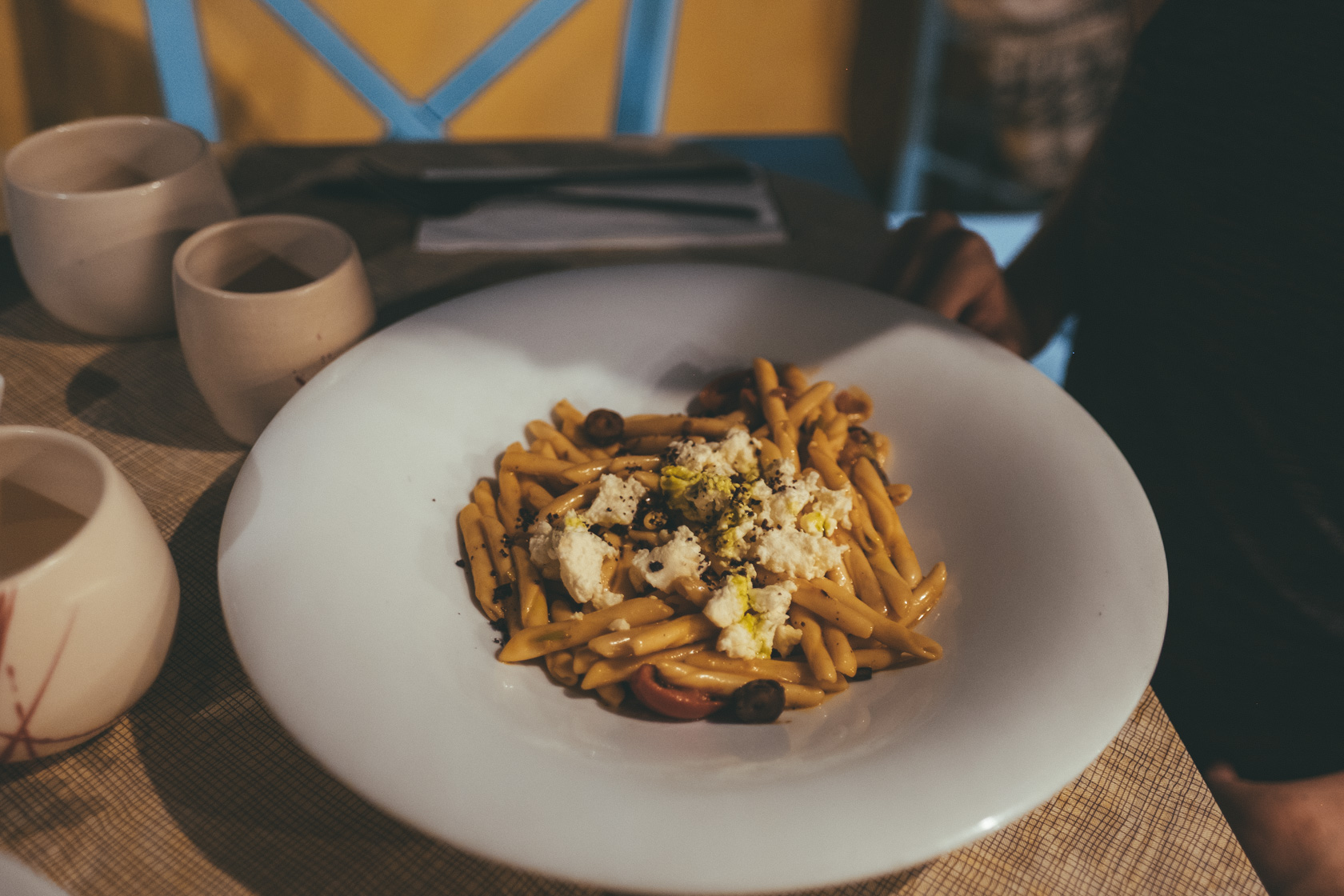 Day 3. Ancient Thera, Perissa, Santo Winery, and Fira
For our last day, we'll be stopping in the better known towns we haven't visited yet properly: Fira, Firostefani, and Imerovigli. To treat outselves for all the walking, we'll also stop at Santo Winery to sample local wines and cheeses.
Ancient Thera
After starting at Akrotiri, Ancient Thera will give you an idea of what ancient ruins look like when they're not perfectly preserved by volcanic ash.
Ancient Thera was originally founded in the 9th century BC, making it much newer than Akrotiri. It was used as a strategic lookout point for the Ptolemaic dynasty's entire fleet of ships, who were watching over the Aegean Sea.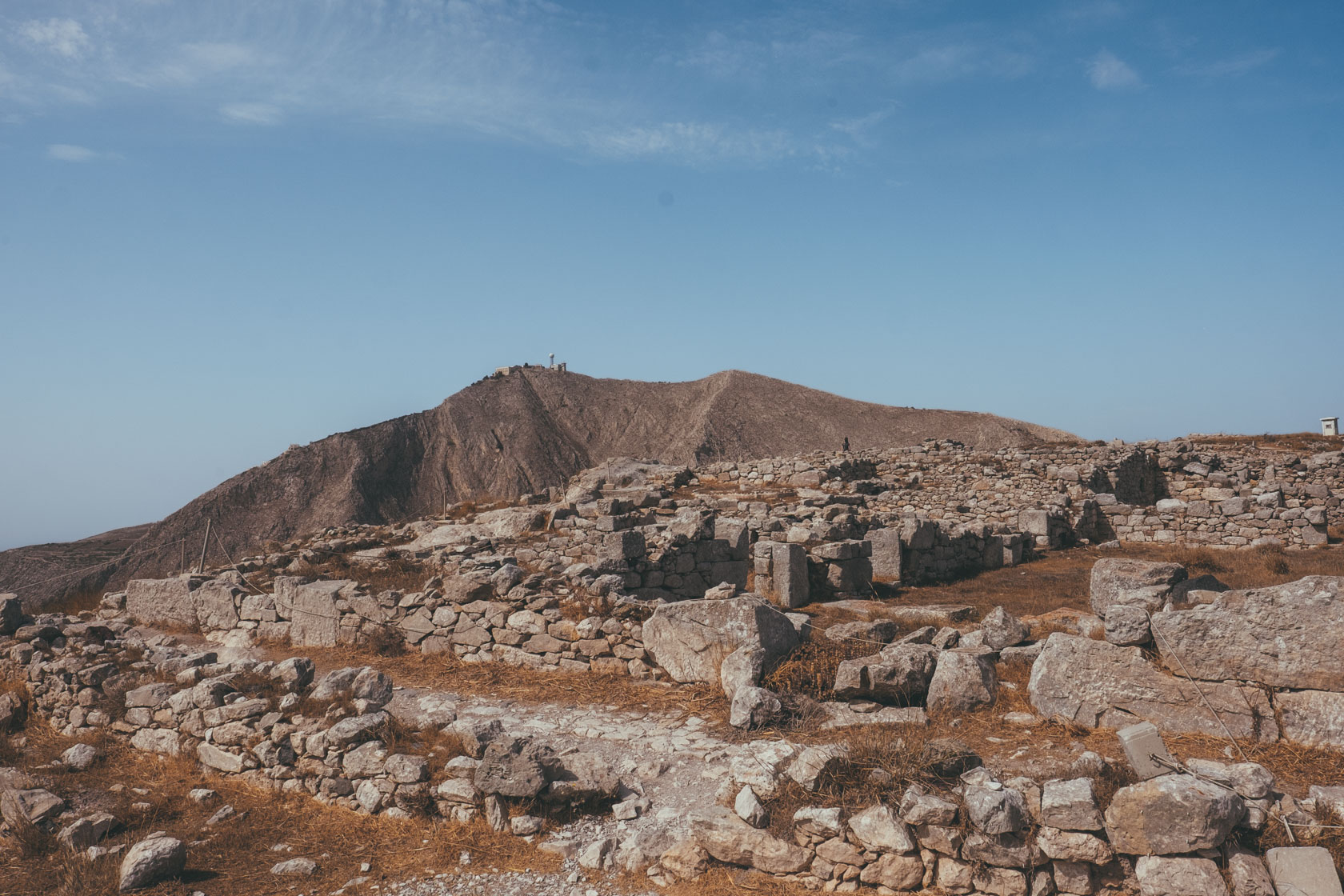 When you stand out over this cliff, you can imagine being able to see as far as Crete on a clear day. The visibility was a huge advantage.
What's important to know is that you'll have an interesting drive getting up here because it's so steep. You'll want to go easy on your breaks in the heat, we had a bit of dicey situation in that respect on the way down.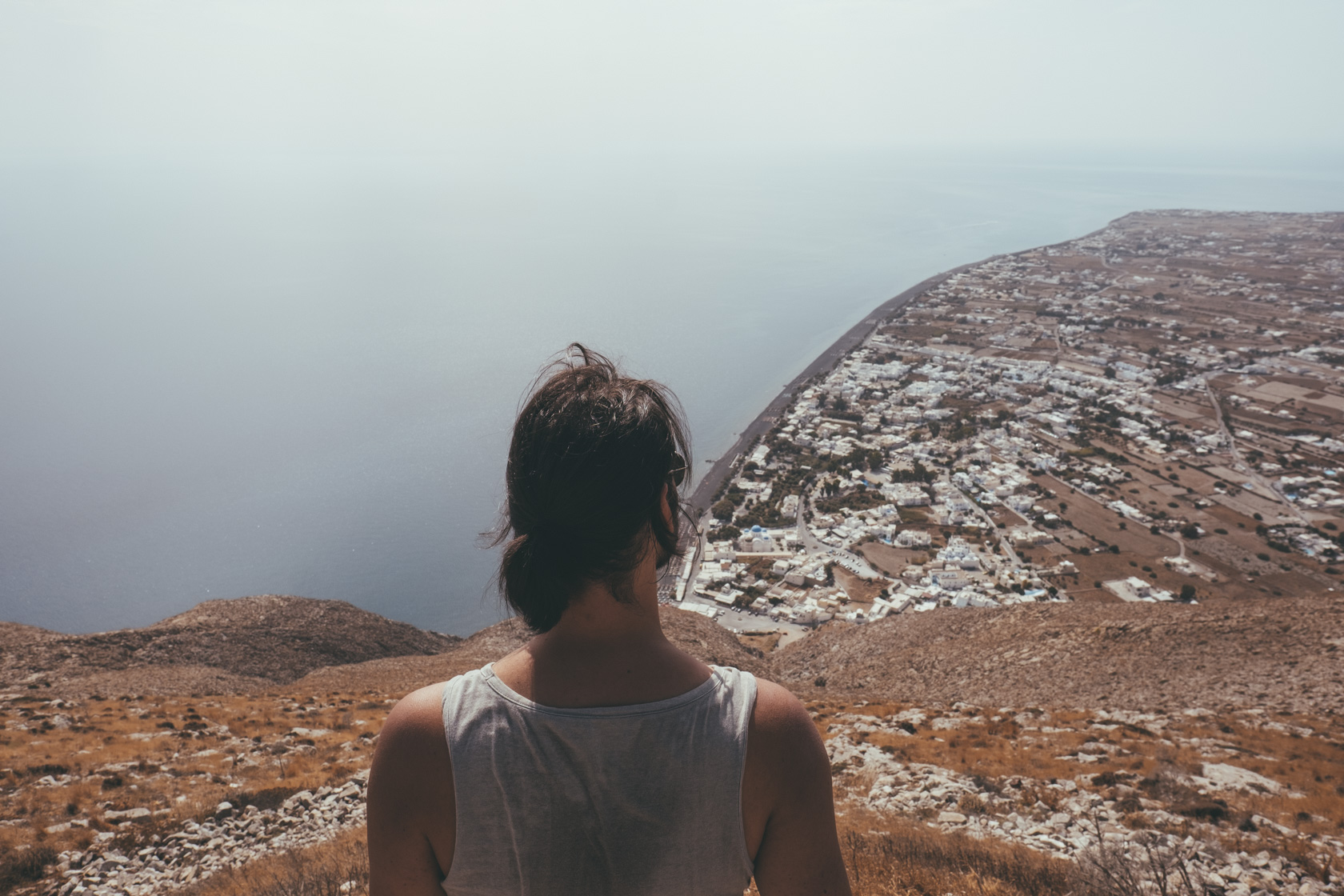 After that, our final stop of the day before dinner: Ancient Thera.
Perissa, Black Sand Beach on Santorini
From here you're looking down on the Black beach, which you swing by on your way back to Oia for sunset. There are a few black and white sand beaches on Santorini, but this one is billed as one of the nicest. If you like beach bars and baking in the sun, you might enjoy it.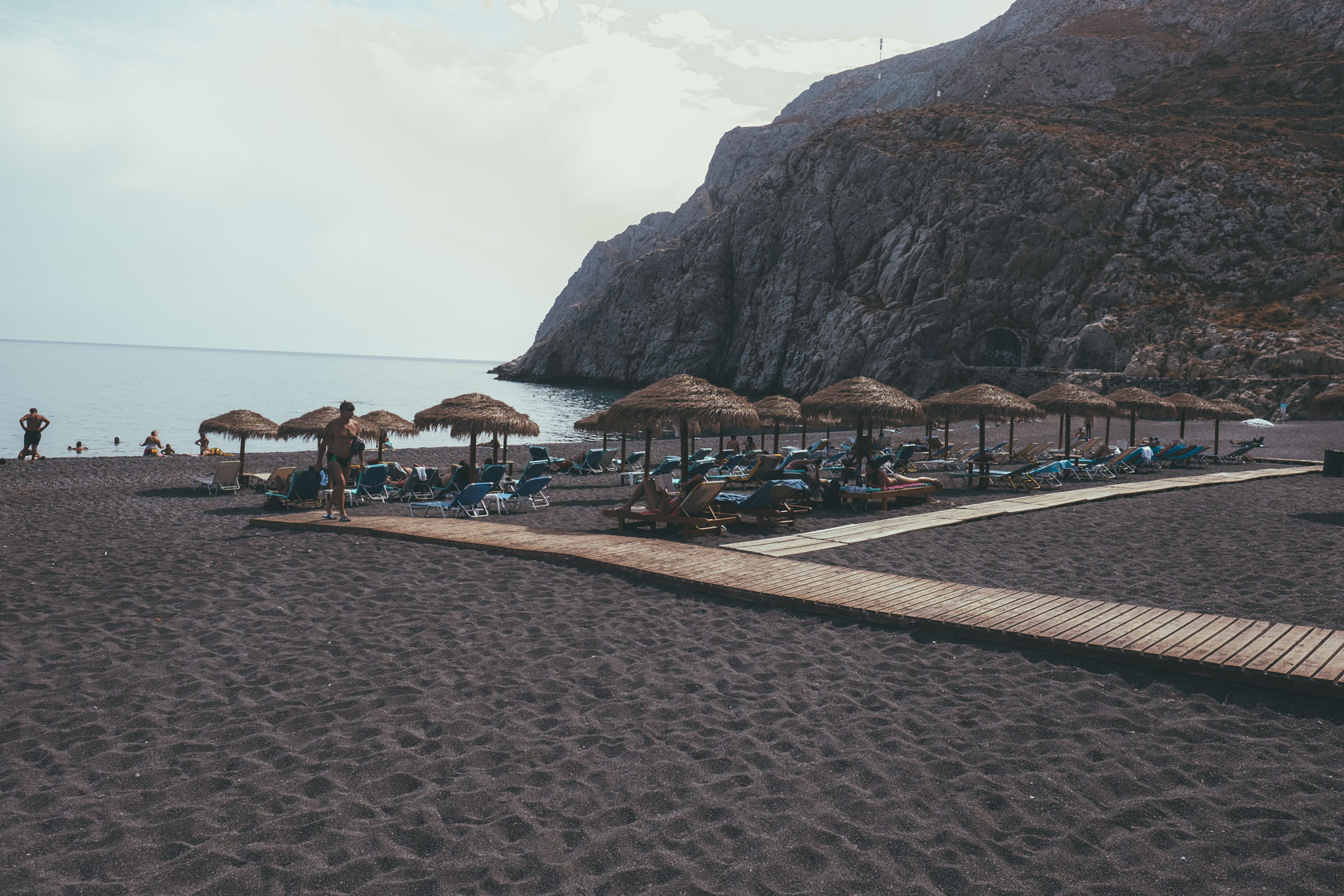 Santo Winery
Smack in the middle of the coast that runs along the Caldera, Santo Wines is one of the best known wineries on the island. It's especially known for its sunset views, though we visited in mid-day and found it just as nice.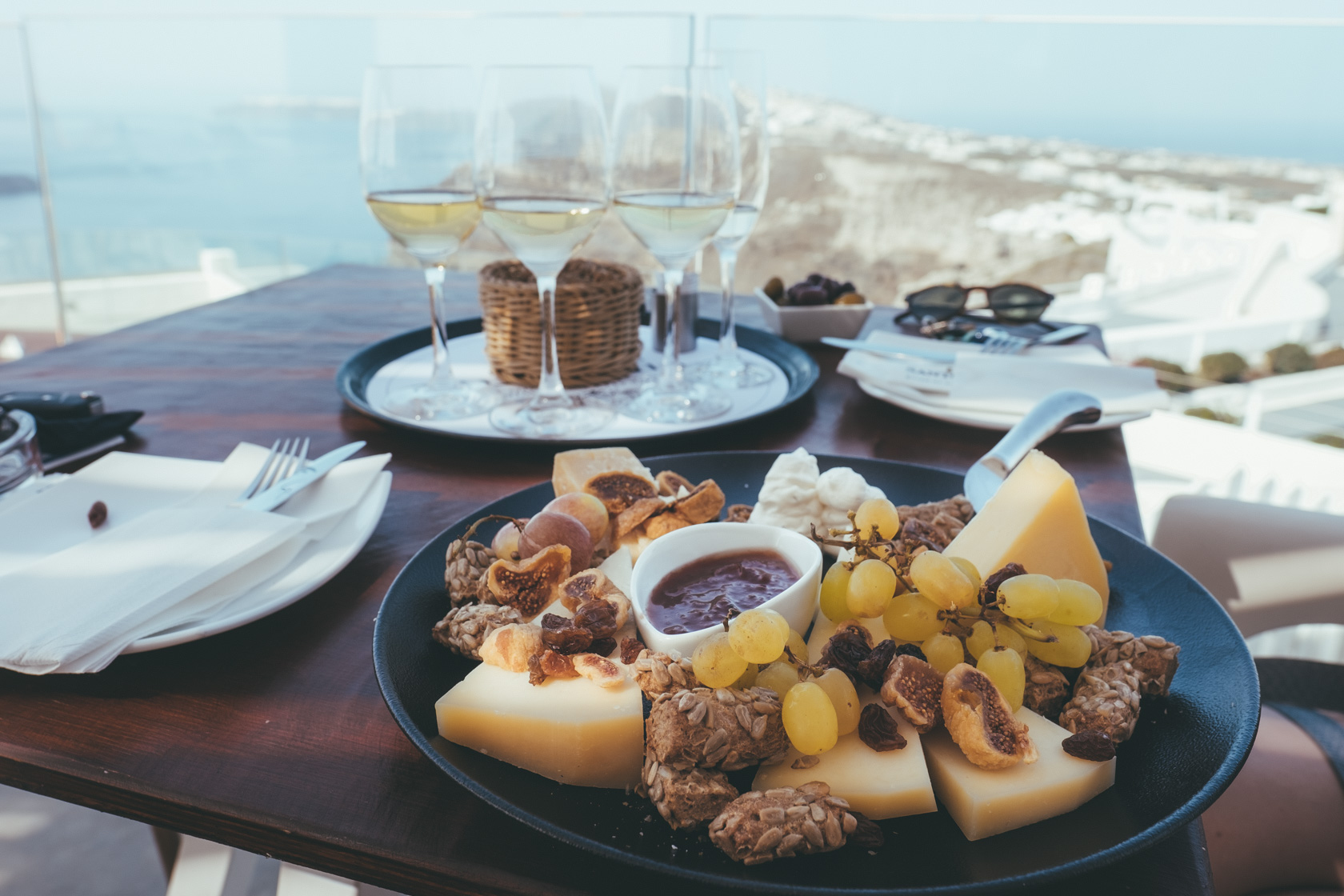 We opted for a single white and red wine tasting, shared between two people. Plus, a Cycladic cheese platter with local cheeses, grapes, dried figs, and tiny bread. The whole thing replaced our plans to have dinner later that evening, because it was massive.
Santorini is best known for its wine made from Asyrtiko grapes, such as the Vinsanto wine. Vines on Santorini can reach 70 years old, and are some of the oldest in the country.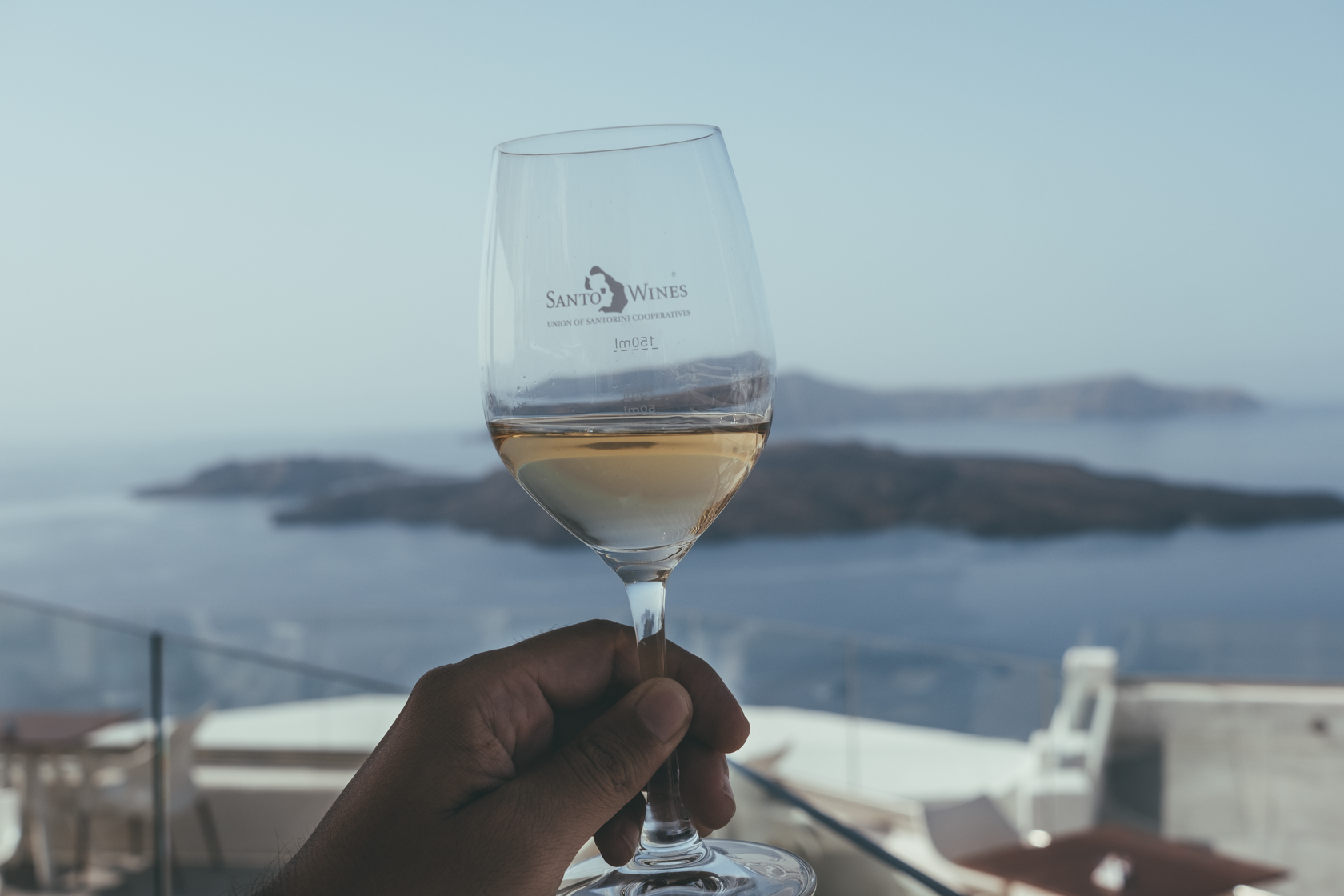 Fira
Before wrapping up our trip to Santorni, you'll want to pay a visit to Fira properly if you didn't do so when you arrived by ferry. It's the biggest town on the island, and as such has a lot of bars and restaurants. You'll be able to see other parts of the island like Oia and Imerovigli from here as well.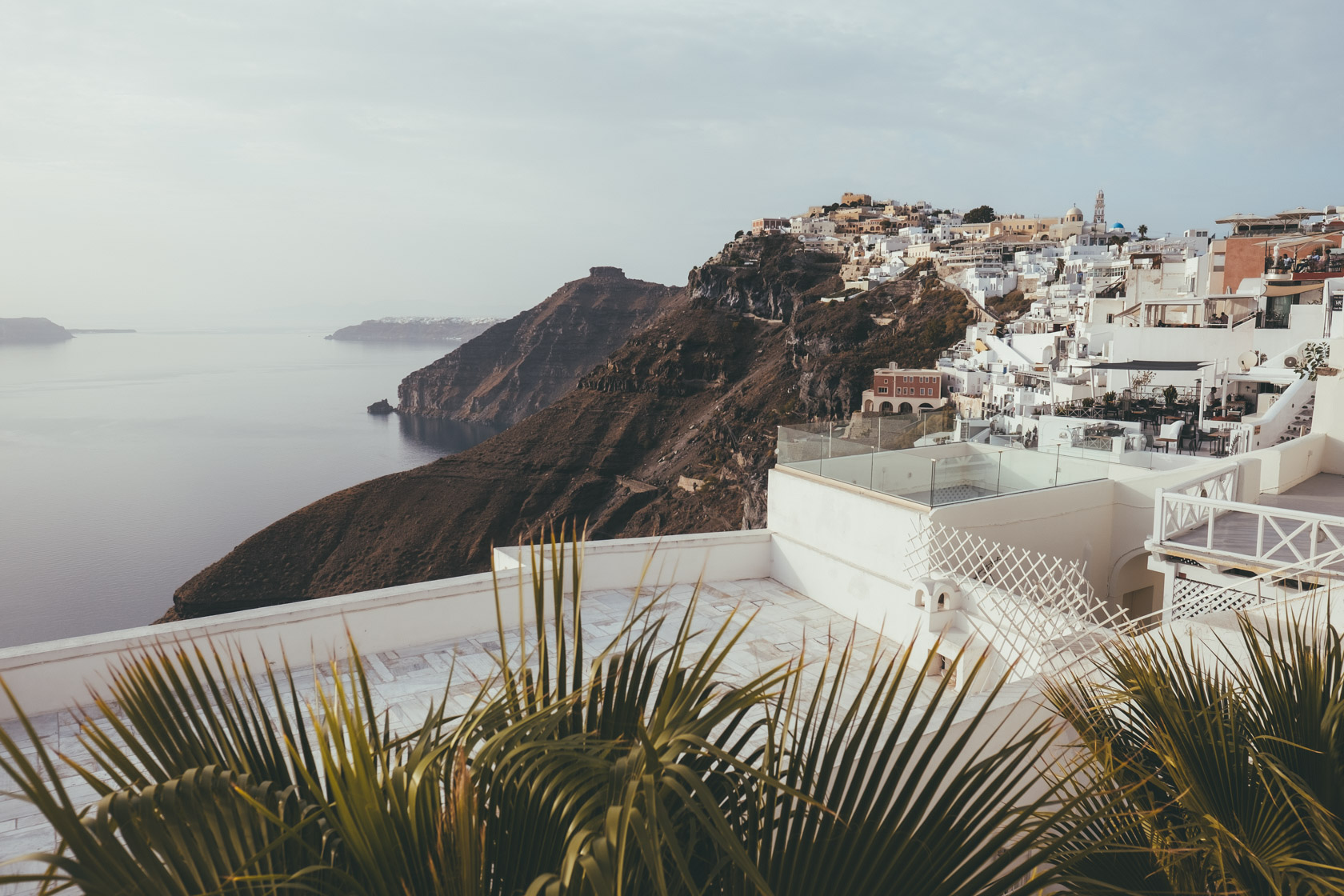 For the most part, you'll want to walk along the main street. There are also some popular churches and an archaeological museum in town, depending on how much time you have.
Ammoudi Bay in Oia
If you're looking to finish your trip with seafood for dinner, check out the popular (but pricey) fish restaurants in Ammoudi Bay. You can reach the bottom by driving yourself, or walking down on some steps that'll take you to the restaurants.
One popular option is to walk down and take a taxi up, but the taxis can be pretty pricey. As long as you don't plan to drink, and you arrive early to get a parking spot, driving down and back up yourself can save some money.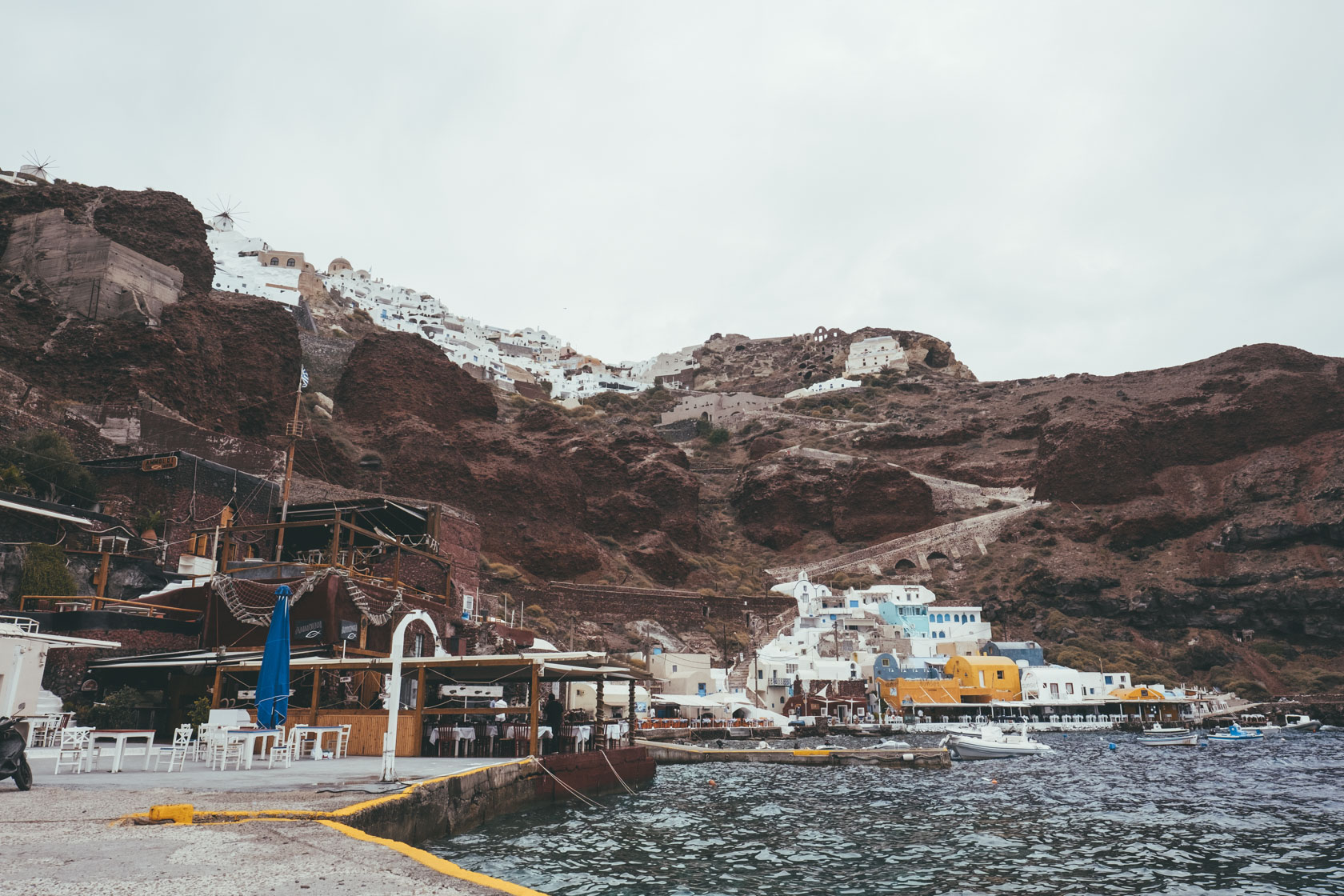 Visit Santorini on a Budget
On a final note, if you're wondering what kind of budget it takes to enjoy Santorni, it's true that it's not cheap, but it's also not as expensive as you might think. If you've ever traveled to countries like Iceland or Sweden, the prices don't remotely compare.
An average meal in Santorni will generally run you about 15 € and on upwards depending on where you are. There are still plenty of bargains to be found here, or at least places where your money will go further.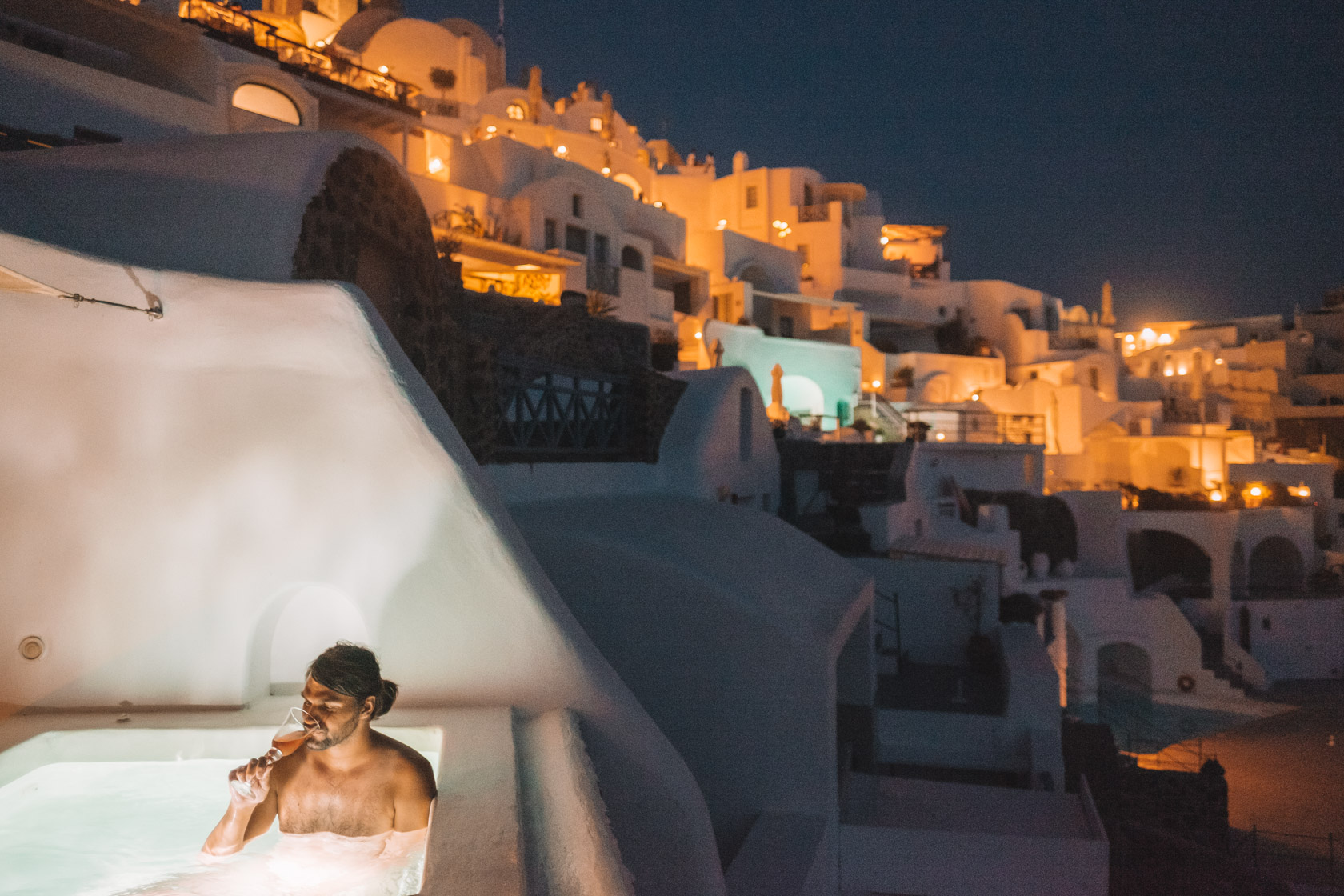 Naturally, if you decide to stay in a cave house like we did, the cost per night will be higher. A lot of places will give you a discount if you book more than two nights though, so simply planning a longer but slower trip can bring the cost per day down a little.
How to reach Santorini by plane or ferry
Santorini is a surprisingly short flight from Athens, Greece, just 45 minutes away by a local air service. It's also popular to take a ferry from Crete (which is how we arrived in Santorini ourselves).
If you were determined, you could do it as a day trip from Athens, but I don't recommend it. Even though Santorini is a small island, there is a ton to see and do outside the hotspots like Oia and Fira.
Where to go in Greece
If you're planning to visit Greece but not quite sure where to put on your itinerary just yet, dont miss my other Greece city and region guides: