Crete may be the largest of the Greek Islands, but thankfully the crowds seem to spend much more of their time on overcrowded neighbors like Santorni. This leaves this gorgeous, rugged Greek island to people like us, who are looking to explore rather than simply relax.
Though there's nothing wrong with relaxing either — and I'll touch where to stay in Crete for beaches, too. But the fact that the island is so large also makes it harder to figure out the best places to stay in Crete for different itineraries.
Choose the wrong location, and it'll take you ages to drive to some of the best places in Crete. Time you'd rather spend on the beach, hiking through gorges, or just downing Greek salads like no one is watching.
This guide to the best towns in Crete will explain where to stay as a traveler in 2023. The closest attractions (which are currently open), best restaurants, pros and cons, and everything you need to know to choose your hotel or guesthouse in Crete.
I'll also share the places we stayed, complete with photos I took myself. Here are a few quick suggestions of places to stay, depending on the kind of trip you'll be taking.
And now, for the best places to stay in Crete for travelers in 2023.
Rethymno
If you want a balance of a beautiful small town, excellent food, affordable and a central location, Rethymno is easily the best place to stay in Crete. We stayed here for most of our time in Crete and absolutely loved it. Here's why.
First off, Rethymno is just a one-hour drive from the airport in Heraklion to the West. It's also Crete's third largest town, after Heraklion and Chania. But just because it a little bigger doesn't mean it's any less charming.
It has a gorgeous, maze-like Venetian-Ottoman quarter complete with vine-covered trellises under which you can eat fantastic, Cretan food at great prices. Accommodation in the area is also quite affordable (more about that in a second).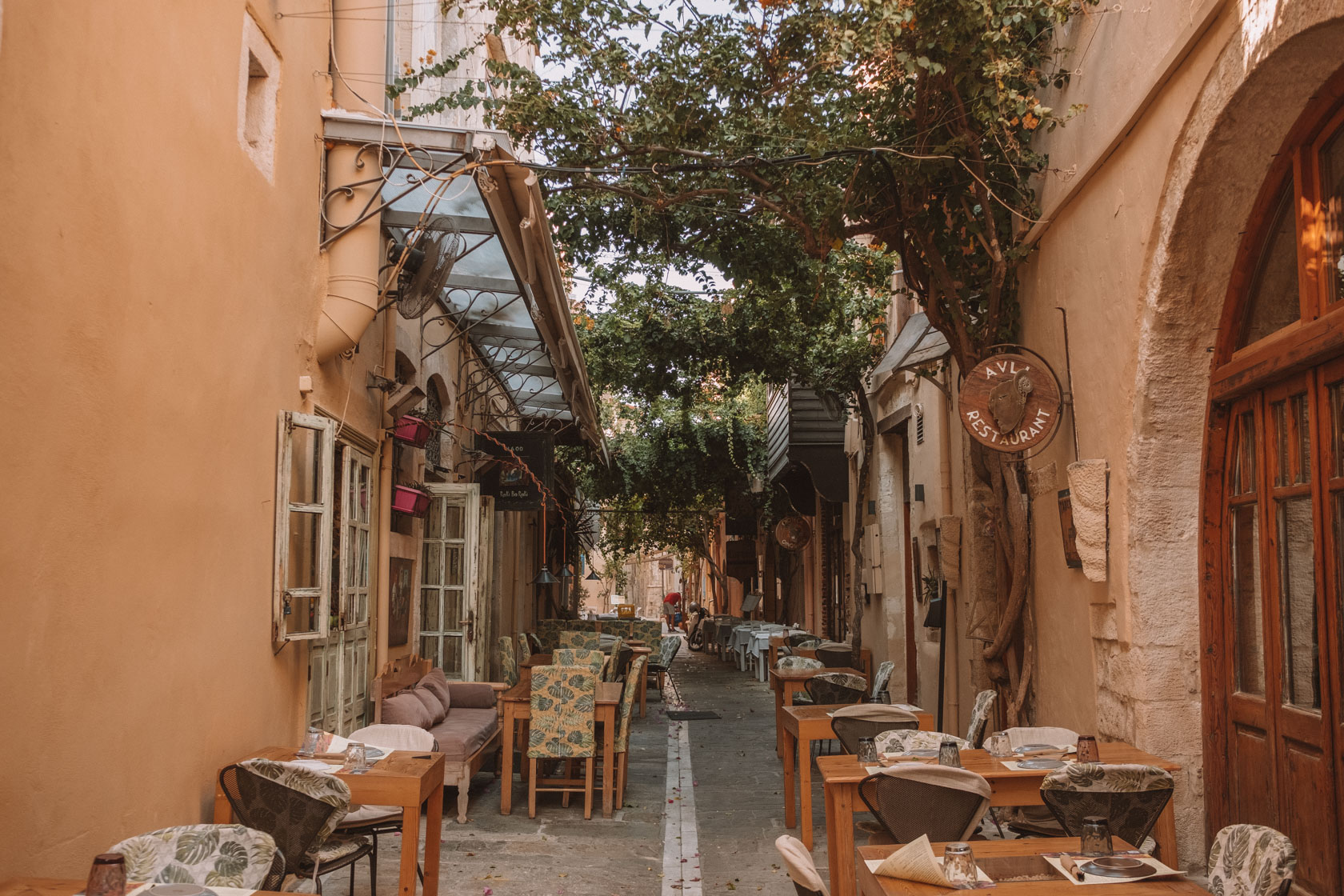 Naturally, it's on the sea, so it has a harbor and beaches. That said, if your main goal is to roll out of bed straight onto a sandy beach, I'd recommend Frangokastello instead (you can read about that town in Crete below). Rethymno does have beaches, but the town itself is definitely the main draw.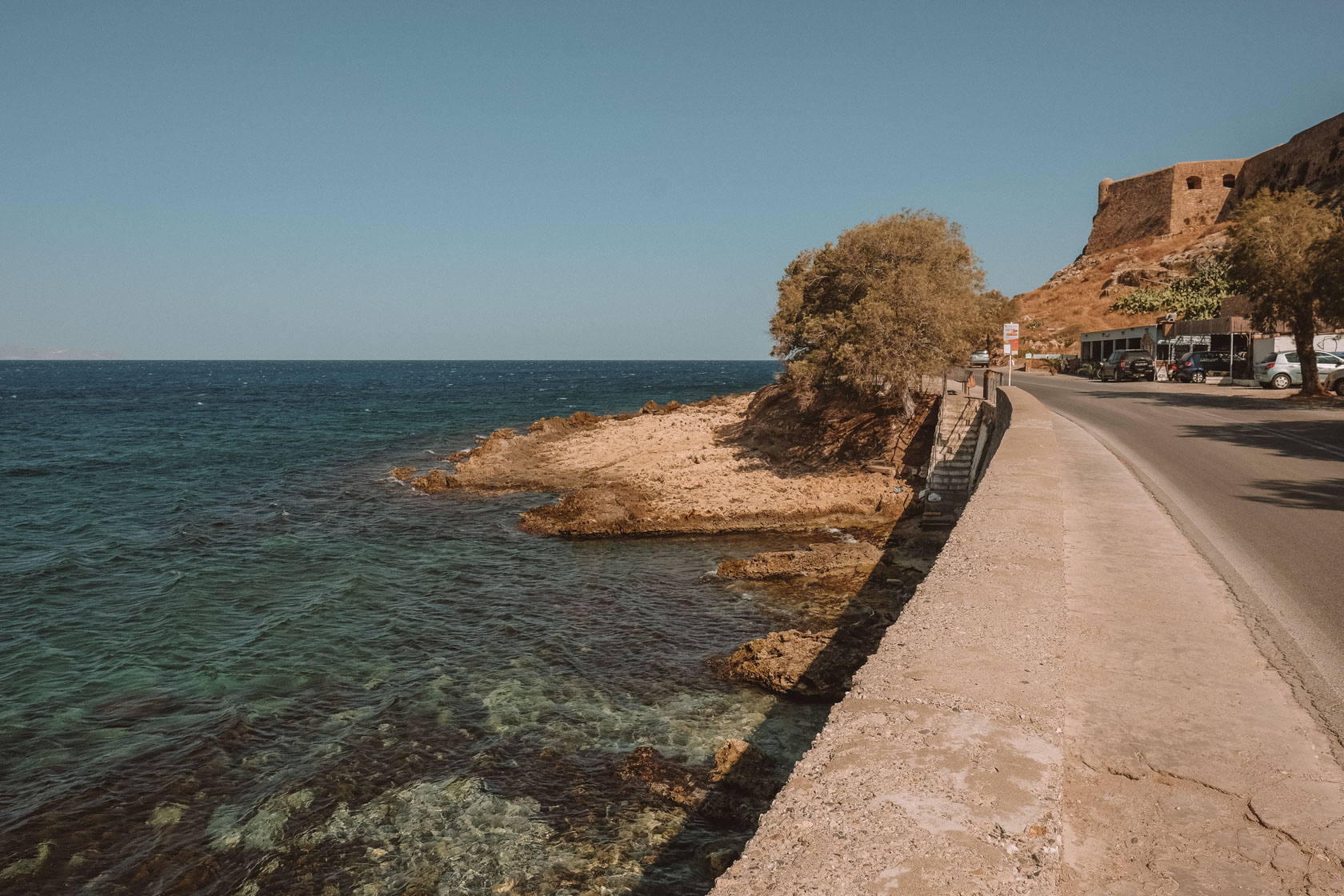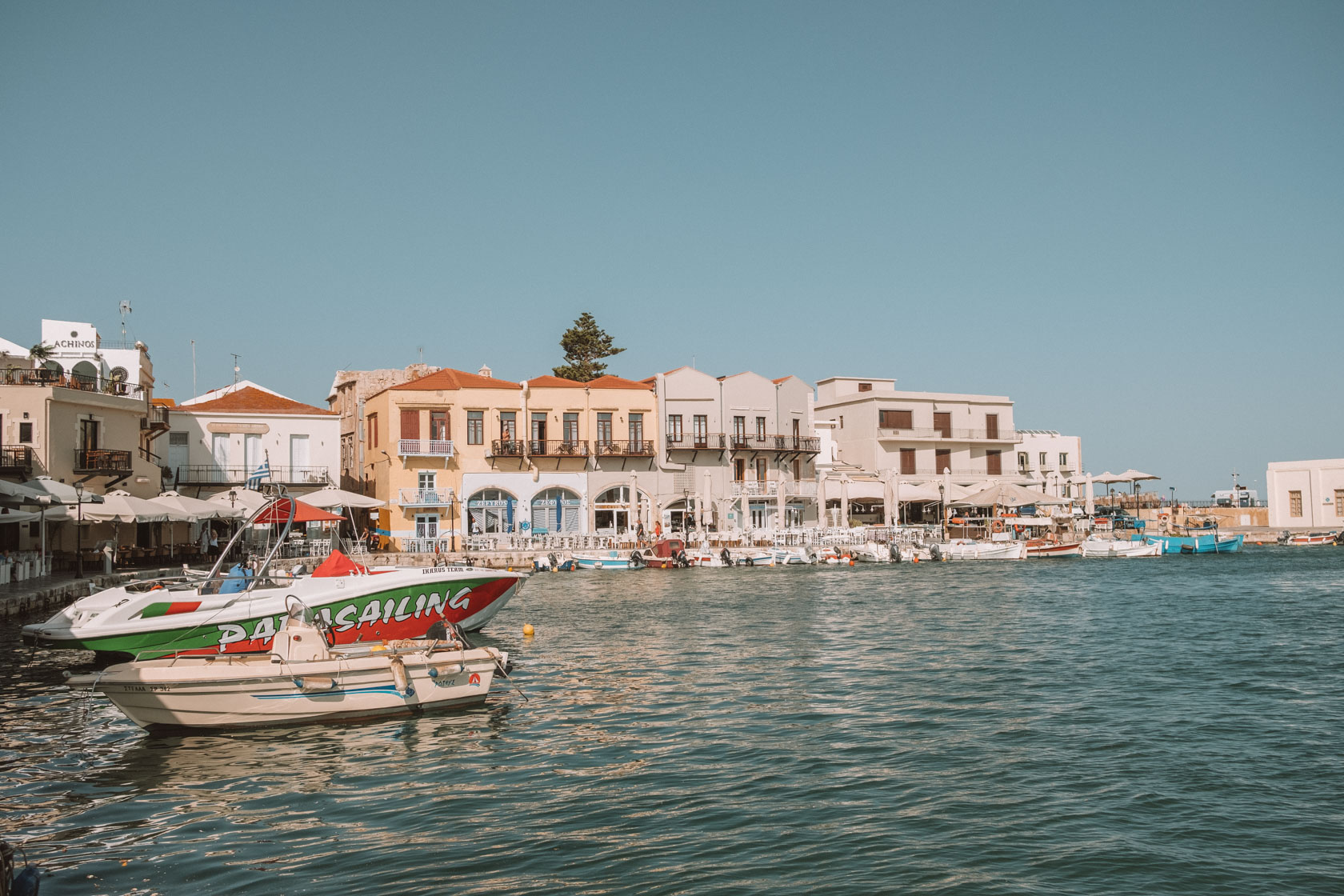 Otherwise, it's an extremely central location to reach many of the best spots in Western Crete in under an hour (dare I say, the best part of the island?) – Monastery of Arkadi (27 minutes), Imbros Gorge (53 minutes), Eleutherna archaeological site (34 minutes), and Chania (1 hour).
Each of these spots is on my list of the best things to do in Crete, and are super easy to reach from Rethymno. For outdoor lovers, Samaria Gorge (the most famous hike in Crete) is about 1.5 hours away, so staying in Chania itself might be easier if you want to get an early start.
Here are just a few gorgeous places in Crete under an hour from Rethymno: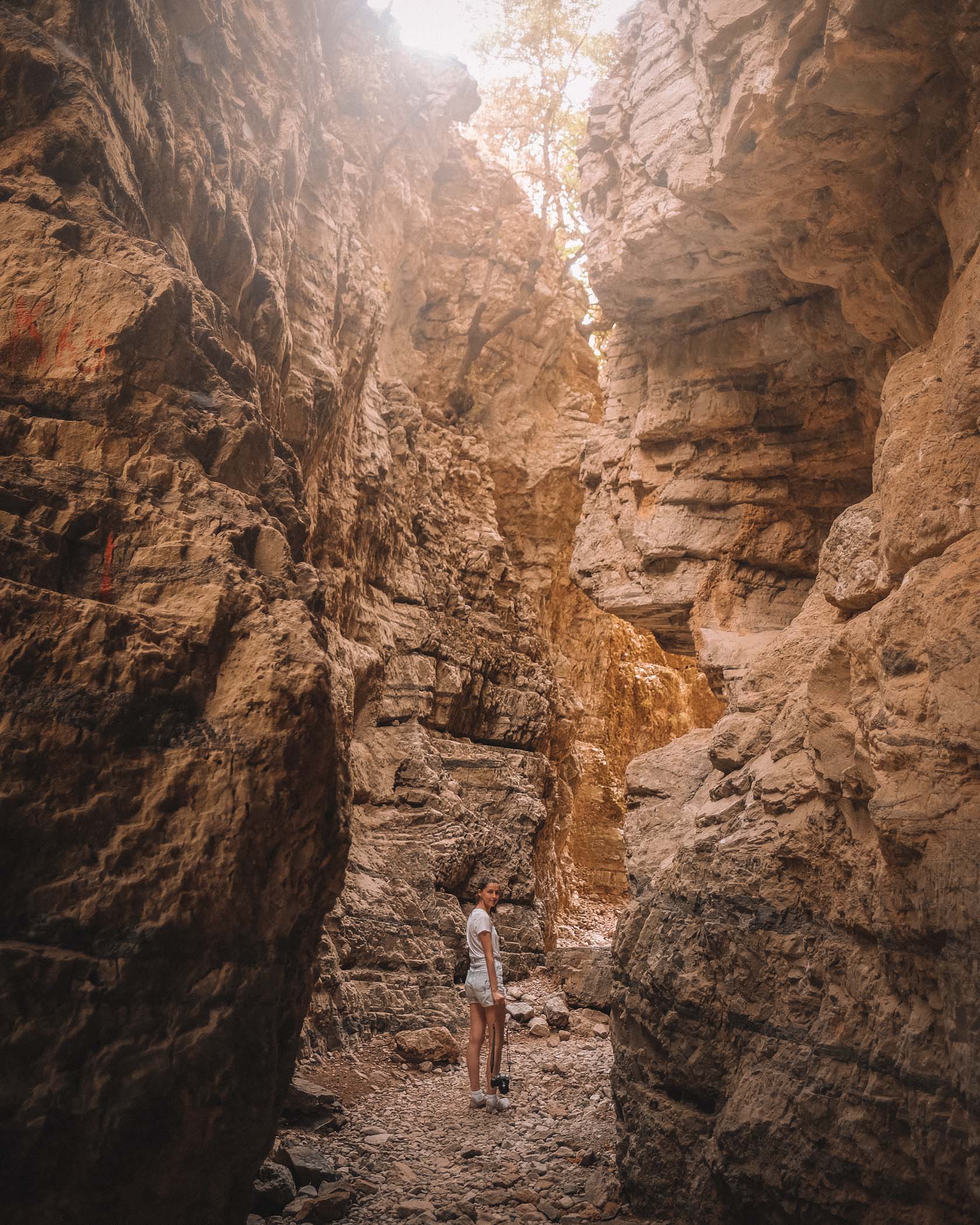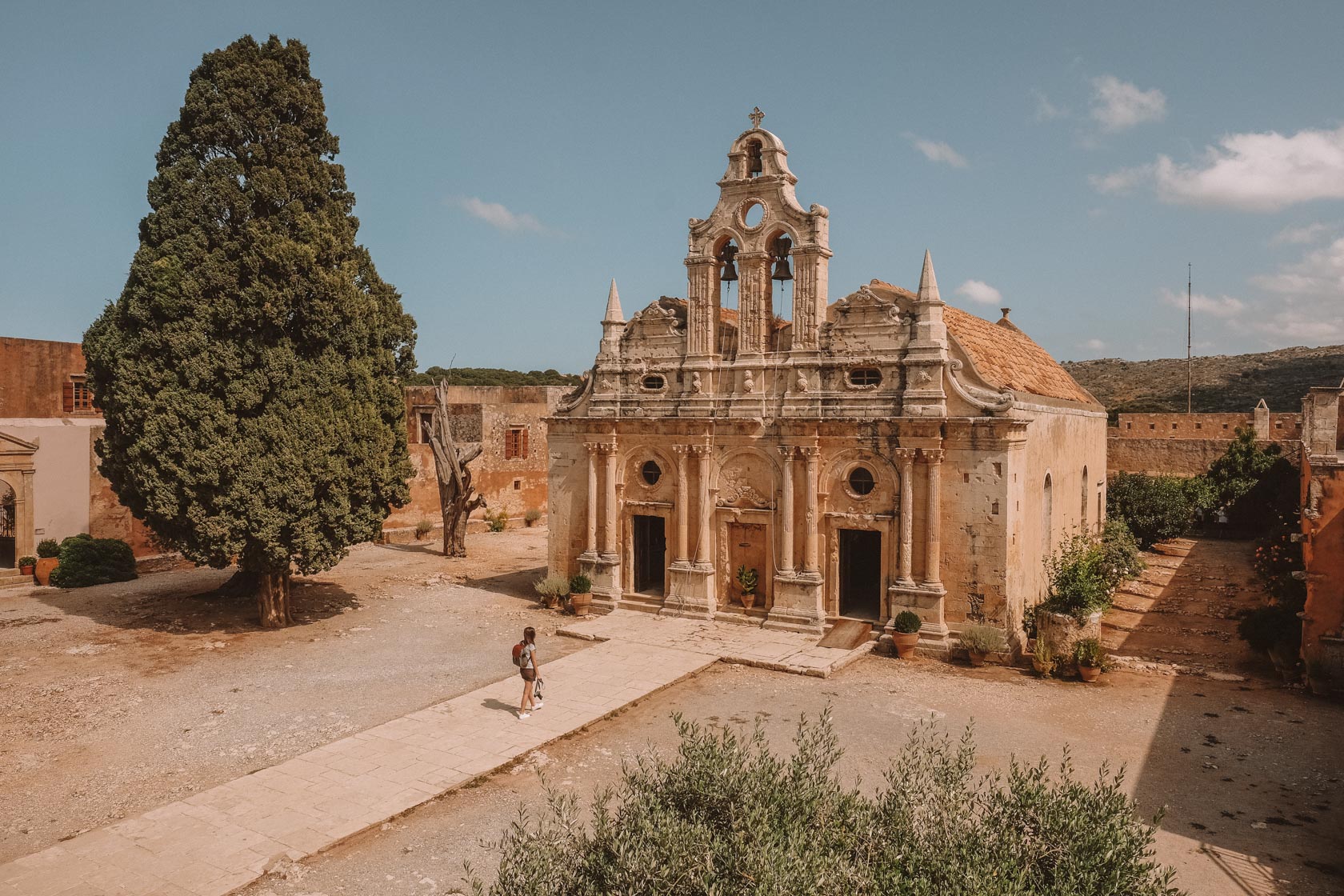 Where to stay in Rethymno: Villa di Casa Maria
We stayed in and loved Casa di Maria in Rethymno. Easy parking, fantastic outdoor seating area with a view over the sea (see photo below), situated next to the Venetian fortress, great air conditioning (a MUST!) and a couple minutes walk from the old town of Rethymno.
I mean look at this view of my "office" at Casa di Maria. Totally idyllic.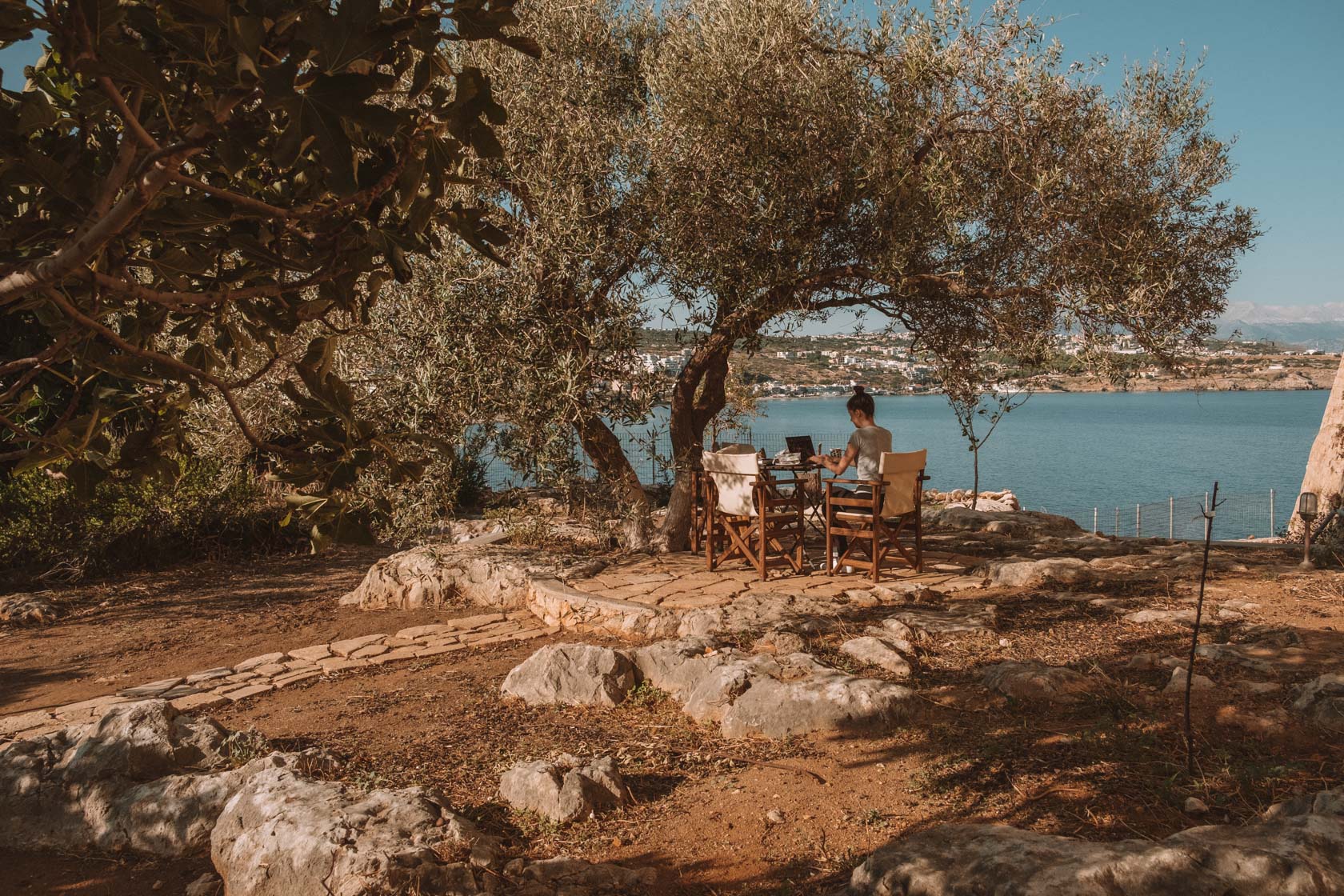 When we travel, we're also always thinking about where sunset and sunrise will be. Casa di Maria is an awesome location to watch sunset (from the aforementioned outdoor seating) over the island of Crete with a glass of Cretan wine in your hand. Notice the abundant parking as well 😉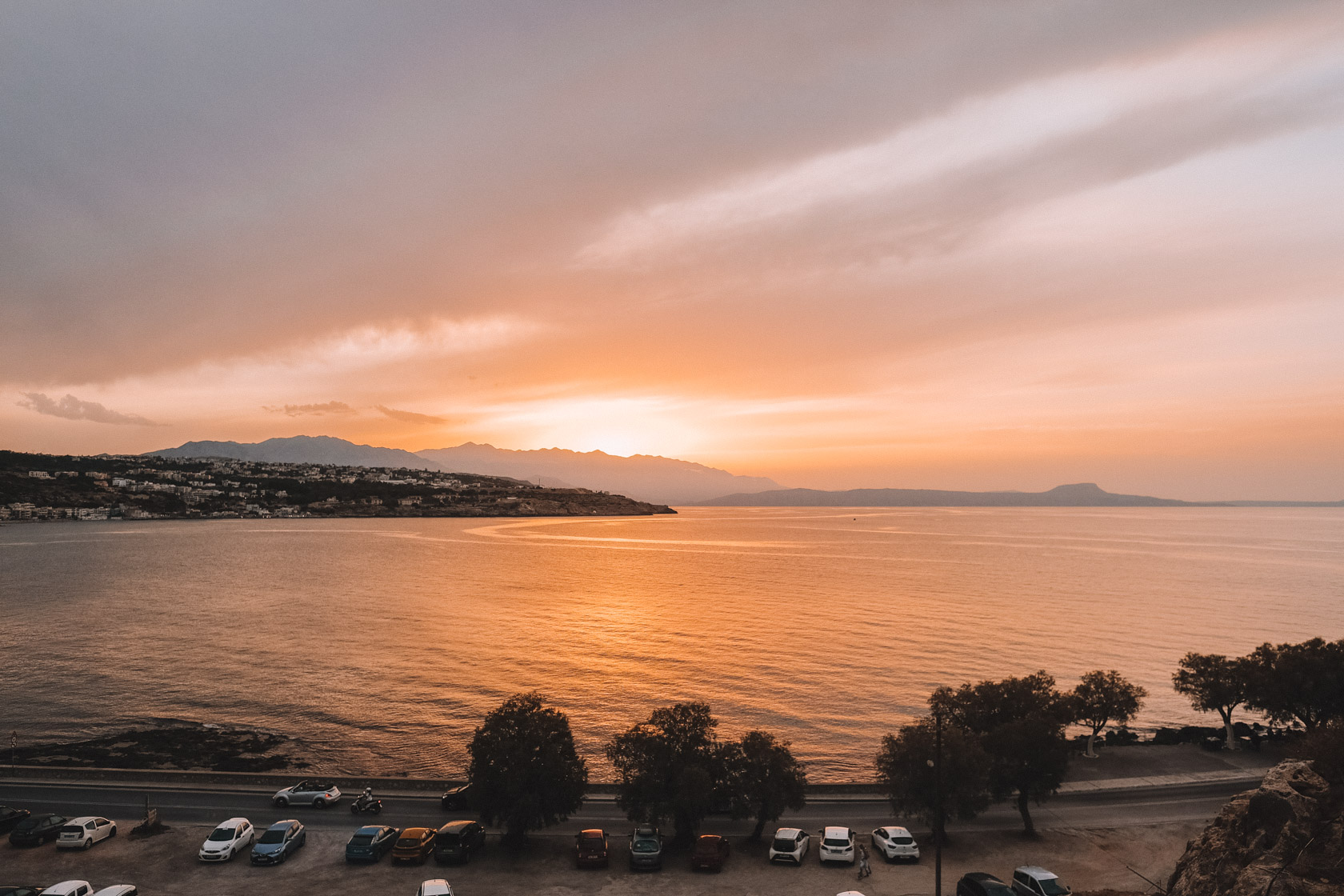 Lastly, here are a few more photos I took of the interior: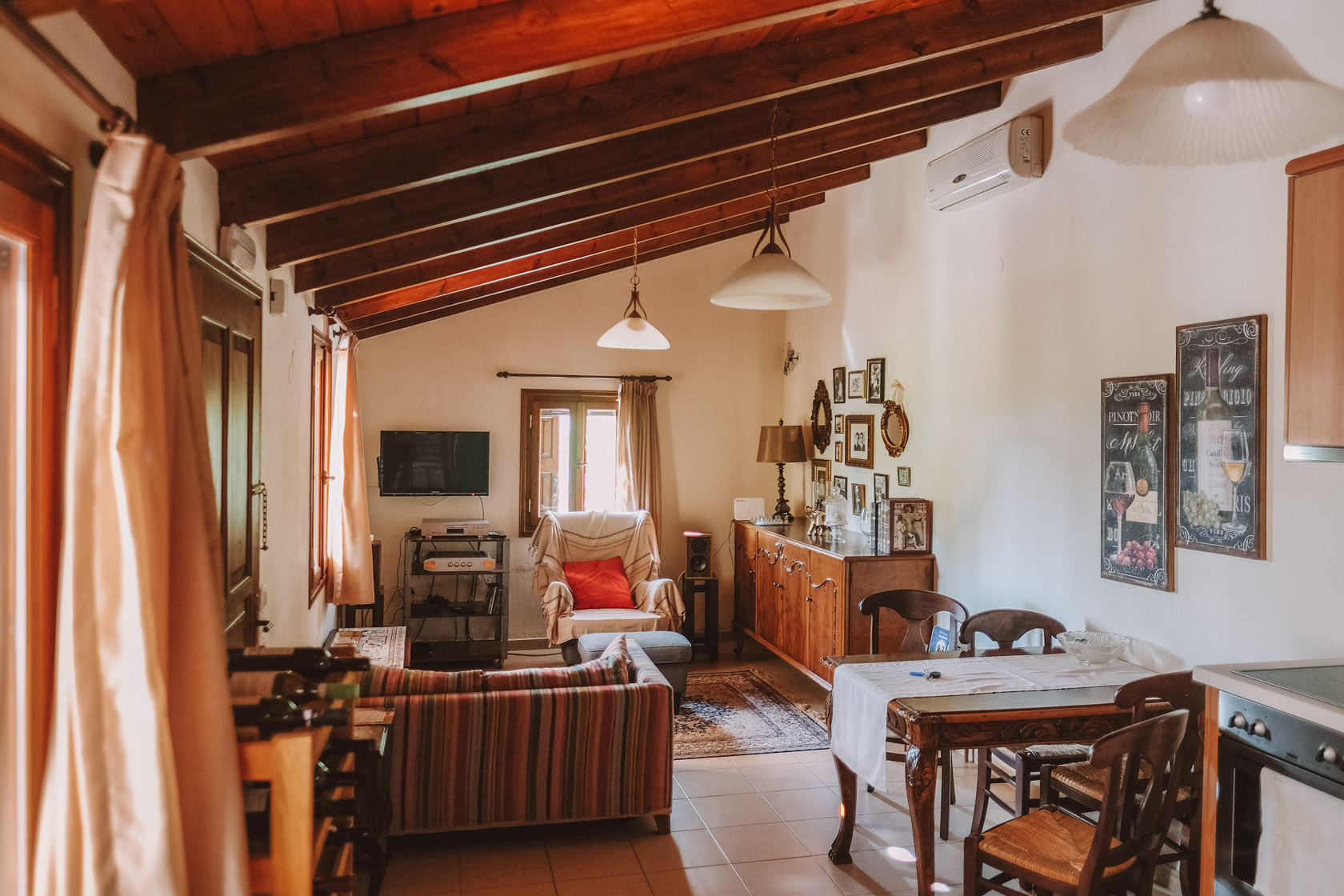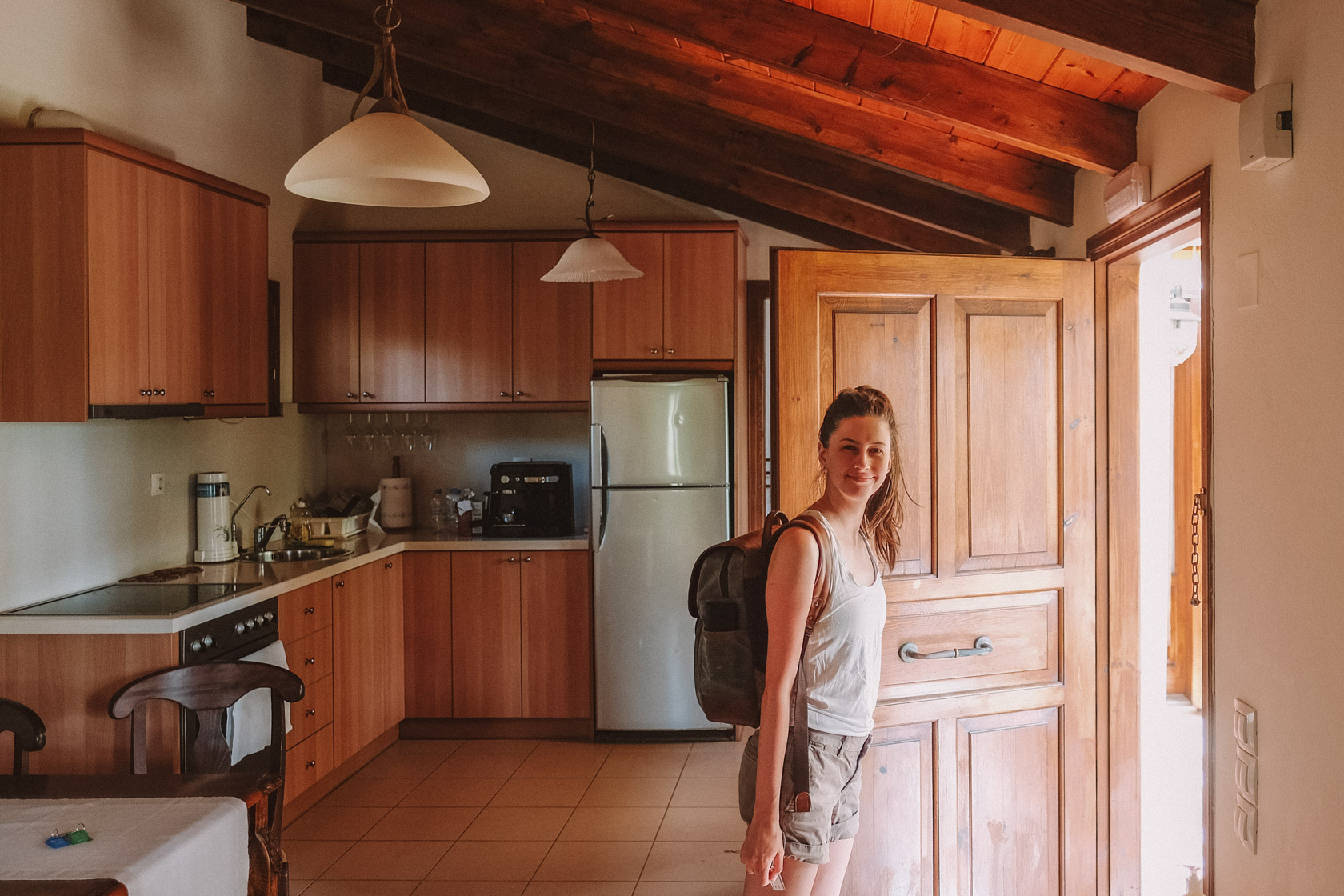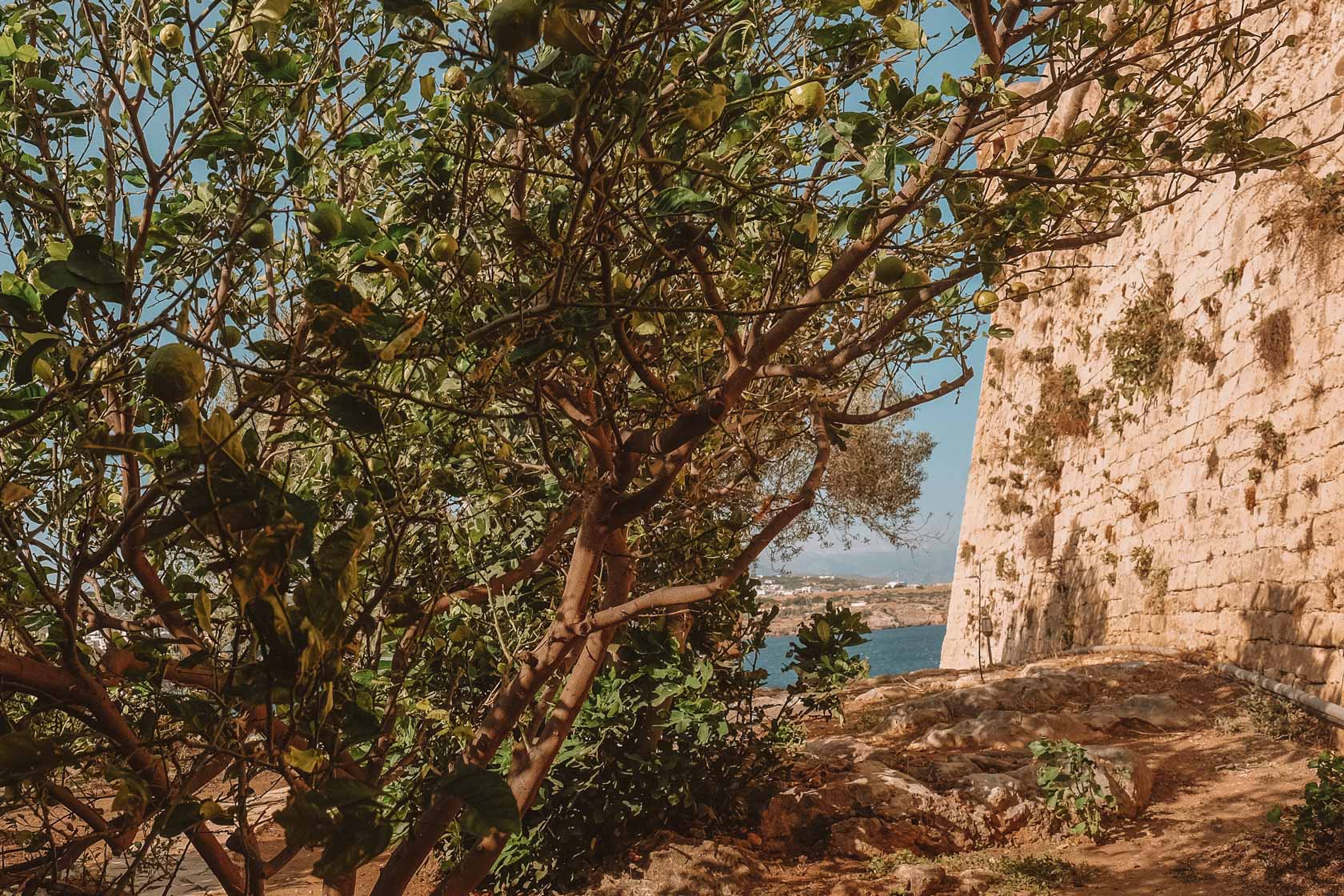 Absolutely one of the best home bases in Crete for exploring the island. If you want to stay in the same villa as us, click here for pricing and availability of Casa di Maria . With a 9.8 rating on Booking.com we felt super lucky to be able to book it on short notice!
Chania
Chania is the second biggest town on Crete after the capital of Heraklion, but it still maintains that small-town vibe when you're looking out over its stunning Venetian harbor. Just admire how gorgeous it is at sunset: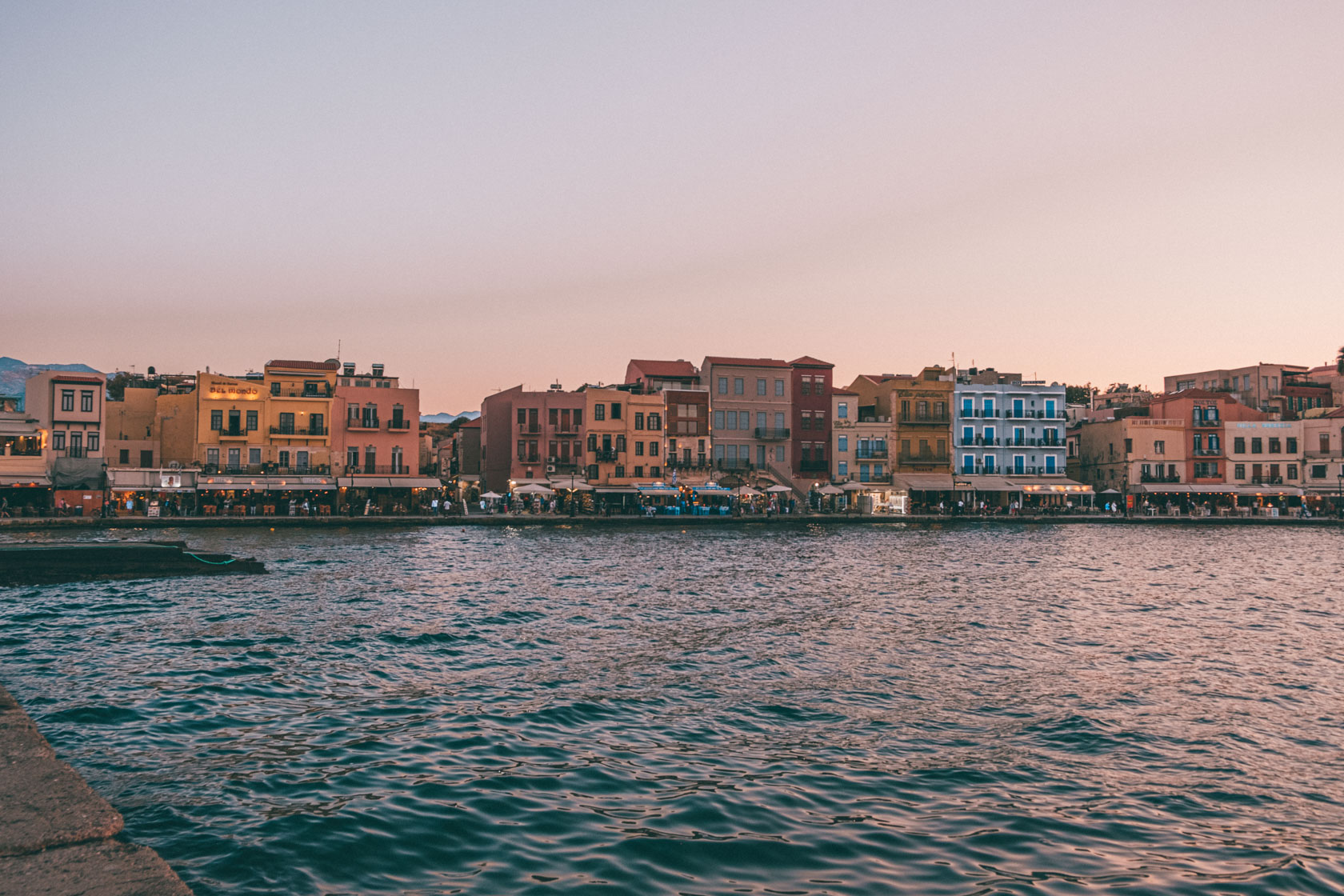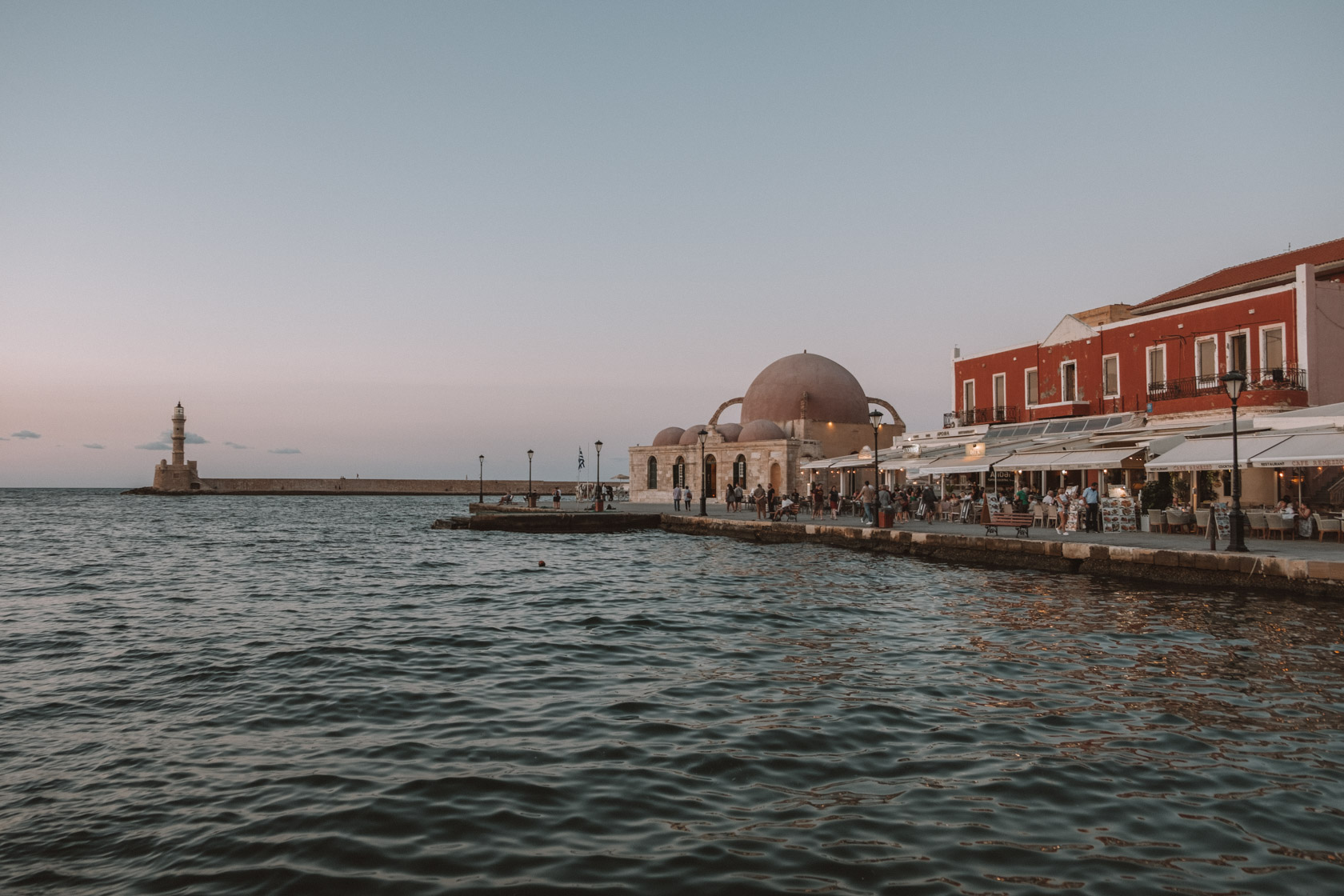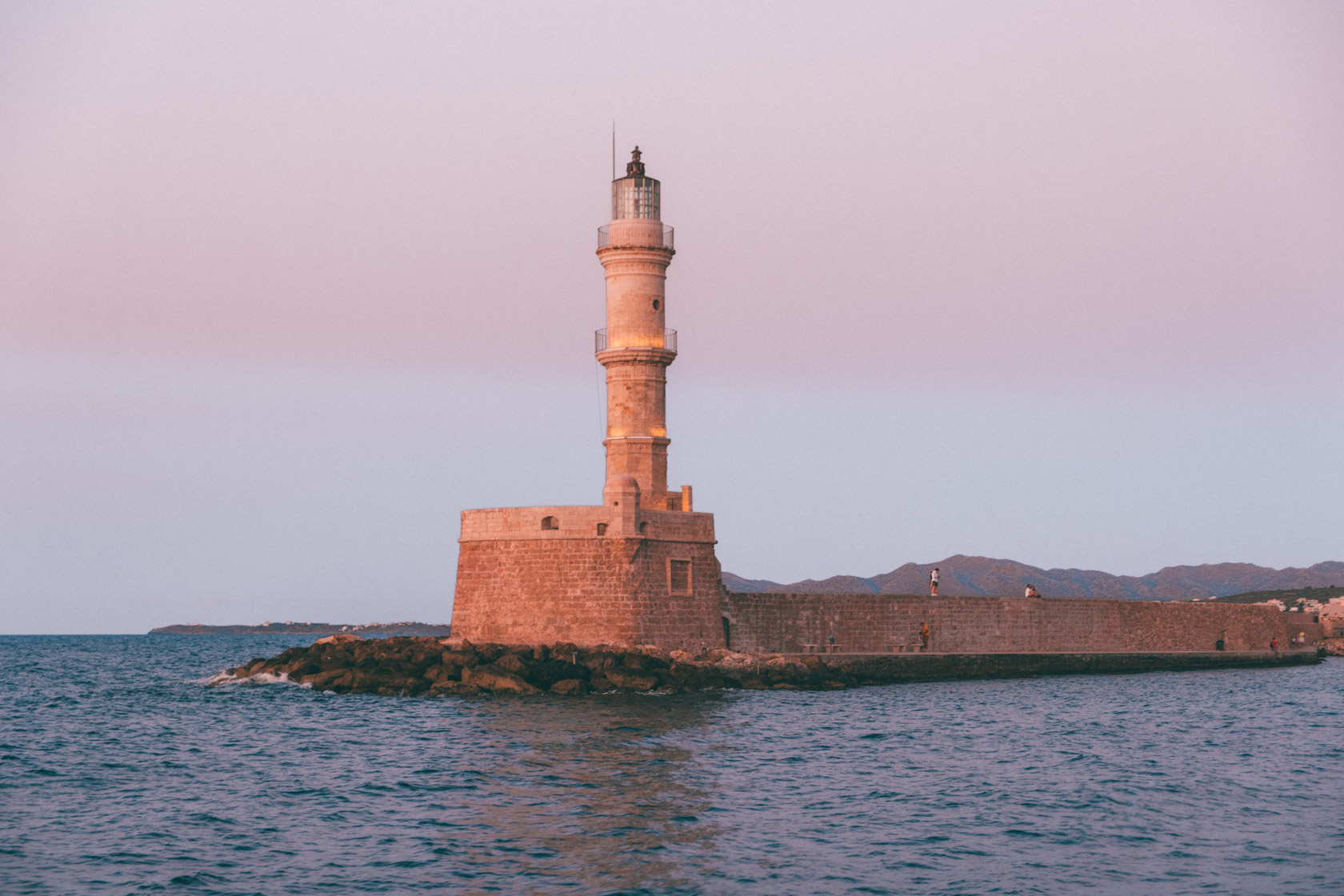 Chania blends together the beauty of a traditional town, with the convenience of a small city. You'll find lots of shopping here and stores where you can buy anything you forgot to pack. If you like staying somewhere that has both scenic areas and utilitarian facilities, Chania could be a great place to stay in Crete for you.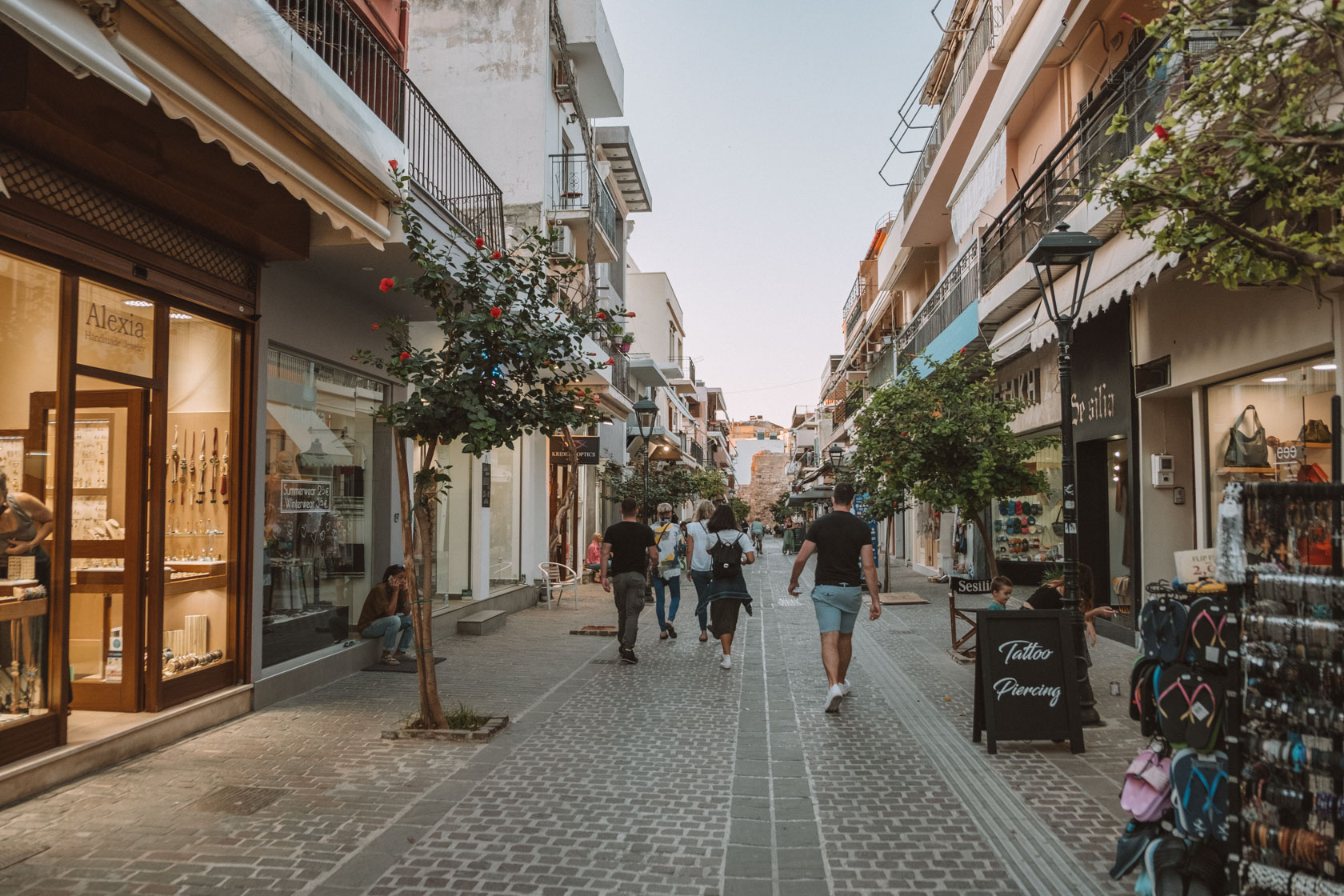 Where to stay in Chania
We didn't personally stay in Chania, but I checked out some great accommodation which is located right in the heart of the old town. Here are some of the best hotels in Chania:
Heraklion
Heraklion honestly surprised me when I stayed there: as Crete's largest city, it's full of college students, night life, and completely urban vibes. Especially in Autumn of 2020, I couldn't believe how many people were outside in large groups of people (without masks!) meanwhile my city of Berlin was about to enter lockdown again.
Despite the crowds, there are some really good reasons to stay in Heraklion for at least one night, which is what we ended up doing.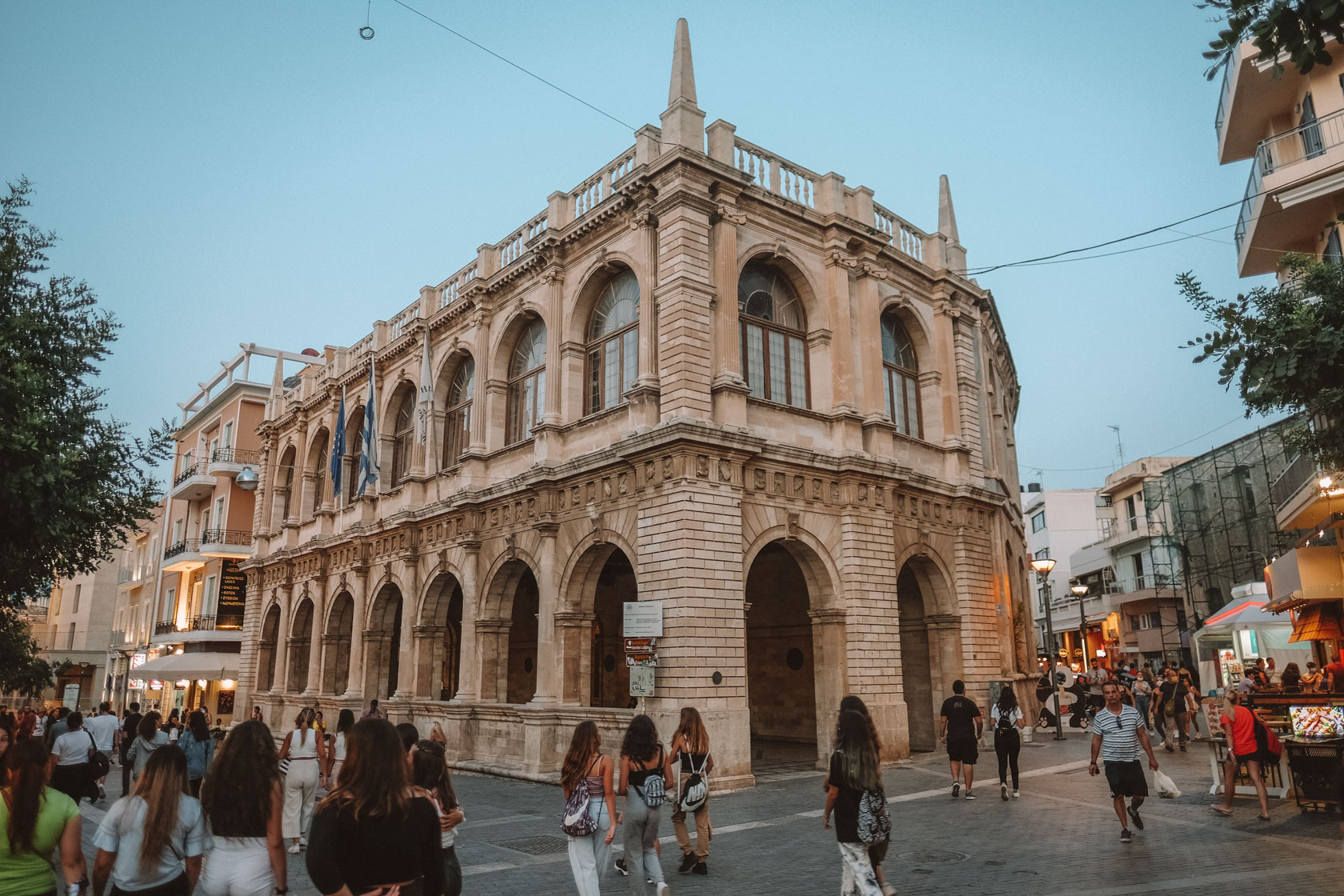 First off, Heraklion has a port where ferries dock that can take you all over the Greek islands. We decided to spend a night in Heraklion so we could wake up suuuuuper early in the morning for our trip to Santorni.
We stayed in Marin Dream Hotel though describing the hotel as a dream is a bit of a stretch 😂 Let's just say the hallway carpet definitely needed an update, but it was a sub-10 minute walk to the Heraklion Harbor which was our main criteria with a 6AM departure.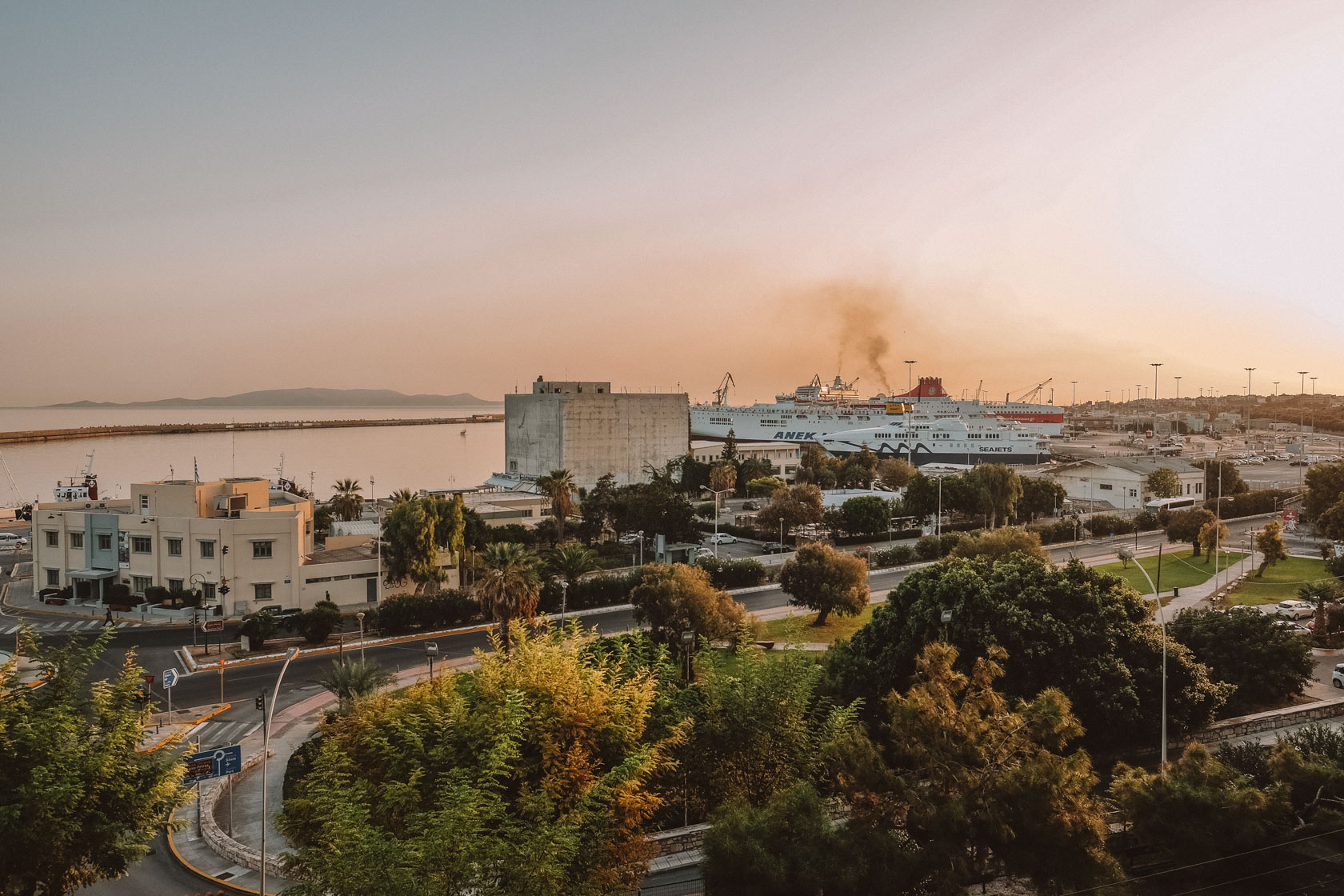 Besides using Heraklion as a place to stay in Crete for the port, there are also some great attractions located in Heraklion that you might want to visit early in the morning: namely, Knossos Palace .
This archaeological site is easily the #1 thing you have to do on Crete, and is so incredibly famous that (in "normal times") it attracts crowds that rival Pompeii.
If you decide to stay in Heraklion, Knossos is literally a 10-minute drive away. Why does it matter? You can not only beat the crowds, but the blazing sun that will still give you a sunburn in October. Can you sense the heat in this photo?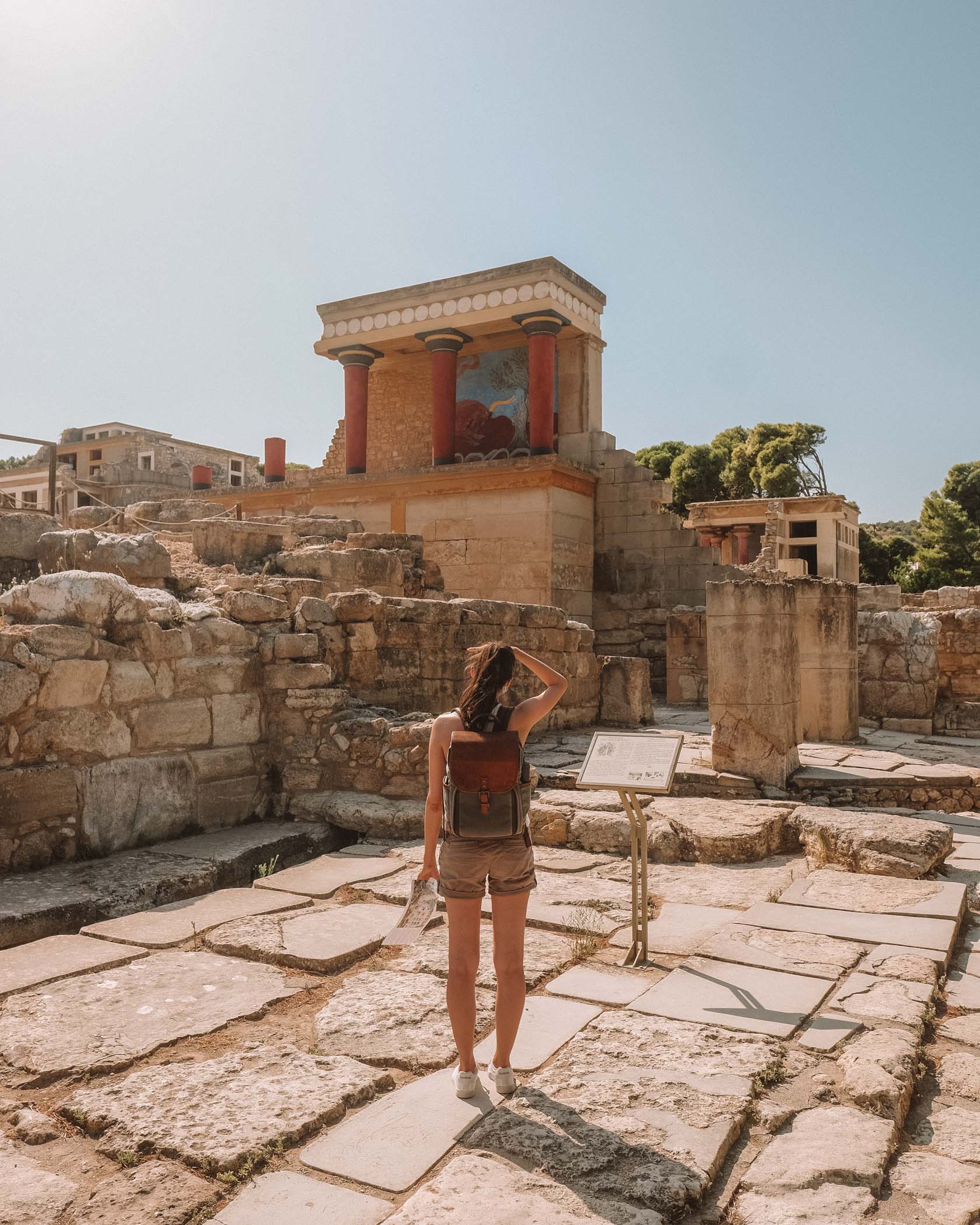 But, if you'd rather not stay in Heraklion, you can do what we usually do for things like this (and in Pompeii, too) and just buy skip-the-line tickets to Knossos . They pretty much always cost the same price and saves you standing in the heat next to all the other sweaty people :)
Heraklion is also home to an excellent archaeological museum, which again is usually crowded but right now is virtually empty.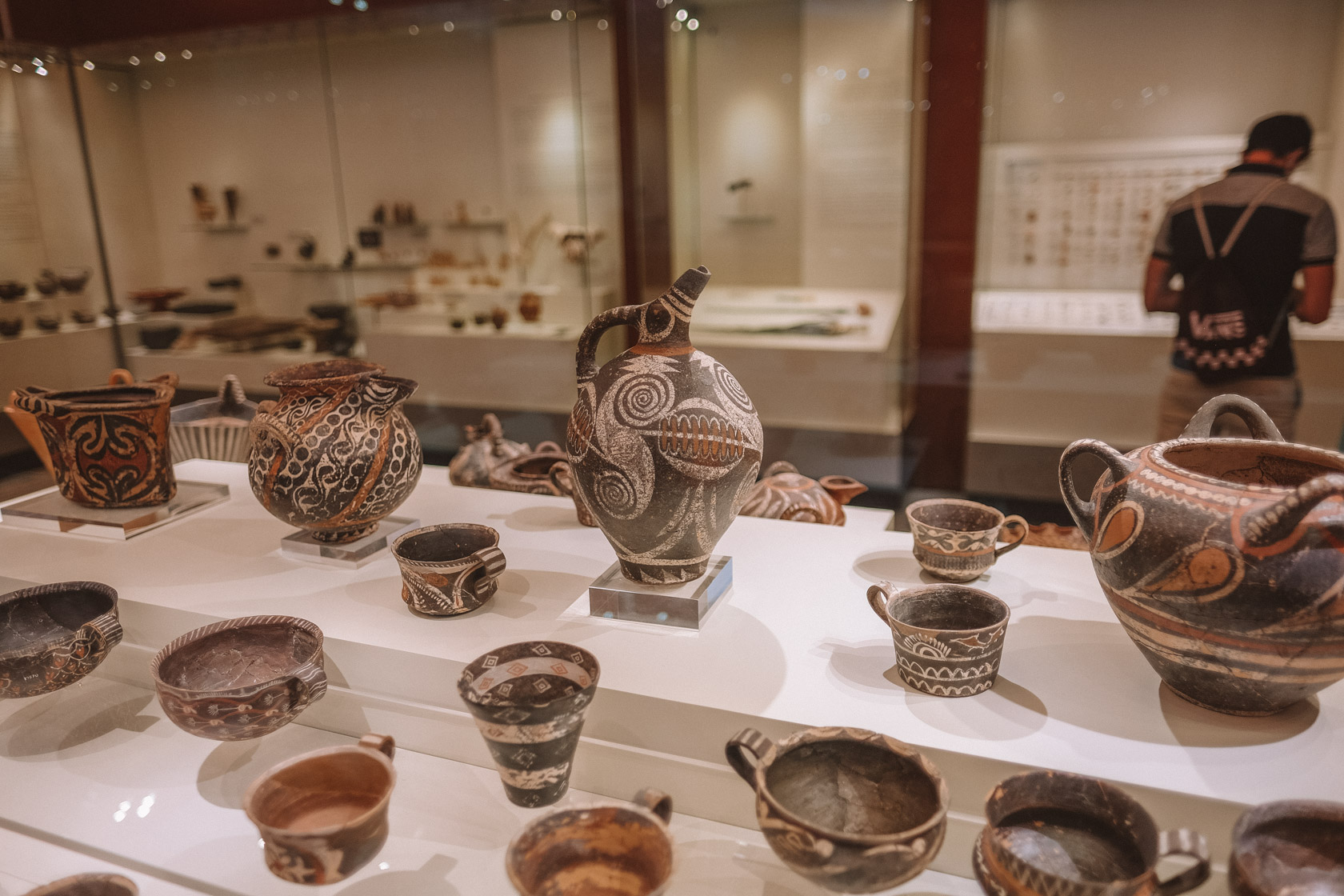 Where to stay in Heraklion
Amari Valley
Amari Valley has a collection of tiny, Greek towns that rest in the shadow of Mount Ida , the highest mountain in Crete (Psiloritis in Greek). This is the place to stay if you are looking for off-beat accommodation and want to stay in smaller villages, away from all the tourists on the coast.
Some of these villages are so small, they barely register on Google Maps. Here are a few photos to give you a sense of this unique area in Crete: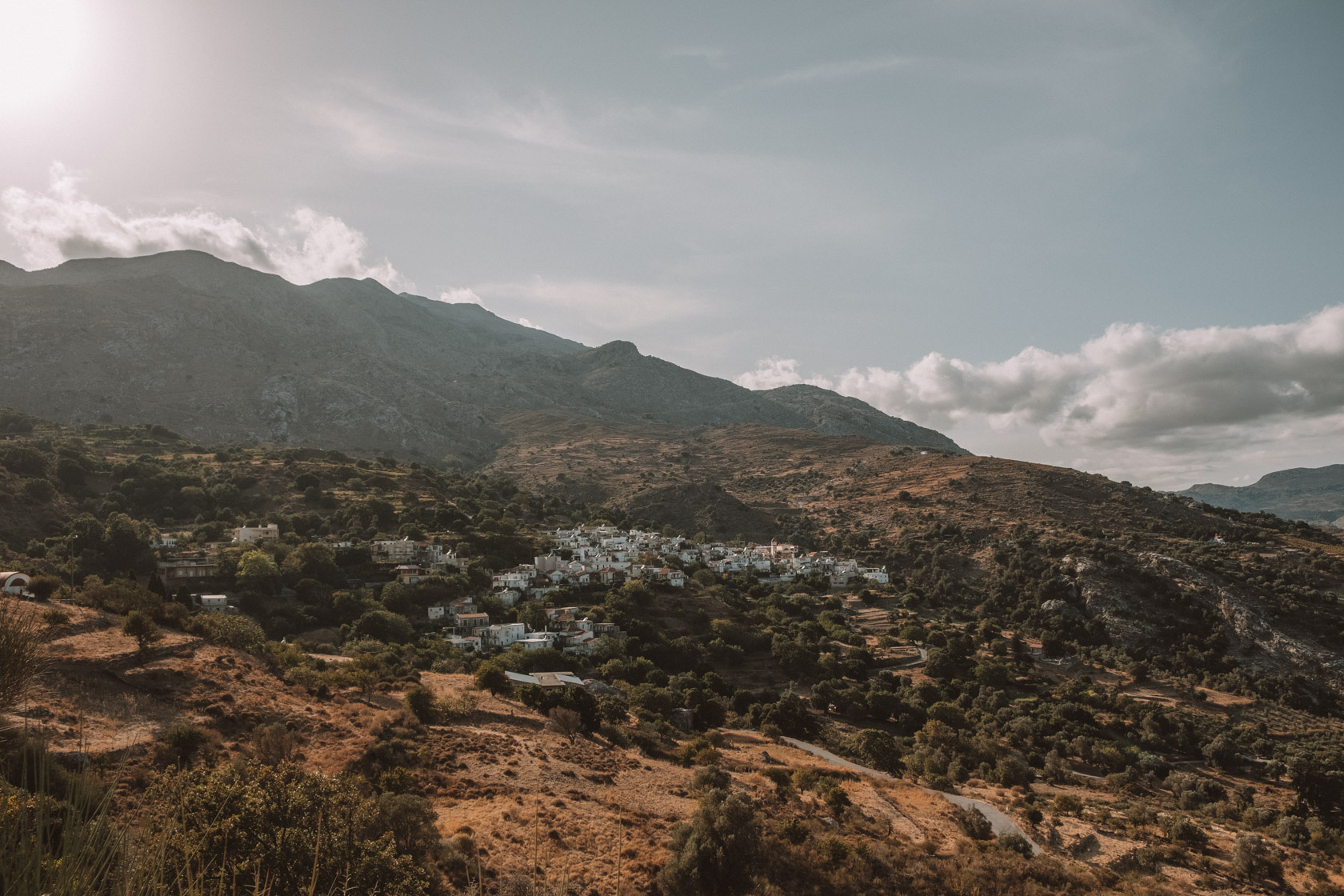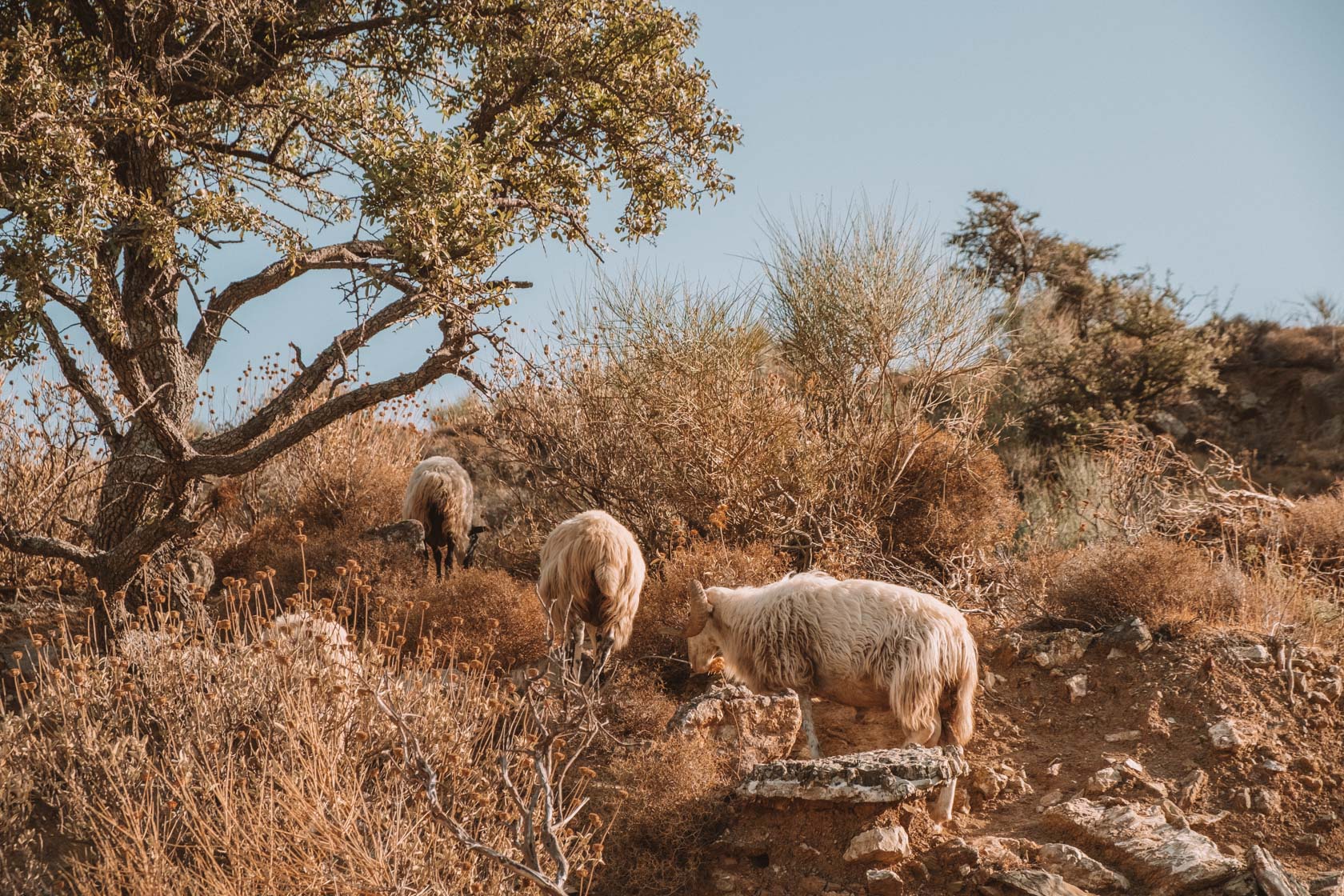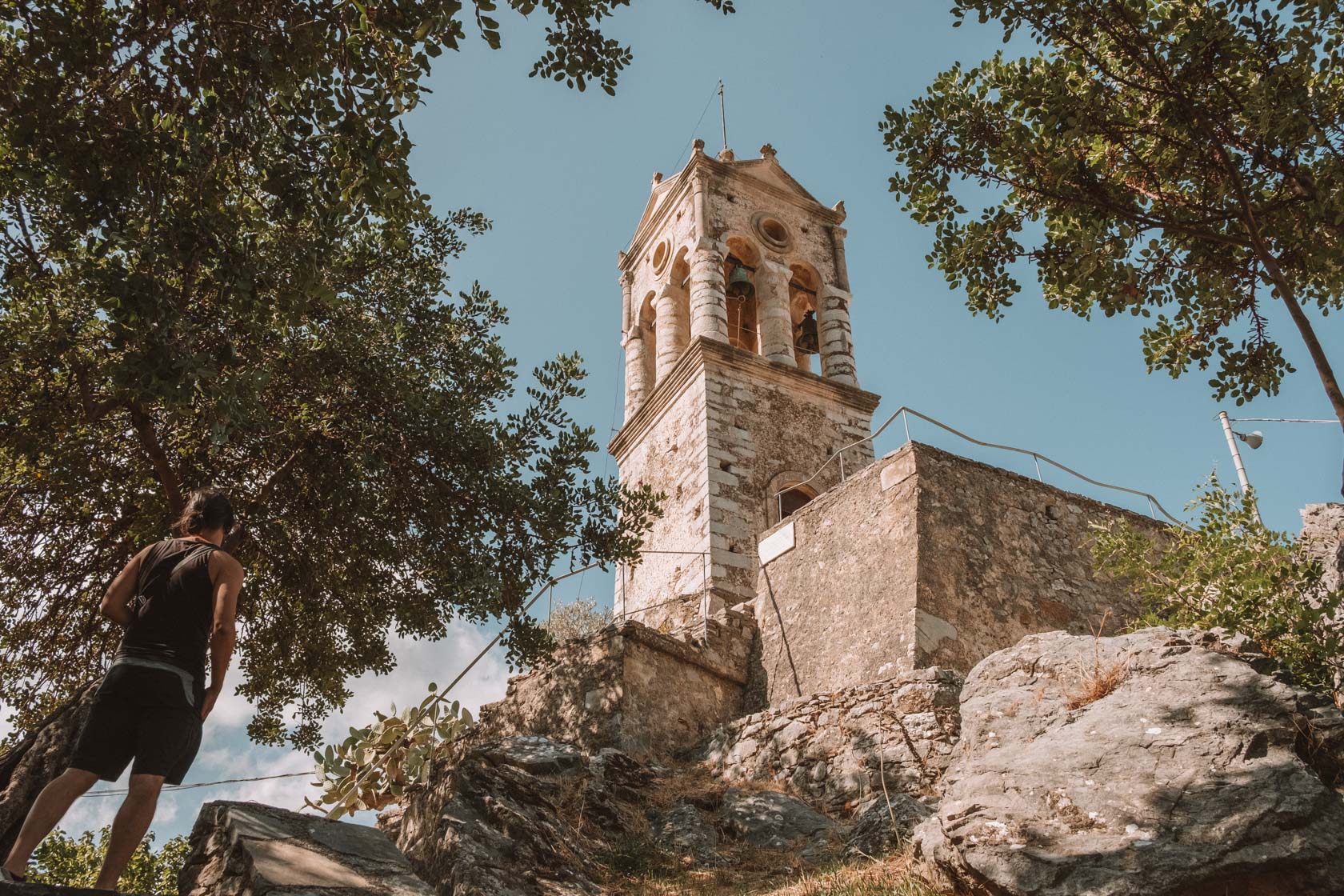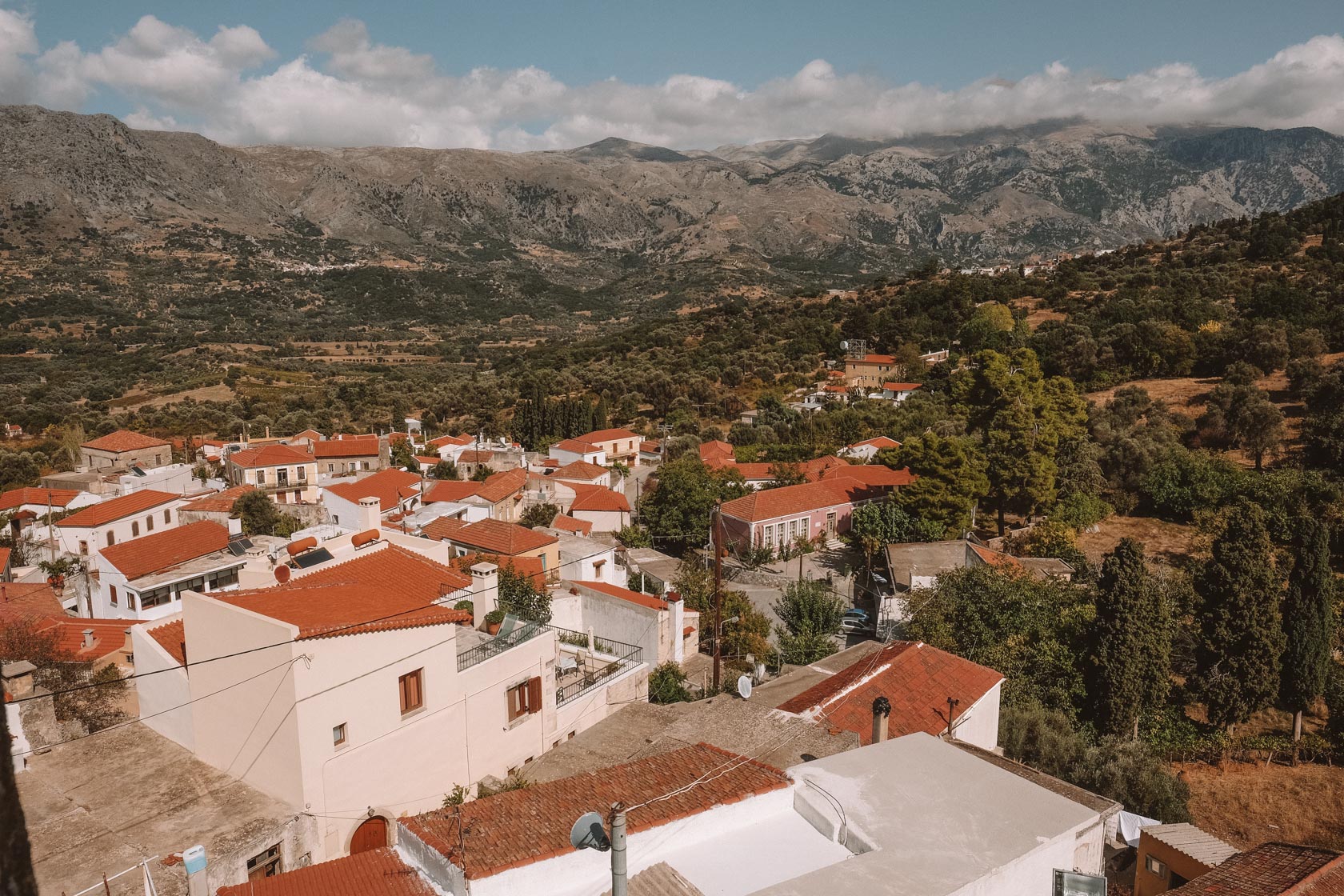 The region is also popular for hiking, and is a great location to make trips to Arkadi Monastery , Plakias , Spili , and of course the neighboring mountains.
Where to stay in Amari Valley
Spili
Located just a 30 minute drive from the Amari Valley is Spili , a better known place to stay in Crete and one of the most popular places to stay inland. While I haven't been to Spili myself, it pops up on just about every list of places to stay in Crete if you're after mountain views.
An added bonus for beach-lovers is that it's a short drive away from Preveli Beach , one of the best and most popular beaches on Crete.
Where to stay in Spili
Frangokastello
If you are looking for an ultra low-key resort with sandy beaches at your doorstep, Frangokastello might just be the perfect place to stay in Crete for you.
If you've stayed at other resorts in Greece like those on the Halkidiki Peninsula, you'll know what I'm talking about: just a few cafes, no proper town, but tons of sand and crystal clear waters for swimming and sunbathing.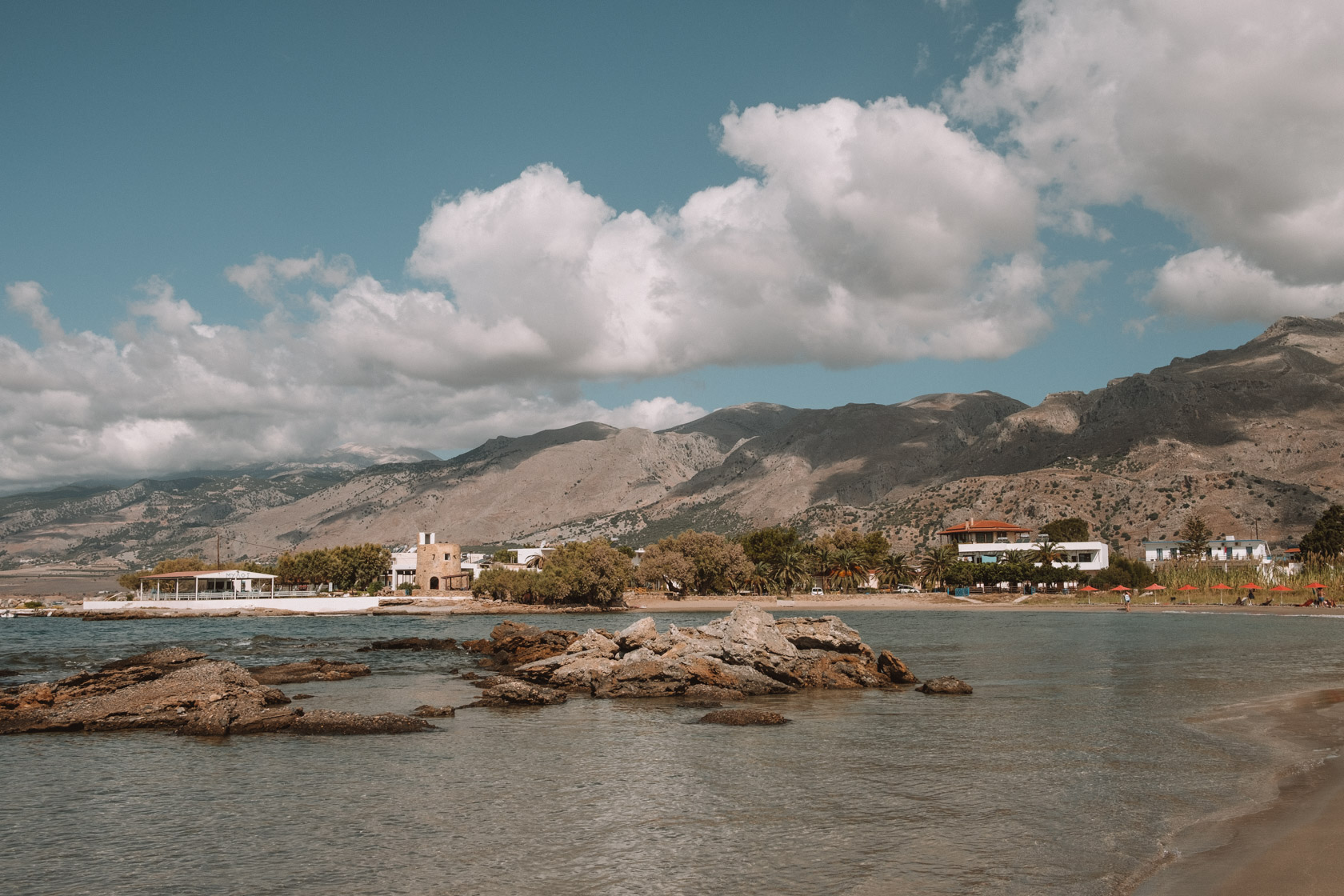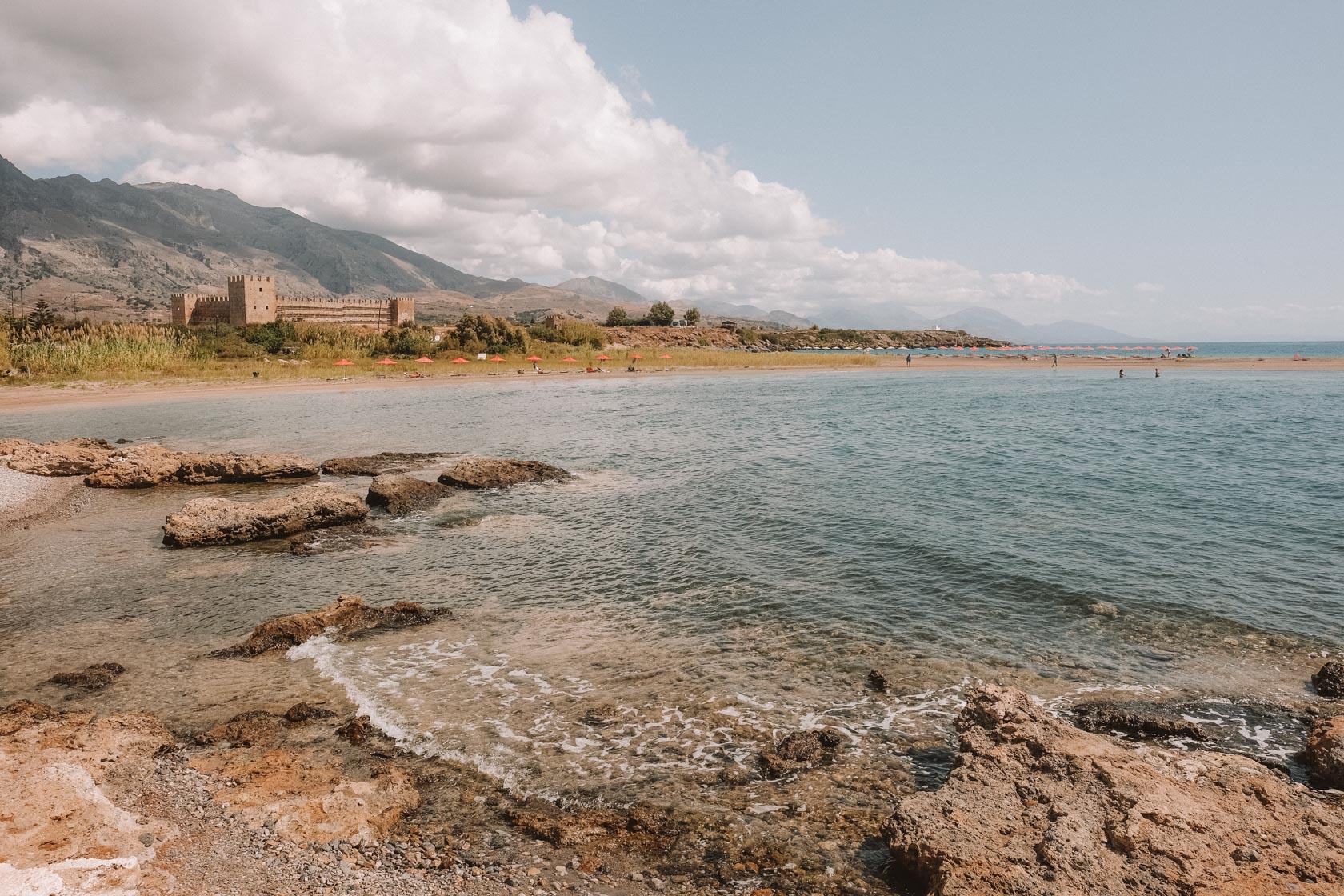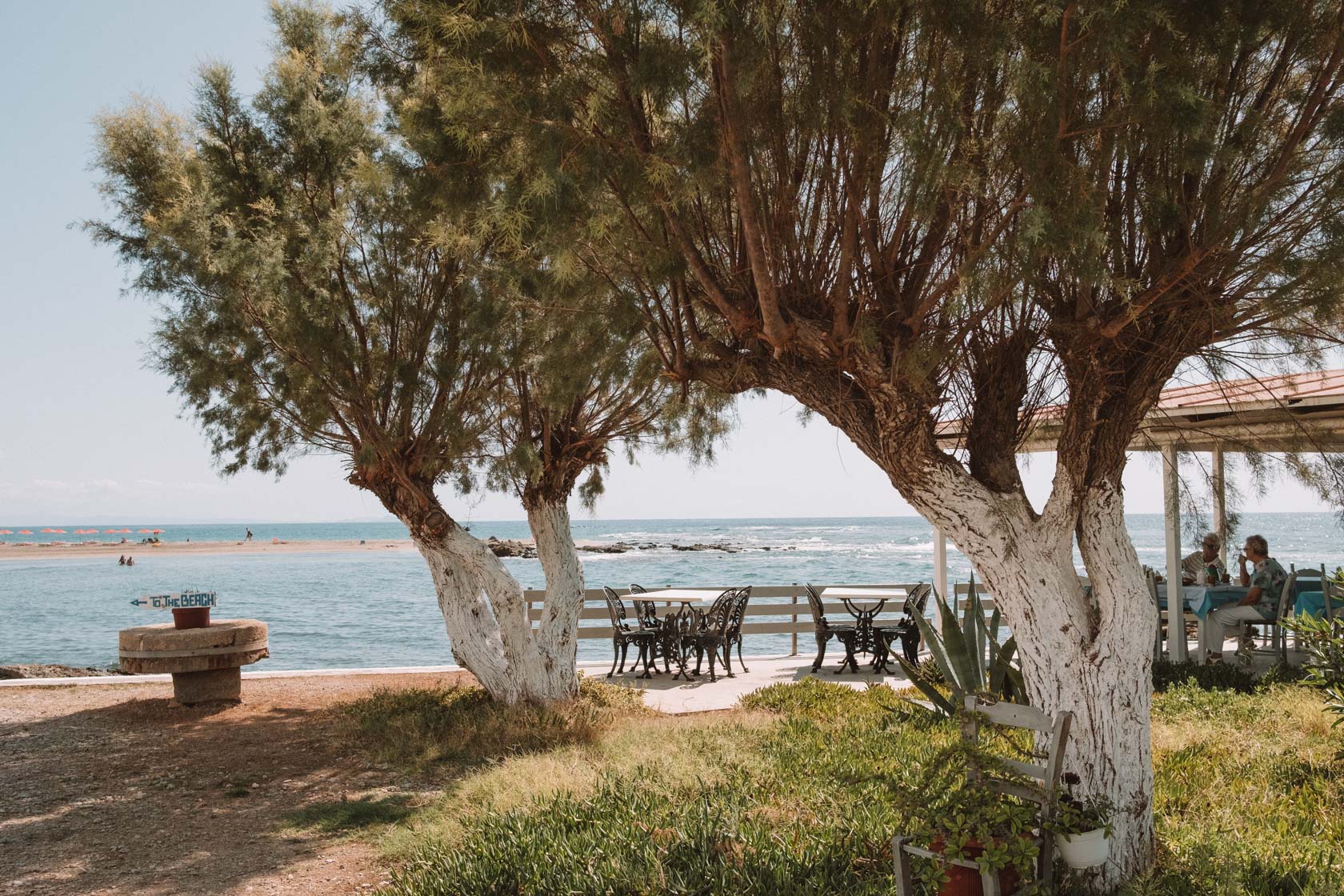 Where to stay in Frangokastello
Margarites
If you're not after sea views, Margarites is an extremely cute village famous for its ceramics. With over 17 workshops, it's the most important location on Crete for pottery, continuing a tradition that dates back to the Minoans.
Margarites is located in the West of Crete, just an hour drive from the Heraklion airport and 28 minutes from Rethymno .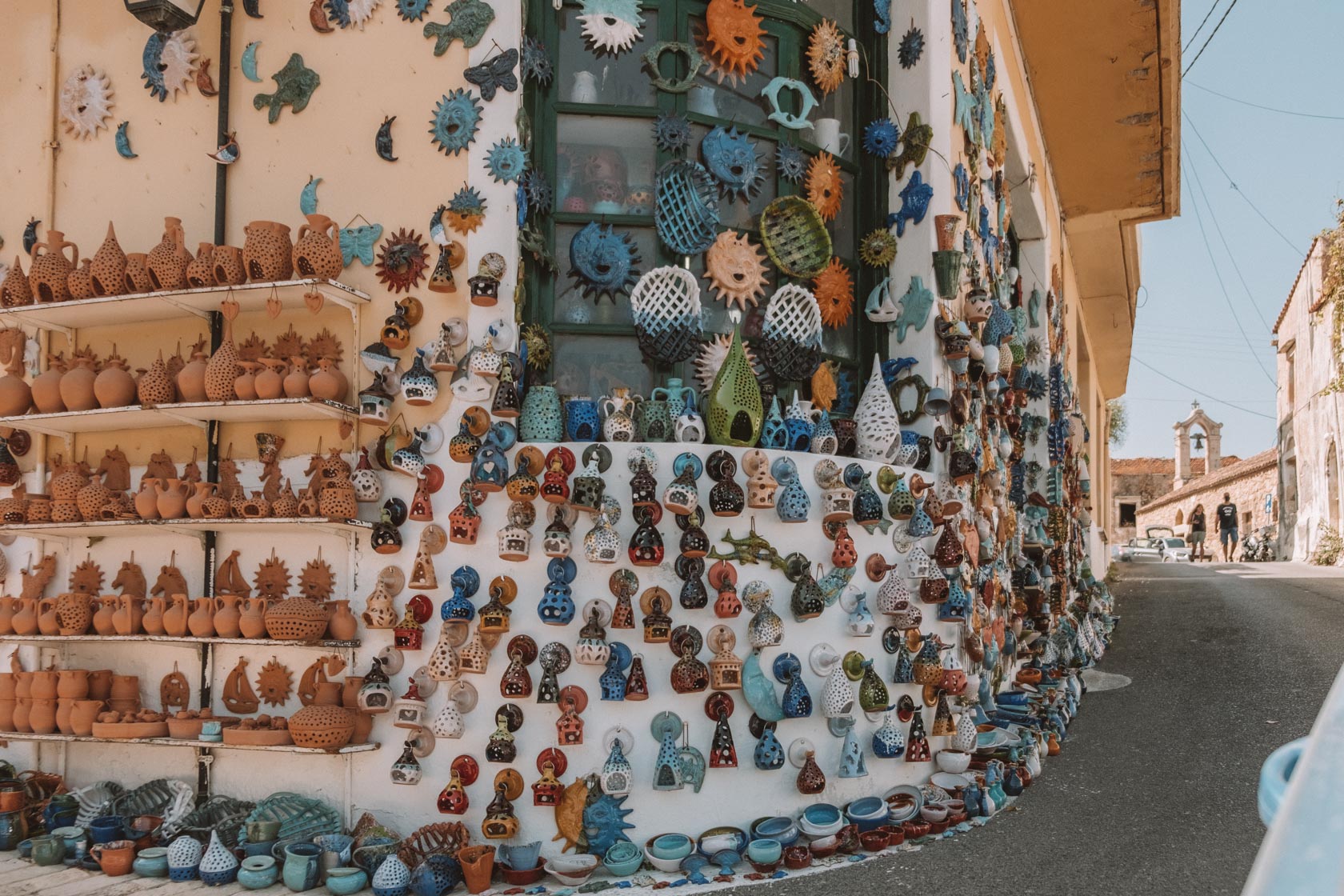 Margarites also has a number of cute cafes with ourdoor seating under trellises with vines for shade, making it a lovely spot to either stay while exploring the area or at least stop for lunch.
This town is very small so accommodation is limited, but it's a great location for exploring inland Crete.
Where to stay in Margarites
Planning a trip to Crete?
If you have any questions or something I can help with, feel free to contact me anytime and I'll do my best to share whatever tips I've got! Enjoy your trip, and stay safe.