"I could live here." This was an actual thought I had upon spending a few days in Kyoto. Even though its younger sister Tokyo has a lot of glitz and glam, Kyoto has that timeless charm that only comes with tradition. You could spend years exploring every temple, trying every variety of Japanese cuisine, and learning about the history of the city that was Japan's capital for nearly 700 years.
That's right, seven hundred years!
That's like how long America has even been a country, times almost three. The historic weight of Kyoto is hard to comprehend, especially for those of us New-Worlders. You can walk into a temple that is twice the age of the United States.
Maybe the curtains hanging there have been there since before Columbus even dreamed of crossing the ocean blue.
Just maybe.
Here is a two-day itinerary for Kyoto, Japan that you can use in a jam-packed way or extend it over three days if you want to. In this itinerary, you'll get a great blend of both the highlights and some of the underappreciated gems in this city, as well as options for day trips from Kyoto to really round out the experience.
Looking for a complete itinerary for Japan? Check out my related post on spending 2 weeks in Japan!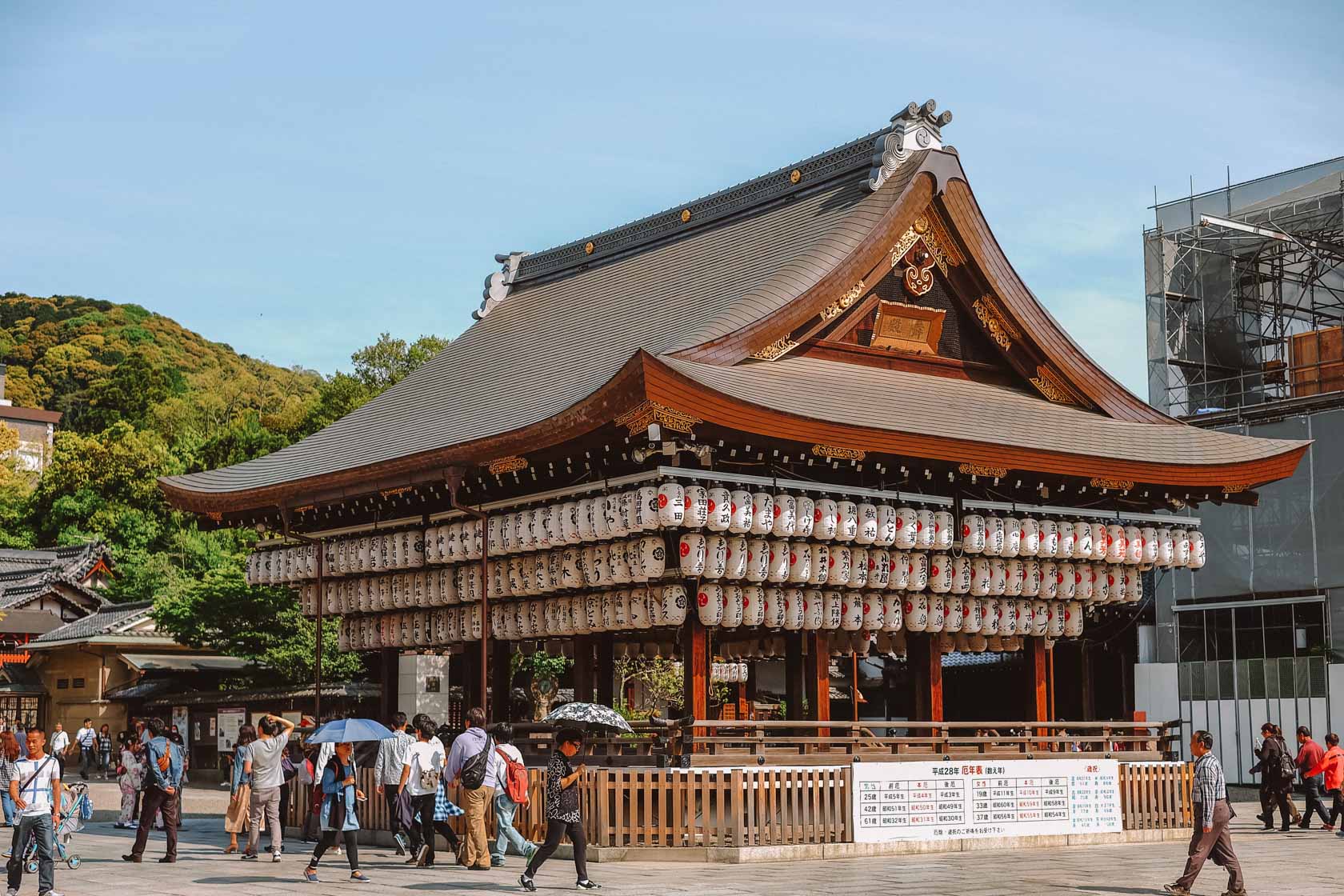 Some links in this post are to affiliate sites. If you purchase something through them, I may earn a small comission — which costs you nothing! I am very grateful when you use my links to make a purchase.
Can you visit Japan now? (Summer 2023)
Japan officially opened its borders to international tourists in October 2022. This applies to the majority of countries that Japan allows to enter visa-free.
Interesting facts about Kyoto
As if you weren't already SO stoked for your trip, I have a couple of quick facts for you about Kyoto to get you primed for this itinerary.
Kyoto used to be the capital of Japan. The capital of Japan was only moved to Tokyo in 1868 at the beginning of the Meiji period.
Kyoto itself means Capital, originally the city was called Heiankyo which means "Capital of Peace".
Nonetheless, Kyoto is considered by many to be the cultural capital of Japan. Given that Kyoto was the capital of Japan for nearly 700 years, that makes a lot of sense!
Kaiseki, or a classical multi-course meal, is one of the quintessential experiences to have in Kyoto. This style of meal is noted for its elegant presentation and precise preparation, and it can cost you A LOT of money.
There are hundreds of Buddhist temples and Shinto shrines in Kyoto. If you thought you were going to see the whole city in just a few days, you're in for a surprise 😉
Kyoto is also a very popular place to stay in a ryokan, which is a traditional Japanese inn. If you choose to stay in a ryokan, you'll experience Japanese hospitality in a totally special way! Read my post on what to expect at a Japanese ryokan for tips on picking a ryokan and how to find one that fits your budget.
If those facts aren't enough, you can read even more interesting facts about Japan . Or, now that you are even more inspired (right, right?), let's move on to essential experiences you can only really have in Kyoto.
Cultural activites to try in Kyoto, Japan
Kyoto is the cultural capital of Japan for a reason. While all your less cultured friends are spending their entire trip to Tokyo, you are going for the real deal? Amirite? 😏 Spotting a geisha, going for a tea ceremony, and walking through the dizzying rows of red Torii are all essential Kyoto experiences you won't want to pass up! Here are a couple of the most popular activities you can do in Kyoto available on GetYourGuide, my favorite tour website that offers free cancelation up to 24 hours before just about any activity.
Night walking tour in Kyoto's Geisha district ($): Gion in Kyoto is one of the places where you're most likely to spot a Geisha or a Maiko (a Geisha-in-training). On this tour you can learn everything you've ever wanted to know about the art of being a Geisha in Kyoto.


Full-day UNESCO World Heritage Tour ($$): This tour hits all of Kyotos most famous sights in just 9 hours and has over 300 ecstatic reviews. You'll see Kiyomizu-dera, Fushimi Inari (those famous red torii gates), the Bamboo Forest, Golden Pavillion, and a number of other highlights!


Experience a traditional Japanese tea ceremony ($): You'll undoubtedly drink a lot of green tea in Japan, but there's nothing like a traditional tea ceremony to make you want to pack your bags and move! Probably the only souvenir I brought back from Japan is a traditional teapot.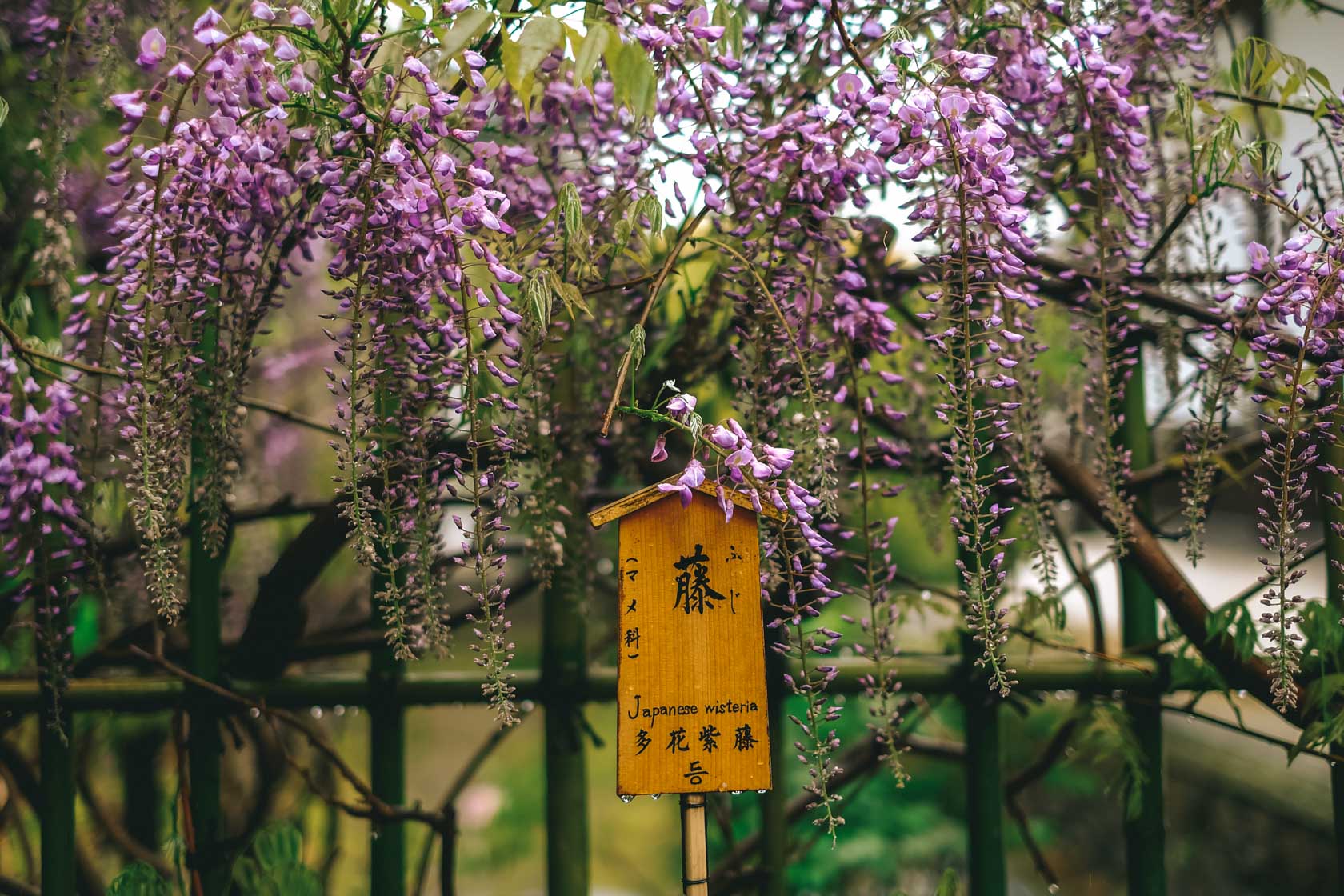 Kyoto itinerary: How to spend an epic 2 days in Kyoto
This guide is optimized for being followed in order. Assuming you are coming from Tokyo, use your Japan Rail Pass to travel by bullet train to the Kyoto main station. From there, store your backpack in a coin locker and catch a train or a bus to Saga-Arashiyama Station. Here's where we'll be going over the next two to three days:
The lighter pin points are what we're doing on day one, and the darker pins are for day two.
Day 1: West Kyoto
Tenryu-Ji
"Arrive on the mat" – that's what my yoga teacher tells me every week, but that's also what you're going to do when you arrive at Tenryu-ji . You'll arrive at the train station and just follow the flow of people. Soon you'll meet one of the most beautiful temples in Kyoto (with one of the best best gardens), and be asked to remove your shoes and step onto soft tatami mats.
Eventually you will love taking off your shoes because Kyoto involves so much walking that the tatami mats are a relief!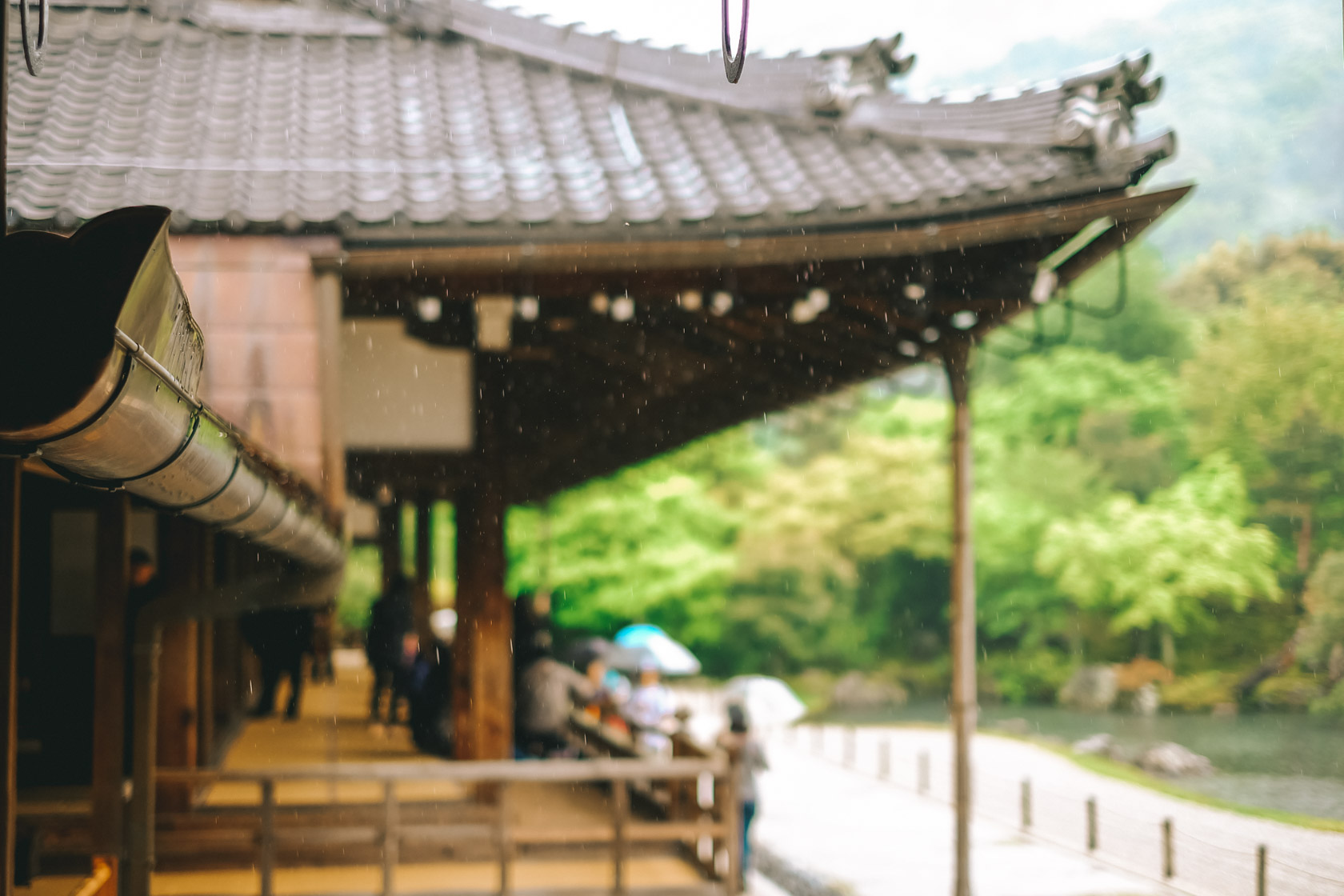 Many temples in Kyoto are divided into two main experiences: the temple interior and the gardens. You can choose where to start, I prefer to start indoors and work my way out.
Once you reach the gardens, you'll see numerous plants, all labeled in Japanese and English. You'll see beautiful flowers that you've never seen before in delicate shapes, likely draped in droplets of water if you're visiting in Spring like I did.
With a little bit of luck, you might still see cherry blossom trees who are early to bloom, or wisteria trees who are a little bit late. No matter what, there is a rich yet gentle explosion of color in these gardens, supported by carefully selected foliage.
After you've enjoyed the garden, simply follow the signs to the Arashiyama Bamboo Forest which is not far away.
Arashiyama Bamboo Forest
If you looked at photos of things to do in Kyoto, there's a pretty good chance you've seen this forest.
But I've got news for you.
This forest is kinda small. It takes about 10-15 minutes to walk through and then you're out to the other side. Make no mistake, the bamboo forest is beautiful but you will also see more bamboo forests in the center of Kyoto so 😉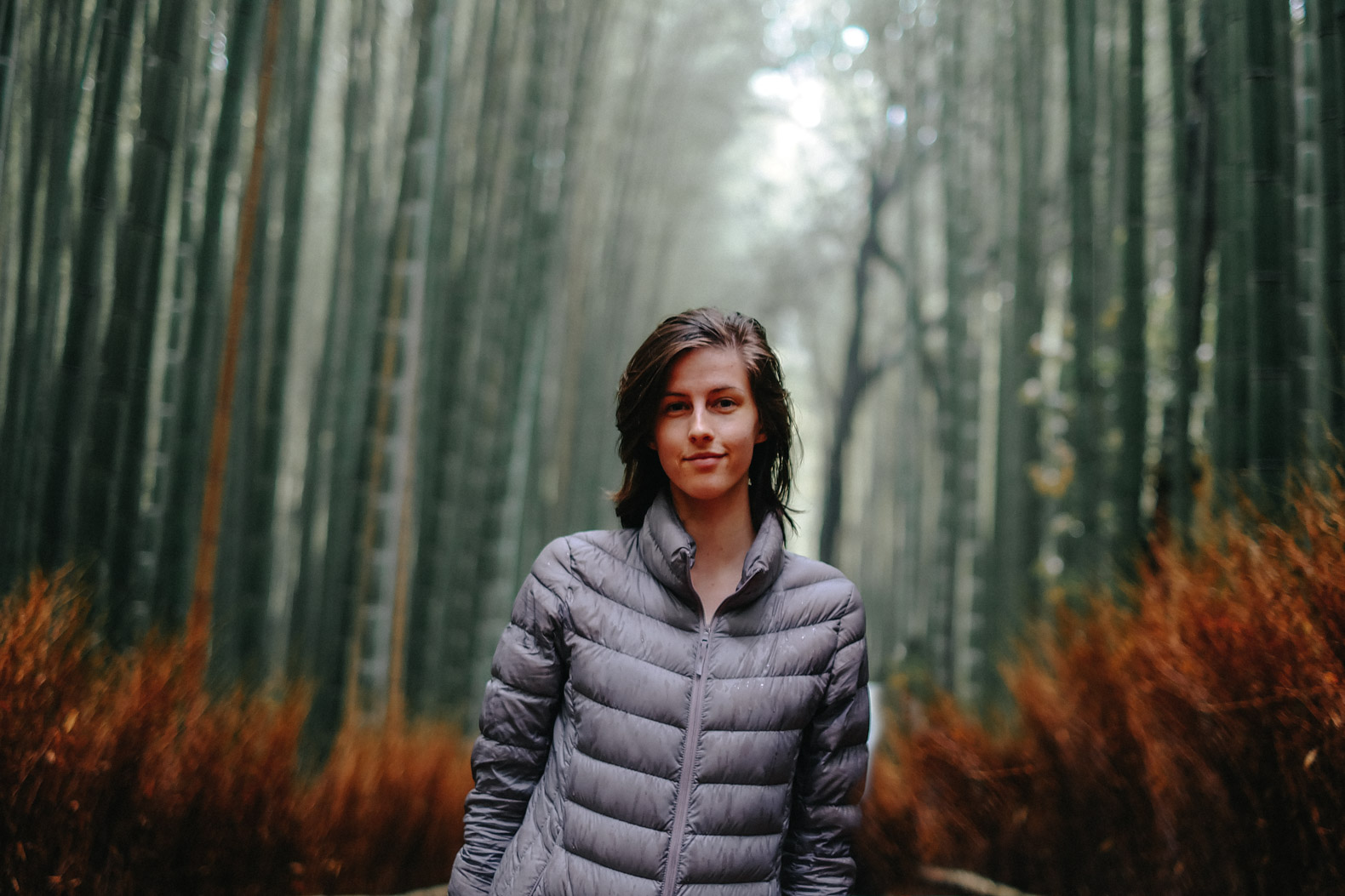 Be sure to bring a wide angle camera lens in order to really capture the super tall bamboo. I was severely lacking one and my photos reveal that!
Golden Pavillion
The last spot on our itinerary for today is Kinkaku-ji, known in English as the Golden Pavillion . Once you see it you'll understand why they call it that way – the pavillion is positively shiny!
Just be aware, this is one of the most popular places to visit in Kyoto next to the Higashiyama temple district (which we'll visit tomorrow). You may need to wait a bit to get a decent photo, but it's totally worth it!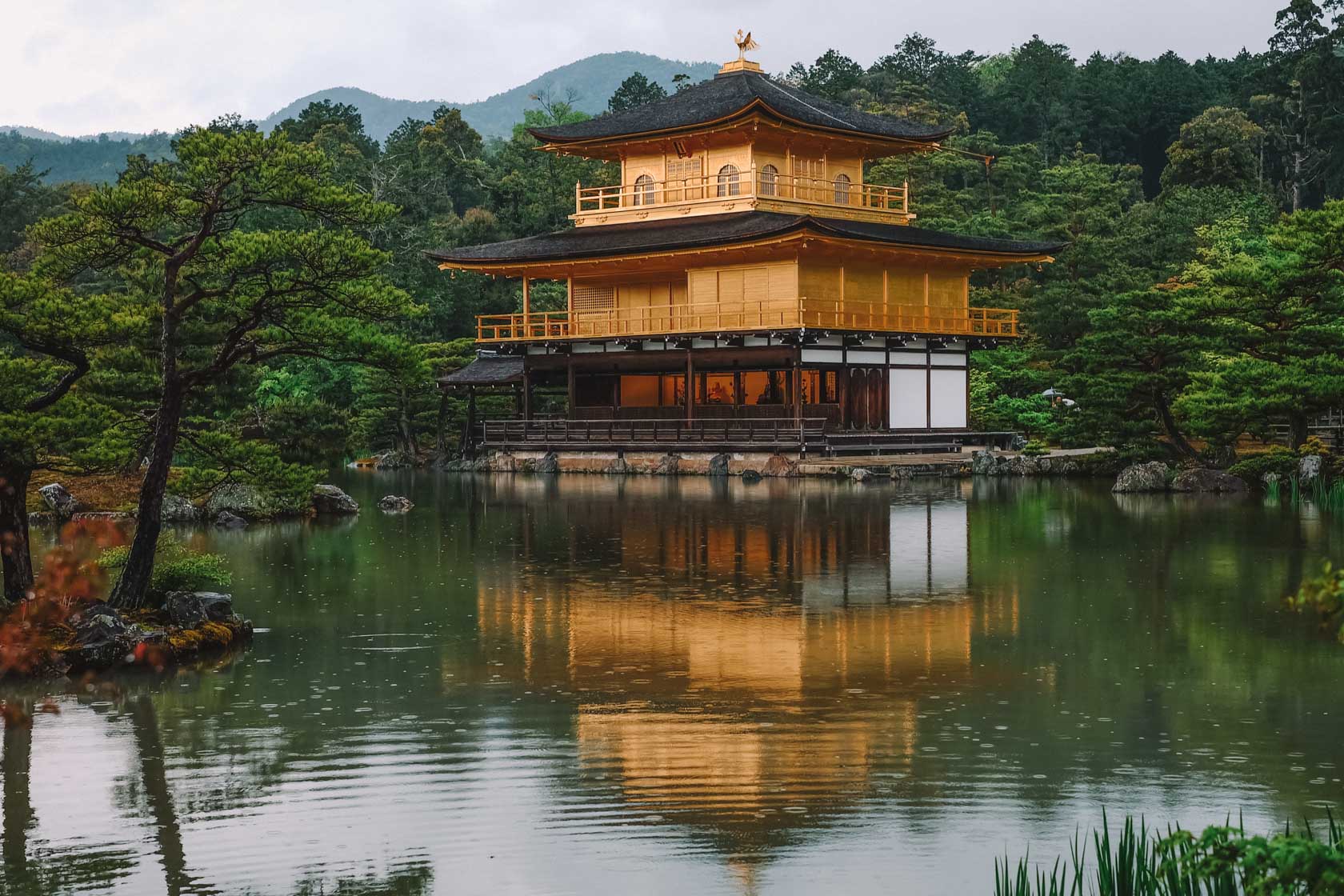 Besides taking photos from the front, you can also walk around the pavillion and enjoy the gardens. They're not the best gardens of all, but it's perfectly nice to take a stroll.
Believe it or not, I had the best black sesame ice cream during my trip to Japan at the Golden Pavillion! Just be aware that the Japanese frown hard upon walking and eating so you need to get your ice cream and sit like a civilized person. 🙇‍♀️
Day 2: Higashiyama district
Nishiki Market
Time to start Day Two! And what better way to begin that at Nishiki Market , the ultimate place to eat all the weird yet tasty foods you can find in Japan. You can just walk down the main hall and have only half an idea of what foods stand before you.
But you're on vacation so who cares? Just put it in your mouth!
It should be noted that even though Osaka is the street food capital of Japan, there are foods I saw in Nishiki Market that I did not find again in Osaka. So if you want to try something – do not hesitate.
Embrace it.
Besides unidentifiable foods, you can also get a lot of nice gifts in this marketplace. Personally we found them to be rather pricey, but it all depends on what you're looking for. Eventually we brought home a proper Japanese teapot as our memento from Japan, but we bought it in the Japan alps instead.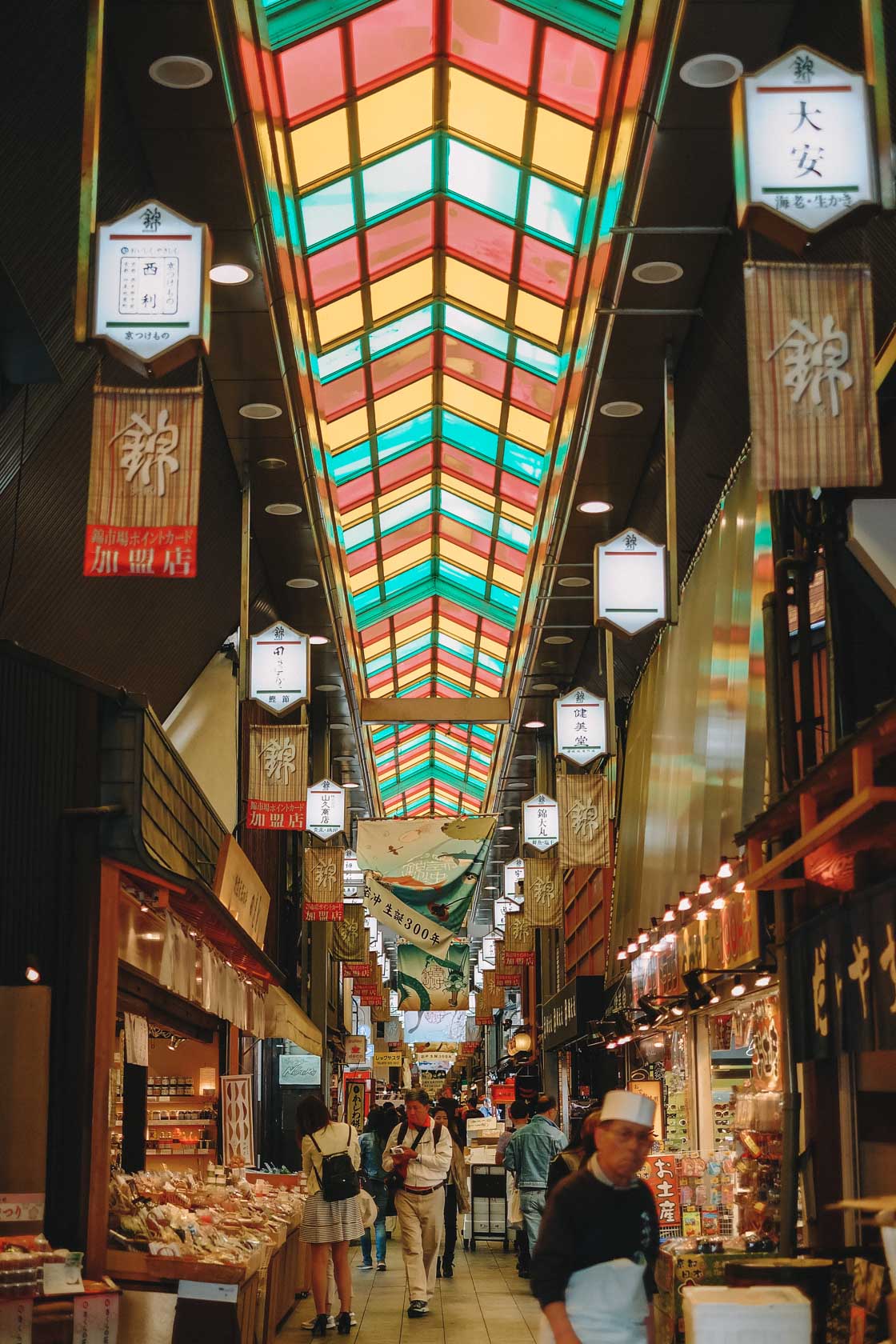 Gion
Belly full and slightly confused, it's time to walk through Gion on your way to the Higashiyama temple district. Some parts of Gion are more picturesque than others, but the real draw of this area is the possibility of spotting a geisha or a maiko (which is a geisha in training).
Kyoto is the epicenter of the geisha culture in Japan, and a place that even completely bars non-Japanese people from becoming a geisha at all.
Can you see the geisha (or more likely, geisha-in-training) hustle down the street in her red kimono?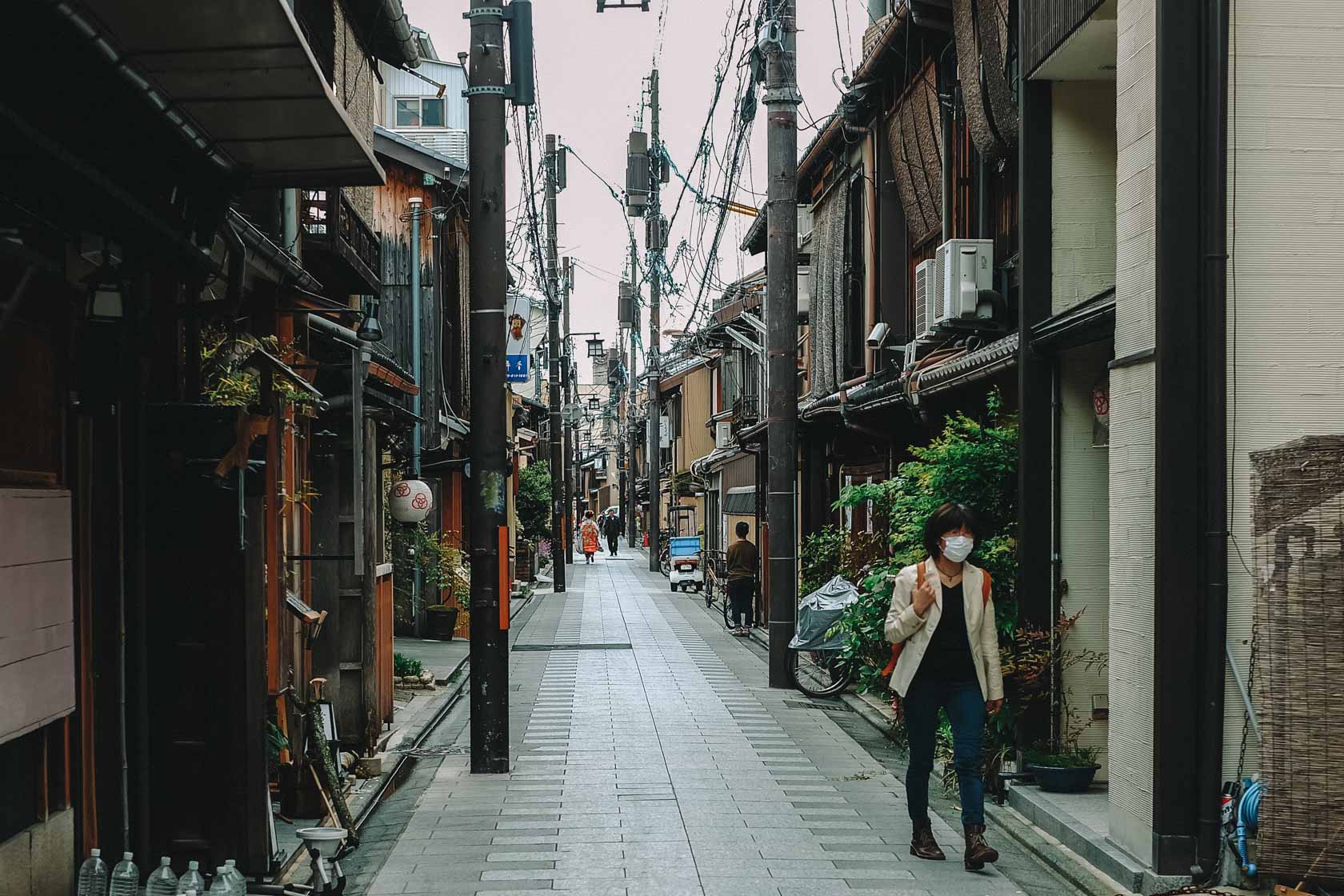 Higashiyama
If you've seen pictures of Kyoto, most likely they're pictures of its historic district, Higashiyama . The rest of the city is very modern and, I must say, not so beautiful in comparison to the historic Higashiyama district.
Higashiyama is called Kyoto's temple district. Here you'll find tons of temples, so be sure to bring your wallet and lots of cash for entry fees and the occassional matcha ice cream!
Here are a few places to see in Higashiyama.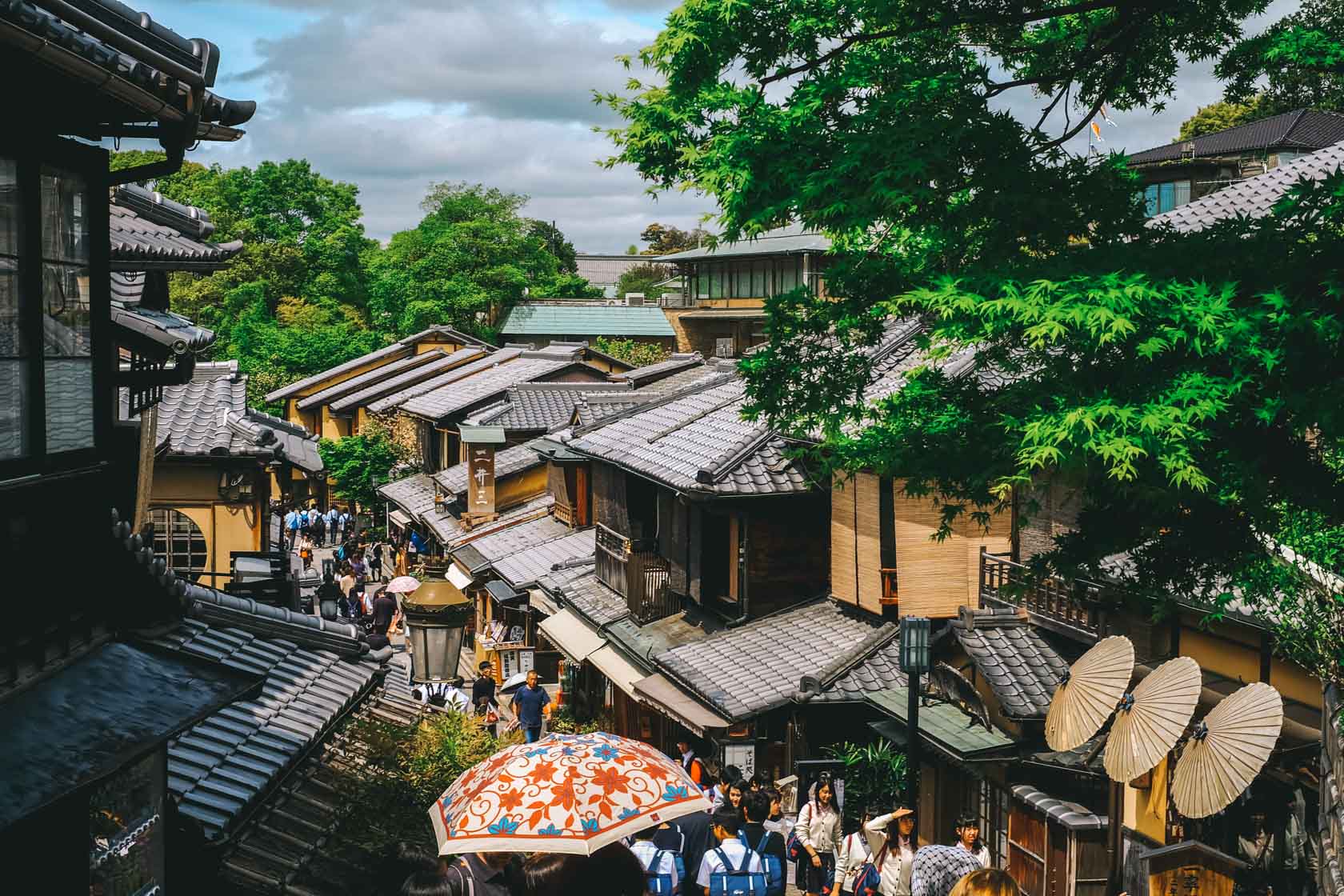 Ninenzaka and Sannenzaka
With names meaning "Two year hill" and "Three year hill" respectively, these are the two most beautiful streets in Higashiyama. The former is the location of the famous stairs. Most of the houses have been converted into souvenir shops. It can get pretty crowded at mid-day, so come either first thing in the morning or around dusk for a less cramped experience.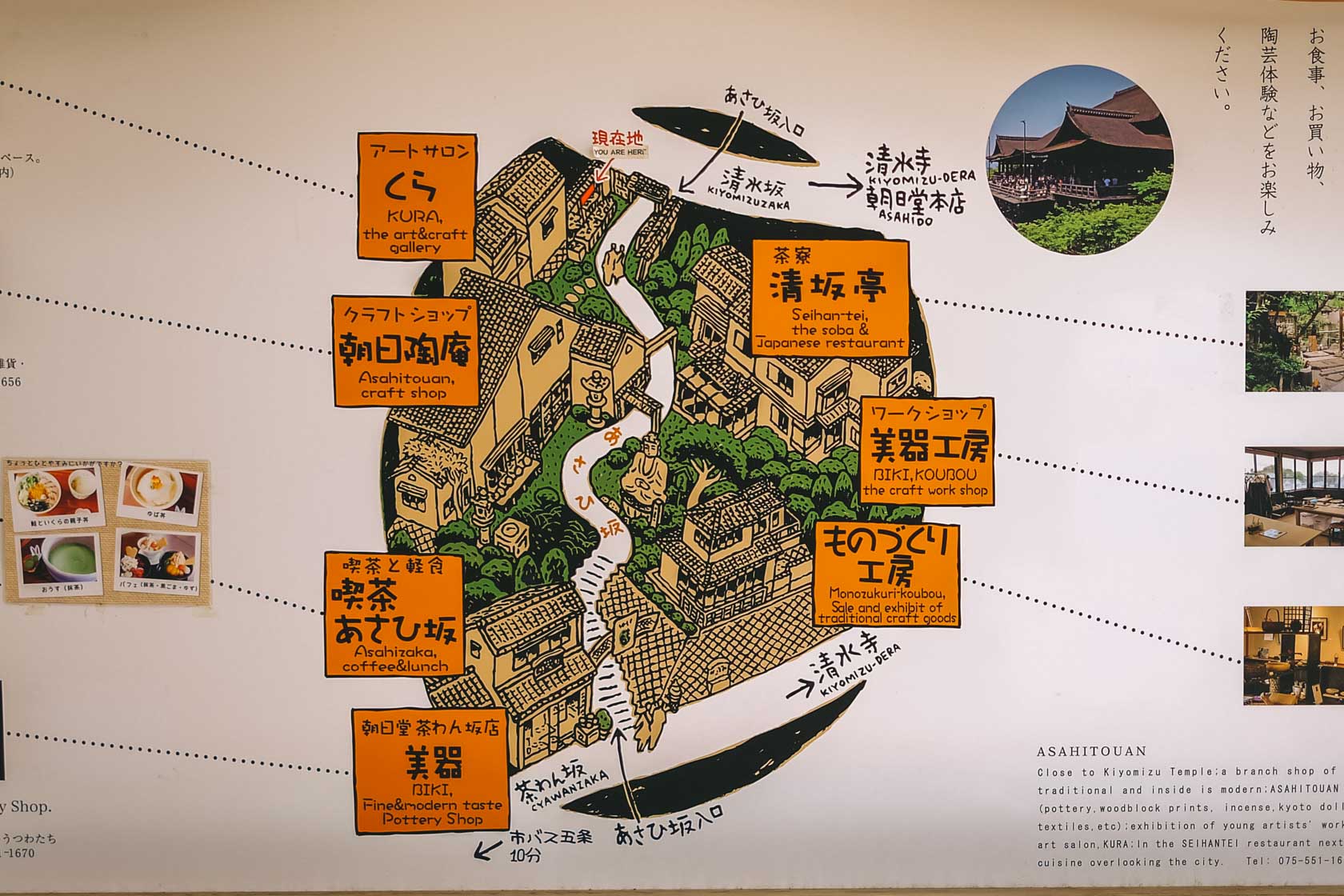 Kyomizu-dera
This area is one of the busiest and best known in Kyoto for a reason. The view out over a sea of trees is hard to match – and in cherry blossom season, they're also in bloom. This multi-part complex includes an entry gate, a large temple with views over Kyoto, supported by cherry blossom trees, and even an area to make wishes!
Make sure you bring enough money for entry to temples. Even though many only cost about $6 per person, it really adds up when you do an entire day of sight-seeing.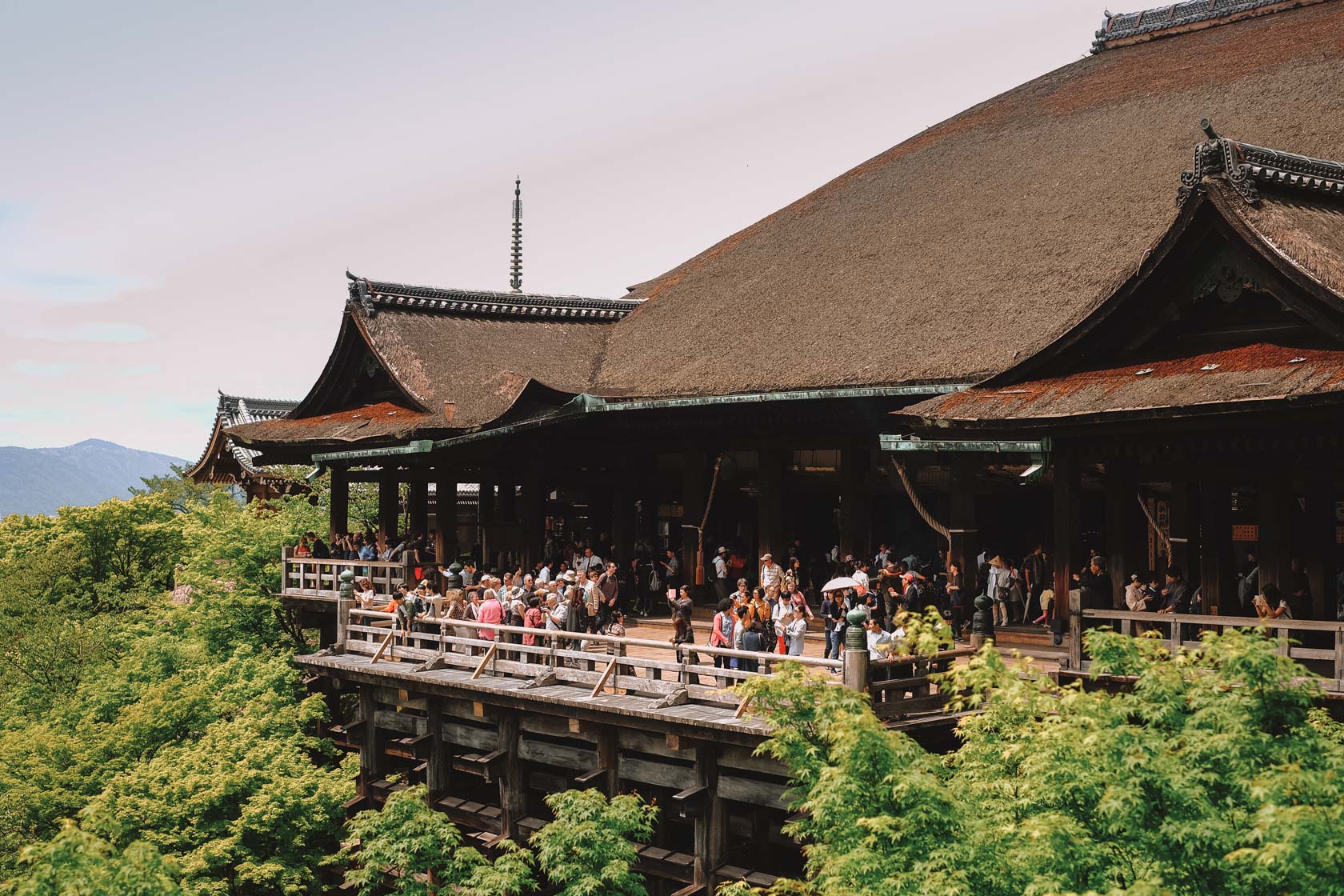 Ryozen Kannon
One of the quieter temples, what makes Ryozen Kannon so remarkable is the enormous Buddha that looms over a pond. You can light incense here and enjoy a little bit of solidarity, as the crowds here are not nearly as prominent as Kyomizu-dera!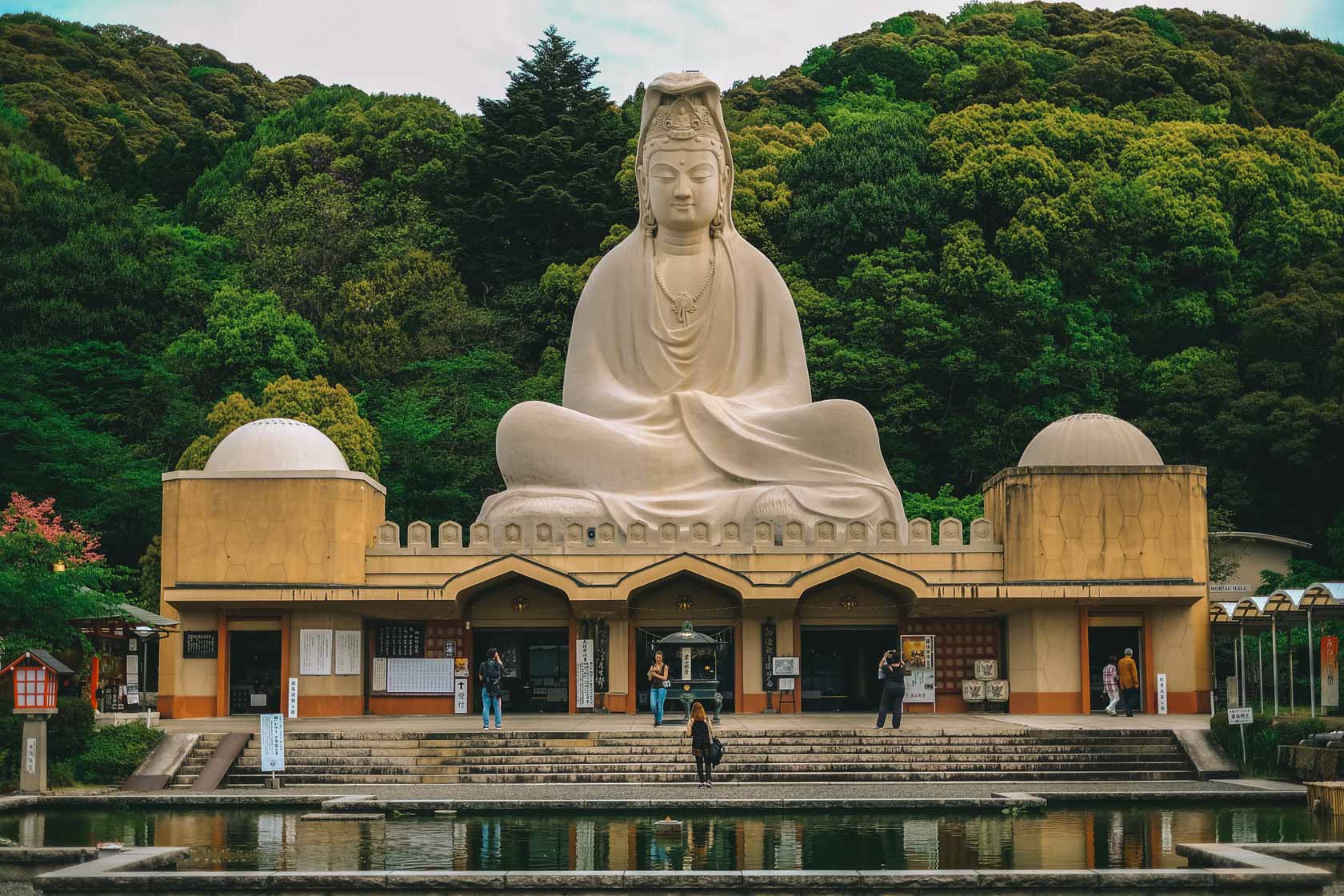 Kodai-ji
Not to be confused to Todai-ji, the world's largest wooden structure (which you'll find when you visit Nara!), Kodai-ji is one of the prettiest temples in Kyoto – especially owing to its massive zen garden! If you thought that zen gardens are reserved for bonsai trees think again, this one wraps around the temple.
As with many temples, when you come to Kodai-ji, you'll get some historical information you can use to learn more about it! Kodai-ji also has its own bamboo forest! Not nearly as big as Arashiyama, but worth a gander.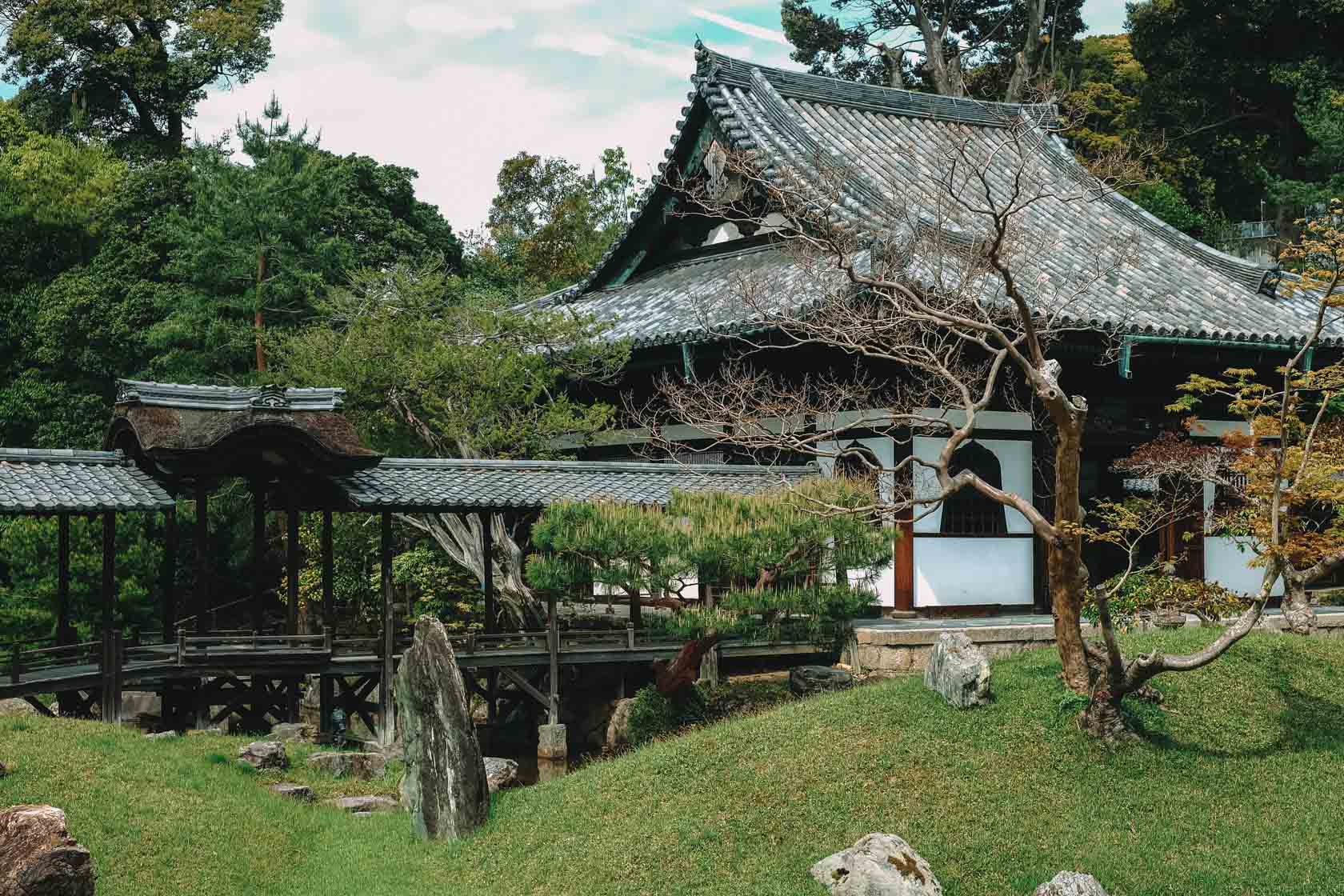 Shoren-in
Shoren-in is one of the less-visited temples in Kyoto but it has gorgeous gardens and areas to explore. You'll find visit colors, cozy tatami mats, and a vertiable sanctuary compared to the busier temples in Kyoto. One of the best things to do here is to actually take a moment to yourself to enjoy the tranquility of the place.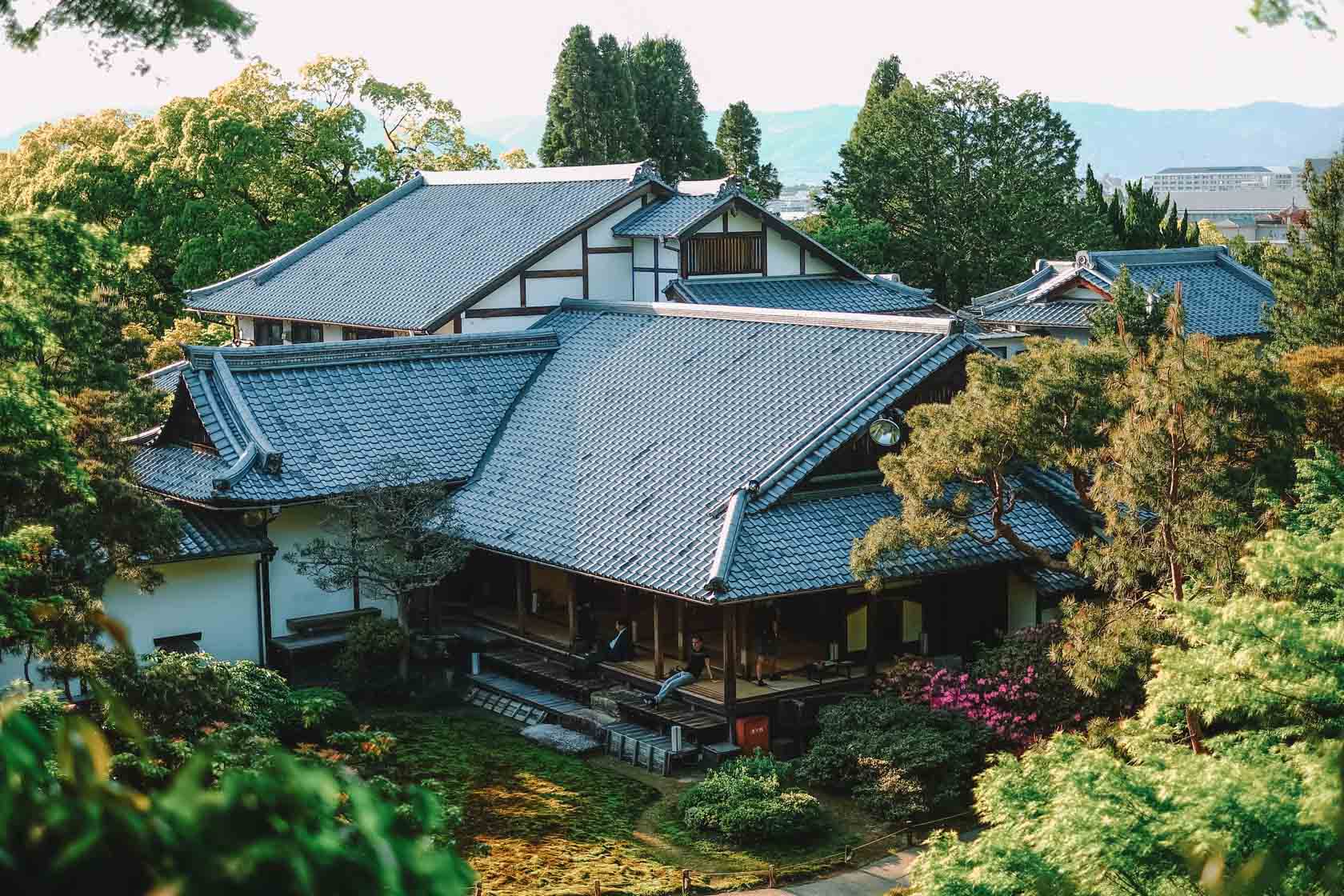 Philosopher's Path
Depending on on the time of year, the Philosopher's Path can also be rather busy, as it's a great spot to see cherry blosssoms in Spring. But at the end of a day walking through temples, it can be nice to spend some time along this creek and reflect on the day.
If you're lucky like me, you might also meet some nice cats in the area. Besides cats you'll also find some chill ducks swimming around. At the end of the path you'll also meet the Silver Pavillion if you still have the energy for another temple.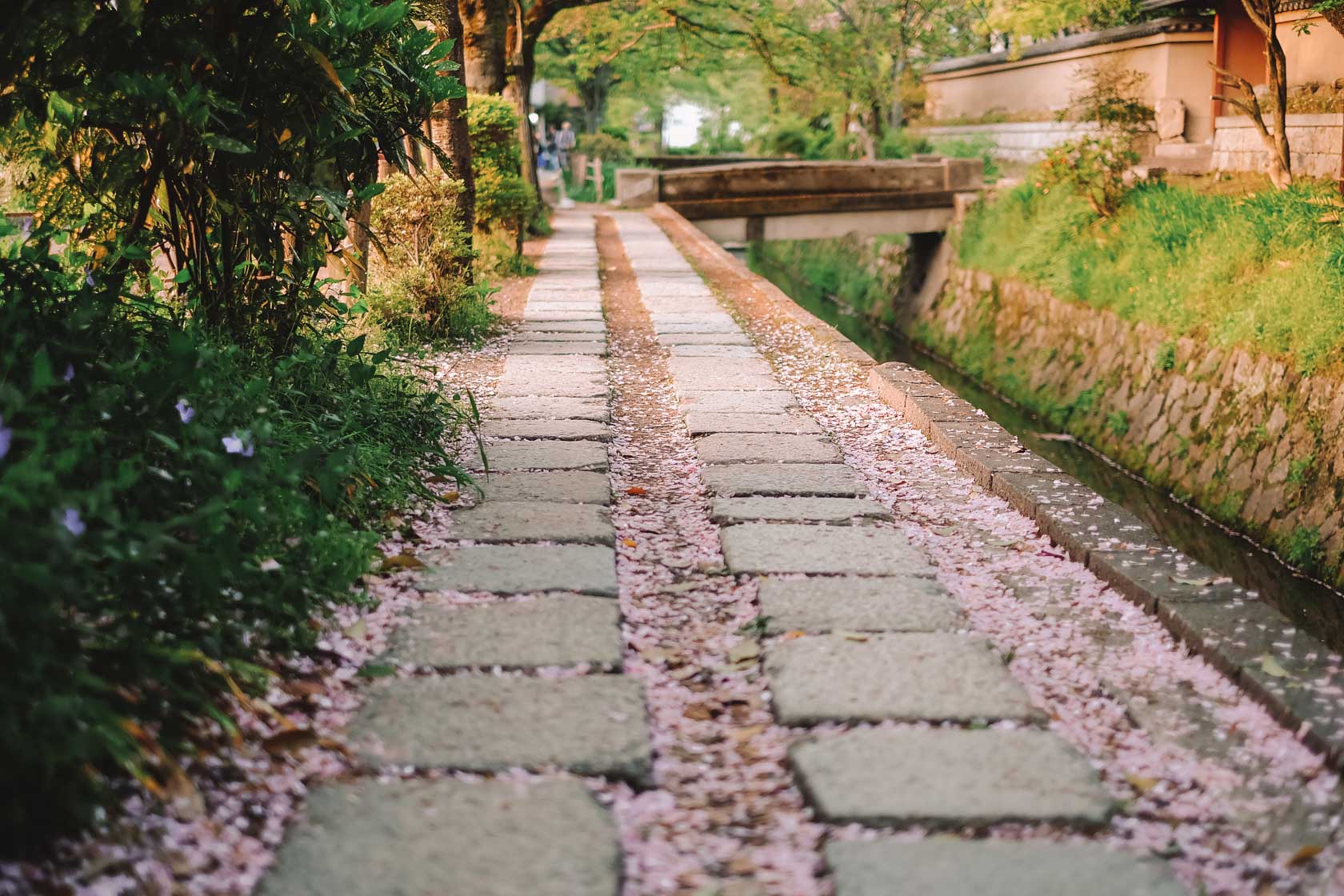 Places to eat in Kyoto
Even though I spent some time in Kyoto, I can't say I am the city expert on places to eat. But I can share with you the great places that I tried out and what I enjoyed about them! And if you ask me, food is one of the top reasons to visit any place so the "Where to eat" is my favorite part of any post 😉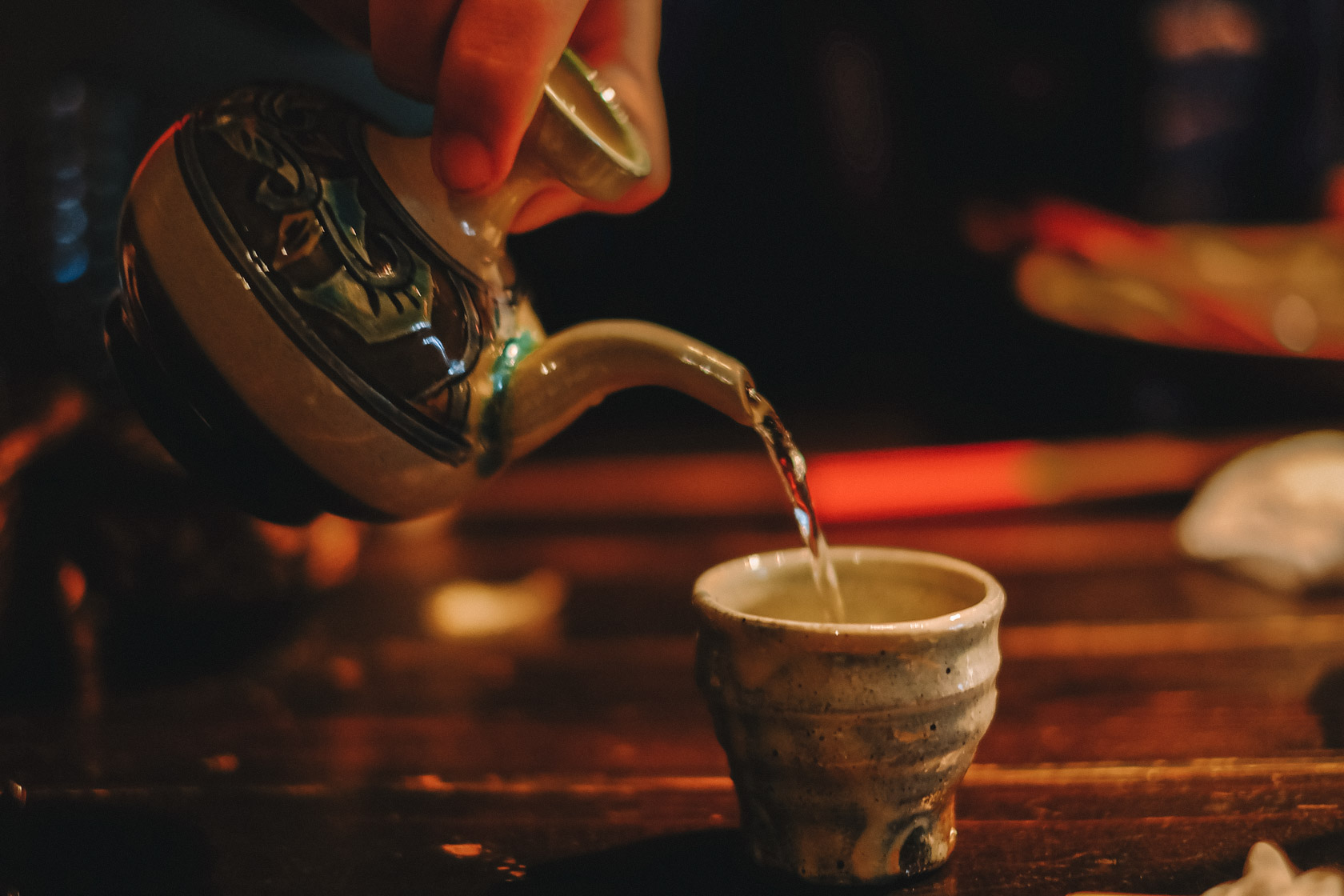 Day trips from Kyoto
Chances are you're not visiting only Kyoto – there are a ton of interesting places to visit near Kyoto, which you can easily visit if you're using the Japan Rail Pass to travel between neighboring cities. Here are some of the places you do not want to miss near Kyoto.
Fushimi Inari
Surely you've seen photos of the dizzying rows of Torii (gates), each of which is dedicated to a person or has been paid for thousands of dollars by a company to have added to the shrine. You can come through the gates for several kilometers, depending on how much you want to walk, so do be prepared to stay for a longer period of time if you want to do the hike.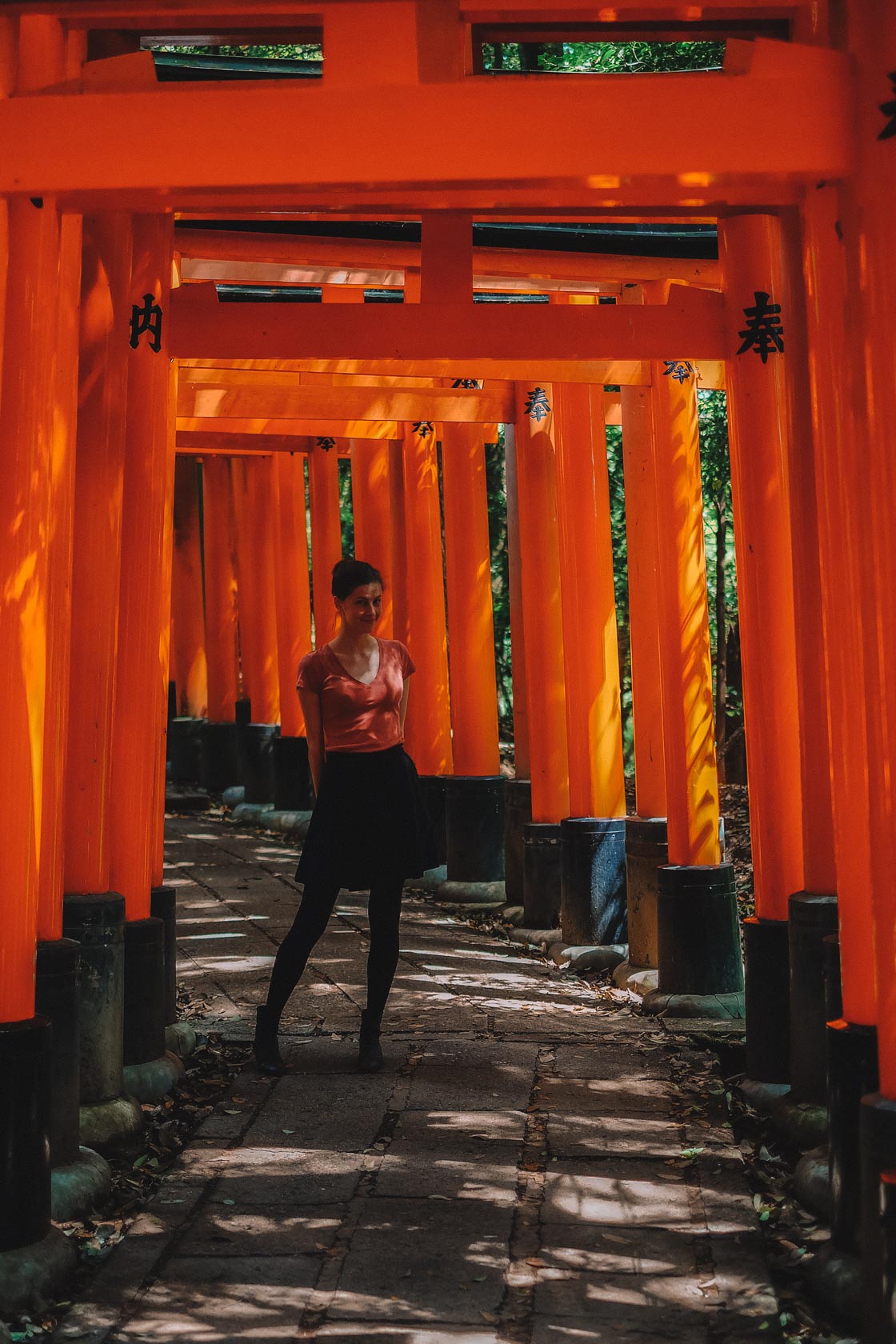 One important thing to remember if you're visiting this area is to bring your wide angle camera lens in order to really capture the imagery. If you're traveling with camera gear, this is a great place to capture with a lens that let's you fit in the entire scene.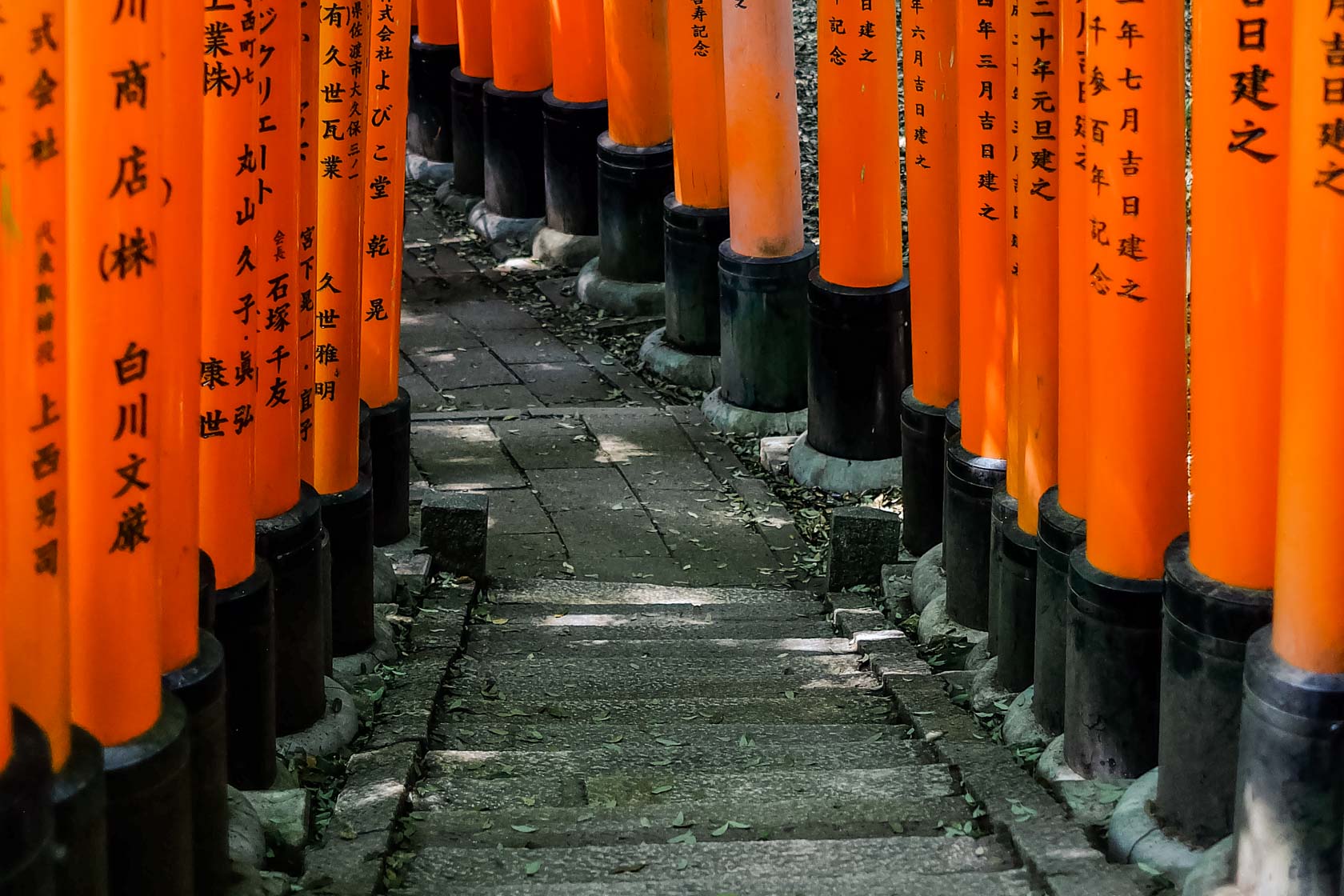 Finally, be mindful that Fushimi Inari Shrine can be super packed! It is one of the most popular sites in the entire country, and visitors both domestically and internationally come here to see this famous sight. The earlier in the morning you can arrive, the better. We probably only arrived around 10AM and it was alreay very busy, especially if you want to get a photo without too many people in it 😉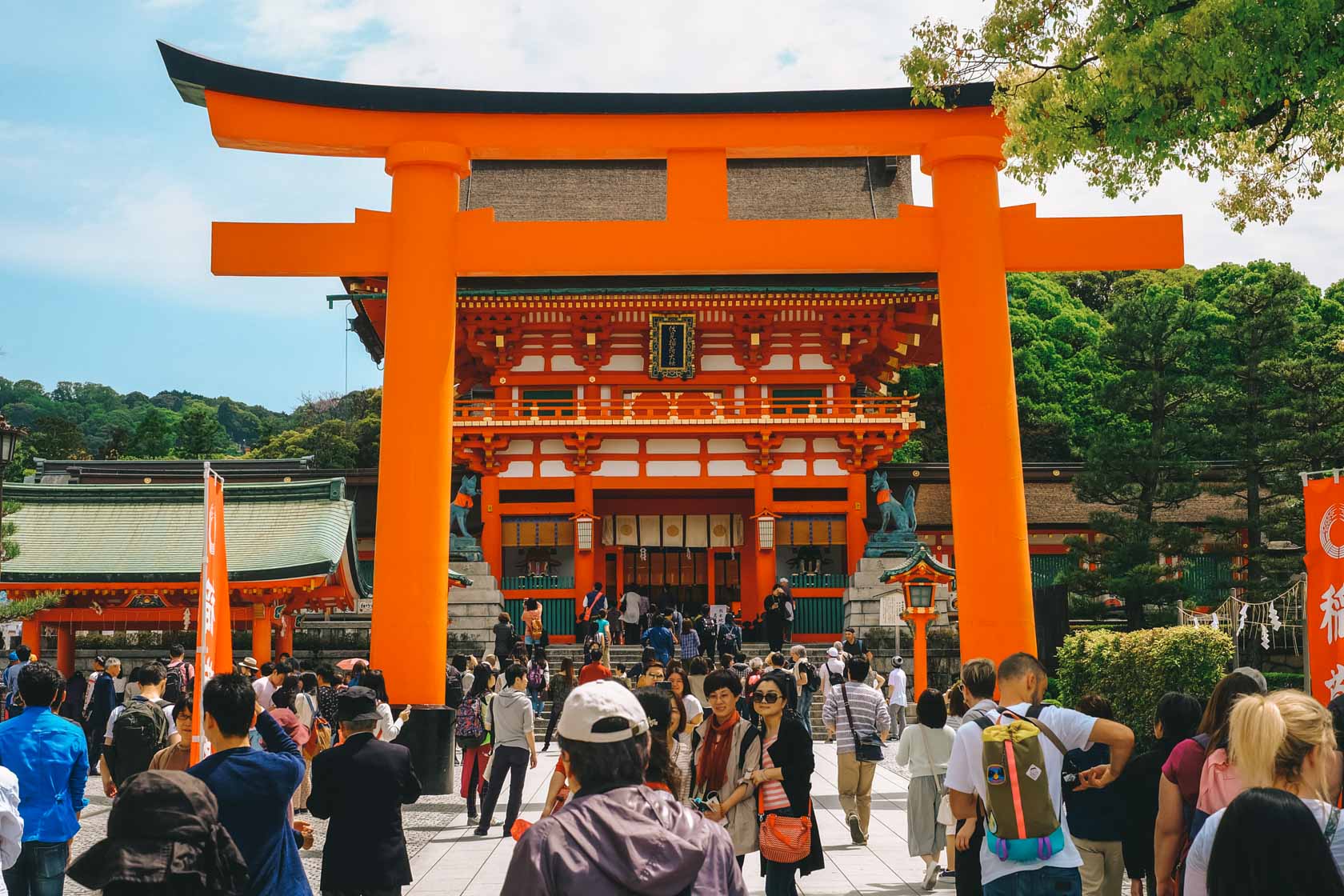 Nara
What makes Nara magical? When you go to Nara, you are surrounded by more than 1,000 wild deer that freely roam around the gignatic Nara Deer Park . You can buy biscuits to feed them, and lure them into taking a selfie with you. Beware, these deer will eat just about anything you have in your hands whether the snack was intended for them or not!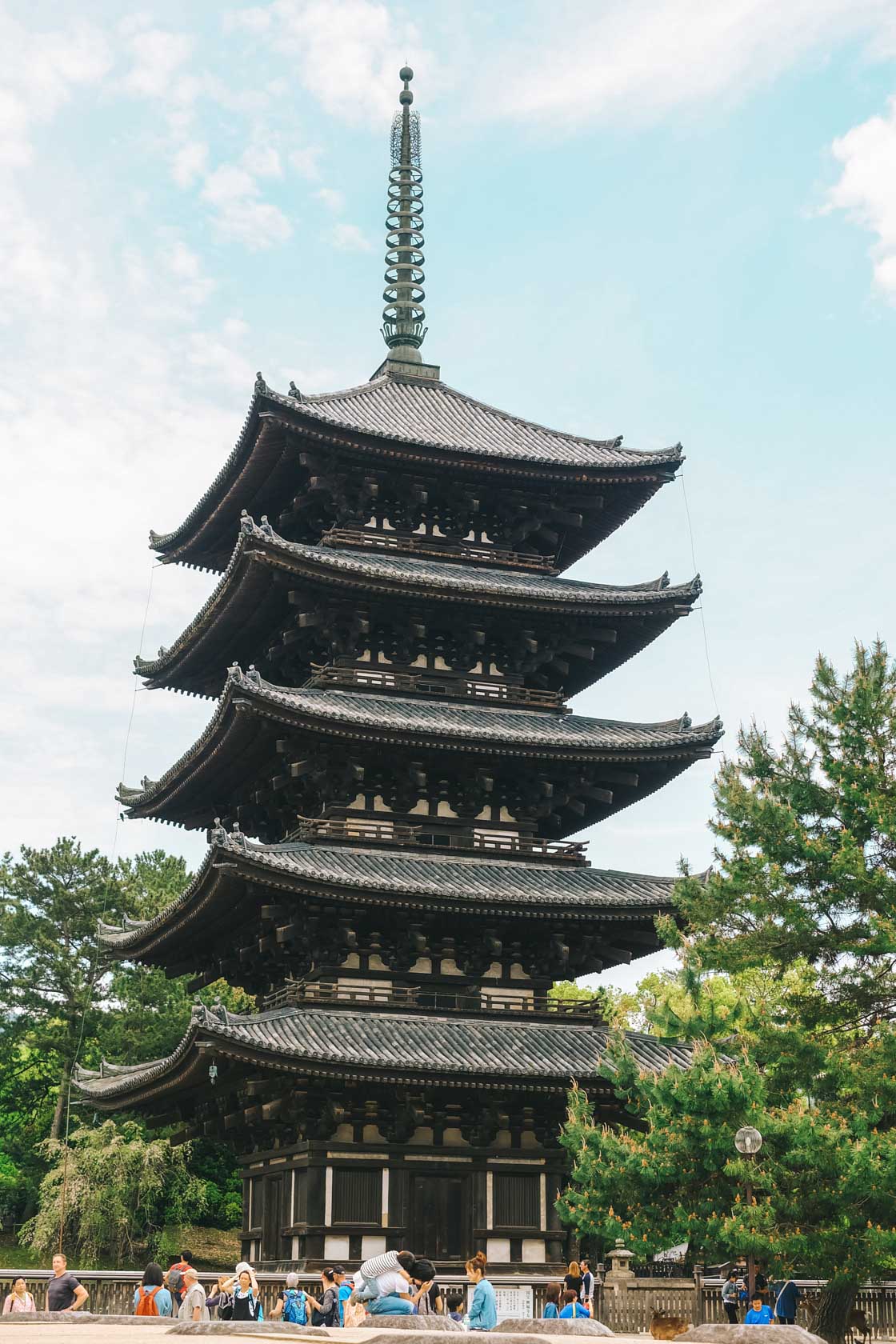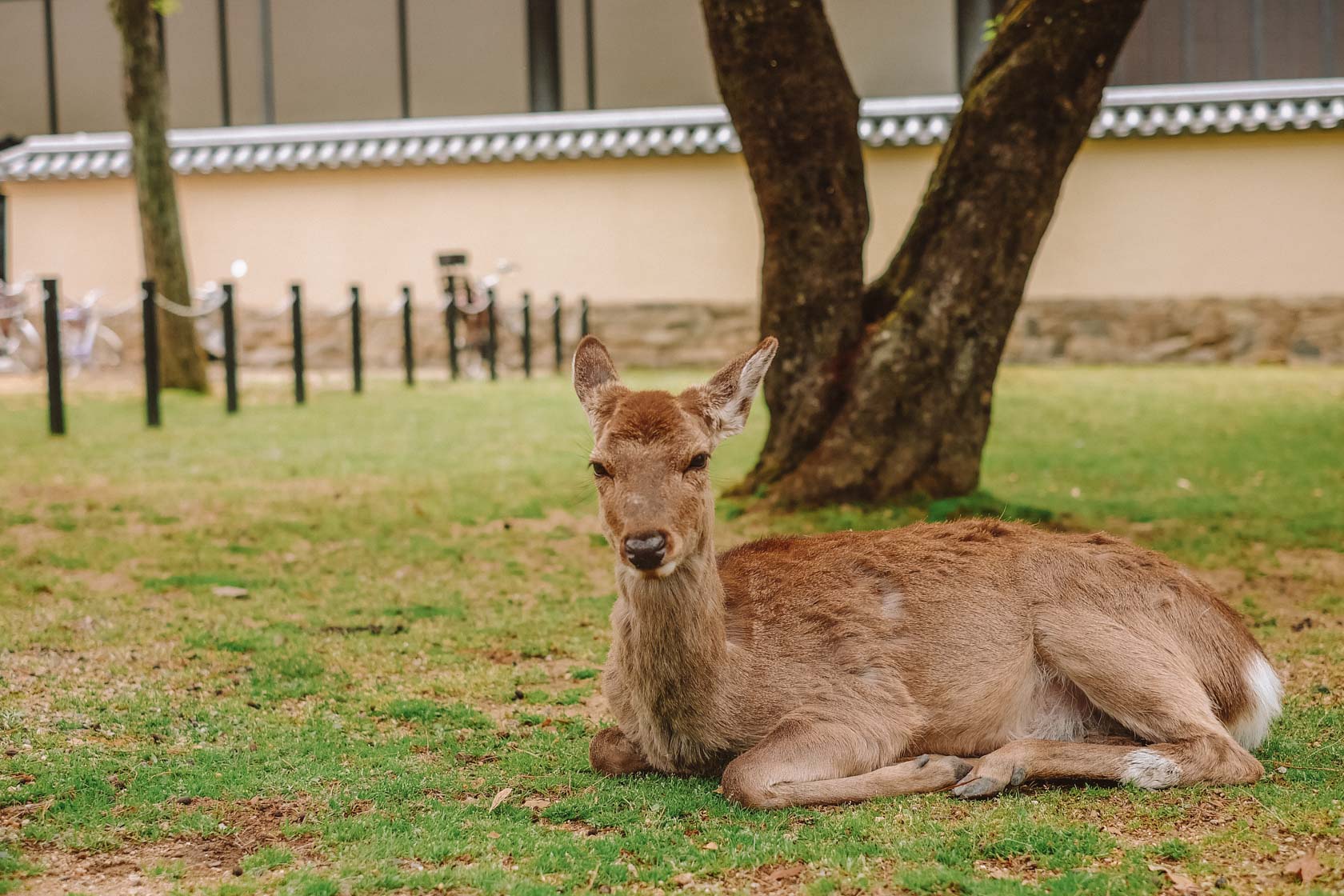 Things to do in Nara
Todai-ji – Until 1998, Todai-ji was the world's largest wooden building. Come inside and try to climb through Buddha's nostril – it's good luck!
Isui-en – One of the prettiest gardens I visited in Japan, you can take a free guided tour.
Nara Park – Clearly Nara's main attraction, the large park where you are surrounded by wild deer. There are plenty of hikes in the nearby area if you have the time.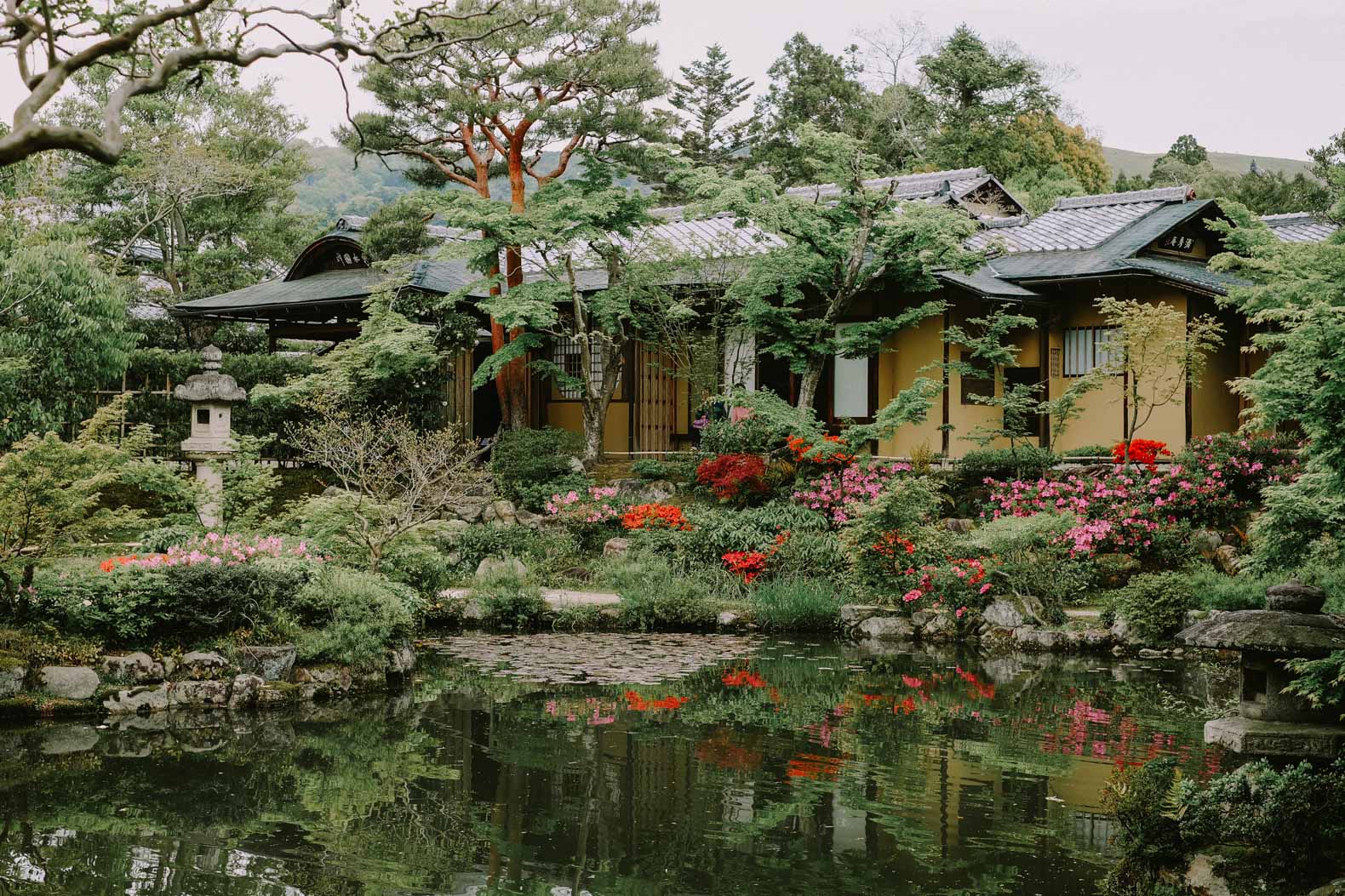 Tips for visiting Kyoto
Last thing before we dive into the itinerary – let's talk about a couple of important tips you should keep in mind when visiting Kyoto.
Beware of the crowds. Kyoto is easily one of the most touristed spots in the entire country. It is crowded. Like freaking crowded (see photo below). You need to know that Japan is a popular tourist destination for countries all around Asia, especially China, Korea, and the Philippines, so you can expect to see a lot of tourism in Japan in the main cities!
Avoid visiting during holidays. If Kyoto is normally crowded, it's even more crowded during the holidays. I made the mistake of being in Japan during Golden Week (the first week of May) and there were school children EVERYWHERE.
Early morning and late afternoon are the best times to be around. As with any crowded destination, early morning and late afternoon are the best times to be around. There are many tourist busses in Japan, and as you can imagine, those busses tend to peak in mid-morning to mid-day.
Use the bus to get around. The bus in Japan isn't that expensive, and you'll want to use it quite a bit in Kyoto. We synced offline maps to our phones in order to know when we needed to disembark on busses that did not have romanizations of Japanese place names 😉
Bring enough cash for entrances to temples and shrines. Kyoto can feel expensive in that every temple or shrine has a per person entrance fee. Bring cash!
Wear comfortable shoes for a ton of walking. There is an enormous amount of walking to be done, especially on day two. You need shoes that are both easy enough to take off (because you can't wear shoes inside temples) and comfortable to walk with.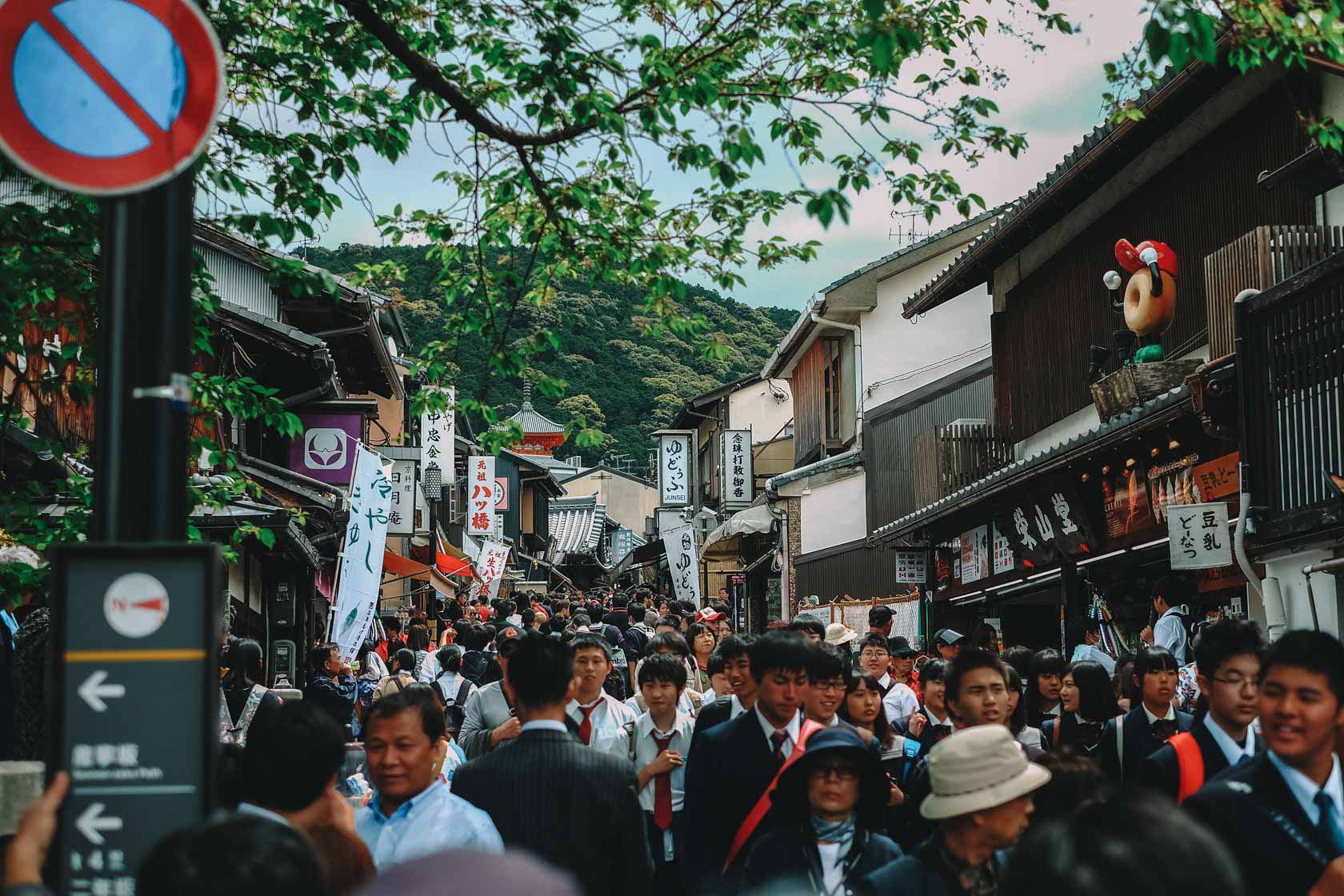 Getting to, from, and around Kyoto
Getting to and from Kyoto, you can use the JR Pass to ride the train as mentioned earlier in this post. In terms of getting around the city, you can use a combination of trains and busses. Just be sure to have cash on you in order to pay for the bus in Japan. Luckily in Kyoto, many of the displays inside the bus are also romanized (meaning, the Japanese words written in Latin letters) so it's a bit easier to figure out where the heck you are and when you reach your intended stop.
The easiest way to go from Tokyo to Kyoto is by using your Japan Rail Pass to travel by bullet train to the Kyoto main station. This is obviously also the fastest way to get to Kyoto, with the bullet train portion of the ride taking only two hours. Of course, your total travel time depends on where exactly you are starting in Tokyo. Similarly, if you are coming from Osaka to Kyoto this line is also serviced by Japan Rail.
Where to stay in Kyoto
There are a lot of different options for where to stay in Kyoto. Given that public transit in Japan is rather well-connected, it's hard to go totally wrong if you stay somewhat centrally.
One consideration would be if you are planning to wake up very early to visit any of these places (such as the Temple District or the Bamboo Forest), then perhaps you want to pick a spot that's going to be nearby.
Beware, Kyoto is very popular with tourists so you should try to book in advance for the best prices.
Have you ever been to Kyoto? What would you like to see most?
Share your thoughts in the comments, especially if you have a tip for me or are looking for suggestions!